When is the Best Time to Visit Fort Lauderdale, According to Locals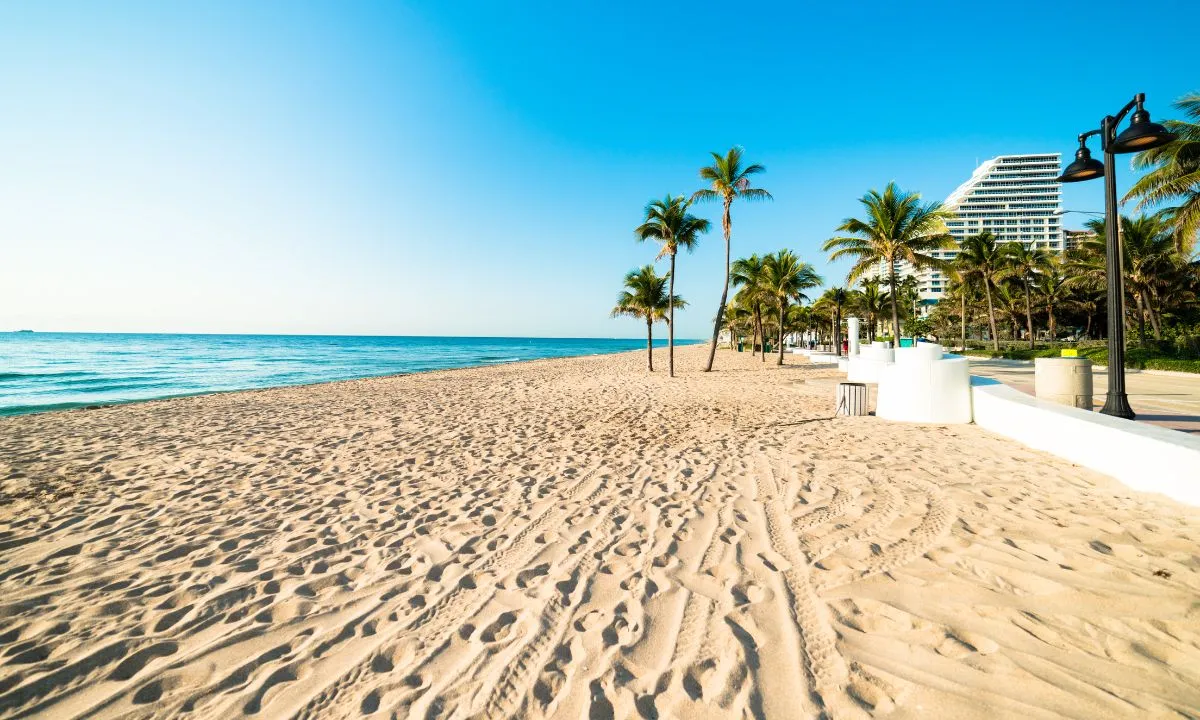 Fort Lauderdale, known as the "Venice of America," is a sought-after tourist destination for its pristine beaches, lively nightlife, and stunning waterways. However, timing is crucial when planning your trip to this bustling city. You wouldn't want to get caught in a hurricane or be surrounded by a throng of tourists all scrambling for the same spot on the beach. That's where we come in – to assist you in planning your visit to avoid any potential hiccups.
So, get ready with your sunscreen and shades, and let's dive into the aquatic paradise that Fort Lauderdale is! But don't forget to bring your water wings to keep you afloat in a sea of laughter.
Weather in Fort Lauderdale
Fort Lauderdale is a dream destination for sun-seekers who love soaking up Vitamin D. With more than 3,000 hours of sunshine per year, you can enjoy the warm climate almost any time you visit. But before you pack your bags, it's important to know what to expect weather-wise.  
During winter, temperatures usually range from the mid-60s to the low 80s, which is a drastic change from the frigid weather you're likely used to. However, nights can still be chilly, so bring a sweater or light jacket as a precaution. As spring rolls in, temperatures increase to the mid-70s to mid-80s, making it a perfect time to visit the beach and bask in the beauty of Fort Lauderdale.  
The summer months are hot and humid, with temperatures often reaching the 90s. It's an excellent time to visit if you enjoy warm weather, but remember to stay hydrated and take breaks from the sun. It's also important to keep an eye on weather reports since hurricane season is at its peak during this time.  
In the fall, temperatures begin to cool down to the mid-70s to mid-80s, making it an ideal time to visit. With fewer crowds and lower prices, it's a great opportunity to experience the city without the summer heat. Just keep in mind that hurricane season lasts until November's end, so be prepared and stay safe.
The eternal question for travelers: high season or low season?
It's like choosing between a wild frat party and a cozy night in with a bottle of wine – both have their appeal. In Fort Lauderdale, the high season runs from December to April, while the low season is from May to November.
If you're a people person who loves the sound of party music and crowds, then the high season is where it's at. The beaches are packed like a sardine can, the nightlife is popping, and the streets are teeming with tourists from around the world. It's like the wildest party that never ends. Just beware, the price tag for accommodations and activities during high season is higher than Snoop Dogg on a Sunday afternoon. 
But if you're more of a laid-back, chill traveler who loves some peace and quiet, low season is where it's at. The crowds thin out, the prices drop, and you can have a more relaxed, intimate experience. Imagine having the beach all to yourself – a paradise for introverts. The downside? You're rolling the dice with hurricane season, so prepare to be flexible with your plans.  
Let's talk about money, honey. High season is when Fort Lauderdale's tourism industry makes it rain like a strip club on a Friday night. Prices skyrocket for accommodations and activities, and you'll have to compete with other tourists for the best deals. But the low season is a bargain hunter's paradise. Prices drop considerably, and you can find great deals on flights, accommodations, and activities. If you're ballin' on a budget, the low season is where it's at.  
In the end, it's up to you. Whether you want to get crazy and party it up in the high season or save some cash and chill during the low season, Fort Lauderdale has something for everyone. Just make sure you bring your sunscreen, wallet, and sense of adventure. It's going to be one hell of a ride!
Events & Festivals
Get your party pants on because Fort Lauderdale is the place to be for all you wild party animals out there! With a constant stream of events and festivals, this sun-kissed city is always poppin' with excitement.
The Fort Lauderdale International Boat Show is the ultimate gathering for all sea-faring fanatics. You'll find the hottest boats, yachts, and other nautical delights here. Just remember to set sail early because this event gets packed faster than a can of sardines. If country and rock music make your heart skip a beat, then the Tortuga Music Festival in April is the place to be. Put on your best cowboy hat and show off your boot-scootin' skills for three straight days of music madness.
Calling all foodies! The South Beach Wine and Food Festival in February is a gourmet paradise. Indulge in some of the most mouth-watering cuisine and wine from all around the world. You might even catch a glimpse of a celebrity chef or two, so don't forget your autograph book! But let's not forget about the downsides of big events – crowds and prices can be a real buzzkill. During peak times, expect to battle crowds like a gladiator and pay sky-high prices for everything. 
So, book your accommodations and activities ahead of time to avoid any surprise expenses. In the end, Fort Lauderdale's events and festivals are the spice of life that make this city so memorable. Whether you're into boating, music, or food, there's something for everyone. So, put on your party hats, have a blast, and snap those Instagram-worthy pics!
Personal Preferences
We've talked about all the important stuff like weather, seasons, and events in Fort Lauderdale. But now it's time to get real and talk about personal preferences. You're not just a robot ticking items off a checklist – you're a human who wants to have a good time on vacation.
First up, let's talk about the weather. Are you a sun worshipper who wants to feel like a piece of bacon sizzling on the grill? Or do you prefer a gentle breeze and a mild climate? If you're more of a "give me air conditioning or give me death" kind of person, then you might want to avoid the sweaty summer months. But if you're all about that beach life, then bring on the heat!  
Now, let's talk about crowds. Do you love rubbing shoulders with strangers and being packed like sardines? Or do you need your personal space like a cat with a cardboard box? If you're more of a lone wolf, then you might want to avoid the high season and popular events. But if you thrive in a lively atmosphere, then come join the party!
Lastly, what do you like to do for fun? Are you all about water sports and boat tours? Or do you prefer to indulge in delicious food and drinks? Fort Lauderdale has everything from jet skis to brunch with bottomless mimosas, so plan your trip accordingly.  
But wait, there's more! Don't forget to pack your sunscreen, comfortable shoes, and a killer sense of humor. And don't be afraid to dive into all the amazing food, drinks, and activities that Fort Lauderdale has to offer. Just remember to pace yourself – we don't want you to burn out before you've had a chance to experience everything.
In the end, the best time to visit Fort Lauderdale is whenever the heck you want. Whether you're all about the high season or the low season, hot or mild weather, or busy or quiet beaches, this city has got your back. So pack your bags, bring your shades, and get ready for some serious fun in the sun!
Fort Lauderdale is the place to be. It's not just for retirees and snowbirds anymore – this city is hot, hot, hot! And no, I'm not talking about the sunburns you'll get if you forget your sunscreen. Now, the big question is: when should you visit? If you like a little hustle and bustle, winter and spring are prime times. But be warned; you'll have to battle the crowds and the price hikes. If you prefer a more chill vibe and want to save some cash, low season is the way to go.
No matter when you visit, make sure to pack your appetite – the food here is to die for. And bring your sense of adventure, too, because Fort Lauderdale is full of surprises. Don't be surprised if you end up staying longer than planned – this city has a way of sucking you in. So what are you waiting for? Pack your bags, grab your shades, and head down to Fort Lauderdale. The city is waiting for you with open arms (and a piña colada in hand). Trust me, you won't regret it.