28 Best Restaurants in Miami in 2023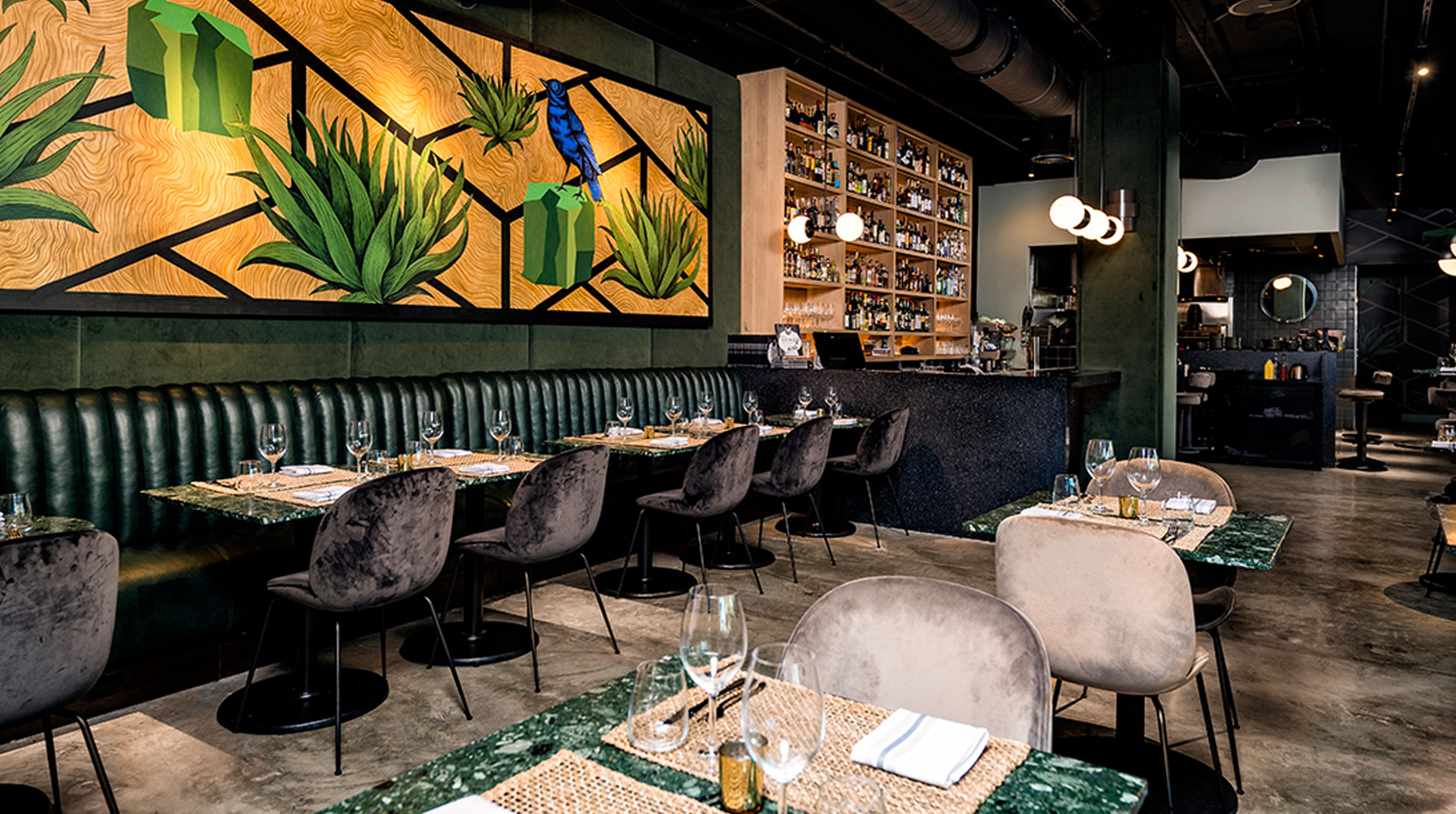 Over the years, Miami has evolved into one of the world's foremost dining hot spots. This culinary powerhouse has drawn in many respected Michelin-starred chefs who now have locations and restaurants all across this coastal city. Due to the diversity of the city's inhabitants, Miami also boasts a vibrant food scene. From opulent steak houses to upscale sushi restaurants, "The Magic City" has a true mix of flavors and vibes. We wholeheartedly believe that the best food does not always have to be the most expensive, we are far more interested in the whole package: an authentic vibe, friendly staff, and incredibly good food. In a city with an ever-growing culinary landscape, these are the places we keep going back to again and again.
1. COTE Miami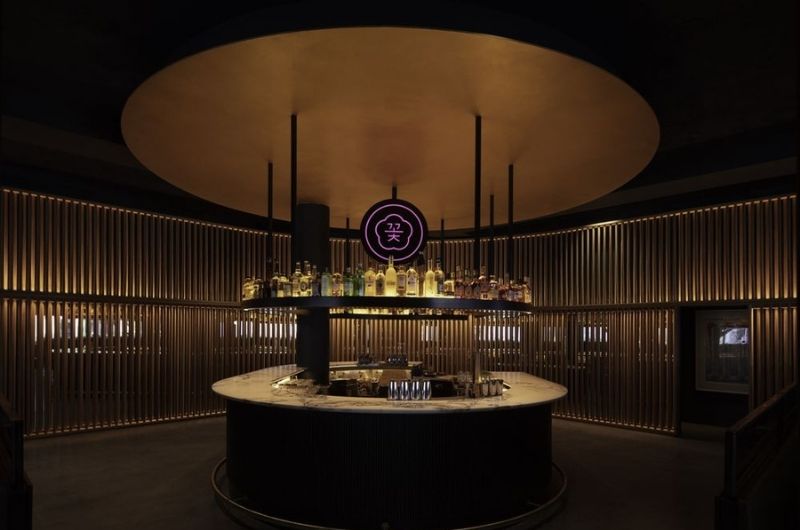 Cuisine: Elevated Korean Barbecue
Address + Neighborhood: 3900 NE 2nd Ave, Miami, FL 33137, Wynwood 
Good For: Carnivores
Highlights:
Dining at COTE Miami is completely worth the splurge. This Michelin-starred Korean steakhouse from New York City serves up some of the best quality beef in Miami and provides an exclusive and interactive experience. On their upscale but approachable menu expect to find sumptuous steaks, stiff martinis, and an extensive wine list that has been twice nominated for the James Beard Awards Outstanding Wine Program. 
If you are a first-timer at COTE, the most popular order is the butcher's feast, which includes a chef's choice of cuts along with various vegetables, kimchi, egg soufflé, stews, rice, and soft serve. Each table at this dimly-lit restaurant features smokeless charcoal grills, where servers will cook your dry-aged beef for you. Don't miss the chance to try one of their craft cocktails, such as the Esteban, a mezcal Negroni.
2. Bolivar Restaurant and Bar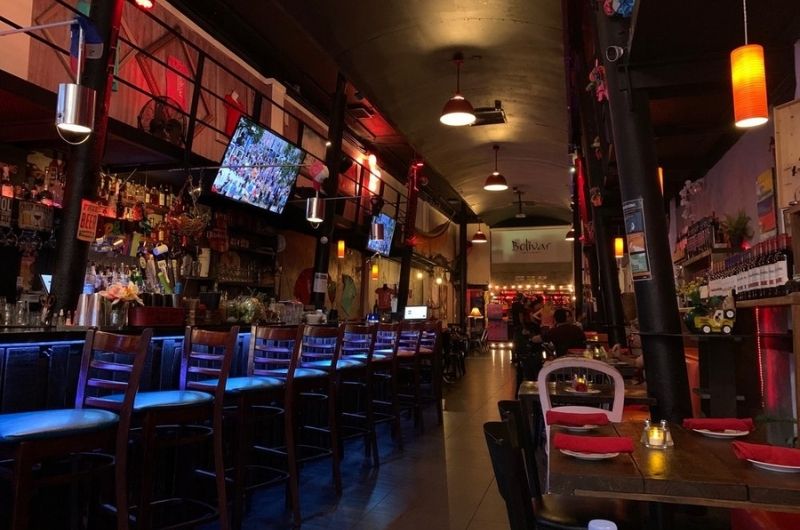 Cuisine: Trendy Colombian Fusion
Address + Neighborhood: 841 Washington Ave, Miami Beach, FL 33139 – Flamingo/Lummus
Good For: Foodies and Friends
Highlights:
Unique, relaxing, and chic decor meets festive Latin ambiance at Bolivar Restaurant and Bar. At this trendy restaurant, patrons can feast on some of the best Columbian food in Miami while enjoying a lively atmosphere to match. 
Each one of Bolivar's authentic and time-tested recipes is packed with fresh ingredients and is bursting with flavor. For lunch, customers can nosh on sea trout, duck confit, or baked salmon, while the dinner menu offers a roasted steak roulade, hearty seasonal soups, and other tasty fares. Make sure to take advantage of the vast drink selection at this stylish destination, which includes a wide variety of wine, beers, and specialty cocktails.
3. Orilla Bar & Grill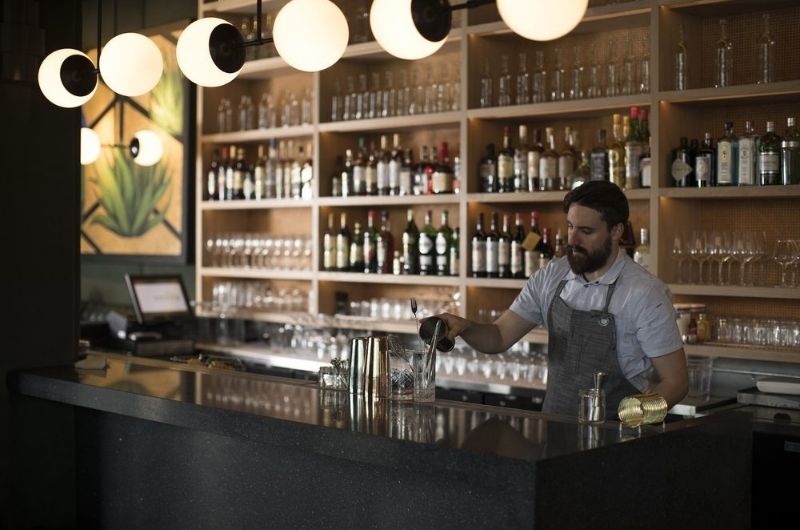 Cuisine: Deluxe Argentinian Steakhouse 
Address + Neighborhood: 426 Euclid Ave, Miami Beach, FL 33139 – Flamingo/Lummus
Good For: Date Night
Highlights: 
Amongst the minefield of tourist traps and overpriced club restaurants in South Beach lies a hidden gem: Orilla Bar & Grill. Nestled in the Urbanica Euclid Hotel, this Argentinian restaurant is the perfect place to dress up, sip on martinis, and cut into a delectable medium-rare steak. This chef-driven modern steakhouse by Fernando Trocco serves up simple, affordable well-executed cuisine. When it comes to your order, red meat and cocktails are what Orilla does best. Each one of their cuts comes with a chimichurri sauce for dipping. Make sure to include a few sides with your order such as tender roasted Brussel sprouts, French fries, or mashed potatoes. 
At this stylish South beach destination, the open dining room features modern decor with a relaxed atmosphere inspired by South Floridian nature. At Orilla, customers will be surrounded by lush, tropical greenery as they dine on their delicious meal. 
4. KYU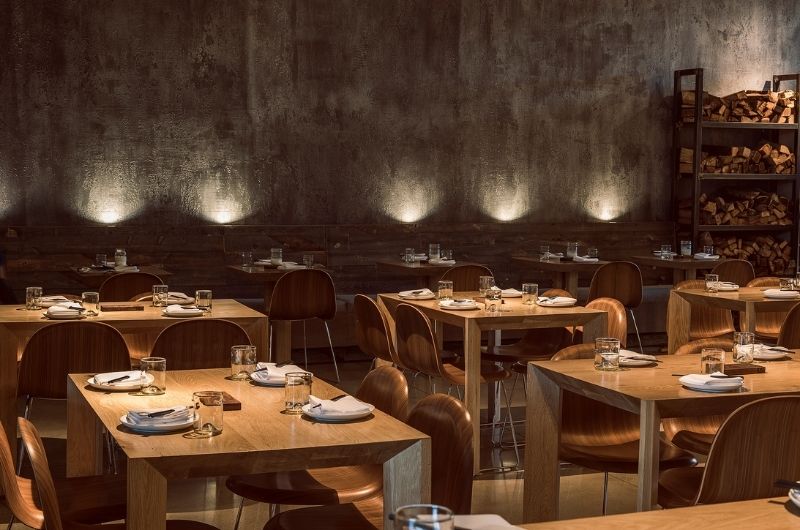 Cuisine: Elevated Asian Comfort-Food
Address + Neighborhood: 251 NW 25th St, Miami, FL 33127 – Wynwood 
Good For: A Special Evening Out
Highlights:
Within one year of its opening, KYU had garnered national recognition. Six years later, this modern Asian eatery remains a favorite among locals. The recipient of multiple award nominations, KYU boasts one of the most creative menus in Miami. Patrons can savor a variety of elevated comfort food dishes, including pork buns, Korean fried chicken, and crab fried rice. Make sure to add KYU's roasted cauliflower dish to your order to see what the well-deserved hype is all about. If you still have room for dessert (make sure you do), order a slice of the coconut cake and pair it with the MIO sparkling sake.
If you want to make a reservation at KYU, make sure to book one as early as possible. It can take months to score a table at this hot spot between 7 and 9 p.m.
5. BAKAN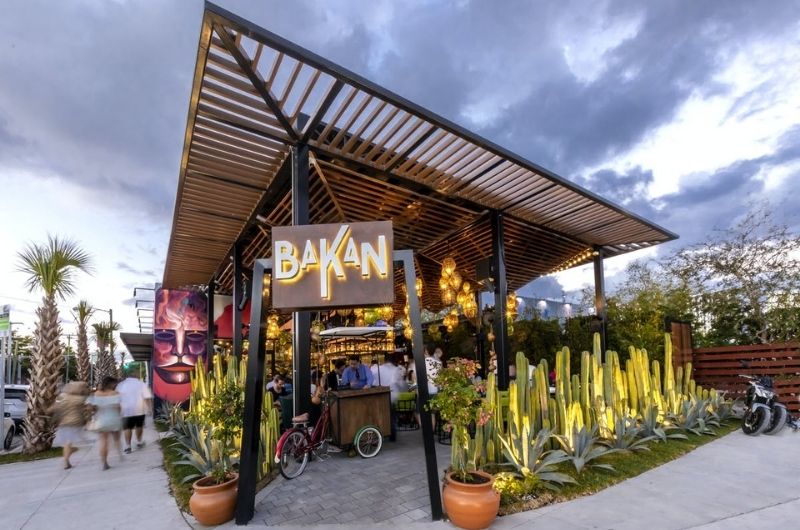 Cuisine: Authentic Mexican Fare with a Modern Twist
Address + Neighborhood: 2801 NW 2nd Ave, Miami, FL 33127 – Wynwood 
Good For: Fun and Funky Friend Date
Highlights:
Situated in the heart of Wynwood is the latest restaurant to come out of the renowned Jaguar Hospitality Group and Grupo Gavall. Bakan boasts a blend of traditional Mexican cuisine with a modern-day twist. While guests enjoy a diverse selection of authentic regional dishes, a vast mezcal and tequila list, and a handcrafted tortilla selection, they will feel as if they are dining in Mexico itself. 
With its earthy and contemporary atmosphere and exquisite plating, the experience is just as wonderful as the food at Bakan. Guests can catch a glimpse at the tortilla making through the open-view kitchen and take a peek at the glass case showing the 350-plus mezcals and tequilas on offer. As guests sit back, relax, and sip on Margaritas, they can also enjoy performances from local talents.
6. Manta Wynwood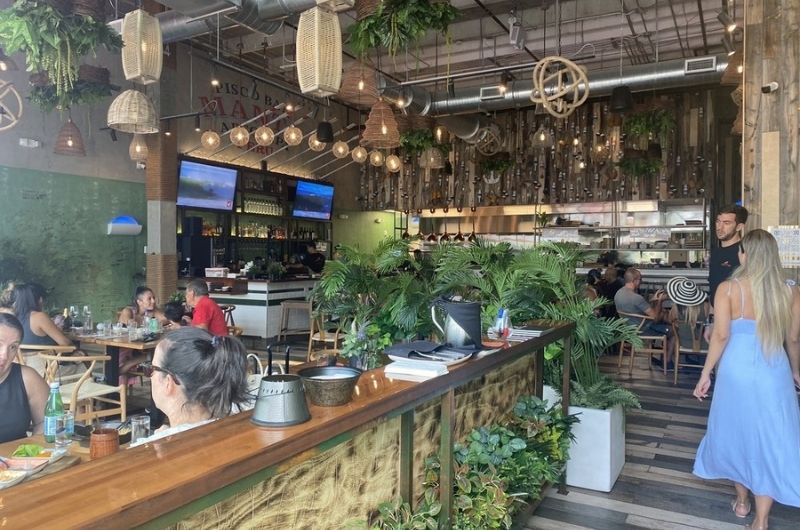 Cuisine: Casual Peruvian Cuisine and Ceviche
Address + Neighborhood: 102 NW 25th St, Miami, FL 33127 – Wynwood 
Good For: Laidback Lunch for Adventurous Eaters
Highlights:

Joining the ranks of restaurants located in the creative Wynwood district is Manta Wynwood. This casual yet atmospheric eatery is home to some of the most authentic Peruvian cuisine in the area. Each dish is inspired by Arequipa and bursting with flavors, textures, and memories reminiscent of this Peruvian city. If you are unfamiliar with Peruvian cuisine, don't let that scare you away from Manta. The menu includes photos of every dish and the friendly and attentive staff are happy to recommend dishes based on your food preferences.
7. The Bazaar by José Andrés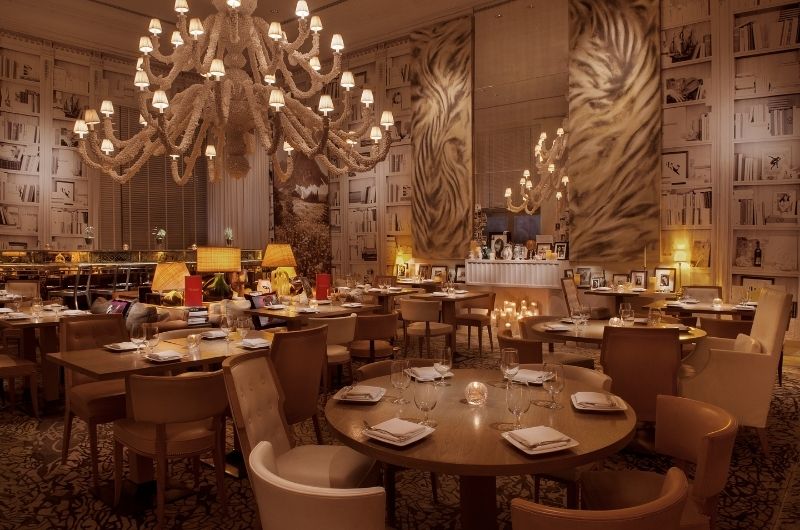 Cuisine: Innovative and Elevated Spanish Tapas
Address + Neighborhood: 1701 Collins Ave #100, Miami Beach, FL 33139 – Miami Beach
Good For: Adventurous Meat Lovers 
Highlights:
For a night to remember, head over to The Bazaar in Miami Beach. This one-of-kind restaurant is brought to you by celebrity chef José Andrés, the owner of several Michelin-starred hot spots. Andrés channels his Spanish roots into all of his recipes and patrons can expect to find a variety of tapas with Spanish, Asian & island tastes on his menu. Patrons can order appetizers such as watermelon and tomato skewers and entrees such as sautéed shrimp, Cuban coffee-rubbed churrasco, and spicy tuna. The Bazaar is also famed for its innovative cocktails, including the Cropping rope, made with cucumber vodka, lime, green chartreuse, and club soda. 
That being said, The Bazaar is no ordinary restaurant. The epitome of the South Beach dining scene, this upscale hotel lounge is a blend of innovative cuisine, food artistry, and playful theatrics all rolled into one.
8. À la Folie Café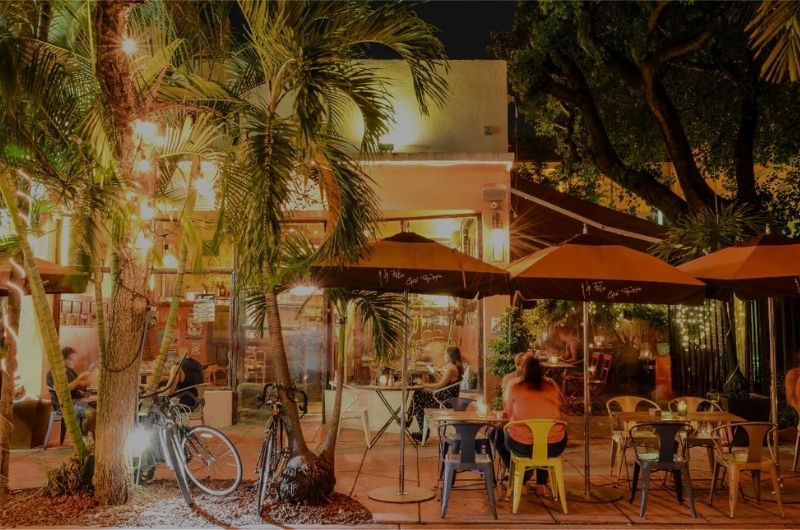 Cuisine: Authentic French Creperie  
Address + Neighborhood: 516 Española Way, Miami Beach, FL 33139 – Española Way
Good For: A Cute Breakfast Date
Highlights:
Situated on the vibrant corridor known as Española Way, À la Folie Café is the perfect spot to indulge in some old-fashioned French fare. This casual yet intimate French creperie serves up a vast array of sweet and savory crepes, as well as classic French dishes, sandwiches, and breakfast food. 
Customers can sample anything from the mouthwatering buckwheat French Dijonaise crepe (chicken and potatoes in a mustard cream sauce) to the sweet sugar and lemon juice dessert crepe finished with whipped cream. If you head over around breakfast time, try one of the "totale" crepes with ham, Swiss cheese, egg, and mushrooms for the perfect elevated, French breakfast sandwich. 
9. Tequiztlan Mexican Restaurant and Tequila Bar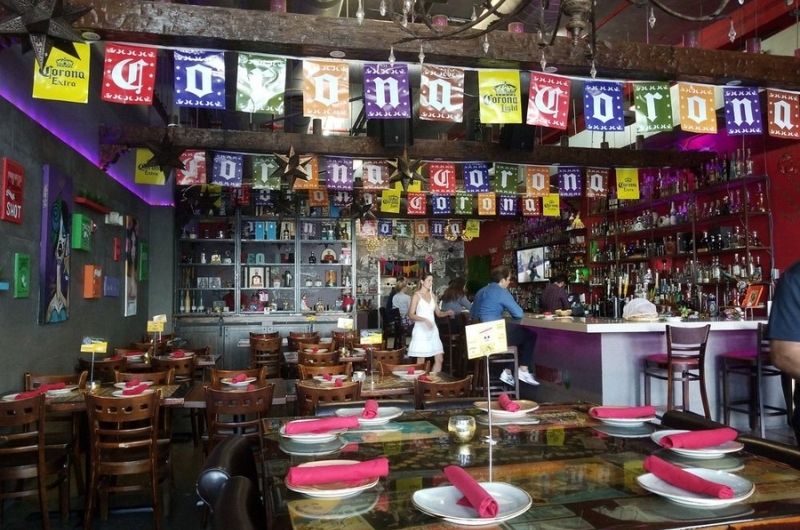 Cuisine: Authentic and Upscale Mexican Fare
Address + Neighborhood: 1884 Bay Rd, Miami Beach, FL 33139 – West Avenue
Good For: Atmospheric Happy Hour with Friends
Highlights:
Tequiztlan Mexican Restaurant and Tequila Bar opened its doors for the first time seven years ago and have been serving up authentic Mexican fare ever since. Situated right by the ocean, this hip cantina is equipped with a rooftop bar and restaurant that channel the patio dining experience of Oaxaca and Mexico City. Patrons can sample small bites such as Platanos Rellenos (fried sweet plantains topped with carnitas, sour cream & Mexican cheese) and meat and seafood entrees including various enchiladas, burritos, fajitas, and chimichangas. 
With its industrial flair and lively atmosphere, Tequiztlan Mexican Restaurant and Tequila Bar is perfect for happy hour with friends. Every Monday through Thursday from 4 to 6 p.m, patrons can enjoy 15% off select drinks. For a night to remember, make sure to sample one of their fourteen signature margaritas. Ordering table-side guacamole is a must.
10. Magdoos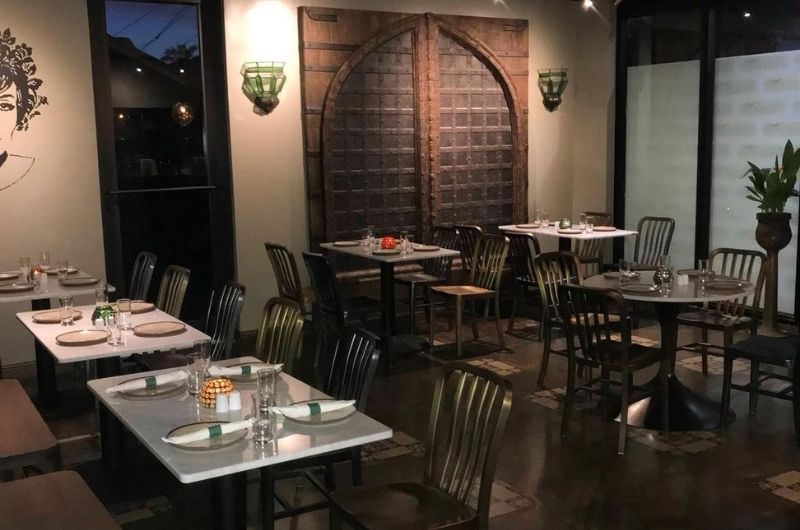 Cuisine: Lebanese Cuisine
Address + Neighborhood: 30 NW 34th St ste 110, Miami, FL 33127 – Wynwood 
Good For: Laidback Vibe with Friends
Highlights:
Located on the northern edge of Wynwood, Magoods is a hidden gem amongst the sea of restaurants in this bustling neighborhood. If you have been craving classic Lebanese dishes such as fried kibbe, hummus, tabbouleh, and kabobs, on your trip to Miami, Magdoos is certainly the place for you. Tucked away on a quiet side street, on a nice night, a meal on Magdoos' back patio is guaranteed bliss. For those interested, hookah is also offered outside.
11. Itamae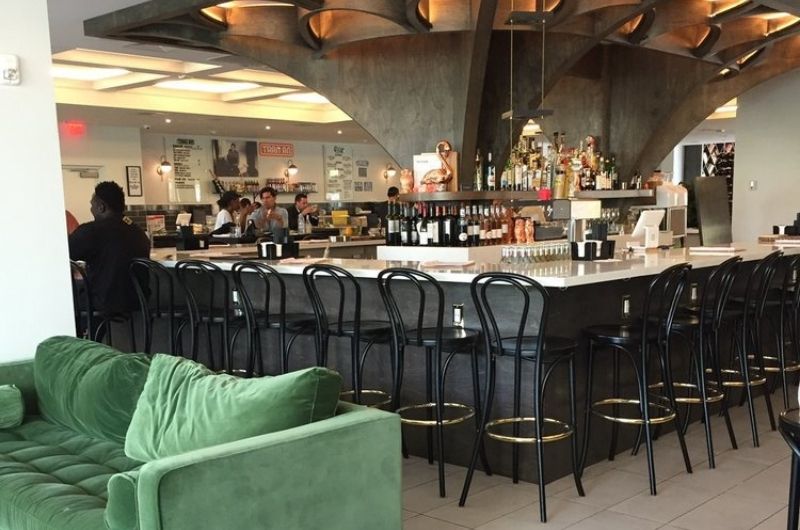 Cuisine: Innovative Peruvian Cuisine
Address + Neighborhood: 140 NE 39th St #136, Miami, FL 33137 – Palm Court
Good For: Lunch with a Fellow Foodie
Highlights:

Formerly a humble stall from the neighborhood food hall, Itamae has transformed into its very own restaurant in Miami's Design District's Palm Court. This Nikkei-inspired restaurant, led by the "Chang Gang," a family trio composed of a brother, sister, and father, is an ode to combining their Peruvian heritage with traditional Japanese dishes. Wondering what that looks like? This family-owned restaurant boasts a carefully curated selection of specialty maki and rolls, sashimi, and rice bowls served alongside tiraditos and ceviches. Inside the walls of the sleek, minimalist eatery, the possibilities for raw fish are infinite. Make sure to order the conceits a la Parmesan (stacked with fish, charred scallops, and avocado).
12. Jaguar Restaurant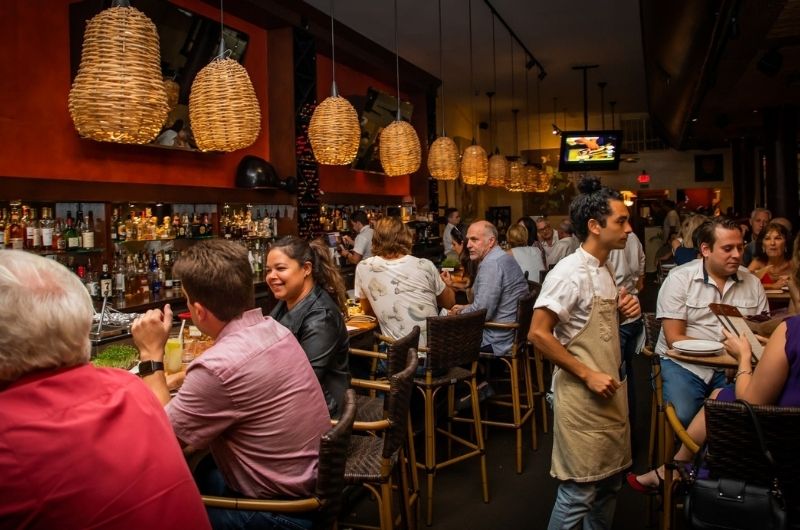 Cuisine: Traditional Latin American Food with a Contemporary Flair
Address + Neighborhood: 3067 Grand Ave, Miami, FL 33133 – Coconut Grove
Good For: Large Group Dinners
Highlights:

If you love Coconut Grove as much as we do, make sure to book a table at one of their best eateries: Jaguar Restaurant. Inspired by the diverse foods of Latin America, Jaguar Restaurant's signature items feature traditional dishes from Mexico, Peru, Argentina, and Chile with a contemporary spin. Each visually-appealing dish showcases its own unique taste, texture, spices, and ingredients. Dishes include ceviches served inside large white ceramic spoons and tender meats with Latin salsas. As patrons nosh on their delicious meal, they will be surrounded by mellow burgundy and yellow walls painted with natural flower pigments, as well as paintings created by Dionisio Ceballos. This sprawling Pan-Latin eatery has a maximum capacity of 200 people, making it the perfect spot for a large group dinner with friends or family.
13. Nossa Omakase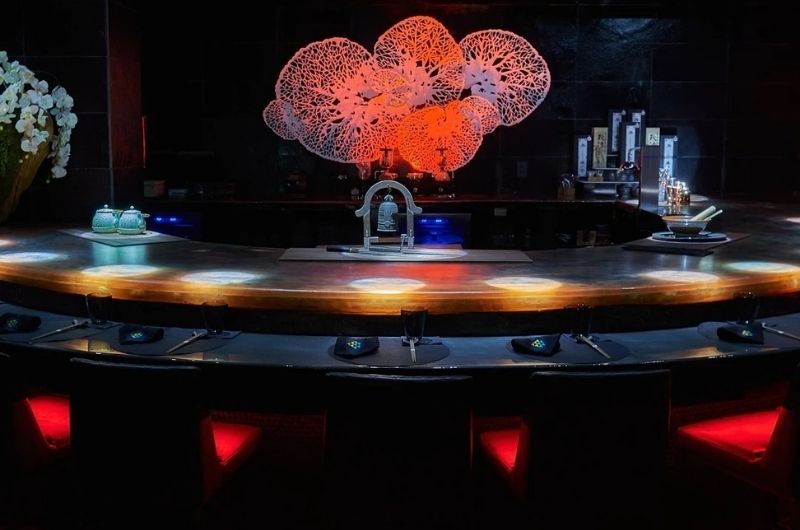 Cuisine: Indulgent Japanese Cuisine
Address + Neighborhood: 1600 Collins Ave, Miami Beach, FL 33139 – Miami Beach
Good For: Celebratory Dinner for Two
Highlights:
Over the past few years, the omasake scene in Miami has taken off like a storm. One of the city's best-kept secrets is the newly-opened Nossa Omasake located in Miami Beach, which blends the unique flair of the city with adventurous, high-end Japanese cuisine. This prohibition style-speakeasy is located in a hidden space behind Koa Poke, and guests must use a password-protected door to enter the facility. Guests are then invited inside for pre-dinner cocktails. Once all the guests have arrived, Japanese-Brazillian chef Max Kamakura will lead you through an 18-20 course omasake experience. Expect only the most indulgent ingredients and elaborate dishes including a wealth of caviar, Japanese uni, dry-aged fish, toro, freshly-shaved truffle. 
As for the presentation, that's just as impressive. Guests can watch in awe as their classically trained sushi chef pulls out all the stops with smoke, sparks, and liquid nitrogen. As you dine in the utmost fashion, guests can take in the vintage Japanese films playing on the walls, and enjoy the selection of Latin Jazz and Bossa Nova in the background.
14. Luca Osteria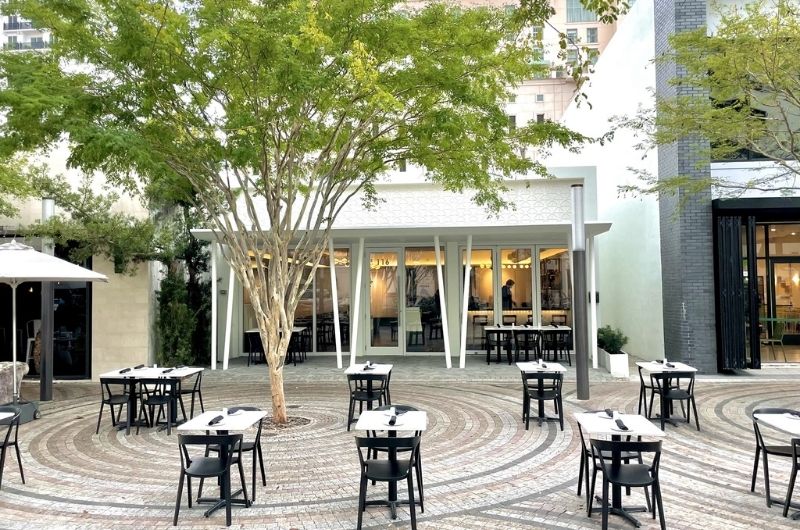 Cuisine: Creative Italian Classics 
Address + Neighborhood: 116 Giralda Ave, Coral Gables, FL 33134 – Crafts
Good For: Date Night
Highlights:

Located on the pedestrian-friendly Giralda Avenue, Luca Osteria is chef Giorgio Rapicavoli's ode to his home country. The menu combines Italy's timeless classics with a creative approach to techniques and flavors. Dishes include a wide variety of Italian pasta and entrees, including pappardelle with beef short rib bolognese, wagyu beef carpaccio, and bluefin tuna caprese. You will want to order several dishes for the table, so make sure to include the patate fritte in your order, which includes little fried potato balls topped with a layer of Parmigiano fonduta, black truffle, and egg yolk. Trust us, you won't be sorry. The food is extraordinary, but the elevated versions of Italian-influenced cocktails are just as delicious. When in doubt, select a drink from the extensive Negroni line-up.
15. Joe's Stone Crab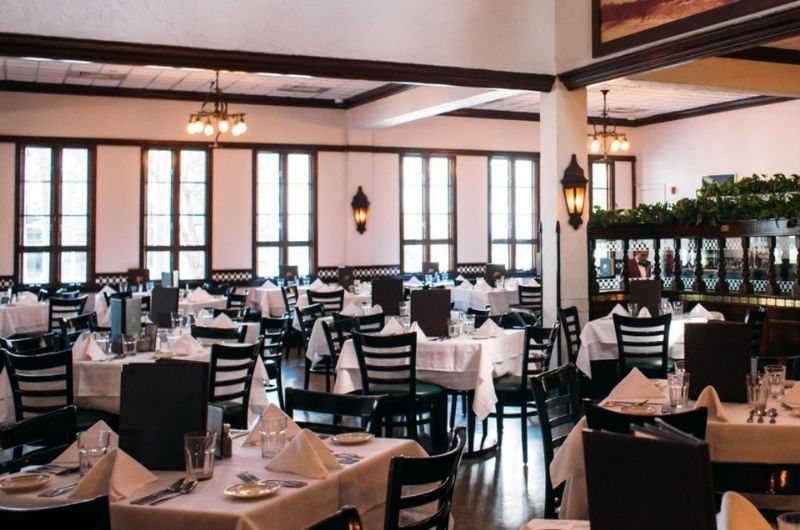 Cuisine: Classic Seafood Dishes
Address + Neighborhood: 11 Washington Ave, Miami Beach, FL 33139 – Flamingo/Lummus
Good For: Fancy Family Dinner
Highlights: 
One of the most historic restaurants in Miami, Joe's Stone Crab has been open for more than a century (an eternity in restaurant years). After discovering the delicious crustacean over 100 years ago, this Miami institution has been serving them up ever since. While someone in your party must order the stone crabs, patrons can also chow down on classic sides like hash browns and creamed spinach. While they may be known for their tasty seafood, their enticing key lime pie plays a close second fiddle. 
Joe's has recently added a sprawling outdoor area to its bustling restaurant, which allows patrons to enjoy their seafood alongside the warm, South Florida breeze. If you don't want to spend time waiting at this popular joint (and wait you will), head next door to Joe's Takeaway.
16. Boia De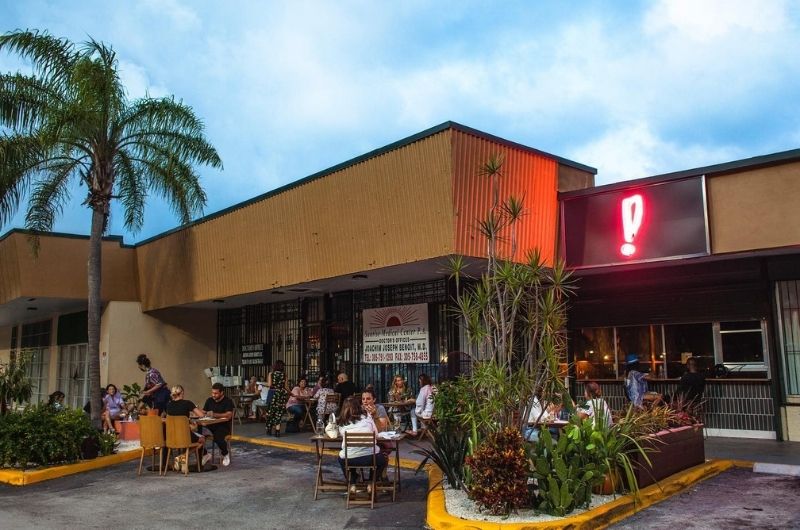 Cuisine: Traditional Italian Recipes with a Twist
Address + Neighborhood: 5205 NE 2nd Ave, Miami, FL 33137 – Upper East Side
Good For: Adventurous Foodies 
Highlights:
The neon red exclamation point that hangs above Boia De's door perfectly sums up their culinary experience. Tucked away in a strip mall on the outskirts of Little Haiti, this cozy and charming restaurant serves up traditional Italian recipes with a twist. Michelin-trained chefs Luciana Giangrandi and Alex Meyer showcase their fine dining backgrounds with rotating dishes such as crispy potato skins topped with stracciatella, caviar, and hard egg, baked clams with nduja and lemon, and lamb ribs with yogurt and spicy cucumber pickles. You will find some of the most creative dishes in Miami at Boia De and every dish is paired with rare vintage and natural wines. 
The beautifully curated interior walks the line between dramatic and intimate. While it can be tricky making a reservation, as the inside sits only 30 people, the dining experience will certainly make it worth your while.
17. La Mar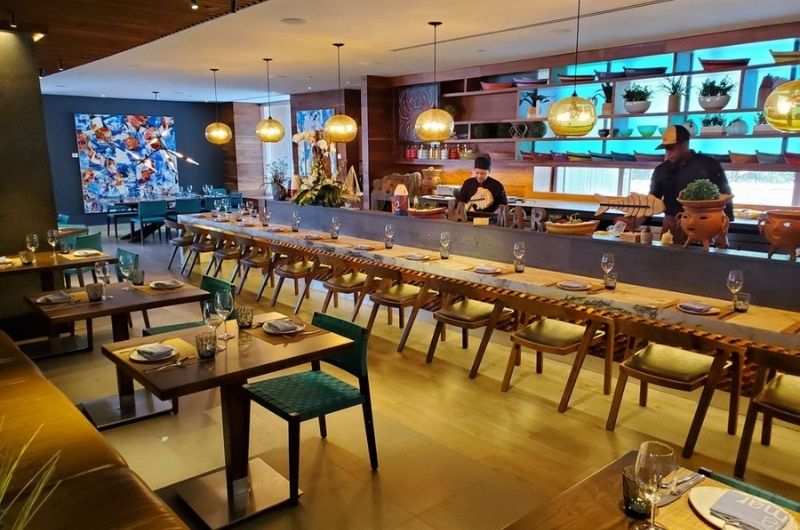 Cuisine: Indulgent Peruvian Cuisine 
Address + Neighborhood: 500 Brickell Key Dr, Miami, FL 33131 – Brickell Key
Good For: Special Occasions 
Highlights:
Nestled in Brickell Key inside the Mandarin Oriental, La Mar brings a true taste of Peru to Miami. Brought to you by the extraordinarily talented celebrity chef Diego Oka, diners can choose from various culinary styles from Novo-Andean to Asian-Peruvian fusion. Dishes include classics such as lomo saltado, tuna tostada, plump jumbo scallops, and local offerings like yellowtail snapper. Each dish is adorned with foams and edible flowers, making your meal just as pretty as it is delicious.
While the interior has an energetic and atmospheric setting, try to snag a table on La Mar's sprawling outdoor patio for unparalleled 360-degree views of the Miami skyline.
18. LPM Restaurant and Bar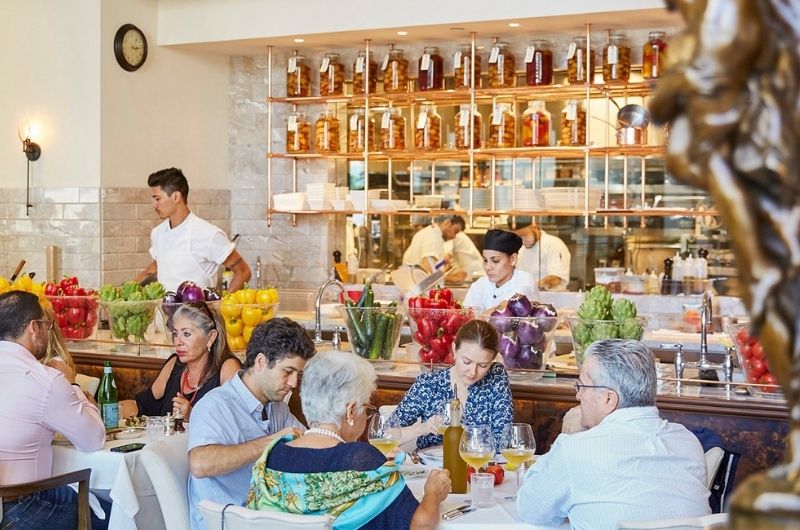 Cuisine: Upscale French-Mediterranean Fare 
Address + Neighborhood: 1300 Brickell Bay Dr, Miami, FL 33131 – Brickell 
Good For: Birthday, Anniversary, or Graduation Celebrations
Highlights:
Whether you have an upcoming birthday or anniversary, dinner at the LPM Restaurant and Bar is the perfect way to celebrate. A dazzling import from Nice, this trendy Brickell restaurant serves upscale French brasserie-style dishes with Mediterranean influences. Some highlights of the menu include the creamy burrata, fresh yellowtail carpaccio, and butter and herb-soaked traditional escargot. Order the light and airy cheesecake to finish off your perfect meal. Keep in mind, the tomatoes on the table aren't just for decor. Be sure to slice these sublime veggies up and eat them between courses. 
LPM Restaurant and Bar has all of the features of an upscale restaurant. All meals are served on fine china with tablecloths and the elegant dining room is decorated with a light color palette reminiscent of the Cote d'Azur. If you are looking for a more casual setting for your evening meal, snag a seat at the bar.
19. Makoto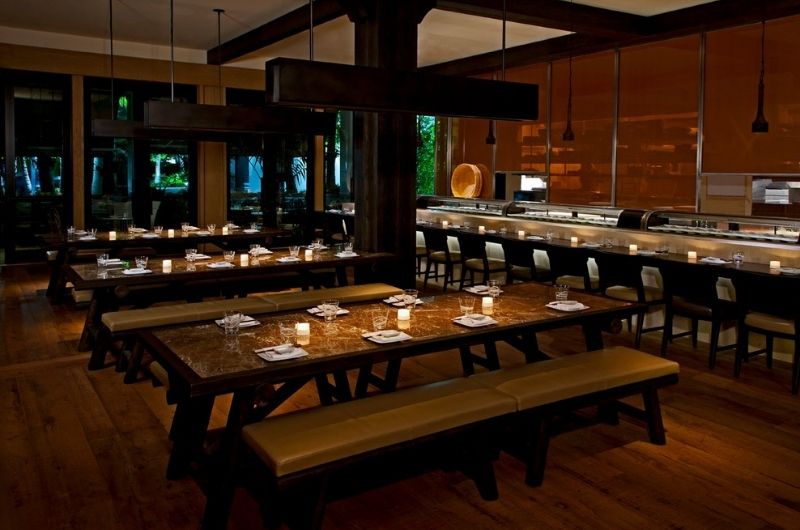 Cuisine: Upscale Sushi with a Creative Flair
Address + Neighborhood: 9700 Collins Ave, Miami Beach, FL 33154 – Miami Beach
Good For: Indulgent Lunch
Highlights:

Located inside the swanky Bal Harbor shops, Makoto has won Miami foodies over with its irresistible Japanese dishes and relaxed, tropical ambiance. This Stephen Starr-owned restaurant is helmed by one of the best sushi chefs in the nation. With fresh fish flown in from Tokyo several times a week, customers can expect top-quality seafood, pristine sushi and nigiri, modern Japanese dishes, and bincho charcoal robata. You will find the best version of spicy tuna crispy rice at this cult-favorite restaurant, so make sure to include this dish in your order. For adventurous eaters, delve into the far corners of the menu and sample the barbecue freshwater eel, the live scallop, and the sea urchin.
20. Mignonette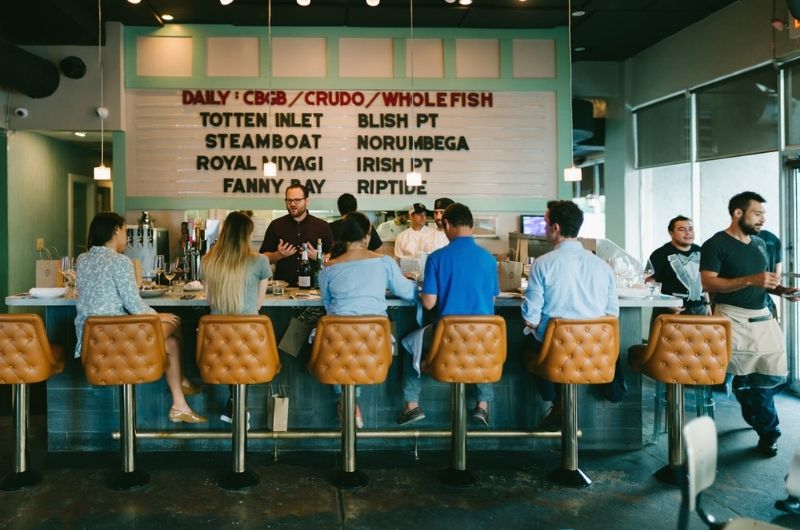 Cuisine: Contemporary Seafood Dishes
Address + Neighborhood: 210 NE 18th St, Miami, FL 33132 – Town Square
Good For: Seafood Lovers
Highlights:
For a slice of oyster heaven, head down to Mignonette. Brought to you by Danny Serfer and Ryan Roman, this gas station-turned-restaurant is a contemporary take on a classic seafood restaurant, striking the perfect balance between plain and fancy. While it may be famed for its shellfish, this Edgewater restaurant features a slew of other seafood items, as well as meat-based options such as prime rib, chicken, and its renowned veggie board. 
At this hip oyster bar, patrons can order extravagant seafood dishes such as the Clams Casino appetizer with bacon and white wine, the seared scallops with andouille, or the lobster deviled eggs. To keep things simple, you can't go wrong with an order of their Connecticut-style lobster roll, which comes with a side of homemade chips. Diners have also raved about the Heath bar pudding dessert, which is truly something to write home about.
21. Ariete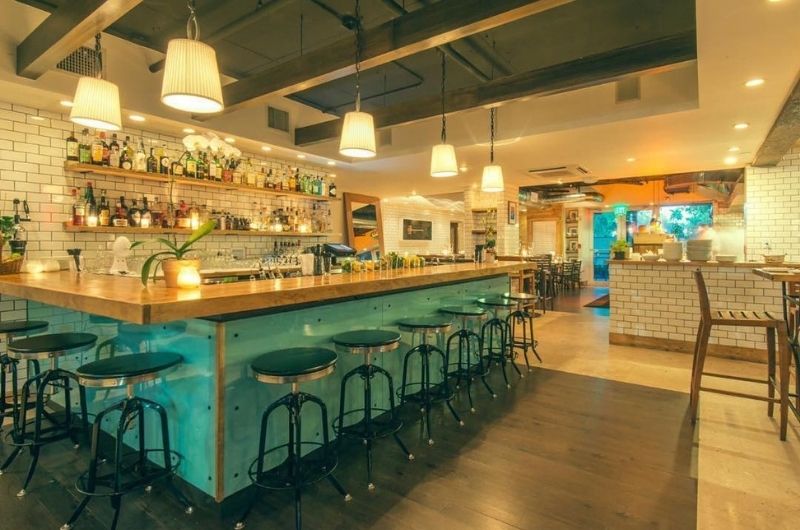 Cuisine: Elevated Cuban Comfort Food
Address + Neighborhood: 3540 Main Hwy, Coconut Grove, FL 33133 – Coconut Grove
Good For: Hungry Groups
Highlights:

Helmed by chef Michael Beltran, Ariete is an ode to Beltran's Cuban upbringing. Nestled on the lush, tree-lined avenue of Coconut Grove, this neighborhood favorite features a menu of innovative and hearty comfort dishes with Cuban touches. Stars of the menu include the grilled oysters coated with bone marrow butter, pastrami-styled short rib, and the extraordinary duck press. The indoor and outdoor experience at Ariete has a family-friendly feel and is the perfect place for groups looking for a comforting yet upscale meal. If there was anyone who could take homey dishes and turn them into a fine dining experience, it's chef Beltran.
22. Carbone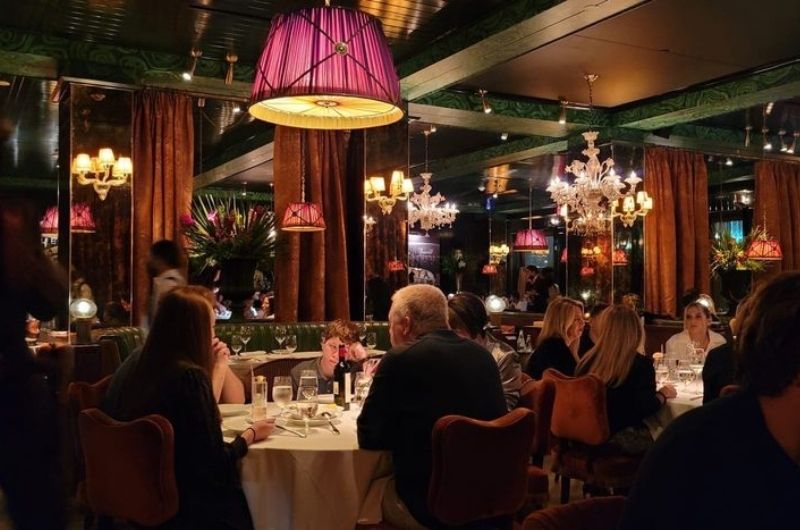 Cuisine: Extravagant Italian Fare
Address + Neighborhood: 49 Collins Ave, Miami Beach, FL 33139 – South of Fifth
Good For: Celebratory Occasions with a Significant Other
Highlights:

With its elaborate chandeliers, vintage booths, and velvet drapes, Carbone exudes mid-century elegance and opulence, making it the perfect spot for a celebratory occasion. That is if you can get a reservation, of course. If you manage to book a table at the most coveted restaurant in town, don't miss the chance to order their infamous spicy vodka rigatoni. Other menu highlights include the Caesar salad "Alla ZZ" which is prepared tableside, veal parmesan, baked clams, and lobster ravioli. Make sure to pair your meal with one of Carbone's Gibson martini's or another one of their intense yet balanced cocktails. The cherry on top of your meal should certainly be the Coconut Lime Chiffon cake. It's light and fluffy with the perfect hint of lime.
23. El Bagel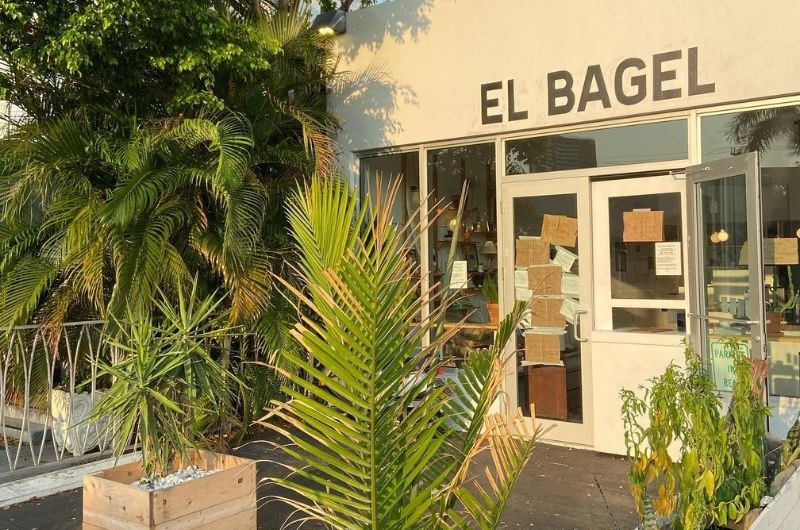 Cuisine: New York Style Bagels
Address + Neighborhood: 6910 Biscayne Blvd, Miami, FL 33138 – Little River
Good For: Breakfast On the Go
Highlights:

If you are looking for an unparalleled breakfast on the go (and you consider yourself a patient person), you can't go wrong with a trip to El Bagel. What began as an incredibly popular food truck has transformed into a full-blown brick-and-mortar restaurant. The bagel spot for authentic New York Styled bagels, El Bagel serves up a diverse array of creative hand-rolled bagels, spreads, and bagel sandwiches. If you are a first-timer, make sure to order the B.E.C. with thick-cut bacon, egg, and cheese or the Avo Spesh with a mountain of fresh sprouts – you won't regret it. For a little something different, try the King Guava, with guava marmalade, cream cheese, papitas, and a local fried egg.
24. Leku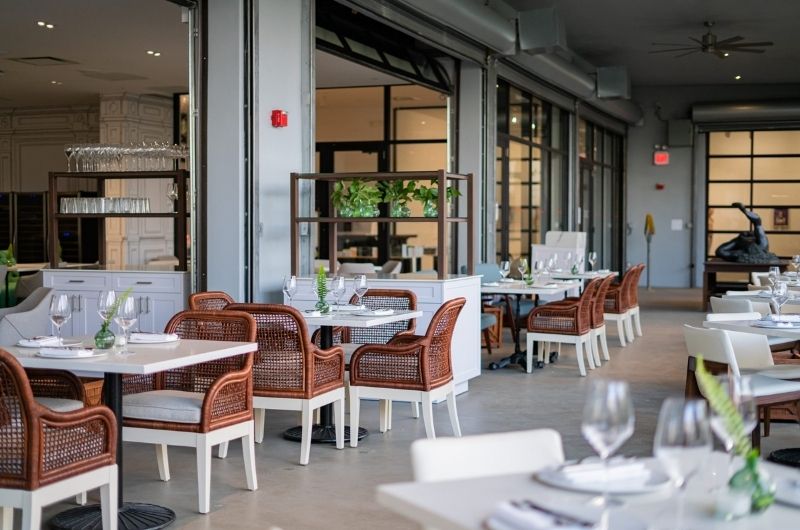 Cuisine: Modern Basque Cuisine
Address + Neighborhood: 1100 NW 23rd St, Miami, FL 33127 – Allapattah 
Good For: Carnivores and Special Occasions
Highlights:

Planning a visit to the Rubell Museum? The trendy on-site restaurant, Leku, makes the perfect pitstop if you are looking to feast and celebrate. While Miami has its fair share of Spanish restaurants, very few of these destinations focus on Basque cooking. Located in the museum's breezy garden, this Allapatah favorite immerses diners in the heart of Spain's Basque Country. The diverse menu walks the line between refined and whimsical with visually-appealing dishes such as creamy croquetas, whole branzino, beet tartare with olive oil caviar, and delicious Iberico ham that is served on a puffed cracker. If you're in the mood, pair your meal with one of the many gin and tonics on the menu.
25. Mandolin Aegean Bistro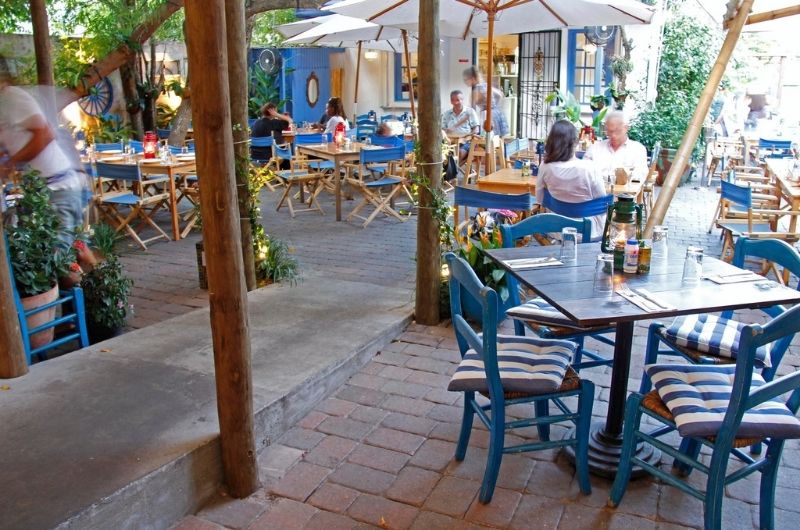 Cuisine: Authentic Greek and Turkish Cuisine
Address + Neighborhood: 4312 NE 2nd Ave, Miami, FL 33137 – Model City
Good For: Intimate Date Night
Highlights:

Nestled in a hidden and quaint courtyard, Mandolin Aegean Bistro boasts some of the best Turkish and Greek food in all of Miami. A meal at Mandolin is a transformative experience. The white and blue paint is reminiscent of stunning Santorini structures, while the menu is a whirlwind tour of the Greek Isles. Dishes include small plates such as lamb and beef meatballs, freshly baked pita, and grilled octopus, which allows you to eat as much or as little as wish. Pair your evening meal with a pitcher of Mandolin's homemade sangria to round out the experience. The homey and intimate atmosphere at this enchanting outdoor eatery makes this the perfect restaurant for a romantic date night.
26. Zak the Baker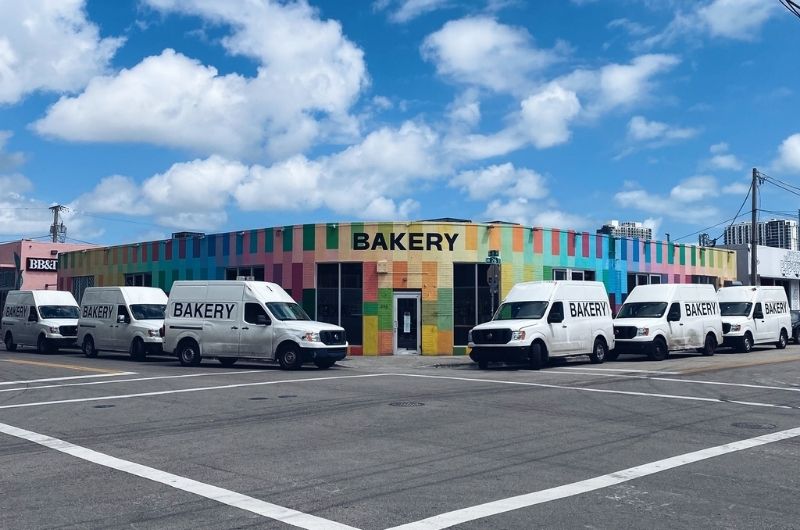 Cuisine: Kosher Breakfast Fare 
Address + Neighborhood: 295 NW 26th St, Miami, FL 33127 – Wynwood 
Good For: Sit Down Breakfast
Highlights:

If you are enjoying delicious bread at a restaurant in Miami, there's a good chance that it was created by Zak Stern. In addition to his booming bread business, Stern also owns a popular stand-alone bakery called Zak the Baker. Settled in Wynwood, this hip cafe has a bright, multi-colored exterior that's hard to miss. This certified-Kosher bakery has all types of sourdough creations on the menu topped with ingredients such as crumbled feta, avocado, alfalfa sprouts, and heirloom tomatoes. If you are craving other breakfast or lunch fare, patrons can also dine on eggs, bagels, soups, sandwiches, and salads.
27. Michael's Genuine Food & Drink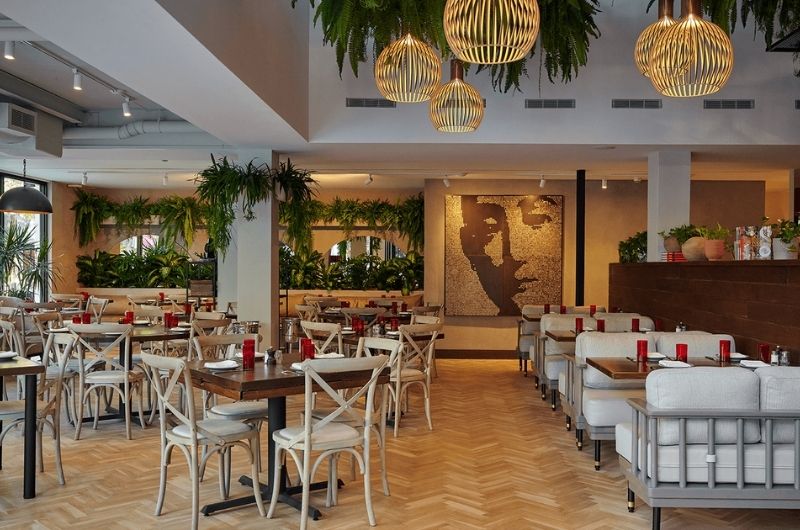 Cuisine: Elevated American Comfort Food
Address + Neighborhood: 130 NE 40th St, Miami, FL 33137 – Miami Design District
Good For: Anything from a Business Lunch to a Date Night
Highlights:

After more than 14 years in Miami's Design District, Michael's Genuine Good & Drink continues to wow locals and tourists alike. Helmed by James Beard Award-winning chef Michael Schwartz, this more than decade-old institution strikes the perfect balance between casual and ritzy. This versatile restaurant is the perfect go-to spot for brunch, lunch, or dinner and its diverse menu has something for all types of diners. Whether you are looking for a place to enjoy a happy hour cocktail, host a business luncheon, or impress on a date night, this buzzy neighborhood joint will always exceed expectations.
28. Stubborn Seed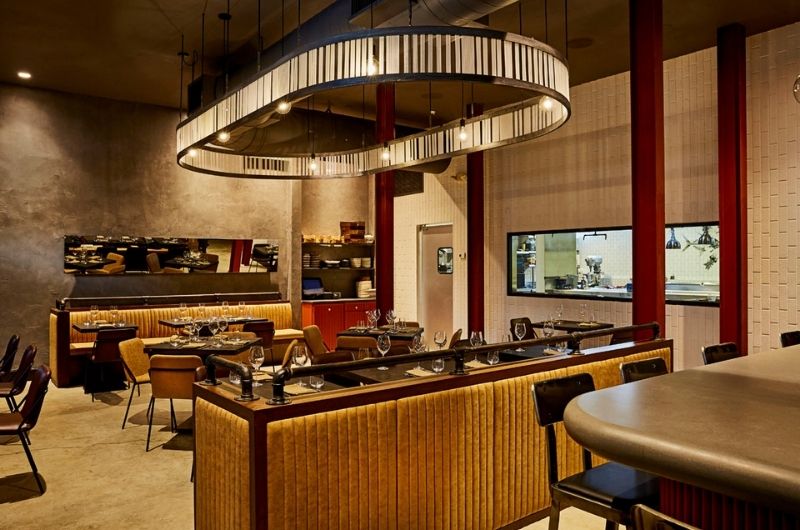 Cuisine: Upscale American Eats
Address + Neighborhood: 101 Washington Ave, Miami Beach, FL 33139 – South of Fifth
Good For: Fancy Dinner Out
Highlights: 

Boasting rich decor, including industrial exposed ceilings, marble bar tops, and velvet ropes, Stubborn Seed is the perfect place for a fancy evening meal. Brought to you by "Top Chef" winner Jeremy Ford, this intimate yet trendy South of Fifth joint boasts a menu that walks the line between familiar and unconventional. If you are dining a la carte, don't miss the chance to sample some of Ford's innovative snacks including the Cacio e Pepe cheesy puffs and the gooey jalapeño fitters. Entrees include dishes such as ricotta gnudi, Caribbean-spiced foie gras, and pan-roasted Asian sea bass. While it may be a bit of a splurge, first-timers should certainly consider indulging in the eight-course chef's tasting menu, which includes a winning assortment of classics and seasonal dishes.
Frequently Asked Questions
What are the top 3 must-try restaurants in Miami?
Miami's vibrant food scene boasts a variety of exceptional dining experiences. My top 3 picks are Joe's Stone Crab, Versailles, and KYU. Joe's Stone Crab, a Miami institution, is known for its delicious stone crab claws and classic American fare. Versailles, located in Little Havana, serves up mouthwatering Cuban cuisine and offers a taste of Miami's rich cultural heritage. KYU, situated in the Wynwood Arts District, is a contemporary Asian fusion restaurant, featuring a unique menu that showcases a mix of traditional and modern flavors.
Where can I find the best Cuban food in Miami?
For an authentic Cuban food experience, head over to Versailles in Little Havana. This iconic restaurant has been a local favorite since 1971 and offers a wide range of Cuban dishes, from ropa vieja to arroz con pollo. Don't forget to try their famous Cuban sandwich and finish your meal with a sweet guava pastry.
Can you recommend a top fine dining experience in Miami?
For an unforgettable fine dining experience, visit Chef Adrianne's Vineyard Restaurant and Wine Bar. This upscale eatery, located in Kendall, is known for its intimate setting, excellent service, and exquisitely crafted dishes. Chef Adrianne Calvo uses the freshest ingredients to create a constantly evolving menu, ensuring a memorable and unique culinary journey each time you visit.
What are the best vegan or vegetarian-friendly restaurants in Miami?
Miami offers plenty of options for vegan and vegetarian diners. Some of my favorite spots include PLANTA South Beach, which focuses on innovative plant-based cuisine in a chic setting, and Love Life Cafe, a cozy eatery in Wynwood serving delicious, healthy fare like veggie burgers, smoothies, and acai bowls.
Where can I find the best pizza in Miami?
Miami boasts a variety of exceptional pizzerias, but my top pick is Lucali in Sunset Harbour. This Brooklyn import is renowned for its delicious thin-crust pizza, featuring a perfect balance of flavors and high-quality ingredients. The laid-back atmosphere and communal seating make for an enjoyable dining experience.
What are some great spots for late-night dining in Miami?
Miami's late-night dining scene caters to every taste. For those craving Asian cuisine, check out 1-800-Lucky, a bustling Asian food hall in Wynwood that stays open until 2 AM on weekends. For a more casual experience, visit La Sandwicherie, a beloved sandwich shop in South Beach that serves up delicious sandwiches and salads until 5 AM. Finally, if you're in the mood for tacos, head over to Coyo Taco in Wynwood or Brickell, where you can satisfy your late-night cravings with their tasty, made-to-order tacos.
What are the best restaurants in Miami for a romantic dinner?
If you're looking to turn up the heat on your love life, head to Casa Tua. With its cozy, candlelit tables and divine Italian cuisine, you're sure to impress your significant other. Watch out for flying spaghetti, unless you want to rock the Italian fashion statement.
Where can I find the best seafood in Miami?
For fresh seafood with a view, head to Garcia's Seafood Grille & Fish Market. This family-owned restaurant has been serving up succulent seafood for over 50 years. Whether you're in the mood for crab cakes or grilled fish, Garcia's has it all. If your pants feel tight after this meal, just call it a fashion statement and own it.
What's the best place for a quick bite in Miami?
If you're on the go but still want something tasty, head to La Sandwicherie. This little sandwich shop offers a variety of fresh ingredients that you can customize to your liking. Just be prepared to eat your sandwich on the go, because you won't be able to resist taking a bite.
Which restaurant has the best brunch in Miami?
For a boozy brunch that will make you forget all your problems, head to Brava at the Adrienne Arsht Center. From breakfast burritos to bottomless mimosas, this restaurant has everything you need to start your day off right. Warning: food coma may occur. Have a nap pod on standby.
Where can I find the best vegetarian options in Miami?
If you're looking for some delicious meat-free meals, head to Love Life Cafe. With an extensive menu of plant-based dishes, smoothies, and desserts, you won't even miss the meat. If you don't go veggie after this meal, you must be a carnivore superhero.
What's the best restaurant in Miami for a group dinner?
When you're dining with a crowd, you need a place with plenty of options and a lively atmosphere. Enter Bazaar by José Andrés, where you can enjoy a variety of dishes with a modern twist. Bring your loudmouthed friends, because you won't be able to contain your foodgasms.
What's the best restaurant in Miami for a fancy night out?
If you're looking to splurge on a high-end dining experience, make a reservation at The Bazaar by José Andrés. This restaurant offers a playful atmosphere and exquisite dishes that are worth every penny. No sweatpants allowed, unless you want to be the fashion don't of the restaurant.
Where can I find the best pizza in Miami?
For a slice of heaven, head to Steve's Pizza. With its crispy thin crust and flavorful toppings, this pizzeria is a local favorite. Bring a book or game to play in line, because you'll be in line for a hot minute.
What's the best restaurant in Miami for a family dinner?
When you're dining with your loved ones, you need a restaurant that offers something for everyone. That's why Joe's Stone Crab is a great choice, with its seafood platters, fried chicken, and kid-friendly options. Leave room for the famous key lime pie, or you'll regret it more than that tattoo you got in college.
Where can I find the best Cuban food in Miami?
For a taste of authentic Cuban cuisine, head to Versailles Restaurant. This landmark eatery has been serving up classics like ropa vieja and Cuban sandwiches since 1971. If the line doesn't convince you of its greatness, the locals will. They know what's up.