16 Best Restaurants in Palm Beach & West Palm Beach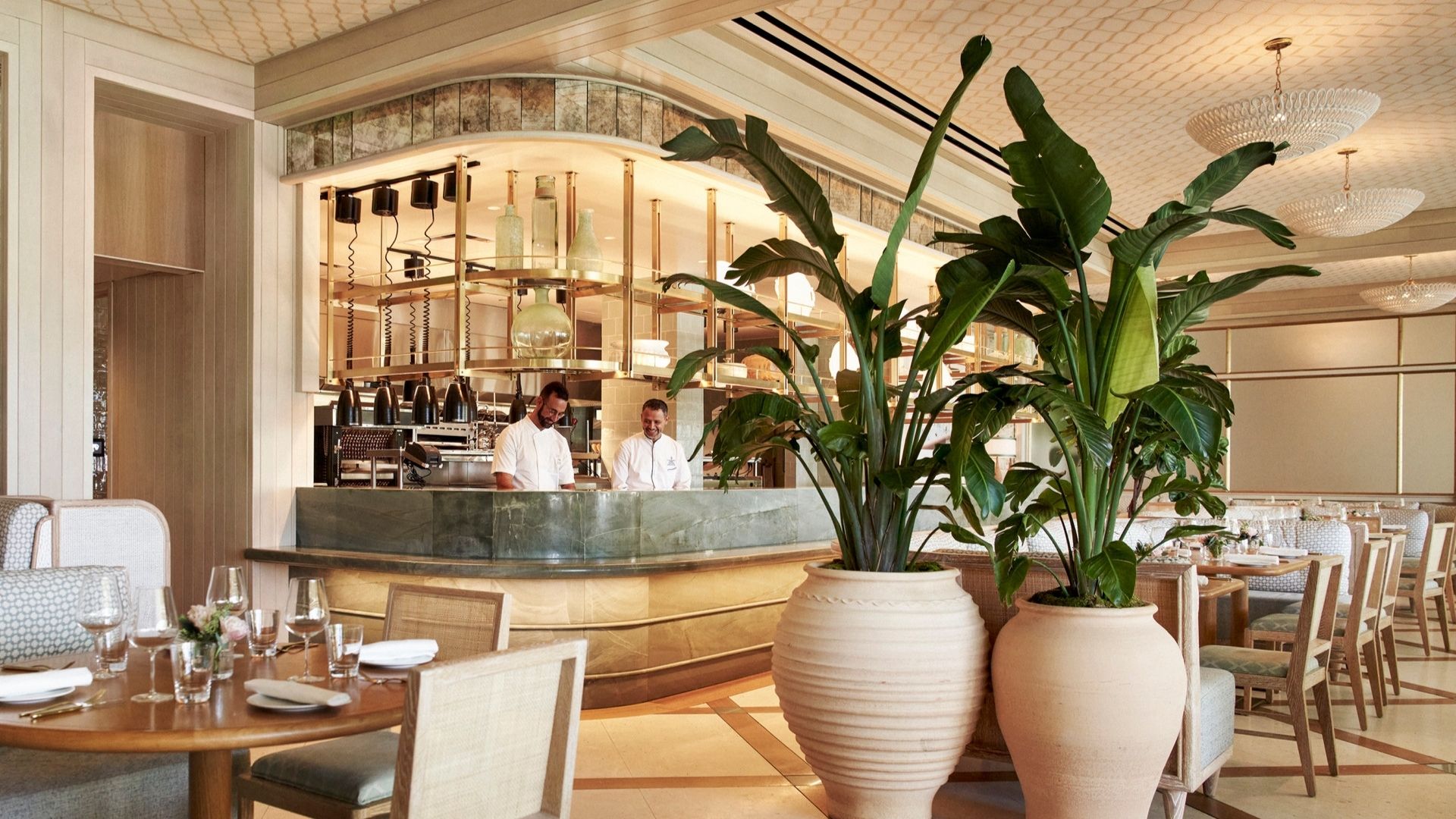 With its pristine beaches and crystal clear waters, Palm Beach, Florida is every vacationer's dream come true. But no travel destination is truly complete without delicious dining experiences.
Vacationers are hitting Palm Beach in droves, which is good news for the city's growing array of restaurants. From casual pizza joints to upscale steak houses, we've compiled a round-up of restaurants situated in both Palm Beach and West Palm Beach. After a day filled with adventuring and exploring, these are the 16 best places to refuel.
1. Table 26º Palm Beach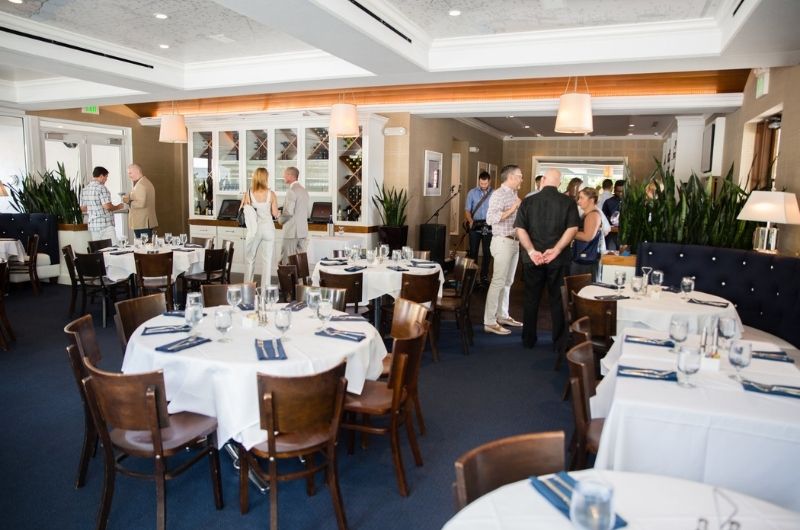 Cuisine: Global Cuisine
Address + Neighborhood: 1700 S Dixie Hwy, West Palm Beach, FL 33401 – El Cid
Good For: Elevated comfort food on a family night out
Highlights:
Located in the heart of the historical Mango Promenade district, Table 26º Palm Beach's mission is to deliver the finest quality cuisine featuring global home-style comfort food. This superb dining destination boasts an upscale yet casual environment with a trendy dining room and a stunning veranda, as well as white linen table cloths and navy accents inspired by the nearby ocean.
This unique neighborhood eatery provides a rotating selection of fish and meats, a full-service bar, and a complimentary valet. The menu, which is broken up into sections such as field (salads), water (seafood), and land (meats) has something for every diner to enjoy. Guests can select something classic like the cheeseburger or lobster Mac n' cheese, or opt for something a little different like the zucchini pasta with heirloom tomatoes and basil pesto or the ginger-glazed calamari.
2. La Sirena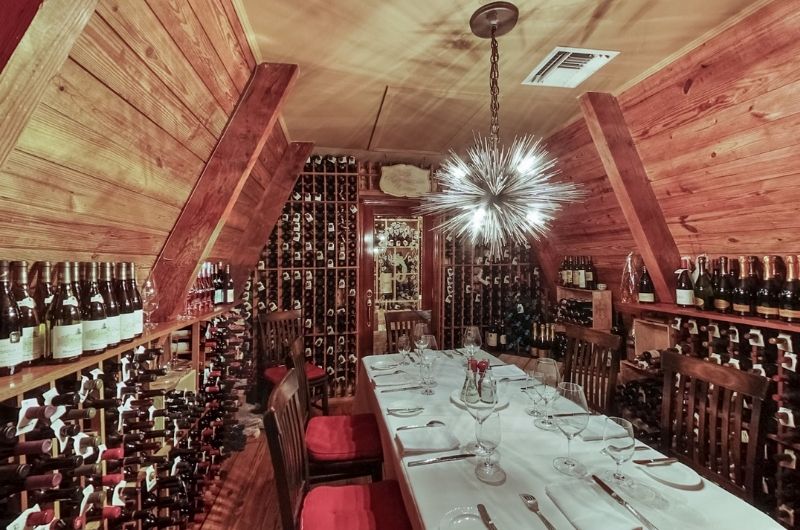 Cuisine: Classic Northern Italian Food
Address + Neighborhood: 6316 S Dixie Hwy, West Palm Beach, FL 33405 – Southside
Good For: When you want to dress up a little
Highlights:
Tucked away in West Palm Beach, La Sirena has made a name for itself through its flawless Italian cuisine and attentive service. Founded in 1986, this established restaurant exudes subtlety and grace in every way. While this certainly is the type of place you will want to dress to impress, you will also feel right at home here. If you hope to dine at this cozy spot, make sure to book a reservation as early as possible.
Helmed by chef and owner Marcello Fiorentino, La Sirena's menu provides an expansive selection of Northern Italian dishes. If you are opting for a meal with multiple courses, start with the French onion soup, which is a house classic, or one of the many light and crisp salads. The al-dente-perfect pasta options include cannelloni gratinati, a handmade crepe filled with veal, spinach, cheeses, a light cream sauce, and gnocchi alla sorrentina, which features potato dumplings, tomato and basil sauce, and melted fresh mozzarella.
While you can't go wrong with any of the fresh salmon and snapper options, order the Whole Yellowtail Snapper for something local. As if it couldn't get any better, La Sirena also has a superb wine list which has received the Wine Spectator's Grand award on more than one occasion. As you tuck into your decadent dinner, make sure to get a glimpse of the artwork surrounding the restaurant. All of the pieces have been completed by local artists.
3. BiCe Ristorante Palm Beach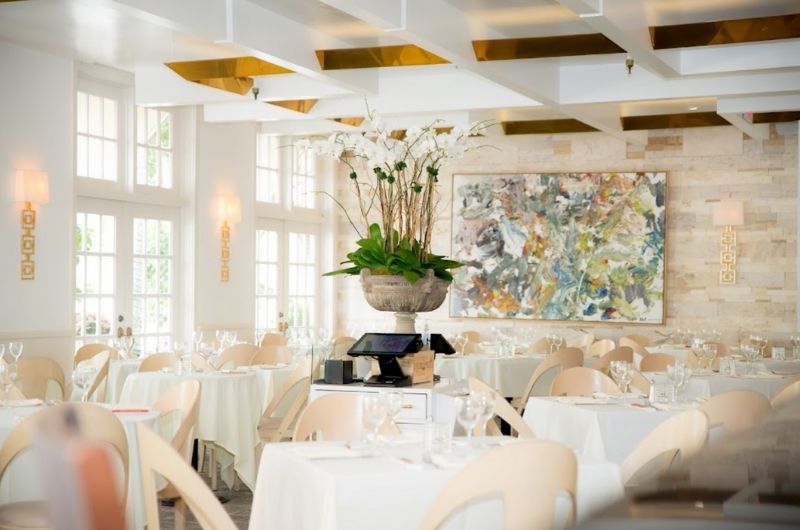 Cuisine: Authentic Northern Italian Food
Address + Neighborhood: 313 Worth Ave, Palm Beach, FL 33480 – Downtown Palm Beach
Good For: Romantic Date Night
Highlights:
BiCe Ristorante Palm Beach is another popular Italian spot, but this dining destination is located in the downtown Palm Beach area. One of the best things about BiCe Ristorante? The setting is just as divine as the food. Located in a stunning Mediterranean-style villa, BiCe features glamorous golden decor, a lively setting, and a scenic outdoor patio. Every table also includes crisp linens and fresh flowers. If you are planning a romantic date night, try to score a spot on the outdoor terrace which has a particularly romantic atmosphere.
The Northern Italian cuisine at BiCe Ristorante is notably authentic, in part because the restaurant was first founded in Milan in 1926. This neighborhood restaurant is beloved for its light pasta, grilled meats, and fresh seafood. Some standout dishes include the calamari, veal cutlets, and Pasta e Fagioli (a traditional Tuscan style white bean soup).
4. Buccan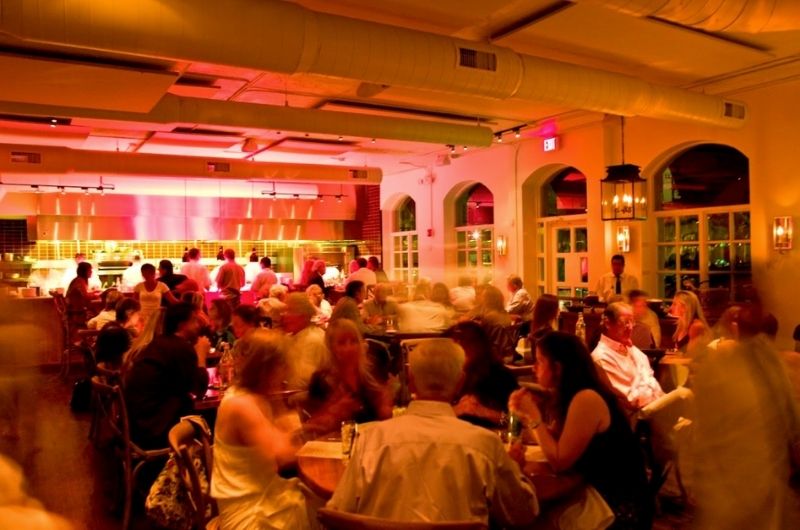 Cuisine: Global Cuisine, Small Plates
Address + Neighborhood: 350 S County Rd, Palm Beach, FL 33480 – Downtown Palm Beach
Good For: Happy Hour with Friends
Highlights:
Just a five-minute walk from the beach, the dishes at Buccan are best described as "small plates with big flavors." Located in the heart of Palm Beach, this high-end bistro is a restaurant, bar, and lounge all rolled into one. The concept of the restaurant was developed by the creative Chef Clay Conely, who is constantly mixing up the menu to include new innovative concoctions that reflect the restaurant's current seafood supply. This means that every dining experience at Buccan is guaranteed to be memorable and exciting. Some menu highlights include the short rib empanadas, the grilled octopus, the squid ink orecchiette with Italian sausage, conch, basil, and chilies, and the Italian burrata with Florida blueberry & balsamic compote, arugula, and parmesan.
With happy hours during the week and DJs featured on the weekend, there is always something to look forward to at Buccan. The lively and bustling atmosphere is best suited for a happy hour with friends or co-workers, not so much a romantic evening. Valet parking is available and reservations are recommended during tourist season.
5. Cafe L'Europe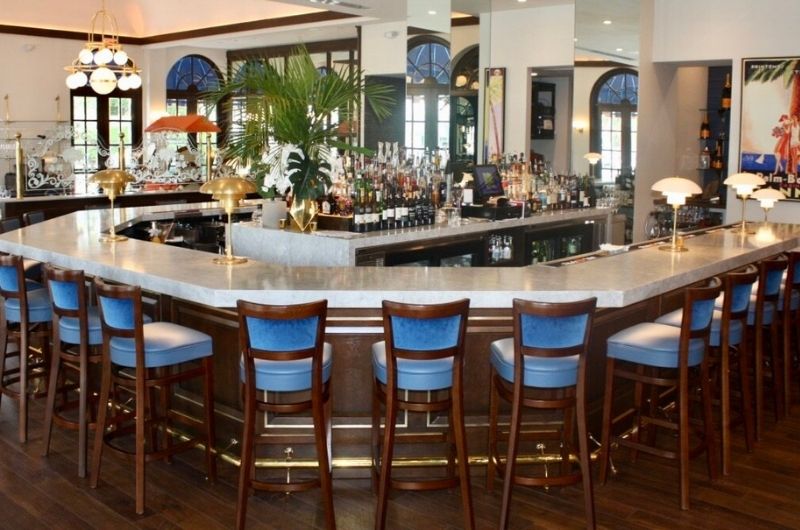 Cuisine: European Delicacies
Address + Neighborhood: 331 S County Rd, Palm Beach, FL 33480 – Downtown Palm Beach
Good For: Indulgent Evening Out
Highlights:
One of the most well-known restaurants in Palm Beach, Cafe L'Europe is the perfect destination for a fancy, or indulgent, evening out. When you enter this establishment, you will immediately be met with grand arched windows, mirrors, candlelight, and exquisite flower arrangements. For a minute, you will forget that you are in a Palm Beach restaurant and not entering a Parisian-style bistro.
As the name suggests, Cafe L'Europe's menu features European delicacies including roasted Maine lobster risotto, black truffle malfaldine pasta, pan-seared veal chops, and a classic Weiner schnitzel. As guests nosh on decadent dishes, they will also enjoy top-notch service and live music from a pianist and jazz combo. Cafe L'Europe also has a famous wine list, a caviar and champagne bar, and a late-night menu to take advantage of.
6. Flagler Steakhouse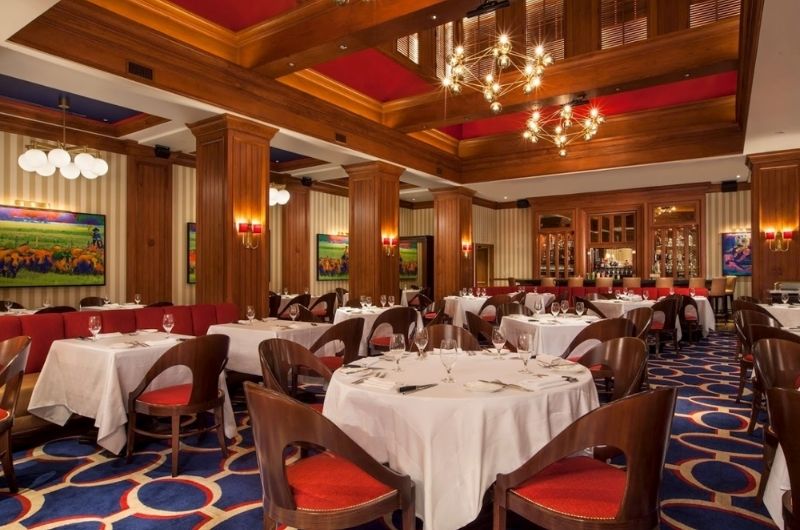 Cuisine: Steakhouse
Address + Neighborhood: 2 S County Rd, Palm Beach, FL 33480 – Downtown Palm Beach
Good For: Carnivores
Highlights:
Flagler Steakhouse walks the line between an old-school golf club and a fancy steakhouse, meaning that this destination is suitable for multiple occasions. Whether you are looking for a nice lunch spot or an upscale evening out, Flagler Steakhouse fits the bill. Located on the second floor of the Breakers Palm Beach Resort, this extravagant restaurant features brick columns, greenery, and candlelight in the evening — what more could you want? Make sure to take advantage of the complimentary valet parking upon arrival.

High-quality steaks are offered in a variety of cuts, as well as sizes, which allows customers to place orders based on how hungry they are. Regardless of what steak you order, it will be cooked based on personal preference. Not a huge steak person? Flagler Steakhouse also has pork, veal, and chicken dishes on its menu. If you are dining at Flagler for lunch, and want something on the lighter side, opt for a salad or sandwich. Keep in mind, that even the most affordable steak on the menu comes with a $65 price tag — and that doesn't include toppings, sauces, and sides. If you have a taste for luxury, make sure to check out the best restaurants in Miami on your next trip to the Magic City.
7. Pizza Al Fresco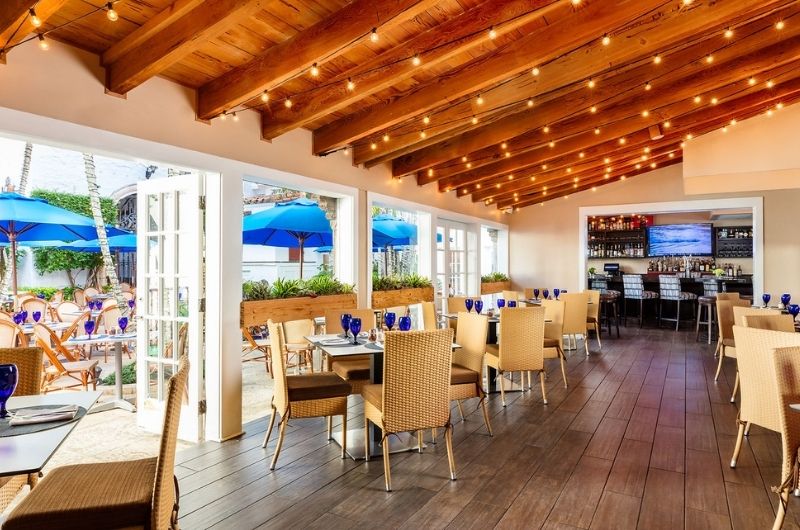 Cuisine: Pizzeria
Address + Neighborhood: 14 Via Mizner, Palm Beach, FL 33480 – Downtown Palm Beach
Good For: A casual bite with the whole family
Highlights:
If you are traveling with a big family or group of friends, stopping by Pizza Al Fresco for a bite to eat is never a bad idea. After all, who doesn't like pizza? The extensive menu includes pizzas with a spin on traditional thin-crust pies. While all the classics are on there, including Margherita, Hawaiana, and plain Pepperoni, there are also some more innovative creations featured. Adventurous eaters can sample the Palm Beach pizza topped with mozzarella, smoked salmon, caviar, red onion, capers, and sour cream. If you aren't hankering for some za', Pizza Al Fresco also includes delicious pasta and salad selections, with the lobster salad being a favorite. To complete your dinner, pair your meal with a glass of wine, or finish it off with a scoop of gelato.
While people love the pizza at this eatery, they keep coming back for the welcoming service and outdoor courtyard. Want to bring your dog along? If your furry friend is on its best behavior, it can dine with you in the courtyard. With its spacious courtyard filled with light-wrapped trees, this restaurant also makes a great spot for a casual date night.
8. Okeechobee Steak House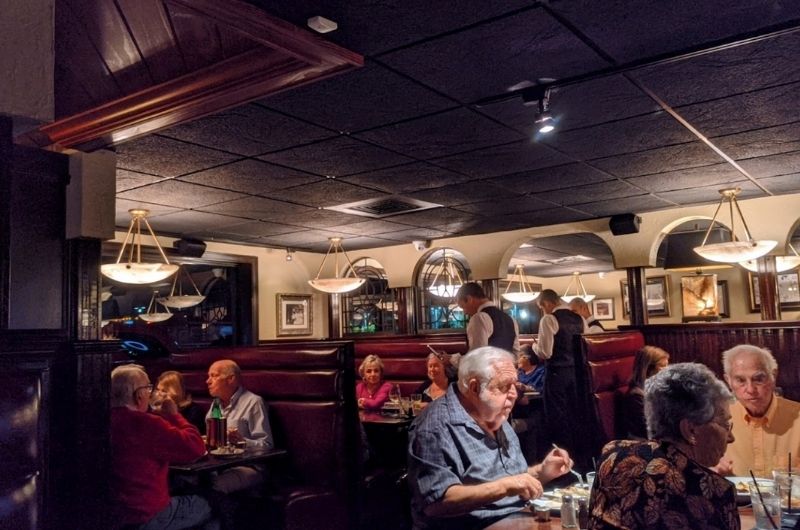 Cuisine: Steakhouse
Address + Neighborhood: 2854 Okeechobee Blvd, West Palm Beach, FL 33409 – West Gate
Good For: Celebrating, whether you are in a big group of friends or with a significant other
Highlights:
Joining the ranks of delicious Palm Beach steakhouses is Okeechobee Steak House. Even though this establishment has been open since 1947, it's still a hot dinner reservation in West Palm Beach. That said, this place is anything but pretentious. With its deep green walls and redwood decor, Okeechobee has the look and feel of an intimate neighborhood institution.
Unsurprisingly, the menu is very steak centric. Each steak comes with a starchy side (think French fries and baked potatoes), as well as a Caesar salad or a complimentary trip to the salad bar. With its full bar and expansive alcohol selection, Okeechobee Steak House is a great place to celebrate, whether you are with a significant other or a big group of friends.
9. Loïc Bakery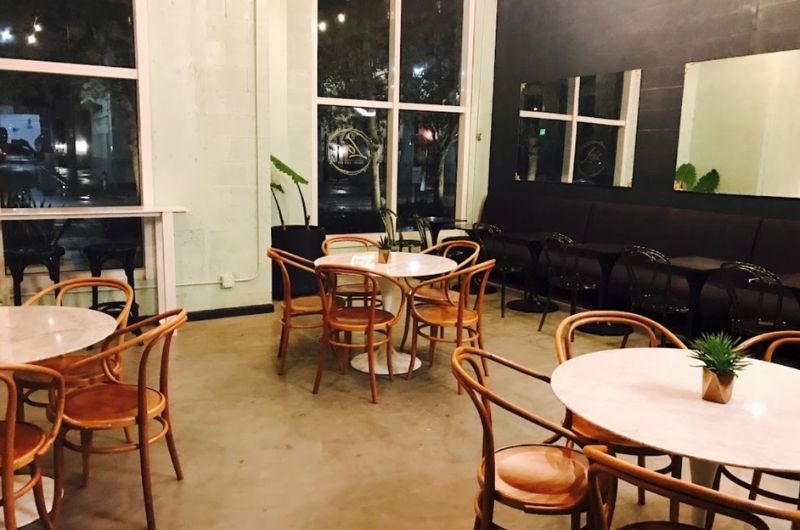 Cuisine: Homemade French pastries and other breakfast goods
Address + Neighborhood: 480 Hibiscus St unit 116, West Palm Beach, FL 33401 – CityPlace
Good For: A place to plant yourself for the day
Highlights:
Indulge your palate in divine French pastries with a trip to Loïc Bakery. One of the most beloved cafes in all of West Palm Beach, Loïc it's all about friends, food, and the community. This hip cafe is helmed by the talented Loïc Autret, a skilled French chef who has brought his culinary expertise to South Florida. The menu features a wealth of breakfast and lunch items including avocado toast, granola parfait, quiche, soups, and salads, as well as wine, cheese, and charcuterie in the late afternoon. That said, you can't go wrong with one of the croissants, whether you opt for the pistachio white chocolate or the raspberry almond.
The quality of the French pastries is matched by the stunning bakery interior, which strikes the perfect balance between French elegance and industrial chic. With high ceilings, plenty of windows, and a glowing golden sign, this airy, palm-printed space has the type of energy you will want to be surrounded by all day, every day. Loïc Bakery is also a great space to host an event, whether you are planning a baby shower or a bridal party.
10. LoLa41 Palm Beach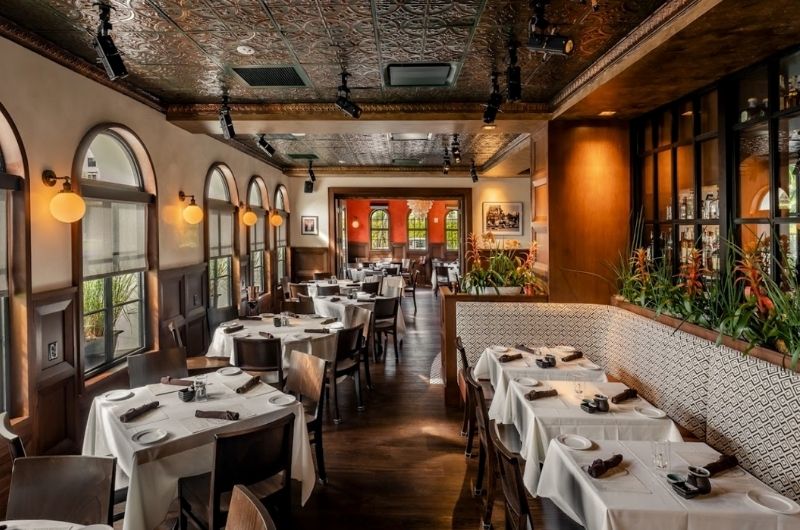 Cuisine: Global Cuisine from the 41st parallel
Address + Neighborhood: 290 Sunset Ave, Palm Beach, FL 33480 – Downtown Palm Beach
Good For: A meal with fellow foodies
Highlights:
Originally a Nantucket-based restaurant, LoLa41 has recently opened up a restaurant in Palm Beach. Situated in the stylish White Elephant hotel, LoLa41 Palm Beach is a unique and vibrant restaurant specializing in cuisines from the 41st parallel. LoLa stands for longitude latitude and the number 41 represents the specific parallel that LoLa resides on. All aspects of the restaurant have been inspired by the countries that the 41st crosses through, from the decor and atmosphere to the food and drink.
Dishes range from the Honshu sushi roll with tuna, cucumber, avocado, and poke sauce to the LoLa Burger which is served on an English muffin topped with cheddar and red-onion compote. Other menu items include Lobster fried rice, Korean beef bulgogi over egg noodles, Macaroni and cheese, and the Lola bolognese. Craving a cocktail? As you sit poolside, you can sip on handcrafted concoctions such as the Aphrodite, a blend of tequila, honey, passion fruit, strawberry, and jalapeño with a citrus chili rim.
11. Henry's Palm Beach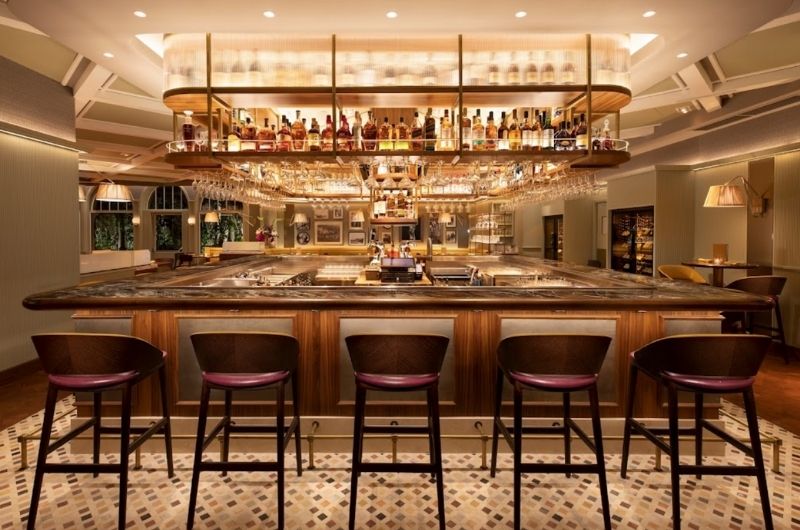 Cuisine: Elevated Comfort Food
Address + Neighborhood: 229 Royal Poinciana Way, Palm Beach, FL 33480 – Downtown Palm Beach
Good For: A "treat yourself" date night with a friend
Highlights:
For a restaurant that opened its doors during the pandemic, Henry's Palm Beach has managed to quickly become a favorite neighborhood spot. Tucked inside the Breakers hotel, this American-inspired bistro offers elevated comfort food with a hint of nostalgia. The menu includes "must-haves" for the table, such as truffle Mac and cheese, Southern onion rings, stone crab claws, and pigs in pretzel dough blankets. If you are dining with a big group of people, make sure to place an order for the avocado fries — there's nothing quite like them.
Some main course highlights include chicken pot pie, truffled lobster risotto, lobster roll, and Tavern Beef Wellington. To pair with your meal, order a hand-crafted cocktail, local craft beer on tap, or a selection of wines by the glass. Henry's is also open for lunch, drinks, or daily brunch. Unique brunch offerings include BLT Avocado Toast, Crab Cake Benedict, and Fried Chicken and Red Velvet Waffles.
12. Sant Ambroeus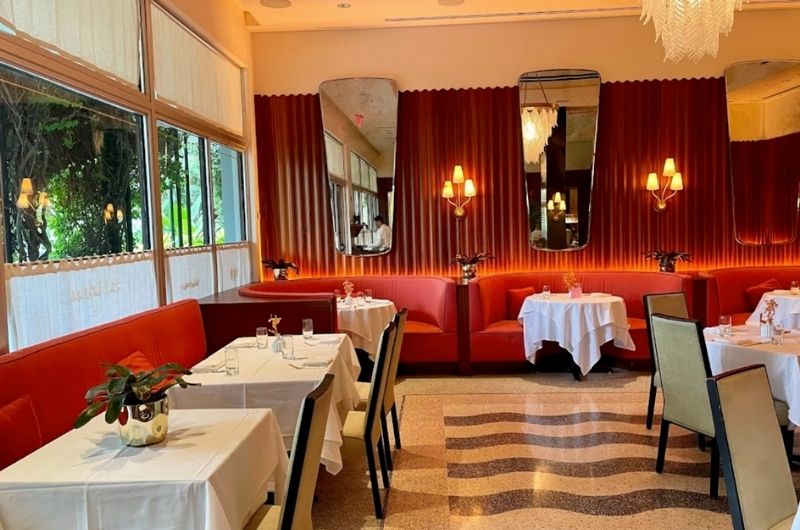 Cuisine: Authentic Milanese Cuisine
Address + Neighborhood: 340 Royal Poinciana Way Ste 304, Palm Beach, FL 33480 – Palm Beach
Good For: A celebratory family night out
Highlights:
Sant Ambroeus has become a local favorite for its grand aesthetic, delicious cuisine, and stellar outdoor dining. Originating in Manhattan, foodies may be familiar with the famous New York and Hamptons restaurant of the same name, which has multiple locations scattered across the Big Apple. Now a go-to spot in the Royal Poinciana Plaza, this Italian restaurant is hard to miss – keep an eye out for the restaurant that looks like old-school Italian cafe!
The homemade pasta-focused menu features Sant Ambroeus staples including Vitello Tonnato, Caprese, Tagliatelle Alla Bolognese, Risotti, and Cotoletta Alla Milanese, as well as new dishes inspired by the ocean and the ingredients of Florida. Throughout the menu, you will spot local citruses and herbs incorporated in dishes to highlight the fresh ingredients found in Palm Beach. If you can, try to save room for dessert. Guests can indulge in gelato, from the cart at the entrance, or offerings from the dessert cart, including housemade cakes, pies, and tiramisu.
13. Florie's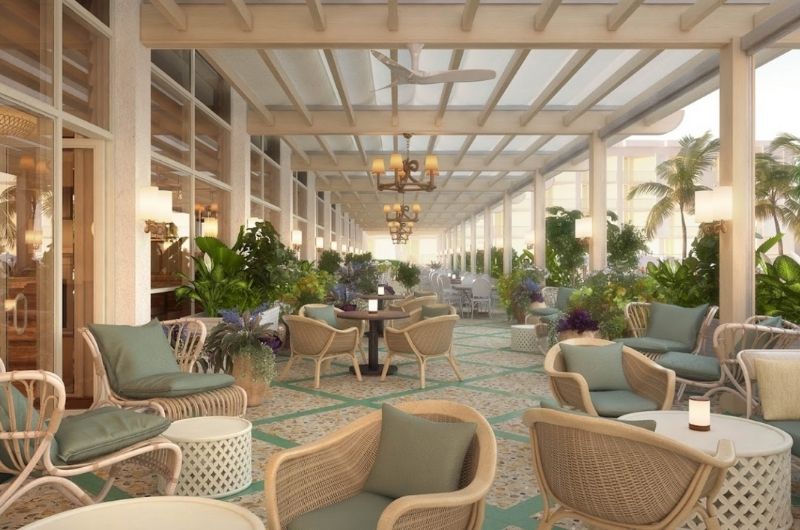 Cuisine: Ingredient-driven Mediterranean Cuisine
Address + Neighborhood: 2800 S Ocean Blvd, Palm Beach, FL 33480 – R.G. Kreusler Park
Good For: A fancy date night
Highlights:
A dinner at Florie's is guaranteed to delight your palate from start to finish. Helmed by talented chef Mauro Colagreco, whose restaurants have earned a collective three Michelin stars, Florie's is Chef Maruo's first restaurant venture in the United States. Featuring ingredient-driven Mediterranean Cuisine, the menu at Florie is a nod to Florida and Chef Mauro's passion for gardening (even the cocktails are made with herbs from the hotel garden).

The expansive menu includes various yakitori-style items, pizza and pasta options, and vegetable sides. While some dishes are cooked over a live fire, others are baked in a stone hearth oven. Diners can begin their meal with light and fresh starters such as the local burrata or the grilled nectarine salad. The seared snapper fillet with bok Choy, cilantro, yogurt, and cucumber will keep you dreaming of more, while the duck with citrus bigrade, chartreuse, and grated polenta will send you straight to food heaven. Located on the beachfront of the Four Seasons Hotel, Florie's is the perfect place for a romantic date night. Planning a trip to Fort Lauderdale? This coastal city also has it's fair share of beachfront restaurants – here are the best restaurants in Fort Lauderdale.
14. La Goulue Palm Beach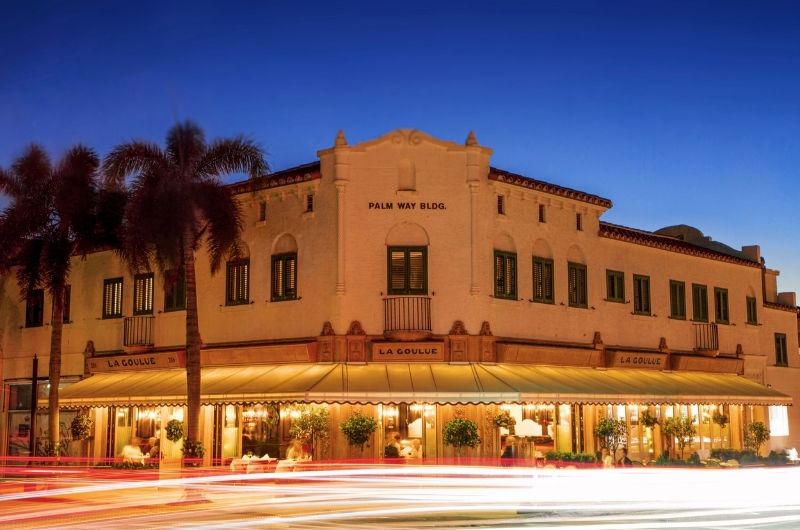 Cuisine: Gourmet French Food
Address + Neighborhood: 288 S County Rd, Palm Beach, FL 33480 – Downtown Palm Beach
Good For: A celebratory evening with friends
Highlights:
Another offshoot of a famous Manhattan restaurant, La Goulue Palm Beach originally made a name for itself in the 80s as a celebrity hotspot in New York City. Now, La Goulue has made its way to Palm Beach, as has the original owner Jean DeNoyer. This scenic spot features leather booths, frosted glass, and wooden paneling, as well as a wide range of gourmet French dishes.
To start, opt for the famed onion soup topped with generous amounts of gruyere and provolone, the beef or tuna tartare, or a light salad with Boston lettuce, shallots, chives, and mustard vinaigrette. The rest of the menu features a seafood bar, caviar selection, and a range of meat and seafood dishes. Be warned: La Goulue is not the easiest place to get seating. It's not uncommon to wait for a table as late as 9:30 p.m. Once you get inside, the place is usually packed with a lively crowd — so if you are looking for a relaxing and quiet evening, this might not be the best spot.
15. Le Bilboquet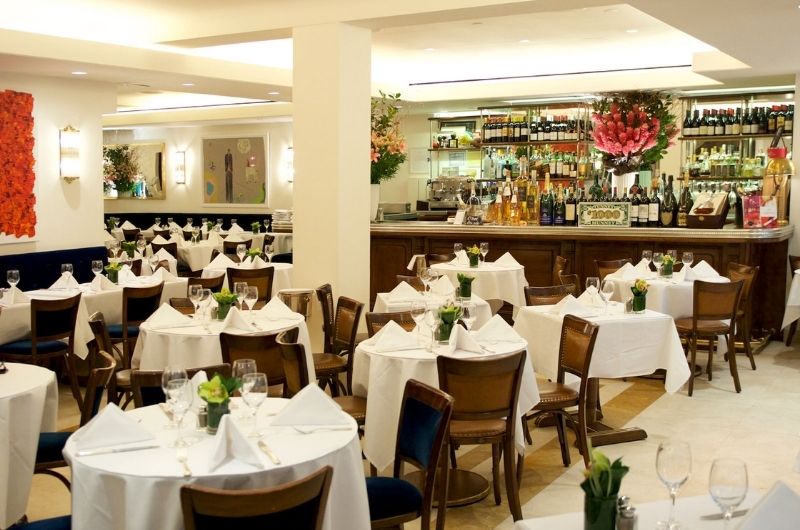 Cuisine: Elevated French Bistro Cuisine
Address + Neighborhood: 245a Worth Ave, Palm Beach, FL 33480 – Downtown Palm Beach
Good For: A fancy lunch date
Highlights:
Le Bilboquet is reminiscent of a restaurant that might be found in the French Riveria. The outdoor courtyard features crisp white tablecloths, decadent umbrellas, and potted palms galore, while the indoor dining area walks the line between French elegance with mariner touches. The menu features perfectly presented French classics with local South Florida ingredients. While you can't go wrong with anything on the menu, Le Bilboquet's Cajun Chicken dish with salad and fries is their signature for a reason. Finish your meal off with the Vacherin, raspberry sorbet, vanilla ice cream, and meringue.
Aside from the delicious food, guests will also enjoy the professional and attentive service and some excellent people watching. A few things to keep in mind about Le Bilboquet: the restaurant only takes reservations of four, and they do have a specific dress code (check out Le Bilboquet's website for more information).
16. Swifty's Pool
Cuisine: American Classics with a Creative Twist
Address + Neighborhood: 155 Hammon Ave, Palm Beach, FL 33480 – Downtown Palm Beach
Good For: An indulgent group night out
Highlights:
The Colony Hotel has always been a popular spot amongst locals but has garnered far more attention since the establishment of Swifty's Pool. As the name suggests, Swifty's Pool is located in the poolside area of the Colony Hotel. Boasting a "club without the dues" slogan, Swifty's menu features classic American offerings with creative touches. Some standout dishes include Swifty's Bacon Wrapped Meatloaf, with mashed potatoes, green beans, and gravy, and the Switfy's Crab Cakes with creamed spinach, lemon, and tartar sauce.
As guests tuck into their delicious meals from the comfort of their chaise lounge seating, they will also get to enjoy live music and an alfresco bar. Whether you are there for breakfast, lunch, or dinner, there is always good people watching to be had. If you live in Palm Beach, make sure to swing by for trivia night, which is a weekly Monday affair.
Frequently Asked Questions
What are the best restaurants in West Palm Beach?
Top dining spots in West Palm Beach vary by cuisine preference. Seafood lovers should visit The Breakers' Seafood Bar in the famed Breakers Hotel. Italian enthusiasts will adore Sant Ambroeus Palm Beach, offering handcrafted pasta, wood-fired pizza, and tasty desserts. Casual diners might prefer Grease Burger Bar, known for unique burgers and craft brews. For a sophisticated experience, try Pistache French Bistro, which serves traditional French fare with a modern spin.
What are some of the best restaurants for brunch in West Palm Beach?
West Palm Beach brunch options include Avocado Grill, featuring a broad range of brunch choices like innovative egg dishes, salads, and sandwiches. The Grato offers a rotating breakfast and lunch menu, complemented by excellent coffee. For an upscale experience, The Regional Kitchen & Public House provides a diverse menu of seasonal meals and classic brunch favorites.
What are the best restaurants for vegetarian dishes in West Palm Beach?
West Palm Beach boasts a variety of vegetarian restaurants, such as Subculture Coffee, offering vegan and vegetarian meals for breakfast and lunch. The Green Gourmet serves tasty vegan and vegetarian options, including sandwiches, wraps, and salads. Grato also caters to vegetarians, providing plant-based pastas and pizzas.
Are there any good restaurants near CityPlace in West Palm Beach?
CityPlace in West Palm Beach features numerous dining options, like La Sirena, known for contemporary Italian cuisine. Racks Downtown Eatery & Tavern, a casual eatery, serves unique burgers, sandwiches, and a diverse craft beer selection. For seafood enthusiasts, the Seafood Bar at The Breakers provides a variety of fresh seafood dishes.
What are some of the best restaurants for a romantic dinner in West Palm Beach?
For an intimate dinner in West Palm Beach, consider Pistache French Bistro, offering a warm atmosphere and a vast menu of French classics, such as steak frites and mussels. The Regional Kitchen & Public House provides a stylish setting and an expansive seasonal menu. Sant Ambroeus Palm Beach, an Italian gem, features a welcoming ambiance and delectable handmade pasta and pizzas.