16 Best Shopping Spots in Palm Beach and West Palm Beach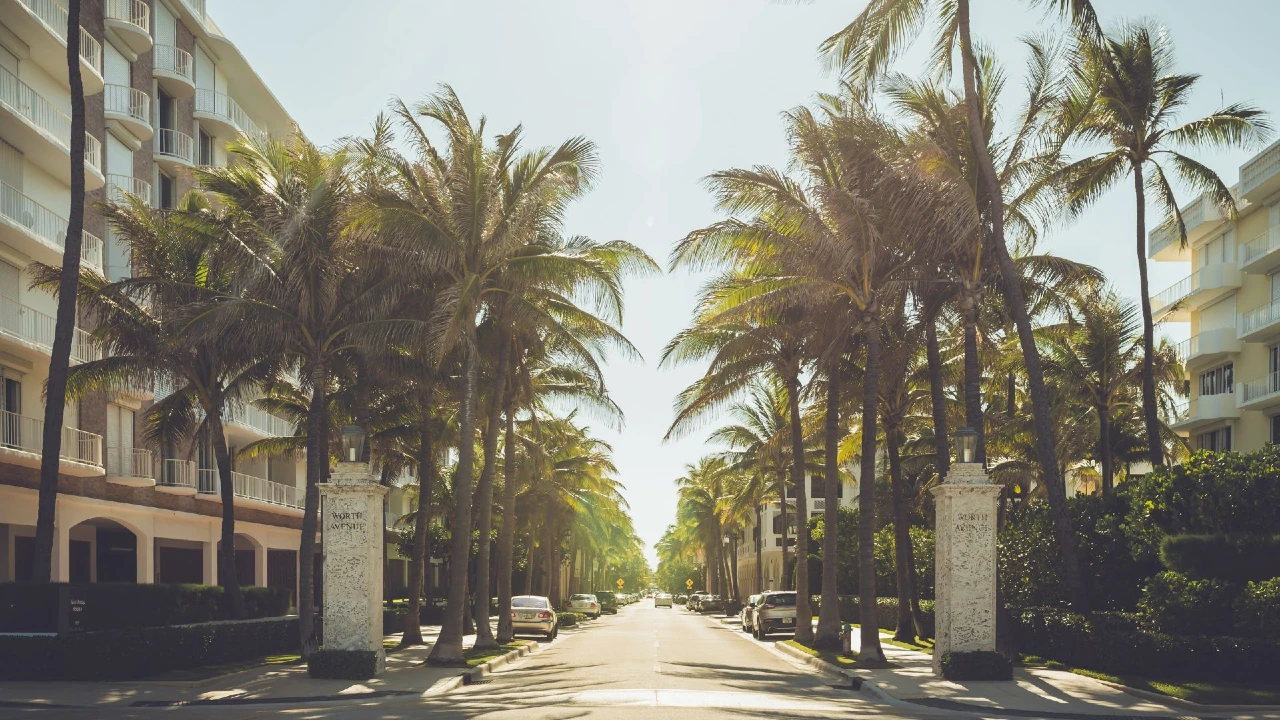 Aside from the world-class restaurants, beautiful beaches, and fascinating museums, there are plenty of shopping spots in the Palm Beach and West Palm Beach areas. Whether you want to pick up a last-minute swimsuit or are hunting for the perfect souvenir to bring home, you may want to make time for some retail therapy during your visit. Thankfully, there are a wide variety of shopping options in these South Florida cities, from open-air shopping districts to outlet malls. 
Best Shopping Malls near Palm Beach and West Palm
If you need a break from the sun, a mall is a great place to cool off. With an assortment of your favorite stores and a steady blast of air conditioning, what more could you want?
1. The Gardens Mall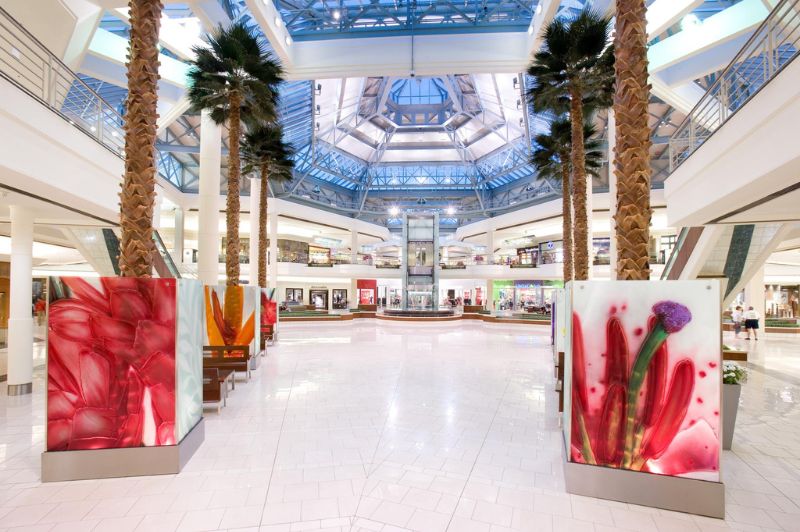 Neighborhood: Palm Beach Gardens
Best For: Shopping at the stores you know and love
Address: 3101 PGA Boulevard, Palm Beach Gardens, FL 33410
Description: 
Located in the heart of Northern Palm Beach County, The Gardens Mall is your go-to one-stop-shopping destination in the area. With its stunning interior, this two-story mall is the perfect place to spend the afternoon and pick up a new item for yourself or a loved one. 
Anchored by Macy's, Sears, Bloomingdale's, Nordstrom, and Saks Fifth Avenue, The Gardens Mall is home to more than 160 of the world's most beloved brands. Among its specialty shops are high-end designer stores such as Chanel, Michael Kors, Louis Vuitton, Tiffany & Co., Gucci, and Salvatore Ferragamo, as well as more affordable options such as Express, H&M, American Eagle, and Madewell. Home goods can be found at Pottery Barn, Anthropologie, and Williams-Sonoma shops. Whenever hunger hits, there's a full food court, as well as other restaurants including P.F Chang's China Bistro, Starbucks, Chop & Toss, and Juice N' Greens to take advantage of.
2. Harbourside Place
Neighborhood: Inlet District
Best For: An afternoon with the whole family
Address: 200 US-1, Jupiter, FL 33477
Description:
Traveling with a big crowd? The best thing about Harbourside Place is there is a little something for everyone to enjoy. Situated along Jupiter's Intracoastal Waterway, this premier downtown destination has shopping, dining, luxury hotel accommodations, entertainment, and boating opportunities to enjoy. Visitors can grab a bite to eat at Calaveras Cantina or Mana Greek Fusion, or enjoy live entertainment at the center's waterfront amphitheater. As for the specialty shops, there are some international brands you will recognize, as well as smaller South Florida businesses. Some of the shops include Lola Dré, Tommy Bahama, Marie Antoinette's Furniture, John Craig Clothier, and Artlantic Fine Art.
3. The Shops at The Breakers
Neighborhood: Downtown Palm Beach
Best For: Luxury shopping
Address: 1 S County Rd, Palm Beach, FL 33480
Description:
Surrounding the breathtaking Palm Courtyard at The Breakers is an aesthetic and impressive line-up of storefronts. Perfect for luxury shopping, The Shops at the Breakers feature some of the world's most well-known and sought-after brands. Match at the Breakers is a haven for shoe shoppers, with everything from simple flats and sandals to chic wedges and espadrilles, while Mix at the Breakers is brimming with accessories galore. Trendy swimwear can be found at Absolutely Suitable and luxury fragrance and skincare can be found at Guerlain. 

From high fashion and cosmetics to children's apparel and gourmet treats, The Shops at The Breakers have a little bit of everything — just make sure you are prepared to splash some cash on your outing. If your little ones start getting antsy, simply head over to Mary Lily's for Italian gelato, craft ice cream, or frozen custard. This sweets shop is also the perfect place to pick up a box of specialty chocolate or candies. Getting hungry? The Breakers is home to some of the best restaurants in Palm Beach.
Best Palm Beach Open-Air Shopping Districts
When you are in places like West Palm Beach or Palm Beach, it can be hard to sacrifice the pristine weather or a day indoors. Thankfully, with open-air shopping districts, you can get the best of both worlds – shoppers can soak up some Vitamin D while indulging in some retail therapy.
4. Rosemary Square (CityPlace)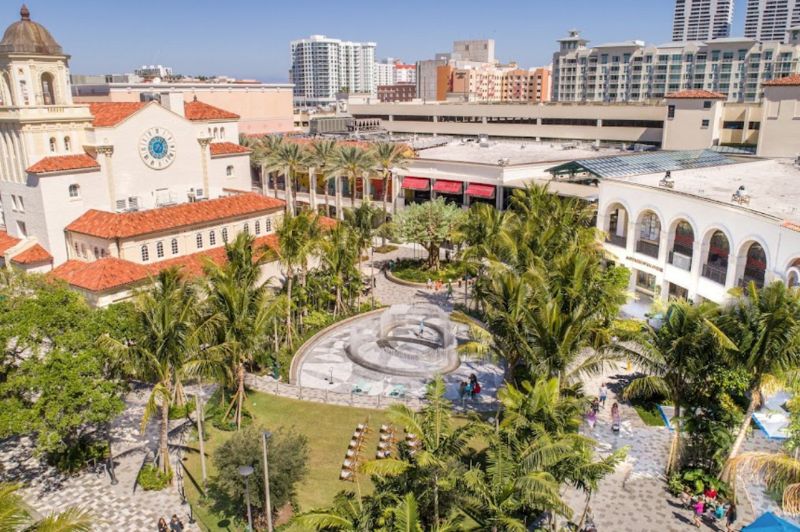 Neighborhood: Downtown West Palm Beach
Best For: Shopping at well-known brands surrounded by a scenic atmosphere
Address: 700 S Rosemary Ave Suite 200, West Palm Beach, FL 33401
Description:
Rosemary Square is a place where old-world architecture, enchanting fountains, and cozy sidewalks all come together. Formerly known as CityPlace, this outdoor shopping mall is reminiscent of a European town center. Even though there are over 600,000 square feet of retail businesses at Rosemary Square, the stores are arranged in a way that makes it easy to locate your desired destination and hop from place to place. 
This upscale lifestyle center features 20 restaurants, a 20-screen theater, a cultural arts theater, as well as over 40 stores ranging from high-end to budget-friendly. Some of the most popular shops include Anthropologie, H&M, Lululemon, Sunglass Hut, Tommy Bahama, Urban Outfitters, and West Elm. Make sure to check out Restoration Hardware, a four-story design gallery with estate gardens and a rooftop park. From great restaurants to funky galleries to a comedy club, shoppers can easily spend a whole day at CityPlace. And being surrounded by palm trees and sunshine all day makes it easy to do so.
5. Northwood Village
Neighborhood: Northwood Village
Best For: Casual shoppers, inspired artists, or foodies looking for a great scene
Address: 400 Northwood Road, West Palm Beach, FL 33407
Description:
If an old town atmosphere with antique shops and boutiques sounds like your type of paradise, look no further than Northwood Village. In the last few years, Northwood Village has transformed into one of the most welcoming, funky, and hip neighborhoods in South Florida (think Wynwood in Miami or SoHo in New York City). Not only is it a great place to shop, but visiting the area is also one of the best things to do in West Palm Beach. 
Just two miles from downtown West Palm Beach, visitors can spend the afternoon perusing pieces at art galleries or hunting down treasures at vintage stores such as Something Lively or Nancy's Vintage Warehouse. If you happen to be in West Palm Beach on the last Friday of the month, make sure to come out for Northwood Village's Art & Wine Promenade. On this evening every month, the district hosts an Art & Wine promenade with wine tastings and live entertainment. Most restaurants, art galleries, and vintage stores stay open for the event. It's the perfect place for casual shoppers, inspired artists, and foodies to come together.
6. Antique Row
Neighborhood: Southland Park
Best For: Antique shoppers
Address: 3512 S Dixie Hwy, West Palm Beach, FL 33405
Description:
One of the foremost antique shopping districts in the country, Antique Row is the perfect place for your next treasure hunt. Commonly referred to as "The Row," this charming neighborhood is visited by the world's premier interior designers every year. Visitors can browse for fine arts, deco period pieces, as well as contemporary and vintage furniture at nearly 50 antique shops. 
In addition, shoppers can also peruse art galleries with jaw-dropping showrooms and specialty shops carrying everything from sculptures to vintage jewelry. As an added bonus, the street is also lined with award-winning restaurants. At the end of your outing, carry your loaded shopping bags over to Belle and Maxwell's cafe for some casual Mediterranean food and a glass of wine.
Best Palm Beach Boutiques
There is no shortage of standout boutiques in West Palm Beach and Palm Beach. After getting your fix at The Shops at the Breakers, make sure to check out some of these other outstanding standalone stores.
7. Milou Palm Beach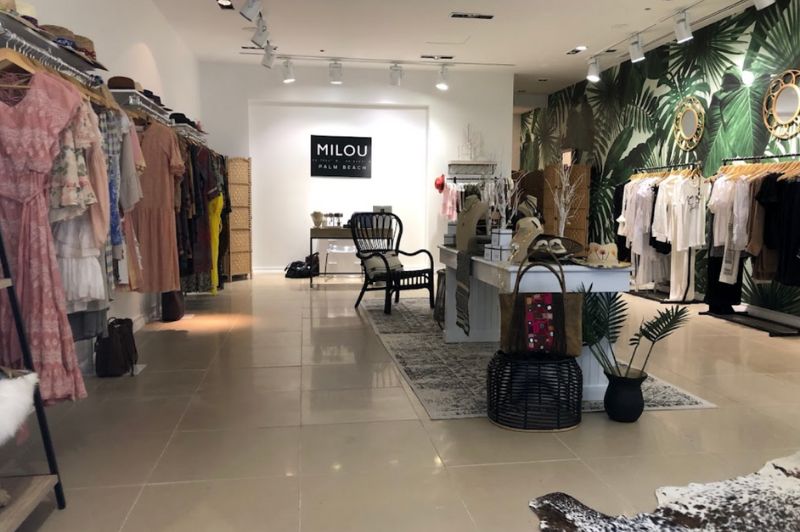 Neighborhood: Worth Avenue
Best For: Women searching for worldly yet comfortable designs
Address: 150 Worth Ave Suite 130, Palm Beach, FL 33480 
Description:

This beautiful boutique was launched by Lourdes de Guardiola, a seasoned professional equestrian show jumper that has traveled the world competing and training. Lourdes's mission was to bring a destination retail experience to the area, which was how Milou came to be. When you walk through the front doors, expect to find a curated collection that embodies the look of well-traveled women. Among the staple pieces and statement accessories, shoppers will find a blend of casual-chic tops and dresses that transition well from day to night. Shoppers can purchase anything from linen pieces from Bali, jewelry from Argentina, swimwear from Brazil, and more.
8. Aerin Lauder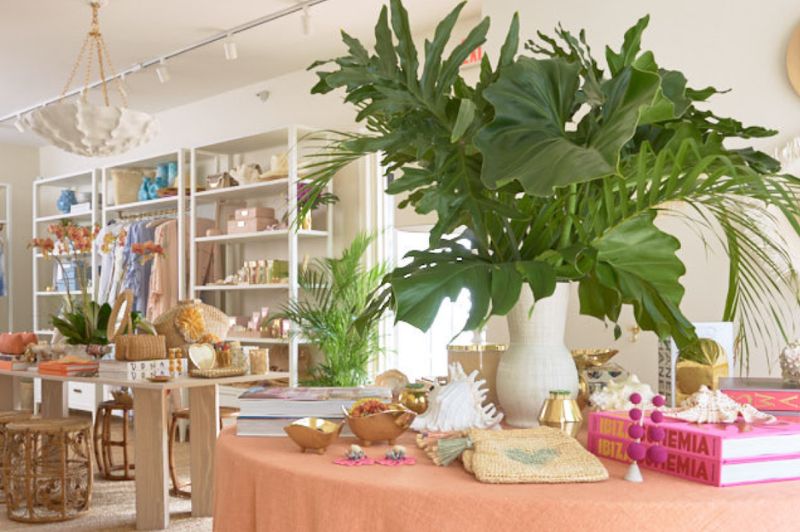 Neighborhood: Downtown Palm Beach
Best For: Classic clothing items with a Palm Beach flair, home decor, lighting, and beauty items
Address: 33 Via Mizner, Palm Beach, FL 33480
Description:
Launched by Aerin Lauder, the granddaughter of renowned Estee Lauder, Palm Beach has always held a special place in Aerin's heart. After spending much of her childhood visiting this South Florida town, Aerin decided to bring her NYC-based brand down south. Attached to an enchanting garden with a coral-tiled floor, this stunning boutique reflects the beauty of the coastal town that it resides in. 
With a passion for art, travel, fashion, and design, Aerin's own lifestyle serves as an inspiration for her store. Shoppers can find anything from home decor and lighting to fashion and beauty items as they peruse the interior. All of her pieces are classic yet contemporary, with an aim to make life (and your wardrobe) more beautiful, with a sense of ease and refinement.
9. Trillion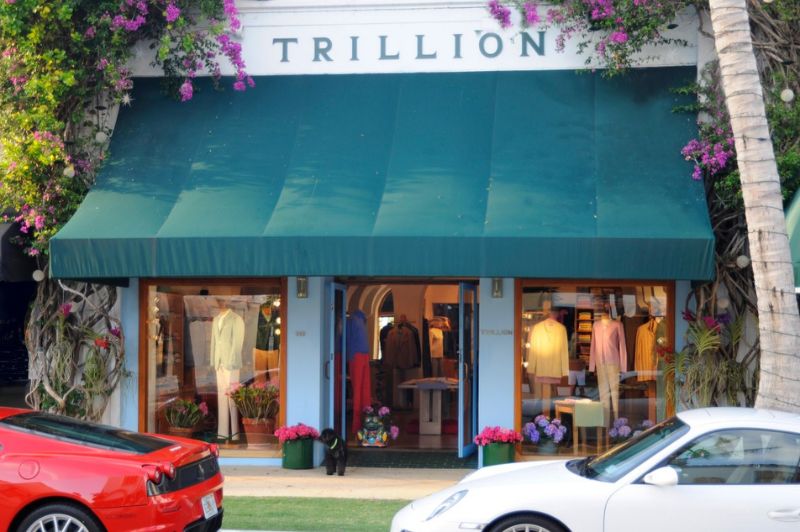 Neighborhood: Worth Avenue
Best For: Luxury clothing for men and women
Address: 315 Worth Ave, Palm Beach, FL 33480
Description:
Located in Palm Beach, Florida, Trillion has been a neighborhood fixture for almost 40 years. With luxury clothing for men and women alike, male shoppers can find anything from Ukrainian suits and hoodies to Poplin trousers and polo shirts. Meanwhile, women patrons can shop through racks of floral print pants, blouses, and cotton knits. There's also a whole section dedicated to cashmere that includes scarves, sweaters, jackets, and fleeces. 
Previous shoppers have raved about the customer service at this store. With 17 staff members operating at this one boutique, there will always be someone to help you with any outfit advice or questions you that may have.
Best Outlet Shopping
Looking to save a pretty penny? Check out this outlet shopping mall for some steal-worthy deals.
10. Palm Beach Outlets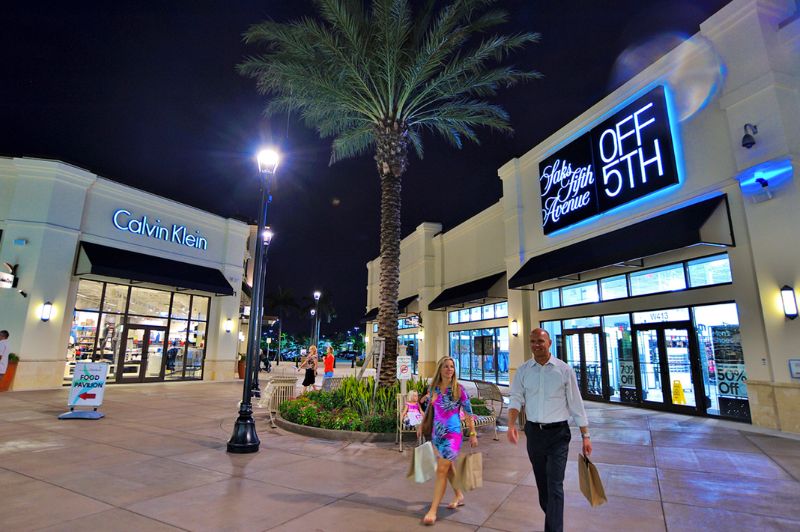 Neighborhood: Palm Beach Lakes
Best For: Bargain-hunting
Address: 1751 Palm Beach Lakes Blvd E121, West Palm Beach, FL 33401
Description:
Conveniently located just off the I-95, people come from all over the state for the chance to shop at the Palm Beach Outlets. Truly a bargain hunters' paradise, this shopping Mecca has over 100 stores, with more shops constantly getting added. This 440,000-square-foot outlet shopping center has big names such as Nike, Saks, Brooks Brothers, Coach, Banana Republic, J Crew, Polo Ralph Lauren, and more. For a peek at the whole jaw-dropping directory, make sure to check out the Palm Beach Outlets website. 

While the Palm Beach Outlets are an open-air venue, the stores are sheltered by large tents in case of rain. If you plan on stopping by in the early evening, all of the tents light up, providing the perfect ambiance to keep you going through the rest of the day. Grab a snack at Häagen-Dazs, Auntie Anne's, Starbucks, Subway, or Whole Foods Market.
Best Luxury Shopping
For those who are willing to splash some cash, Palm Beach has got you covered in the luxury shopping department.
11. Worth Avenue
Neighborhood: Downtown Palm Beach
Best For: Designer clothing and accessories
Address: Worth Ave, Palm Beach, FL 33480
Description:
With extraordinary Mediterranean-inspired architecture, al fresco fine dining, and premier shopping, Worth Avenue is the epicenter of wealth and style in Palm Beach. Mainly designed by architect Addison Mizner, the main street includes a line-up of beautiful storefronts, 5-star resorts, and palm trees wrapped in twinkling lights. Once you branch off onto one of many side streets, expect to find tropical courtyards bursting with greenery. 
As for the retailers? They don't disappoint. Patrons can shop at Chanel, Gucci, Ralph Lauren, Tiffany & Co., and Cartier, among other designer stores. The best part? Even if the price tags at Worth Avenue exceed your budget, this is still a beautiful place to take an afternoon stroll and partake in some window shopping.
Best Pawn Shops
Like its neighboring South Florida Cities, West Palm Beach and Palm Beach have plenty of pawn shops to choose between. Here is the cream of the crop. 
12. Queen of Pawns Inc.
Neighborhood: Palm Beach Lakes
Best For: Selling just about anything
Address: 6080 Okeechobee Blvd C, West Palm Beach, FL 33417
Description:
With 14 stores scattered across the state, Queen of Pawns is one of the most popular pawn chains in all of Florida. If you plan on visiting West Palm Beach's neighboring city, Queen of Panws is also one of the best shopping spots in Miami. First opening its doors in 1995, this state-wide chain prides itself on offering its customers cash on just about any item of value, with no credit checks required. 
For those who are interested in doing some shopping, expect to find anything and everything at Queen of Pawns. Shoppers can scan the aisles for gold and diamond jewelry, Rolex watches, Louis Vuitton bags, Louboutin shoes, Apple computers, Gibson electric guitars, and Harley Davidson bikes. You never know what precious new item you will walk out the door with, but chances are, you'll find something good. 
13. Gold Pawns City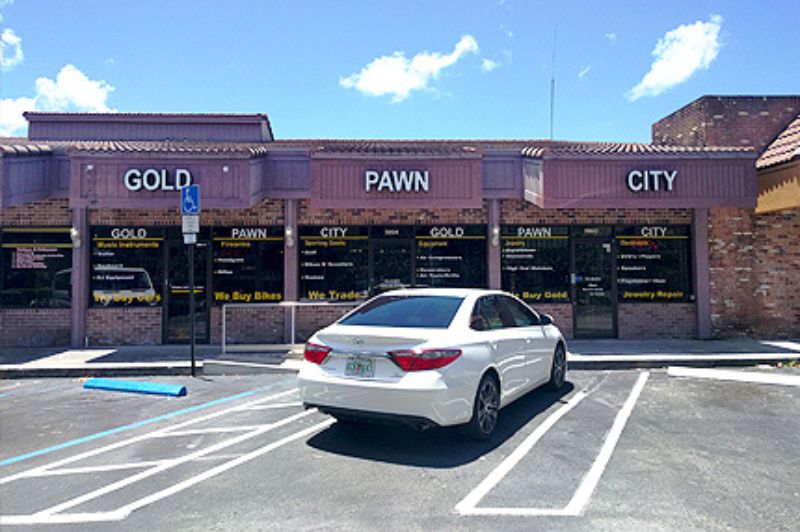 Neighborhood: Villages of Palm Beach Lakes
Best For: Offer great prices on valuable items
Address: South Wind Plaza, 5335 N Military Trl, West Palm Beach, FL 33407
Description:
Another institution in South Florida, Gold Pawns City has six locations situated across the state. This trustworthy chain is committed to helping its customers secure the cash they need when they need it most. 
Previous customers have raved about the customer service and the friendly staff at Gold Pawns City. Many customers also claimed that they were offered far better deals here than they were at other pawn shops in the area. Shoppers can find and sell a diverse array of items at this pawn shop including jewelry, gold, game systems, musical instruments, tools, and more.
14. La Familia Pawn and Jewelry West Palm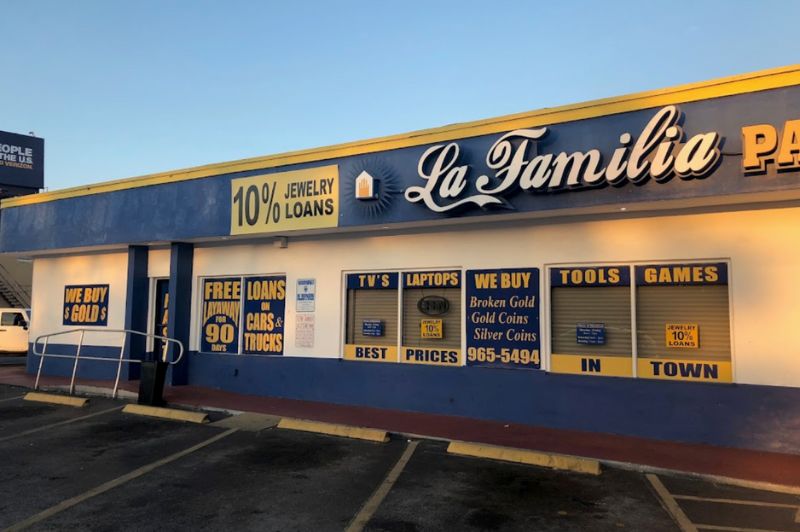 Neighborhood: Acacia Villas 
Best For: Pawning and buying jewelry 
Address: 2304 S Military Trail, West Palm Beach, FL 33415
Description:
If you are looking to pawn anything of value, chances are, La Familia Pawn and Jewelry West Palm will take it. While it's best known for its jewelry pieces, this pawn shop also sells and accepts gold, watches, electronics, musical instruments, tools, vehicles, and more. 
First established in 2009 in both Florida and Puerto Rico, La Familia Pawn prides itself on putting its customers first. The staff is helpful and friendly and the stores are neat, clean, and organized, making them easy to navigate.
Best Palm Beach Gift Stores for Souvenirs
Looking to pick up a little something-something for your loved one back home? Make sure to check out one of these gift stores before heading to the airport.
15. Roe Green Uniquely Palm Beach Store
Neighborhood: Lake Worth
Best For: Handcrafted items made by local artists
Address: 601 Lake Ave, Lake Worth, FL 33460 
Description:
Nestled in the Lake Worth neighborhood is the Cultural Council for Palm Beach County. The council. The council serves as a venue to showcase works completed by visual and performing artists in the Palm Beach area. If you want to pick up a special piece made by a local artisan, simply stop by the Roe Green Uniquely Palm Beach Store inside. 
Lining the shelves are over 1,000 items including artist-made jewelry, handbags, accessories, books, and more. Each piece has either been crafted by a professional artist who lives in Palm Beach or has been created by cultural organizations in Palm Beach County. Price tags drastically range from as little as $3 to hundreds of dollars, meaning there is truly something for every budget and interest. Whether you are looking to share your Palm Beach experience or remember your time here, you will find the perfect memento at this store. 
Are you a fan of unique gift shops? If you are traveling to other South Florida cities, make sure to check out the gift shops in Fort Lauderdale. Many of these trendy stores are some of the best shopping spots in Fort Lauderdale.
16. Life in Palm Beach
Neighborhood: Downtown West Palm Beach
Best For: More traditional souvenirs including t-shirts and mugs
Address: 128, 700 S Rosemary Ave, West Palm Beach, FL 33401
Description: 

If you are on the hunt for your more typical vacation souvenirs, Life in Palm Beach is the gift shop for you. Conveniently located in Rosemary Square, this quaint shop truly has something for everyone. Shoppers can browse through an interior packed with nautical home decor, packaged goods, clothing, and more. The items on display are more classic than cliche and don't have the same cheap, dispensable feel to them that many airport souvenirs do. Keep in mind that you may have to pay a little to park nearby, but it's certainly worth a few bucks.