12 Best Beaches in Fort Lauderdale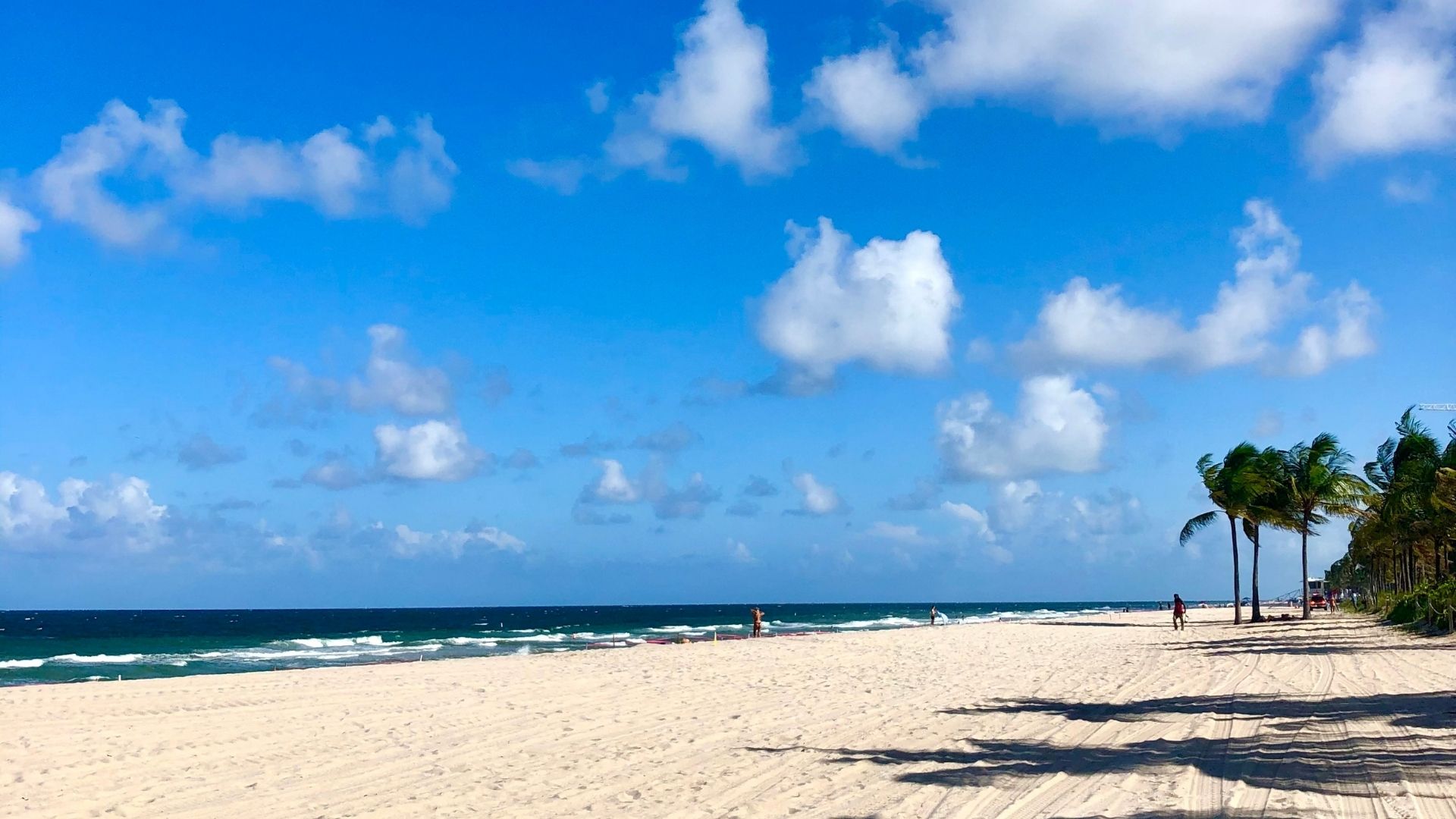 While there is so much to do in Fort Lauderdale, spending a few days on the beach is a must. This coastal city is filled with 24 miles of sandy shorelines and seaside communities, and each beach is just as breathtaking as the last. The best part? The legendary beaches listed below, which have been featured in movies and postcards alike, are all actually located in Fort Lauderdale and not in neighboring cities such as Hollywood or Pompano. 
While most Fort Lauderdale beaches feature pristine white sands and sparkling ocean, each one has a slightly different vibe and is partially defined by what attractions it is close to, whether that be a park, nature preserve, hotel, or restaurant. To help you decide where to spend your vacation, we've compiled a list of our top 12 favorite beaches in Fort Lauderdale and what to expect from each one. Grab your towels and sunscreen and get ready for some fun in the sun!
1. Sebastian Street Beach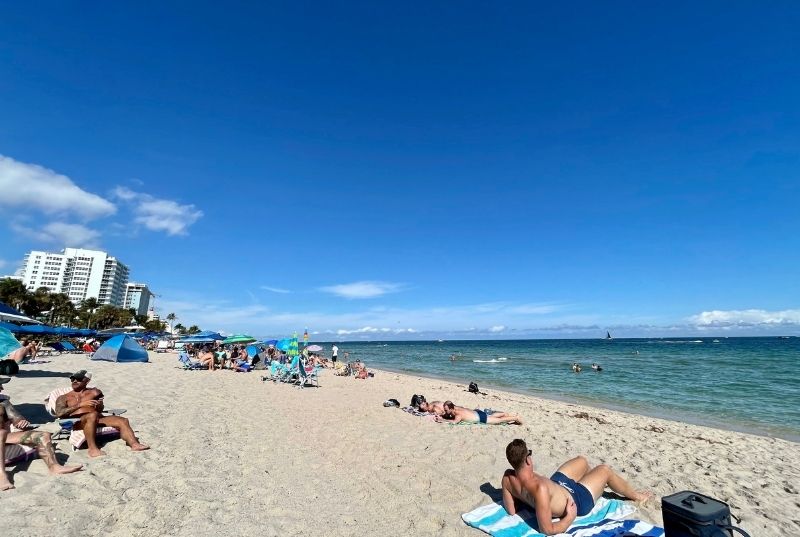 Next To: Casablanca Cafe and Las Olas Boulevard
Vibe: Relaxing Gay Beach
Google Map: Link
Description: 
Tucked in the corner of Sebastian Street and A1A across from Casablanca Cafe sits Sebastian Street Beach. Popular amongst the gay community, this beach has been named the "Hottest U.S. Gay Beach" by Out Traveler and is close to many resort hotels frequented amongst the LGBTQ crowd including The W Fort Lauderdale, The Royal Palms, and The Grand Resort & Spa. When the weather is particularly sublime, the beach and boardwalk are packed with people, but for the most part, Sebastian Street Beach is never too crowded. That makes this sandy shore a great place to bask in the quiet and soak up the South Florida rays. 
One thing to note is that palm trees are few and far between at this gay-friendly beach, so if you are looking for a spot with lots of shaded spaces, this might not be your go-to. That being said, when the sun starts to decline, the nearby hotels cast shadows, which cover most of the beach. Once evening rolls around, beachgoers can head over to Las Olas Boulevard, which is not too far away, to enjoy the restaurants and nightlife.
2. Las Olas Beach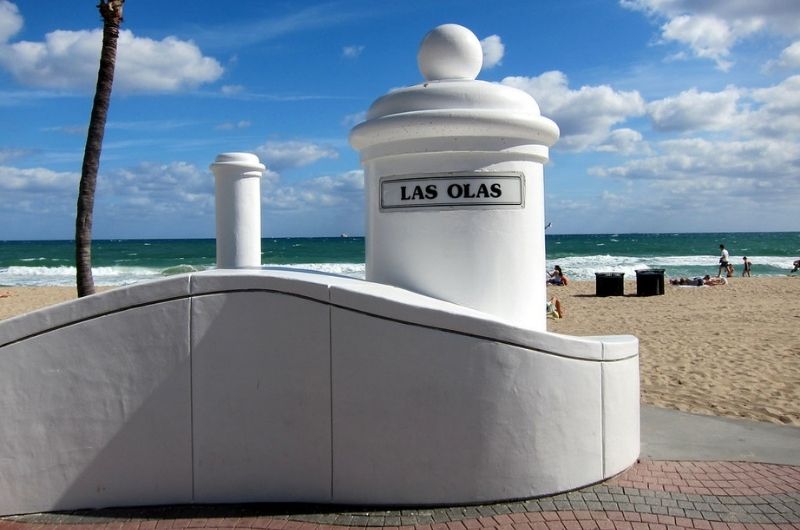 Next To: Las Olas Boulevard and The Ritz-Carlton, Fort Lauderdale
Vibe: Bustling Beach for All Ages
Google Map: Link
Description:
Las Olas Beach is the epitome of the picture-perfect South Florida beach. The narrow expanse of sand stretches out in front of crystal blue waters, and the ocean is temperate and the perfect place for a light dip. This stretch of shore is busier and on the smaller side, so if you are looking for a lively beach environment, Las Olas Beach is an ideal spot for you. Visitors have access to beach chairs and water sports equipment rentals, restrooms, and metered parking. 
At Las Olas Beach you will find that the crowd is a good mix of all ages, however, this beach has also been hailed as one of the most kid-friendly beaches in all of Fort Lauderdale. The bustling Las Olas Boulevard runs along the beach, offering a wide variety of cute cafes, trendy restaurants, entertainment venues, and exclusive shops. Due to its convenient location, Las Olas Beach is a great place to go for a half-day trip before visiting other popular tourist attractions nearby. Guests at The Ritz-Carlton, Fort Lauderdale are only a short stroll away from this oceanfront oasis.
3. Fort Lauderdale Dog Beach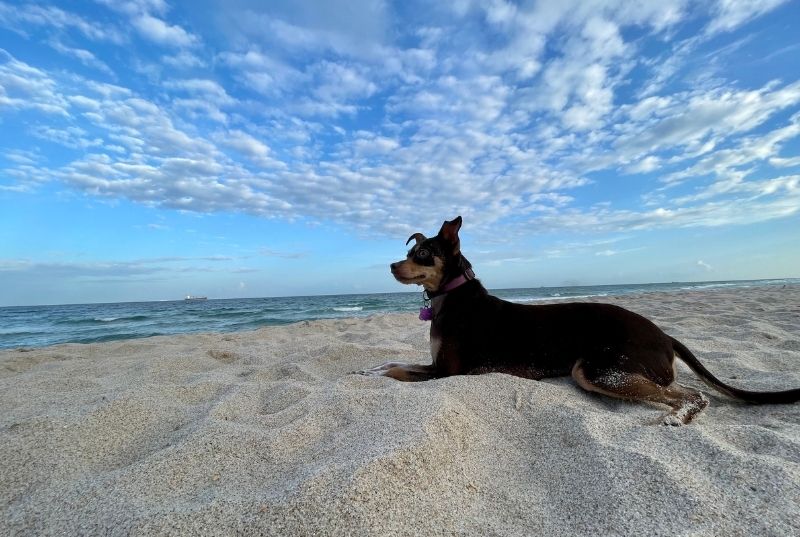 Next To: Hugh Taylor Birch State Park and the Bonnet House Museum & Gardens
Vibe: Canine-Friendly Beach
Google Map: Link
Description:
If you are traveling with a furry friend, hit the sands at the Fort Lauderdale Dog Beach. This 100-yard stretch of sand is the perfect place for your fur baby to splash in the sand and surf. Popular with dog owners, this canine-friendly beach doubles as a scenic spot with picturesque views. Located in Hugh Taylor Birch State Park, Fort Lauderdale Dog Beach is also close to other tourist attractions and hotels, including The Bonnet House Museum & Gardens and The Westin Fort Lauderdale Beach Resort. 
Keep in mind, the beach is only open Friday through Sunday. From November through October the beach is open from 3 p.m. to 7 p.m. and from April through October the hours are 3 p.m. to 9 p.m. To visit the beach, dog owners must also purchase a permit in-person at Parks & Recreation Administration and also provide a hard copy certificate of vaccination. For travelers who are only in Fort Lauderdale for the weekend, a permit only costs $7 per dog.
4. Street Terramar Beach
Next To: Conrad Fort Lauderdale
Vibe: Tranquil Gay Beach 
Google Map: Link 
Description: 
For a laidback and relaxing atmosphere by the sea, head over to Street Terramar Beach. Part of the larger Fort Lauderdale Beach, this tranquil spot on the shore is a prime destination for those seeking a quiet beach with fewer people. While not as popular as the famous gay beach at Sebastian Street, Street Terramar Beach is also frequented by many members of the LGBTQ community and is an even more serene spot for those looking to enjoy some fun in the sun. 

Another standout feature of Street Terramar Beach is that it offers safe swimming under the supervision of professional lifeguards. Lifeguards will frequently use beach flags to notify visitors of daily conditions. For example, a green flag will signify the best conditions, yellow flags symbolize slight risk, while red flags warn visitors of high risk in the waters. If there is any dangerous marine life in the water, a purple flag will be raised. This beach is located directly across from Conrad Fort Lauderdale, as well as many bars and restaurants.
5. Loggerhead Park Beach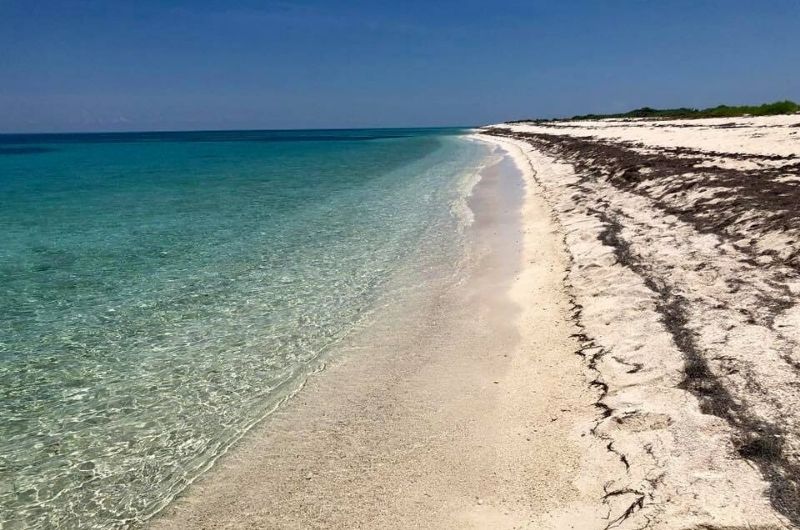 Next To: Dolphin Isles Hotel and Suites and Hotel Deauville
Vibe: Secluded Beach Perfect for Couples and Families
Google Map: Link
Description:
If you are looking for a less touristy Fort Lauderdale beach, here's the inside scoop. Small and secluded, Loggerhead Park Beach is popular amongst the local couples and families in Fort Lauderdale. While this quiet haven is not close to other popular tourist attractions, it offers plenty of privacy, especially if you take a trip to this secluded shore during the week. This beach is the perfect place for special photo opportunities, as you will be able to capture some beautiful shots of palm trees and ocean views without people lingering in the background. For a romantic evening, head down to Loggerhead Park Beach with your beau to catch the sunset. 
Located between Fort Lauderdale Beach and Commercial Pier, this beach is just across the street from Loggerhead Park, a groomed area with tennis courts, picnicking, and a playground area.
6. Vista Park Beach
Next To: Loggerhead Park
Vibe: Scuba Diving Hub for Locals
Google Map: Link
Description: 
Similar to Loggerhead Park Beach, Vista Park Beach is a hidden gem frequented mostly by Fort Lauderdale locals. Set along Fort Lauderdale's Galt Mile, avid scuba divers gravitate towards this beach, as diverse marine life and a shallow coral reef can be found by swimming just 1000 feet from shore. Amongst the colorful coral, craggy rocks, and crevices, the 100-yard reef is teeming with sea creatures such as snappers, lobsters, angelfish, nurse sharks, parrotfish, stingrays, and more.
Need a lunch break? Take a breather from your snorkeling expedition at the picnic tables and benches just behind the sandy shore. Vista Park Beach also makes an idyllic destination for a picnic underneath the palm trees. Because this reclusive beach is located in the middle of a residential neighborhood, visitors are advised to pack a lunch. There aren't many restaurants or cafes close by.
7. Lauderdale-by-the-Sea-Beach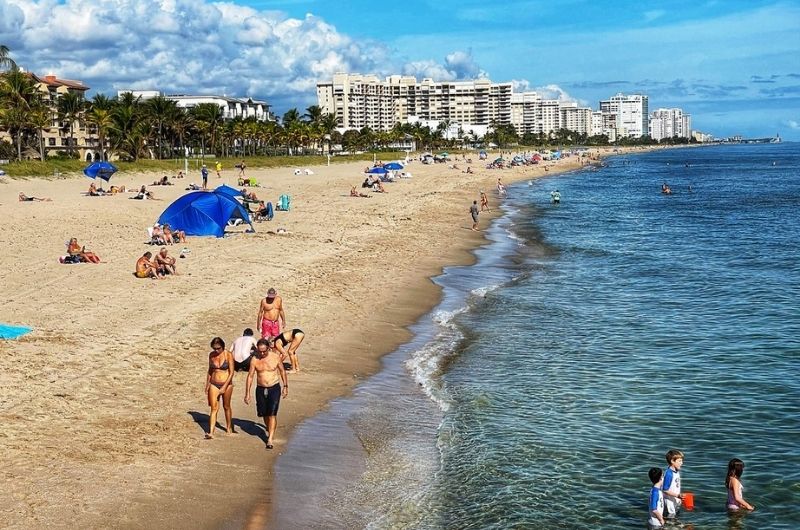 Next To: El Prado Park
Vibe: Quaint Seaside Village and Scuba Diving Spot
Google Map: Link
Description:
With its tropical colors and signature pier, Lauderdale-By-The-Sea is a surreal seaside paradise. This quaint and charming village features miles and miles of breathtaking beach views and is more laidback and low-key than other beaches you might find in the Fort Lauderdale area. Numerous vacation rentals and low-rise hotels can be found in the area, which are ideal properties for a quiet family getaway. 
While the beach is popular amongst sunbathers and shell-searchers alike, the standout features of this shore lie underwater. Widely considered South Florida's diving capital, this beautiful beach is another popular spot for scuba diving. Adventurous divers can search for tropical fish, turtles, reefs, and lobsters under the waves, or look for the SS Copenhagen, a British ship that sank in the area over a century ago. If you want to stretch your legs, visitors can stroll along the area behind the beach, which is filled with locally-owned and operated shops. Grab a bite to eat at Aruba Beach Cafe, a restaurant right off the sand.
8. Washingtonia Beach (Laura Ward Park)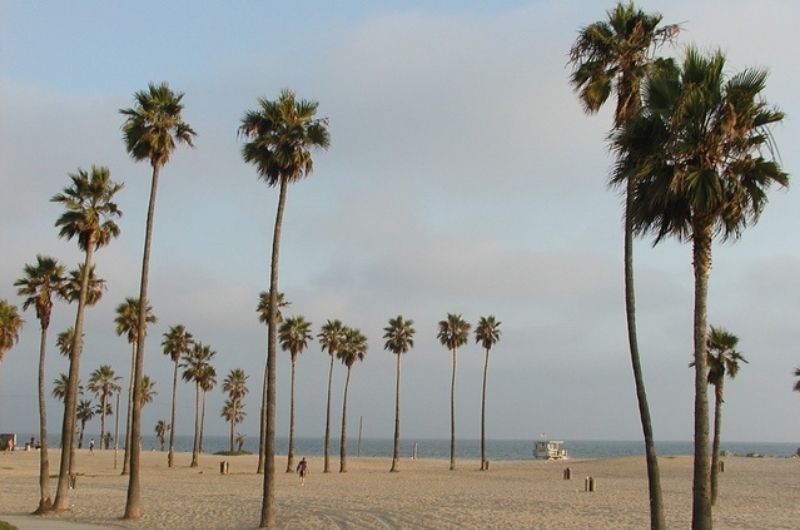 Next To: El Prado Park
Vibe: A Scenic Stop-By 
Google Map: Link 
Description: 
Also located in the town of Lauderdale-By-The-Sea, Washingtonia Beach is a small and narrow stretch of sand nestled in Laura Ward Park. This beach offers a quiet space for visitors to take a load off, take in the picturesque views, and cool off in the shade of the towering palm trees. The small shore is also a great access point for water sport enthusiasts to enjoy a range of activities including surfing, snorkeling, paddle boarding, and sailing. 
This secluded oasis is also surrounded by biking paths and a string of gorgeous homes. If you are in Lauderdale-By-The-Beach for the day, or your entire stay, make sure to take the short drive to the Hillsboro Inlet Lighthouse. Numerous restaurants are close to the beach. If you are in the mood for Thai food, head over to M&M Thai Cafe for a vegetarian-friendly spot. Spend the evening at Vespri Siciliani for classic Italian fare.
9. Earl Lifshey Ocean Park
Next To: L'Hermitage Condominium
Vibe: Budget-Friendly Beach Experience
Google Map: Link
Description: 
Head over to Earl Lifeshey Ocean Park for a wonderful budget-friendly beach experience. At Earl Lifeshey, visitors can expect to find a mix of families and couples of all ages. While the beach can get fairly crowded on the weekends, peaceful parties are likely to grant you privacy. If you are looking to avoid the sun, revolve your plans around an afternoon beach trip, when private homes and condominiums will cast a wide shadow over the sands. 
This beach is known for being relatively low-budget. Guests can enjoy numerous amenities at a sweet price point including outdoor showers and affordable parking options. If you have a dog, make sure to bring Fido along for the ride, as Earl Lifeshey Ocean Park is a pet-friendly beach.
10. Volleyball Beach Park
Next To: Popular Fort Lauderdale beach resorts like B Ocean Resort Fort Lauderdale and Fort Lauderdale Marriott Harbor Beach Resort & Spa
Vibe: Casual Family Beach Day
Google Map: Link
Description: 
For a casual day of fun in the sun, take a day trip to Volleyball Beach Park. Just south of The Bahia Mar Resort, this lesser-known beach spot boasts a wealth of amenities perfect for families and friends alike. As the name suggests, guests can enjoy fun-filled games of beach volleyball on the outdoor courts, as well as a place to hose off at the outdoor showers. 
Families traveling with toddlers and children can take advantage of the kid's playground and basketball court, while parents relax on the sun-kissed sands close by. 
If you want to turn your beach trip into a full-day affair (the beach is open from 5 a.m. to midnight), pack some coolers and cook up some burgers and veggies on the outdoor grills. Other notable beach features include picnic tables, restrooms, and a non-motorized boat ramp. This beach is a particularly convenient destination for guests of the B Ocean Resort Fort Lauderdale.
11. Lago Mar Beach
Next To: Lago Mar Beach Resort & Club
Vibe: Exclusive Family-Friendly Beach
Google Map: Link
Description:
To escape the hustle and bustle of Fort Lauderdale, book a stay at the Lago Mar Beach Resort & Club for a luxurious and sophisticated retreat. One of the biggest perks of staying at this oceanside resort is exclusive access to the spectacular 500 foot stretch of private beach. This family-friendly shore features everything you could ever want from a beach vacation and more including a beach playground for younger tots, a volleyball court for active teens, and indulgent chaise lounges and cabanas for adults looking for some R&R. 
Set on ten private acres on an exclusive section of Harbor Beach, Lago Mar also offers organized water sports such as kayaking, jet skiing, and scuba diving perfect for older children and adults alike. The best part about Lago Mar Beach is it's guaranteed to never get too crowded, as the beach is open and available for guests alone.
12. El Prado Park Beach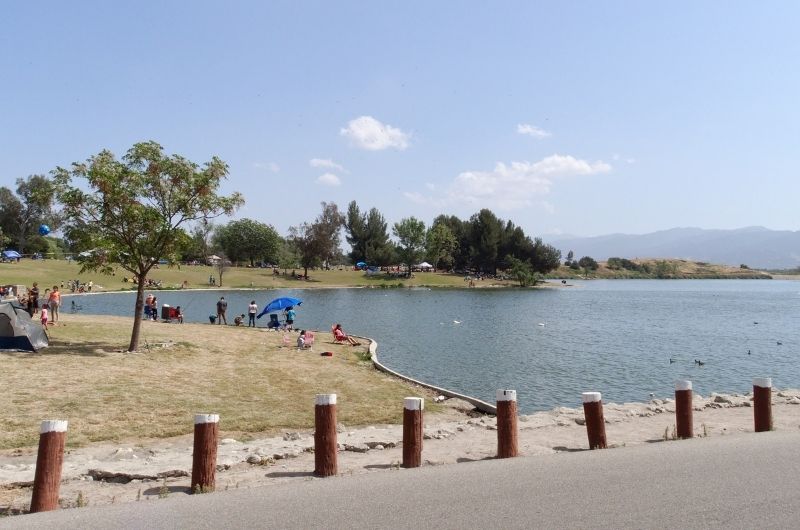 Next To: Lauderdale-By-The-Sea Beach and Washingtonia Beach
Vibe: A Short Beach Visit for Families and Couples
Google Map: Link 
Description: 
The most popular beachfront park in Lauderdale-By-The-Sea, El Prado Park Beach is a great place for a short pit stop. After taking in the mid-century modern architecture and the breezy atmosphere of this seaside town, visitors can stop for a picnic on the grassy lawn of El Prado Park, which is equipped with shaded seating and paved walkways. Guests can then enjoy a quick dip in the water or a walk along the sandy shores of El Prado Park Beach, which looks like something out of a postcard. 
From late fall through spring, make sure to keep an eye out for the farmers market that's located at El Prado Park. Convenient parking is available just across El Mar Drive.
Frequently Asked Questions
What are the top 3 beaches to visit in Fort Lauderdale?
Fort Lauderdale boasts a plethora of beautiful beaches, but I highly recommend visiting these top 3: Fort Lauderdale Beach, Lauderdale-By-The-Sea, and Hollywood Beach. Fort Lauderdale Beach is a popular spot offering pristine sands and a picturesque promenade lined with palm trees. Lauderdale-By-The-Sea is a charming, small-town beach with a fishing pier and vibrant coral reefs perfect for snorkeling. Hollywood Beach, with its lively boardwalk, offers a diverse range of dining and entertainment options.
Which beach in Fort Lauderdale is the best for families?
I find that Deerfield Beach is a fantastic choice for families. With its Blue Wave certified clean waters, lifeguard supervision, ample parking, and a variety of dining options, it is a safe and fun environment for a day at the beach. The interactive splash pad and playground are sure to keep the little ones entertained, too.
Can you recommend a secluded beach in Fort Lauderdale for some quiet relaxation?
For those seeking a quieter, more secluded beach experience, I suggest visiting the Dr. Von D. Mizell-Eula Johnson State Park, formerly known as John U. Lloyd Beach State Park. The serene atmosphere, untouched beauty, and tranquil shorelines make it the perfect spot to unwind and relax.
Where can I find the best beach for snorkeling in Fort Lauderdale?
The ideal spot for engaging in snorkeling activities is Lauderdale-By-The-Sea, which possesses an impressive and lively coral reef ecosystem only a brief distance away from the coastline. This subaqueous wonderland hosts a dazzling assortment of aquatic creatures and fish, offering a memorable escapade for those passionate about snorkeling.
Which beach offers the best nightlife in Fort Lauderdale?
The epicenter of evening entertainment can be found at Fort Lauderdale Beach, where a plethora of bars, clubs, and eateries line the vibrant A1A stretch. A variety of amusement choices are available, including live tunes and dancing as well as relaxed beachside watering holes, ensuring a spirited ambiance for an enjoyable evening excursion.
Are there any pet-friendly beaches in Fort Lauderdale?
Your furry friends will love Canine Beach, a designated dog-friendly area located just north of Sunrise Boulevard. This spot allows dogs to play off-leash during designated hours (Fridays, Saturdays, and Sundays), ensuring a fun beach experience for both you and your four-legged companion. Just remember to obtain a permit before visiting!