22 Best Things to Do in Fort Lauderdale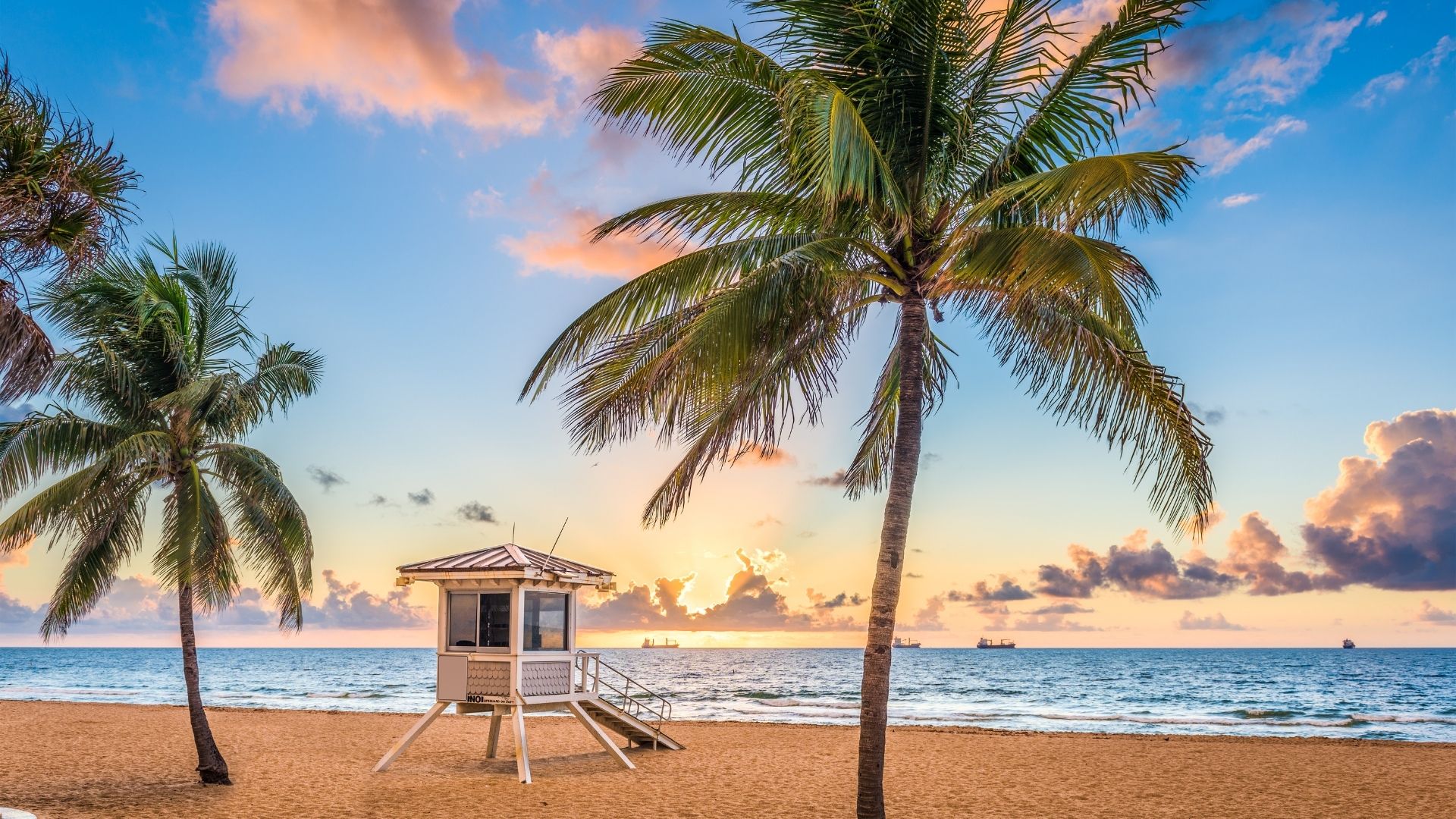 Tucked in the southeast of Florida, Fort Lauderdale is one of the many hidden gems of the sunshine state. Known for its pristine beaches and Venice-like canals, Fort Lauderdale's beautiful year-round weather makes it a popular destination for tourists and Florida natives alike. When it comes to a Florida vacation, Fort Lauderdale offers visitors exactly what they are looking for. While vacationers love lounging on the beach and taking a boat out on the water while in Fort Lauderdale, this coastal city also has thriving art, culture, and entertainment scenes. This diverse city is made up of many small neighborhoods, each with its own distinct flavor and vibe, and also has superb shopping and world-class dining options. 
From wandering through wildlife preserves to living large at the casino, there's truly something for everyone to enjoy in this seaside city. With so much to do and see, it can be hard to narrow down the top things to do in Fort Lauderdale. Regardless of how you choose to spend your time while exploring the city, you can't go wrong with our round-up of the best things to do in Fort Lauderdale. Here are 22 of our favorite spots and activities. 
1. Explore Beautiful Hugh Taylor Birch State Park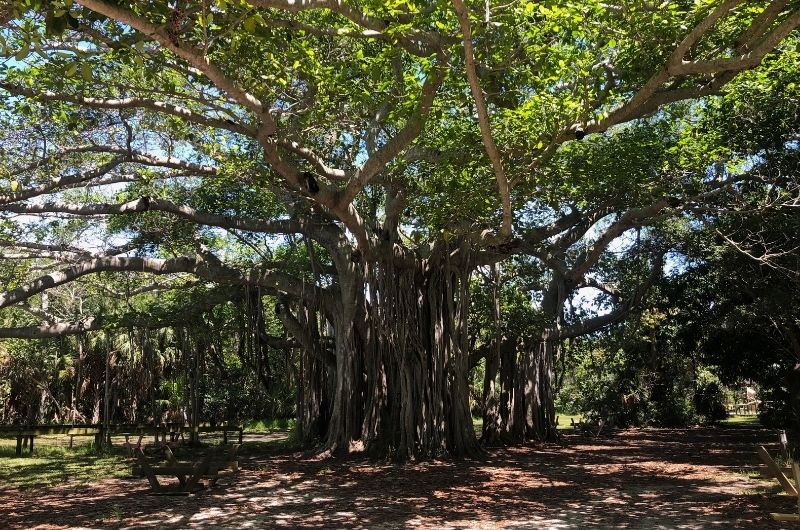 3109 E Sunrise Blvd, Fort Lauderdale, FL 33304
Neighborhood: Birch Park Finger Streets
Many past visitors who have traveled to Fort Lauderdale have referred to Hugh Taylor Birch State Park as a site the shouldn't be missed. What was previously the home of Hugh Taylor Birch, who donated the estate to Florida's public, is now inhabited by abundant flora and fauna and diverse animal life. Some of the animals that commonly frequent the grounds include turtles, marsh rabbits, and over 250 species of birds. 
Guests of the park can enjoy a wide range of fun-filled activities such as taking a relaxing bike ride along the paved park drive, hiking the Coastal Hammock Trail, or kayaking in the largest of the park's dune lakes. If you are in the mood for something more leisurely, prepare a picnic and enjoy your lunch in one of many quiet grassy spots. The park is open every day from 8 a.m. to sundown. While you may need to pay a small entrance fee to enter, it's worth every penny. 
2. Visit the Bonnet House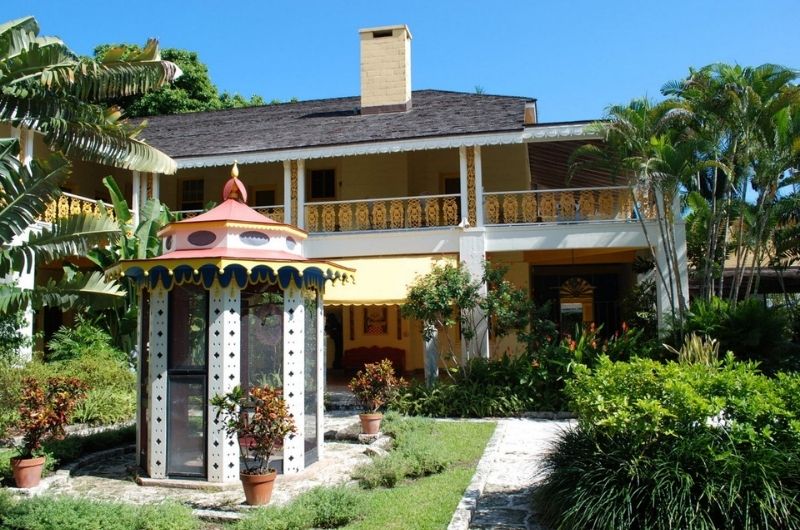 900 N Birch Rd, Fort Lauderdale, FL 33304
Neighborhood: Central Beach
If you need to get away from the bustle of the city for a day, head over to the Bonnet House Museum and Gardens. This plantation-style home was built by artists Frederic Clay Bartlett and Evelyn Bartlett in the 1920s, and their 35-acre estate has been perfectly preserved ever since. Inside you can find a combination of Bartlett's extensive art collection along with over 100 years of history. The pieces range from animal sculptures, as well as a priceless collection of paintings. Some of the art was created by the Bartlett's themselves, others are from world-renowned artists Georges Seurat and Pablo Picasso. 
For an equally picturesque experience, guests can take a stroll outside. The gorgeous grounds boast five distinct ecosystems including mangrove wetlands and maritime forests, along with one of the largest collections of orchids in the Southeast United States. 
3. Dine and Shop in Downtown Las Olas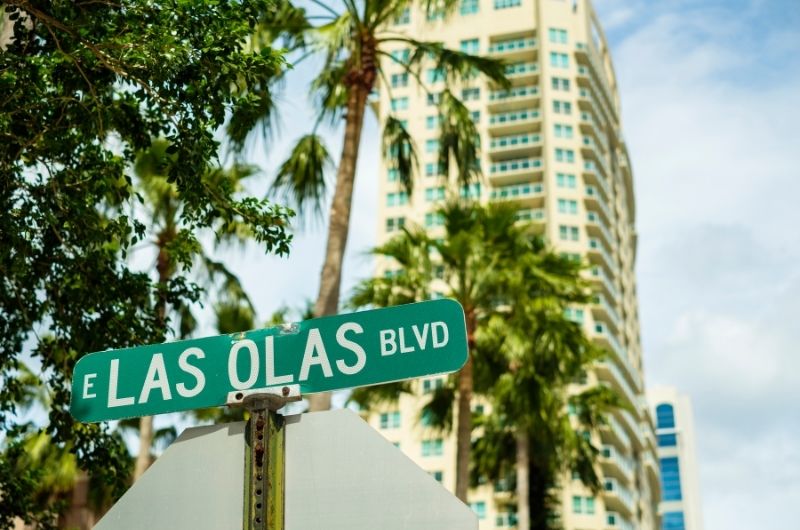 E Las Olas Blvd, Fort Lauderdale, FL
Neighborhood: Downtown Fort Lauderdale
Whether you visit it by day or by night (or both), taking a stroll down Las Olas Boulevard is a must-do in Fort Lauderdale. Stretching through the center of downtown, Las Olas Boulevard is one of the most famous streets in the entire city, as well as the heart and soul of Fort Lauderdale. What was formerly a dirt track over 100 years ago now connects Las Olas Beach to vibrant areas bursting with coffee shops, cocktail bars, and boutiques. Although it's known for its excellent shopping and dining experiences, the boulevard also grants you access to museums, including the Museum of Discovery and Science. 
Las Olas Boulevard also has a bustling nightlife with great clubs, bars, theaters, and music venues. If you want to experience Fort Lauderdale's vibrant energy, this is the place to be. 
4. Gamble at Seminole Hard Rock Hotel & Casino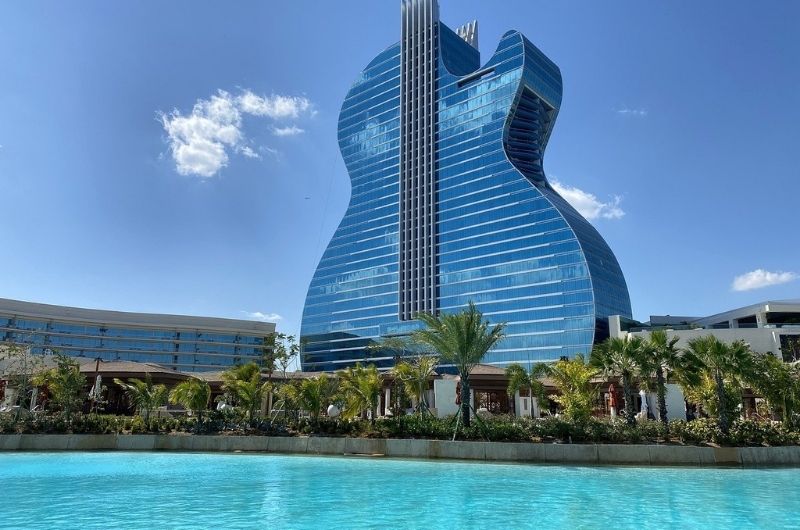 1 Seminole Way, Davie, FL 33314
Neighborhood: Hollywood, Florida
Yes, this attraction is technically in Hollywood, however, the grandeur of the building, amenities, and gambling options make it a popular draw for both Fort Lauderdale visitors and residents alike. For a night to remember, hit the tables at Seminole Hard Rock Hotel & Casino. Shaped like a guitar with a skyrocketing axel, the one-of-a-kind building is hard to miss, and the inside is just as impressive. This renowned casino is the largest in South Florida and is decorated with notable music memorabilia. Games include thousands of slots, live poker, and numerous table games, including blackjack, Texas Hold 'em, three-card poker, and more. One of the best parts about this casino? You can choose to use Seminole Wild Card Wallet (similar to Apple Pay), which allows you to jump from one gamble to the next without carrying money around. 
Aside from gambling, there are also unparalleled dining and nightlife options inside the building, as well as a hotel to spend the night. Keep in mind, the Seminole Hard Rock Hotel & Casino is a 10-mile drive outside of downtown Fort Lauderdale and is technically located in Hollywood, Florida. 
5. Spot the Murals in Flagler Village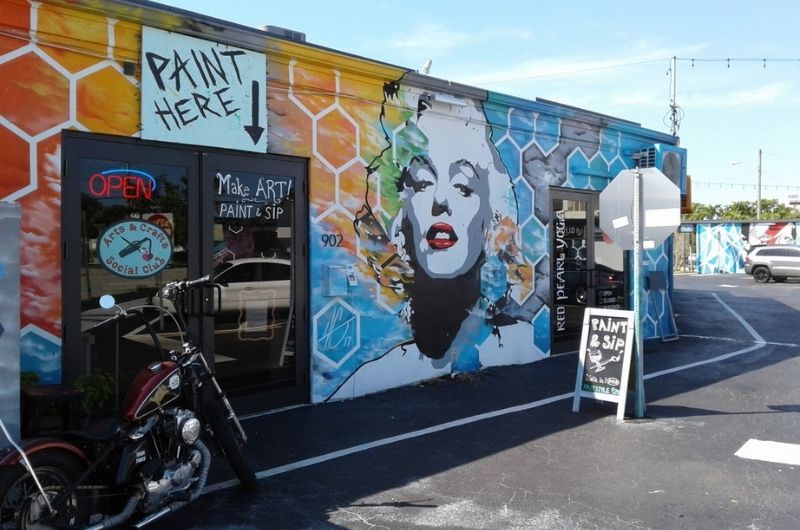 Neighborhood: Flagler Village
For a quiet day outdoors, head on over to FATVillage, a district within Flagler Village and Fort Lauderdale's cultural hub. The four-block historic warehouse district is packed with art studios and galleries, but people tend to gravitate to this corner of the city for its incredible murals. 
If you love art and are looking for a great photo opportunity, the murals at Flagler Village are not to be missed. 
Also, if you are in Fort Lauderdale on the last Saturday of the month, be sure to check out ArtWalk in Flagler Village. This evening event boasts street food vendors, local craft stalls, and interactive art installations and experiences. 
6. Go Jogging Down the Riverwalk
219 Southwest 2nd Avenue
Neighborhood: Downtown RiverWalk District
Looking for the perfect place for an outdoor run? Stretching across 22 blocks, the Riverwalk is the ideal spot to stretch your legs. Sprinkled with restaurants, green spaces, movie theaters, and shops, the Riverwalk is also home to some of the city's biggest tourist spots, including the Bonnet House Museum and Gardens and Las Olas Boulevard. Visitors can also attend a concert, play, or musical at the Forward Center for the Performing Arts, which is also nestled in the Riverwalk Arts and Entertainment District. If you are looking for new things to add to your Fort Lauderdale bucket list, the Riverwalk is a great place to discover new things to do. 
7. Enjoy Fresh Seafood on the Intracoastal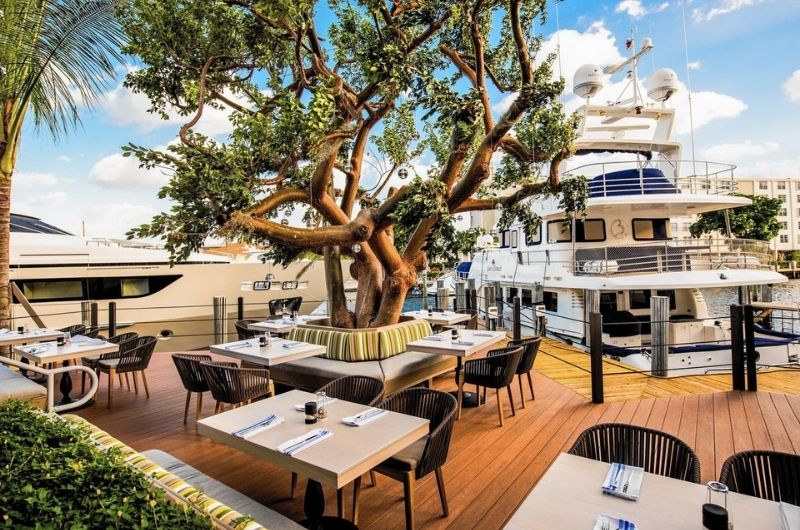 With dockside views and world-class seafood options, the Intracoastal is a great place to treat yourself on a night out. Two of our favorite waterfront dinner spots include Boatyard and Coconuts. With an upscale, nautical-themed vibe and stunning marina views, Boatyard strikes the perfect balance between a sophisticated and laidback restaurant atmosphere. Guests can enjoy a seafood-focused menu filled with fresh daily catches, all of which are prepared with locally sourced ingredients, along with a fully stocked raw bar. 
At Coconuts, guests can indulge in high-quality seafood in a relaxed and casual setting. This ocean-side restaurant offers equally marvelous views and is a great spot to watch yachts sail by while the sun sets in the background. 
8. Charter a Half-Day Yacht
If you're traveling to Fort Lauderdale for a family reunion or with a big group of friends, chartering a yacht might be the perfect day trip for you. While renting and captaining your own boat is always an option, sometimes you just want to sit back, relax, and not have to worry about anything at all – including navigation. The best part about opting to charter is most captains will know the best spots to take you to, whether you are looking to discover a scenic canal or a secluded cove. There are numerous chartering options in Fort Lauderdale from Captain Ron's Sailing Charters to Charter One Yachts. 
9. Explore Diverse Wilton Manors
Neighborhood: Wilton Manors
While San Francisco might be the country's most famous hub for LGBTQ+ arts, entertainment, and culture, there's a small town on the outskirts of Fort Lauderdale that will make you forget all about the golden state city: Wilton Manors. Nicknamed "Island City" as it is surrounded by canals on all sides, Wilton Manors has been an LGBTQ+ stronghold for decades and is now a thriving hub for queer entrepreneurship. 
Wilton Drive, which is the heart of Wilton Manors, boasts over 40 independent LGBTQ+ owned businesses, from sushi shops to retro candy stores, and even a bakery opened by one of Wilton Manors' gay ex-mayors. You can support LGBTQ+ businesses throughout this tight-knit community by shooting some pool, grabbing a coffee, or going thrifting. If you head over to Wilton Manors in the evening, it also has its fair share of bustling bars, multi-level nightclubs, and lounges. Make sure to also check out The Stonewall National Museum & Archives, which is the nation's largest LGBTQ+ museum. 
10. Indulge at a Local Brewery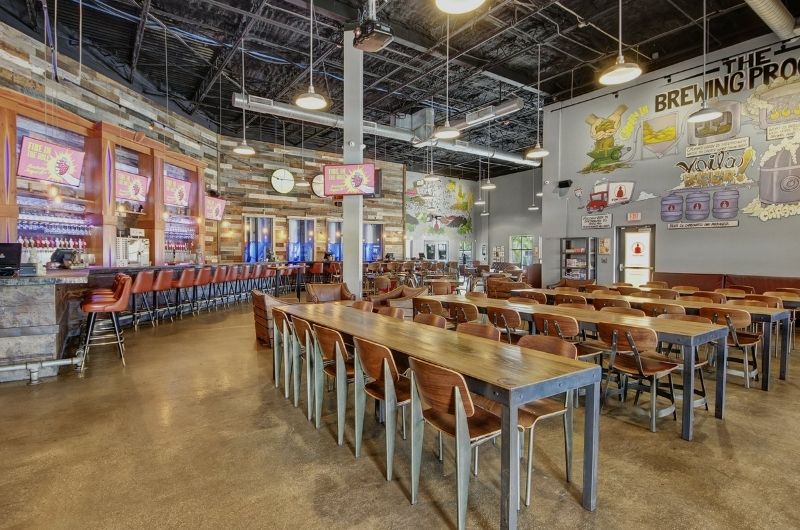 One of the best ways to spend an afternoon in Fort Lauderdale is at one of their many breweries. This coastal city has transformed into a craft beer lover's paradise, with at least 30 breweries in the area and more expected to open soon. 
The first stop on your beer tour should be at Funky Buddha, which has a slew of best-selling beers as well as a bright, industrial atmosphere. Make sure to also check out 26º Brewing Company, which has a game room, food trucks, and delicious brews. If you are in Flagler Village, wander over to Flagler Village Brewery, which prides itself on its unusual beers and experimental brews on tap. 
11. Walk the Untouched Dr. Von D. Mizell-Eula Johnson State Park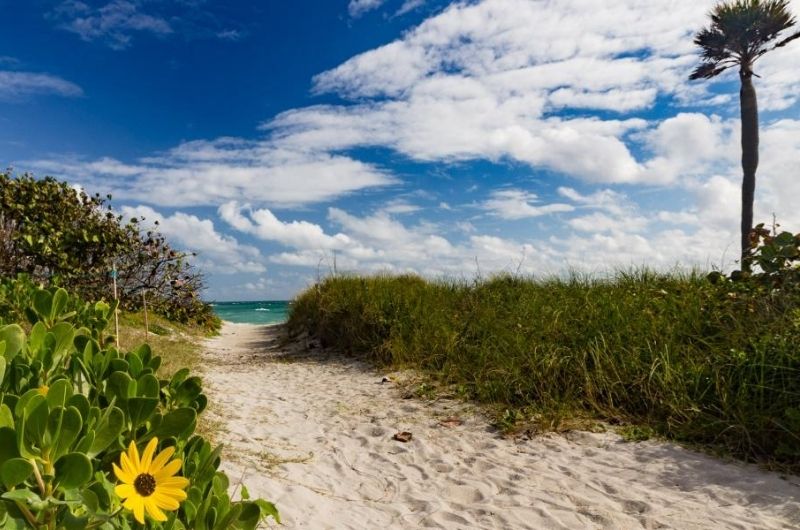 6503 N Ocean Dr, Dania Beach, FL 33004
Neighborhood: Hollywood, Florida
Similar to the Seminole Hard Rock Casino, this park is technically in Hollywood, right outside of Fort Lauderdale. However, this spot is so beautiful and vast that it's worth a mention nonetheless. We recommend heading on over to Dr. Von D. Mizell-Eula Johnson State Park for a quiet and beautiful afternoon by the beach. This beachside park was the first beach open to people of color in Broward County and is now the last undeveloped coastal ecosystem in the area. Travelers can escape the hustle and bustle of the city for a day and reconnect with nature by engaging in swimming, fishing, boating, hiking, bicycling, or picnicking. This peaceful park also boasts a thriving reef teeming with sea life including tropical and sport fish, sharks, and Florida lobster. If you like scuba diving or snorkeling, this park is the perfect place to do it. While this state park is located in Hollywood, just south of the city, it is only a twenty-minute drive from downtown Fort Lauderdale. 
12.  Vibe Out at The Wharf Fort Lauderdale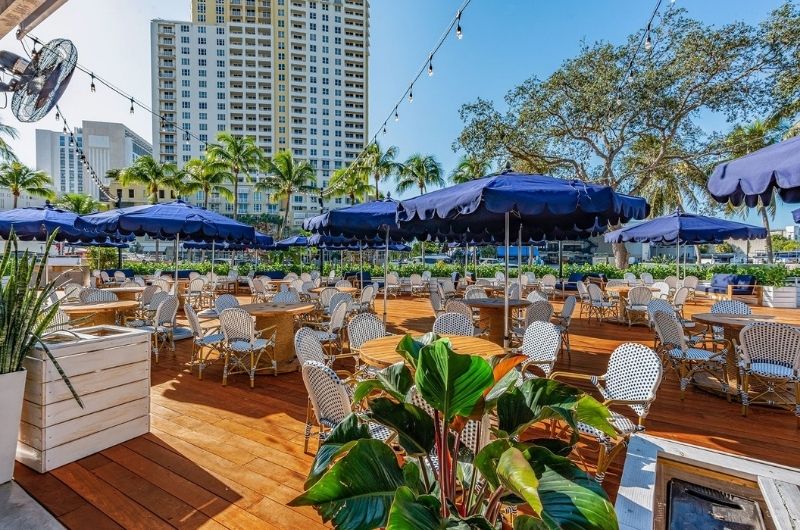 20 W Las Olas Blvd, Fort Lauderdale, FL 33301
Neighborhood: Downtown Fort Lauderdale 
Situated in the lively neighborhood of Las Olas on the banks of the New River is The Wharf. A massive open-air event space that stretches across 1.25 acres, The Wharf boasts some of the most delicious culinary creations in all of Fort Lauderdale. Comprising four bars and five food courts, visitors of this one-of-a-kind food court can enjoy a regular rotation of South Florida's most coveted food vendors all in a casual and fun environment. Between cocktails, guests can enjoy outdoor games like corn hole, and plenty of photo opportunities with white and navy nautical decor as your backdrop. The Wharf also offers a wide variety of lively weekly and seasonal events, from complimentary fitness classes to circus performances!
13. Treat Yourself to an Oceanfront Dinner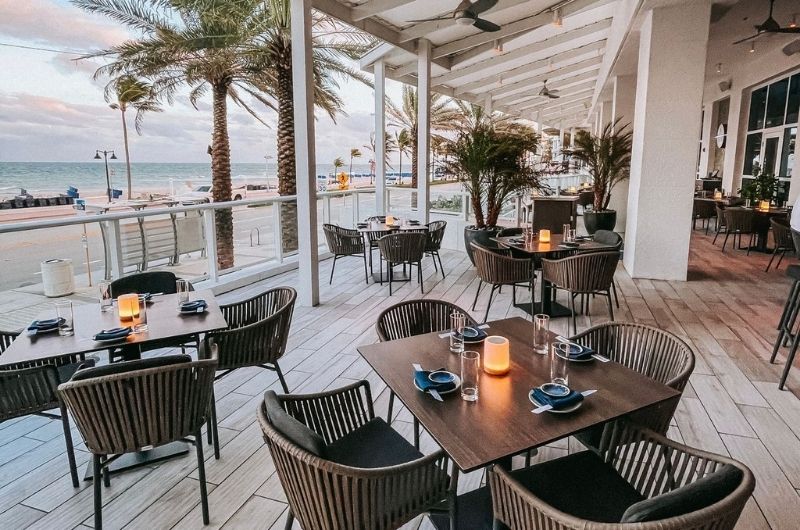 You cannot leave Fort Lauderdale before treating yourself to an unparalleled oceanfront dinner. Two of our favorite restaurants with a view include Takato and Steak 954. For a delectable steak dinner under the stars, head over to Steak 954. If you are lucky to snag a spot on the seaside patio, you can indulge in a meal of filet mignon while taking in the sweeping beach views. For Japanese-Korean cuisine and a side of scenery, head over to Takato. Whether you choose to dine at Takato for breakfast, dinner, or happy hour, every option on the menu is bursting with unique and authentic flavors. 
14. Stroll Down the Beachfront Promenade
A1A between Las Olas and Sunrise Boulevard, Fort Lauderdale, FL 33301
Neighborhood: Central Beach to Las Olas Beach
Whether you like to start your mornings with coffee and a stroll, or prefer taking an afternoon walk, the beachfront promenade is a great place to stretch your legs at any time of day. Known for its iconic white wave wall, the promenade also leads to a wide range of shops, fancy restaurants, cafes, and entertainment venues. Just two miles north of Port Everglades, if you choose to meander over to the beach you can also enjoy a variety of activities from boating and windsurfing to jet skiing and beach volleyball. Make sure to keep an eye out for dolphins as you walk along the paved brick path. 
15. Ride the Fort Lauderdale Water Taxi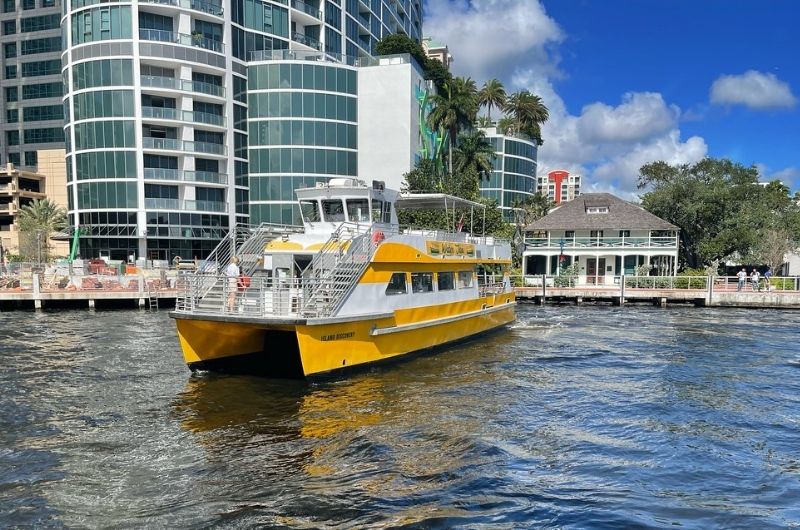 413 SW 3rd Ave Fort Lauderdale, FL 33315
Neighborhood: Tarpon River
Riding the Fort Lauderdale Water Taxi is a must-do while visiting the "Venice of America" and is a great way to explore the city by boat. Running every 30 to 40 minutes or so, guests can enjoy unlimited rides with 11 stops between Fort Lauderdale and Hollywood. The water taxi gives you access to many iconic South Florida destinations including Hollywood Beach Resort, the Historic Hollywood Broadwalk, and Margaritaville. The captains and crew are extremely familiar with the coastal city and will be sure to bring you to the many signature attractions that can be viewed by the water. Guests can also enjoy an alcoholic or non-alcoholic drink on board. 
16. Rent and Captain a Boat
Thanks to the year-round warm weather, exploring Fort Lauderdale by boat is a great way to cool off in the summer and enjoy the pleasant breezes in the winter. Numerous companies allow Fort Lauderdale visitors to rent out boats with prepaid fuel for either a half-day or a full day, depending on your budget and schedule. 
If you are worried about the expense, don't be! Renting a boat is far more affordable than you might think. If everyone in the group chips in, it can be a very budget-friendly activity and a great way to get out on the water. For example, renting boats at Get My Boat starts at $120 an hour for up to six guests. Our favorite Fort Lauderdale local boat rental spot is 100 Pro Boats, located near the Galleria Mall on Sunrise Boulevard.
17. Catch the Brightline Down to Miami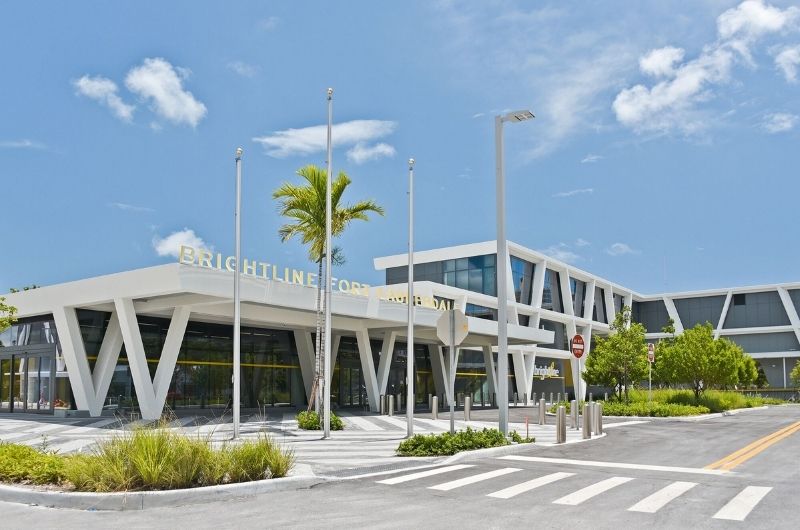 101 NW 2nd Ave, Fort Lauderdale, FL 33311
Neighborhood: Las Olas
Want to take a day trip to Miami? The Brightline, a high-speed rail that runs from West Palm Beach to Miami, will take you from Fort Lauderdale to Miami in approximately 30 minutes. Whether you want to check out Fairchild Tropical Botanic Garden, relax on South Beach or discover the Institute of Contemporary Art, there's so much to explore in the Magic City. And the Brightline will get you there quickly and at an affordable price. Any train-loving toddler or kid is sure to get a kick out of the experience, as well. 
18. Relax at Fort Lauderdale Beach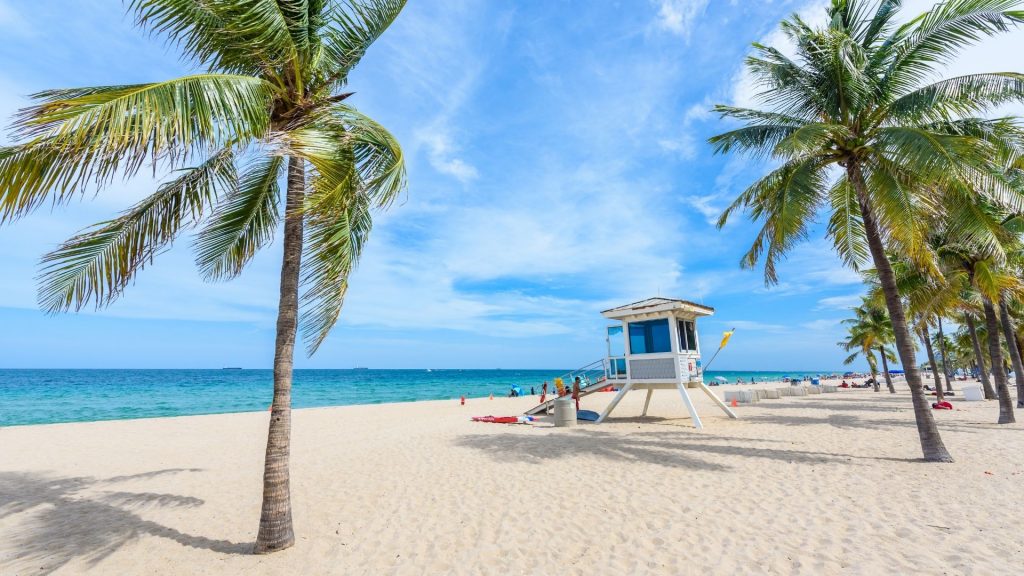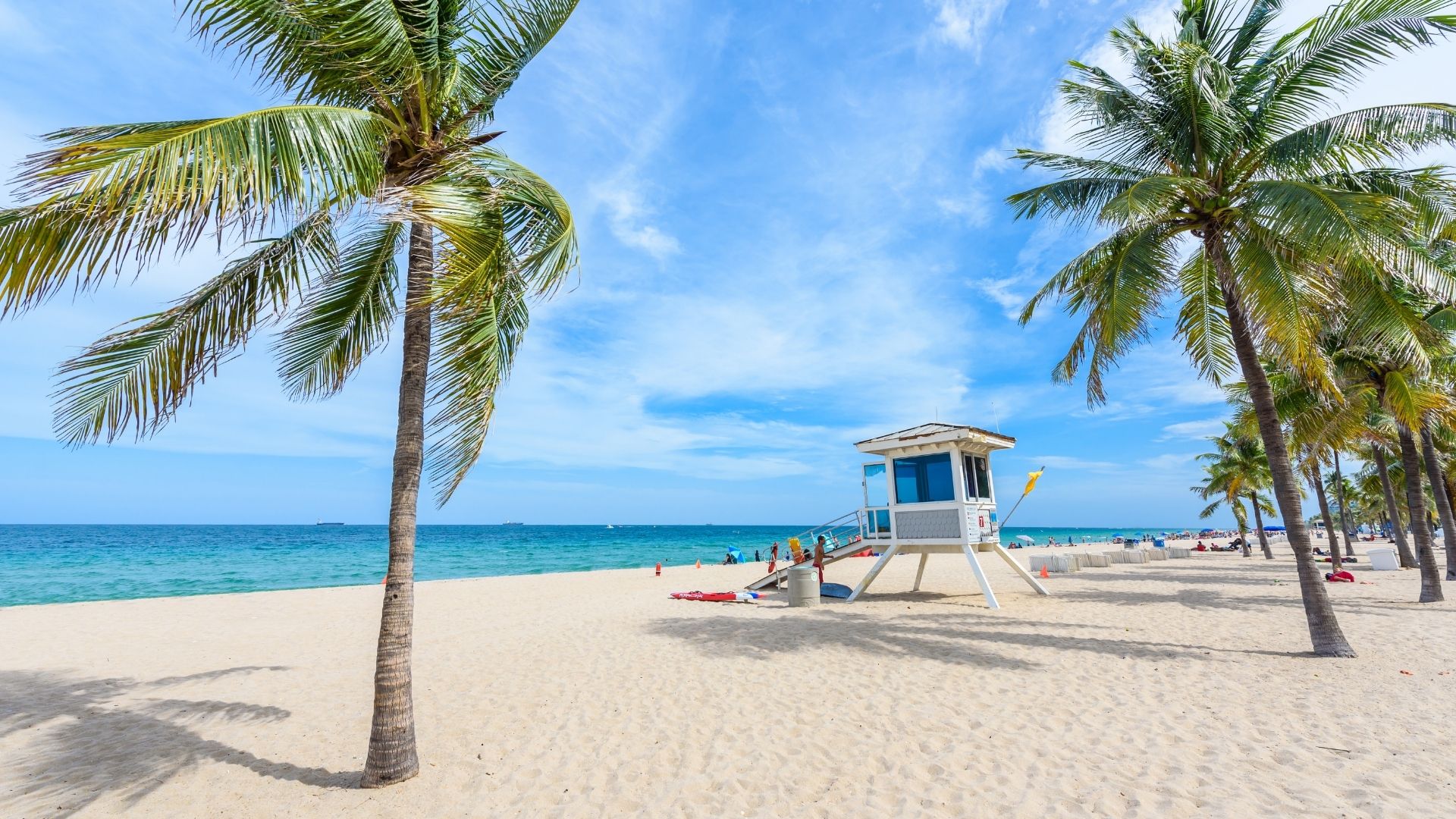 1100 Seabreeze Blvd Fort Lauderdale, FL 33304
Neighborhood: Central Beach
No visit to South Florida is complete without hitting the beach. Known for its sparkling waters and sun-kissed sands, this seven-mile strip is the perfect oasis to kick back, relax, and enjoy a leisurely day by the ocean. There are beach chairs and water sports equipment rentals near the shore, and the scenic promenade is the perfect spot to take a stroll or grab a bite to eat. Take note: beach parking can be tricky to find, so consider riding a bike or taking an Uber to and from the beach. 
Looking for a more lively crowd? While it may not be as wild as Miami Beach, there is a fair share of beachfront parties that take place on Fort Lauderdale Beach.
19. See a Show at Broward Center for the Performing Arts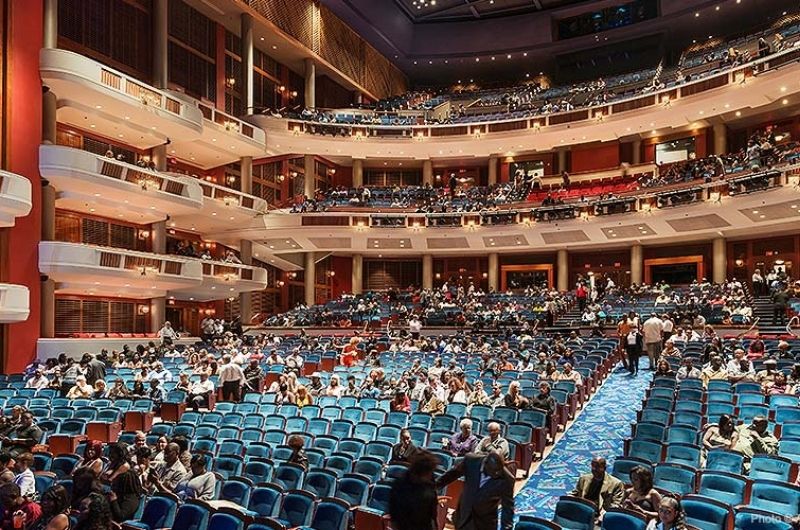 201 SW 5th Ave, Fort Lauderdale, FL 33312
Neighborhood: Riverwalk Arts and Entertainment District
If you are a fan of theater, Broward Center for the Performing Arts offers a wide range of theatrical productions. From Beatles tribute shows and Les Miserables, to So You Think You Can Dance! Live to the Miami City Ballet, the center offers something for everyone. If you are traveling with young children, the theater also hosts family-friendly productions such as Disney's Aladdin and Junie B. Jones: The Musical. Broward Center strongly encourages guests to arrive 45 minutes early so they can park and find their seats with ample time before each production begins. 
The arts center is centrally located on the west side of the Riverwalk Arts and Entertainment District, which makes it easy for theater-goers to grab dinner or a drink before or after they attend a show. The perfect way to end the evening? Recapping the show with a stroll along the water. 
20. Visit the Museum of Discovery and Science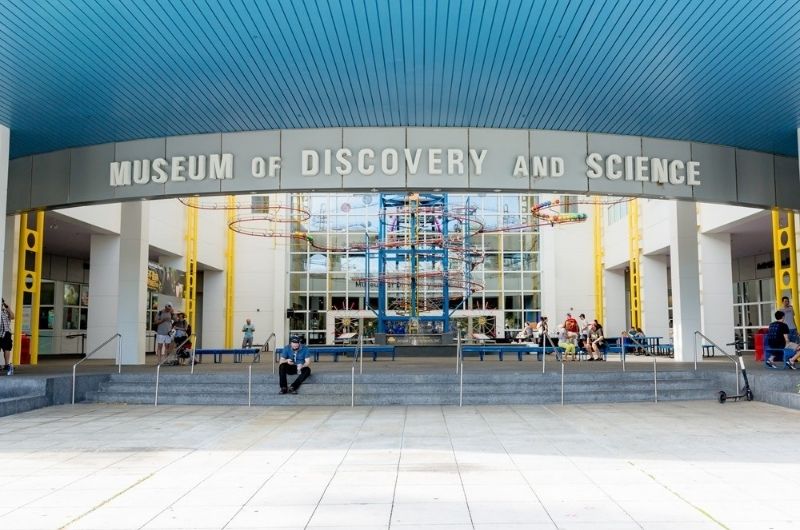 401 SW 2nd St, Fort Lauderdale, FL 33312
Neighborhood: Riverwalk Arts and Entertainment District
On a rainy day, head on over to the Museum of Discovery and Science. This must-see attraction is filled with countless interactive exhibits and activities, from taking a simulated airboat ride through the Everglades to learning more about Florida weather patterns at the Storm Center. It's also the perfect family-friendly indoor activity to keep kids of all ages engaged and to entertain children and adults alike for hours on end. Other must-sees at the museum include an aviation station, a Dino Boneyard with hidden fossils, and a 300-seat Imax theater. Make sure to stop by the gift shop on the way out!
21. Ride the Jungle Queen Riverboat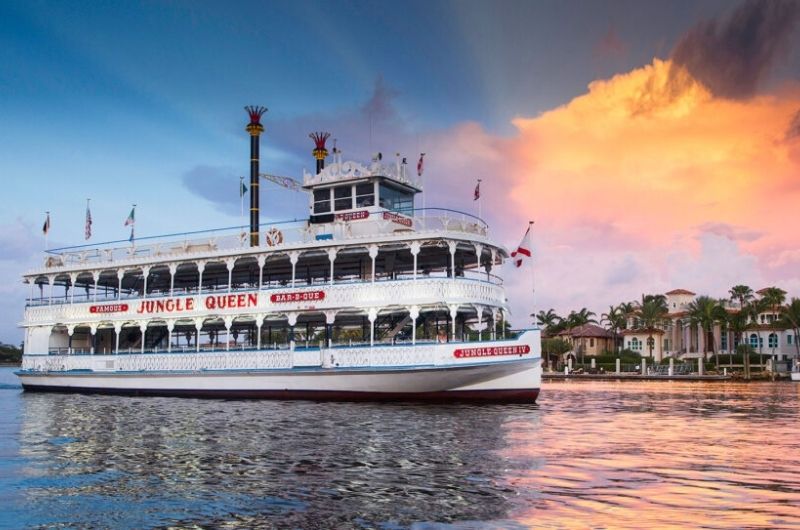 801 Seabreeze Blvd, Fort Lauderdale, FL 33316
Neighborhood: New River
Taking a ride on the Jungle Queen Riverboat is a time-honored tradition. Since 1935, Fort Lauderdale guests and natives have taken the Jungle Queen Riverboat out to enjoy spectacular views of the New River. Now one of the most famous cruises in the world, there are several cruise packages available for guests to choose between. Two of its most popular cruises include the Tropical Isle Dinner & Show, where guests can enjoy dinner and live entertainment, and the 90-minute sightseeing cruise, where guests will get the chance to sail through Millionaires Row and view spectacular Mega Yachts. 
22. Discover the Historic Stranahan House Museum 
335 SE 6th Ave, Fort Lauderdale, FL 33301
Neighborhood: Riverwalk Arts and Entertainment District 
To learn more about the history of Fort Lauderdale, check out the Historic Stranahan House Museum. Built in 1901, the museum is widely recognized as the city's oldest surviving structure and has served many different purposes over the years. It was first built by Frank Stranahan, who was considered to be one of the founding fathers of Fort Lauderdale, as a trading post. Over the years it evolved into a post office, a residence, and now, a museum. Guests can learn more about the fascinating role the Historic Stranahan House played in history on daily guided tours. 
Frequently Asked Questions
What are the top attractions that I shouldn't miss in Fort Lauderdale?
Fort Lauderdale is filled with exciting attractions, but these top 3 are must-visits: The Bonnet House Museum & Gardens, the Museum of Discovery and Science, and the NSU Art Museum. The Bonnet House showcases fascinating art and history within a beautiful plantation-style estate surrounded by lush gardens. The Museum of Discovery and Science offers interactive exhibits for all ages, while the NSU Art Museum boasts an impressive collection of contemporary and modern artwork.
Which outdoor activities are the most popular in Fort Lauderdale?
With its beautiful weather and scenic landscapes, Fort Lauderdale is perfect for outdoor enthusiasts. Popular activities include strolling along the picturesque Riverwalk, taking a narrated cruise down the Intracoastal Waterway, and exploring the stunning Everglades National Park, where you can enjoy airboat rides and spot diverse wildlife.
What are the best places for shopping in Fort Lauderdale?
Fort Lauderdale offers a range of shopping experiences. I recommend visiting Las Olas Boulevard for unique boutiques and art galleries, Sawgrass Mills for unbeatable deals at the largest outlet mall in the area, and The Galleria at Fort Lauderdale for a mix of high-end and familiar retailers.
How can I experience the famous Fort Lauderdale waterways?
Famed as the "American Venice" due to its abundant canals, Fort Lauderdale offers numerous ways to traverse its waterways. Choices for discovery include hopping on a water shuttle, joining a guided tour boat, hiring a kayak or stand-up paddleboard, or even securing a private vessel for a more opulent adventure.
Are there any unique cultural experiences in Fort Lauderdale?
Absolutely! Fort Lauderdale is a melting pot of cultures, and you can experience this at the annual Las Olas Art Fair, where local and international artists showcase their work. For foodies, the Riverwalk Gourmet Delights festival offers a taste of local and international cuisines, while the Florida Renaissance Festival brings history to life through engaging performances, artisans, and food.
What are the best day trips from Fort Lauderdale?
Fort Lauderdale's prime location makes for excellent day trips. I recommend visiting the vibrant city of Miami, just a 40-minute drive away, or exploring the beautiful Palm Beaches, known for their opulent mansions and pristine beaches. For a truly unique experience, visit the stunning Florida Keys, where you can enjoy world-class snorkeling, fishing, and breathtaking sunsets.