16 Best Beaches in Miami That Locals Swear By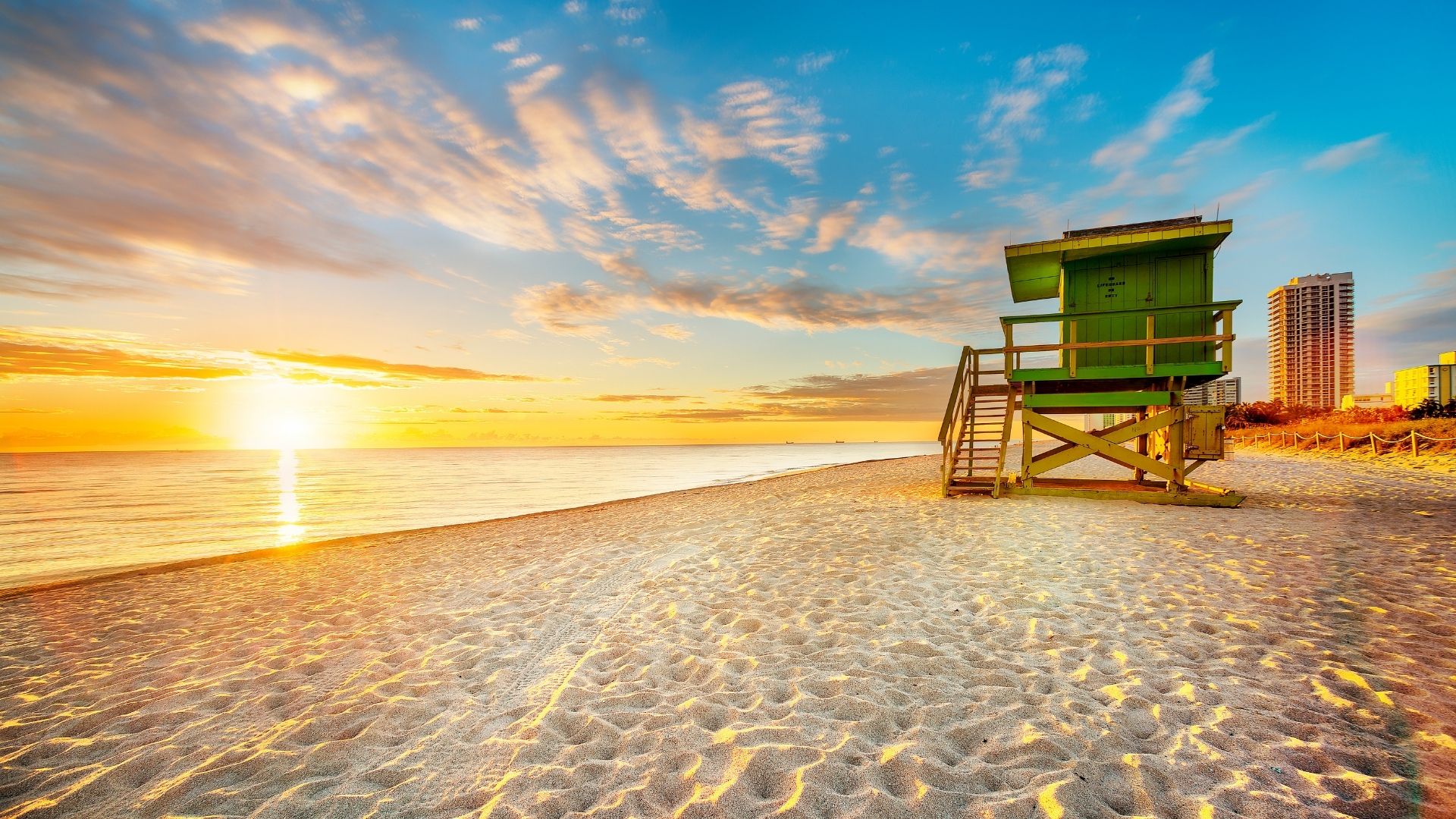 While Miami is known for its fine dining, high-end shopping, and Art Deco architecture, most tourists flock to "The Magic City" for its world-renowned beaches. While South Beach may be the most famous beach in Miami, it isn't the only stretch of sand on offer. This bustling South Florida city boasts a range of diverse shorelines for all types of beachgoers, each offering soft sand, sparkling water, and its own unique charm. Whether your beach goals are to relax with a good book, play fetch with your furry friend, or day drink with your buddies, Miami has the right stretch of sand to suit your needs. Here are our 16 favorite places to enjoy some fun in the sun.
1. 12th Street Gay Beach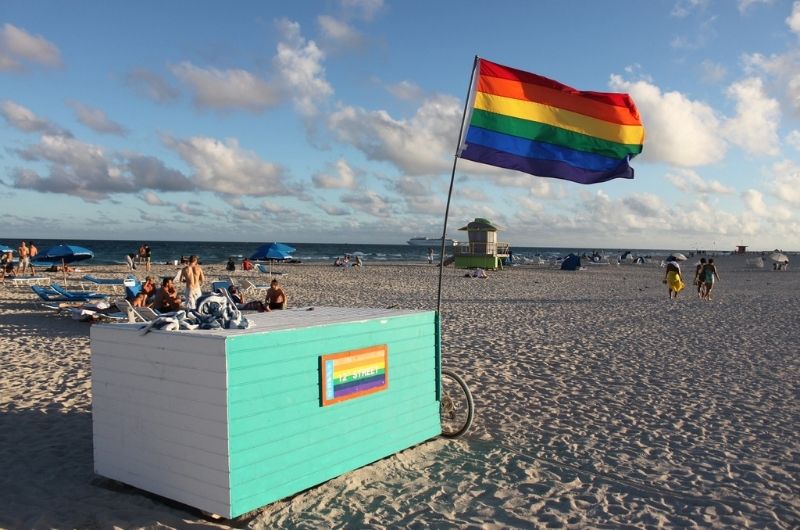 Next To: The Betsy, Lummus Park
Vibe: Day Parties and Dancing
Google Map: Link
Marked by rainbow flags near the 12th Street lifeguard stations, 12th Street Gay Beach can't be missed. Part of the main strip of the famous South Beach, travelers can find this stretch of sand where 12th Street and Ocean Drive converge. As Miami's only gay beach, 12th Street is primarily populated by gay men and is also the perfect place to see and be seen. When it's time to refuel, head over to Palace Bar, a nearly three-decade-old gay institution located on Ocean Drive. As for parking, your best bet will be in the city garage at 13th and Collins.
If you are visiting in March, make sure to pay 12th Street a visit to experience the Winter Party Festival, one of the biggest gay beach parties in North America.
2. Muscle Beach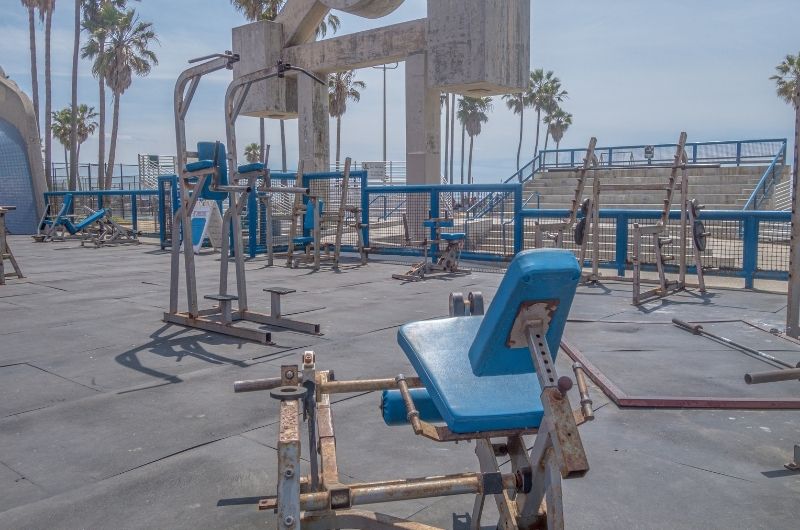 Next To: Lummus Park, 12th Street Gay Beach
Vibe: Ideal for Fitness Enthusiasts and People Watching
Google Map: Link
If you love working out on the beach or a good run along the water, Miami does you one better. For a fun and social beachfront workout, simply head over to Muscle Beach. Situated in the picture-perfect Lummus Park, not far from 12th Street, Muscle Beach is a popular attraction for local and visiting fitness enthusiasts. This outdoor area includes equipment for weight lifting, gymnastics, and other exercises, as well as two installations that collectively include over 30 workout components.
Not only will you get a great workout in, but Muscle Beach is also an ideal spot for people-watching. Don't be surprised to find a handful of people at this outdoor gym when you swing by — on any given day a few dozen people will be working through their exercise regimes. Muscle Beach is particularly packed on Sundays.
3. South Pointe Beach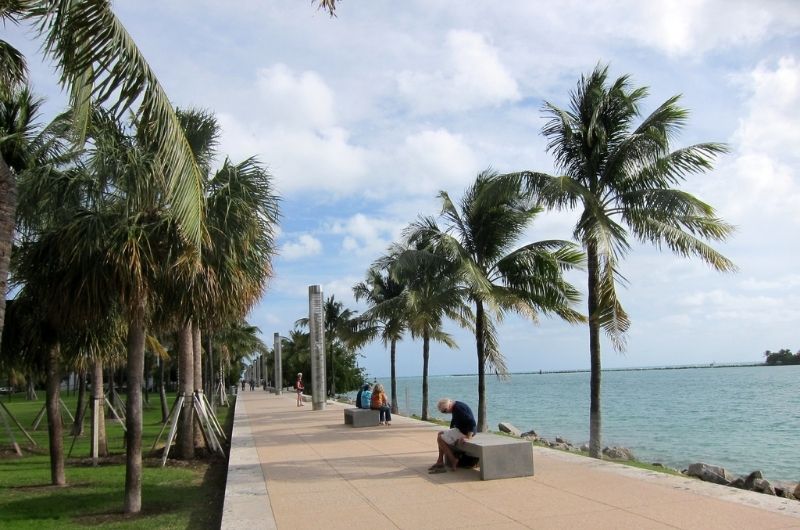 Next To: Ocean Drive
Vibe: Family-Friendly, Quiet and Serene
Google Map: Link
If you are looking for a tranquil respite from the hustle and bustle of South Beach, South Pointe Beach is the place for you. Of all the beautiful stretches of sand in Miami, South Pointe Beach is our favorite beach. Due to minimal development in the area, this serene stretch of sand is relatively quiet. There are also fewer shadows from high-rise hotels cast on the beach, making it the perfect spot to enjoy sunny rays all day long.
This hidden gem is a favorite among locals and truly offers something for every type of beachgoer. Travelers can enjoy a dip in the ocean, soak up the sun on the sand, or take a stroll on the boardwalk, which has incredible views of the Atlantic Ocean, Government Cut, and Fisher Island. If you are traveling with little ones, there's also a water-themed playground close by. The proximity of the beach to South Pointe Park gives visitors easy access to walking trails and sunset vistas. If you're hankering for a bite to eat, Smith & Wollensky steakhouse is only a short walk away.
4. Haulover Nude Beach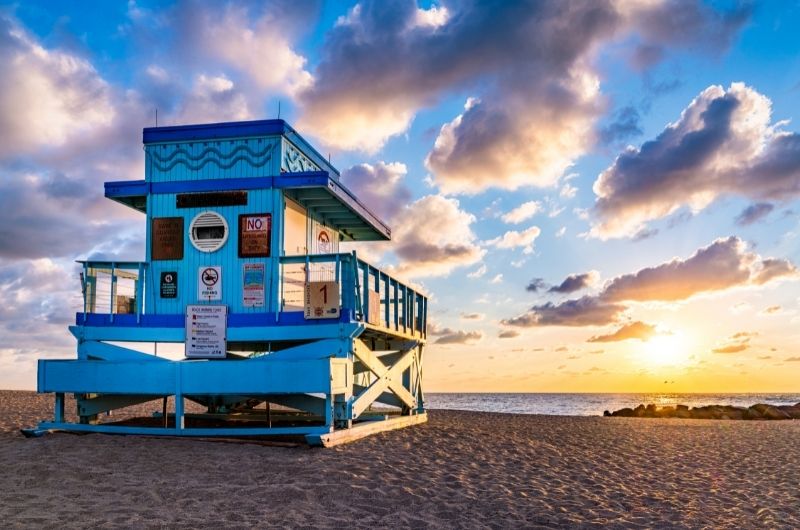 Next To: The Ritz-Carlton Bal Harbour
Vibe: Hardcore Tanners and those Who Dare to Go Bare
Google Map: Link
Dare to go bare? Nestled between Bal Harbour and Sunny Isles Beach is Florida's oldest, officially recognized, nude beach. While topless sunbathing is common throughout Miami Beach, Haulover Beach is the only public beach with a section dedicated to a clothing-optional experience. Given the nature and privacy of the beach, there are not a ton of shops or restaurants close by. If you plan on parking yourself there for the day, make sure to pack food, water, and plenty of sunscreen! Pro tip: make sure to pack two towels per person, one for laying on, and one for drying off.
While Haulover Nude Beach is the perfect place to shed those pesky tan lines, other sections of the beach tend to draw in all sorts of crowds. With a nearby dog park, hiking trails, fishing coves, excellent surfing conditions, and interesting extras like kite-building and flying workshops, Haulover has something for everyone.
5. Surfside Beach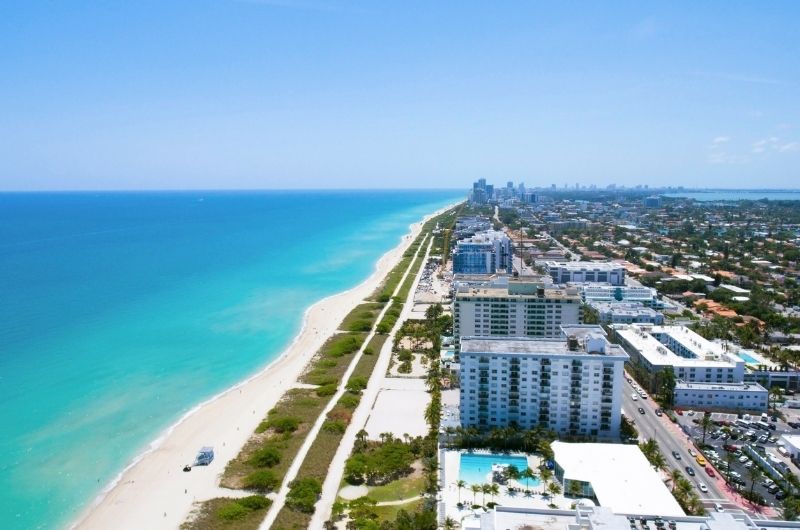 Next To: All Children's Park, Wild Water & Wheels
Vibe: Relaxed Family Fun, Quirky Beach Day
Google Map: Link
Known as the "uptown beach town," Surfside Beach is a beloved spot among locals. With its immaculate sands and water, this mile-long stretch of sand is the perfect place for a laidback beach day. One of its standout features is the paved walking and bath path that separates the beach from nearby buildings and roads. Interested in fishing? Whether you are an expert or an amateur, Surfside is known for its superb bay and offshore fishing opportunities.
Just minutes away from the beach is the quaint town of Surfside. Everything is reachable by foot in this charming seaside area from grocery stores to high-end boutiques. If you're looking for a quick bite to eat, you can't go wrong with Josh's Deli, a gourmet Jewish sandwich shop, or Serendipity, a frozen yogurt joint.
6. Matheson Hammock Park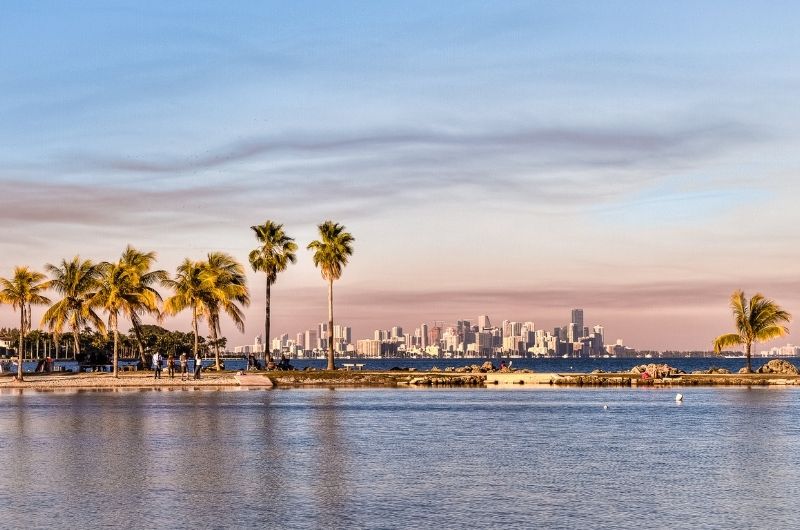 Next To: Kayaking Rental
Vibe: Serene and Remote Spot, Kid-Friendly Swimming
Google Map: Link
If you are looking for the most kid-friendly beach in Miami, Matheson Hammock Park is your best bet. This 630-acre round beach features sugary white sands enclosing a man-made atoll pool. The pool is surrounded by a ring-shaped coral reef, which allows water from Biscayne Bay to come and go with the tide. The extremely calm waters make this beach the perfect spot for little ones to safely take a dip. Keep in mind, flotation devices are banned at Matheson Hammock Park.

In Florida, a hammock refers to an ecosystem featuring a dense stand of broad-leafed, usually hardwood, trees set slightly above sea level and surrounded by tropical wetlands. Visitors can immerse themselves in this environment on a walking trail, which also features breathtaking views of the Miami skyline. This serene oasis also includes picnic areas, lifeguards, and a nearby kayak and canoe rental. Looking for a close-by lunch spot? Enjoy some seafood at Redfish before embarking on your beach day.
7. North Shore Open Space Park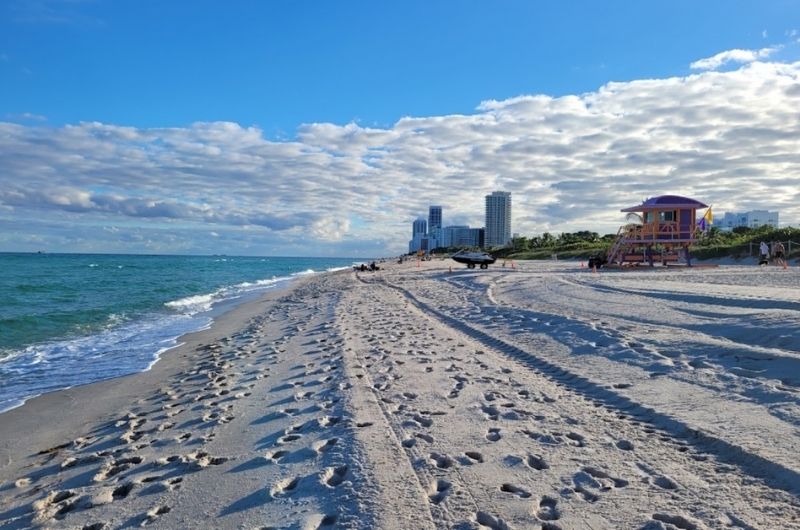 Next To: The Donovan
Vibe: Family-Friendly Gatherings, Laid Back Get-Togethers
Google Map: Link
A local hot spot, this less commercialized coastline is one of the best places to visit if you want to enjoy fewer crowds. North Shore Open Space Park boasts a sprawling stretch of sand, meaning there's plenty of room for everyone, whether you are visiting solo or with a group of friends. If you are traveling with a big group, come prepared, because North Shore has a long strip of green space dotted with barbecue grills. An added bonus? Compared to other Miami beaches, parking isn't too hard to come by at North Shore Open Space Park.
While North Shore Open Space Park is an idyllic spot to stretch out with a good book, this local favorite caters to all sorts of activities. The beach itself is not dog friendly, but the neighboring park welcomes furry friends. If you want to take a scenic stroll with gorgeous waterfront views, you are welcome to make the most of the many walking trails that can be found throughout the area. North Shore is also a wonderful spot to rent a bike and take in the beautiful scenery.
8. Bal Harbor Beach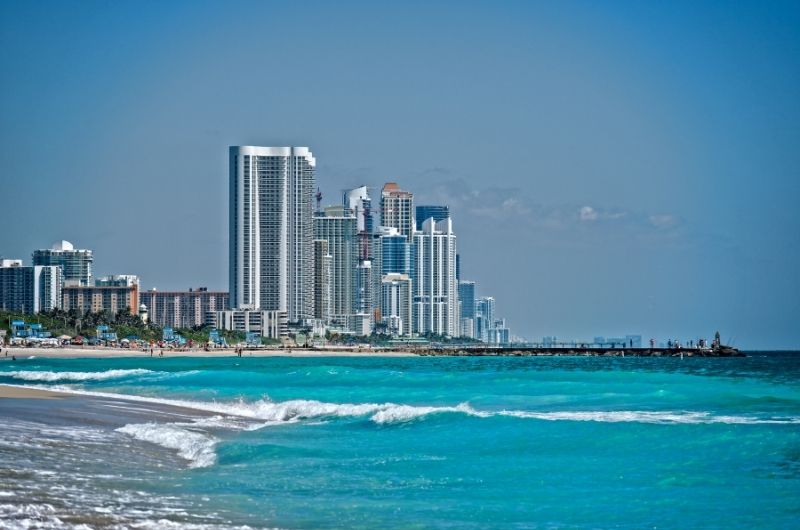 Next To: The Ritz Carlton Bal Harbour, Bal Harbour Shops
Vibe: Pristine Beach Conditions, Nearby Shopping Opportunities
Google Map: Link
Sparkling sapphire water? Soft powdery sand? Lush grassy area? Check, check, check. Bal Harbour Beach is the perfect place to enjoy the sun, sand, and the sea, all in perfect conditions. Visitors can sunbathe by the shore, collect seashells, build sandcastles, or go on a peaceful stroll in the sand. When it's time to cool off, swimmers of all skill levels can enjoy a relaxing dip in the ocean.

Situated along the beachfront of Bal Harbor, Miami's ritziest neighborhood, this beachfront is backed by some of the most luxurious hotels in Miami Beach, including the Ritz Carlton and The St. Regis Bal Harbour Resort. If you are looking for new swimwear or beach chic apparel, the Bal Harbour Shops will have everything you need and more. Just be prepared to splash some cash!
9. Haulover Beach Dog Park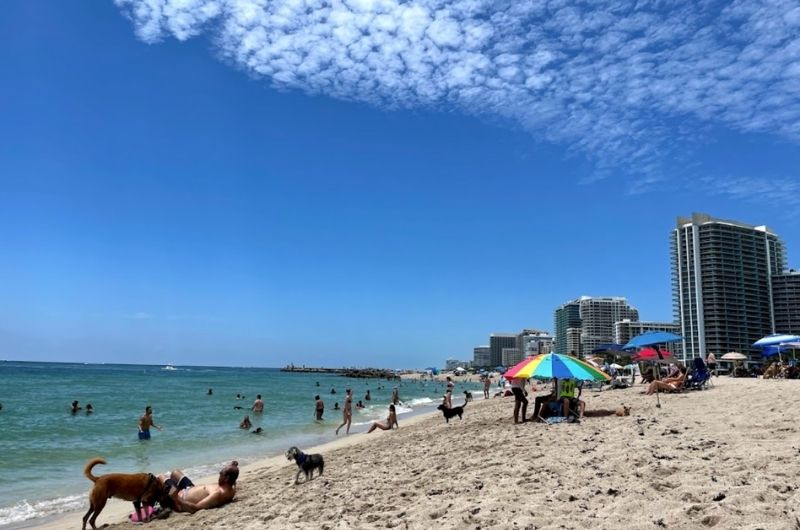 Next To: Haulover Park
Vibe: Puppy Fun, Surfer Hot-Spot
Google Map: Link
While Haulover Beach may be famous for its clothing-optional stretch of sand, this crowd-pleasing beach also appeals to four-legged friends. Sectioned between lifeguard towers 2 and 3, dog owners can head over to Haulover Beach Dog Park for a barking good time. Between the hours of 8 a.m. and 3 p.m., this section of the beach transforms into a puppy playground. Dogs are free to do whatever their hearts desire, from frolicking in the surf to cooling down in the Atlantic Ocean. Once the afternoon rolls around, owners can keep the party going at the nearby Bark Park, which is open until sunset. The thoughtfully catered park includes separate sections for big and small dogs, along with water fountains and waste bags.
While this stretch of sand is primarily populated by dogs and their owners, it also tends to be a popular surf spot. This particular shoreline boasts some of Miami's bigger swells and is a great place to go surfing and bodyboarding.
10. Virginia Key Beach Park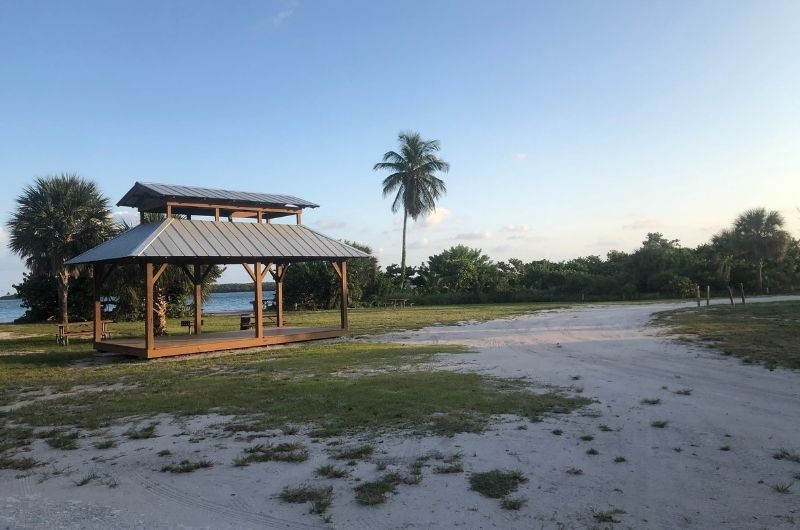 Next To: Miami Seaquarium
Vibe: Scenic and Historic Beach Spot, Not Too Crowded
Google Map: Link
Enjoy a little slice of Miami paradise, and history, with a visit to Virginia Key Beach Park. Now listed on the National Register of Historic Places, this historic spot was first established in 1896 as an unofficial Black beach in segregated Miami.
Today, Virginia Key Beach Park is one of the most beautiful beaches in the area. Situated just off the Rickenbacker Causeway, south of Lummus Park, this mile-long beach is a scenic destination to take in the swaying palm and mangrove trees. Guests can also enjoy an extensive maze of coastal hammock trails, shaded pavilions, as well as kayak, bike, and paddleboard rentals. The park also features two large playgrounds, perfect for young children. An antique carousel remains on the site. If you plan on doing any swimming, try to bring a pair of water shoes. The ocean floor is a bit rocky and added protection will certainly go a long way.
11. Hobie Island Park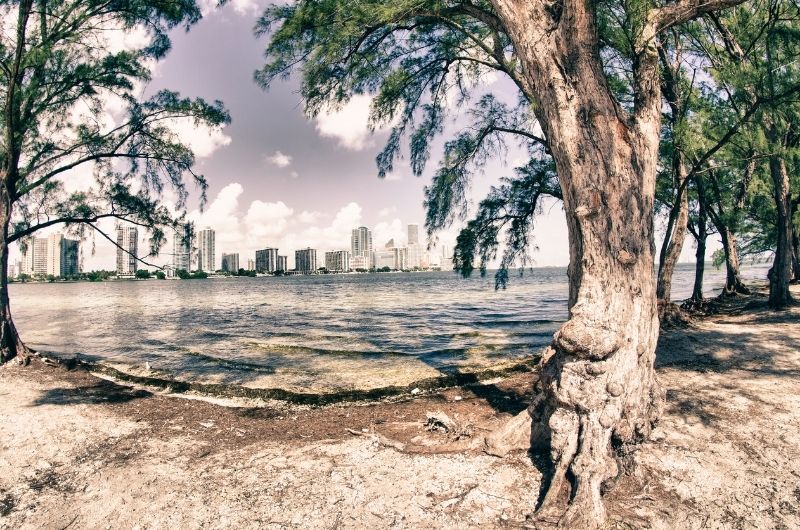 Next To: Rusty Pelican, Biscayne Dog-Friendly Beach
Vibe: Perfect for Water Sport Enthusiasts and Four-Legged Friends
Google Map: Link
Dog lovers, rejoice! Hobie Island Park is another ideal spot to bring your furry friends. Aside from being dog-friendly, Hobie Island Park also caters to water sport enthusiasts. Whether you are interested in surfing or jet skiing, boating or windsurfing, there's a slew of equipment on offer at this active shoreline. Hobie Island Park is also a great place to stop and rent self-driving Hobie cats, two-person catamarans that you can use to sail around the bay. Another benefit? The water is quite shallow here, making it a safe swimming area for those traveling with young kids.
After working up an appetite, head over to the nearby concession stand for a small snack. Enjoy your food under the palm trees, which provide a nice shady respite after hours in the sun.
As you can tell, Hobie Island Park is more suited for those looking for an active beach day, in more ways than one. Take note that the beach itself is quite rocky. If you were scouting out a place to lounge with a good book, you may want to look at other beach options.
12. Bear Cut Sandbar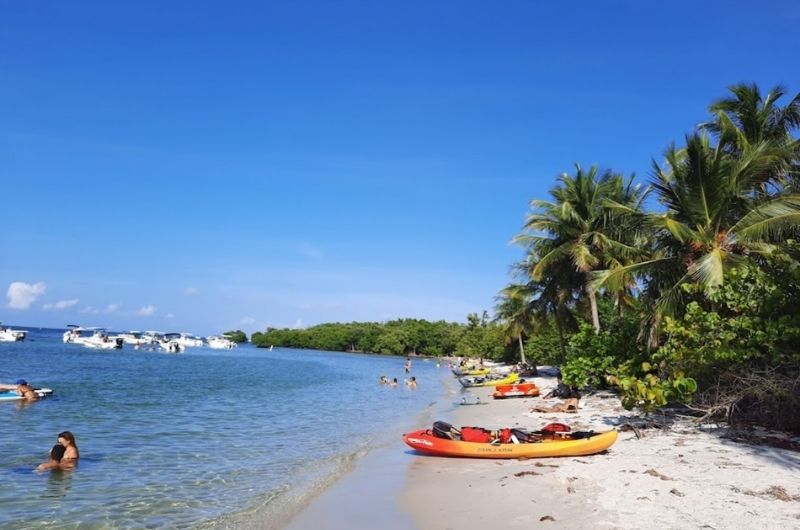 Next To: Divers Paradise-Key Biscayne, Fossil Reef Bike Trail
Vibe: Hidden Gem for Diving and Snorkeling
Google Map: Link
Less popular than sandbars located in Haulover and Nixon Beach, Bear Cut Sandbar is one of Miami's best-kept secrets. Nestled where Biscayne Bay meets the Atlantic Ocean, this sandbar off of Bear Cut Preserve is part of a protected park and beach area that is accessible only by boat, kayak, or paddleboard. This sandbar tends to attract families, adventurous couples, and solo explorers, as well as divers and snorkeling fiends who want to discover nearby sunken ship treasures and coral reefs. If you have the means, and the interest, it's well worth it to make your way out to this secret getaway.
13. Oleta River State Park Beach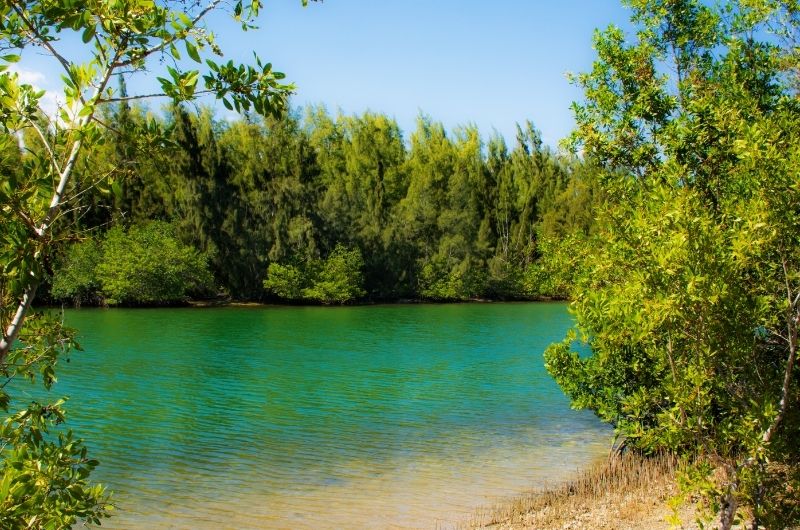 Next To: The Guest, Fuego by Mana
Vibe: A Remote Paradise Amid the City, Perfect for Water Sport Enthusiasts, Family-Friendly
Google Map: Link
Looking to get away from it all? Oleta River State Park Beach gives visitors an idea of what Miami was like before it became the vibrant, bustling urban landscape it is today. Surrounded by tidal mangroves and a handful of small islands, this 1,043-acre park is the largest urban park in the entire state. Whether you are looking for a quiet setting to sunbathe or a place to get active and move your muscles, Oleta River State Park has got you covered. Guests can choose to rent a kayak, cycle along the miles of beach trails, fish off of the pier, or hike through the shaded mangrove forest.
With shallow water and a sandbar close to shore, this secluded spot is also well suited for young children. There are even picnic tables, grills, and a playground available to complete the family-friendly feel. Can't get enough of this beachy paradise? Those wanting to stay for a weekend can rent a cabin or camp on site.
14. Sunny Isles Beach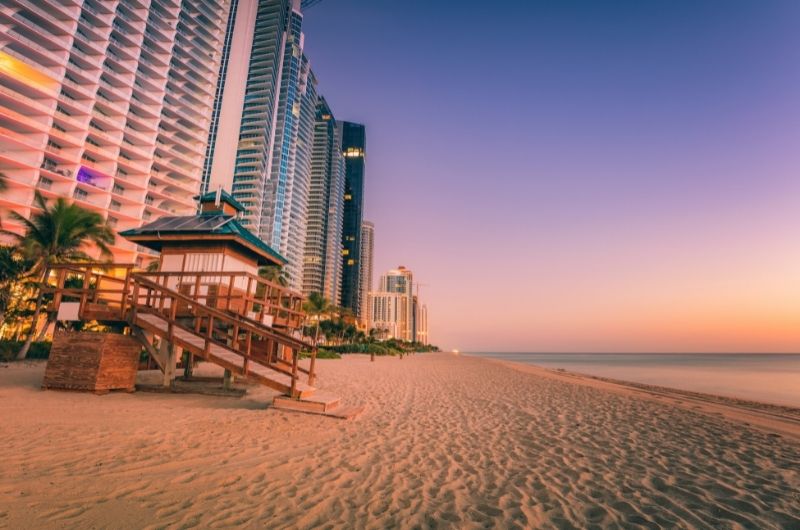 Next To: Haulover Nude Beach, Pier Park
Vibe: Quiet Escape from the Hubbub
Google Map: Link
Escape from all the clamor and commotion at Sunny Isles Beach. With calm, turquoise waters and very few tourists, this two-mile section of Miami Beach is relatively quiet compared to neighboring strips of shoreline. Whether you are interested in snorkeling, sunbathing, or diving you can do it all at Sunny Isles.
A great go-to for alone time, Sunny Isles Beach is backed by a wide array of residential condos, some of which are towering skyscrapers, while others are low rises. The nearby Newport Fishing Pier doubles as a nice place for a scenic stroll and a quick bite. The charming pier boasts a wide variety of eateries that serve everything from sushi and sandwiches to scallops and steaks, making it a great lunch or dinner spot.
15. Crandon Beach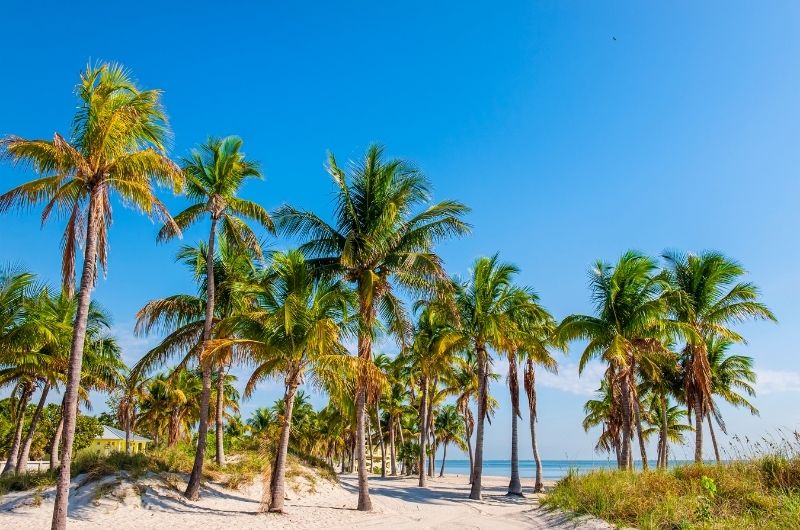 Next To: Crandon Park Tennis Center, Crandon Golf at Key Biscayne
Vibe: Perfect for Sunbathers and Activity Lovers Alike, Family-Friendly
Google Map: Link
Crandon Beach is a one-stop-shop for all things active. Vendors offer lessons and rentals for kiteboarding, stand-up paddleboarding, and kayaking. If you want to stay onshore, no problem. The beach is equipped with volleyball nets and tennis and golf centers are available close by. Meanwhile, this two-mile stretch of sand also features numerous walking trails, one along a winding mangrove boardwalk, another to a fossilized coral reef. The Visitors' and Nature Center also hosts numerous nature walks and programs.
Aside from the activities galore, Crandon Beach also boasts picturesque views fit for a postcard. The clear and placid waters can be enjoyed by kids and adults alike, while the soft sands are the perfect place to park yourself for hours at a time. Food options are few and far between, so make sure to pack some snacks. If you want to take advantage of one of the on-site grills, it's a good idea to claim one early in the day before it gets too crowded.
16. Joia Beach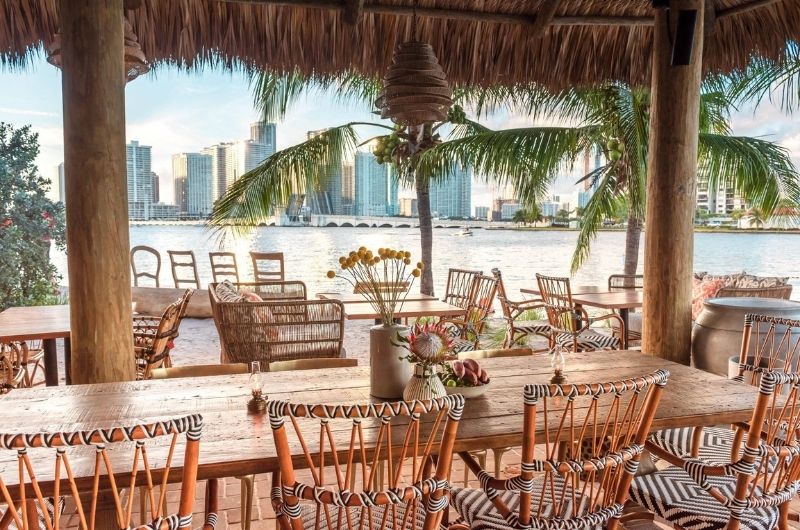 Next To: Miami Yacht Club, Miami Children's Museum
Vibe: Indulgent Boozy Beach Day, Sunset Drinks or Dinner by the Beach
Google Map: Link
Get a small glimpse of paradise with a visit to Joia Beach. Designed by Francois Frossard and owned and operated by Miami-based Liquid Hospitality, Joia Beach is the perfect place for a relaxing and indulgent beach day. The lounge, which is only open on weekends, offers full bottle service, allowing guests to sip on champagne while relaxing on a plush lounger. What more could you want? With sweeping views of the Miami skyline, the Tulum-inspired restaurant is the perfect place to enjoy coastal European cuisine or sunset cocktails. Travelers don't need to be members to attend Joia, but certainly don't show up without making a reservation.