16 Best Miami Restaurants on the Water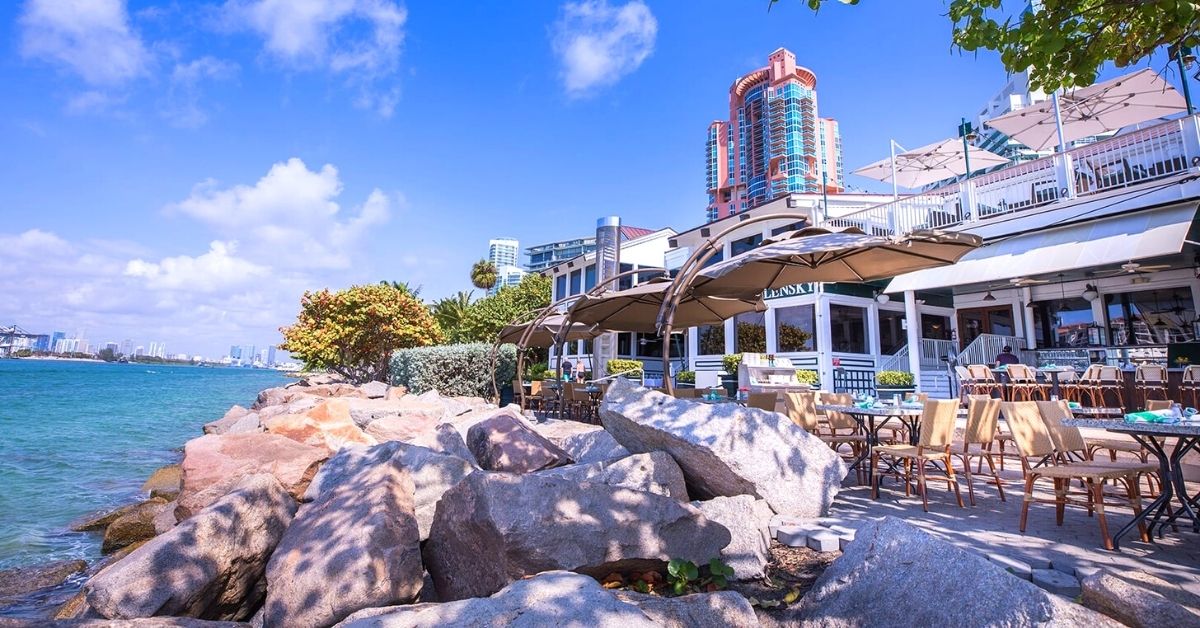 Nothing complements a delicious meal quite like a spectacular coastal view. Thankfully, Miami has an assortment of restaurants that are equipped with both. There are two types of "waterfront" dining experiences in this coastal city: restaurants on the ocean and restaurants on the Intracoastal. Throughout this vast, encompassing city that includes the bayside and downtown area, Miami Beach, the keys, and more, there are plenty of waterfront dining options to choose between that are both informal and affordable and pricey and upscale. Whether you are looking for world-class steak, a casual seafood dinner with a pitcher of beer, or simply a spot to sip on free-flowing Pina Coladas and take in the ocean air, here are Miami's best restaurants on the water.
1. Rusty Pelican – Miami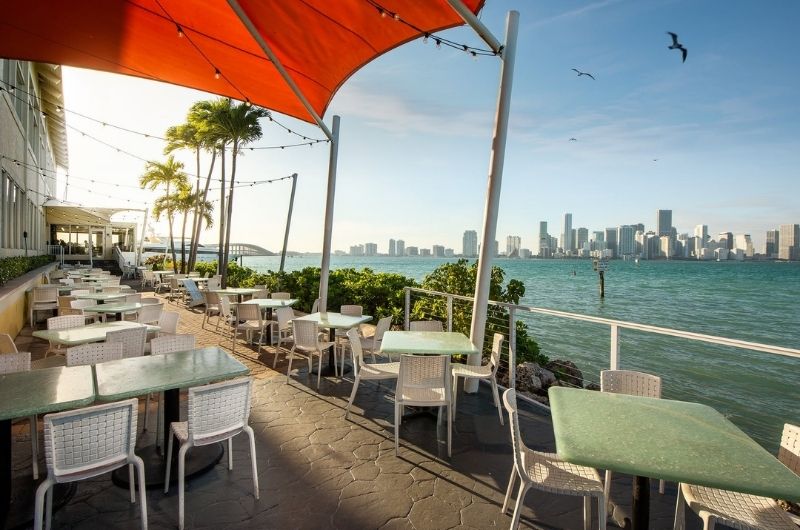 Cuisine Type: Fresh Seafood and Impressive Contemporary American 
Address + Neighborhood: 3201 Rickenbacker Causeway, Key Biscayne, FL 33149 – Virginia Key
Waterfront Type: Intracoastal
Good For: Special Occasions 
Highlights:
Featuring some of the best views in all of Miami, Rusty Pelican has been a Key Biscayne mainstay for decades. People come to the Rusty Pelican for its solid seafood and upscale ambiance, but it's the waterfront views that keep them coming back for more. The restaurant's stunning skyline views from its spot on the Rickenbacker Causeway connect mainland Miami to Key Biscayne. Guests are encouraged to arrive by boat and dock at the restaurant. 
As one of Key Biscayne's most famous restaurants, Rusty Pelican is both a celebrity hotspot and a popular destination for special celebrations including brunches, anniversary dinners, weddings, and baby showers. Diners should begin their meal with seasonal bites from the raw bar such as jumbo Gulf shrimp cocktail or Caribbean spiny lobster tail. Then, sample the menu highlights with the Rusty Pelican Board for Two, which includes whole fried snapper, lobster, shrimp risotto, New York strip, and sweet plantains. Whether you choose to toast with a local brew, a glass of wine, or a specialty gin & tonic, this seafood restaurant has a wide assortment of drink options available. If you are looking for a weekend brunch spot, Rusty Pelican's comes with bottomless mimosas, an array of Benedicts, and it's signature Fruity Pebble pancakes. 
2. Smith & Wollensky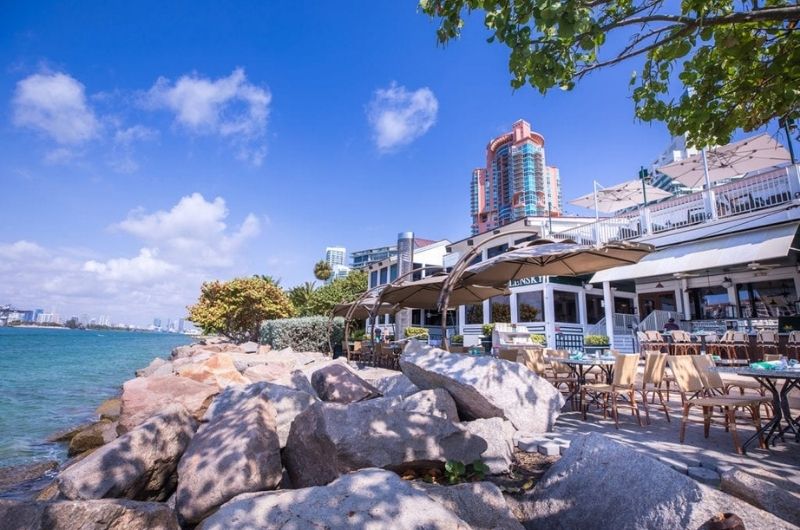 Cuisine Type: American Steakhouse 
Address + Neighborhood: 1 Washington Ave, Miami Beach, FL 33139 – South Pointe Park
Waterfront Type: Oceanfront
Good For: Carnivores
Highlights:
Take in the breeze and ocean views at Smith & Wollensky. Not only is Smith & Wollensky one of the best places to catch the sunset, but it happens to be the only steakhouse in South Beach that's directly on the water. If this American steakhouse sounds familiar to you, it's because Smith & Wollensky have restaurants scattered across the globe, in cities such as Boston, Las Vegas, London, and Taipei.
A decadent dinner at this clubby yet traditional steakhouse includes views of the Miami skyline, the sparkling waters of the Government Cut shipping channel, and Fisher Island. Whether you choose to dine on the oceanfront outdoor patio and bar, on the upstairs Overlook Deck, or in the spacious indoor dining area, stunning views will set the backdrop for your meal. South Florida travelers can enjoy watching cruise ships leaving the Port of Miami as they dig into USDA Prime dry-aged steaks and the top-notch seafood. For the full Smith & Wollensky experience, make sure to sip on a bottle of wine from its award-winning wine list. Keep in mind, business casual attire is required.  
3. La Mar by Gaston Acurio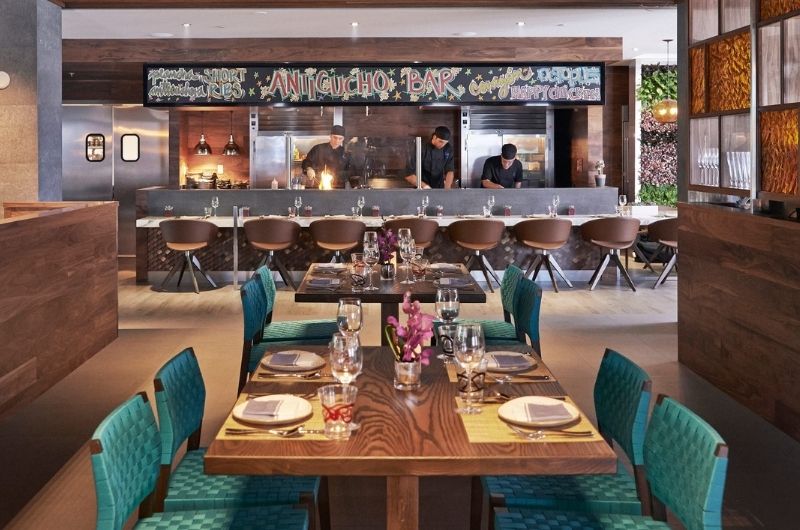 Cuisine Type: Upscale Peruvian Eatery
Address + Neighborhood: 500 Brickell Key Dr, Miami, FL 33131 – Brickell Key
Waterfront Type: Intracoastal
Good For: Fancy Dinner for Two
Highlights:
Tucked away inside one of the best beach hotels in Miami on Brickell Key is La Mar by Gaston Acurio. While the food at this Mandarin Oriental restaurant is downright delicious, its waterfront views are unmatched. With an atmospheric setting overlooking Biscayne Bay and the Miami skyline, this upscale Peruvian eatery offers a mix of indoor and outdoor seating with three lively bars and a diverse menu. If you can, try to snag a spot on the expansive outdoor patio for front-row seats of the Intracoastal. 
Helmed by Diego Oka, La Mar features a diverse menu that ranges from upscale Novo-Andean fare to Asian-Peruvian fusion to traditional seafood ceviche. To start your meal, order the chaufa Aeropuerto, a traditional pan-fried rice dish made with Chinese sausage, shrimp omelet, and egg noodles. Follow that with empanadas, a spiced innovative ceviche, or a bowl of Arroz con mariscos piled high with shrimp, octopus, and calamari. To sip between each mouthwatering bite, order a refreshing Pisco Sour, a traditional Peruvian cocktail. While you will certainly be doling out the big bucks at La Mar, this upscale restaurant makes it worth your while. Keep in mind that there is a smart casual dress code at La Mar — no shorts or beachwear is allowed.
4. Amara At Paraiso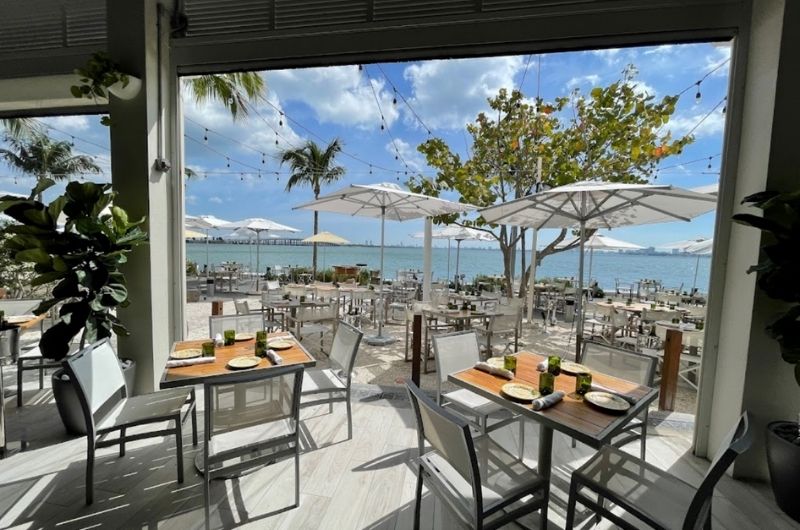 Cuisine Type: Indulgent Latin American
Address + Neighborhood: 3101 NE 7th Ave, Miami, FL 33137 – Beverly Terrace
Waterfront Type: Intracoastal
Good For: Seafood Lovers
Highlights:
Looking for an only-in-Miami kind of meal? Book a table at Amara at Paraiso for an unforgettable dining experience. Not only does Michael Schwartz's waterfront eatery boast delicious Miami-inspired cuisine, but it also has some of the best waterfront views in the city overlooking Pace Picnic Island and the Intracoastal Waterway. This Edgewater restaurant's 4,500 square foot space features an outdoor deck and a main dining room with floor-to-ceiling windows, both of which look out on the water. To truly experience the waterfront views, make a reservation during daylight hours. 
Designed by the James Beard award-winning chef and restauranteur, Amara's seafood-forward menu brings together bold Latin American flavors, coastal ingredients, and South Florida's diversity of food culture. To start your meal, order the tender octopus, Argentine-style empanadas, or cheesy yuca bread. For entrees, try the grilled skirt steak, grilled red snapper, or the vegetarian Arroz Verde. To pair with your meal, sample one (or two) or Amara's cocktails, which are truly something else. Amara also has great happy hour deals with snacks and drink specials on weekdays from 5-7 PM.
5. The Lido Bayside Grill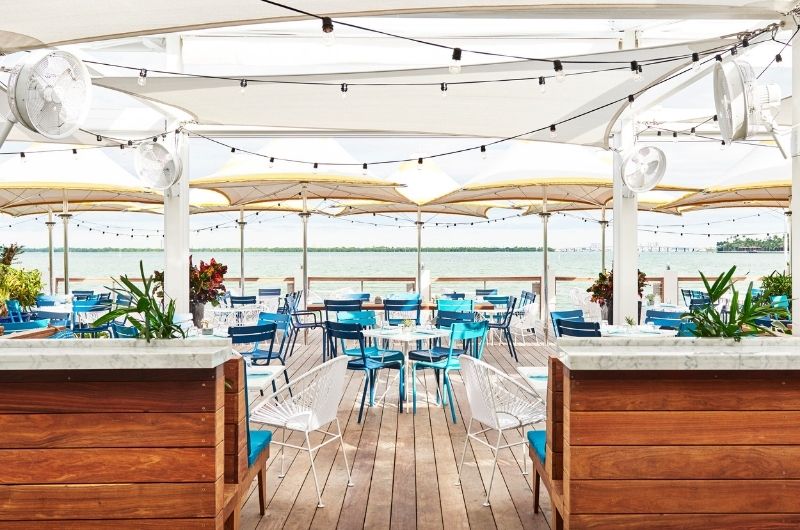 Cuisine Type: Veg-Forward Coastal Fare
Address + Neighborhood: The Standard Spa, 40 Island Ave, Miami Beach, FL 33139 – Belle Isle
Waterfront Type: Oceanfront
Good For: Vegan, Vegetarian, and Gluten-free Happy Hour
Highlights:
There are few waterfront dining experiences quite like The Lido Bayside Grill. After all, how often do you get to dine on an island? Nestled inside the Standard Miami Beach on Belle Isle, this breezy outdoor restaurant has unparalleled bayside views of the Venetian Islands and Miami  Beach. If you are looking for a place to see and be seen, this buzzy hotspot fits the bill. 
The Lido Bayside Grill features a veggie-centric menu with locally sourced ingredients and line-caught seafood like blackened group and whole branzino. Guests can dine on an assortment of light and bright dishes such as gazpacho or tomato salad, or share a few small plates such as the shrimp cocktail, mezze hummus platter, or the Impossible Melt. For all you carnivores out there, there are also a few meat-based dishes as well such as the Lido Burger, Piri Piri Chicken Sandwich, and pulled pork tacos. While the menu airs on the expensive side, The Lido Bayside Grill has incredible happy hour deals with $7 frosé, $8 punch, and $4 tacos. Simply show up from 4-6 p.m, Monday through Thursday to take part.
6. Verde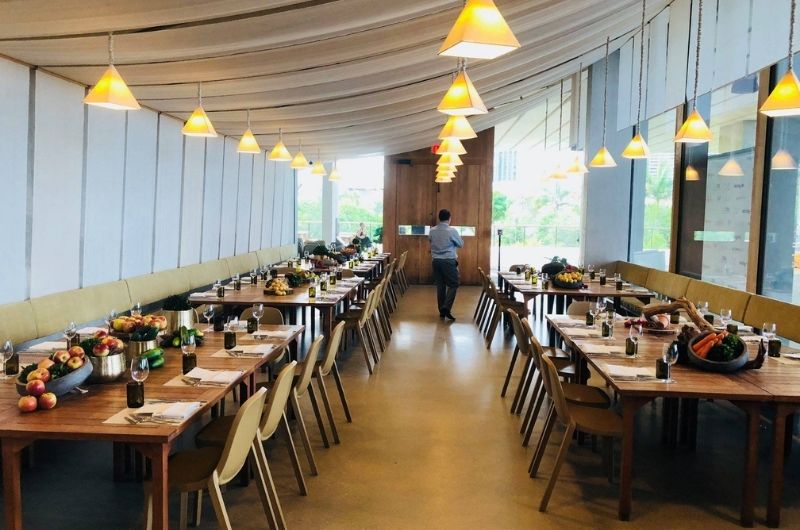 Cuisine Type: Locally-Inspired American Fare
Address + Neighborhood: 1103 Biscayne Blvd, Miami, FL 33132 – Maurice A. Ferré Park
Waterfront Type: Intracoastal
Good For: Lunch or Brunch
Highlights:
The breathtaking views at Verde will keep you in your seat long after you've received your check. This laidback restaurant is located in the back of Pérez Art Museum Miami (PAMM), which is not only the flagship museum of the county but also one of the best things to do in Miami. The landmark building takes full advantage of its position on the waterfront, granting guests sweeping views of Biscayne Bay and MacArthur Causeway bridge. Guests can enjoy these views either indoors through the floor-to-ceiling windows or on the elegant outdoor terrace. An added bonus? Designed by award-winning architects Herzog & de Meuron, PAMM's building is a work of art in and of itself.
While Verde is open for dinner on Thursdays, it is best to dine at this museum restaurant during lunch or brunch. Guests can nosh on locally-inspired pizzas, sandwiches, and salads while watching yachts sail by in the background. If you're looking for an even more casual dining experience, guests are also welcome to grab a signature pastry and drink from the coffee bar.
7. Monty's Raw Bar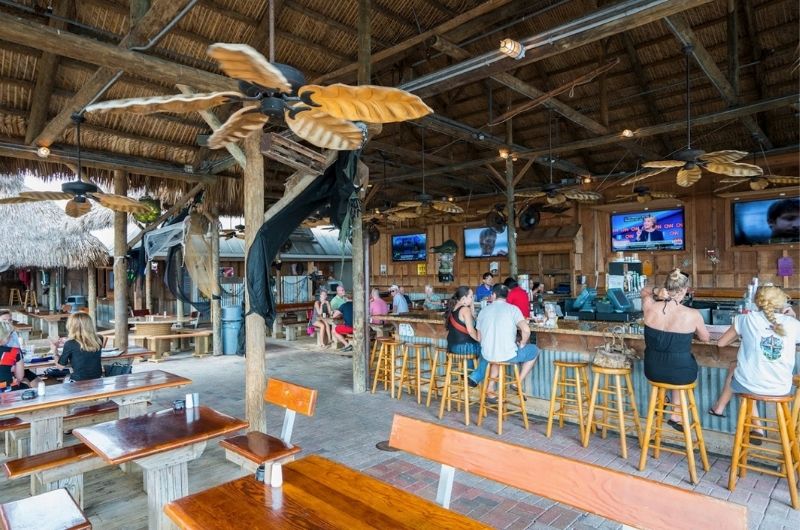 Cuisine Type: Casual Seafood and Frozen Drinks
Address + Neighborhood: 2550 S Bayshore Dr, Miami, FL 33133 – Coconut Grove
Waterfront Type: Intracoastal
Good For: Post-Boat Day Happy Hour
Highlights:
Monty's Raw Bar brings the atmosphere of Key West to Miami's Coconut Grove. This popular tiki hangout has been around for over 50 years and remains a local favorite to this day. With its thatched umbrellas and breezes off of the Key Marina, Monty's is the perfect place to stop by after a day at the beach or an afternoon out on the boat. Located in a large marina, guests can enjoy strong frozen cocktails, fresh and fried seafood, and clam chowder while watching the boats pass by. 
This large outdoor seafood restaurant offers great happy hour deals including $1 oysters and shrimp and $6 cocktails. Makes sure someone in your party tries Monty's legendary Pain Remover cocktail, a blend of Virgin Islands Dark Rum, pineapple & OJ, with a hint of coconut. 
Head over for live music and tasty grub from 4-7 pm for a grand ol' time. Reservations aren't required and casual beachwear and flip flops are encouraged. 
8. Tigre Miami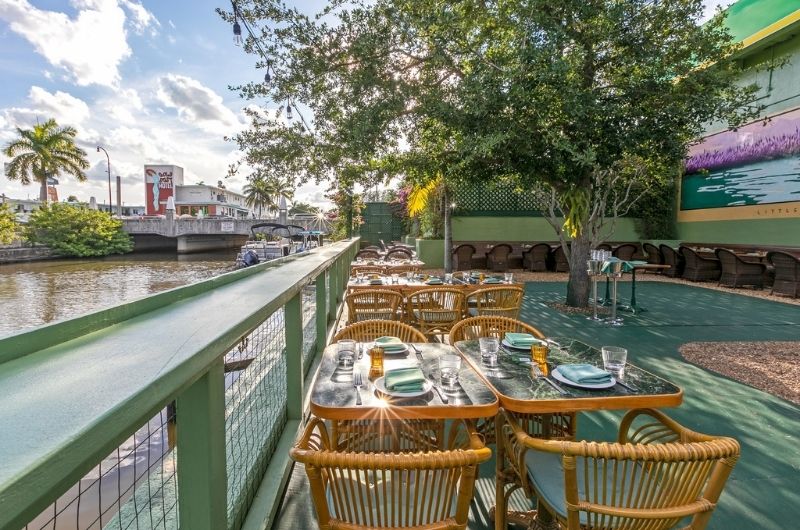 Cuisine Type: Traditional Argentinian with an Innovative Flair 
Address + Neighborhood: 620 NE 78th St, Miami, FL 33138 – Little River
Waterfront Type: Intracoastal
Good For: Intimate Lunch Date
Highlights:
Tucked away on Miami's Little River is Tigre Miami, a lovely bistro and bar bursting with pastel colors and charming decor. As you sip on craft cocktails, it'll feel as though you've been transported to a cafe in heart of Buenos Aires. While the indoor dining area is reminiscent of Old World glamor, the outdoor seating is lined up against a little canal that feels peaceful and isolated, despite being only a few steps away from Biscayne Boulevard. Overlooking an active manatee sanctuary and surrounded by flourishing tropical foliage, patrons can also enjoy watching the lazy river snake through North Miami as they dine outdoors.
Tigre Miami's seasonal menu features innovative dishes inspired by traditional Argentinian cuisine. Most of the menu items also include local ingredients including fresh seafood and farm-to-table vegetables. Some menu highlights include the grilled heart of palm salad, smoked short rib, and the Patagonia red prawn roll. If you are dining with two, start your meal with one of the meat and cheese charcuterie boards. Still have room for dessert? You can opt for a trio of gelato flavors, a Malbec poached pear, or a chocolate ganache tart.
9. Cafe Kush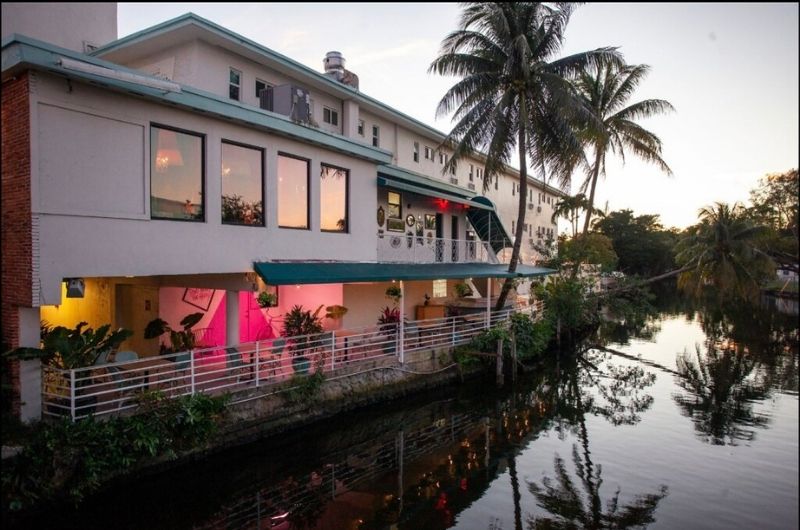 Cuisine Type: French Fare
Address + Neighborhood: 7700 Biscayne Blvd, Miami, FL 33138 – Little River
Waterfront Type: Intracoastal
Good For: Brunch on the Water
Highlights:
Nestled in the bank of the Little River, just off of Biscayne Boulevard is Cafe Kush. Located inside the recently refurbished Selina Hotel in MiMo, Cafe Kush is a French bistro spin-off of Wynwood's popular Kush restaurant. This restaurant draws culinary inspiration from traditional French dishes, while also adding a hint of restauranteur Michael Kush's signature charm and humor. While adventurous eaters should certainly opt for the fried frog legs, patrons can also enjoy a classic meal of Steak Frites, a Croque Monsieur, coq au vin, or a specialty burger. Guests should also opt for one of the beer or cocktail options on the menu. 
While Cafe Kush boasts a delicious main menu, it's also well-known for its brunch. Alongside tasty breakfast cocktails, guests can sample hangover eggs, blueberry lemon zest pancakes, and more. If you bring your dog along, there's even a special dish on the menu made especially for furry friends. The restaurant seating offers prime views of the Little River. If you pay attention, you might get lucky and spot a manatee!
10. Redfish by Chef Adrianne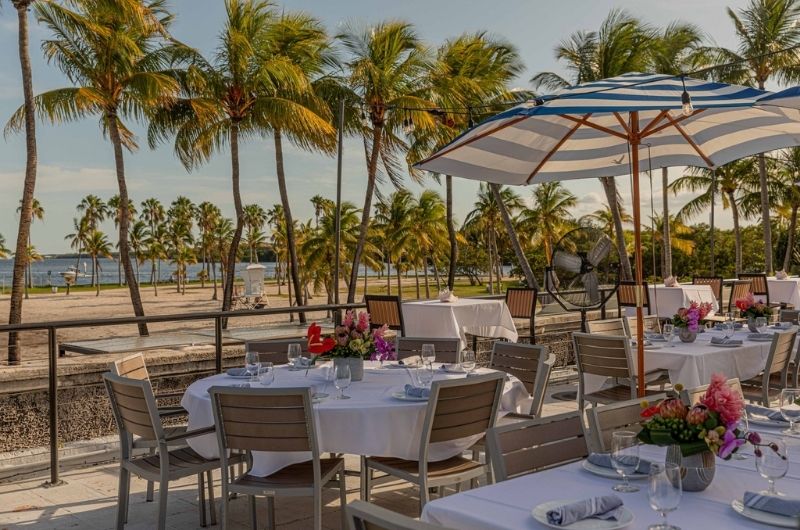 Cuisine Type: Innovative Seafood Dishes
Address + Neighborhood: 9610 Old Cutler Rd, Miami, FL 33156 – Matheson Hammock Park
Waterfront Type: Intracoastal
Good For: Fancy Lunch Date
Highlights:
Head over to Redfish by Chef Adrianne to indulge in all the chilled wine and fresh seafood that your heart desires. Located inside the secluded Matheson Hammock Park, this is a restaurant that will make you feel like you are dining on the edge of the world. Refurbished after Hurricane Ida, Redfish still boasts its iconic coral rock exterior and epic 360-degree waterfront views. Now helmed by chef Adrianne Calvo, this classic Miami spot has an extensive menu featuring a blend of traditional fish house classics and new American seafood. Do yourself a favor, and try your best to refrain from eating too much of the complimentary bread and butter to make room for the meal to come. Some menu highlights include the classic fish n' chips and the tasty seafood cioppino stew. 
Situated directly on the beach, Redfish's sprawling outdoor patio features over 100 seats, offering breathtaking views of the ocean. While the restaurant may be a little out of the way for some, its proximity to Matheson Hammock Park makes it worth the drive. This beautiful round beach is one of the best beaches in Miami, as well as the most kid-friendly beach.
11. Whiskey Joe's
Cuisine Type: Casual Snack Shack Fare
Address + Neighborhood: 3301 Rickenbacker Causeway, Key Biscayne, FL 33149 – Virginia Key
Waterfront Type: Oceanfront
Good For: Happy Hour After the Beach
Highlights:
Similar to Monty's Raw Bar, Whiskey Joe's is another great place to enjoy a drink or a meal after a long beach day. While it may not have a lot of upscale dining options on the menu, people come to this casual joint for the frozen rum runners and its laidback vibe. Not looking your best? No problem! Beachwear and sandy feet are embraced at this popular happy hour spot. If you decide to arrive by boat, simply mention that you are eating at Whiskey Joe's for complimentary docking. 
Located right next to Rickenbacker Marina, dining at Whiskey Joe's allows guests to watch boats come and go. On the breezy patio shaded by a large palapa, guests can tuck into fried gator bites and coconut Mahi nuggets washed down by icy frozen drinks. Diners can also enjoy classic snack shack fares such as pizza, nachos, wings, and burgers at this tropical bar. 
Looking to enjoy some live music? Check out Whiskey Joe's website for exact dates and times.
12. Il Gabbiano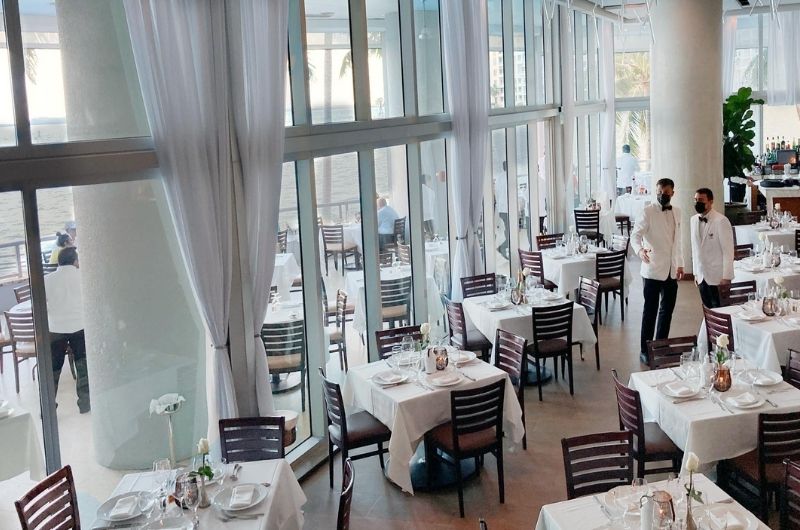 Cuisine Type: Traditional Italian
Address + Neighborhood: 335 S Biscayne Blvd, Miami, FL 33131 – Downtown Miami
Waterfront Type: Intracoastal
Good For: Romantic Evening
Highlights:
If you're in the mood for hearty Italian food by the water, you can't go wrong with Il Gabbiano. Situated inside the large One Miami Condominium West Tower near Bayfront Park, this family-owned restaurant is located in the heart of downtown Miami. This fine-dining restaurant is complete with white tablecloths, comfortable armchairs, and an attentive wait staff (who are happy to help you decide on an order). Guests can enjoy the epic waterfront views through the floor-to-ceiling windows indoors or from the outdoor terrace. 
While this Italian mainstay is known for its pasta options galore, guests can also indulge in a juicy veal platter, like the saltimbocca, Picatta, or Vitello al gorgonzola. If you are stopping in for a lunchtime meal, opt for a crisp salad, warming soup, or light pasta dish. For all you wine aficionados out there, this is the place for you. Il Gabbiano has an extensive wine menu with bottles that cost up to $5000 — so make sure you check the price tag before ordering. With it's beautiful views, candlelit setting, and fancy ambiance, this is a great spot for a romantic date night out.
13. Garcia's Seafood Grille & Fish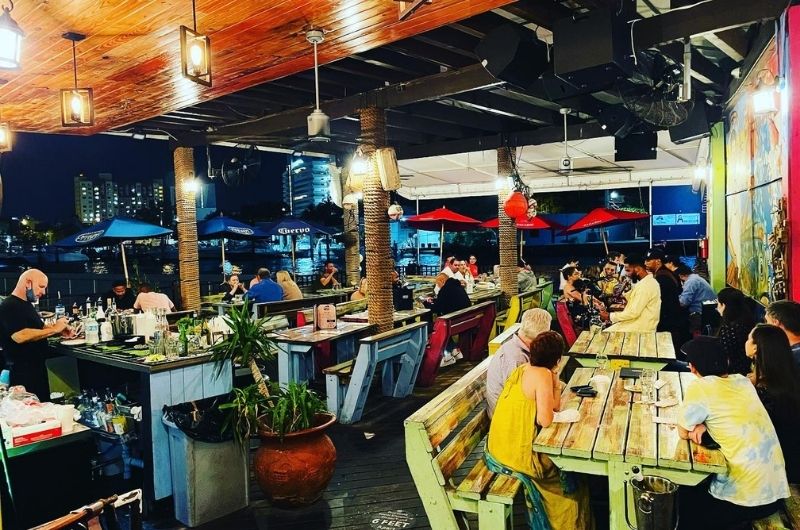 Cuisine Type: Fresh Seafood and Cuban Sides
Address + Neighborhood: 398 NW N River Dr, Miami, FL 33128 – Overtown
Waterfront Type: Intracoastal
Good For: Big Group Dinner with Friends
Highlights:
Nothing goes together quite like seafood and waterfront dining, and the best place to enjoy this winning combination is at Garcia's Seafood Grille & Fish. Since 1966, this salty, old-school fish joint has been one of the most frequented spots on the Miami River. Tasty, classic, and unpretentious, Garcia's is widely considered one of the best restaurants in Miami. As they tuck into their tasty meal, guests can soak up views of the Miami River, escape the hustle and bustle of the city, and watch as fishing boats bring back their catch of the day. If you want to make sure you can get a spot outside, it can't hurt to call ahead and see what the restaurant's availability looks like. 
Start your meal off with some fried shellfish and make sure at least someone in your party orders Garcia's signature stone carb (claws are relatively cheaper at Garcia's compared to other Miami seafood joints). Run by a Cuban family for more than a half-century, Garcia's also serves up some incredible home-style Cuban sides including tostones and maduros.
14. Baia Beach Club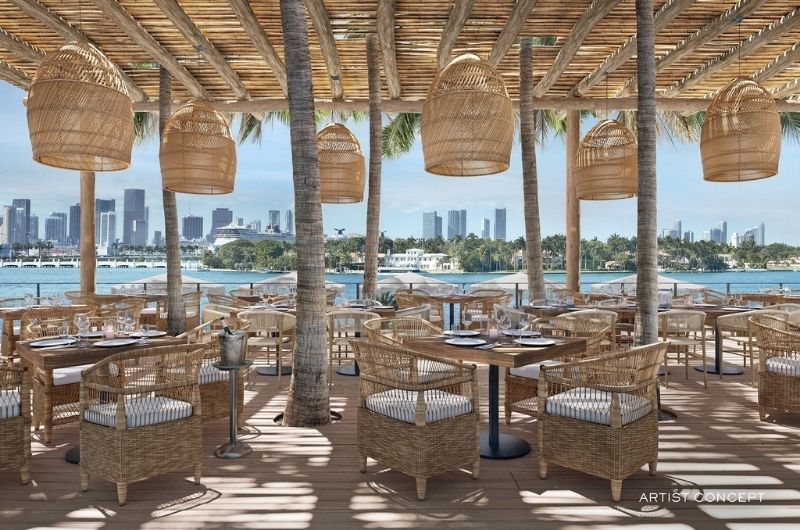 Cuisine Type: Coastal Mediterranean Fare
Address + Neighborhood: 1100 West Ave, Miami Beach, FL 33139 – West Avenue
Waterfront Type: Oceanfront
Good For: Indulgent Meal with a View
Highlights:
If you are looking for a truly indulgent waterfront dining experience, splurge for an evening at Baia Beach Club. The Mondrian South Beach's large outdoor lounge and restaurant is equipped with bayside cabanas and a waterfront full-service restaurant, as well as stunning rustic decor and magical views of Biscayne Bay. Some of the tables are so close to the ocean that you can dip your hand in and touch the water. 
This open-air restaurant and bar offers multiple outdoor dining options including The Deck and The Terrace. A space called The Greenhouse is also available for private parties. In all three locations, you can indulge in craft cocktails and elegant and fresh Mediterranean fare for three meals a day. If you are looking for a slightly more affordable experience, head over to Baia Beach Club for their Sundown Social Happy Hour, which is perfectly timed at sunset on weekdays from 5-7 p.m. Guests can enjoy discounted appetizers and a selection of $12 specialty cocktails.
15. Kiki on the River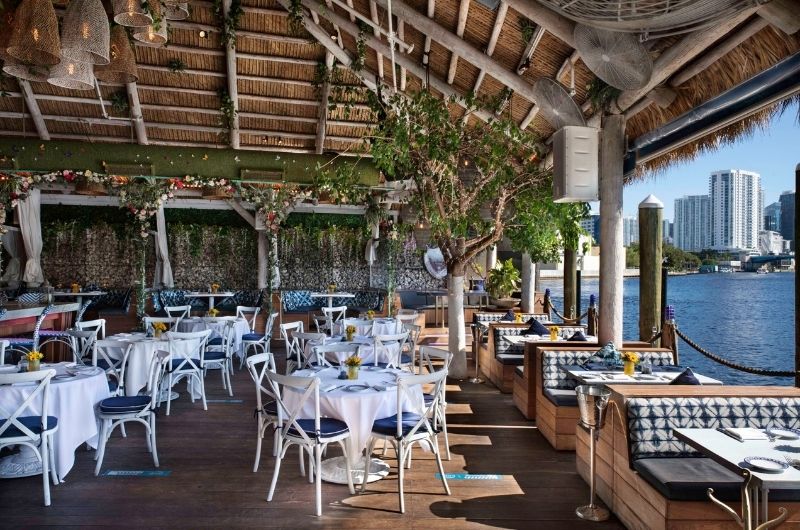 Cuisine Type: Traditional Greek Food
Address + Neighborhood: 450 NW N River Dr, Miami, FL 33128 – Overtown
Waterfront Type: Intracoastal
Good For: Date Night or Dinner with Friends
Highlights:
Built at the site of one of Miami's original fish markets, Kiki on the River pays homage to its rustic origins. Located near the Lummus Park Historic District, this waterfront Greek party spot has chic riverfront views of the buzzed-about Miami River. If you choose to show up for a romantic date night, Kiki has the perfect plush, cozy booths to enjoy a golden hour and bask in the warmth of the Miami sunset. 
Not to mention, Kiki on the River is also home to some of the finest Greek food in the city. The Mediterranean menu features traditional Greek spreads and salads, and various seafood and meat-based dishes including octopus, Lavraki, and lamb chops. If you are in a party of at least four, opt for the "Kiki's Greatest Hits" item on the menu which includes a family-style sharing experience of all their best dishes. Also, it's not uncommon for people to show up to the restaurant on a mega yacht. In fact, if you do choose to arrive by boat, Kiki's will even have your food brought to you on board.
16. Seaspice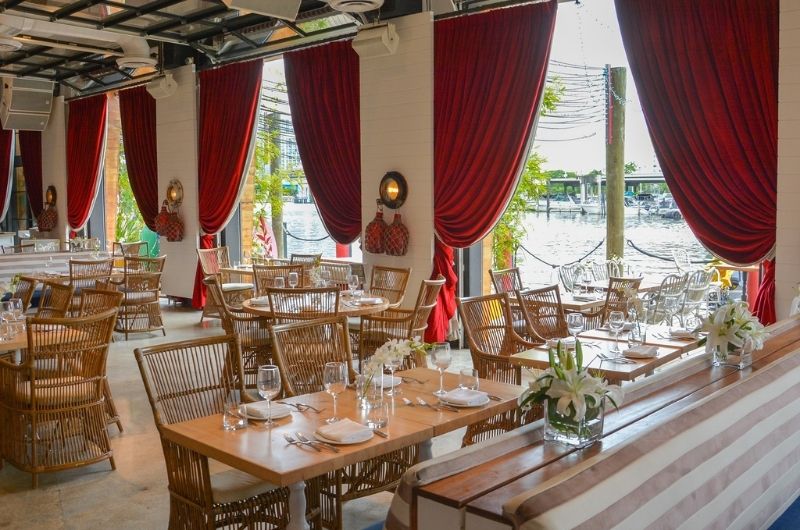 Cuisine Type: Indulgent Globally Inspired Seafood
Address + Neighborhood: 412 NW N River Dr, Miami, FL 33128 – Overtown
Waterfront Type: Intracoastal
Good For: Celebratory Occasions and Celebrity Sightings
Highlights:
Despite Seaspice's name changes and turnovers over the years, there's one thing that you can always count on at this upscale joint: the stunning view. Located in East Little Havana and situated in a prime spot on the Miami River, both the scenery and decor at this celebrity hotspot pack the ultimate wow factor. 
As guests take in the breathtaking scenery of the river and the downtown skyline, they can feast on a wide variety of seafood dishes, signature wood-fire casseroles, globally inspired dishes, bottle service, and cocktails galore. When it comes to entrees, you can't go wrong with the wood-fired seafood casserole or the black truffle risotto. If you are looking to splurge, enjoy a generous mound of caviar and a bottle of champagne. Try to save room for dessert and order either the tres leches or tiramisu. Seaspice often features live entertainment, so make sure to check their website for exact dates and times of performances. You will most likely spend more than you bargained for at this upscale eatery, but the romantic lighting overlooking the water will help soften the blow.
Frequently Asked Questions
What are the top 3 waterfront restaurants in Miami for a romantic dinner?
For a romantic dinner with a beautiful view, I highly recommend these top 3 waterfront restaurants: Lido Bayside Grill, Smith & Wollensky, and Rusty Pelican. Lido Bayside Grill, located at The Standard Spa, offers delicious Mediterranean cuisine and stunning views of Biscayne Bay. Smith & Wollensky, situated in South Pointe Park, serves mouthwatering steaks and seafood with a view of the Miami skyline and passing cruise ships. Rusty Pelican, known for its incredible Key Biscayne location, provides a breathtaking backdrop of the city skyline along with a menu featuring fresh seafood and innovative cocktails.
Can you recommend a casual waterfront restaurant in Miami for a laid-back experience?
For a casual, laid-back waterfront dining experience, visit Monty's Raw Bar in Coconut Grove. This lively, open-air spot serves up delicious seafood and refreshing cocktails, and offers a relaxed atmosphere with beautiful marina views. It's the perfect place to unwind and enjoy a sunny Miami afternoon.
Where can I find the best seafood with a view in Miami?
Garcia's Seafood Grille & Fish Market on the Miami River is a local favorite for fresh seafood with a view. This family-owned establishment offers a casual, unpretentious atmosphere and serves up the catch of the day directly from their own boats. Enjoy the scenic river views and watch the boats pass by as you dine on their delicious seafood dishes.
Are there any waterfront restaurants in Miami that offer unique cultural experiences?
For a unique cultural experience with a water view, try Amara at Paraiso. This upscale waterfront eatery offers delectable Latin American cuisine with stunning views of Biscayne Bay. The menu, created by renowned chef Michael Schwartz, features a fusion of flavors inspired by various Latin American countries, ensuring a memorable dining experience.
What is the best waterfront brunch spot in Miami?
For a delightful waterfront brunch, visit Seaspice Brasserie & Lounge. This chic, riverside restaurant offers an indulgent brunch menu, featuring dishes like lobster benedict and truffle risotto. Enjoy your meal on their outdoor terrace, complete with gorgeous views of the Miami River and city skyline.
Can you recommend a waterfront restaurant in Miami with live entertainment?
Kiki on the River is a fantastic choice for dining with live entertainment. This stylish Greek restaurant is located on the picturesque Miami River and offers a lively atmosphere with live music and DJs on weekends. Enjoy authentic Greek dishes, handcrafted cocktails, and stunning waterfront views while dancing the night away.