19 Best Restaurants in Fort Lauderdale in 2023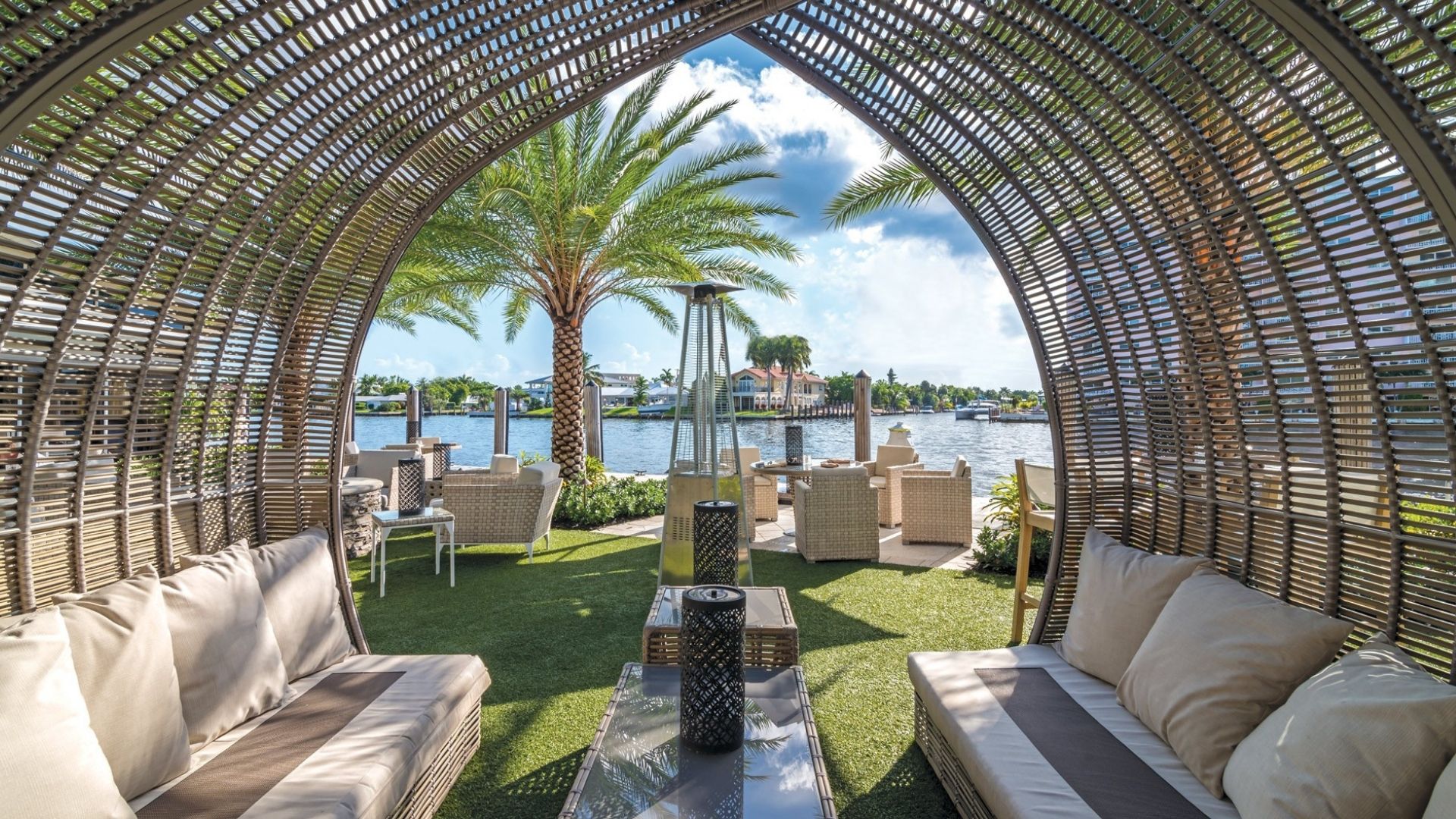 While Fort Lauderdale may be known for its boats and beaches, this South Florida city also boasts a vibrant food scene due to the diversity of its inhabitants. From fresh seafood to elegant Italian fare, no matter what type of cuisine you are craving, the city delivers plenty of options that are sure to satisfy everyone's taste buds. As you wander from district to district, you will also notice that many restaurants offer unique menus that tie back to their neighborhood. The best part? Given this coastal city's beautiful year-round weather and Intracoastal canals, many restaurants offer scenic outdoor dining options. 
After shopping up a storm on Las Olas and testing your luck at the casino, you are sure to work up a big appetite. From upscale dining to casual eateries, we've compiled a list of the best restaurants in Fort Lauderdale for you to try. Whether you are looking for a place for date night or dining out with your family, this list has you covered. 
1. Coconuts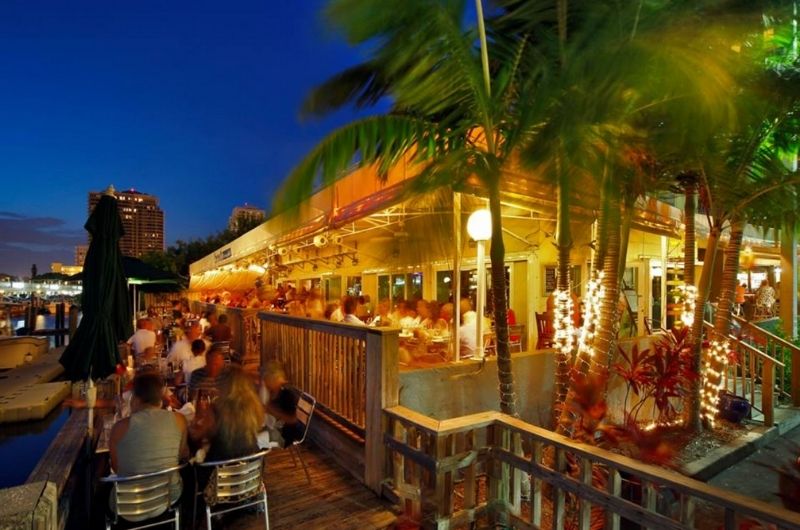 Address: 429 Seabreeze Blvd, Fort Lauderdale, FL 33301 – Intracoastal
Cuisine: Family-Friendly Seafood
Good For: Scenic Family Dinner
Highlights: Scoobies!! (butter and garlic-drenched crab claws)
For one of the best sunset views in all of Fort Lauderdale, head over to Coconuts for a seafood dinner. Guests who are lucky enough to snag a seat outdoors can immerse themselves in the beachy and laidback vibe of this casual restaurant by the water while watching yachts sail by in the background. 
At Coconuts, the only thing that rivals the scenic views is the delicious seafood-centric menu. You can't go wrong with ordering the coconut shrimp, lobster rolls, conch fritters, or crab claws. The fully-stocked raw bar opens daily at 5 p.m., with a selection of ahi tuna poke, salted shrimp, grilled oysters, and more. Open 7 days a week, family's are encouraged to bring everyone along, including their furry friends. If you wish to travel to the restaurant by boat, Coconuts' welcomes diners to raft their boats on the dock. 
Hint: our FAVORITE appetizer (and possibly our favorite thing on the entire menu) is the scoobies. A must-try for first-timers! 
Also – during certain times of the day, the restaurant staff will allow you to feed the tarpon on the Intracoastal (massive 250-pound, 8-foot fish). Call in advance to check.
2. Takato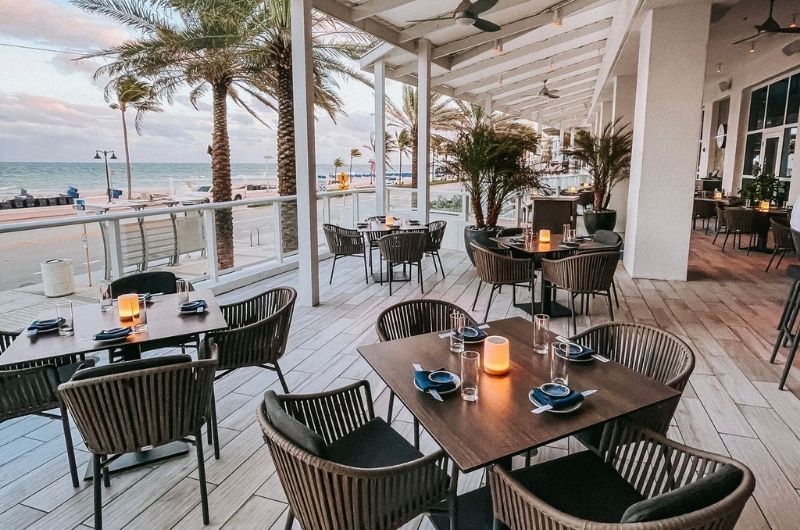 Address: 551 N Fort Lauderdale Beach Blvd, Fort Lauderdale, FL 33304 – Fort Lauderdale Beach
Cuisine: Japanese-Korean fusion
Good For: Friends Night Out
Highlights: Japanese Hugo & Angry Chicken
Nestled inside the oceanfront Conrad Hotel, diners can enjoy delectable Japanese-Korean fare at Takato, served up by local celebrity chef Chef Taek Lee. Formerly the executive chef at Zuma in Miami, Chef Taek Lee has crafted a masterpiece menu that combines the flavors of his Asian heritage. Previous diners have gushed over the crispy tuna with spicy aioli, the duck bao buns, short rib kimchi tacos, and lobster with Yuzu shisho butter. If you want to take things up a notch, indulge in the A5 Wagyu steak, which comes with a wide array of dipping sauces. 
With its light and airy backdrop, handcrafted cocktails, and upscale shareable plates, this oceanfront oasis makes the perfect spot for a night out with friends. If there's one thing we know for sure, diners will certainly leave in a "state of extreme happiness" as the definition of Takato suggests. 
During non-peak seasons, Takato offers a killer happy hour (I'm not messing around – it might be our favorite in Fort Lauderdale). Our favorite drink is the Japanese Hugo, while we always default to the Angry Chicken as our favorite appetizer and happy hour special.
3. The Etna Rosso Ristorante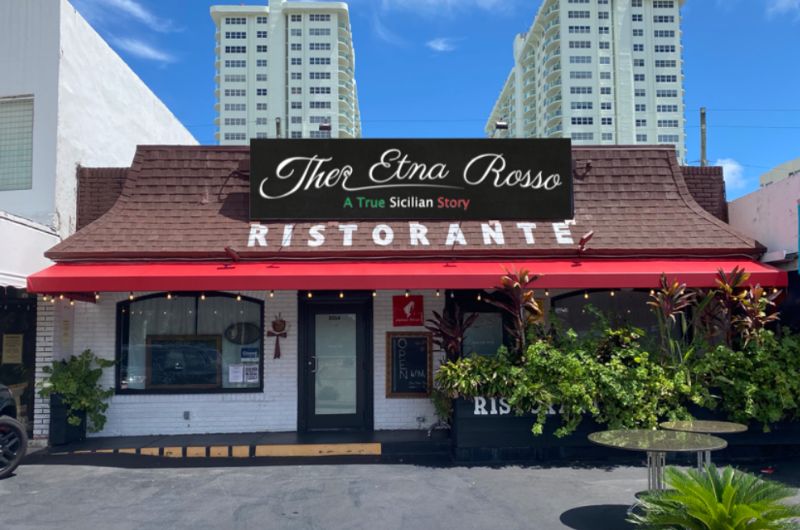 Address: 3354 N Ocean Blvd, Fort Lauderdale, FL 33308 – Galt Mile
Cuisine: Hands-Down Most Authentic Italian Food in South Florida
Good For: Authentic Sicilian Fare with Homemade Pastas
Highlights: Gnocchi Gorgonzola & Walnuts, Pasta Frutti Di Mare, Bolognese
We know this is a daring statement to make, but we'll go out on a limb because we're so convinced it's true – The Etna Rosso Ristorante in Fort Lauderdale is the best Italian restaurant in South Florida. While neither of us come from Italian backgrounds, having previously lived in NYC and having visited various parts if Italy more than once, we've experienced a lot of fantastic Italian food. For us, The Etna Rosso Ristorante seems to be the epitome of a hidden gem amongst a sea of flashy, and sometimes over-the-top food options in Fort Lauderdale and Miami. It is by far our favorite Italian restaurant in both Fort Lauderdale and the greater South Florida region.
The exterior of The Etna Rosso is unassuming yet inviting, and sits close to the intersection of Oakland Park Boulevard and A1A. The menu features a selection of "core" Italian staples that have established themselves as non-changing menu options due to overwhelming popularity, while a complimentary menu of weekly specials features more experimental dishes that the Sicilian-born owner, Luca, is constantly testing out with his customers. Regardless of what time you go, you are more than likely to meet Luca, who invites you in with a smile and makes you feel like you're dining at his personal dinner table. We encourage you to engage with Luca and ask him about what motivated him to open the restaurant – his passion for sharing his love for food with others in an inviting atmosphere was truly inspiring.
As for our favorite dishes, there are too many to name. The fantastic variety caters to many personal preferences, from spiciness level, red vs. white sauce, pasta thickness, protein type, and much more. However, considering the fact that all pastas served at the restaurant are made in-house from scratch, you can't go wrong with an Italian staple such as the bolognese. My personal favorites were the gnocchi gorgonzola (so incredibly rich it's nearly sinful), the pasta frutti di mare (pasta with a selection of delectable seafood), and the bianca. 
I can go on and on about this restaurant, but it has to be experienced to understand why we're so obsessed with it. When you go, say hello to Luca for us 🙂
4. ethos Greek Bistro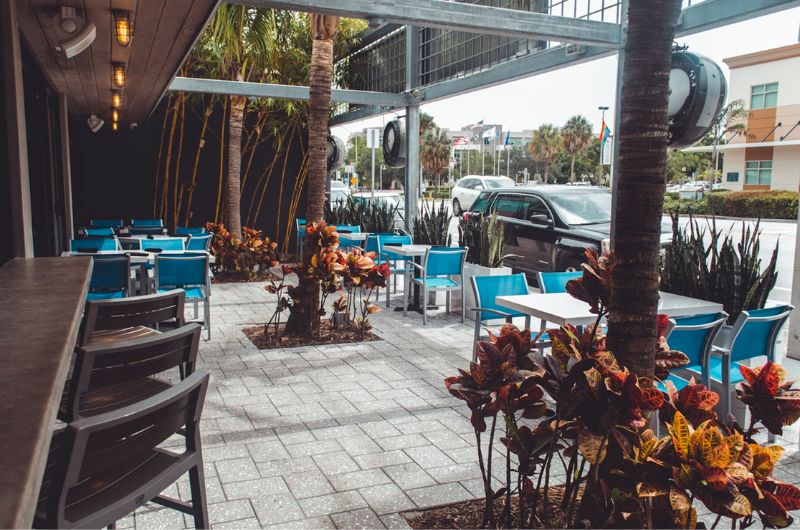 Address: 2055 Wilton Dr, Wilton Manors, FL 33305 – Wilton Manors
Cuisine: Authentic Greek and Mediterranean cuisine 
Good For: Happy Hour with Coworkers
Highlights: Mini Moussaka
Located in both Wilton Manors and Coconut Creek, ethos Greek Bistro serves up some of the best Greek food in all of Fort Lauderdale. On the menu you will find a glorious array of modern Greek and Mediterranean dishes inspired by traditional family recipes. The cooking style is primarily influenced by Crete cuisine, the birthplace of the Mediterranean diet, and the menu is focused on light Vegetarian and seafood fare. 
With unique music and a contemporary atmosphere, this hidden gem is the perfect happy hour spot to wind down after a stressful day. To experience ethos Greek Bistro at its best, be adventurous and order a bunch of small plates to share amongst your coworkers including the zucchini croquettes, grilled octopus, Dako, and orzo Paella. 
5. Boatyard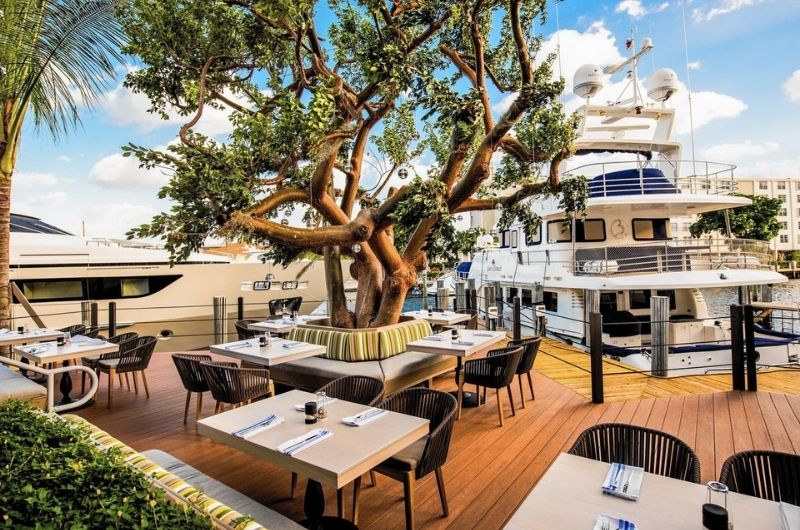 Address: 1555 SE 17th St, Fort Lauderdale, FL 33316 – Lauderdale Harbours
Cuisine: Innovative Coastal Food
Good For: Celebratory Dinner by the Sea
Highlights: Seafood Paella
Widely recognized as Fort Lauderdale's premier waterfront dining destination, Boatyard captures the true essence of the coastal city's nautical and laidback vibe. Surrounded by sweeping harbor views, not only will you get an unforgettable meal out of your dining experience, but you are sure to get some great photo opportunities, as well. 
Embracing an "Eat Local, Be Coastal" mantra, the Boatyard boasts a primarily seafood-based menu. Some of the standout dishes include ceviche, glazed salmon, yellowfin tuna, and the grouper piccata. Don't forget to pair your main with one of their many delicious sides, whether you opt for fried broccoli or the Brussels sprouts hash. If you still have room for dessert, the warm apple crisp is outstanding. Customers are welcome to dock their boats at the restaurant and bring their pets along for the ride. 
Hands-down, our favorite item on the menu is the Seafood Paella. It's unreal. 
6. Eatapas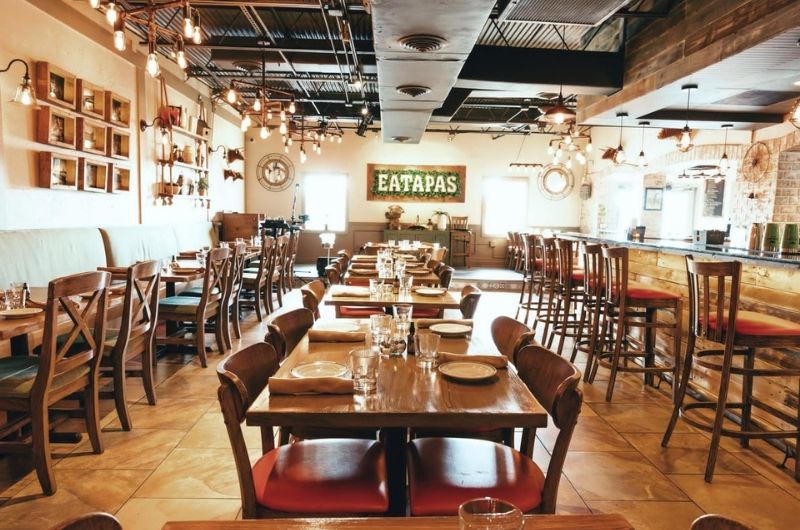 Address: 4140 N Federal Hwy, Fort Lauderdale, FL 33308 – Central Corals
Cuisine: Authentic Spanish Cuisine
Good For: A Laidback Night Out
Highlights: Salpicon de Marisco, Pulpo al Ajillo
Brought to you by experienced restauranteurs, Eatapas presents an unparalleled menu filled with all your favorite Spanish dishes. Stationed in the heart and soul of Fort Lauderdale, every dish at Eatapas is packed with an unparalleled blend of Spanish and Mediterranean flavors. To begin your culinary journey, order the Jamon Ibérico de Belota, the world's most distinguished ham. Follow that with an order of Gambas al Ajillo, shrimp sautéed with garlic brandy sauce, Pulpo a la Gallega, Galician style octopus, and Paella Marisco to share with the table. Pair your tapas with some of their handcrafted cocktails or the fresh Sangria, which is prepared tableside. 
Customers instantly feel at home at this delightful Spanish Kitchen and have described their dining experience as relaxed as dining in their own living room. While live music can be enjoyed every night, Friday through Sunday customers can also experience Flamenco dancing. 
7. Smoke BBQ Restaurant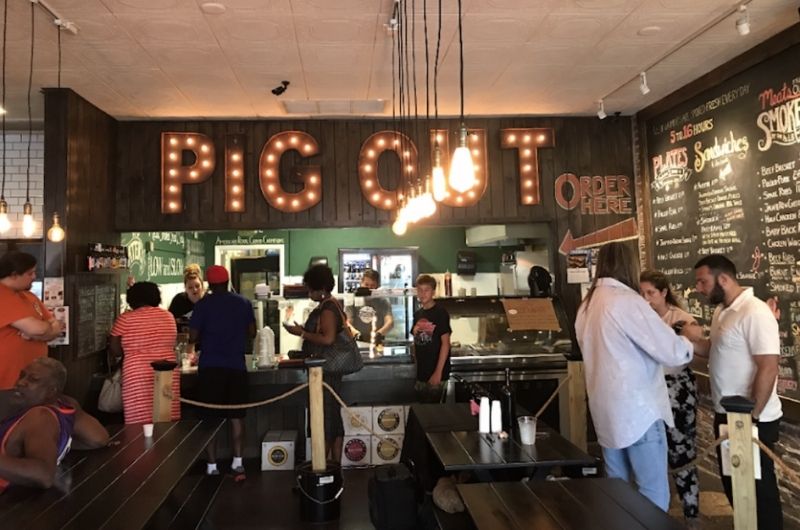 Address: 3351 NE 32nd St, Fort Lauderdale, FL 33308 – Galt Mile
Cuisine: Southern-Styled BBQ
Good For: Casual Night Out
Highlights: Burnt Ends!!!
While South Florida may not be famed for its barbecue, Smoke BBQ Restaurant is good enough to put it on the map. Smoke BBQ stands out from the Fort Lauderdale BBQ spots by sourcing the highest-quality beef, all of which is smoked in-house daily and served in a variety of regional styles. Upon arriving at Smoke's, diners will be met with a casual atmosphere and are welcome to seat themselves. 
Some shining stars on the menu include juicy Texas brisket, smoked pastrami, gigantic beef ribs, crispy roast chicken, and Carolina pulled pork. Everything is served on plastic trays covered in brown butcher paper, the same way it would be in the Lone Star State. Make sure to pair your cue' with a craft beer and one of their many Southern sides including baked mac 'n' cheese and jalapeño-cilantro potato salad. 
8. Blue Moon Fish Co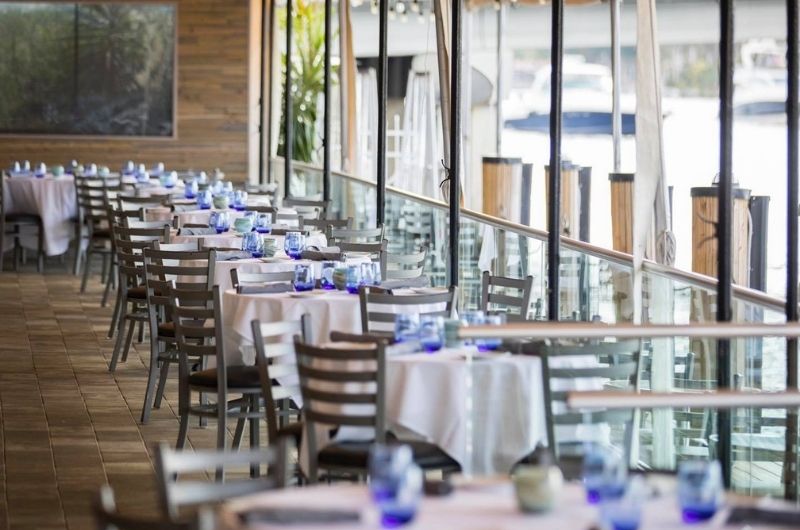 Address: 4405 W Tradewinds Ave, Lauderdale-By-The-Sea, FL 33308 – Sea Ranch Lakes
Cuisine: Seafood with a Cajun-Louisiana Flair
Good For: A Luxurious Brunch with Friends
Highlights: Blue Moon Iced Seafood Tower (c'mon, treat yourself)
Stationed on the Intracoastal Waterway with breathtaking ocean views sits Blue Moon Fish Co. Over the past two decades, Blue Moon Fish Co. has received various awards for culinary excellence and has practically set the standard for fresh seafood by the water. Their gourmet menu features one-of-a-kind seafood blended with Cajun flavors. For traditional seafood opt for ceviche, which is made with fresh fish and shrimp. If you are looking for something with a Cajun-spin to it, try the seafood gumbo, which is piled high with shrimp, crab, crawfish, okra, and file. Leave room for the key lime pie with dessert, finished with toasted coconut meringue. 
While Blue Moon Fish Co boasts a delicious dinner menu, their champagne brunch is where they truly shine. On Sunday morning, head over to this waterfront spot for unlimited food and bottomless mimosas. Guests can indulge in an omelet stand, carving station, raw bar, and a dessert table brimming with cupcakes, ice cream, creme brûlée, parfaits, and more. At $69.96 per person, this magnificent feast is worth every pretty penny. 
9. El Camino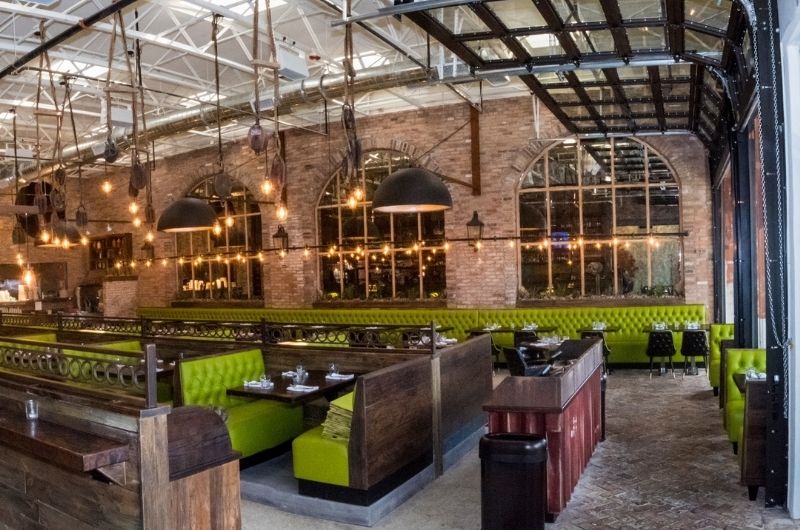 Address: 817 E Las Olas Blvd, Fort Lauderdale, FL 33301 – Las Olas
Cuisine: Authentic Mexican Street Food
Good For: A Lively Happy Hour
Highlights: Pork Belly Tacos
For classic Mexican fare and margaritas, head over to El Camino. Best known for its large and tasty portions and contemporary atmosphere, El Camino is more than just your everyday Mexican restaurant. While you can't go wrong with its broad selection of tacos, quesadillas, enchiladas, and burritos, don't miss out on the creative appetizers like the pan-grilled octopus and the Mexican street corn. And let's not forget about the homemade guacamole, which is a must-have. 
Located on the bustling Las Olas Boulevard, El Camino is also a great place to stop in for a happy hour. With $5 Margaritas and $3 tacos, this standout Mexican joint certainly makes dining from 4-7 p.m. worth your while. 
10. Thai Spice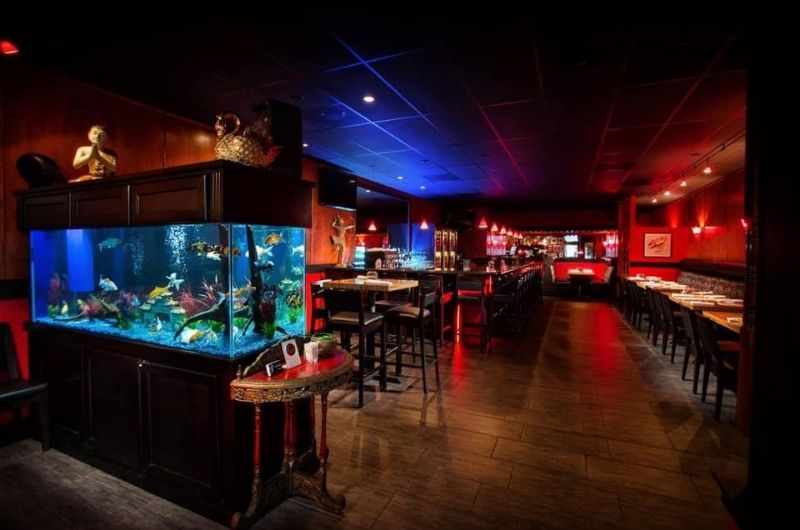 Address: 1514 E Commercial Blvd, Fort Lauderdale, FL 33334 – North Corals
Cuisine: Authentic Thai 
Good For: Low-Key Date Night
Highlights: Crispy Whole Hog Snapper (ask for sauce on the side so fish stays crispy)
Delicious food? Fast service? Great atmosphere? Check, check, check. When it comes to delicious Asian fare in South Florida, Thai Spice is the place that everyone is buzzing about. Menu standouts include the fresh Key West yellowtail snapper, crispy Siam duck, and the Sea Food Curry, which are all prepared to your desired level of spice. If you are in the mood to treat yourself, opt for one of the Angus beef steaks, which are all rubbed with a blend of herbs and ginger garlic soy marinade. Each cut of beef is presented with a spicy dipping sauce, sautéed baby bok choy, and jasmine rice. With its moody and romantic atmosphere, Thai Spice is an ideal spot for a casual date night out. 
11. Shooters Waterfront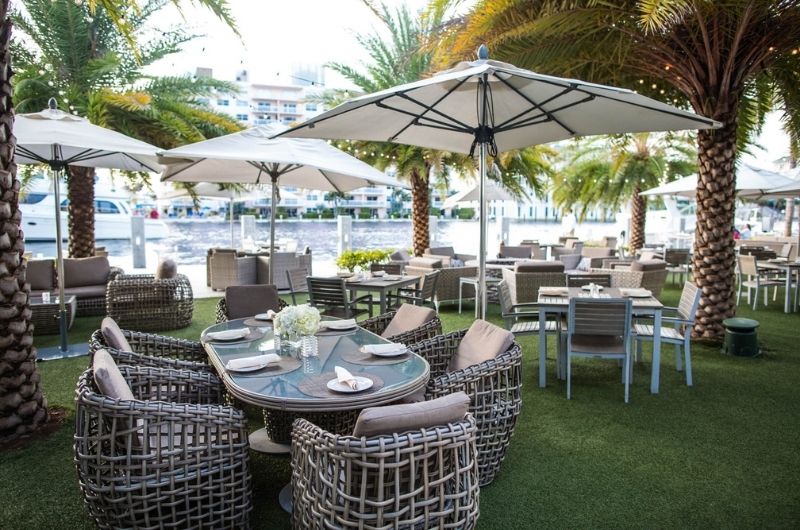 Address: 3033 NE 32nd Ave, Fort Lauderdale, FL 33308 – Lauderdale Beach
Cuisine: Upscale Seafood
Good For: Lively Date Night
Highlights: Ultimate Seafood Tower
Joining the ranks of Fort Lauderdale's premier waterfront dining destinations is Shooters Waterfront. Shooters delivers spectacular views of the Intracoastal Waterway and strikes the perfect balance between providing upscale dining options with a laidback but lively atmosphere. Their most popular dishes are seafood-centric and include the chilled lobster salad, crunchy coconut shrimp, and the indulgent Norme De Mar, which includes a platter of lobster tail, shrimp cocktail, fresh oysters, and Alaskan king crab legs. If you bring your dog along, there's even a separate menu for Fido with a choice between turkey, chicken, or beef. 
Shooters is equipped with a contemporary dining room, three beautifully designed bars, and an outdoor waterside lounge. Nothing beats sitting outside on the waterfront veranda and taking in the sea breeze with a glass of wine in hand. On the weekends, customers can enjoy live music, making this the perfect lively date night spot. 
For us, Shooters has become that spot we take out-of-town visitors who want a little bit of everything – great food, a waterfront view of the Intracoastal, live music, and a party-ish atmosphere. For these special occasions, we usually can't help ourselves and end up treating ourselves (and our visitors) to the ultimate Seafood Tower (a decadent assortment of lobster tails, oysters, shrimp, and more).
12. Cafe Vico Restaurant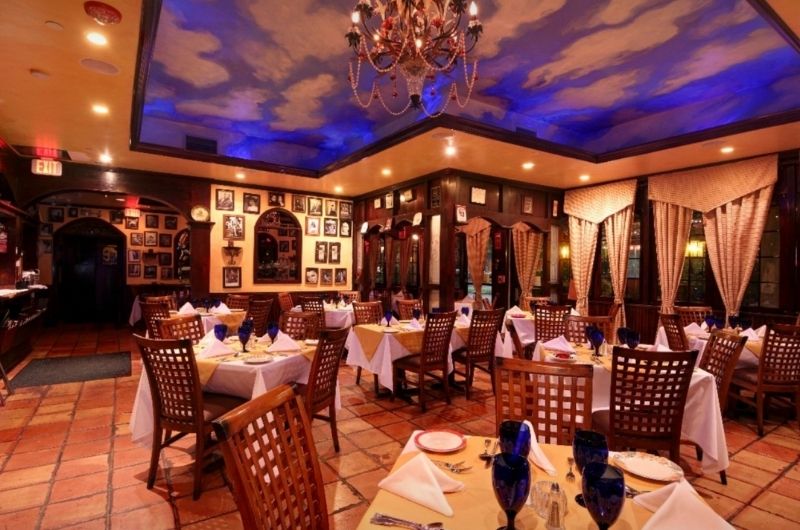 Address: 1125 N Federal Hwy, Fort Lauderdale, FL 33304 – Lake Ridge
Cuisine: Traditional Italian Food
Good For: Romantic Date Night
Highlights: Risotto with Beef & Truffle (who doesn't love a nice risotto 🤌)
Cafe Vico is the perfect example of an old-school Italian restaurant done right. This family-owned and operated restaurant has been serving up authentic Italian-styled food for 25 years and it doesn't disappoint. This local gem takes pride its the quality and freshness of its ingredients, as well as its homemade Italian pasta and sauces. Some of the standout menu items include the gnocchi, lobster ravioli, and of course, the award-winning lasagna bolognese. 
Don't be deterred by the shopping strip location – with the restaurant's dark wood interior that is illuminated by candlelight, Cafe Vico creates an incredibly romantic atmosphere. For special celebratory occasions, Cafe Vico also has private rooms available for booking. 
13. Le Patio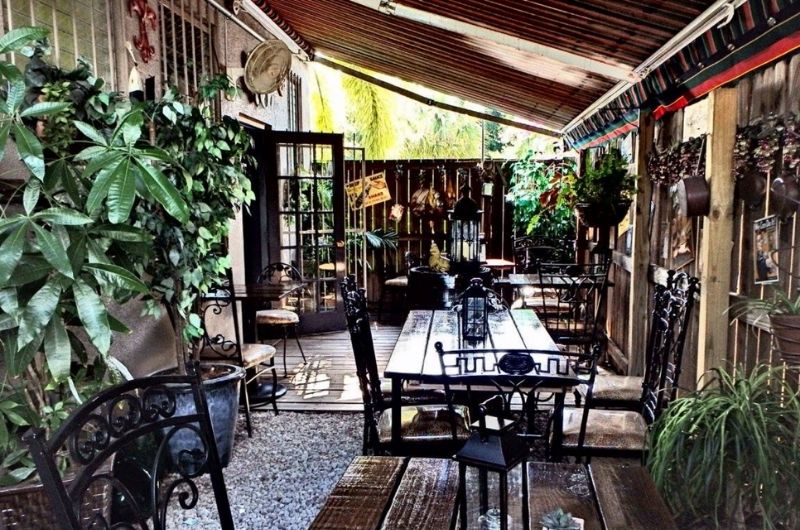 Address: 2401 NE 11th Ave, Wilton Manors, FL 33305 – Wilton Manors
Cuisine: French Comfort Food
Good For: Intimate Date Night
Highlights: Duck Mousse Pate, Mussels à la Crème, Duck Confit (occasional special)
Known as the tiniest and cutest restaurant in South Florida, Le Patio certainly lives up to its promise. Situated in the heart of Wilton Manors, this intimate restaurant has garnered a cult following for good reason. While all of their classic French food is mouthwateringly delicious, give their signature French onion soup, Shepherd's pie, or housemate lasagna a try – you won't be sorry. 
Every ounce of this restaurant animates charm and character, making it the most memorable restaurant for a romantic evening out. The owners of this small and cozy hole-in-the-wall Vero and Jean will also instantly make you feel relaxed and at home here. 
This gem has some pretty wild rotating specials! But for us, our favorite permanent menu items are the Duck Mousse Pate and the Mussels à la crème.
14.  Burlock Coast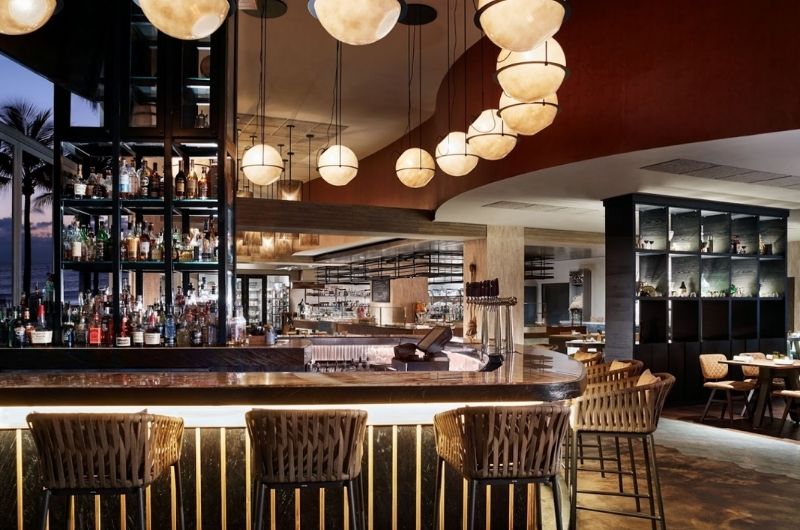 Address: 1 N Fort Lauderdale Beach Blvd, Fort Lauderdale, FL 33304 – Fort Lauderdale Beach
Cuisine: Modern Coastal Fare
Good For: Lunch with Friends
Highlights: Steamed Mussels, Sea Kits (not always offered)
Situated in the Ritz Carlton Hotel along the waterfront, Burlock Coast is a cafe, bar, market, and restaurant all rolled into one. Heavily inspired by the prohibition area, Burlock Coast serves up creative cuisine with a focus on local ingredients. The diverse menu changes seasonally, but guests will always be able to a wide array of fresh seafood, seasonal vegetables, and rum-based cocktails while surrounded by stunning marina views. Inside you will also find a marketplace and cafe with vendors selling locally crafted items such as fresh bread and ground coffee. 
Before heading over to Burlock Coast, make sure to check out the themed dining nights during the week such as Burger N' Brew Monday and Tacos and Tequila Tuesday. For celebratory occasions and special events, private dining rooms are available for booking. 
If you're of legal drinking age, we recommend you try their "Sea Kits" (comes with one local draft and one artisanal-quality rum shot – this might be a seasonal special and offered upon availability). When it comes to food, their Steamed Mussels are delectable. 
15. Bravo Peruvian Cuisine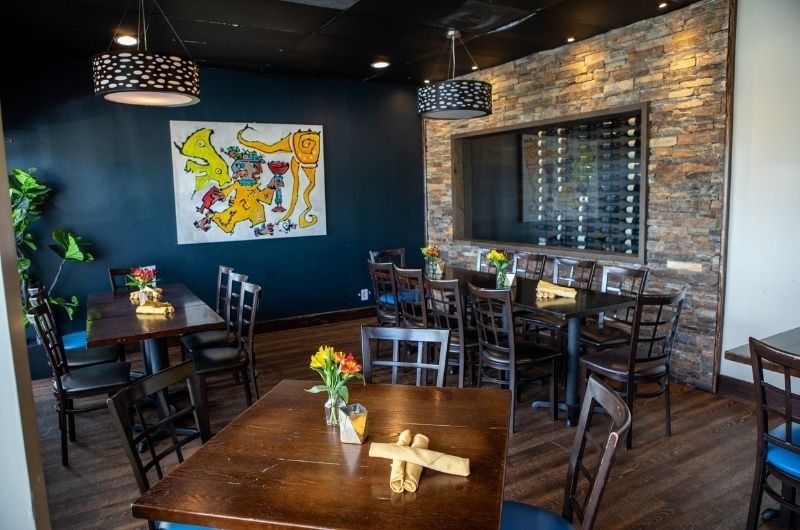 Address: 2925 NE 6th Ave, Wilton Manors, FL 33334 – Wilton Manors
Cuisine: Authentic Peruvian 
Good For: Low-key lunch
Highlights: Trio de Ceviches, Arroz con Mariscos
If you are looking for a lunchtime sandwich spot, you can't go wrong with a trip to Bravo Peruvian Cuisine. Tucked just outside of Wilton Drive, this popular dinner and lunch spot is ranked one of the best restaurants in Wilton Manors, and after trying one of their award-winning sandwiches or seafood specials, you will understand why. Their innovative sandwiches are full of fresh ingredients like tender pork, crispy ham, and flavorful onions. All sandwiches are served on thick buns to soak up the terrific blend of sauces and spices inside of them. If you are there on a Sunday, don't miss the opportunity to try their traditional Peruvian feast of fried pork, sweet potato, onion, and banana-leaf wrapped tamales. With its charming and inviting atmosphere, a trip to this gourmet sandwich shop is a must while visiting Fort Lauderdale. 
16. Canyon Restaurant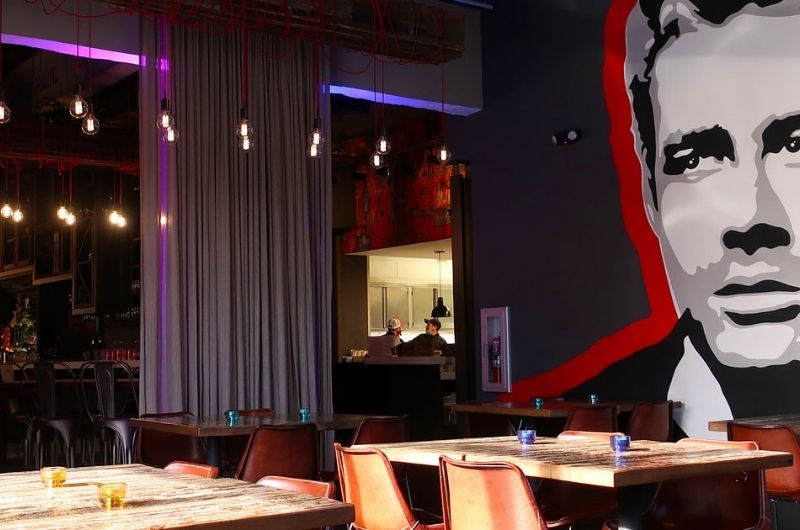 Address: 620 S Federal Hwy, Fort Lauderdale, FL 33301 – Rio Vista
Cuisine: Southwestern American fusion 
Good For: Casual Dinner Out
Highlights: Short Rib Tostada, Pork Risotto
With a warm and inviting atmosphere and one-of-a-kind cuisine, Canyon Restaurant has been a local favorite for over 25 years. While it is difficult to sum up their innovative style of cooking, it can be best described as a blend of Southwestern American fare with Asian, South, and Central American influences. The menu features small plate options such as crispy pork tacos and sweet and spicy calamari, along with large plates such as panko-crusted chicken Milanese. Don't leave before trying one of their signature Prickly Pear Margaritas!
If you are a curious and adventurous eater, Canyon Restaurant is the perfect casual dinner spot for you. We celebrated our 2021 anniversary at this spot and enjoyed a romantic, delicious yet unusual dinner.
17. Deccan Spice Pompano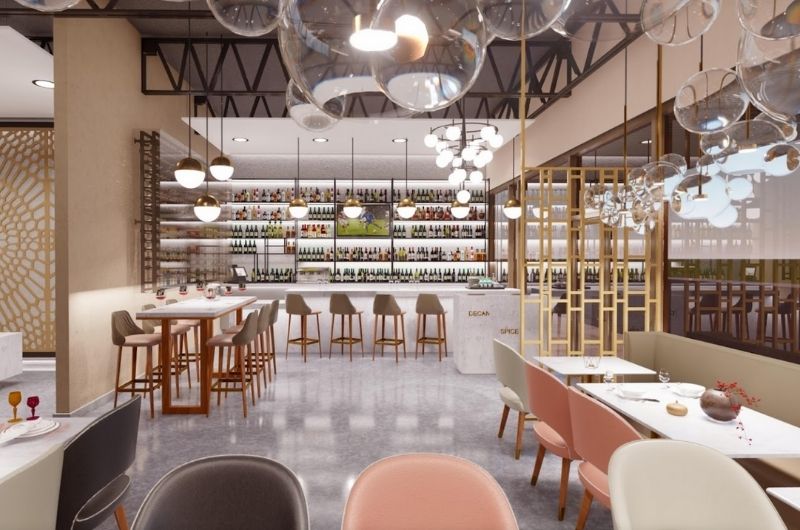 Address: 1149 S Federal Hwy, Pompano Beach, FL 33062 – Pompano Beach
Cuisine: Authentic Indian Food
Good For: Friends Night Out
Highlights: Lamb Saagwala, Chicken 555, Lamb Biryani, Chicken Tikka Masala, Lamb Hyderabadi Korma
If you are on the hunt for top-rated and authentic Indian cuisine in the Fort Lauderdale area, a trip to Deccan Spice Pompano is a must. Past customers have raved about the handcrafted cocktails, the modern and elegant ambiance, reasonable prices, and of course, the delicious food. Indulge in an order of the crispy chicken lollipops and stir-fried noodles, and sample the wide assortment of naan, from the garlic to the Afghani naan. While Deccan Spice Pompano is technically located in Pompano Beach, it is just a twenty-minute drive from downtown Fort Lauderdale. 
This is, hands-down, our favorite restaurant in the Fort Lauderdale area. Technically on the edge of Fort Lauderdale and Pompano Beach, Deccan Spice offers some of the finest Indian cuisine I've ever tasted (and we've lived in New York, Los Angeles, San Diego, and San Francisco). Not only is the food to die for, but the interior of this restaurant is absolutely beautiful, modern, and classy. Best of all – they offer a KILLER all-you-can-eat buffet every weekend.
18. Heritage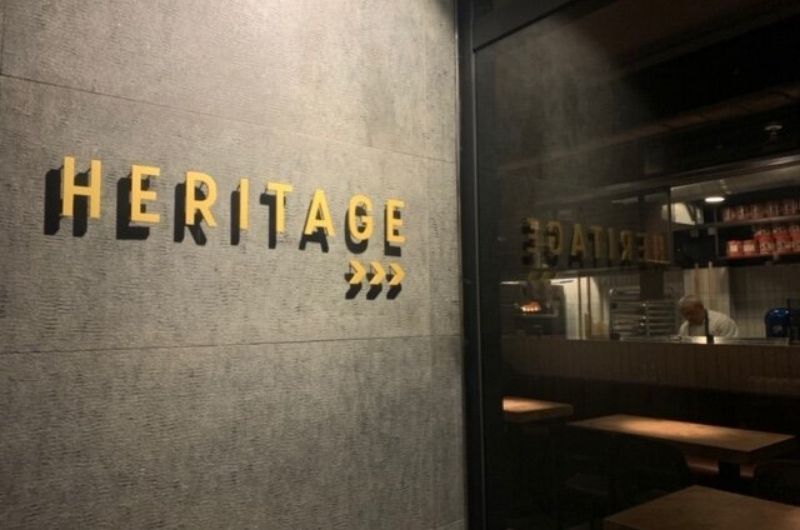 Address: 903 NE 5th Ave, Fort Lauderdale, FL 33304 – Flagler Village
Cuisine: Elevated Italian Fare
Good For: Casual Date Night
Highlights: Funghi pizza, Bucatini White Clam Pasta
In the heart of the Flagler Village neighborhood lies Heritage. While you can find a wide assortment of vibrant salads and homemade pasta on the menu, this hidden gem is known for its specialty pizzas. Each pizza is topped with flavorful and funky ingredients such as Wagyu meatballs, whipped potatoes, and smoked pancetta. While each one of their groundbreaking za's is just as delicious as the last, give their Squash Blossoms and Cold Pulled Burrata Pizza or their Soppressata Pizza a try. You'll be hard-pressed to find more creative combinations or better elevated Italian fare elsewhere. 
19. Louie Bossi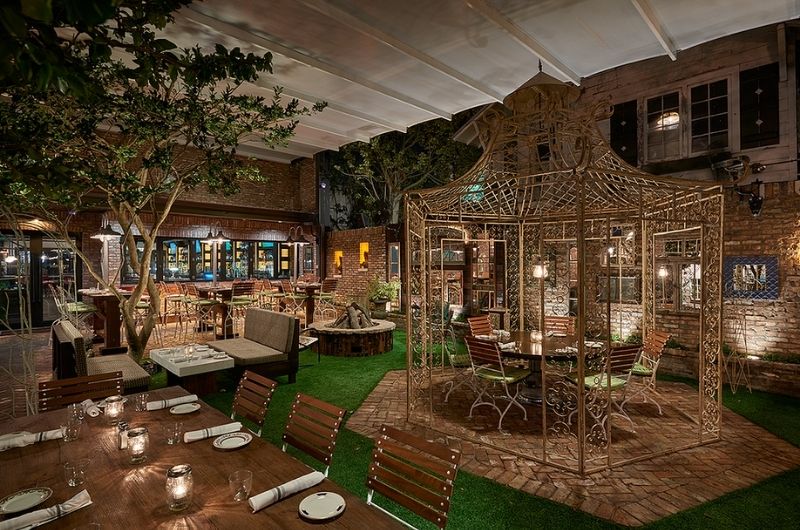 Address: 1032 E Las Olas Blvd, Fort Lauderdale, FL 33301 – Beverly Heights
Cuisine: High-Energy Italian Eatery
Good For: Big Family Dinner
Highlights: Funghi Misti pizza, Lobster Fra Diavolo
If you are in the mood for a classic Italian meal, Louie Bossi is guaranteed to make all of your dinner dreams come true. Conveniently located on Las Olas Boulevard, this charming Italian destination is equipped with a fire-pit-friendly piazza, a salumi bar, and a bocce court. 
Everything on the menu is made from scratch by the esteemed Italian Chef Louie Bossi, who uses fresh and assertive ingredients on every plate. Customers can choose from a vast selection of Neapolitan pizzas, Sicilian comfort food, and homemade pasta, but the most popular menu items included the flavor-packed meatballs and the tiramisu for dessert. Don't leave without trying Chef Louie's famous house-cured salumi. Not only is the New York native an accredited Master Pizza Maker, but he has also obtained a certification in the ancient art and technique of charcuterie. 
Talk about ambiance! This spot also has a beautiful, Instagram-worthy backyard patio where we recommend you request a table (unless you're visiting during the super-hot summer months). 
Frequently Asked Questions
What are some of the top seafood restaurants to try in Fort Lauderdale?
Fort Lauderdale has a variety of restaurants that serve exceptional seafood dishes. The area boasts some of the best seafood restaurants, like Blue Moon Fish Co., Joe's Stone Crab, and Oceanic. Blue Moon Fish Co. is famous for its fresh fish and seafood platters, while Joe's Stone Crab is renowned for its signature stone crab claws. Oceanic provides an upscale dining experience that spotlights locally sourced seafood.
What are some of the finest dining restaurants in Fort Lauderdale?
Several upscale dining restaurants call Fort Lauderdale home. Some of the best fancy restaurants in the area include Casa D'Angelo, Valentino Cucina Italiana, and Market 17. Casa D'Angelo provides an elegant atmosphere with its classic Italian menu, while Valentino Cucina Italiana serves contemporary Italian cuisine with a modern twist. Market 17 is a farm-to-table dining restaurant that prioritizes using locally sourced seasonal ingredients.
What are some top casual dining spots in Fort Lauderdale?
For a more relaxed dining experience, there are several casual dining options available in Fort Lauderdale. Some of the best casual dining spots in the area include Coconuts, Rhythm & Vine, and Foxy Brown. Coconuts' laid-back atmosphere complements its fresh seafood and tropical drinks. Rhythm & Vine is a popular location for craft beer and food trucks, and Foxy Brown serves comfort food with a modern touch.
What are the top restaurants that offer outdoor seating in Fort Lauderdale?
Given Fort Lauderdale's sunny weather, dining outdoors is a popular option. Some of the best restaurants with outdoor seating in the area include Shooters Waterfront, Burlock Coast Seafare & Spirits, and Kaluz. Shooters Waterfront offers a delightful waterfront dining experience on its spacious outdoor patio, while Burlock Coast Seafare & Spirits provides ocean views alongside its fresh seafood dishes. Kaluz offers an upscale dining atmosphere with a modern American menu and a sizable outdoor patio.
What are the best brunch spots in Fort Lauderdale?
Brunch is a popular mealtime in Fort Lauderdale, and there are several restaurants to enjoy a great brunch. Some of the best brunch spots in the area include Wilder, Louie Bossi's Ristorante Bar Pizzeria, and YOT Bar & Kitchen. Wilder provides a farm-to-table brunch experience with a focus on locally sourced, seasonal ingredients. Louie Bossi's serves up classic Italian brunch dishes, while YOT Bar & Kitchen offers a modern American menu and waterfront views.