12 Best Fort Lauderdale Restaurants on the Water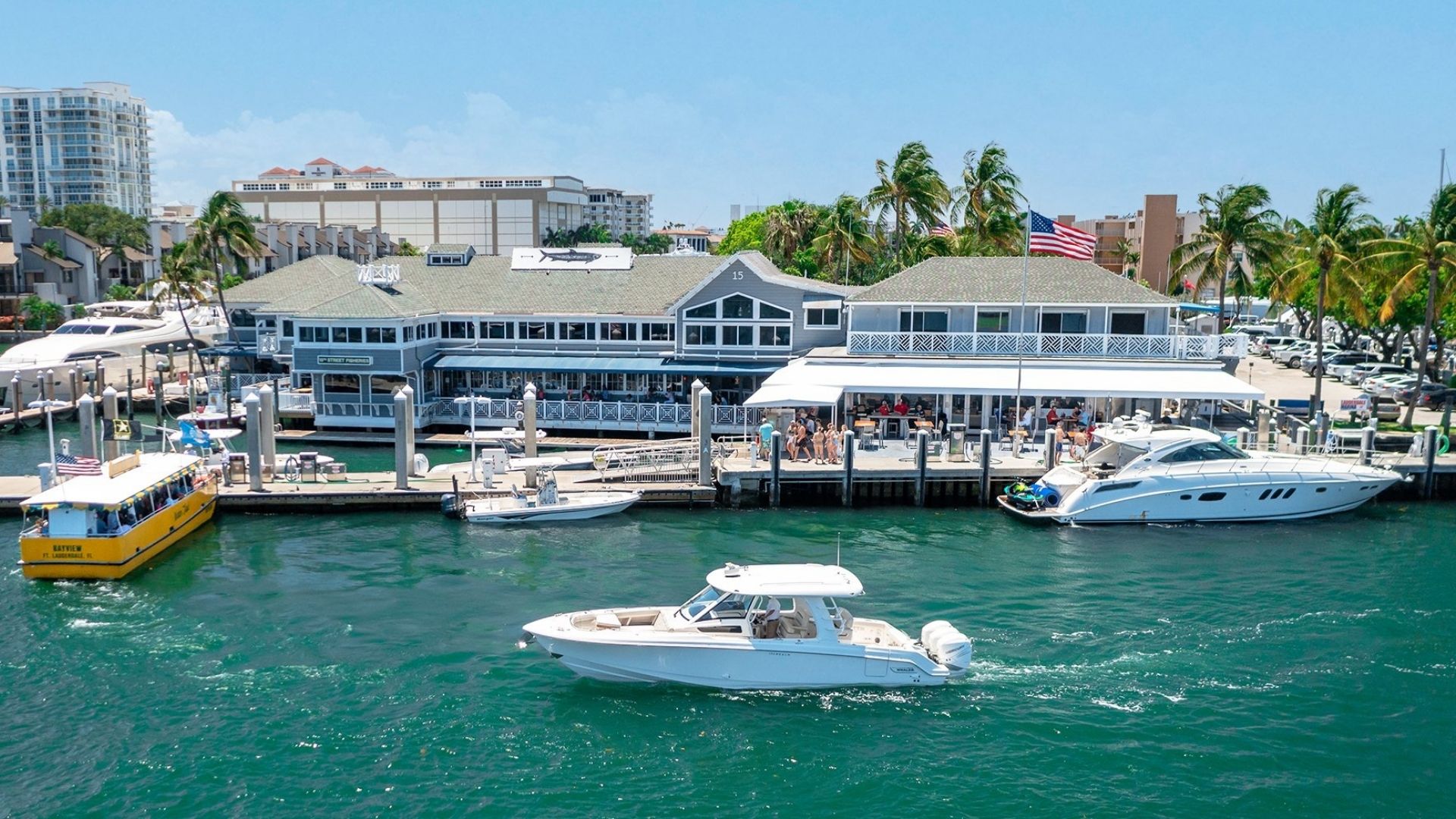 From the pristine beaches to the cultural attractions, there are many reasons tourists flock to Fort Lauderdale year after year. One of the prime factors that make "The Magic City" a premier vacation destination is its waterfront restaurants. Between the breathtaking Atlantic Ocean, the lively New River, and the winding canals and waterways, enjoying a meal by the water is easily one of the best things to do in Fort Lauderdale. 
There are two main types of "waterfront" dining experiences in Fort Lauderdale. Visitors have their pick between dining directly on the beach (or with direct views of the beach) or enjoying a nice dinner by the Intracoastal. Whether you are looking for a laidback affordable restaurant by the sea or somewhere more upscale and pricey, Fort Lauderdale has a wide range of options and cuisines to choose from. Here are 12 of the best Fort Lauderdale restaurants on the water. 
1. Coconuts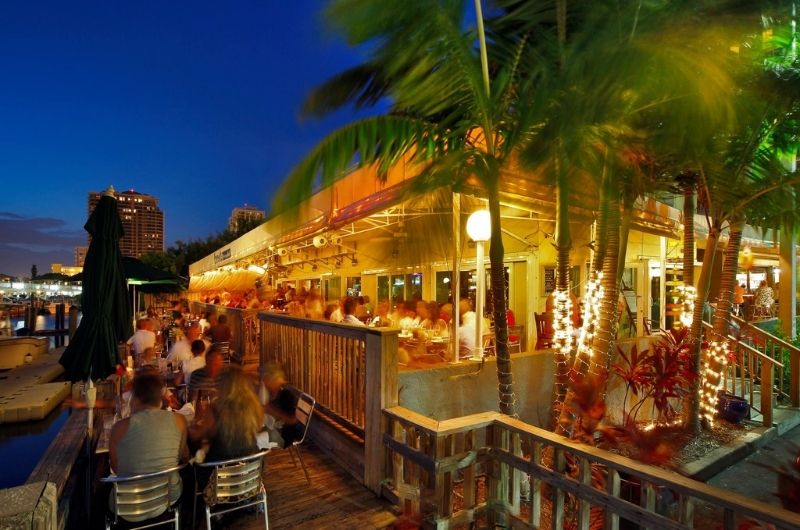 Cuisine: Seafood
Address + Neighborhood: 429 Seabreeze Blvd, Fort Lauderdale, FL 33301 – Las Olas Beach
Waterfront Type: Intracoastal
Good For: Laidback Dinner with Family or Friends

Highlights: 
Not only is Coconuts one of the best waterfront restaurants in the city, but it's also hands-down one of the best restaurants in Fort Lauderdale. A visit to Coconuts proves that an amazing restaurant doesn't always need the fanciest decor or the most expensive prices. Whether you are seated on the covered outdoor patio or the dockside tables, guests feel immediately relaxed when they take their seats at this restaurant. Located just off of Seabreeze Boulevard, near Las Olas Beach, this atmospheric eatery is just out of the way of crowded beaches filled with tourists. 
With its open-air atmosphere and gorgeous marina views, Coconuts is undoubtedly one of the best dockside restaurants on Fort Lauderdale's Intracoastal Highway (good luck getting a table here during the high season). Guests can enjoy the Intracoastal up-close-and-personal and watch boats coming in and out of the marina. If you want to travel in style, patrons are also welcome to arrive at the restaurant by boat and dock their vehicle at the marina. As for the food, Coconuts features a seafood-heavy menu, which is a touch fancier than your average boardwalk eatery. First-timers should certainly start their meal with an order of "scoobies," Coconuts' specialty consisting of fried blue crab with lots and lots of garlic. For your entree, try the outdoor paella or the comfort bowl. To pair with your meal, you can't go wrong with the house-made sangria or the frozen mojitos.
2. 15th Street Fisheries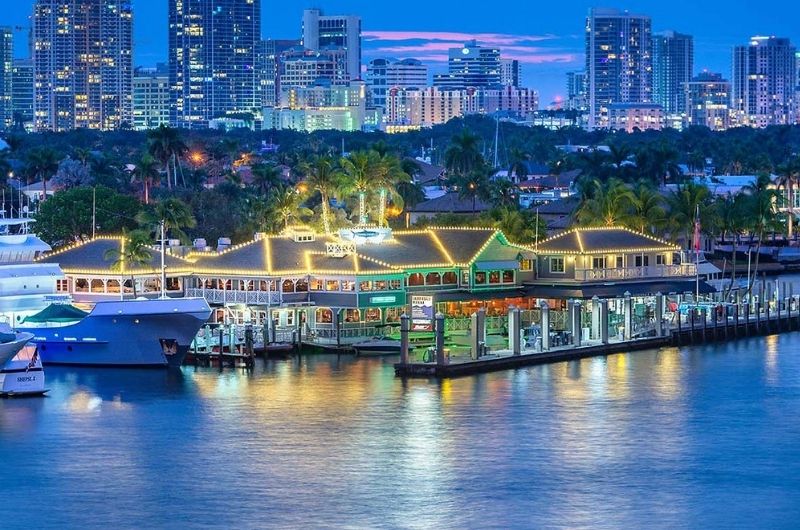 Cuisine: Affordable Seafood
Address + Neighborhood: 1900 SE 15th St, Fort Lauderdale, FL 33316 – Lauderdale Harbours
Waterfront Type: Intracoastal
Good For: Atmospheric Happy Hour
Highlights: 
When you're searching for ambiance as much as food, a restaurant with the whole package is hard to come by. Well, look no further than 15th Street Fisheries. For nearly 40 years, this Fort Lauderdale institution has maintained its reputation as one of South Florida's most beloved waterfront eateries. Situated on the most coveted spot of the Intracoastal Waterway, this atmospheric restaurant boasts rustic charm and unparalleled waterfront views. 15th Street Fisheries welcomes its diners to arrive by car or boat and provides parking spots for both types of vehicles
Tucked away inside the historic Lauderdale Marina, 15th Street Fisheries caters to all types of crowds. Guests can tuck into award-winning cuisine in the upstairs nautical-themed dining rooms or enjoy a more casual, alfresco dining experience on the dock. Regardless of where you sit, guests can take in views of the 17th Street Causeway drawbridge and Port Everglades inlet to the Atlantic Ocean. While 15th Street Fisheries' casual seafood menu caters to both lunch and dinner, make sure to take advantage of their $5 Happy Hour menu, which includes chicken wings, calamari, mini burgers, and conch fritters. This waterfront eatery also includes a diverse drink selection including beer, wine, martinis, and a handful of cocktails.
3. Boatyard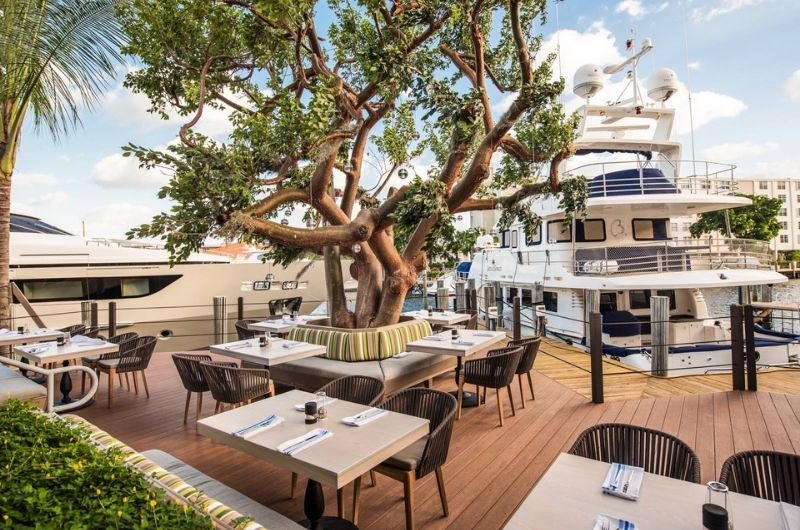 Cuisine: Innovative Coastal Cuisine
Address + Neighborhood: 1555 SE 17th St, Fort Lauderdale, FL 33316 – Lauderdale Harbours
Waterfront Type: Intracoastal 
Good For: A Special Occasion or Celebratory Dinner
Highlights: 
Joining the ranks of Fort Lauderdale's premier waterfront dining restaurants is Boatyard. While Boatyard's cuisine is moderately upscale, make no mistake, this restaurant is anything but stuffy or touristy. With incredible food, music, and atmosphere, guests are certainly getting what they pay for. We take all of our out-of-town guests here and a good time is always guaranteed. 
Surrounded by sweeping harbor views of the Intracoastal, if you've been waiting for the perfect photo opportunity on your South Florida vacation, you will certainly find it at Boatyard. If you are unable to snag a spot outside, Boatyard brings the outdoors, indoors, with its nautical-themed decor. This superb restaurant boasts a seafood-based menu, along with an "Eat Local, Be Coastal," motto. Some menu highlights include the yellowfin tuna and grouper piccata, but our favorite dish is here is the Florida Paella. To complete your dining experience, make sure to order one (or three) of Boatyard's innovative cocktails. 
4. Kaluz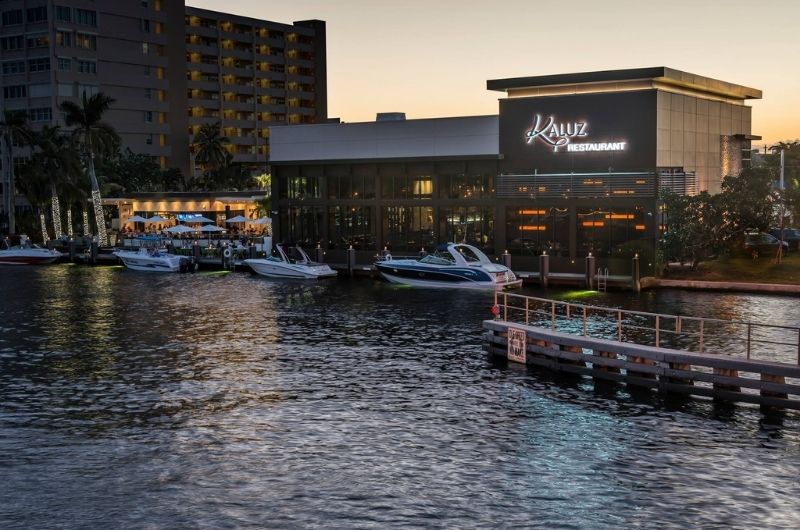 Cuisine: Modern American fare
Address + Neighborhood: 3300 E Commercial Blvd, Fort Lauderdale, FL 33308 – Landings
Waterfront Type: Intracoastal
Good For: Romantic Date Night
Highlights: 
Enjoy the warm Florida weather with a view by dining at Kaluz Restaurant. A local favorite for fresh seafood and supreme steaks, Kaluz offers a wide selection of Modern American fare and spectacular waterfront views of the Intracoastal. Guests can choose between dining in the upscale, indoor dining room or on the patio bar, for a slightly more laidback vibe. For the true waterfront dining experience, opt for a spot in the spacious outdoor dining area for enchanting views of the ocean and marina. By dining indoors, guests can watch their food as it's prepared through the restaurant's highly visible display kitchen. 
Kaluz features a large menu filled with appetizers, salads, sandwiches, flatbreads, and more, meaning there's truly something for everyone. One of Kaluz's standout features is its extensive wine selection which includes an impressive 130 wines. For the most budget-friendly experience, guests can take part in happy hour from 3 p.m – 6 p.m during weekdays. Patrons can nosh on hearty appetizers while enjoying affordable $9 glasses of wine.
5. Shooters Waterfront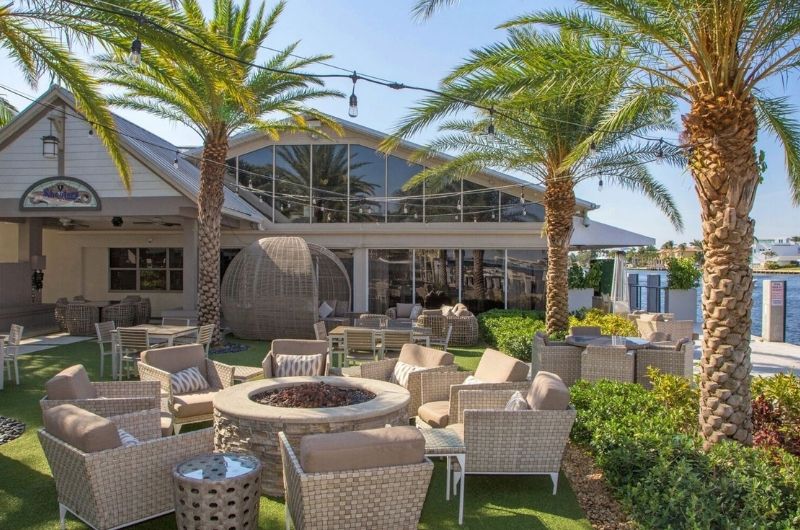 Cuisine: Upscale Seafood
Address + Neighborhood: 3033 NE 32nd Ave, Fort Lauderdale, FL 33308 – Lauderdale Beach
Waterfront Type: Intracoastal
Good For: A Sunday afternoon meal, Happy Hour
Highlights: 
Shooter's Waterfront has been one of Fort Lauderdale's most beloved waterside stomping grounds. Since it set up shop on the Intracoastal in 1982, Shooter's has been one of the city's most popular waterside restaurants. To this day, this dockside dining staple is still the place to be on a Sunday afternoon. 
This beautiful waterfront restaurant serves up fresh seafood and brunch on the weekends. The menu highlights Fort Lauderdale's unique local ingredients with delicious dishes such as the shrimp po-boy, spicy tuna and fish tacos, and the baked seafood pasta. The restaurant even includes a separate menu for your furry friends, with only the best of the best meat-based dishes. This also has the best happy hour of any place on the list, hands-down. For an array of small bites, beer and wine served by the glass, and half off cocktails, simply show up between 4 p.m and 7 p.m during weekdays. 
At this waterfront facility expect to find a 300-seat alfresco dining deck, which boasts a beach-chic setting and stunning panoramic views of the Intracoastal waterway. Anchor yourself dockside to take in the rows of yachts and cigarette boats that line the restaurant.
6. Casablanca Cafe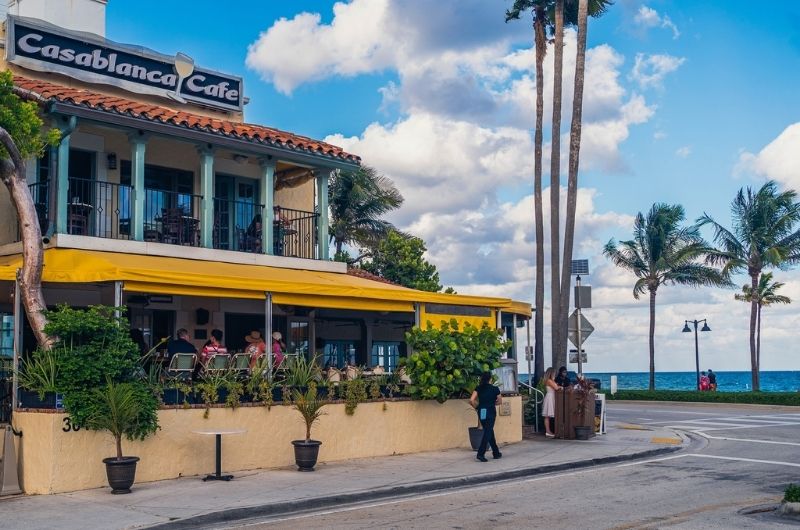 Cuisine: American Fare with a Mediterranean and Caribbean Twist
Address + Neighborhood: 3049 Alhambra St, Fort Lauderdale, FL 33304 – Sebastian Street Beach
Waterfront Type: Beachfront 
Good For: A Romantic Date Night
Highlights:
Casablanca Cafe was the first home constructed on Fort Lauderdale Beach and to this day is its oldest remaining structure. Designed by architect Francis L. Abreu, the two-story masonry building has been beautifully maintained and still boasts an eclectic blend of Spanish and Middle Eastern architectural elements including arched openings and ceramic tile decorations.
 
Just a few steps away from one of the best beaches in Fort Lauderdale, Sebastian Street Beach, this restored historical home boasts stunning views of a tranquil shoreline. Open for breakfast, lunch, and dinner, this beachfront cafe serves up American fare with a Mediterranean and Caribbean Twist. Guests can order delectable dishes such as roasted eggplant ravioli, deep-sea linguine, blue crab-crusted mahi-mahi, and Moroccan lamb shank. Guests should certainly make the most of the incredible happy hour deals (think $6 margaritas and martinis), but above all, this Piano bar and restaurant make the perfect spot for date night. Casablanca Cafe has been voted Fort Lauderdale's most romantic restaurant. To further add to the ambiance, between Wednesday and Saturday, the restaurant also plays host to the area's musical talent. Guests can enjoy cool jazz and contemporary pop with their meals.
7. Takato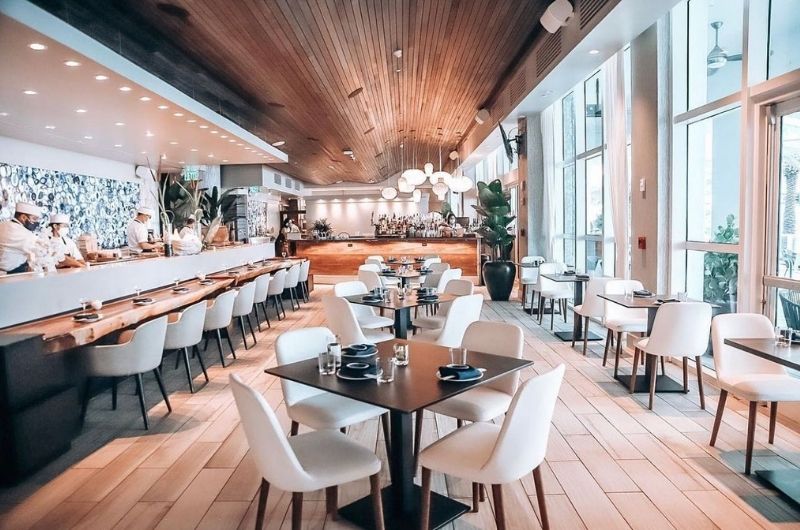 Cuisine: Upscale Japanese-Korean fare 
Address + Neighborhood: 551 N Fort Lauderdale Beach Blvd, Fort Lauderdale, FL 33304 – Central Beach
Waterfront Type: Beachfront
Good For: Trendy Date Night with a Friend or Partner
Highlights:
If you are looking for a restaurant where you can enjoy delicious Japanese-Korean fare and breathtaking ocean views, there's no better place than Takato. Tucked inside the oceanfront Conrad Hotel, one of the best hotels in Fort Lauderdale, guests can enjoy an indoor, outdoor, or open-bar dining experience with direct views of the sparkling sea. Helmed by executive Chef Taek Lee, the former executive sushi chef at Zuma in Miami, the unique menu features a wide array of small shareable plates and entrees with a focus on sushi and local ingredients. Previous diners have raved about the crispy tuna with spicy aioli, duck bao buns, short rib kimchi tacos, and lobster with Yuzu shisho butter. 
Thirsty? The handcrafted cocktails at Takato are on par with the food. Guests can enjoy a wide array of handcrafted cocktails against a light, lush, and breezy backdrop. Our go-to cocktail is the Japanese Hugo, which features St. Germain, sake, Shisho, and Prosecco. As the definition of "Takato" suggests, a meal at this oceanfront oasis is sure to leave you in a state of extreme happiness.
8. Serafina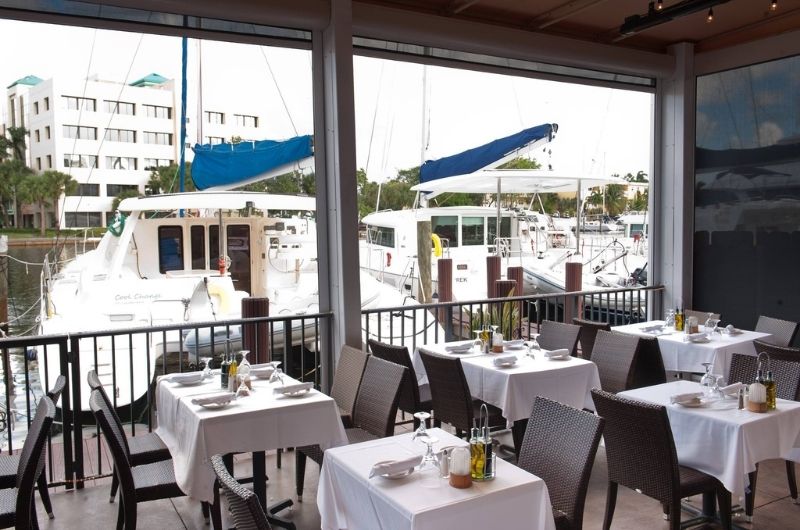 Cuisine: Polished Italian Cuisine
Address + Neighborhood: 926 NE 20th Ave, Fort Lauderdale, FL 33304 – Lake Ridge
Waterfront Type: Intracoastal, views overlooking Middle River
Good For: Intimate Date Night
Highlights:
Nestled in Victoria Park, just outside of Wilton Manors, lies Serafina. Just the name alone garners curiosity and intrigue, and Serafina lives up to the anticipation. Guests will immediately be welcomed by the warm and charming Tuscan-styled dining room decorated with photos of Italy. With attentive Italian-speaking staff and romantic music playing in the background, dinner at this candlelit trattoria will transport you straight to the old country itself. To top that off, the intimate outdoor patio looks directly out onto the Middle River. 
Delectably prepared dishes such as braised short ribs, roasted lamb, and rigatoni Bolognese are guaranteed to impress even the most critical diners. A wide selection of Italian and Mediterranean appetizers are also on offer, and perfect for sharing with a date. To pair with your dinner? Serafina has an extensive wine list with affordable options for those on a budget.
9. Kousine Peruvian Kitchen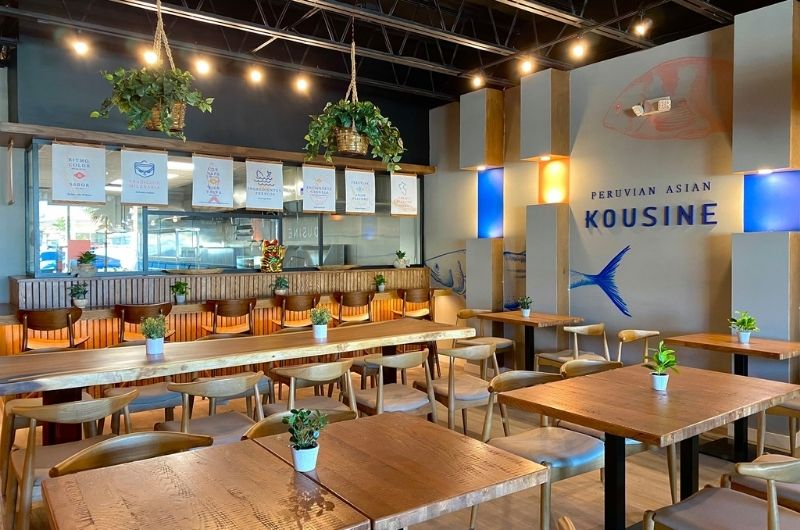 Cuisine: Modern Peruvian-Asian food
Address + Neighborhood: 841 N Fort Lauderdale Beach Blvd, Fort Lauderdale, FL 33304 – Central Beach
Waterfront Type: Beachfront 
Good For: Laidback Lunch or Dinner to Break Up the Beach Day

Highlights:

After twenty years in the culinary industry, Chef Danny Kou has finally graced Fort Lauderdale with his culinary genius. Born and raised in Lima, Peru, Chef Kou has poured his heart and soul into creating a masterful, one-of-a-kind menu that reflects his Asian heritage and Peruvian upbringing. At Kousine Puervian Kitchen, guests can enjoy a wide array of Peruvian-Asian dishes including ceviche, tiraditos, and fresh seafood while looking out at magnificent ocean views. While Chef Kou never disappoints, some of the standout dishes at Kousine include the Peruvian-style BBQ pork fried rice and the Wonton Soup. Situated just across the street from Fort Lauderdale Beach, this laidback dining spot is a great place to swing by for a late lunch or an early dinner.
10. Burlock Coast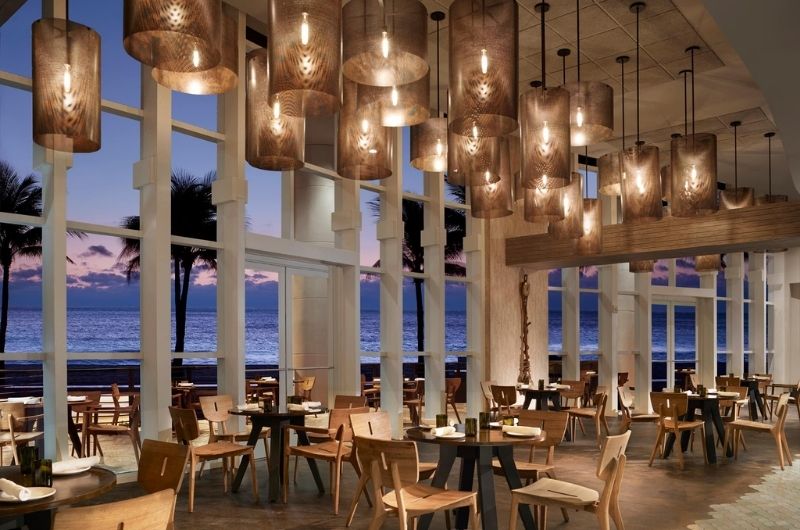 Cuisine: Modern Coastal Fare 
Address + Neighborhood: 1 N Fort Lauderdale Beach Blvd, Fort Lauderdale, FL 33304 – Central Beach
Waterfront Type: Beachfront
Good For: A Novel Lunch Experience with Friends

Highlights:
Tucked away inside one of the best beach hotels in Fort Lauderdale, Burlock Coast manages to be a cafe, bar, market, and trendy restaurant all in one. Only minutes away from Sebastian Street Beach, this Ritz Carlton-based restaurant's rustic yet chic dining room boasts beautiful ocean views. Guests can also enjoy the stunning scenery from the outdoor deck, which happens to double as a prime spot for people-watching.
For all you history enthusiasts, this prohibition-era-inspired restaurant is named after Bill McCoy, a rum-runner during Prohibition times, who hid his rum bottles in a package of sewn burlap. These easily-stackable parcels soon became known as burlocks. Today, guests can enjoy rum-based cocktails alongside innovative dishes that highlight local ingredients. While the menu changes seasonally, the menu always tends to feature modern international fare such as pulled pork or fish and chips. Guests will also always be able to enjoy fresh seafood and seasonal vegetables. If you are just stopping by for a quick pick-me-up, the marketplace and cafe host vendors who sell artisanal items such as homemade bread and ground coffee.
11. Aruba Beach Cafe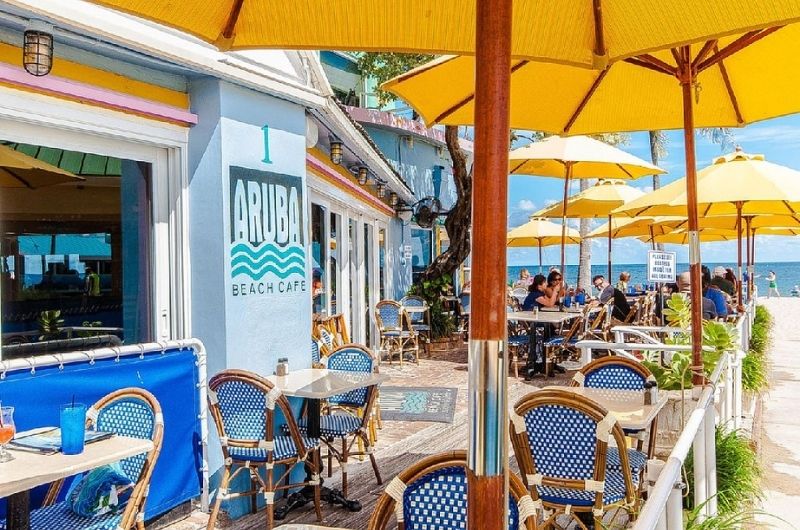 Cuisine: Caribbean-style seafood 
Address + Neighborhood: 1 Commercial Blvd, Lauderdale-By-The-Sea, FL 33308 – Lauderdale-By-The-Sea 
Waterfront Type: Beachfront
Good For: Casual Dinner with a Big Group
Highlights:
If you are looking for a restaurant where you can dine directly on the beach, Aruba Beach Cafe is the place for you. At this classic Florida eatery, guests can choose between dining indoors, with floor-to-ceiling windows overlooking the beach, or eating outside, where some of the tables are touching the sand. While we've always viewed the food as a bit mediocre, Aruba Beach Cafe has established a great reputation for itself over the years. 
Guests can start their meal with the famous Bimini bread with Aruba glazed, served with whipped honey butter, before moving on to a wide range of Caribbean-style appetizers and entrees. Big groups can share heaping platters of conch fritters, Jamaican jerk wings, bacon-wrapped scallops, PEI mussels in white wine sauce, or pizza. The menu also includes surf and turf specialties like the Aruba burger and mahi-mahi sandwiches. Two on-site bars offer a wide selection of cocktails, and there's also an extensive wine list to help wash down your meal. Aruba Cafe is not only the perfect spot to enjoy a casual meal after a long day at the beach, but a great place to enjoy jazz music on Sundays.
12. Blue Moon Fish Co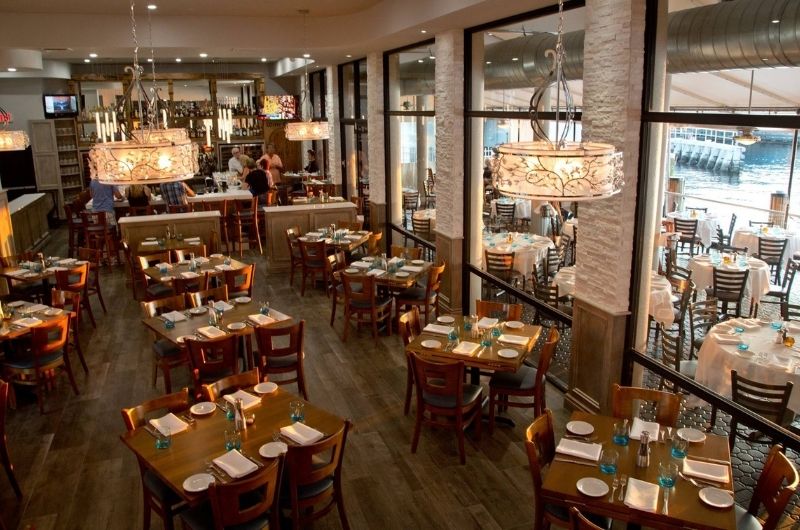 Cuisine: Seafood with a Cajun-Louisiana Flair
Address + Neighborhood: 4405 W Tradewinds Ave, Lauderdale-By-The-Sea, FL 33308 – Lauderdale-By-The-Sea
Waterfront Type: Intracoastal 
Good For: Indulgent Brunch with Friends

Highlights:
When it comes to Fort Lauderdale dining experiences, it doesn't get much better than Blue Moon Fish Co. The popular waterside restaurant boasts a festive environment and panoramic views of the Intracoastal Waterway. Guests can catch glimpses of multi-million dollar yachts and paddleboards floating by from the Art Deco dining room or the breezy outdoor deck. As for the food, it is guaranteed to impress even your pickiest house guest. The menu features Floridian flavors with Louisiana, Cajun infusion. Guests can savor dishes such as baked prosciutto brie, shiitake mushroom crusted halibut, grilled salmon and crab-stuffed portobello, or lump crab and corn roasted grouper. 
While every meal at this two-decade-old institution is divine, brunch is where Blue Moon Fish Co. truly shines. For roughly $60 per person, guests can indulge in unlimited food and bottomless mimosas, bloody Marys, and champagne. Brunch also includes an omelet stand, a carving station, a salad and raw bar, and a dessert table. As if it couldn't get any better, Blue Moon Fish Co. also hosts an excellent happy hour with discounted appetizers, oyster specials, and drink deals.
Conclusion
There are a lot of great places to eat in Fort Lauderdale, both for tourists and locals. Whether you're in the mood for seafood, Italian, or something in between, you're sure to find a restaurant on this list that caters to your tastes (though making an advance reservation is recommended during high season). As a special treat for your visit, consider picking up an enamel pin or challenge coins as a souvenir from one of these restaurants. Whether for a gift or for yourself, these unique items offer a great way to remember your trip and the delicious meals you enjoyed while in Fort Lauderdale.
Frequently Asked Questions 
What are the best restaurants on the water in Fort Lauderdale? 
Fort Lauderdale's finest waterfront dining options include 15th Street Fisheries, a seafood establishment boasting incredible Intracoastal Waterway views, and Boatyard, a lively riverside eatery with a full-service bar and live entertainment. 15th Street Fisheries presents a range of seafood options, from char grilled mahi-mahi to oysters Rockefeller, all enjoyed on a picturesque outdoor patio. Boatyard, perfect for both lunch and dinner, offers alfresco seating and an atmosphere enhanced by live music. Its menu includes contemporary takes on classic American fare, accompanied by an impressive wine list.
What is the best restaurant in Fort Lauderdale for a romantic dinner? 
For a romantic dinner in Fort Lauderdale, consider 3030 Ocean. Situated within the Harbor Beach Marriott, this restaurant presents a distinct dining experience, featuring contemporary American cuisine and awe-inspiring views of the Atlantic Ocean. Its menu encompasses a variety of seafood dishes, imaginative cocktails, and an extensive wine selection. The intimate, romantic ambiance is characterized by dim lighting and snug booths. Additionally, the oceanfront patio creates an idyllic setting for a romantic meal.
Are there any Fort Lauderdale restaurants located on a beach? 
Indeed, Fort Lauderdale boasts numerous beachside dining venues. One standout option is Coconuts, situated on Fort Lauderdale Beach. This casual eatery offers a menu of classic American favorites, including burgers, sandwiches, and salads. Additionally, Coconuts features a full bar stocked with specialty cocktails and an array of beers and wines. The outdoor seating area provides patrons with striking beach vistas.
What is the best restaurant for seafood in Fort Lauderdale? 
Fort Lauderdale's top seafood destination is 15th Street Fisheries, located along the scenic Intracoastal Waterway. The establishment provides both stunning water views and an assortment of seafood dishes. The menu highlights fresh seafood selections, such as grilled mahi-mahi and oysters Rockefeller, alongside classic American options. The outdoor patio offers an ideal spot for savoring a meal while enjoying the picturesque surroundings.
Are there any restaurants in Fort Lauderdale with live music? 
Certainly, numerous Fort Lauderdale restaurants feature live music. Boatyard is an excellent choice for lunch or dinner, with its outdoor seating and vibrant atmosphere enhanced by live performances. The menu showcases modern interpretations of traditional American cuisine and a comprehensive wine list. The lively music contributes to the ambiance, making Boatyard a prime location for an entertaining night out.