When it comes to places to eat in Fort Lauderdale, this coastal city has got you covered. Whether you are dining at a romantic restaurant by the water, or a buzzy happy hour spot on Las Olas Boulevard, eating delicious and delectable dishes is one of the best things to do in Fort Lauderdale. If you are looking for the perfect upscale dining spot, Fort Lauderdale also has plenty of fancy restaurants to choose from. Here are our favorite posh places to celebrate a special occasion. 
1. Blue Moon Fish Co.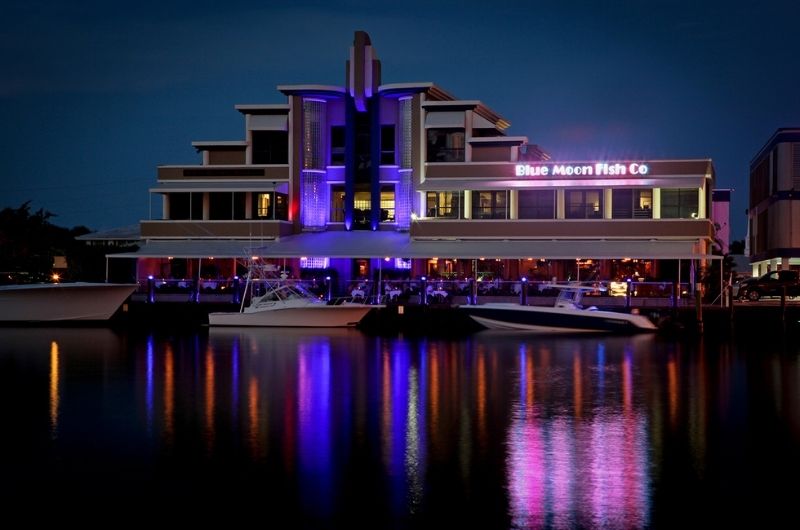 Cuisine: Seafood with a Cajun-Louisiana Flair
Address: 4405 W Tradewinds Ave, Lauderdale-By-The-Sea, FL 33308
Good For: An Indulgent Brunch, Dinner, or anything in-between
Highlights:
With front row seats of the Intracoastal Waterway and sweeping ocean views, Blue Moon Fish Co. strives to deliver excellence in each aspect of their culinary experience (and trust us, they do). This restaurant by the water has received various awards for culinary excellence and has also been named the "Best Waterfront Dining in Fort Lauderdale" by Zagat and OpenTable, for good reason. Their elaborate menu features unique seafood dishes with Cajun flavors. Guests can indulge in diver sea scallops with gold beets and lentils, Linguini with shrimp, clams, and mussels in a chili sauce, Blue Crab and corn roasted grouper with wild mushrooms, and more. To pair with your meal, Blue Moon Fish Co. has a wide selection of wine, beer, and cocktails. Ordering the key lime pie, topped with toasted coconut meringue, for dessert is a must.

While this two-decade-old institution is a great option for dinner or happy hour, its decadent brunch is what it's known for. Pampered guests can enjoy unlimited food and bottomless mimosas for approximately $70 per person. With an omelet stand, carving station, raw bar, and a dessert table piled high with cupcakes, ice cream, and creme brûlée, you'll be hard-pressed to find a better brunch spot in the city. If you are looking to wow a significant other or a visiting house guest, you can't go wrong with Blue Moon Co. It's by far one of the best restaurants in Fort Lauderdale.
2. Boatyard
Cuisine: State-of-the-Art Coastal Food
Address: 1555 SE 17th St, Fort Lauderdale, FL 33316
Good For: A Fancy Meal with Family or Friends by the Sea
Highlights:
For the ultimate waterfront experience, book a reservation at Boatyard, one of Fort Lauderdale's premier waterfront dining destinations. Surrounded by panoramic views of the ocean and marina, Boatyard strikes the perfect balance between upscale and laidback. While the menu might be on the pricier side, you are certainly getting what you pay for. With fantastic music, food, and atmosphere, this restaurant by the water has the whole package. It's the perfect place to relax with a glass of wine in hand and watch the boats go by.
The seafood-centric menu boasts dishes such as ceviche, glazed salmon, yellowfin tuna, and grouper piccata. Our all-time favorite dish is the Florida Paella, piled high with shrimp, clams, mussels, calamari, local fish, saffron rice, and house-made chorizo. Whether you are feeling in the mood for wine, cocktails, or mocktails, Boatyard has a diverse range of drink options to choose from. If you still have room for dessert, you can't go wrong with the warm apple crisp.
Every inch of the restaurant exudes nautical chic, and guests are welcome to dine inside, outside, or dockside. Patrons are even able to bring their furry friends along for the meal. Customers are also welcome to arrive by boat or car and provided with parking options for both types of transport.
3. Dune
Cuisine: Coastal Cuisine with Asian and Italian Influences
Address: 2200 N Ocean Blvd, Fort Lauderdale, FL 33305
Good For: Celebratory Occasion for Two
Highlights:
Helmed by Michelin-star chef Laurent Tourondel, a dinner at Dune is an elevated dining experience unlike any other in Fort Lauderdale. Located inside the Auberge Beach Residences and Spa, this signature restaurant boasts three bright and airy dining spaces, each of which with sweeping views of the shore.
When it comes to the menu, there truly is something for everyone. This oceanfront restaurant serves up dishes made with fresh, sustainable ingredients, accentuated with international influences. Guests can start with appetizers such as the Ahi Tuna Carpaccio and the Crispy Parmesan Soufflé and follow that with an entree of either seafood or steak. Standout dishes include the roasted Atlantic octopus and the seared diver scallops. If you are in the mood for traditional Japanese cuisine, Dune also features a wide array of nigiri, sushi, and specialty rolls for diners to sample. As you sip on a glass of wine or a cocktail, make sure to wander outside and watch the gentle waves crashing against the rocks.
4. Steak 954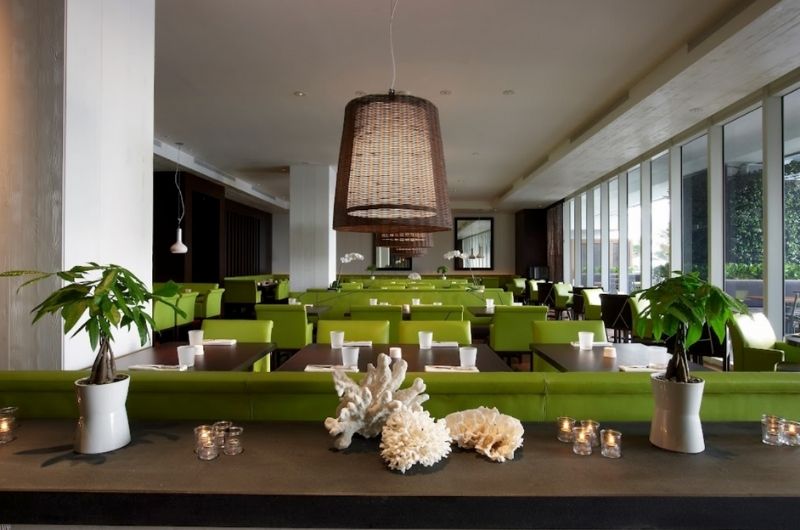 Cuisine: High-End Steakhouse
Address: 401 N Fort Lauderdale Beach Blvd, Fort Lauderdale, FL 33304
Good For: Unforgettable Evening on the Beach
Highlights:
An unparalleled ocean setting and world-class cuisine are on the menu at Steak 954. Tucked away inside one of the best beach hotels in Fort Lauderdale, Steak 954 is one of the most renowned steakhouses in the city. While dining on pristine steaks and seafood, guests can take in views of one of the best beaches in Fort Lauderdale on the sprawling outdoor patio or through the floor-to-ceiling windows indoors.
The menu at this W Hotel restaurant is filled with upscale classics such as hand-cut beef tartare, dry-aged steaks, Kobe strip steaks, along with a range of seafood entrees, such as Red Snapper with ricotta dumplings and twin lobster tails. Alongside your beef from hand-picked ranches, guests can savor divine wines and spirits from around the world. To complete your meal, order the pumpkin soufflé or the Heirloom Apple Bread Pudding for dessert. If you are looking for a brunch spot on the weekend, Steak 954 has all the dishes you are looking for including specialty omelets, Benedicts, pancakes, and of course, an ultra-decadent steak and eggs.
5. 3030 Ocean Restaurant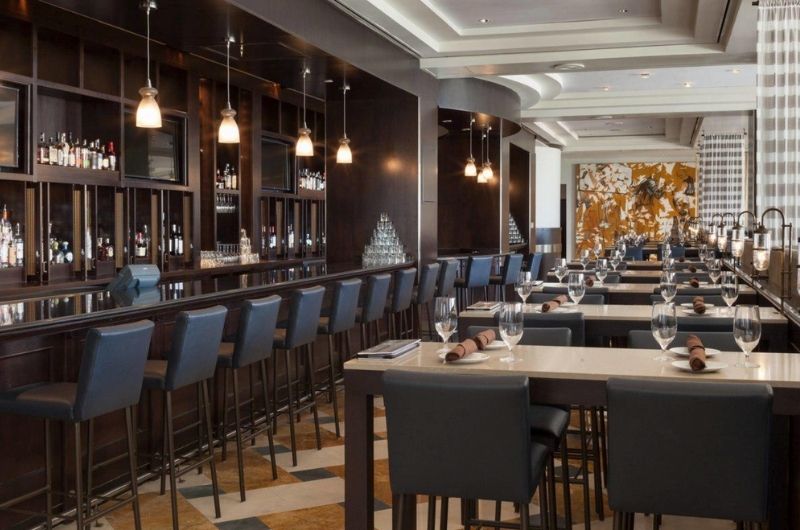 Cuisine: Stylish American Cuisine
Address: 3030 Holiday Dr, Fort Lauderdale, FL 33316
Good For: A Romantic Evening
Highlights:
3030 Ocean Restaurant opened its doors for the first time in 2015 and has been wowing South Florida locals and tourists ever since. Tucked inside the Fort Lauderdale Marriott Harbor Beach Resort & Spa, one of the best hotels in Fort Lauderdale, this chic dinner bistro is an ideal place to enjoy an intimate, candlelit dinner by the beach.
This oceanfront restaurant features creative culinary innovations brought to you by Food Network's "Chopped" victor Adrienna Grenier. Chef Grenier, who also happens to be a South Florida native, designed her menu to reflect the savory flavors of the ocean. With a wide array of small and large plates, such as house-smoked fish dip, crab cakes, and grilled octopus, this place is perfectly catered towards a romantic dinner for two. As a Wine Spectator Award Recipient, 3030 Ocean Restaurant is known for its exquisite wine list, but also includes a handful of cocktails on its menu. If you truly want to make this a night to remember, opt for the chef's five-course tasting menu or the decadent wine pairing. Keep in mind, the dress code at this restaurant is smart casual.
6. Kaluz Restaurant
Cuisine: Modern American Fare
Address: 3300 E Commercial Blvd, Fort Lauderdale, FL 33308
Good For: Entertaining Friends
Highlights:
Stationed right on the Intracoastal, Kaluz Restaurant is one of the most talked about restaurants in Fort Lauderdale. Whether you are looking to entertain friends or searching for the perfect date night, Kaluz Restaurant never disappoints. Guests have the choice between dining in the elegant indoor dining room or on the slightly more casual outdoor patio, which boasts stunning marina views. One unique aspect of dining indoors? Guests can watch as their meal gets prepared from Kaluz's display kitchen, which is equipped with a wood-burning grill.
While it may be known for its delicious seafood and steaks, Kaluz Restaurant features an extensive menu with appetizers, salads, sandwiches, flatbreads, and more. If you have a favorite dish, there's a good chance that you can find it, or something similar, at this local favorite. One of Kaluz's standout features is its lengthy wine list, which includes 130 options to choose between including sparkling Champagne, aromatic whites, and bold reds. If you aren't in the mood for wine, this restaurant by the water also has beers and signature cocktails on the menu.
7. Mastro's Ocean Club
Cuisine: High-End Seafood and Steak
Address: 3000 NE 32nd Ave, Fort Lauderdale, FL 33308
Good For: An Indulgent and Special Occasion
Highlights:
Who says you can't have it all? If you are searching for the epitome of refinement, Mastro's Ocean Club is the perfect place to enjoy culinary adventure and excellence. With locations across the country in cities such as Las Vegas and Malibu, this renowned restaurant is not only considered one of the best restaurants in Fort Lauderdale but is well known across the nation. Situated on Fort Lauderdale's Intracoastal Waterway, Mastro's Ocean Club ticks all the boxes when it comes to a fancy dinner. With world-class service, unparalleled cuisine, and live entertainment, a night at Mastro's Ocean Club is an elegant yet energetic night to remember.
The exquisite menu features 16 different steaks and chops, as well as an array of fresh seafood and sushi selections. Other standout dishes include the lobster mashed potatoes, two-foot seafood tower, and the butter cake for dessert. Handcrafted cocktails and an array of wines are also on the menu. As if that wasn't enough, Mastro's also has a decadent weekend brunch with dishes such as Maine lobster eggs Benedict and a New York strip and eggs. Take note: Mastro's enforces a strict upscale dress code. The restaurant does not allow guests to wear beachwear, gym attire, sweatshirts, or other types of athletic apparel and excessively revealing clothing.
8. Wild Sea Las Olas
Cuisine: Modern American Fare with Southern Flair
Address: 620 E Las Olas Blvd, Fort Lauderdale, FL 33301
Good For: Fancy Yet Budget-Friendly Dinner
Highlights:
Overlooking Fort Lauderdale's lively Las Olas Boulevard, a dinner at Wild Sea Las Olas is the best place to begin your night out on the town. Tucked away inside the historic Riverside Hotel, This swanky, high-end seafood spot boasts a chic and contemporary setting. Its indoor dining space features trendy furniture and elaborate design touches, while its sidewalk terrace is an ideal location for people-watching. For special occasions, Wild Sea Las Olas also offers private dining spaces.
Guests can enjoy breakfast, lunch, brunch, or dinner at Wild Sea Las Olas. Its dinner offerings provide patrons with the ultimate seafood experience, with dishes such as seared Ahi Tuna, New England Day Boat Scallops, and Cioppino. Wash it all down with a handcrafted cocktail, a glass of wine, cognac, or scotch. An added plus? Guests can enjoy some of the best prices in town at this affordable restaurant, with breakfast entrees starting at $7.
9. Canyon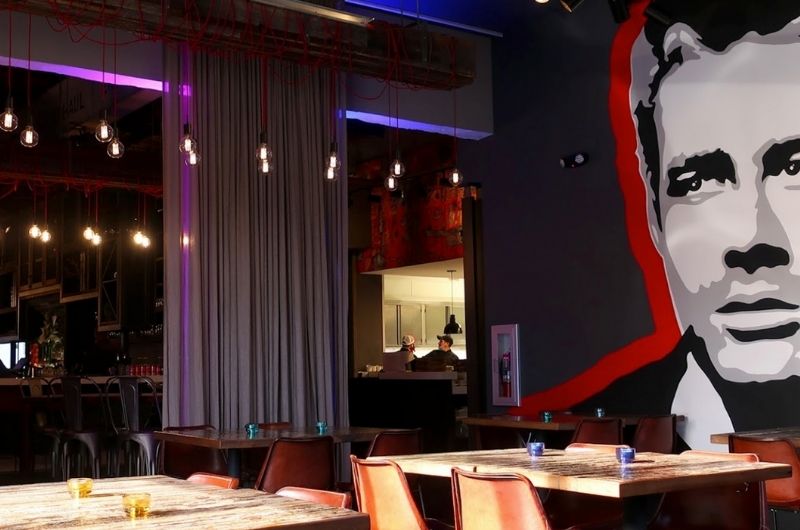 Cuisine: American Artisanal Cuisine with Asia, South, and Central American influences
Address: 620 S Federal Hwy, Fort Lauderdale, FL 33301
Good For: Fancy Night Out with Fellow Foodies
Highlights:
Sandwiched between Laudergate Isles and Sunrise key is one of Fort Lauderdale's favorite restaurants for over 25 years: Canyon. At this posh eatery, adventurous eaters can indulge in carefully prepared American artisanal cuisine with Asia, South, and Central American influences. Some standout dishes include the smoked salmon tostada, the shrimp and grits, and the brie & wild mushroom quesadilla. The dishes are all prepared as big or small plates, making this the perfect fancy night out for friends. Additionally, the menu items range in taste and price, meaning there's something for every type of diner.
Even though this Fort Lauderdale establishment has been around since 1995, Executive Chef Chris Wilber is constantly coming up with new innovative dishes to add to the menu. For the complete Canyon experience, guests must save room for this intimate restaurant's signature Chocolate Bread Pudding. While Canyon boasts a full bar, at least one person in your party must try the restaurant's signature Prickly Pear Margarita.
10. Seasons 52
Cuisine: Fresh American Cuisine
Address: 2428 E Sunrise Blvd, Fort Lauderdale, FL 33304
Good For: Hosting an Affordable Yet Nice Dinner Out
Highlights:
Joining the ranks of fancy yet affordable restaurants in Fort Lauderdale is Season 52. This national chain has an extensive menu that changes with the season, as well as 52 types of wine that are offered by the glass. With dozens of restaurants scattered across the country, Season 52 is known for offering up healthy, flavorful, and non-fried menu options that are either grilled or roasted.
Guests can enjoy light dishes such as Wild Alaskan Salmon and sweet corn in the warmer months and comforting entrees such as Stone Crabs and California Golden Beets in the slightly cooler winter months. All year round, patrons can savor a wide array of budget-friendly flatbreads, soups and salads, and entrees. Whether you are taking a co-worker out to dinner or have family in town for a visit, every diner will find something to their liking on the Season 52 menu.