14 Best Shopping Spots in Fort Lauderdale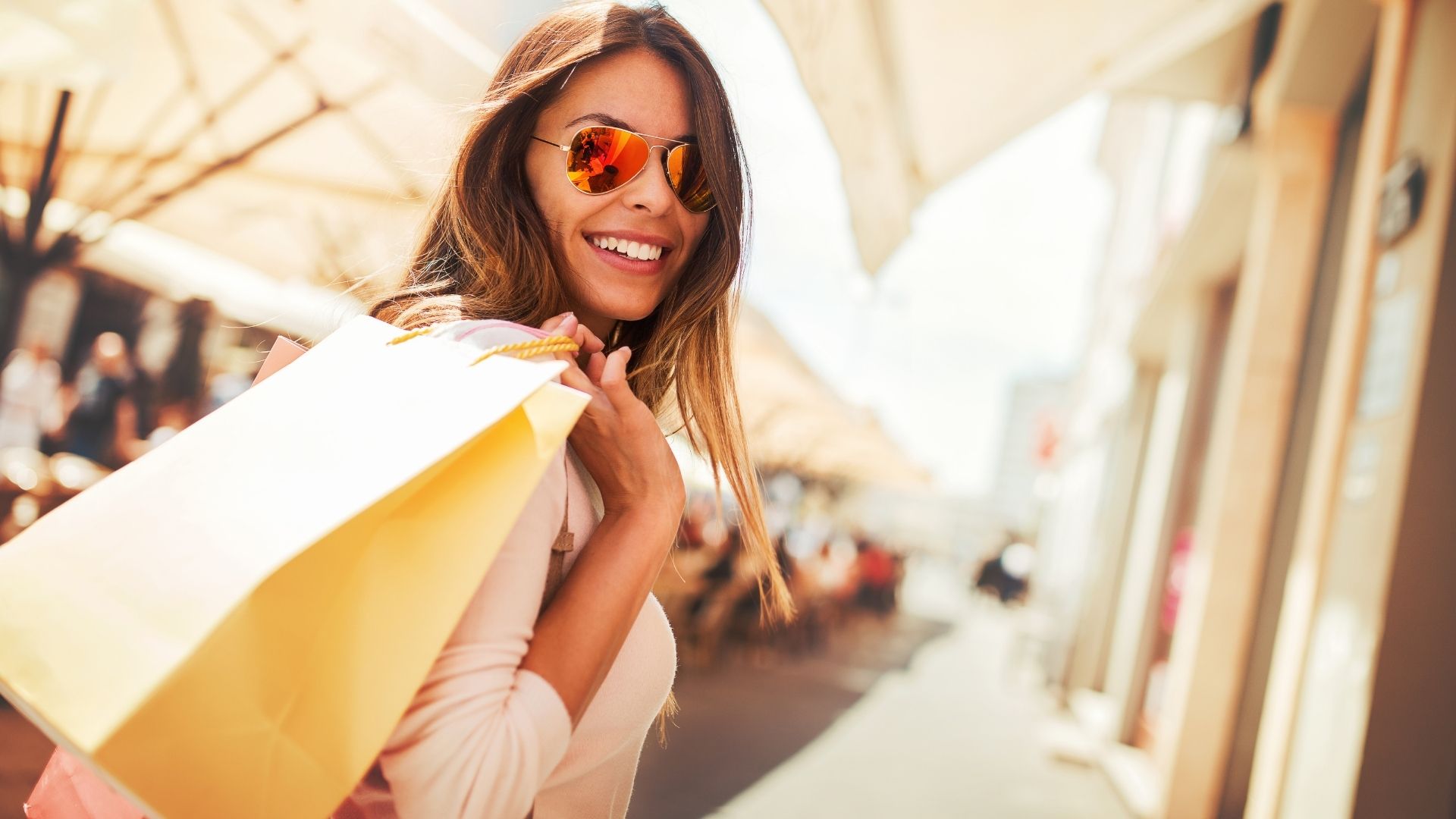 If you planned on doing some shopping on your vacation in Fort Lauderdale, you're in luck! Whether you are looking to explore a vast mall packed with recognizable brands or Las Olas Boulevard, a street lined with boutiques, Fort Lauderdale's shops and stores cater to just about every style, budget, age, and interest. To make things even better, many of the city's hotels offer transportation to major shopping centers for car-less tourists. In this comprehensive round-up, we've compiled a list of shopping malls, outlet stores, boutiques, and gift stores for every type of traveler. Happy shopping!
Best Shopping Malls in Fort Lauderdale
1. The Galleria at Fort Lauderdale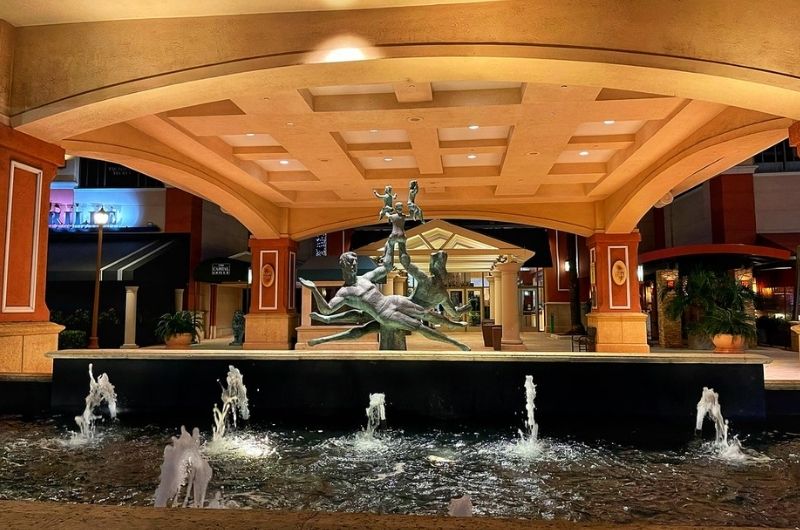 Neighborhood: Sunrise Intracoastal
Best For: Luxury shopping for all ages
Google Map: Link
Description:
A truly world-class shopping experience, The Galleria at Fort Lauderdale has set a high bar for both locals and tourists alike. Close to the beach on Sunrise Boulevard, this deluxe shopping center is one of the most popular malls in Fort Lauderdale, and for good reason. Anchored by Macy's and Dillard's, The Galleria boasts over 100 stores that are scattered across two stories. Some of the most popular and famous retailers include Free People, Apple, Williams-Sonoma, Pandora, Neiman Marcus, Motorcoach, and Michael Kors. This inviting high-end mall even offers valet parking, and if that doesn't scream upscale, we don't know what does. 
For those in need of a breather or a bite to eat, shoppers can also grab lunch at nearby restaurants such as P.F. Chang's, Blue Martini, and Truluck's. If you want to travel to the Galleria in style, you can also access the mall by taking the Fort Lauderdale Water Taxi.
2. River Market Mall
Neighborhood: Bal Harbour
Best For: Premier Outdoor Shopping Experience
Google Map: Link
Description: 
For mall-goers looking for both a breath of fresh air and a fantastic shopping experience, head on over to River Market Mall. Located in Bal Harbour, this premier mall includes a wonderfully curated mix of both local retailers, as well as regional and national brands including Dick's Sporting Goods, Whole Foods, Pottery Barn, and Lululemon Athletica. This premier shopping destination is also home to salons, signature restaurants, bakeries, and specialty niche stores, including "Blick Art Materials" and "Leslie's Swimming Pool Supply." While River Market is already located outdoors, there is also plenty of green space for shoppers to take advantage of.
Best Outlet Stores in Fort Lauderdale
3. Sawgrass Mills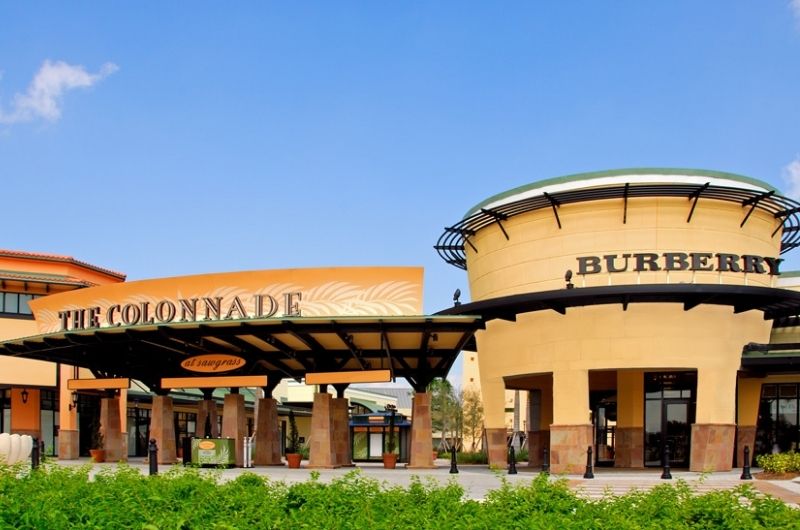 Neighborhood: Sunrise, FL
Best For: All Shoppers Looking for a Good Bargain
Google Map: Link
Description: 
Looking for a world-class shopping experience? Check out Sawgrass Mills, Florida's largest mall. Widely recognized as the most popular tourist destination in all of Florida after Disney World, Sawgrass Mills is the perfect place to indulge in a whole day of retail therapy. People flock to Fort Lauderdale from all over the country just for the chance to visit this renowned shopping destination. Located in the suburbs of Sunrise, this sprawling mall features over 350 stores including popular retailers such as Sacks Fifth Avenue, OFF 5th, TJ Maxx, Nordstrom Rack, and Last Call by Neiman Marcus. Higher-end, luxury brands include Kate Spade, Coach, Burberry, Steve Madden, and Brooks Brothers, to name a few. Value stores offer discounts of at least 70%, meaning that you'll be leaving this shopping excursion with bags full of unbeatable bargains and steal-worthy deals. For a peek at the whole jaw-dropping directory, check out the Sawgrass Mills official site. 
If you (and your wallet) need a break from shopping, this state-of-the-art mall boasts an 18-screen IMAX theater, a stocked food court, and 16 full-service restaurants. Looking to avoid the crowds? Try to visit this mall during the week, if you can. That being said, visitors should certainly not worry about parking — there are enough spots for all Sawgrass Mills shoppers to enjoy.
Best Fort Lauderdale Boutiques
4. Pride Factory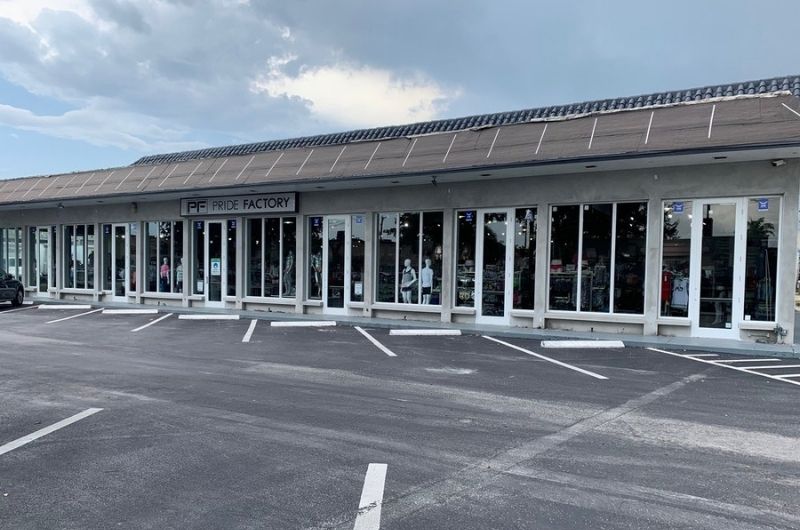 Neighborhood: Lake Ridge
Best For: Gay Male Shoppers and LGBTQ+ clientele 
Google Map: Link
Description: 
Ever since it first opened its doors in 1996, Pride Factory has been a staple store amongst the LGBTQ+ community in Fort Lauderdale. What started as a small corner shop has transformed into the largest LGBTQ+ store in the Southeast United States. The 8,000 square foot shop offers a hand-picked selection of men's clothing, gym wear, swimwear, and underwear, from brands such as Addicted, Andrew Christian, Aussiebum, CellBlockn 13, Jack Adams, Pistol Pete, Tulio, and more. 
Aside from clothing, Pride Factory also boasts accessories such as one-of-a-kind belts, canvas bags, military-style bags, G-Shock watches, and bracelets crafted by a local artist. If you are shopping for others, there is also a wide assortment of gift cards, adult novelty items, and pride items for sale. Please note that while Pride Factory is currently located in Lake Ridge, it will soon be moving to a new location in Wilton Manors.
5. Maus & Hoffman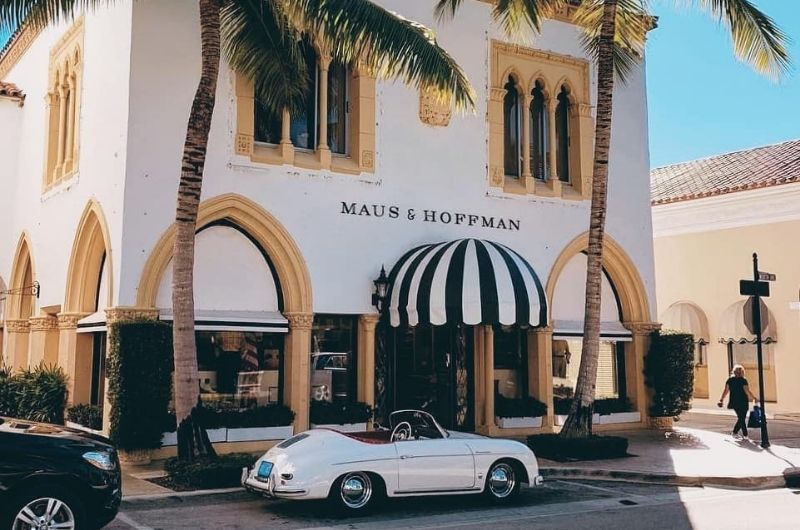 Neighborhood: Beverly Heights
Best For: Luxury Clothing for Men and Women
Google Map: Link
Description: 
Whether you are looking for pieces for a night out on the town or a day at the office, you will only find the best of the best at Maus & Hoffman. Conveniently located on the palm tree-lined Las Olas Boulevard, this upscale boutique has been a South Florida mainstay for years, thanks to William Maus and Frank Hoffman. 
Founded in the 1940s, this family-owned store offers the finest quality clothing for both men and women including lightweight wools, soft cotton, and elegant silks. If you are looking for unique items in small quantities, whether it's a sweater from Scotland or a shirt from Italy, Maus & Hoffman is the place for you.
6. State and Liberty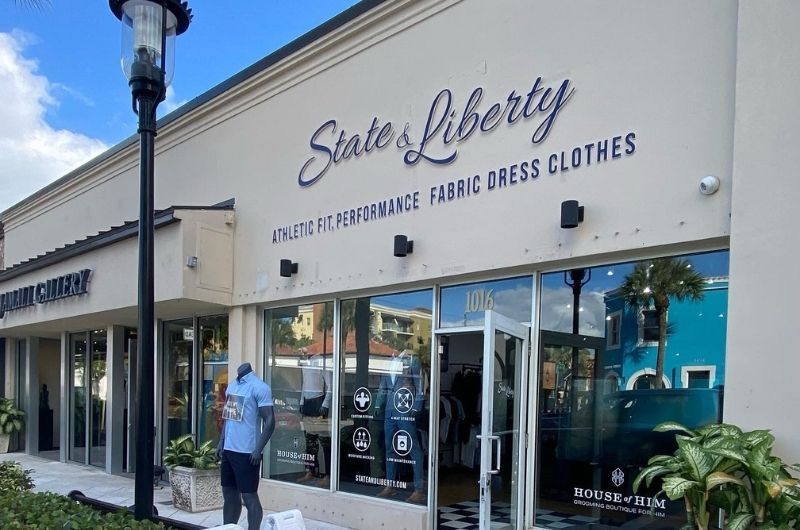 Neighborhood: Las Olas Boulevard
Best For: Males with Athletic Body Types
Google Map: Link
Description: 
For all you athletes who have been tailoring your shirts year after year, that all ends now. Say goodbye to ripped elbows and back seams because State and Liberty is about to make all of your dreams come true. Centrally located on Las Olas Boulevard, this men's boutique was founded with a mission to create clothing that caters to the v-shape body type. After years of researching athletic builds, State and Liberty have created a line of shirts that are classy but comfortable, as well as wrinkle-free and machine washable. 
While they are known for their state-of-the-art shirts, customers can also purchase a wide variety of everyday men's wear including stretch chinos and suits, polos, casual t-shirts, and blazers, along with male accessories, such as ties, cuff links, bags, and more.
7. Lilly Pulitzer Las Olas
Neighborhood: Las Olas Boulevard
Best For: Upscale, Preppy Clothing for Women and Girls
Google Map: Link
Description:
Joining the ranks of upscale boutiques on Las Olas Boulevard is Lilly Pulitzer. This national brand was founded over 60 years ago when Lilly Pulitzer, a Palm Beach hostess, and socialite, opened up a juice stand. After days of squeezing citrus fruits, Lilly realized that she needed a brightly colored dress that would disguise the stains on her clothing. Soon her daily uniform became even more popular than her delicious juices, and Lilly Pulitzer was born. 
Known for their cute and colorful designs and preppy Palm Beach-style, this national brand has a mission to make the world brighter one print at a time. While this preppy brand has a wide range of clothing catered towards women and young girls including dresses, skirts, swimwear, pajamas, and even matching mother-daughter sets.
8. Briny Boutique
Neighborhood: Victoria Park
Best For: Trendy but Affordable Pieces for Women
Google Map: Link
Description: 
Tucked away in the shopping center in Downtown Fort Lauderdale sits another women's fashion gem: Briny Boutique. Owned by Alexa Chaviano, this upbeat store opened its doors for the first time 7 years ago. To this day, Alexa's mission is to offer trendy and affordable pieces that reflect Fort Lauderdale's relaxed and fashion-forward style. Shoppers can expect to find chic, casual wear for women at this intimate store including maxi and midi-dresses, rompers, accessories, as well as essentials such as denim, tees, and loungewear. Not only will you love the clothes at Briny Boutique, but the customer service is also top-notch.
9. Robinson's Jewelers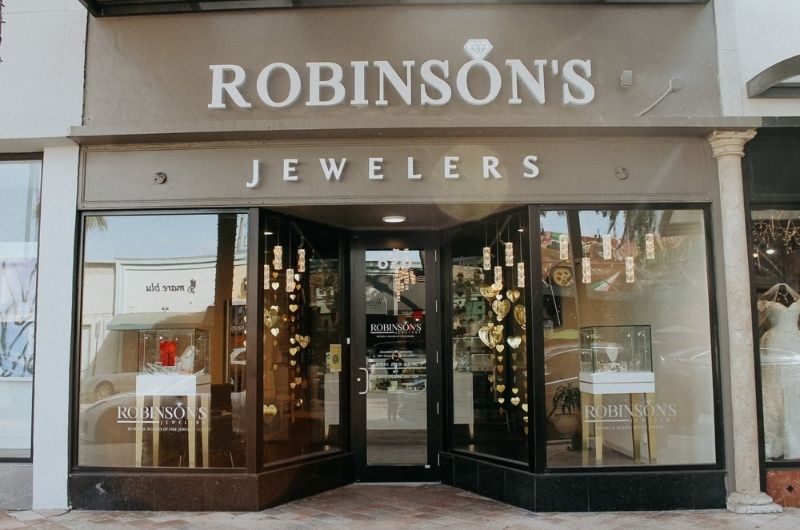 Neighborhood: Las Olas Boulevard
Best For: Luxury Jewelry (New and Vintage), Engagement Rings 
Google Map: Link
Description: 
Situated on the bustling Las Olas Boulevard, Robinson's Jewelers offers one of the finest collections of jewelry in Fort Lauderdale. This luxury boutique features diamond jewelry made in-house including tennis necklaces, bracelets, eternity bands, and diamond earrings, as well as designer collections such as Charles Krypell, Roberto Demeglio, Extensible, and Gumuchian. If you are looking for vintage designer jewelry or watches, Robinson's Jewelers has those, as well. Their pre-loved pieces come from brands such as Rolex, Cartier, Gucci, Tiffany, among others.
My partner and I worked together with the lovely owners of Robinson's on our custom engagement rings 🙂 If you are interested in custom designs, we highly recommend this spot!
Best Consignment & Thrift Stores
10. OddBalls Nifty Thrift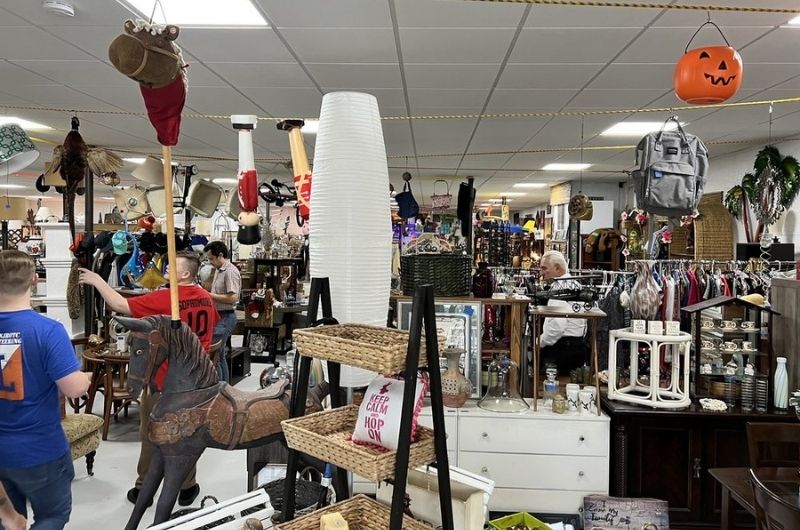 Neighborhood: Lake Ridge
Best For: Pre-loved knick-knacks, furniture, decorative pieces
Google Map: Link
Description:
For the chance at a world-class thrifting experience, don't miss the opportunity to stop by OddBalls Nifty Thrift. This well-known consignment store has topped the list of best thrift shops in Florida and the United States time and time again, and for good reason. Over 8,000 square feet large, this sprawling store has a whopping eight rooms filled with a vast collection from over fifty vendors. As the name suggests, customers can find all sorts of overlooked treasures at OddBalls, including trinkets, furniture, paintings, and decorative pieces. OddBalls also serves beverages, so customers can sip on a beer or a glass of wine while they indulge in hours of retail therapy.
11. Decades Design Group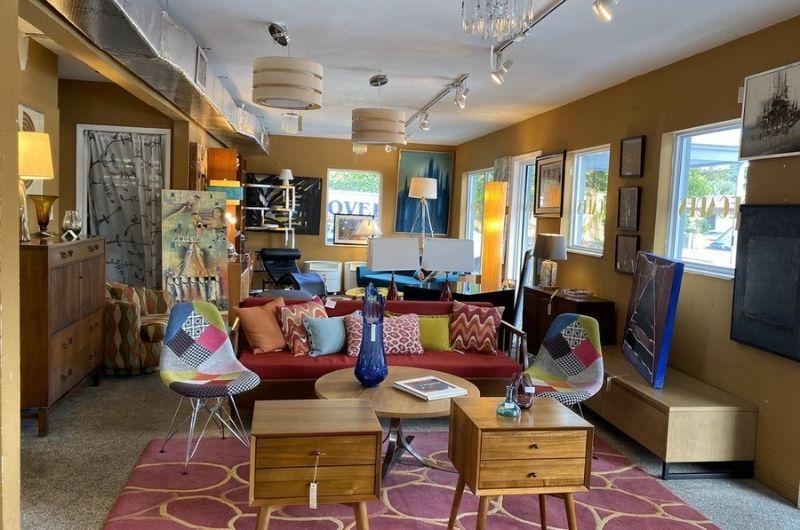 Neighborhood: Middle River Terrace
Best For: Midcentury Modern Furniture with Decorative Accents
Google Map: Link
Description: 
If you are looking for the perfect mid-century modern pieces to beautify your home, Decades Design Group is the store for you. This affordable consignment store features a wide range of comfy, stylish, and quality antique pieces with decorative accents, including rugs, lamps, bedroom sets, and furniture to bring a little more life to your home. There are two Decades Design Group stores in Fort Lauderdale, however, we prefer the one on 4th Ave (this one specializes in mid-century modern aesthetic whereas the other location is a bit more mixed).
12. Uptown Cheapskate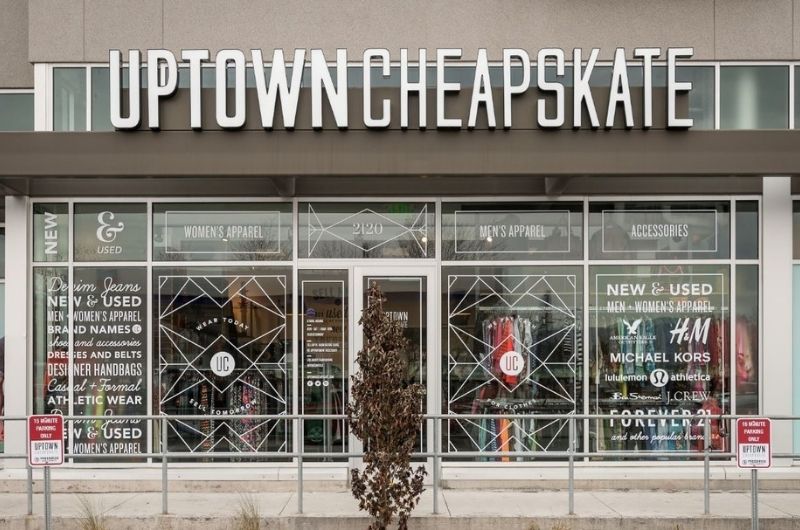 Neighborhood: Oakland Park
Best For: Young Adults Looking for Secondhand Apparel 
Google Map: Link
Description: 
For some steal-worthy deals on name brands, head on over to Uptown Cheapskate in Oakland Park. Perfect for young adults looking for second-hand apparel, this locally-owned thrift store is a buy, sell, and trade operation. Customers can scour the teeming racks and shelves and expect to find all types of clothing items from high-end brands such as Coach, Michael Kors, Express, Anthropologie, and Urban Outfitters. The best part? The price tags will reflect only a fraction of the original price. If you're lucky, your visit might just coincide with one of Uptown Cheapskate's many sales. 
On the other side of the business, this popular thrift store welcomes customers to bring in their gently used clothes, shoes, bags, and accessories for cash or 25% more in-store credit.
Best Gift Shops in Fort Lauderdale
13. Unique Treasures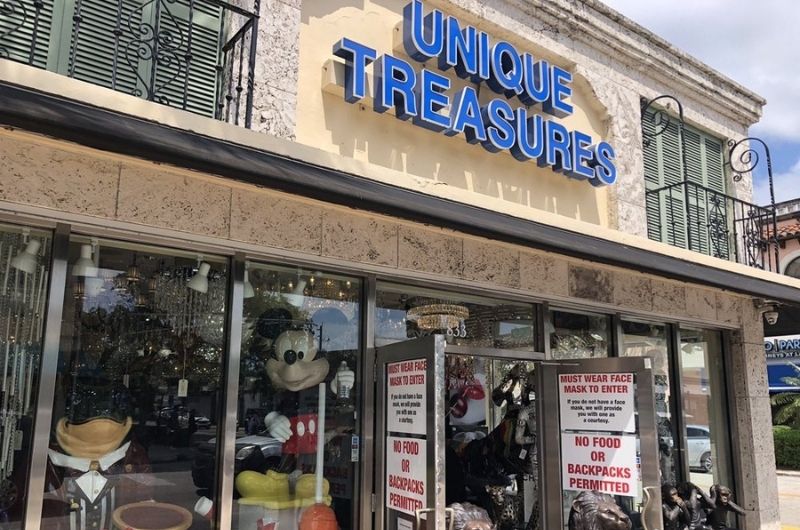 Neighborhood: Las Olas Boulevard
Best For: One-of-a-kind Art, Statues, and Other Treasures
Google Map: Link
Description: 
When it comes to gift shops in Fort Lauderdale, Unique Treasures is a great go-to. That being said, Unique Treasures is not your average gift shop filled with cheesy souvenirs, keychains, and t-shirts. When you step inside the doors, expect to find an eclectic collection of traditional home decor, funky pop art, precious stone carvings, and more. Conveniently located on Las Olas Boulevard, don't miss the chance to pop into this unique store and take a look around.
14. The Yellow Orchid Gifts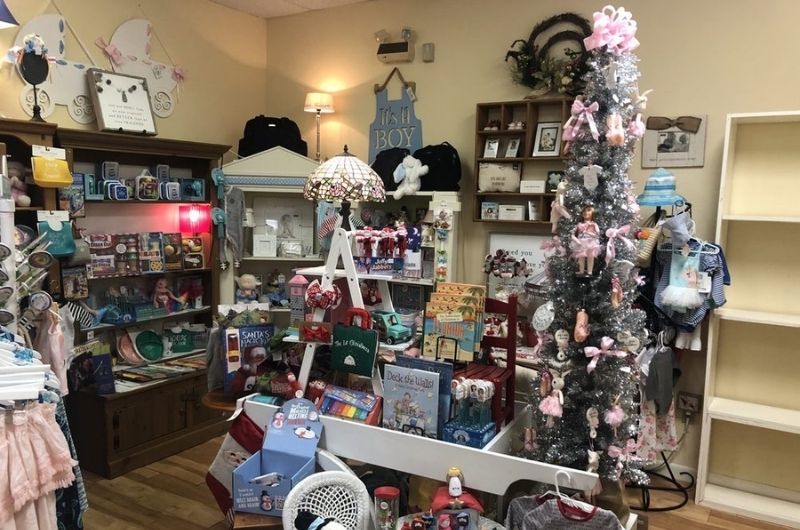 Neighborhood: Wilton Manors
Best For: Gifts for Every Type of Person in Your Life
Google Map: Link
Description: 
The beauty of Yellow Orchid Gifts? You will be able to find a personal gift for every type of person in your life, whether it's your significant other, mother, or nephew. This store is filled with all types of special gifts from embroidered bags and pillows, cute baby books and toys, fragrant candles, jewelry, picture frames, and more. There's even an entire bakery section with baking mixes, jams, jellies, hot sauces, and aioli. Tucked away in Wilton Manors, it'll be hard to leave this fantastic gift store empty-handed.