11 Best Coffee Shops in Fort Lauderdale in 2023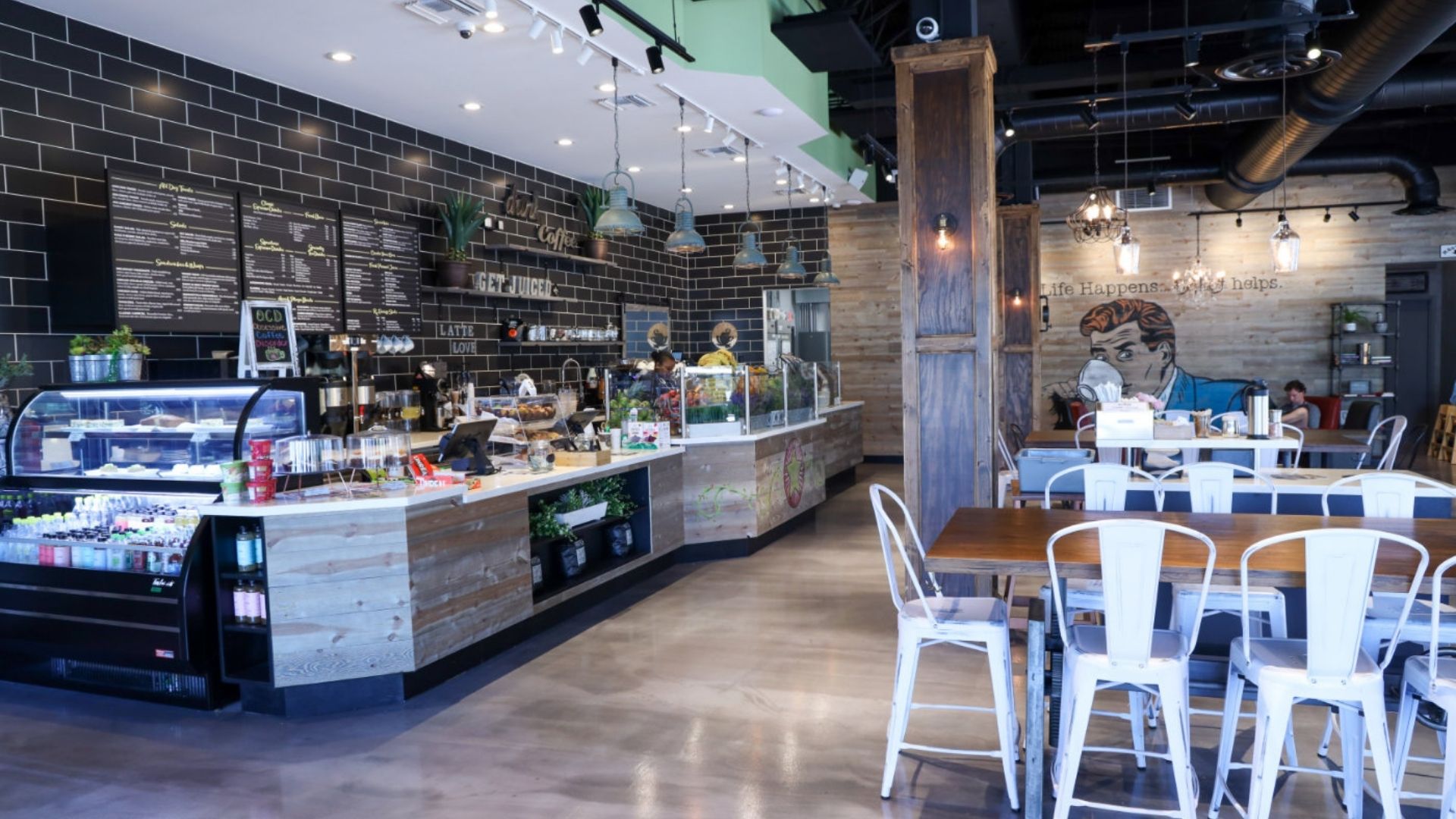 When it's time to rise and shine, nothing gets you out of bed in the morning quite like the comforting thought of hot coffee. Whether you are a Fort Lauderdale local or tourist, a cup of java is the secret ingredient to keeping you fully charged on a day in South Florida. From classic espresso drinks to refreshing ice coffee creations, Fort Lauderdale's coffee shops truly have it all. Here are our favorite spots in Fort Lauderdale to grab a warm or cold cup of Joe.
1. Maggie's Favorite Bakeshop
Neighborhood: Oakland Park
Address: 830 E Oakland Park Blvd Suite 101, Fort Lauderdale, FL 33334
Best For: Serene Ambiance, Friendly Staff, Killer Sweets
Description: 
Maggie's Favorite Bakeshop is the newest coffee shop on this list, officially open as of January 2023! The wonderful owner, named Maggie, previously ran a custom cake business out of her house, and finally decided to try out opening a physical location that would be part coffee-shop, part bakery, and part cake/pastry shop. And we are THRILLED about this decision, especially because we live right around the corner 🙂 
Maggie's Favorite Bakeshop occupies a location that once housed a microbrewery, so it is a large inviting space with plenty of seating, tasteful decor, and free wifi for those who want to enjoy coffee beverages while getting some work done. The menu offered fresh salads, sweet and savory crepes, tons of creative espresso/coffee beverages and classics, and (of course) delicious cakes by the slice. We love enjoying an espresso here in the early morning as the sun casts a beautiful hue over the gorgeous mural displayed prominently on the main wall in Maggie's coffee shop. When you go, tell her Mark and B sent you!
2. Stork's Bakery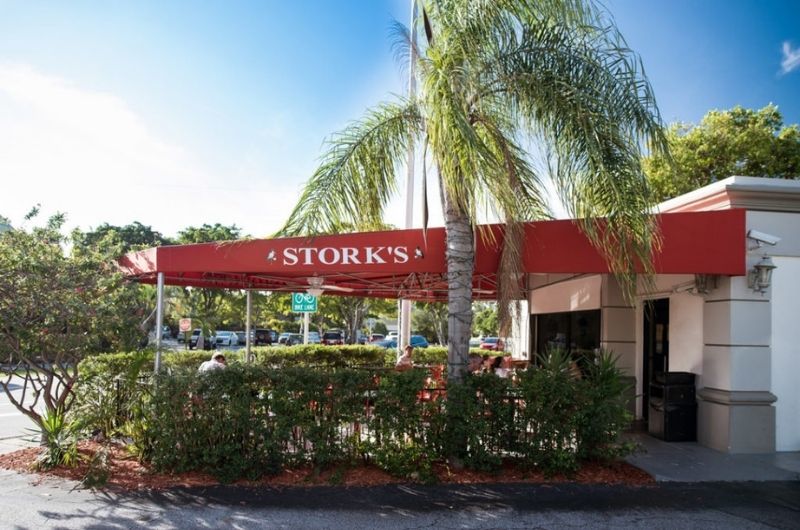 Neighborhood: Wilton's Manor
Address: 2505 NE 15th Ave, Wilton Manors, FL 33305
Best For: A Visit With Friends
Description: 
The minute you walk into Stork's Bakery, you won't want to leave. Nestled in Wilton's Manor, this cozy nook is an upscale coffee house, full bakery, and bistro cafe rolled into one. From cookies to croissants to slices of cake, Stork's Cafe has a wide variety of enticing homemade baked goods and gluten-free options to nibble on. This late-night cafe also serves up sandwiches and entrees. If you aren't sure what to order, the friendly and professional staff are happy to assist with recommendations. 
As for beverages? Stork's has it all. This Wilton's Manor favorite features seven types of freshly brewed coffee daily, as well as teas, smoothies, cappuccinos, and lattes. While the cafe boasts a relaxed environment, on nice days, customers love to sit outside and take in the warm breeze on the sprawling outdoor patio.
3. Brew Urban Cafe
Neighborhood: Sistrunk Park
Address: 537 NW 1st Ave, Fort Lauderdale, FL 33301 
Best For: A Destination Spot Coffee Shop To Spend Hours at
Description: 
Brew Urban Cafe remains a fan-favorite spot amongst the ever-growing coffee scene in Fort Lauderdale. Tucked away in the heart of FAT Village, Brew Urban is part of a collaboration called Next Door at C&I with a mission to bring the Fort Lauderdale community together through art, music, charity, and of course, coffee. Many of the expert baristas have been a part of Brew Urban since its inception and can prepare any type of caffeinated beverage from Chemex to Aeropress to V60 Pour Over. Brew Urban also doubles as a cocktail lounge and has a full liquor bar on Friday and Saturday nights. 
With its plush couches, floor-to-ceiling bookshelves, and garage doors, this unique coffeehouse exudes urban charm and an industrial yet homey ambiance. Named one the coolest places in Fort Lauderdale to sip on a latte, Brew Urban is a destination in and of itself.
4. Press and Grind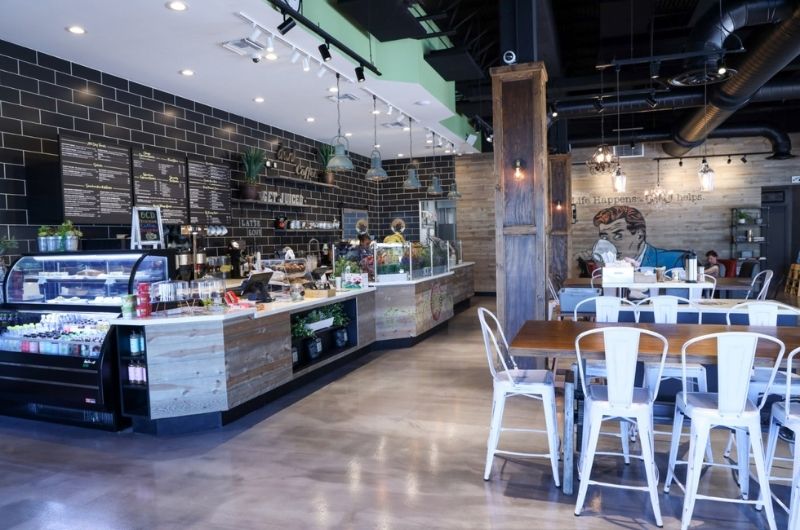 Neighborhood: Harbordale 
Address: 1300 SE 17th St, Fort Lauderdale, FL 33316 
Best For: A Tasty Breakfast or Lunch On-The-Go
Description: 
If a refreshing juice is your morning elixir of choice, you can't go wrong with a trip to Press and Grind. Located inside the South Harbor Plaza shopping mall in Harbordale, Press and Grind offers fresh-pressed juices, organic smoothies, and açaí bowls bursting with antioxidants and nutrients. But worry not, caffeine fiends. This family-owned, independent coffee shop serves up every type of java imaginable from classic espresso drinks and cold brew to café au lait and bulletproof coffee — and every cup is brewed to perfection. If you want to grab a bag of beans for the road, Press and Grind also sells artisanal coffee from local roasters.
This neighborhood "Juicery and Coffee Bar" has a wide array of homemade salads, wraps, and salads for sale as well. Don't miss the chance to purchase their fan-favorite breakfast croissant.
5. Circle House Coffee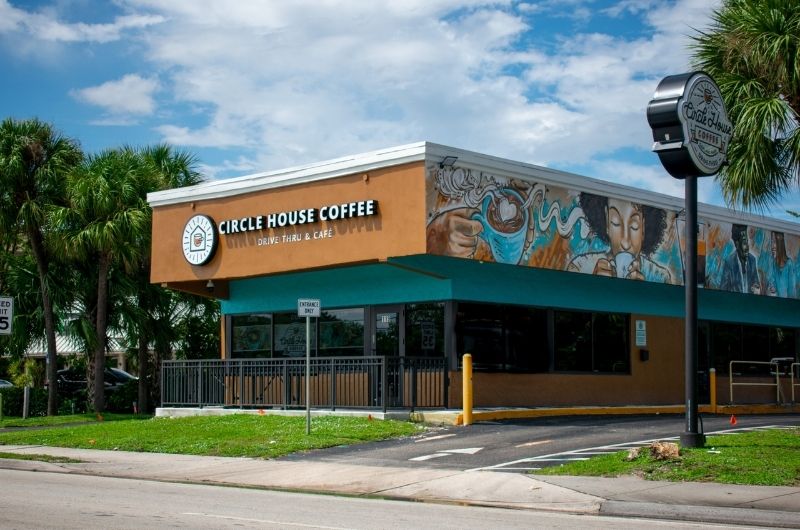 Neighborhood: Progresso Village
Address: 727 NE 3rd Ave, Fort Lauderdale, FL 33304 
Best For: A Quick Stop for Coffee and Donuts
Description: 
For tourists walking through the cultural hub of Flagler Village, don't miss the chance to swing by Circle House Coffee. Founded by retired NFL Linebacker Stephen Tulloch, Circle House Coffee has a passion for giving back, partnering with local and global charities throughout the year. Aside from its handcrafted coffee, this trendy joint is particularly famed for its delicious donuts, which include innovative flavors such as guava and cheese, log maple bacon, and Nutella Brûlée. And what pairs better with coffee than a circle of sugar and sprinkles?
If you are looking to make a quick stop, Circle House Coffee also has a drive-thru service. An added bonus? This trendy coffee joint has a machine called the ripple maker, which allows you to print any picture on your latte. Oh, and the stunning mural on the front of the building is the perfect place to take a picture.
6. Anna's Coffee Shop
Neighborhood: Sunrise Intracoastal
Address: 1000 Seminole Dr, Fort Lauderdale, FL 33304 
Best For: A Cute Brunch Date 
Description: 

If you are looking to get transported to Paris on your trip to South Florida, a visit to Anna's Coffee Shop is a must. Known for their rich and strong coffee and their authentic French food, Anna's Coffee Shop offers a wide array of gourmet sandwiches, omelets, crepes, waffles, and quiches — and each dish is just as tasty as the last. Situated in Sunrise Intracoastal, not too far from the shore, Anna's is the perfect place to stop for breakfast or lunch on the way to the beach. Previous customers have raved about the cheerful atmosphere and friendly customer service.
7. The Alchemist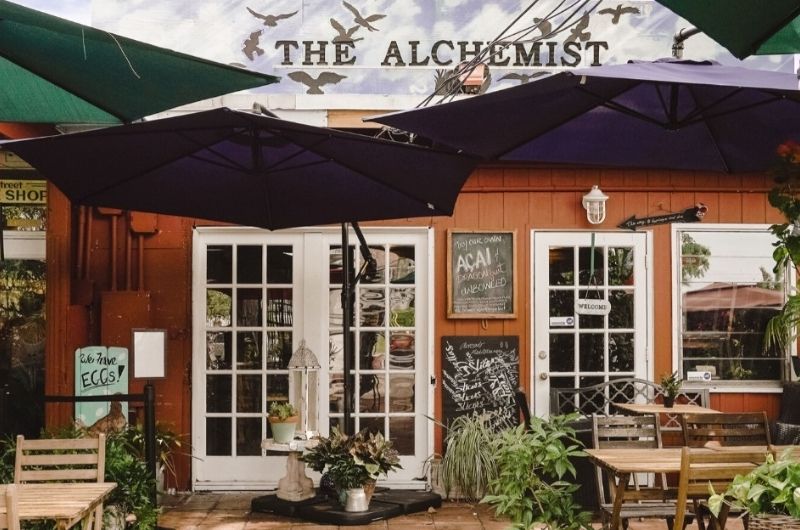 Neighborhood: Wilton Manors
Address: 2430 NE 13th Ave, Wilton Manors, FL 33305
Best For: A Trendy Lunch Spot
Description: 
If anyone has mastered the science of coffee-making, it's The Alchemist. As the name suggests, the expert baristas have a way of spinning coffee beans into delicious concoctions. This health-conscious cafe uses a very thoughtful selection of coffee beans and a propriety process to release the flavor of those beans into the purest of water. Even the biggest coffee snob can't turn up their nose at this state-of-the-art coffee joint!
To pair with their science-based brews, The Alchemist also offers a selection of low-carb "slicers" (open-faced sandwiches on Tuscan bread) and gluten-free desserts. While the indoor area has a buzzy bohemian feel, the tranquil and tropical outdoor patio is surrounded by lush greenery. Nestled in the heart of Wilton Manors, this coffee shop is a favorite among locals.
8. Magnolia Cafe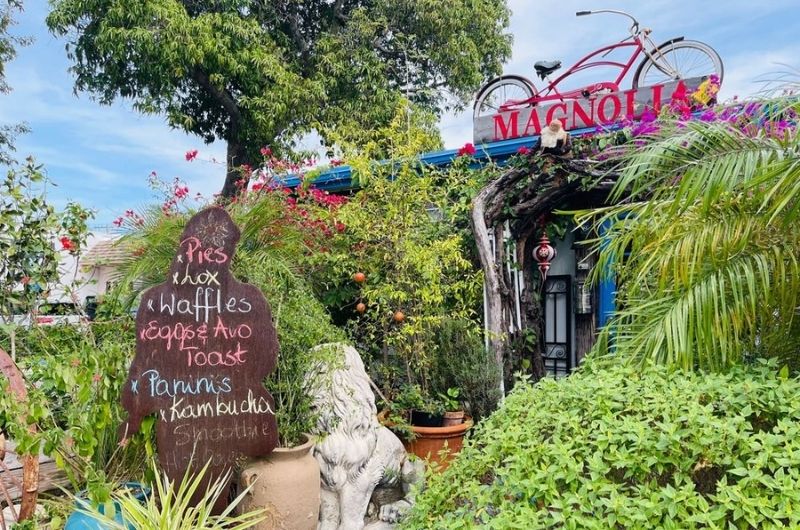 Neighborhood: Lake Ridge
Address: 1218 NE 4th Ave, Fort Lauderdale, FL 33304 
Best For: One-Of-A-Kind Breakfast Spot to Visit Solo or with Friends
Description: 
With its sweet owners and intimate ambiance, guests feel right at home at Magnolia Cafe. Tucked underneath the Royal Poinciana, this hidden cafe is packed with eclectic decor including hand-painted tables, mismatched furniture, colorful flowers, and shelves lined with knick-knacks. If a piece of furniture catches your eye, make a mental note because almost everything at this coffee shop is for sale. 
This one-of-a-kind cafe offers up artisan coffee and tea, smoothies, baked goods, and light healthy food, however, it is most famed for its handcrafted kombucha. For all you kombucha fans, don't miss the chance to order the kombucha smoothie – you'll be hard-pressed to find anything like it in the area.
9. Cyth & Co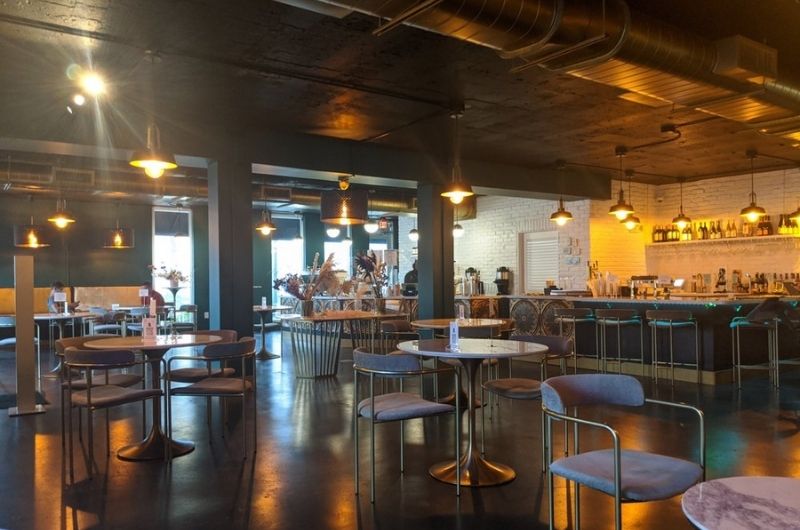 Neighborhood: Oakland Park
Address: 3446 NE 12th Ave, Oakland Park, FL 33334
Best For: A Tasty Vegan Brunch or Happy Hour
Description:
 
Of all the coffee houses and cafes that make up the vibrant Fort Lauderdale coffee scene, Cyth & Co is our favorite. This specialty coffee shop has a range of homemade casual bites on their menu including all-day breakfast and lunch options, making this the perfect place for a quick stop by or a dine-in meal. Cyth & Co is particularly well-known for its tasty vegan options including its Belgian Waffle and Chia Pudding, as well as its Thai Meatballs and Empanadas. When Happy Hour rolls around, Cyth & Co certainly makes it worth your while. Customers can order $5 cocktails, daily specials, charcuterie boards, and more.
10. Spud's Coffee
Neighborhood: Lauderdale Beach
Address: 3301 NE 32nd St, Fort Lauderdale, FL 33308 
Best For: Cute Breakfast Date
Description: 
Relatively new to the Fort Lauderdale Coffee Scene is Spud's Coffee. Situated near the sparkling Fort Lauderdale shore, this specialty coffee shop serves up coffee, non-alcoholic beverages, and breakfast foods. Owned by Jamaica-born Megan Wilson, Spud's establishment caters to anyone and everyone, including families with young children and newcomers looking to get connected with the Fort Lauderdale community. 
When it comes to their freshly brewed coffee, Spud's is committed to expression, consistency, and flavor, and ultimately serving its customers with the best of the best. All of their breakfast food is made from scratch and locally sourced ingredients. Some of their menu highlights include the Eggs Benedict, Burrata Toast, Saint's Sandwich, and Mom's Banana Bread.
11. Java Boys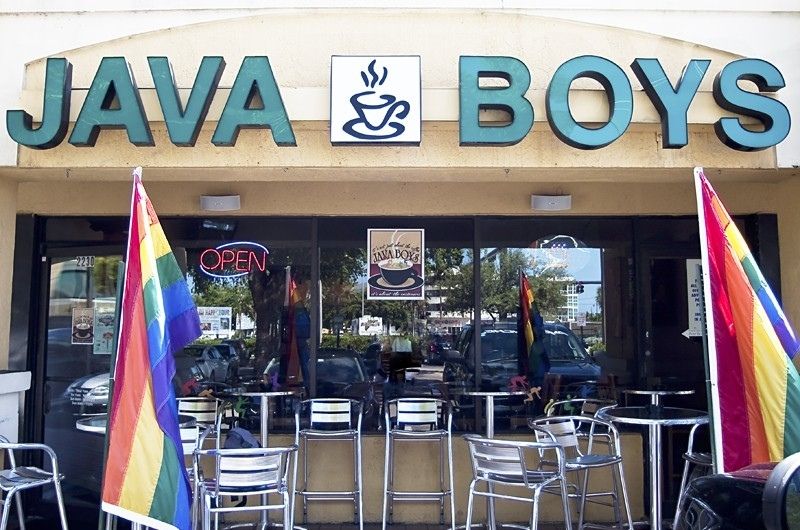 Neighborhood: Wilton Manors 
Address: 2230 Wilton Dr, Wilton Manors, FL 33305
Best For: Grab and Go Breakfast Spot, Individuals Looking to Meet New Friends
Description: 
If you are in the Wilton Manors area and looking to grab a coffee or a quick bite, you can't go wrong with a visit to Java Boys. This easy-going breakfast spot has a wonderful selection of espresso drinks and smoothies, as well as sandwiches, salads, paninis, and pastries. This laidback cafe also has outdoor seating for those looking to sit down and enjoy their meal. 
If you are a Fort Lauderdale local, Java Boys is also a great way to meet people and make new friends. The coffee shop hosts a wide variety of activities including Speed Dating, Biker Sundays, and Deaf Alliance Group.