8 Best Pawn Shops in Fort Lauderdale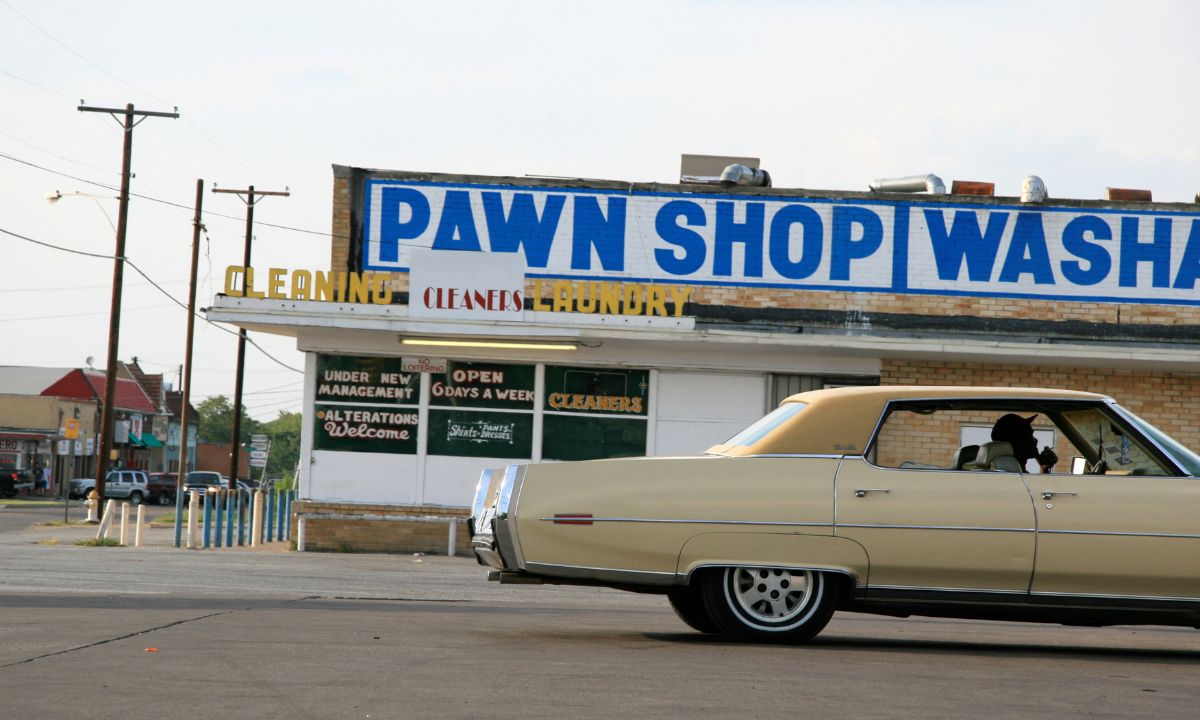 Pawn shops are an excellent way for individuals to get value for high-quality goods they no longer need or to convert unique items into cash. In a diverse community like Ft. Lauderdale, word travels fast within the distinct neighborhoods. A trusted pawnbroker lives and dies on word of mouth. As a result, pawn shops create a unique inventory based on their location and community profile.
The breadth of pawned items makes shops an excellent source for interesting, high-end, and rare products. Many shop operators pride themselves on offering hard-to-find and desirable merchandise that customers cannot find from a general retailer. Pawn shops often carry higher-end goods than thrift shops are likely to offer.
1. GC Pawn on Oakland Boulevard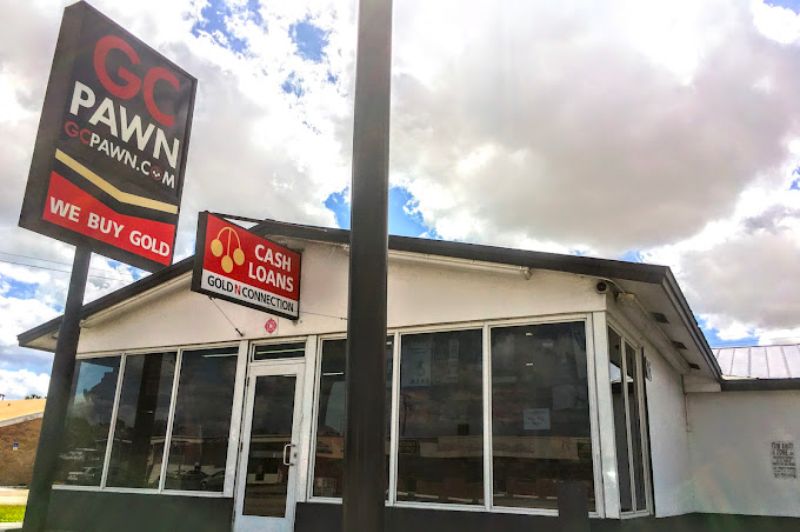 Neighborhood: Oakland Park
Address: 216 E Oakland Park Blvd, Fort Lauderdale, FL 33334
Phone Number: (954) 564-2500
Best For: Electronics, Jewelry, Tools, Apparel
GC Pawn has been a destination for South Floridians since its formation in 2007. The three founders, Josh, Adam, and Jeff, spent decades learning the pawn industry in New York before forming their first shop in Florida. The company is still run by the same family and is focused on giving great customer service based on a lot of experience.
GC Pawn is less than two miles east of I-95 and has a large selection of new and used electronics, clothing, and jewelry. They also carry a varied inventory of automotive, general contracting, and outdoor tools.
GC Pawn has ten locations throughout Broward County, ensuring they amass a diverse inventory from a broad customer base. They feature a distinct offering of collectibles, from movie memorabilia to vintage art. Savvy shoppers may be interested in their selection of loose stones and gems, which allow customization and versatility for individuals hoping to fill a specific setting with the right jewel.
2. Value Pawn & Jewelry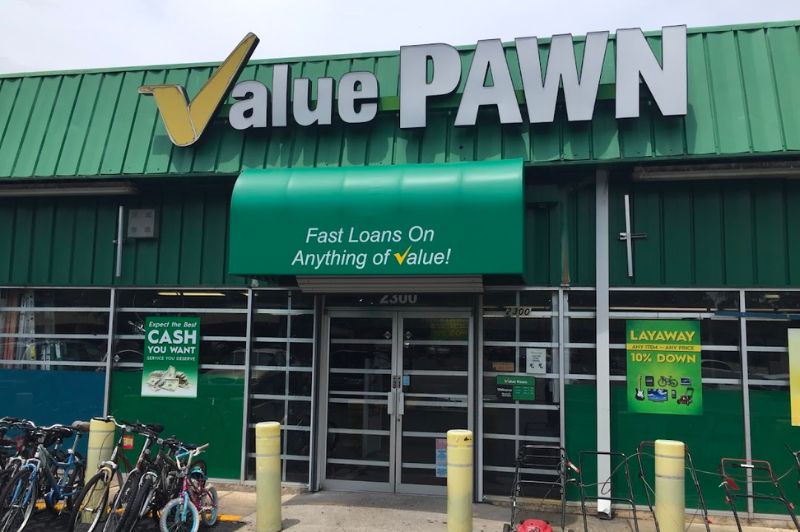 Neighborhood: Oakland Park
Address: 1000 W Oakland Park Blvd, Wilton Manors, FL 33311
Phone Number: (954) 568-2555
Best For: Gold, Jewelry, Electronics
Value Pawn & Jewelry is right off I-95 in Wilton Manors. It has a huge selection of new and used electronics, jewelry, and collectibles. They use their own valuation and inventory management software to make sure customers pay market prices based on the type of purchase and its condition.
Value Pawn & Jewelry also offers layaway payment terms ranging from three to six months to accommodate any financing concerns on larger ticket items. Customers rave about the staff's hospitality and knowledge. The staff is friendly and always willing to discuss pricing on items you're interested in.
The jewelry experts who work at the store are very well-trained and follow strict company rules about the purity and quality of the gold they sell. Value Pawn & Jewelry also sells product protection plans for a set fee that last for six months and gives customers more time to return items.
3. King's Pawn Gold & Jewelry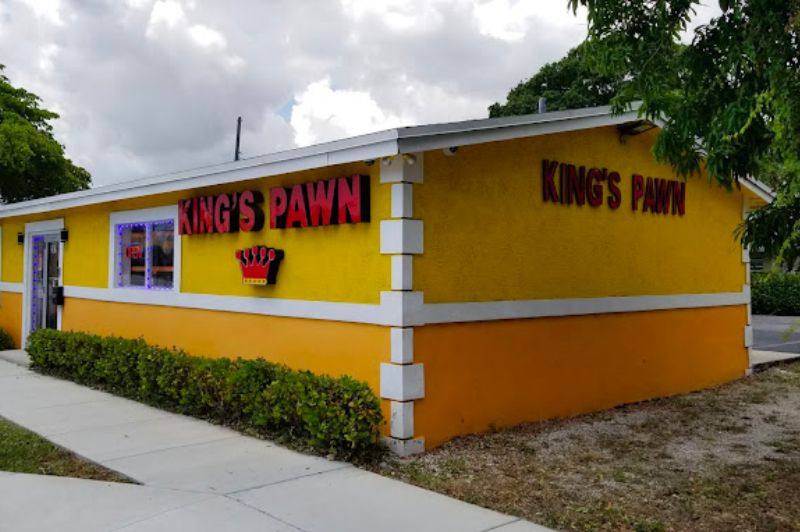 Neighborhood: Dorsey Riverbend; Cityview
Address: 207 NW 7th Ave, Fort Lauderdale, FL 33311
Phone Number: (754) 224-5777
Best For: Jewelry, Gold, Guns
King's Pawn Gold & Jewelry, a hidden gem in Ft. Lauderdale, has won raves for its excellent customer service, wide knowledge, and low-pressure sales techniques. The shop's sterling reputation ensures solid referrals and a consistent stream of desirable products coming in the door.
King's Pawn prides itself on fair and transparent service. They're happy to share their experience and insight to ensure you understand the quality and origin of your purchase.
Their showroom is laid out well, and merchandise is neatly stocked, so you can easily shop independently or strike up a conversation with the staff to locate particular items.

They know that people may not be used to shopping at pawn shops, so they do everything they can to make the place feel comfortable and friendly. This may be the perfect stop after a day on Loggerhead Park Beach before heading to one of Fort Lauderdale's premier breweries for drinks before dinner.
4. Ca$hop Pawn on Sunrise Boulevard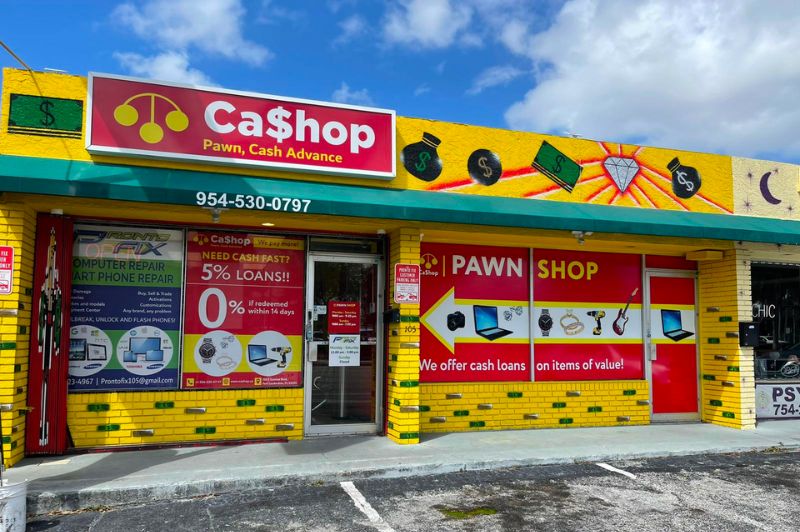 Neighborhood: South Middle River; Progresso Village
Address: 105 E Sunrise Blvd, Fort Lauderdale, FL 33304
Phone Number: (954) 530-0797
Best For: Electronics, Tools, Shoes, Eyewear
Ca$hop is going into its fifth year of business, and it wants to give its customers the kind of reliable and trustworthy service that is necessary for success in the pawn industry. It also wants to use technology to serve its customers better. Their website features an online estimator to give you an idea of items' values before you even walk in the door.
Pawn shops in Fort Lauderdale are fun places to shop that give both tourists and locals a sense of the many different cultures that make up our city. The staff is always friendly and willing to go the extra mile to ensure your purchase meets both your needs and expectations. They have a wide selection of designer clothing, sneakers, and sunglasses.
Ca$hop also offers a varied selection of televisions, tablets, and unlocked smartphones, providing the latest technology at prices that beat traditional retailers.
5. Classic Pawn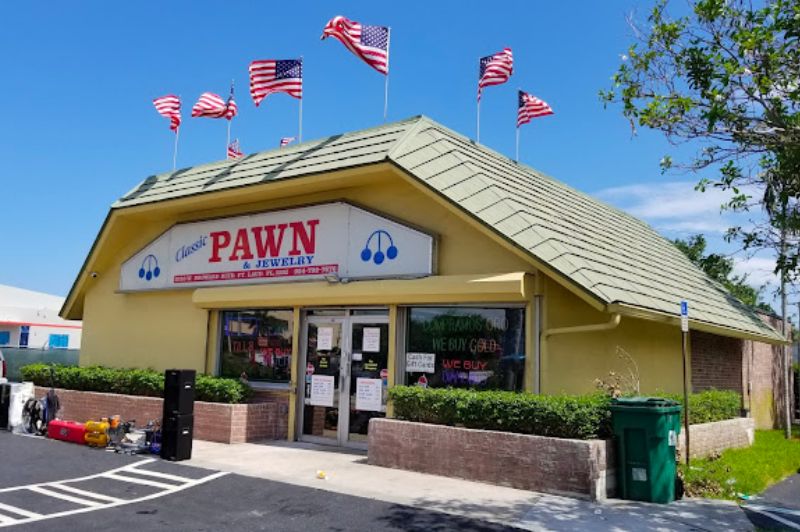 Neighborhood: Boulevard Gardens; Washington Park
Address: 2720 W Broward Blvd, Fort Lauderdale, FL 33312
Phone Number: (954) 792-7676
Best For: Jewelry, Fine Watches, Estate Items
Classic Pawn is a place to go for gold, jewelry, and electronics. It is only a few minutes from downtown Ft. Lauderdale. The family-owned shop has been in business for over 25 years thanks to its dedication to courtesy, confidentiality, and discretion. Their veteran staff has deep knowledge about jewelry and finer goods, making sure they continually exercise discretion in the products they put up for sale.
Classic Pawn is a member of both the Florida Pawn Brokers Association and the National Pawnbrokers Association, making them a trusted and accountable vendor. The owner, Steve, and his staff are always willing to have a conversation to explain the valuation and providence of items so you understand what you're getting and its value.
The shop also carries items acquired from estates including china, silver and platinum, antiques, vintage fashion, and memorabilia. These items are well-vetted and highly desirable. It's worth a visit because inventory turns over constantly. You never know what you can find.
6. Commercial Pawn & Jewelry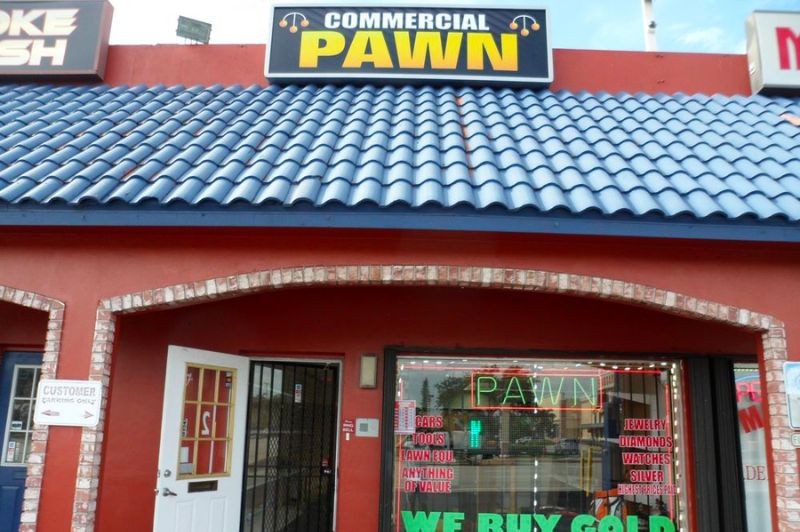 Neighborhood: North Corals; Knoll Ridge
Address: 1750 East Commercial Blvd, Fort Lauderdale, FL 33334
Phone Number: (954) 493-5155
Best For: Jewelry, Firearms, Tools, Laptops/Tablets
Owned and operated by locals, Commercial Pawn & Jewelry is invested in the South Florida community. The shop's philosophy is to build trust and repeat business by fostering customer relationships. They prioritize open communication and transparency, providing them the solid base to succeed in the competitive Florida market.
Commercial Pawn has a strong presence on the road at gun shows and other markets, ensuring a wide and ever-changing selection to meet their customers' needs. They recognize the value of a personal touch and make sure they can speak to the condition, value, and history of their inventory to provide you with the insight you need to make the right decision on your purchase.
7. GC Pawn #5 the Gold N Connection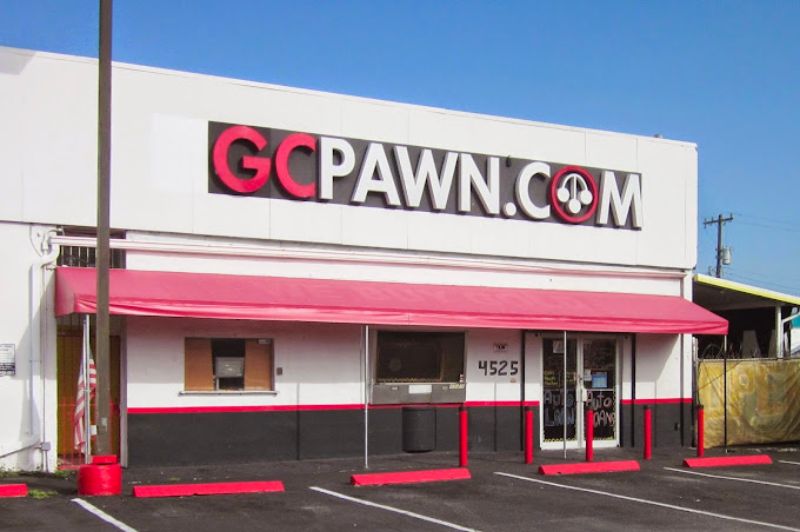 Neighborhood: North Andrews Gardens
Address: 4525 NW 8th Ave, Fort Lauderdale, FL 33309
Phone Number: (954) 776-5713
Best For: Gold, Electronics, Collectibles
Just off I-95, west of Ft. Lauderdale's business district, GC Pawn's prime location ensures they have a continually expanding inventory of high-quality goods from Fort Lauderdale proper and across South Florida. Their staff is discerning when it comes to acquisitions, ensuring they only offer a desirable and attractive selection.
The owners of GC Pawn have given talks and workshops for the National Pawnbrokers Association to share their knowledge and skills at building good relationships with customers. The standalone shop offers an appealing selection of clothing and apparel, high-end jewelry, and collectibles, including coins and stamps.
Pawnbrokers are a valuable part of Ft. Lauderdale as they help an array of individuals sell valuable goods they no longer need. As a result, reputable shops with deep neighborhood ties, like GC Pawn, provide an excellent snapshot of our area's vibrancy.
8. Sunrise Pawnbrokers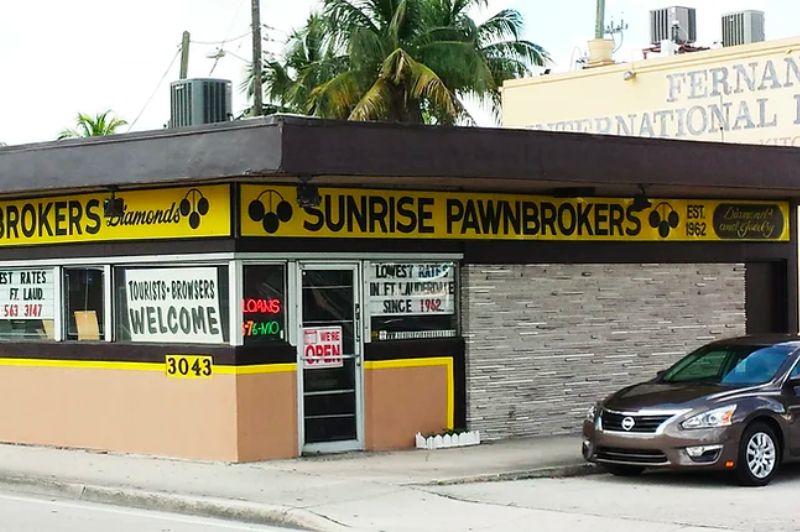 Neighborhood: Coral Shores
Address: 3043 North Federal Highway, Fort Lauderdale, FL 33306
Phone Number: (954) 563-3147
Best For: Gold, Diamonds, Fine Watches, Musical Instruments
With a 60-year track record of success, Sunrise Pawnbrokers understands the vital role they serve in the community and the value of superior customer service. The family-run business is Fort Lauderdale's oldest established pawnbroker. This longevity ensures Sunrise has a diverse customer base that turns to them with their unique and rare items because they know they'll get a good deal.
Sunrise's staff is well-versed in fine watches, always willing to have a conversation, and even offers advice on shifts in the market and trends that affect the pawn industry.
Minutes from Lauderdale Beach, Sunrise Pawnbrokers is a must-visit spot for any keen-eyed shopper. They have a lot of modern and old jewelry, so you're sure to find something unique when you go there. The shop has a lot of guitars and old instruments that show how active the music scene is in Ft. Lauderdale.