16 Best Hotels & Resorts in Fort Lauderdale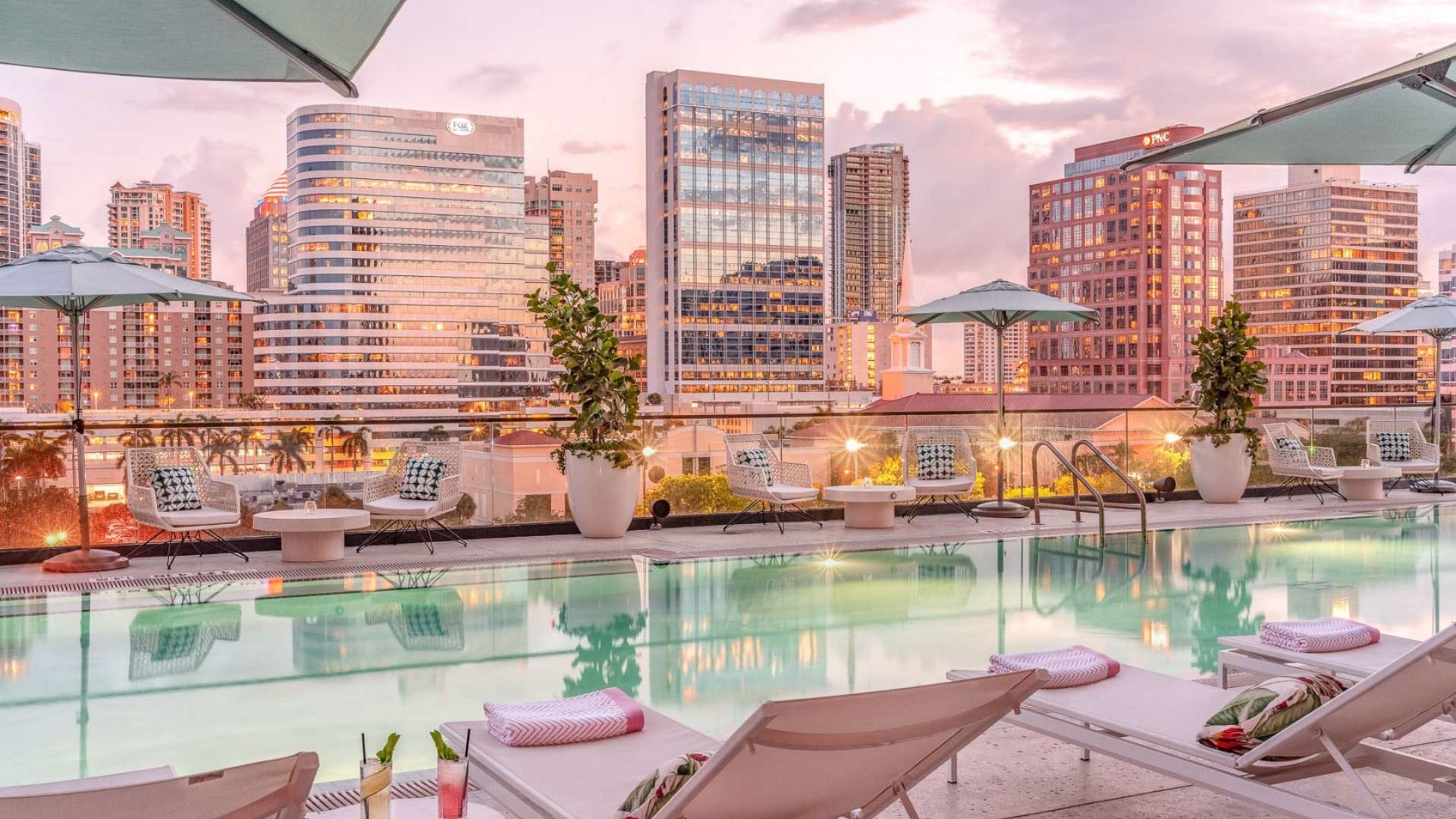 Brimming with white-sand beaches, world-class dining, and historic sites, Fort Lauderdale meets all of the criteria for the perfect vacation spot. With so many reasons to visit this coastal city, Fort Lauderdale also boasts an impressive number of hotels for every type of traveler including luxurious 5-star hotels and all-inclusive family destinations. Equipped with rooftop swimming pools, indulgent beach clubs, and rooms with a view, many of these hotels also offer fantastic dining options that capitalize on the big seafood scene here in Fort Lauderdale. Not only will you have easy access to the idyllic beaches during your stay, but you will also be close to the city's networks of boardwalks and walking trails — not to mention the dining and entertainment hubs. 
If you are planning on visiting this gorgeous stretch of the Atlantic coastline, here are some of the top 16 places you can stay during your stay. You can find a wide variety of hotels all across Broward County, so location is certainly something to consider when choosing where you want to stay during your trip.  
1. Ritz-Carlton, Fort Lauderdale
Location: 1 N Fort Lauderdale Beach Blvd, Fort Lauderdale, FL 33304 – Central Beach
Good For: A Luxury Stay for Couples or Families
Highlights:
If you want to indulge in the height of luxury on your Fort Lauderdale vacation, you can't go wrong with a stay at the Ritz-Carlton, Fort Lauderdale. The 24-story hotel captures the essence of an art deco ocean liner and even the lowest-priced rooms offer a flat-screen TV, a marble bathroom, and floor-to-ceiling windows. Its central location also gives guests easy access to the Broward Center for the Performing Arts, Fort Lauderdale-Hollywood International Airport, and The Galleria. 
This classy joint is world-renowned for its top-rated service and also offers an on-site spa for a day of pampering and a fitness center with various workout classes. Golfers should also gravitate towards The Ritz-Carlton, as guests receive exclusive access to the Grande Oaks Golf Course in Davie, FL, a members-only club. The Burlock Coast Seafare & Spirit restaurant is also a must-visit. Inspired by the Prohibition era, the restaurant offers coastal cuisine for breakfast, lunch, and dinner. The executive chef, Paula DaSilva, who has spent over twenty years in South Florida and one season on "Hell's Kitchen," is committed to partnering with local businesses to create cocktails with rare Florida rums and provide delicious main courses with fresh seafood. 
Hotel Amenities: 
Fitness Center and Classes
Amazing Seafood Restaurant
Golf Course Access
Heated Infinity Pool 
Courtesy Beach Chairs and Umbrellas
Bike Rentals and Water Taxi
Spa
Rooms with Private Balconies
Free WiFi
2. Conrad Fort Lauderdale Beach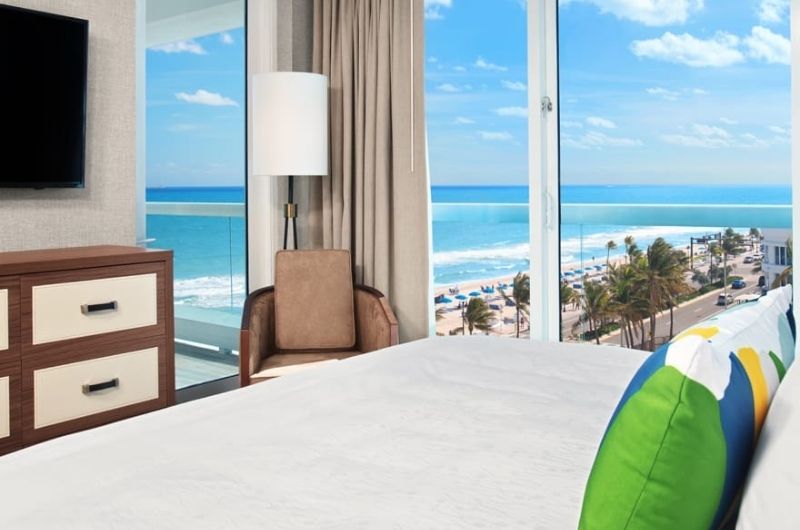 Location: 551 N Fort Lauderdale Beach Blvd, Fort Lauderdale, FL 33304 – Central Beach
Good For: A Luxury Hotel for Big Family Travel or a Long-Term Stay
Highlights:
Striking the perfect balance between elegant and cozy, The Conrad makes another prime option for those seeking a memorable Florida beach vacation. The hotel is located within 90 meters of the beach, meaning that guests are only a short walk away from relaxing on a sun chair by the water. The Conrad offers numerous amenities including an on-site spa for soothing massages and rejuvenating facials, as well as a fitness center with training programs and yoga classes. And let's not forget about the heated outdoor swimming pool with a long stretch of the terrace. If it's in your budget, make sure to opt-in for a private luxury cabana during your stay. 
Each room at the Conrad features a furnished balcony or terrace and a galley kitchen, making this oceanfront resort a great option if you are traveling with a large group or staying in Fort Lauderdale for a longer duration. While the Conrad is home to a variety of dining options, stop by the flagship restaurant, Takato, for a dinner of Japanese-Korean fusion. With its light and airy atmosphere, handcrafted cocktails, and delicious shareable plates, a night at Takato is sure to be a night to remember. 
Hotel Amenities:
On-site Spa
Heated Outdoor Pool
Luxury Cabanas
Large Fitness Center
Multiple Hotel Dining Options
Valet Parking
3. W Fort Lauderdale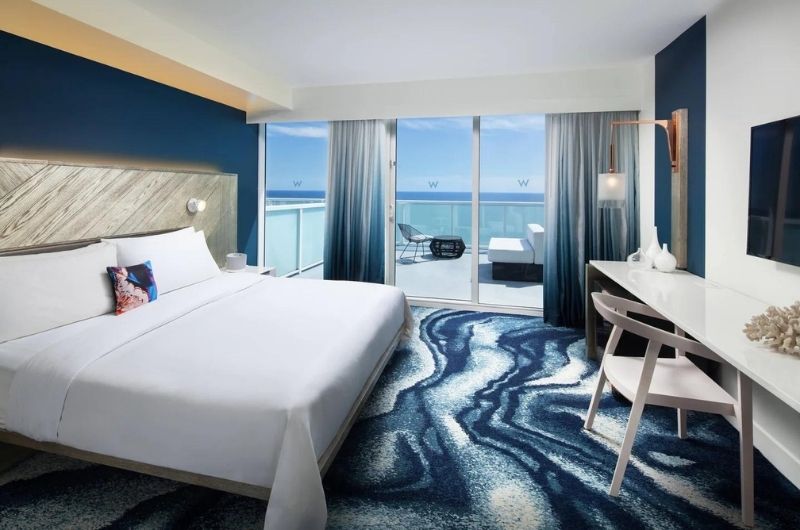 Location: 401 N Fort Lauderdale Beach Blvd, Fort Lauderdale, FL 33304 – Central Beach
Good For: A Fun-Filled Experience for Couples, Friends, or Individual Travelers
Highlights:
One of the newest and most prestigious properties on Fort Lauderdale Beach, W Fort Lauderdale is known for its playful yet sophisticated atmosphere. With its neon pink, blue, orange, and green decor, and its rooms, which are categorized by Wonderful, Spectacular, Marvelous, Wow, and more, every ounce of this boutique hotel screams fun. Each room also comes with unexpected bonus surprises such as soft robes and a Bluetooth speaker system. With its wide range of restaurants, guests have access to cuisine from around the world. Visitors can opt for a fancy steak dinner at Steak 954 or Mexican food at El Vez. 
While guests are only a short walk away from the beach, one of the biggest highlights of W Fort Lauderdale is the pool, which offers a 360-degree view of the city and the ocean. Day beds are available by reservation early, so make sure to make one early for a relaxing poolside experience. Due to its vibrant atmosphere and fun-filled energy, the hotel tends to attract groups of young people from bachelorette parties to friend reunions. While you're guaranteed to have a blast during your stay at W Fort Lauderdale, it might not be the best place for a quiet romantic getaway. 
Hotel Amenities:
Rooftop Pool and Bar
Rooms with Private Balconies
Various High-End Dining Options
Cocktail Lounge
Well-Equipped Fitness Center
4. Lago Mar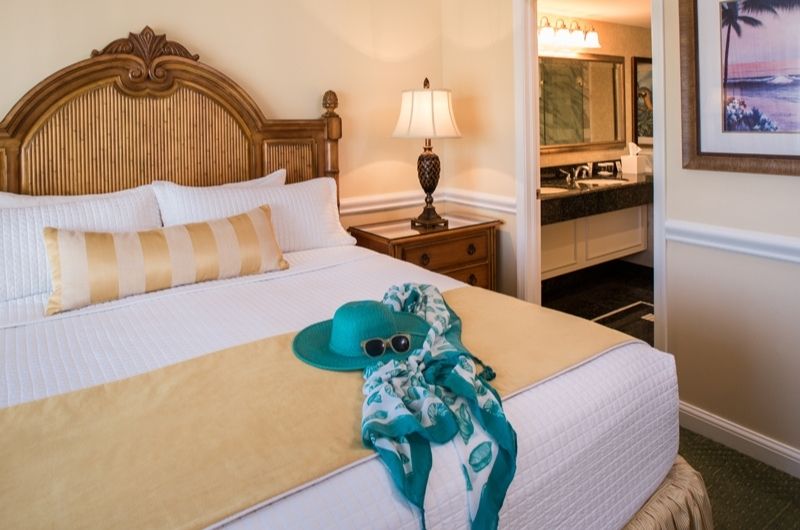 Location: 1700 S Ocean Ln, Fort Lauderdale, FL 33316 – Harbour Isles of Fort Lauderdale
Good For: An Idyllic Beach Vacation for Families 
Highlights:
For those seeking a sophisticated retreat, a trip to the celebrated Lago Mar is the way to go. Situated on thirteen acres between Mayan Lake and the Atlantic Ocean, this tropical oasis has every amenity you could possibly want on a beach vacation from tennis and volleyball courts, to a fitness center and spa. With its heated outdoor pools and various restaurants and eateries, Lago Mar is a true resort in every sense of the word. Perhaps the biggest perk is the 500 foot stretch of private beach available for guests only. The resort has also been owned and operated by the same family since 1959, and guests can expect only the best in terms of service and hospitality. 
Lago Mar boasts extremely spacious units and also has one-bedroom suites or two-bedroom suites available with living areas, pullout couches, and large balconies if you are traveling with a bigger party. Both contemporary and comfortable, each room has a flat-screen TV, WiFi, plush rooms, and access to 24-hour room service. While Lago Mar is the perfect escape from the hustle and bustle of the city, you are also only four miles away from downtown Fort Lauderdale. 
Hotel Amenities:
Free WiFi
Two outdoor pools
Various restaurants and eateries
24-hour room service
Onsite-Spa
Fitness Center
Private Beach access
Beach Playground
Volleyball and Tennis Courts
Shuffleboard Court
5. B Ocean Resort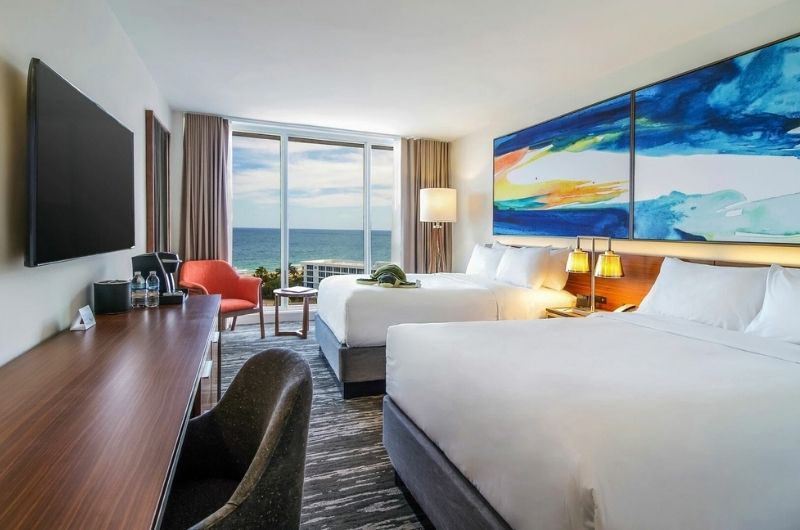 Location: 1140 Seabreeze Blvd, Fort Lauderdale, FL 33316 – Harbour Isles of Fort Lauderdale
Good For: Travelers Looking for Luxury on a Budget
Highlights:
B Ocean Resort has been a Fort Lauderdale institution for decades. Previously frequented by A-List celebrities including Marilyn Monroe and Robert De Niro, today, this oceanfront resort provides spacious rooms with nautical themes and beachy decor. Guests have the option to spend the day beachside or claim a spot in front of one of two outdoor pools. While roaming the hotel grounds, keep an eye out for original artwork scattered around the resort. All pieces are available for purchase and proceeds are donated to the Broward County Sea Turtle Conservation Program. 
Swing by the Naked Crab Seafood Kitchen + Cocktail Bar for flavorful Mediterranean fare, or head over to the Wreck Bar for tiki-inspired cocktails. Every week, the Wreck Bar also hosts a must-see mermaid show, where living mermaids perform in a swimming pool theater. An added perk? This beachfront resort is luxurious but also a relatively affordable option for travelers on a budget.
Hotel Amenities:
Two Outdoor Pools
Available Artwork
Select Rooms with Private Balconies
Prime Location
24-Hour Fitness Center
On-Site Dining
Live Underwater Entertainment
Easy Access to Water Taxi
Complimentary WiFi
Private Beach
6. Kimpton Goodland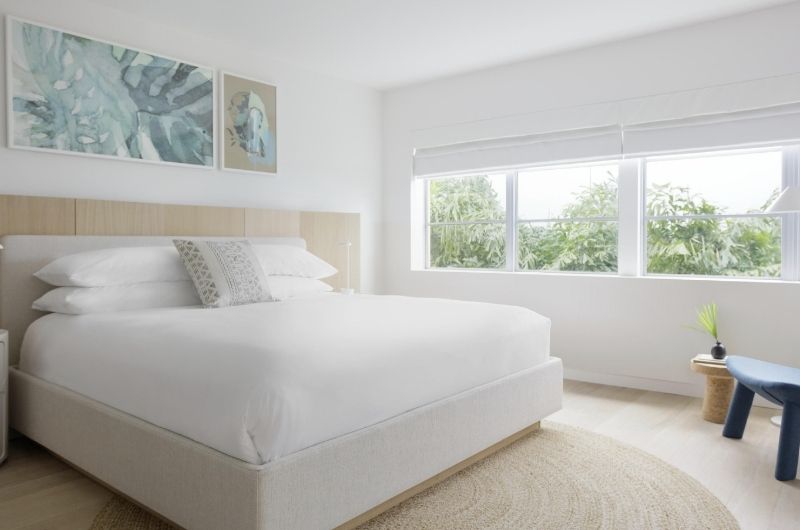 Location: 2900 Riomar St, Fort Lauderdale, FL 33304 – North Beach Village
Good For: Laidback Getaway with a Partner, Friend, or Solo
Highlights:
Nestled in the heart of North Beach Village, just minutes away from the beach, lies The Goodland. With its mid-century modern architecture and sophisticated vibe, this Kimpton resort is the perfect place to discover beachside bliss. This boutique hotel is composed of three separate buildings all named after historic hotels, and the rooms reflect a beachy vacation vibe with retro touches. In every unit, expect to find a Bluetooth speaker, mini-fridge, yoga mat, beach bag, and extra towels. Beach bikes are complimentary for hotel guests.
Don't miss the opportunity to dine at Goodland's main restaurant, Botanic, which features a Latin and Caribbean-influenced menu with cocktails, fresh juices, and shareable plates. All of the food is inspired by the farms, waters, and fields of South Florida and is sure to satisfy everyone's taste buds. As with all Kimpton hotels, guests can enjoy complimentary tea and coffee, an evening social hour with complimentary wine, kid-friendly entertainment, and no additional pet fees. With its mellow vibe and chic decor, this boutique hotel is perfect for a relaxing getaway for one or two. 
Hotel Amenities:
Outdoor Heated Pool
On-Site Dining Options
Free Yoga Sessions
Many Complimentary Perks
On-Site Fitness Center
Hosted Social Happy Hour
Valet Parking
7. Atlantic Hotel & Spa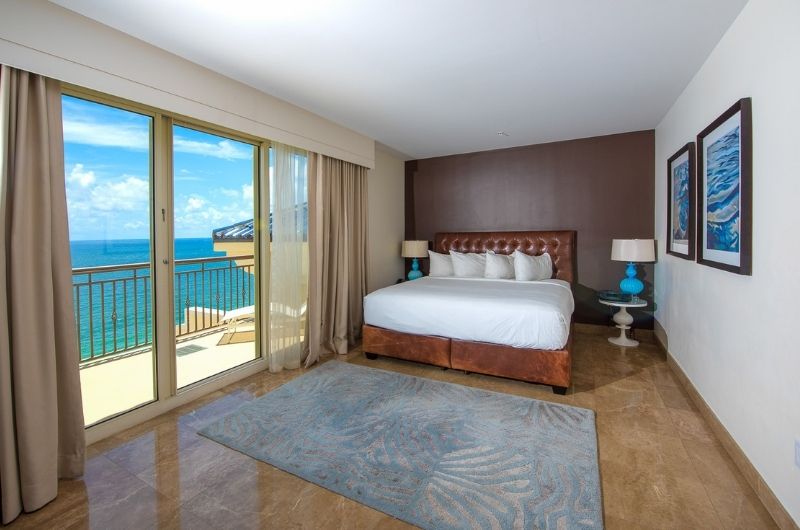 Location: 601 N Fort Lauderdale Beach Blvd, Fort Lauderdale, FL 33304 – Central Beach
Good For: A Romantic Getaway with Your Partner
Highlights:
If you are looking for the perfect place for a romantic getaway, Atlantic Hotel & Spa is a prime pick. By simply glancing at the gorgeous pale yellow building, you will immediately begin to relax and unwind — and the inside is just as extraordinary as the outside. With only approximately one hundred rooms, The Atlantic Hotel & Spa is known for its intimate and relaxing atmosphere, making it a popular destination for a couples retreat. Each room is spacious and brightly decorated and includes marble bathrooms with soaking tubs, free WiFi access, and stocked kitchenettes. 
Guests can get pampered at the on-site beauty salon, relax in the sauna or hot tub, or take a dip in the outdoor pool. One of the biggest highlights of the resort is its full-service spa, which offers a wide range of treatments including outdoor couples massages. While the resort is only a few steps away from sandy white beaches, it's also close to downtown Fort Lauderdale and popular tourist attractions. Visitors have easy access to Hugh Taylor Birch State Park, which is only a few minutes away by car. 
Hotel Amenities:
Free WiFi
On-site beauty salon
Rooftop pool
Fitness Center
Beach access
Spacious Rooms
Various On-Site Dining Options
8. Fort Lauderdale Marriott Harbor Beach Resort & Spa
Location: 3030 Holiday Dr, Fort Lauderdale, FL 33316 – Harbor Beach
Good For: Business Events or Corporate Retreats
Highlights:
Traveling with a big group on a budget? Book a few nights at the Fort Lauderdale Marriott Harbor Beach Resort & Spa for the perfect oceanside vacation. Located in East Fort Lauderdale, there's so much to do at this budget-friendly resort that you never have to leave the confines of the hotel if you don't want to. Guests have the option to dine at four different restaurants and bars, plunge into the tropical lagoon pool, or relax at the 22,000 square-foot spa. The resort also offers a large stretch of private beach, where guests can enjoy their fair share of water sports and activities including jet skiing and diving. 
The units at this luxury Marriott hotel are roomy and every unit comes with deluxe bedding, plush chairs, and abstract art. With its endless list of amenities and affordable prices, this hotel tends to attract larger groups of people from big families to bachelorette parties. Make sure to make the most of the extraordinary concierge service, which will assist with anything from airport drop-offs and pick-ups to shuttling you to the nearby Las Olas Boulevard. 
Hotel Amenities:
Various Dining Options
Large Spa
Event Space
Business Center
Lagoon Pool
Water Sports
Fitness Center
Gift Shop
9. The Dalmar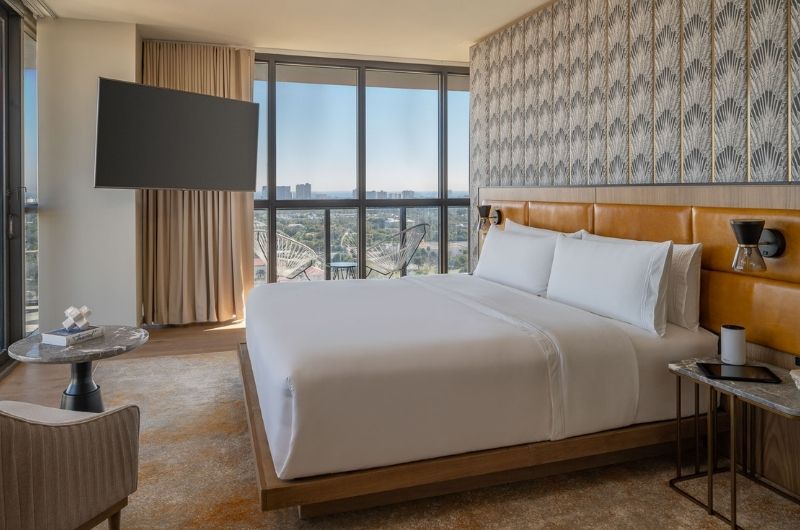 Location: 299 N Federal Hwy, Fort Lauderdale, FL 33301 – Flagler Village
Good For: Couples or Friends Looking for an Urban Escape
Highlights:
For those looking for a break from the beach, The Dalmar makes a wonderful urban alternative. Located in the artist hub Flagler Village, this cosmopolitan getaway is a first of its kind perfect for creative types. The best part? The Dalmar truly offers the best of both worlds — while you may not be on the beach, a free shuttle can get you there in just 15 minutes. 
Guests can expect to find stylish, mid-century modern-inspired units, with both views of the city and the ocean, while the common areas are filled with green and magenta prints, neon wall messages, and tropical accents. The Lobby also serves as a lounge, where guests can sprawl on cream-colored couches, catch up on emails at the communal working table, and sip on some bubbly from the Moet champagne vending machine. This trendy boutique hotel offers a wide variety of stellar on-site dining options. A quaint cafe with a tropical ambiance, Rose's Coffee Bar serves up specialty coffees, cold-pressed juices, and homemade pastries. Head up to Sparrow Rooftop Bar, the highest rooftop bar in all of Fort Lauderdale for great views, Asian bites, and tasty cocktails.
Hotel Amenities:
Rooftop infinity pool
Fine dining restaurant
Shuttle to the Beach
Free WiFi
Roof-Top Bar and Lounge
Fitness Studio
Event Spaces 
10. Pelican Grand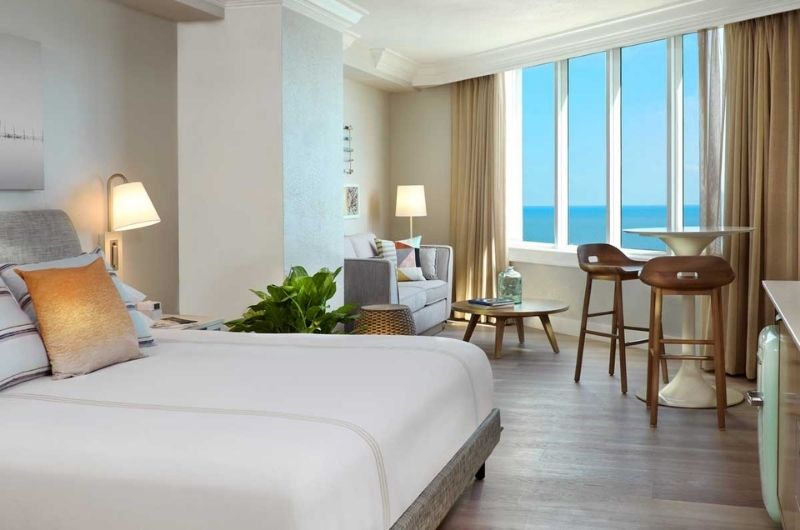 Location: 2000 N Ocean Blvd, Fort Lauderdale, FL 33305 – Dolphin Isles
Good For: Upscale and Fun-Filled Family Vacation
Highlights:
The Pelican Grand Beach Resort is a foolproof option for a fun-filled family vacation. Featuring the only lazy river in all of Fort Lauderdale and an Emporium gift shop with an old-fashioned ice cream parlor, this grand hotel evokes the spirit of Old Florida. Kids will love exploring the 500-foot private beach with organized activities and adventures, while parents can lounge on the complimentary chairs close by. One of the biggest perks for families traveling with kids is the Funky Fish Ocean Camp, a program geared towards children ages 4-17. This fun and educational program organizes activities such as snorkeling and boogie boarding, as well as interactive lessons in marine conservation. 
Of the 150 plus rooms at this family-friendly resort, over one hundred are oceanfront suites. These beach-chic suites feature ocean artwork and coral accents and also include a separate bedroom and a living area with a pullout sofa, making these rooms a great option for larger families. Make sure to check out the rooftop spa facing the Atlantic, enjoy a massage at the beach spa cabana, and indulge in post-dinner s'mores by the outdoor fire pit. 
Hotel Amenities:
Fitness Center
Rooftop Spa
Seafood restaurant
Free WiFi
Outdoor Pool and Lazy River
Old-Fashioned Ice Cream Parlor 
11. Sonesta Fort Lauderdale Beach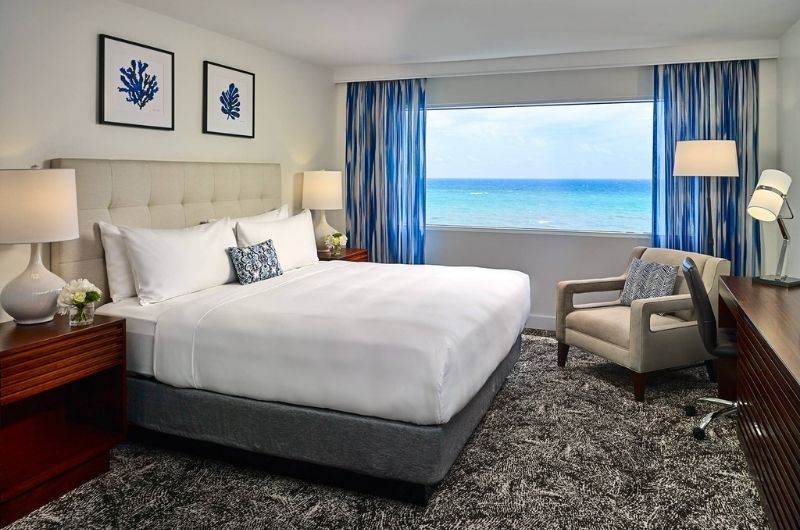 Location: 999 N Fort Lauderdale Beach Blvd, Fort Lauderdale, FL 33304 – Central Beach
Good For: Long-Term Stay for Business or Leisure
Highlights:
Located opposite Fort Lauderdale beach, Sonesta Fort Lauderdale Beach offers picturesque and panoramic ocean views. Known for catering to both business and leisure travelers, this ultra-modern resort is close to the Fort Lauderdale Hollywood International Airport, but also minutes away from popular tourist destinations including Las Olas Boulevard, Riverwalk Arts & Entertainment District, and Port Everglades. Every room at this oceanfront property has a personal and intimate feel. Each unit boasts a mini-fridge, flat-screen TV, Keurig coffee maker, seating area, and desk, which helps make guests feel right at home during their stay. 
The Sonesta Fort Lauderdale Beach's facilities also include a heated outdoor pool surrounded by towering palm trees, a 24-hour fitness center, and a full-service spa, where guests can treat themselves to traditional Swedish massages and hot stone therapy. At the full-service spa, you can treat yourself to traditional Swedish massages, deep tissue massages, or hot stone therapy. Don't miss the opportunity to visit the on-site restaurant, the Steelpan, which is open for breakfast, lunch, and dinner. This elegant beachfront restaurant features Caribbean-American fusion, fresh seafood, and an extensive wine list. 
Hotel Amenities:
Heated Outdoor Pool
On-site Restaurant
24-hour Fitness Center
Business Center
Full-service Spa
Oceanfront
Free WiFi
Pet-Friendly
12. The Westin Fort Lauderdale Beach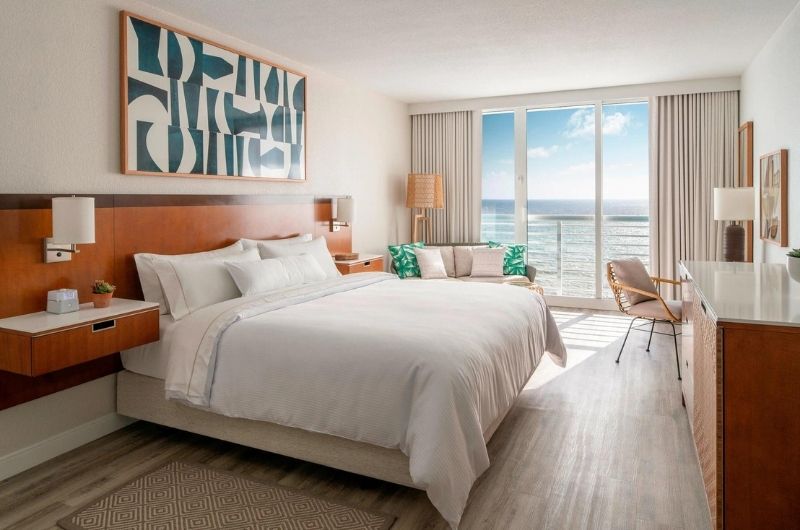 Location: 321 N Fort Lauderdale Beach Blvd, Fort Lauderdale, FL 33304 – Central Beach
Good For: A Beach Vacation with Family or Friends
Highlights: 
Set directly on the sands of Fort Lauderdale Beach, The Westin Fort Lauderdale Beach is the hotel people dream about when it comes to an elegant and effortless beach vacation. With its endless list of amenities from the tennis courts and the outdoor swimming pool to the fitness center and the full-service spa, the Westin Fort Lauderdale Beach is the perfect all-inclusive resort for an entire family. Not to mention it's got its color scheme down pat. Each room reflects beachy elegance, with light woods, soft white beds, and blue and green accent pillows. Previous visitors have raved about the hotel skywalk, a pathway that connects the Westin to the Beach. Not only is this pathway perfect for families with kids who are concerned about road safety, but it also doubles as a public art installation. 
One of the biggest highlights of The Westin is its on-site restaurant. For some of the best Mexican food in town, head over to Lona Cocina Tequileria. Make sure to order the delicious churros for dessert – you won't regret it. 
Hotel Amenities:
Oceanfront Pool Deck
Spa
On-Site Restaurants
Bar
Free Wi-Fi
Fitness Center
Tennis Courts
Skywalk
13. Hotel Maren Fort Lauderdale Beach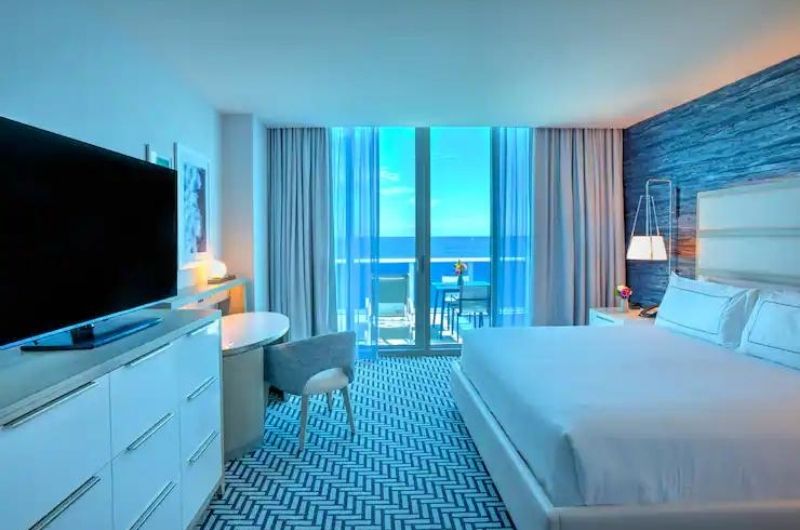 Location: 525 S Fort Lauderdale Beach Blvd, Fort Lauderdale, FL 33316 – Central Beach
Good For: Families and Business Travelers
Highlights:
Centrally located near Downtown Las Olas, Hotel Maren Fort Lauderdale Beach is the perfect South Floridian getaway for families, business travelers, and couples alike. Guests can bask in the sun and take in the ocean views on the fifth-floor pool deck, dine at the delectable celebrity chef restaurant, Riviera by Fabio Vivani, or get work done at the 24-hour business center. Vibrant and modern guest rooms are adorned with ocean-themed artwork and equipped with flat-screen TVs and mini-fridges. If you want to savor a meal from the comfort of your room, room service is available 24 hours a day. This contemporary boutique hotel is directly across from Fort Lauderdale Beach, but also only a short walk away from popular restaurants, corporate offices, cultural attractions, and more. 
Hotel Amenities:
24-hour Front Desk
24-hour Room Service
On-site restaurant and bar
Fitness Room
Yoga Studio
Pool
Free WiFi
24-hour Business Center
Pet-Friendly
14. Hilton Fort Lauderdale Beach Resort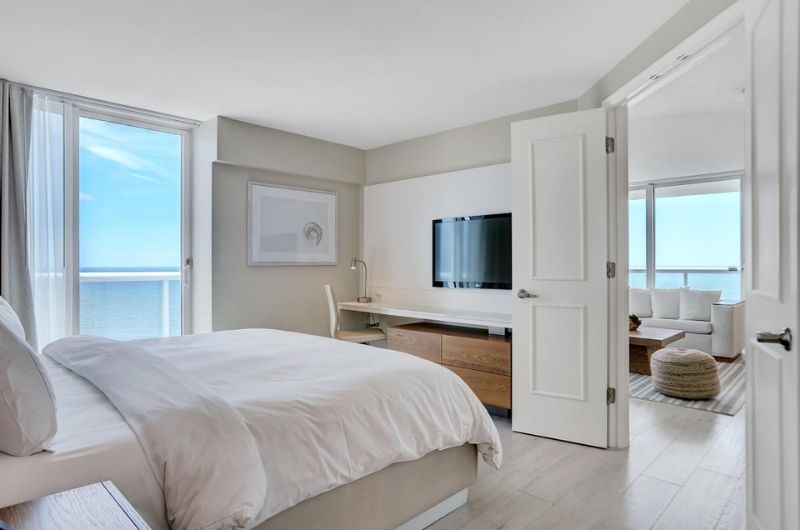 Location: 505 N Fort Lauderdale Beach Blvd, Fort Lauderdale, FL 33304 – Central Beach
Good For: Family Vacation with Kids
Highlights:
Situated along the A1A highway, Hilton Fort Lauderdale Beach Resort accompanies Fort Lauderdale's main strip of beach hotels. That being said, very few resorts can claim to have a more idyllic spot than this oceanside oasis. As the name suggests, this gorgeous property sits directly on Fort Lauderdale beach — but the location isn't the only standout feature of the Hilton. This tropical beach resort offers a competitive list of amenities, making this an ideal spot for big families. Whether you want to relax by the beachside pools, spend the day at the Dip & Slide Waterpark, or indulge yourself at the spa, there's something for everyone at the Hilton Fort Lauderdale Beach Resort. This hotel also boasts its private beach and invites visitors to enjoy an array of organized water activities including jet skiing, kayaking, and paddleboarding. 
Rooms have stunning panoramic views with homey touches, including vintage-inspired art, plush bedding, and spacious balconies. When dinner time rolls around, stroll over to the Sun, Sand, and Surf Restaurant's outdoor patio for specialty sushi rolls, trendy poolside snacks, and cocktails. 
Hotel Amenities:
Business Center
Room Service
Fitness Center
Outdoor Pools and Hot Tub
Spa
Beach
On-site restaurant
15. Hyatt Centric Las Olas Fort Lauderdale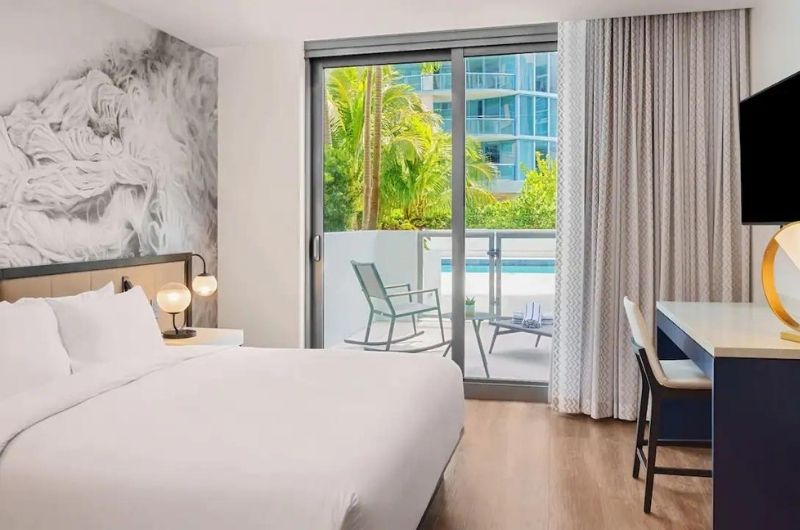 Location: 100 E Las Olas Blvd, Fort Lauderdale, FL 33301 – Tarpon River
Good For: Adventurous Travelers and Urban Goers
Highlights:
To experience the hustle and bustle of Fort Lauderdale and the height of its vibrant energy, a stay at the Hyatt Centric Las Olas Fort Lauderdale is the ideal fit for you. Located in the heart of the Las Olas business district, this modern cosmopolitan resort is perfect for business and leisure travelers alike. With trendy restaurants, nightlife, boutique stores, and popular tourist attractions all at your fingertips, this chic hotel is also a fitting home base for visitors to regroup before taking off on their next adventure. 
If you are in the mood for a low-key night in, guests can dine at the in-house restaurant, unwind at the pool or the rooftop bar, or vibe out at the speakeasy. When you are ready to retire for the evening, guests can kick back and relax in one of the 238 luxury rooms available, each overlooking the city skyline. 
Hotel Amenities:
Restaurant and Bar
Outdoor Swimming Pool
Fitness Center
Free Wifi
Pet Friendly
24/7 Front Desk
Breakfast Available
Business services
Free Bike Rentals
16. Hilton Fort Lauderdale Marina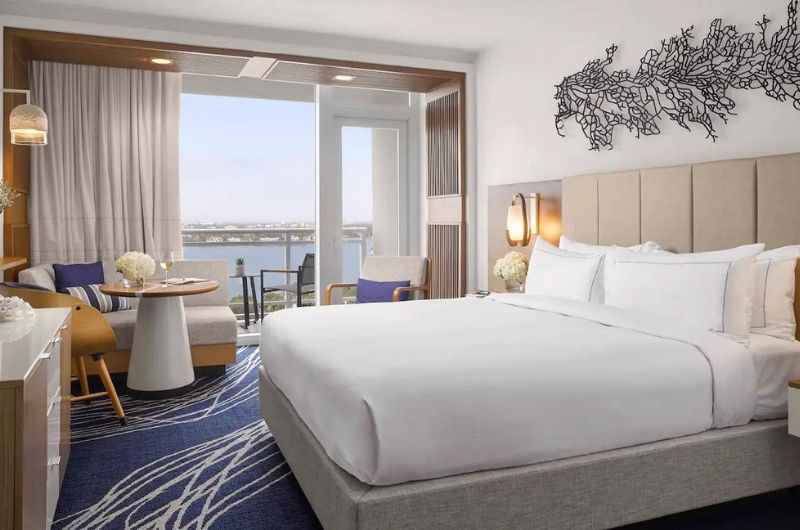 Location: 1881 SE 17th St, Fort Lauderdale, FL 33316 – Harbordale 
Good For: Vacationers or Business Workers
Highlights:
Fort Lauderdale is known for being the yachting capital of the country and a stay at the Hilton Fort Lauderdale Marina will remind you why. Set along a stunning stretch of the Intracoastal Waterway, this contemporary property has its very own marina lined with magnificent mega yachts. Meanwhile, many of the guest rooms boast breathtaking ocean views. One of the perks of being situated right on the water is convenient access to the Water Taxi, which stops right at the hotel. While guests may not be able to walk directly onto the beach, the hotel's complimentary beach shuttle makes it easy and convenient to get to. 
Due to its central location at the edge of the Intracoastal Waterway, Hilton Fort Lauderdale Marina is a popular hotel for both vacationers and business workers coming and going. After a long day at the beach or exploring the city, guests can relax around the heated swimming pool, and sip on a cocktail at G Bar & Grille.
Hotel Amenities: 
On-site Business Center
Boat Dock
Fitness Center
Pet Friendly
On-Site Restaurant and Bar
Room Service
Beach Shuttle 
Heated Swimming Pool