10 Best Beaches in West Palm Beach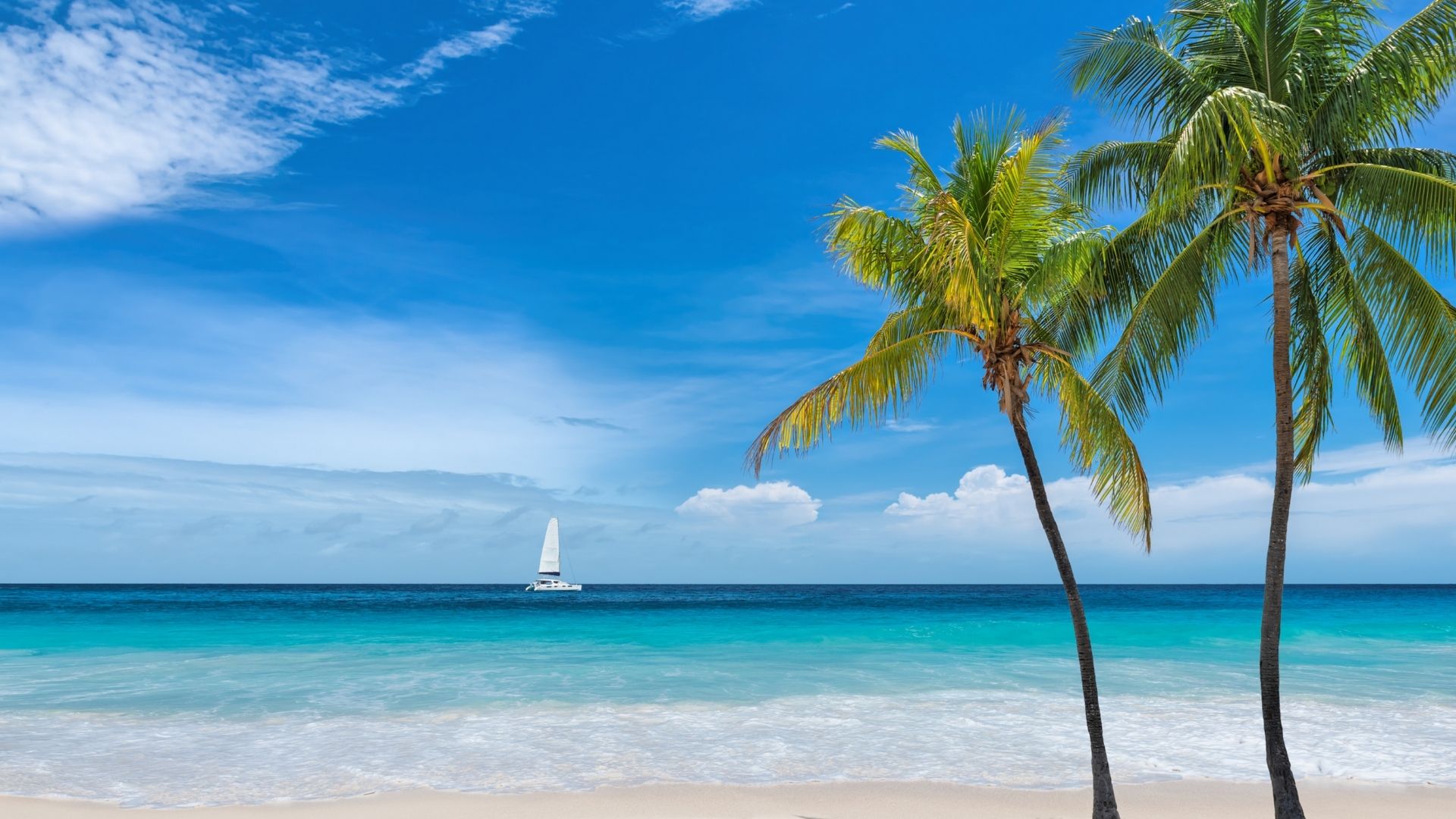 If you plan on hitting the beach on your trip to South Florida, rest assured – there are plenty of incredible options at your fingertips. Whether you are looking for a lively beach excursion, a family-friendly atmosphere, or a quiet and relaxing day in the sun, Palm Beach County has stretches of sand that cater to every interest. Here are the 10 best beaches in West Palm Beach.
1. John D MacArthur Beach State Park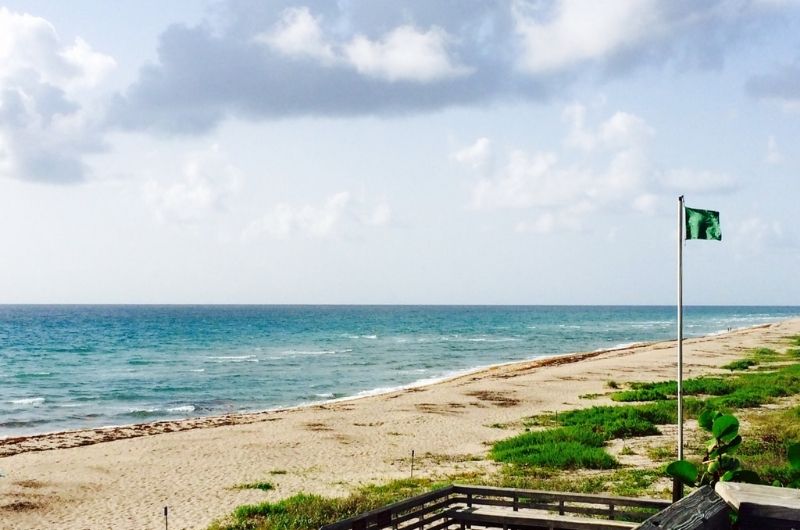 Next To: MacArthur Beach Nature Center
Vibe: Quiet and serene beach filled with natural beauty
Google Map: Link
Description: 
Situated on Singer Island in North Palm Beach is John D MacArthur Beach State Park. As the only state park in the Palm Beaches, this serene paradise gives visitors a rare peek into what Florida looked like before it became a part of the urban sprawl. Not only can visitors enjoy the two miles of stunning beachfront, but they can also wander throughout the state park, which is bursting with a wide range of local flora and fauna. 
After working up a sweat on the hiking trails throughout the state park, visitors can cool off in the crystal clear waters of the Atlantic. While there are no lifeguards on duty here, the calm waters make this a great place for families. Larger parties traveling with kids should also check out the children's playground, which will provide hours of hands-on entertainment. Aside from swimming and taking a stroll along the water or the boardwalk, John D MacArthur is also a great place to go fishing, snorkeling, kayaking, or canoeing.
2. Ocean Reef Park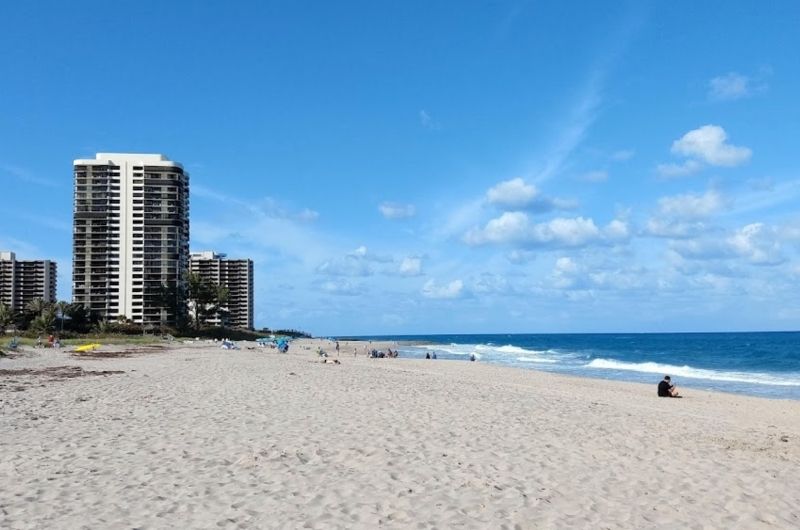 Next To: Hilton Singer Island Oceanfront
Vibe: Popular destination for snorkelers and freedivers
Google Map: Link 
Description: 
One of the most popular beaches in West Palm Beach, Ocean Reef Park is the perfect destination for those interested in snorkeling or free diving. Not only is the swimming area lifeguarded, but it's also closed off to passing boats, providing divers with an extra layer of reassurance and safety. To top that off, the 700 ft-explorable reef is very close to the beach, meaning that divers or snorkelers won't have to venture too far out to catch a glimpse of some interesting sea life. 
While many visitors travel to Ocean Reef Park for underwater opportunities, this beach is also an incredible place to enjoy a morning run or an afternoon walk. The boardwalk extends alongside the dune ecosystem, making it an interesting and beautiful place to explore. Ocean Reef Park also has a playground, picnic area, and boardwalk leading down to the beach. Additional amenities include on-site bathrooms and showers and lots of free parking.
3. Peanut Island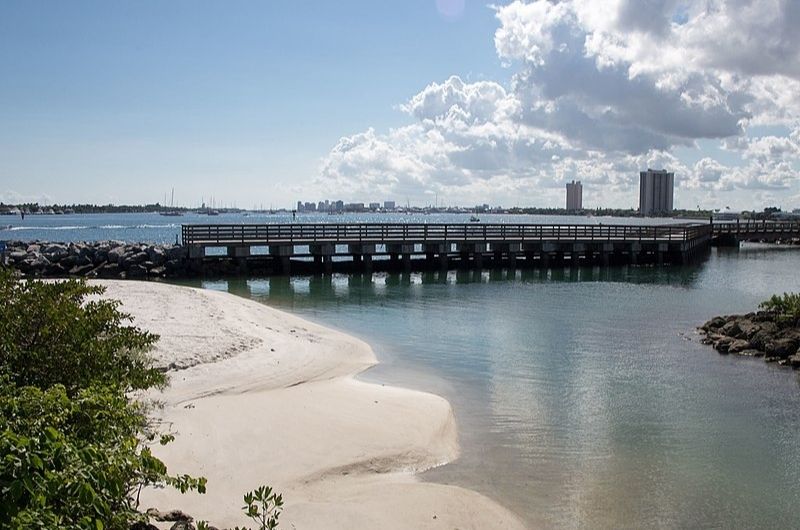 Next To: Peanut Island Shelter
Vibe: Lively atmosphere with outdoor activities galore
Google Map: Link 
Description: 
Tucked in Lake Worth Island is a man-made paradise: Peanut Island. From snorkeling during the day to camping under the stars, Peanut Island is a wonderful place to enjoy for the whole weekend this 80-acre island is famed for being the location where John F. Kennedy built his nuclear bunker during the Cold War. History buffs can still view the maintained bunker, and even opt to partake in a walking tour of the area. Nowadays, Peanut Island is more commonly used as an area to enjoy camping fishing, snorkeling kayaking, swimming, and other activities. For those planning on spending some time in the water, make sure to keep an eye out for manatees and manta rays. 
With lots of shallow areas and sand bars for anchoring, Peanut Island is a great place for boaters. It's very common to see other party boats here on the weekend, so if you are looking to get in on the lively atmosphere, this is a great place to go. Keep in mind, that this island is only accessible by boat, paddleboard, or canoe. Visitors can also travel to the island by way of a water taxi from the Sailfish Marina or Riviera Beach Marina.
4. Palm Beach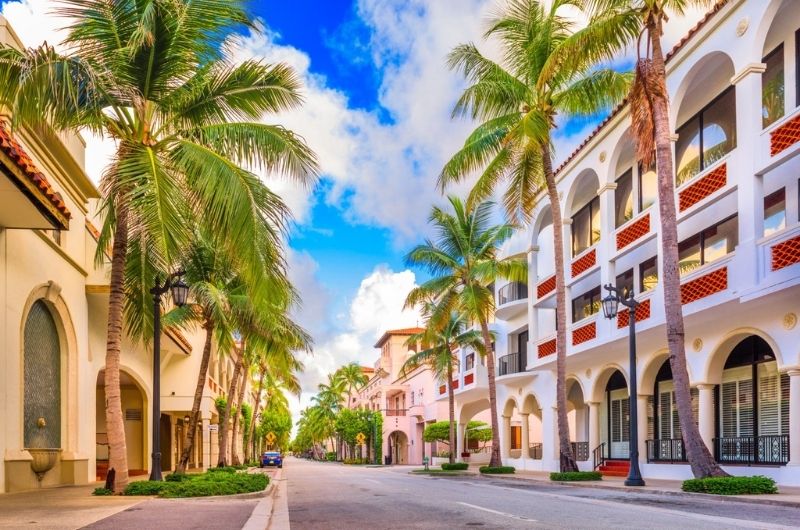 Next To: The Colony Hotel
Vibe: A beautiful and famous family-friendly beach
Google Map: Link
Description: 
No beach list for West Palm Beach is truly complete without Palm Beach itself. This famous stretch of sand is well known for its natural beauty, soft sand, and temperate water. If you're lucky, a trip to this family-friendly beach might also be an opportunity to spot some local wildlife! 
One of the best parts about Palm Beach is that it is close to many of the best things to do in West Palm Beach, including the Society of the Four Arts, which has both enchanting gardens and fascinating art exhibits to peruse. Visitors can also take a stroll around the six-mile Lake Trail, or go shopping at the renowned Worth Avenue. If you have a packed itinerary, this beach makes a great pit stop, as you won't have to go too far out of your way. After a long day of sightseeing, soaking up some sun on Palm Beach will be the most rewarding way to rest your legs. On the hunt for free parking? Make sure to check out Hammon Avenue.
5. Gulfstream Park
Next To: St Andrews Club
Vibe: A quiet hidden gem
Google Map: Link
Description: 
Located in Delray Beach, Gulfstream Park is the ideal beach spot for individuals who are looking to escape the hustle and bustle of busy beach crowds in Palm Beach county. The nearby Gulf Stream, the current that the park is named after, draws in a wide range of sea creatures, making this beach the perfect place to snorkel. Pack your gear and explore the underwater rock reefs teeming with ocean life. With lifeguards on duty, as well as a children's playground, Gulfstream Park is also a great family-friendly destination. To top that off, the on-site grills and picnic tables make it easy to arrange a big family barbecue for lunch or dinner. 
While there is free parking on the beach, it does tend to be limited. If you plan on spending the day here, it'll be in your best interest to arrive as early as possible in the morning. To break up your excursion, venture into town and explore the other sights that Delray Beach has to offer including the shopping and nightlife. Gulfstream Park has free showers available to freshen up beforehand.
6. Phil Foster Park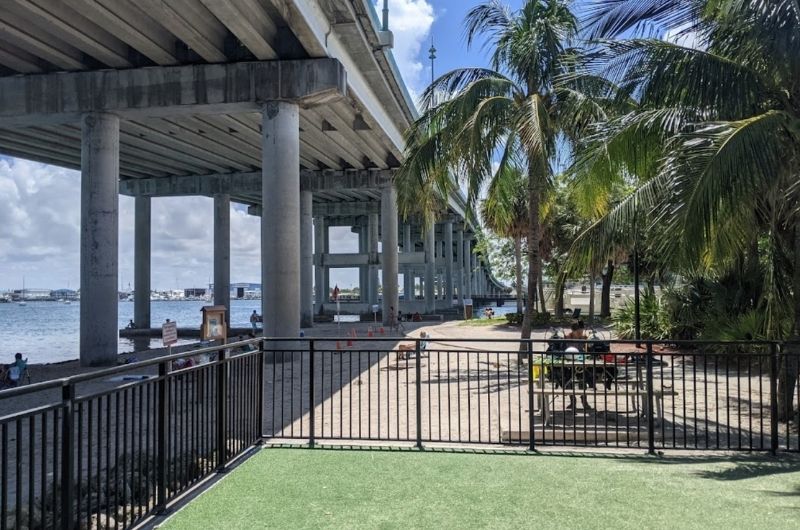 Next To: Jerry Thomas Memorial Bridge
Vibe: Great for diving and snorkeling 
Google Map: Link
Description: 
From fishing to swimming to sunbathing, there are many activities that can be enjoyed at Phil Foster Park. That said, this 14.7-acre beach park is best known for its one-of-a-kind snorkeling trail that snakes around the south end of the island near the Blue Heron Bridge. This man-made trail allows experienced scuba divers and snorkelers to see stingrays, eels, giant starfish, and vibrant tropical fish. Occasionally, visitors have even spotted manatees and octopi. Blue Heron Bridge has consistently been ranked as one of the best snorkeling and diving spots in all of Florida. Traveling to one of West Palm Beach's neighboring cities? Make sure to check out the top beaches in Miami during your visit to The Magic City. 
Keep in mind, that the snorkeling trail is best suited for strong swimmers. Younger children and inexperienced swimmers should stay and enjoy the calm waters closer to shore. Families can enjoy fun activities on the sand, including the playground, or splash around in the lagoon. While there may be hundreds of free parking spots available at Phil Foster Park, these tend to fill up pretty quickly on the weekends.
7. Lake Worth Municipal Beach
Next To: Four Seasons Resort Palm Beach
Vibe: Clean and Relaxed atmosphere
Google Map: Link
Description: 
Whether you are a surfer, a fisherman, a solo beachgoer, or traveling with a large family, Lake Worth Municipal Beach has something to offer you. While there are so many things to love about this family-friendly beach, returning visitors especially love this sandy spot for its cleanliness and relaxed atmosphere. It may be a public beach, but Lake Worth has services available for those looking for luxury. Cabanas are available for rental, meaning that you can save your towel for swimming and experience a truly blissful beach nap. Fishermen should check out The Municipal Pier, which also doubles as the perfect vista to watch the sunset. 
If you are hankering for a bite to eat, this public beach is within close proximity of the Lake Worth Casino Building and Beach Complex. Both properties have several restaurants inside including Mulligan's Beach House Bar and Brill and Kilwin's Chocolates and Ice Cream. Or simply make your way along the pier to Benny's On the Beach, an oceanfront restaurant with diverse cuisine. Additional amenities include a large play area for children, lifeguards on duty, lots of parking available, and shaded pavilion areas for when you need respite from the sun.
8. Juno Beach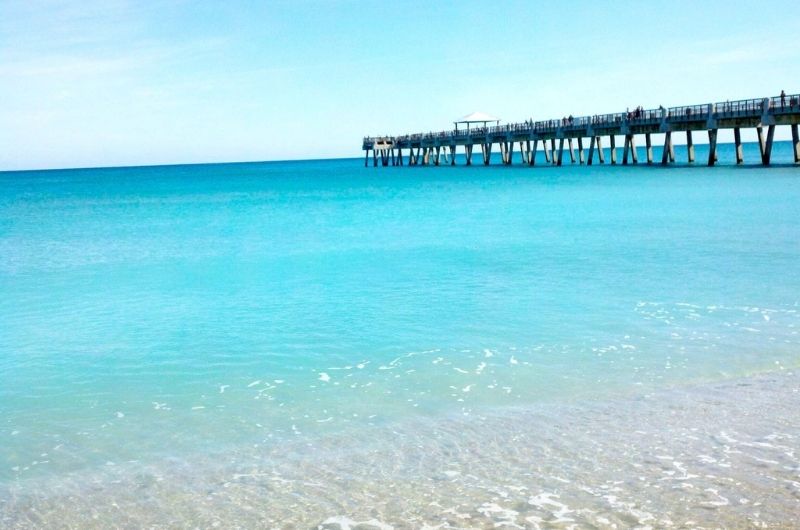 Next To: Seminole Golf Club
Vibe: Dog-friendly paradise
Google Map: Link 
Description: 
If you are traveling with your furry friend, Juno Beach is the perfect sandy stomping grounds for you and your beloved pet. While most beaches in Palm Beach County are not dog-friendly, Juno Beach is. Located in northern Palm Beach County, Juno Beach stretches across miles of land, meaning that families can easily find a quiet spot to set up shop for the day. There are also separate areas on the beach carved out for various water activities including fishing, swimming, and surfing, making it easy for individuals to do their thing, uninterrupted. 
Juno Beach is home to a 900-foot pier which is the perfect place to drop your line in the water or soak in breathtaking views of the Atlantic. Didn't bring your own fishing pole? No problem! Juno Beach has an on-site bait shop with bait to buy and poles to rent. To top that off, there's also a concession stand for those in need of a light bite, as well as on-site grills for beach-goers to whip up their own dinner. Additional amenities include a large parking area, restrooms, showers, and picnic areas.
9. Carlin Park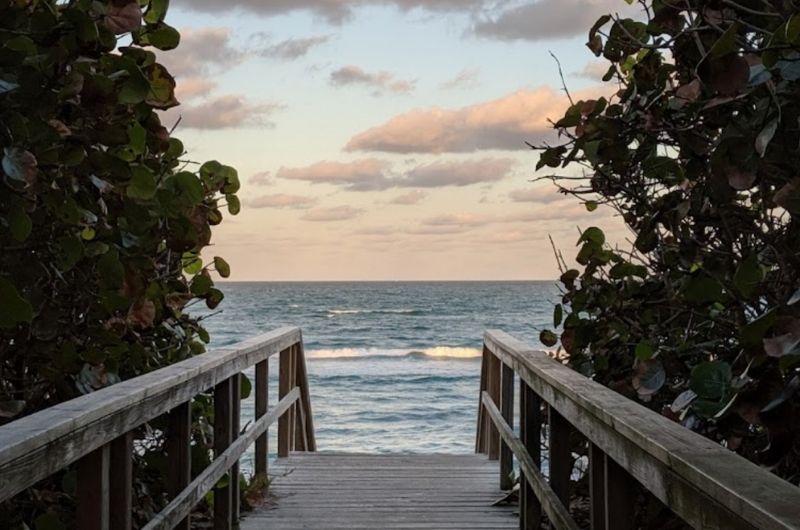 Next To: Seabreeze Amphitheater 
Vibe: Outdoor activities galore 
Google Map: Link
Description: 
Nestled in the small town of Jupiter, Carlin Park is so much more than a beach. While this beautiful beach has a truckload of activities available, it is best known for its unique walking course, which includes 20 exercise stations along the way. Those looking to stay active and social can also engage in volleyball, tennis, softball, and even bocce ball. After working up a sweat, visitors can take a dip in the ocean, or rest in the nearby cafe or one of the shaded pavilions. These shaded areas are also commonly used to host birthday parties and other events. 

Aside from the outdoor activities galore, individuals love Carlin Park for its abundance of free parking spots. Make sure to do a quick walk by the nearby Seabreeze Amphitheater before you leave. The amphitheater hosts frequent live entertainment throughout the year. There's so much to do at this beach park that you'll be tempted to come back for more. If you are a fan of one-of-a-kind beaches like Carlin Park, make sure to check out the best beaches in Fort Lauderdale.
10. Dubois Park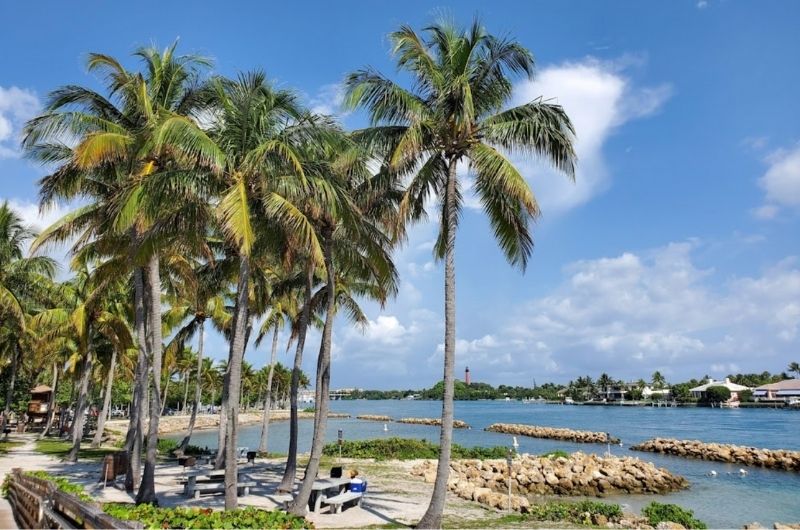 Next To: Jupiter Beach Park
Vibe: Great launching pad for boating, quiet swimming spot
Google Map: Link 
Description: 
Surrounded by palm trees, this lush and tropical beach park is tucked right in the mouth of the Jupiter Inlet. Upon arrival, beachgoers will notice that the park doesn't face the ocean but the Jupiter Inlet. This makes this beach park the perfect launching pad for jet skiers and boaters to adventure out on the Intracoastal Waterway. Individuals can also take a canoe or kayak out to the Loxahatchee River, which is one of only two national Wild & Scenic Rivers in Florida. 
A man-made barrier of natural rock and concrete shelters a pool of water, making this lagoon the perfect spot for strong swimmers and young children alike to snorkel or splash around. Before heading out, make sure to check out the Historical Indian mound site located in the park.