17 Best Miami Beach Hotels & Resorts in 2023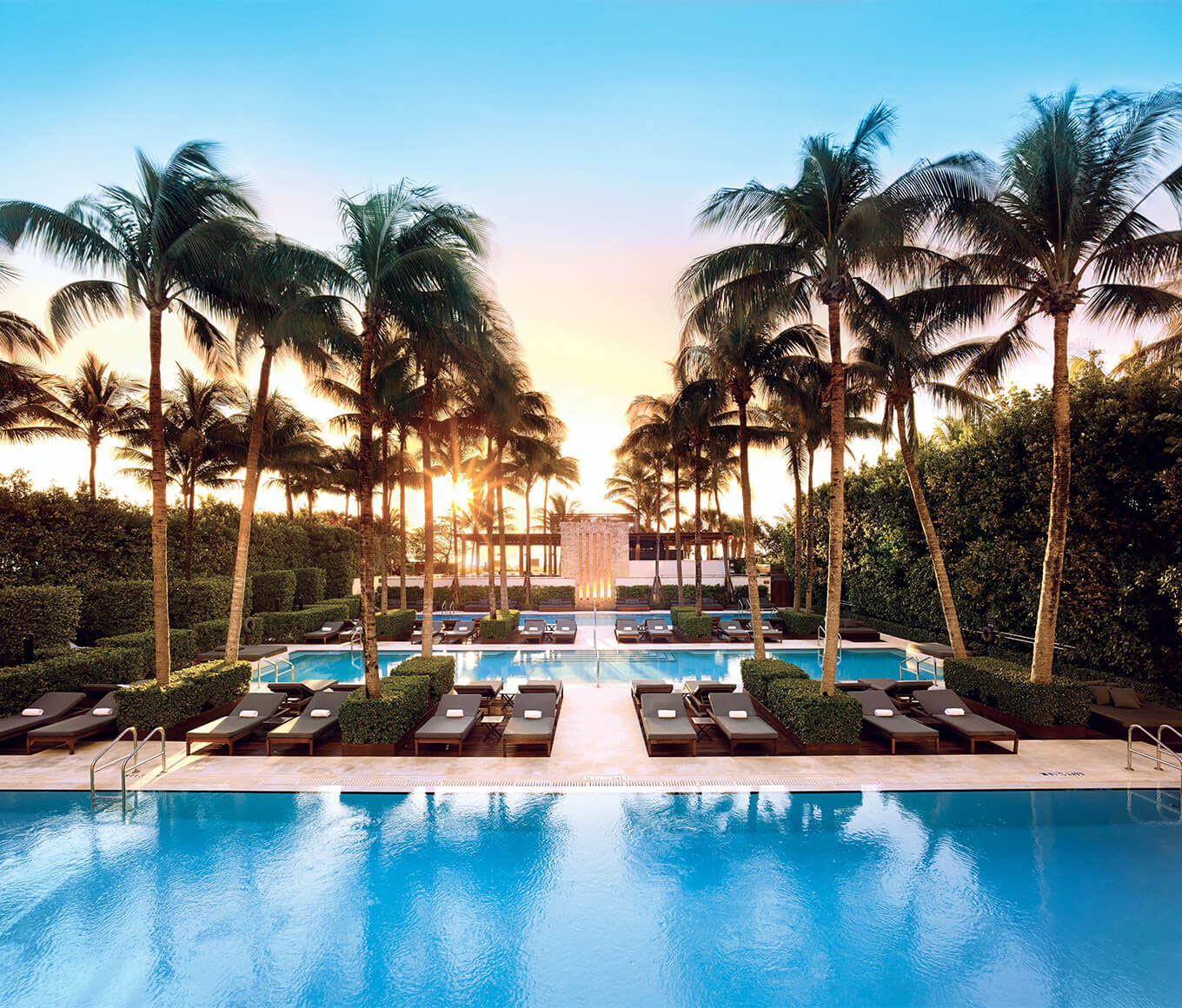 From Ocean Drive and the Art Deco District to Española Way and Lincoln Road, Miami Beach is home to some of the most iconic landmarks in "The Magic City." In the heart of Miami's beach and outdoors scene is a wide area of top-tier accommodations. The hotels located in this part of Miami are not only elaborately beautiful and thoughtfully curated, but they also offer a wealth of amenities and world-class restaurants. Whether you want to prioritize serene surroundings or proximity to nightlife, we've compiled a list of hotels for every interest.
1. The Setai, Miami Beach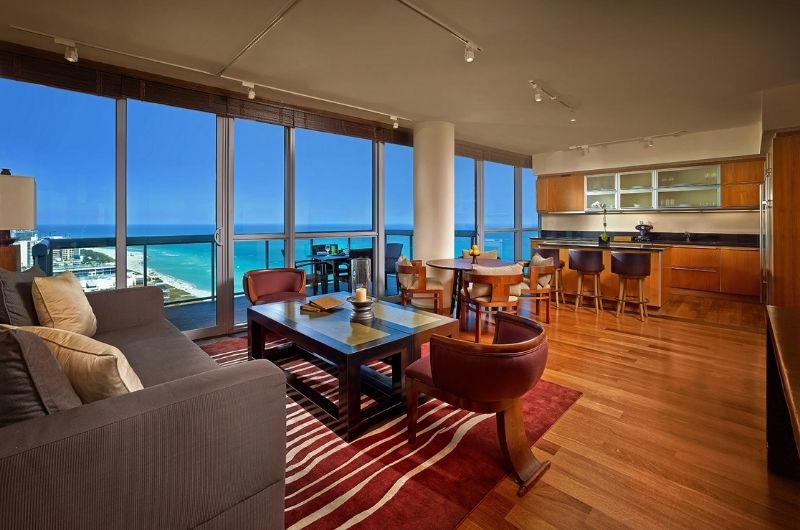 Location: 2001 Collins Ave, Miami Beach, FL 33139 – Collins Park
Good For: Relaxing Couple's Getaway
Highlights:
When stepping through the doors of The Setai Miami Beach, guests will immediately feel relaxed. As soon as you see the two-story, zen-inspired lobby with black granite floors and French limestone, you'll see what we mean. Filled with muted beige and brown color palettes, this hotel opts for Asian-inspired design elements over neon bright colors. Whether guests choose to stay in an Art Deco suite or an Oceanfront unit with floor-to-ceiling windows, each one of The Setai's 136 rooms is just as impressive as the last. Each room is equipped with Frette linens, flat-screen LED TVs, and rainfall showers. 
During their stay, guests can unwind at the in-house spa which offers massages and skin treatments, private baths, steam rooms, and a fitness center. This art-deco property also boasts a whopping three on-site infinity pools. As for dining, customers can savor delicious Mediterranean, American, or Asian cuisine at The Setai's three restaurants. While this hotel boasts a wealth of amenities, its prime location near South Beach and the Bass also makes it the perfect spot for visitors who want to get out on the town and explore. 
Hotel Amenities:
Business Center
Pets Allowed 
Three Infinity Pools
On-Site Spa
Fitness Center
Three On-Site Restaurants
Free WiFi
2. 1 Hotel South Beach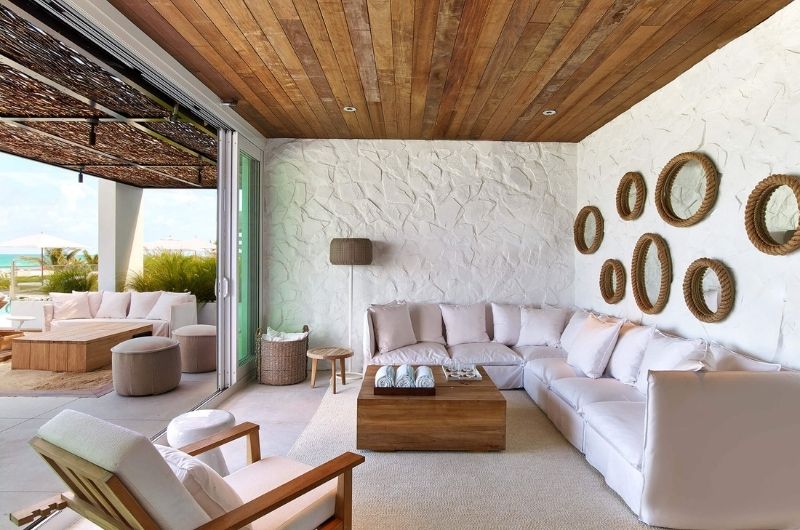 Location: 2341 Collins Ave, Miami Beach, FL 33139 – Miami Beach
Good For: Luxury Stay, Environmentally Conscious Couples 
Highlights:
1 Hotel's green ethos and mindful-living approach permeate every facet of this massive ocean-front resort. From the minute guests walk into the lobby they are enveloped in lush landscaping, living green walls, and a grotto garden. Each one of the 425 airy rooms, which are approximately 700-square-feet each, features organic bedding, reclaimed furniture, and recycled paper hangers. Even the key cards are made out of recycled wood. 1 Hotel's environmental focus even extends to one of their on-site restaurants, the Habitat restaurant, which serves tasty sea-to-table fare. 
This eco-conscious hotel boasts four pools that cater to different crowds. Families can situate themselves at the oversized center pool, which is also a great spot to get in some laps. For stunning 360-views of the Miami coastline, guests can head up to the 18th-floor pool. This serene adult-only zone is also directly across from the hotel's rooftop bar. If you are looking for a pool alternative, 1 Hotel also has direct access to 600-feet of private beach. While 1 Hotel may be further away from tourist attractions and nightlife, with eight dining and beverage options, five-star amenities, and regular events such as sense meditation and terrarium-building workshops, there's a good chance you'll never want to leave the hotel. 
Hotel Amenities: 
Organic Bedding
Bike Rentals
Complimentary Guest Transport Car Service
Business Center
Pets Allowed
Free WiFi
Eight Dining and Beverage Options
Four Pools
Private Beach
Largest Bedroom Units in South Beach
3. Nobu Hotel Miami Beach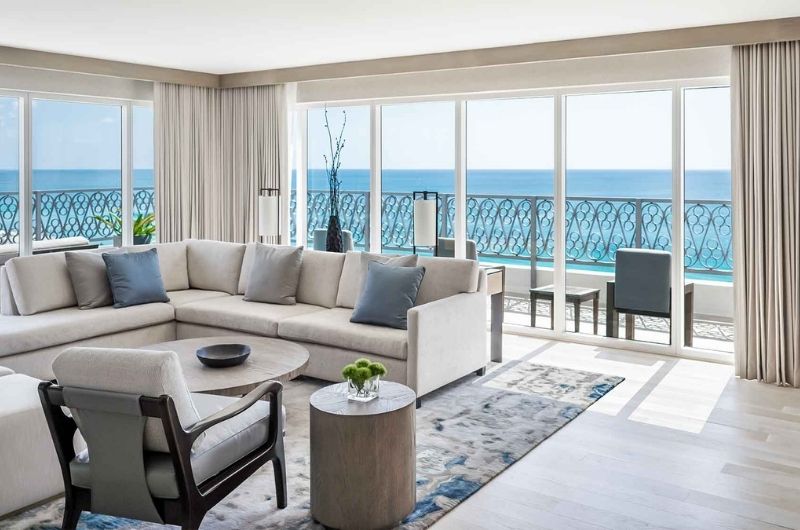 Location: 4525 Collins Ave, Miami Beach, FL 33140 – Mid-Beach
Good For: On-Site Dining, Wellness Oriented Couples
Highlights:
Nestled on a prime beachfront spot in Miami Beach is the Nobu Hotel. This trendy resort prides itself on delivering the perfect balance between luxury, fun, craft, and theater. While it may stand out for its location, Nobu Hotel's amenities also exude opulence. The extraordinary on-site spa is home to whirlpools, plunge pools, and saunas, as well as a hair and nail salon. Post-pampering, guests can continue relaxing on the beachfront or by sipping exotic cocktails by the poolside cabanas. For guests who are trying to stay active, this beachfront hotel also offers daily complimentary fitness classes and a well-equipped fitness center. 
When evening rolls around, guests can indulge in world-famous Japanese cuisine at Nobu Miami or savor organic farm-to-table dishes at Ocean Social restaurant. As for the rooms? They don't disappoint. Made up of blue, silver, lilac, and white hues, each one of the guest rooms, suites, and villas comes with a Nespresso coffee maker, flat-screen TV, rain shower, Terry bathrobe, and access to 24-hour room service from Nobu Miami. 
Hotel Amenities: 
Business Center
Pets Allowed
Free WiFi
Spa and Fitness Facility
Four In-House Restaurants
Cabana Rentals
Complimentary Fitness Classes
Bike Rental
Four Pools
4. Miami Beach EDITION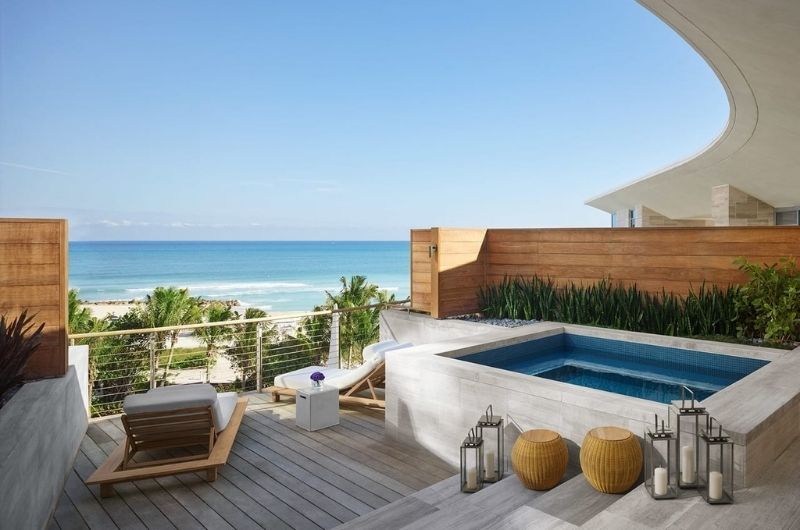 Location: 2901 Collins Ave, Miami Beach, FL 33140 – Mid-Beach
Good For: The Perfect Balance Between Hype and Relaxing
Highlights:
If you are looking for a fun-filled South Florida vacation, a stay at the Miami Beach Edition is the way to go. Adjacent to 70,000 square feet of pristine white sand, Ian Schrager's one-of-a-kind scenic resort possesses every amenity that you could ever want, and then some. Miami Beach Edition's unique BASEMENT complex is packed with unexpected features such as an ice skating rink, a bowling alley, and a nightclub (all accessible for an additional cost). When hunger strikes, guests have five different drinking and dining options at their fingertips. If you are looking for an upscale dining experience, head over to chef Jean-Georges Vongerichten's Matador Room for Latin cuisine. For a more casual bite, guests can dine at the hotel's alfresco eatery, Tropicale. 
If you are looking to relax, Miami Beach Edition has also got you covered. While this scenic resort has see-and-be-seen energy to it, its sleek and minimalist interiors, white marble floors, and golden mosaic-tiled decor provide a calm and tranquil mental space for guests. Guests can enjoy a treatment at the spy, meditate in the relaxation lounge, hang out at the Sandbox (a hidden hammock garden), lounge on the 1950s-inspired pool deck, or sink your feet in the sank on the hotel's beachfront. 
Hotel Amenities: 
24-Hour Fitness Center
Bowling Alley
Ice Skating Rink
Direct Beach Access
Five Dining and Drinking spots
Spa
On-site Night Club
Bluetooth Speakers
WiFi Access
Flat Screen TVs
Rainforest Showers
5. W South Beach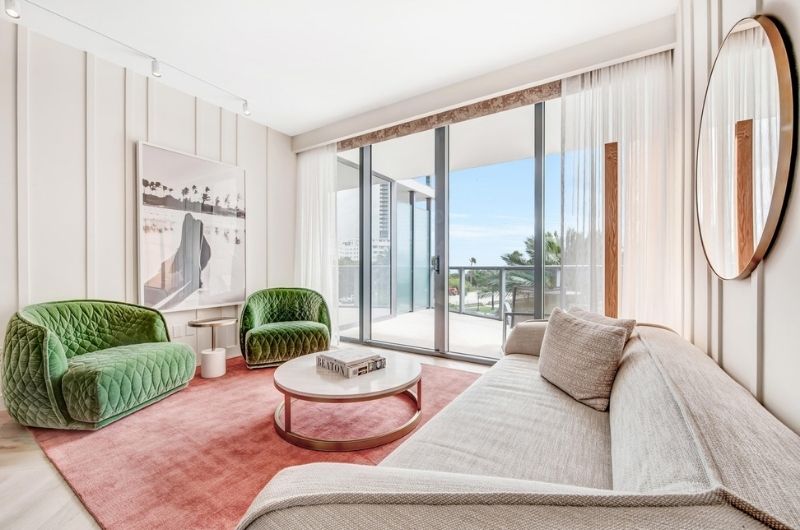 Location: 2201 Collins Ave, Miami Beach, FL 33139 – Collins Park
Good For: Young and Trendy Couples and Friends
Highlights:
One of Miami Beach's most stylish resorts, W South Beach is only a few steps away from South Beach's sun-kissed sand and sparkling sea. The chic slate-gray color scheme and glamorous pool tend to draw in a young crowd, which includes famous figures and A-list celebrities. To top that off, W South Beach also has an elegant salon and five decadent restaurants and lounges — what more could you possibly want?
Along with its five-star amenities, W South Beach boasts some of the largest guest rooms in all of Miami. Each unit is a natural haven filled with neutral textures, beige tones, and pastel accents, making these spacious bungalows the perfect places to kick back and relax. The suites feature sweeping ocean views, private balconies, high ceilings, kitchens and kitchenettes, flat-screen TVs, and on-demand movies. Don't miss the chance to enjoy W South Beach's complimentary art tour that is included as part of the resort fee. The hotel's $50 million contemporary collection includes 21 original pieces by Andy Warhol.
Hotel Amenities: 
$50 Million Art Collection
Pool
Five On-site Dining Options
Spacious Guest Rooms
Private Balconies
Ocean Views
Flat-Screen TVs
Pets Allowed
6. Soho Beach House Miami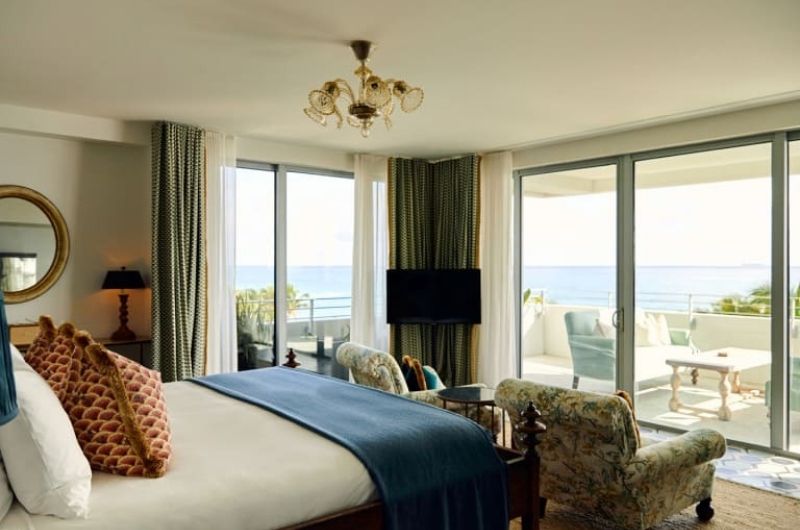 Location: 4385 Collins Ave, Miami Beach, FL 33140 – Mid-Beach
Good For: Homey yet Elegant Stay with Family or Friends
Highlights:
Traveling with young kids? Soho Beach House is the perfect place for a luxurious family stay. Not only is the exquisitely designed pool family-friendly, but the Soho Beach House has babysitting and child services on offer. Aside from their rooftop terrace, heated pool, and private beach access, Soho Beach House's standout feature is its guest rooms. Each room will transport you to a rustic farmhouse. With oversized dark wood headboards, patterned armchairs, old wood beams, decorative chandeliers, and Havana-style fans, each room strikes the perfect balance between elegant and homey. 
From its wide array of bars and its on-site library to its in-house shopping spot and indoor club space, you'll never need to leave Soho Beach House if you don't want to. Previous guests have raved about the pathway that leads to the hotel's private beach. Surrounded by lush plants and greenery, it will feel as though you are in the middle of a tropical jungle. 
Hotel Amenities:
Private Beach
Heated Pool
Sun Deck
Sauna
Beauty Center
On-Site Shops and Restaurants
Library
Restaurants and Bars
Rooftop Terrace
Babysitting and Child Services
7. The Ritz Carlton, South Beach
Location: 1 Lincoln Rd, Miami Beach, FL 33139 – City Center
Good For: Indulgent Weekend for Two, Prime Location
Highlights:
Who says you can't have it all? If you are looking for an indulgent stay in Miami, nothing will top your experience at The Ritz Carlton, South Beach. Stationed in the heart of the Art Deco district, The Ritz Carlton, South Beach sets the gold standard for location and luxury. Rooms are clean and contemporary with white walls and linens, velvet bed frames, plush chains, and bronze mid-century style accents. Each unit features an unparalleled city or ocean view and a spacious bathroom. If you can't get enough of the views, make sure to check out the outdoor pool that looks out onto the Atlantic. 
If you need some pampering, make an appointment at the resort spa, which offers an array of ESPA treatments. Other notable features include the three restaurants, bars, and $2 million art collection. Only 10 minutes away from Lincoln Road Mall, this hotel makes a great home base for those looking to explore the shops and restaurants scattered across the area. With its five-star service, amenities, and location, guests can count on an experience that lives up to the Ritz Carlton name. 
Hotel Amenities: 
iPod Docking Stations in Rooms
Prime Location
Oceanfront Pool
On-site Restaurants
Spa
Art Collection
Meeting Space
Outdoor Wedding Venues
Private Cabanas
8. Kimpton Angler's Hotel, South Beach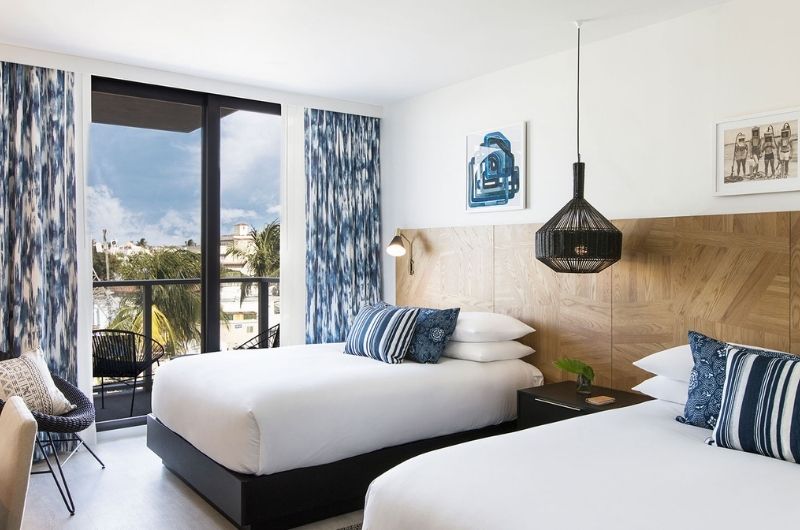 Location: 660 Washington Ave, Miami Beach, FL 33139 – Flamingo/Lummus
Good For: Intimate and Reclusive Getaway 
Highlights:
Dreaming of a classy stay in Miami? The Kimpton Angler's Hotel will meet your expectations. This intimate hotel features 45 rooms and suites, each one equipped with bamboo wood floors, white marble bathrooms, coffee makers, and a plasma TV. If you are in the mood to splurge, you can opt for a more spacious accommodation equipped with a private rooftop terrace and a jacuzzi. For herb-infused, gin-centric cocktails, head over to Minnow Bar, a full-service bar with a breezy outdoor terrace. After drinks, savor a delicious seafood dinner at Seawell Fish N' Oyster. Guests can also begin the night with the Kimpton Angler's daily complimentary wine reception. 
During the day, lodgers can spend the day poolside or ride around town on one of the hotel's complimentary bikes. Unlike many of the Miami Beach hotels, this property is situated on Washington Avenue, not Collins, making it a great respite from the area's pool parties and wild nightlife.
Hotel Amenities: 
Free WiFi
Pools
On-Site Restaurant and Bar
Complimentary Wine Reception
Free Bikes
Rooms with Private Rooftops and Jacuzzis
Coffee Makers 
Plasma TVs
9. Mondrian South Beach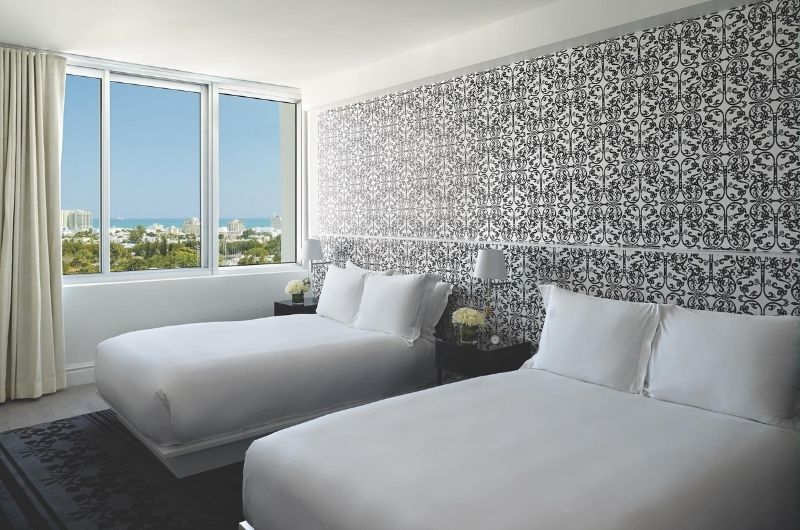 Location: 1100 West Ave, Miami Beach, FL 33139 – South Beach
Good For: Quiet, Breathtaking, One-of-A-Kind Experience
Highlights:
Set on the breathtaking waterfront of Biscayne Bay, and nestled just outside of the lively and touristy South Beach party scene, is the exquisite Mondrian South Beach hotel. Designed by the renowned Marcel Wanders, this luxury hotel exudes a one-of-a-kind baroque allure that is anything but trendy and generic. Each one of the 335 modern suites is bursting with character and equipped with full kitchenettes, memorable rainfall showers, custom-designed furniture and artwork, and black and white decor. One of the standout features of the hotel is the main pool, a serene oasis surrounded by lush gardens, hidden hammocks, and tucked-away lounge areas. Guests can also enjoy a full-service spa and alfresco on-site restaurant during their stay. 
Hotel Amenities: 
Free Bike Rentals
Rotating Pop-up Restaurants
Stunning Views
Full Kitchenettes
Rainfall Showers
Pool
Full-Service Spa
On-site Restaurant
10. SLS South Beach
Location: 1701 Collins Ave Miami Beach, Miami, FL 33139 – City Center
Good For: Elegant Stay for Friends or Couples, Premier On-Site Dining
Highlights:
Designed by trendsetting designer Philippe Starck, SLS South Beach blends Old World glamor with upscale contemporary comfort. While the rooms may be relatively smaller than other luxury Miami Beach hotels, what the units lack in size they make up for in style. The chic guest accommodations boast a crisp white color scheme with charcoal and soft pink accents. Each room features HDTVs, minibars, and stunning city or ocean views. The elegant bathrooms include high-quality spa amenities and claw foot bathtubs. The daily resort fee will cover in-room WiFi and espresso, fitness center access, and the use of two beach chairs. 
During the daylight hours, guests can sprawl out on a poolside cabana, take a dip in one of the two pools, or head over to the beach to soak up the South Florida rays. SLS South Beach is particularly beloved for its world-class dining options, which include four different eateries and bars. Head over to Katsuya South Beach for a delectable sushi dinner or The Bazaar South Beach for some Spanish-Latin fusion. 
Hotel Amenities: 
Fitness Center
Two Pools
Four On-Site Dining and Drinking options
HDTVs
Mini-bars
Beach Chair Access
Pets Allowed
Free WiFi
11. Fontainebleau Miami Beach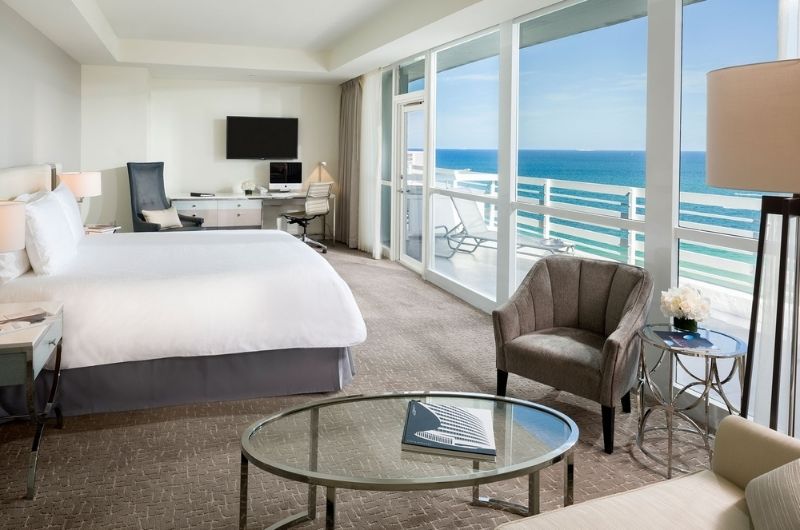 Location: 4441 Collins Ave, Miami Beach, FL 33140 – Mid-Beach
Good For: Upscale yet Lively Hotel for Party-going and Celeb-Spotting
Highlights:
Fontainebleau Miami Beach has been dominating the Miami hotel scene since the '50s and there's no sign of it slowing down anytime soon. The former stomping grounds of A-listers such as Frank Sinatra and Elvis Presley, this celebrity hot spot is now frequented by the likes of Katy Perry and Rihanna. With 10 on-site restaurants, 11 distinctive pool experiences, and direct beach access, the amenities at this crescent-shaped resort leave little to be desired. To top that off, Fontainebleau also features a 40,000 square foot luxury spa with mineral water pools, a rain room, steam room, deluge shower, and hammam benches. 
With more than 1,500 guest accommodations and 22 ocean-front acres, Fontainebleau is one of the city's largest hotels. Each room is filled with flat-screen TVs, plush bathrobes, mini-bars, and unexpected surprises. Guests can also leave their laptops at home because each room is equipped with its very own iMac computer. If you've come to Miami to get a taste of the wild nightlife, you don't even need to leave the hotel premises. LIV, the hotel's on-site nightclub, is one of the hottest spots in town. That said, while Fontainebleu caters to all types of crowds, including big families, if you are looking for a more tranquil hotel stay, this might not be the place for you.
Hotel Amenities: 
11 Pool Experiences
Luxury Spa
10 On-site Restaurants
iMac Computers
Flat-screen TVs
Mini-bar
On-Site Night Club
Family-friendly Amenities 
Free WiFi
Pets Allowed
Business Center
12. The Savoy Hotel & Beach Club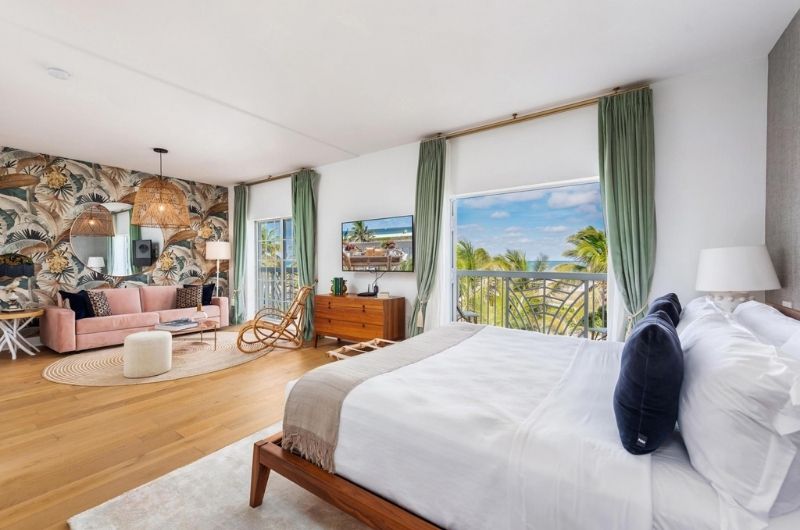 Location: 425 Ocean Dr, Miami Beach, FL 33139 – Flamingo/Lummus
Good For: Serene Couples Getaway, Tranquil Family Trip
Highlights:
Tucked away in the Flamingo/Lummus district is one of Miami's most historic vacation venues: The Savoy Hotel & Beach Club. First opening its doors in 1935, this hidden gem is the most idyllic place to relax and disconnect from the hustle and bustle of everyday life. This intimate boutique hotel includes two acres of private, tropical grounds, lush gardens, and two iconic pools with stunning views of the Atlantic Ocean. Guests can spend the day at the hotel's private beach, curl up with a good book in the Lobby library, and take advantage of the 24-hour concierge service. When you're hankering for a drink or a bite to eat, the Sandbar serves up handcrafted cocktails and international fusion. 
With dreamy blues, crisp whites, and coral accents, each one of the 31 spacious suites is designed to reflect the serene beauty of Miami. Each suite is filled with elegant and homey touches that exude a tropical and beachy charm.
Hotel Amenities: 
Library
24-hour Concierge Service
Two Pools
Private Beach
On-site Dining 
Spacious Suites
13. The Betsy Hotel
Location: 1440 Ocean Dr, Miami Beach, FL 33139 – Lummus Park
Good For: Stylish Yet Intimate Trip for Two
Highlights:
It might not have seemed possible, but you can have a quiet and intimate vacation in the middle of South Beach. All you need to do is stay at The Betsy Hotel. This Southern Belle sticks out amongst the sea of Art-Deco-styled buildings and will make you feel like you are staying somewhere along the Mississippi River. Not to worry though, the hotel's serene and stunning views will immediately transport you back to Ocean Drive. 
The 1940s, Southern-inspired building is home to spacious rooms, each one featuring a mini library, writing desk, and sprawling marble bathroom with walk-in showers and rain-forest showerheads. With 360-degree views of the Atlantic Ocean and the Miami skyline, the rooftop pool is not to be missed. As for on-site dining? The Betsy has got you covered. Guests can enjoy a meal at LT Steak & Seafood or The Alley, a modern trattoria serving up Neapolitan-style pizza and pasta. This oceanfront oasis is also known for hosting diverse cultural programs including poetry readings, jazz performances, conversations with LGBTQ+ storytellers.
Hotel Amenities: 
Two Pools
On-Site Dining
Malin+Goetz Beauty Products
Free WiFi
HDTVs
Book Collections
Wellness Garden and Spa
Pets Allowed
14. Four Seasons Hotel at The Surf Club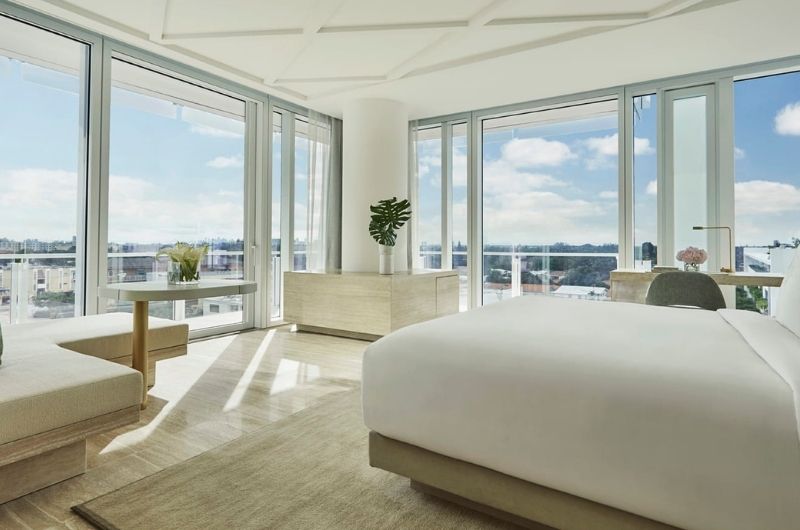 Location: 9011 Collins Ave, Surfside, FL 33154 – Surfside
Good For: Upscale Family Vacation, Luxury Trip for Two
Highlights:
Joining the ranks of Hollywood hotspots in Miami Beach is Four Seasons Hotel at The Surf Club in Seaside. Over the years, A-list celebrities have flocked here including Elizabeth Taylor, Wallis Simpson, and the Shah of Iran. Aside from the three outdoor pools, including an adult-only pool, direct beach access, and an award-winning spa, one of the biggest draws of this hacienda-style hotel are its on-site restaurants. Guests can dine at The Surf Club and Le Sirenuse, or enjoy cocktail hour at the Champagne Bar, which features Miami's largest selection of champagnes. 
Slightly removed from the frenzied South Beach scene, this luxury hotel sits on 9 acres of beachfront property with unparalleled ocean views. Each of the 77 spacious accommodations channels the pristine sands right outside with beige walls and white marble. Each unit also includes floor-to-ceiling windows, flat-screen TVs, free WiFi, sitting areas, room service, and some also include a private balcony. One of the standout features of the hotel is its kid-friendly amenities which include a designated family pool, a well-run kids program, child-sized robes, and babysitting services.
Hotel Amenities: 
Three Outdoor Pools
Direct Beach Access
Free WiFi
Room Service
Family and Kid-Friendly Amenities
Award-Winning Spa
Fitness Center
On-Site Dining
15. The St. Regis Bal Harbor Resort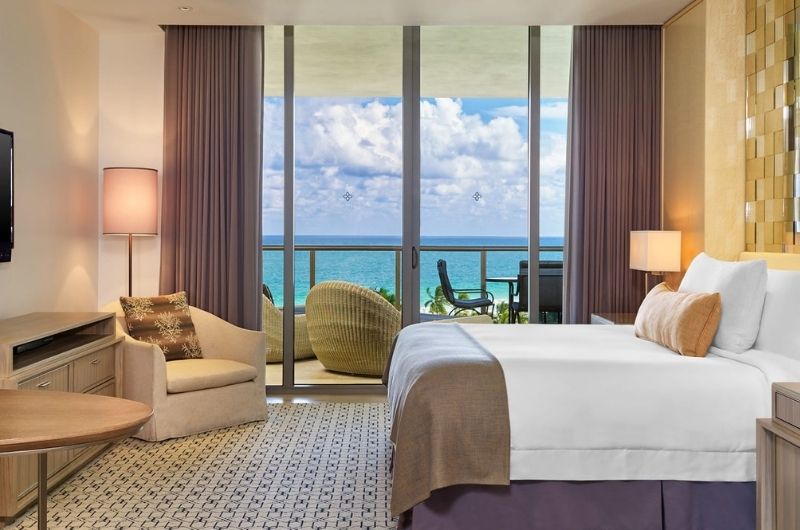 Location: 9703 Collins Avenue Bal Harbour, Miami Beach, FL 33154 – Bal Harbour
Good For: Swanky Couple's Trip, Upscale Family Vacation 
Highlights: 
Designed with a whoa and wow factor in mind, walking into the lobby at The St. Regis Bal Harbour Resort is a jaw-dropping experience. Guests will immediately be met with a giant, hanging metal sculpture and a handful of tufted chairs and couches that look as though they shouldn't be touched. Situated in Bal Harbour, overlooking the Atlantic, this swanky resort is perfect for those who want a little distance from the lively setting that South Beach is known for. After some retail therapy at the nearby Bal Harbour shops, guests can lounge by one of two hotel infinity pools or on one of the cabanas scattered across the long stretch of beach. 
One of the biggest highlights of the St. Regis Bal Harbor Resort is its 14,000 square-foot spa, which includes couples massages and bath treatments, among other services. Guests can also enjoy Mediterranean, French, and American fare at St. Regis's five on-site restaurants. As for guest rooms, each one is just as incredible as the last. Each room features breathtaking ocean views, a private balcony, and high-tech features such as flat-screen TVs with DVD players and tablets that control the lights, blinds, and room temperature. 
Hotel Amenities: 
Luxury Spa
Five On-Site Restaurants
Private Balconies
Two Pools
Direct Beach Access
Beach Cabanas
Flat-Screen TVs
Business Center
Pets Allowed
Free WiFi
16. Loews Miami Beach Hotel
Location: 1601 Collins Ave, Miami Beach, FL 33139 – City Center
Good For: Fun-Filled Family Vacation, Couples Traveling with Pets
Highlights:
Whether you are a family vacationing with kids or a solo business traveler Loews Miami Beach Hotel caters to every type of guest. Loews even caters to your furry friends by providing dog beds and water bowls! Rated one of Miami's best hotels for families, this hotel features a gaming lounge, cooking classes, kids club, and a host of outdoor activities, such as banana boat rides and kid-safe water sports. 
While your little ones are entertained and occupied, parents can unwind at the spa or on one of the adult-only poolside cabanas with bottle service. Adjacent to the Art Deco District, Loews is also only a few steps away from South Beach itself. Due to its beachfront location, each room comes with a view as well as Frette duvets, Keurig coffee makers, flat-screen Smart TVs, and mini-bars. Loews also offers five different food, coffee shops, and beverage joints including Miami Joe Coffee Co. to begin your morning, and Lure Fishbar for delicious seafood. 
Hotel Amenities: 
Kid-friendly Amenities
Pet-friendly Amenities
Adult-only Poolside Cabanas
Beach Access
Keurig Coffee Makers
Flat-screen Smart TVs
Mini-bars
On-site Dining
Outdoor Activities
Business Center
Beach Chairs
Free WiFi
17. The Ritz Carlton, Bal Harbor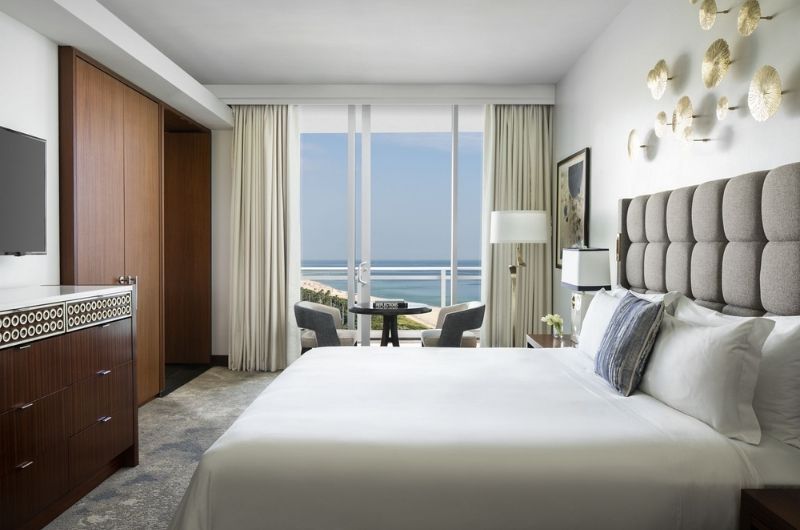 Location: 10295 Collins Ave, Bal Harbour, FL 33154 – Bal Harbour
Good For: Tranquil and Upscale Escape
Highlights: 
If R&R with a hint of luxury is what you seek on your Miami getaway, The Ritz Carlton, Bal Harbor is the place for you. Situated at the very end of Collins Avenue, this Ritz Carlton location is perfect for those looking for a quieter South Beach experience. When you aren't splashing the cash at the luxury Bal Harbour shops, guests can kick back and relax at the heated outdoor pool or the 10,000 square-foot spa. If you want a little more privacy, in-room spa treatments are also available. 
One of the standout features of this luxury hotel is its guest accommodations, some of which offer 180-degree views of the ocean, from both the bedroom and bathroom. Guests have the choice between multi-room suites with full-sized gourmet kitchenettes, or standard rooms, which are still very spacious. Each room includes sumptuous bedding, plush robes, elegant decor, and curated artwork, while the equally impressive bathrooms include floor-to-ceiling windows, oversized showers, and free-standing bathtubs overlooking the ocean. An added perk? A daily free breakfast is also included. 
Hotel Amenities: 
On-site Dining
Spa
In-room Spa Treatments
Heated Pool
Fitness Studio 
Luxury Cabanas
Room Service
$3.5 Million Art Collection 
Free WiFi
Business Center