18 Best Boat Tours in Miami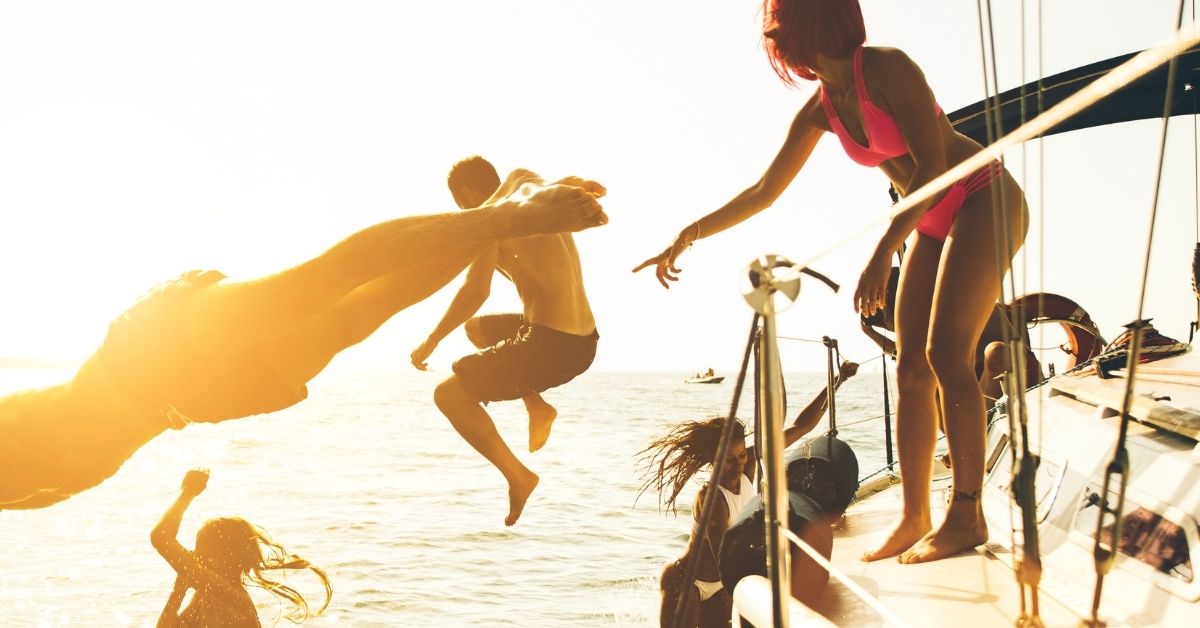 From its art deco architecture and Cuban culture to its white sand beaches and vibrant nightlife, there are so many activities to enjoy on a trip to the Magic City. When it's time to give your feet a break from all the walking, simply continue your exploring by boat. Easily one of the best things to do in Miami, boat tours in this coastal city are easy to book, run often, and offer a wide variety of experiences. Whether you are interested in celebrity spotting, day-drinking, or exploring the Everglades, Miami's boat tours offer all types of aquatic adventures. 
Best Private Charter Boats in Miami
Who says you can't have it all? If you are looking for a truly relaxing and indulgent boat tour in Miami, opting for a private charter is the way to go.
1. Boat Rental Excursion in Miami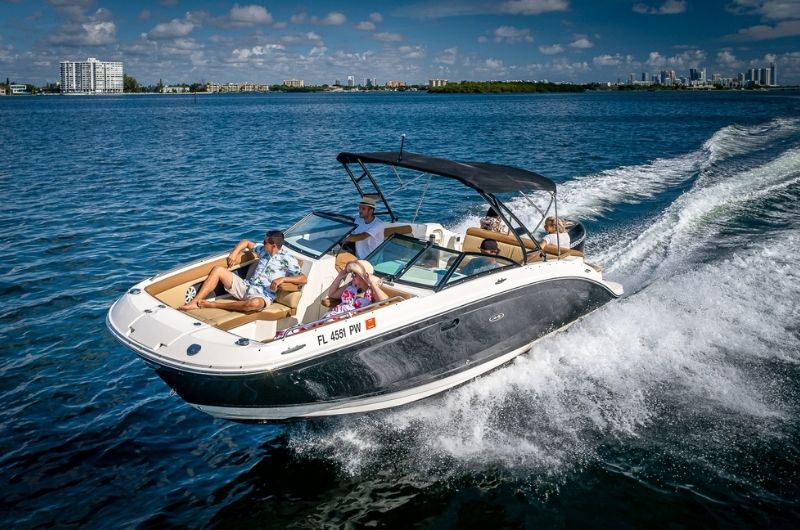 Best For: Small Groups of Families and Friends
Description: 
This boat tour rental excursion in Miami is a great activity to enjoy when your family or friends are visiting Miami. Available for booking through Viator, this private charter can give up to six people a tour of Biscayne Bay. Whether you are interested in taking in the sights of celebrity homes or catching glimpses of Floridian wildlife, guests can customize the itinerary to cater to their interests. That said, a standard tour will include a two-hour stop at Haulover Beach Park, one of the best beaches in Miami. Boat-goers can take a dip in the water, or simply eat and relax onboard. Guests are welcome to bring their own food and drinks on the boat or pick up takeout from a nearby restaurant by boat. 
A stop by Fisher Island, the most lavish and exclusive island in Miami Beach, as well as a stop by Brickell City Center, are also included in the boat tour. Guests can also enjoy complimentary bottled water, coolers and ice, and Bluetooth speakers. 
2. Private Sailing Charter in Miami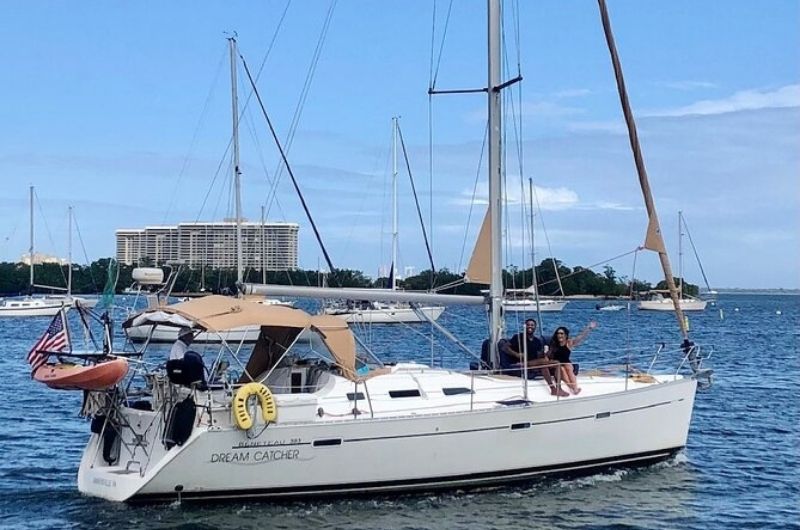 Best For: An adventurous double date 
Description: 
If gliding along the water on a sailboat is more your speed, this private sailing charter in Miami will make all your dreams come true. Available for booking through Viator, this 40-foot Beneteau sailboat can accommodate up to four people, making it the perfect activity for an adventurous double date. Don't know how to sail a boat? No problem! This boat tour will be led by the extremely laid-back Captain Bill. Whether you are looking for a spur of the moment sailing lesson, or just looking to help out a bit on board, Captain Bill is happy to accommodate your interests. Guests can also feel free to simply enjoy their sail around Miami. 
Boat-goers have the option to choose either a northern or southern route. These routes will highlight some must-see Miami attractions on the water, including Millionaire's Row, the gorgeous Vizcaya estate, and the Miami skyline. One of the best parts about this charter is that guests can pack lightly. This charter provides guests with snacks and sodas, as well as a paddleboard and kayak for water activities.
3. Captain Joes 48ft Luxury Yacht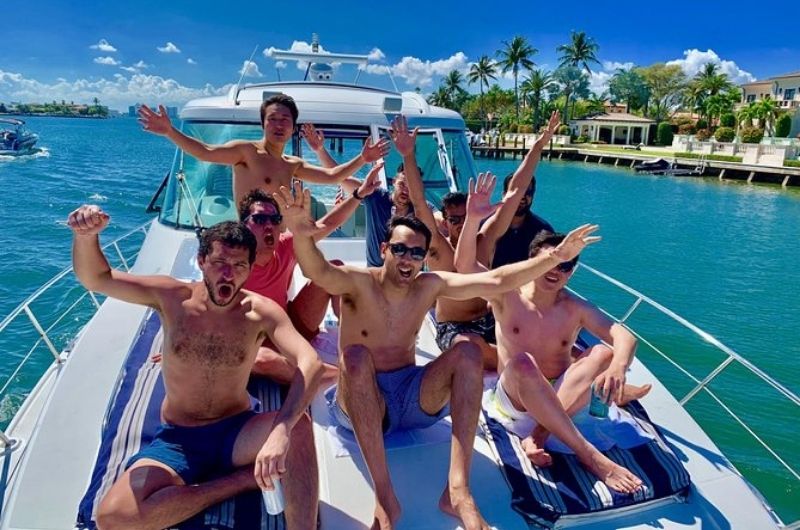 Best For: Birthday, Bachelor, Bachelorette Sandbar Parties
Description: 
Nothing tops celebrating your special day on a private yacht. If you are traveling to Miami for a birthday, bachelorette, or bachelor party, and willing to splash some cash, Captain Joe's 48 ft. A luxury Yacht is an ideal boat pick for you. On this private boat tour, guests will be taken on an unparalleled cruise across the Intracoastal Waterway. From getting front row seats to celebrity homes and pristine beaches, you will certainly get your money's worth on this boozy boat tour. You may even spot some Floridian wildlife along the way! Available for booking through Viator, this boat tour accommodates up to 8 people. 
When you show up for your celebration, guests can expect complimentary bottled water, soda, and ice, a six-person raft, and a built-in barbecue. If guests provide the staff with burgers, hotdogs, and/or veggies, the crew on-board will happily cook them up for you. If you want to add decorations to the yacht, this private charter will allow you to do so free of charge.
4. 45' Yacht Tour in Miami Beach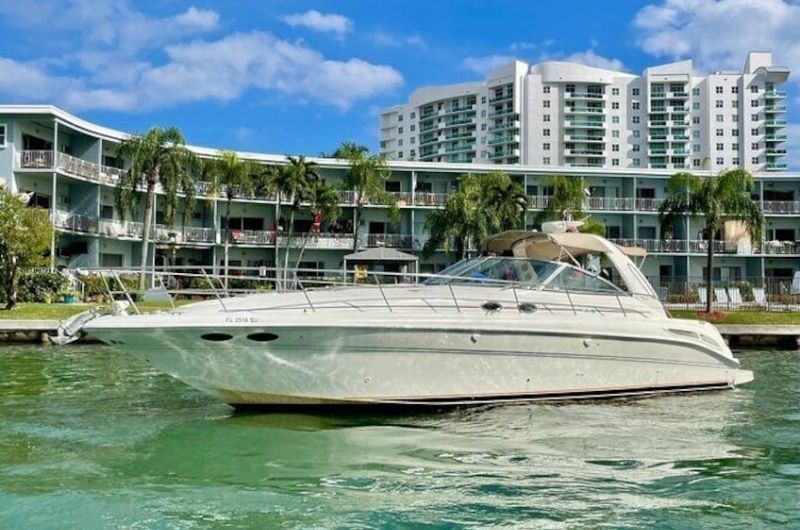 Best For: Extravagant Day Trip with Friends
Description: 
Sip on some bubbly while cruising around Biscayne Bay in a 45-foot yacht! Available for booking through Trip Advisor, this private charter is perfect for a relaxing and indulgent afternoon on the water. Guests (up to 12) can choose what time the boat departs and returns to the harbor, as well as cater their boat route towards their interests, whether that's getting up close in personal with Florida wildlife or celebrity homes. Aside from water and ice, this private charter also offers complimentary champagne. 
If boat safety is an important priority for you, this charter has got you covered. Not only does the yacht supply life jackets, but each captain is certified and approved by the United States Coast Guard. Need a break from the sun? Head inside to the furnished indoor area below the deck for a nice nap.
Miami Speed Boat Tours
With the wind whipping your face and the ocean spray in your hair, nothing beats the thrill of zipping around Miami in a speed boat. If that sounds more like your cup of tea, here are some of the best speed boat tours in Miami.
5. Thriller Miami Speedboat Adventures – Speedboat Sightseeing Tour of Miami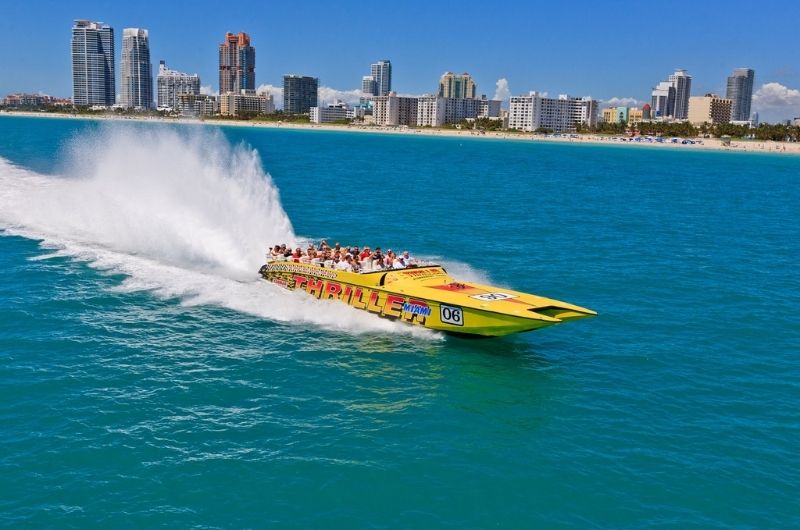 Best For: Thrill seekers
Description: 
Hop aboard for a high-speed adventure with Thriller Miami! Perfect for adventurous travelers and thrill-seekers alike, this speedboat sightseeing tour of Miami takes 36 passengers on a 45-minute ride around South Point Park. Available for booking through Trip Advisor, this 55-foot jet boat can reach speeds up to 40 miles per hour and also has the ability to perform 180-degree spins and turns for added excitement. 
After departing from Bayside Marketplace, guests will zoom by South Pointe Park and Beach, one of the top beaches in Miami, and cruise through the Atlantic. As you get closer to the mansions on Star Island and the Venetian Islands, your tour guide will slow down a bit to give you the inside scoop on who lives where and how much the homes are worth. Speed boat riders will also get a closer look at the picturesque Art Deco Mansions and sandy shores of South Beach. Souvenir photos from your journey onboard will also be available for purchase.
6. Thriller Miami Speedboat Adventures – Sightseeing Hurricane Speedboat Tour of Miami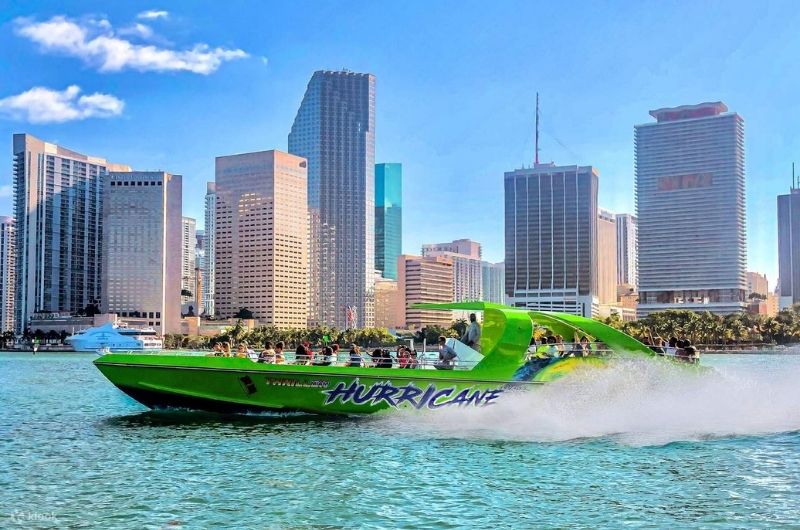 Best For: Adventurous tourists
Description: 
This sightseeing hurricane speedboat tour of Miami strikes the perfect balance between exciting and informative. In their safe and comfortable high-speed catamaran, 80 passengers will be taken on a jet-fueled tour of Miami. Amidst the spins and boat tricks, guests will also be able to soak up a slew of sites including the Cruise Ship Channel, PortMiami, the US Coast Guard Station, Flagler Monument Island, the Venetian Islands, and Star Islands, to name a few. 
Available for booking through Trip Advisor, guests will also receive a fascinating overview of South Pointe Park and Fisher Island, where they will get to learn more about the highest per capita income homes of any neighborhood in the United States. 
While passengers are encouraged to tuck their belongings out of the way for safe-keeping, there will be photo opportunities on this speedy boat adventure, as well. And yes, they will be featuring Miami's gorgeous skyline.
Everglades Boat Tours
If you're planning a trip to Miami or Fort Lauderdale, visiting Everglades National Park should be on your to-do list. If you plan on visiting this 1.5 million acre wetlands preserve, sign up for one of these guided boat tours. Heading up to the Everglades from Miami's neighboring city? Check out the best boat tours in Fort Lauderdale.
7. 1-Hour Airboat Ride and Nature Walk with Naturalist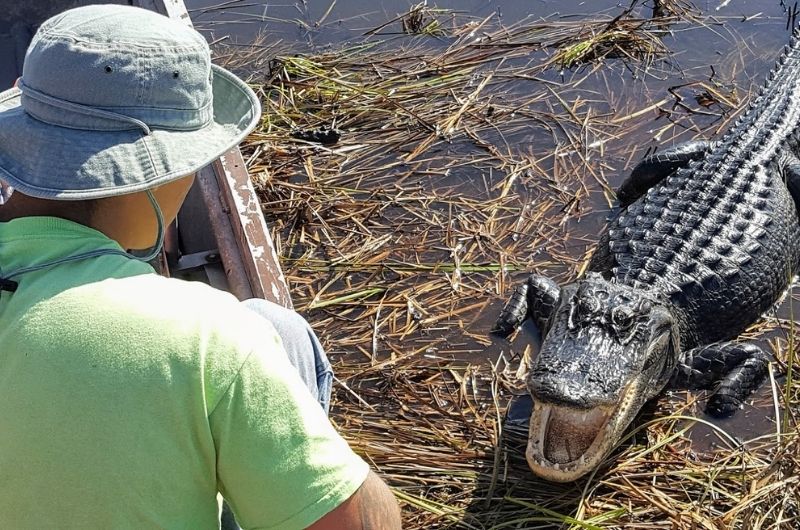 Best For: Families looking for a half-day adventure
Description: 
This half-day excursion not only includes a tour around the Everglades in an airboat but also gives tourers the chance to explore the national park on foot. Available for booking through Viator, this naturalist-led tour will begin on land. Guests will learn about the ecosystems of the Everglades and get the chance to glimpse alligators and local wildlife up close. The one-hour airboat ride will include a stop at a Native tree island village, immersing tour-goers in the culture and remote beauty of the Native way of life. 
If you don't come fully equipped for a day in the Everglades, rest assured, this boat tour has got you covered. Water, eco-canteens, sunscreen, insect repellent, national park maps, ponchos, and snacks are all included in this boat tour.
8. Semi-Private 1-Hour Airboat Tour of Miami Everglades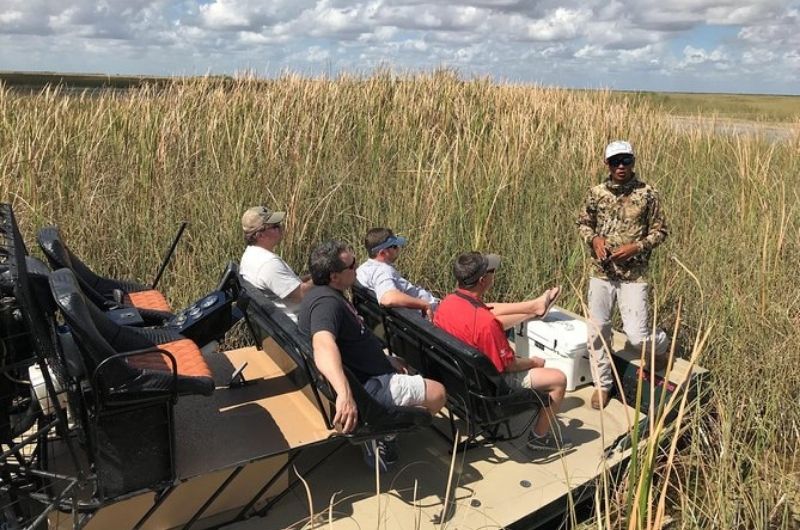 Best For: Friends Looking for a Short and Sweet Everglades Experience
Description: 
If having your own private tour is not a priority, opting for this semi-private airboat tour of the Everglades is an ideal pick for you. At a budget-friendly price, passengers will glide through the breathtaking wetlands on a state-of-the-art airboat on this one-hour tour. Available for booking through Viator, this naturalist-led tour will give passengers a close-up look at diverse flora and fauna, alligators, birds, and more. Drinks are included in the tour and a bathroom is on board for maximum comfort.
9. Private 1.5-Hour Airboat Tour of Miami Everglades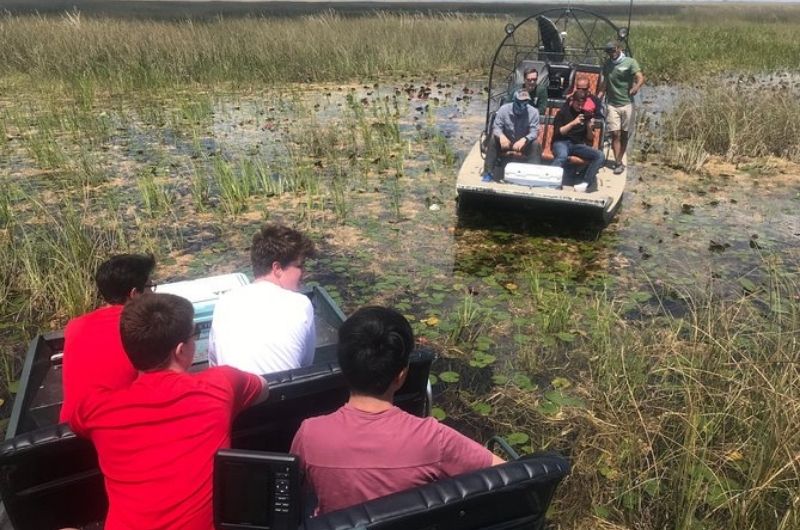 Best For: Big Family Vacations
Description: 
Traveling to Florida with your entire family in tow? Opting for a private tour might be more up your alley. Available for booking through Viator, this 90-minute airboat tour provides guests with an exciting, safe, and up-close look at this South Florida National Park. Passengers will catch glimpses of alligators, turtles, fish, and birds lurking beneath the wetlands and learn about the fragile and unique ecosystems that sustain these animals and wildlife. Don't worry about staying hydrated — the airboat comes equipped with complimentary drinks.
Celebrity Boat Tours
Who doesn't want to marvel at celebrity homes and opulent mansions? If this piques your interest, there are numerous boat tours with a focus on A-list celebrities and their homes.
10. Fiesta Cruises — Miami Celebrity Homes Cruise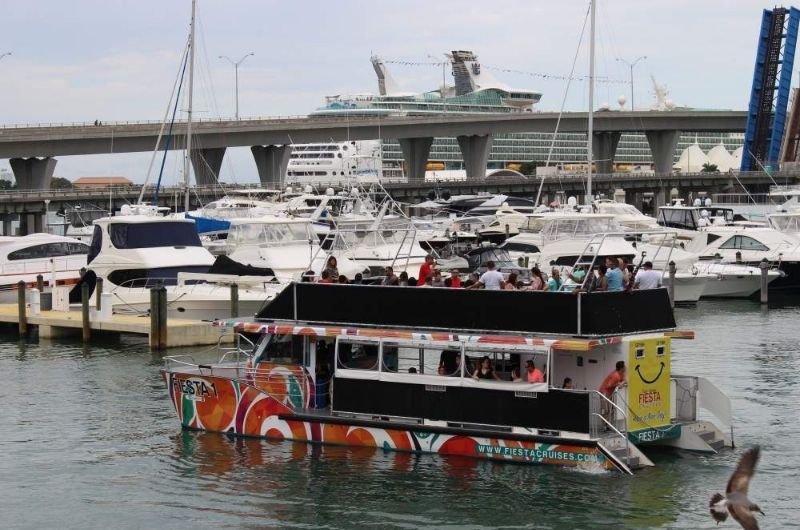 Best For: Pop Culture and Film Fanatics
Description: 

Be dazzled by celebrity homes and extravagant mansions on Fiesta Cruises' Miami Celebrity Homes Tour. 90-minute tours, which sail around Palm, Star, and Hibiscus Islands, as well as Miami's shoreline, cruise by the homes of Shaquille O'Neil, Gloria Estefan, and Al Capone, to name a few. Movie buffs will enjoy looking at the film-sites of movies such as Bad Boys, Scarface, and Miami Vice. As passengers ogle at the homes of the rich and famous, they can sip on frozen cocktails, cold beer, or sodas. Not only is Fiesta Cruises one of the highest-rated boat tour companies on Trip Advisor, but its tours are narrated in both Spanish and English.
11. One Hour Boat Tour Around the Celebrities Mansion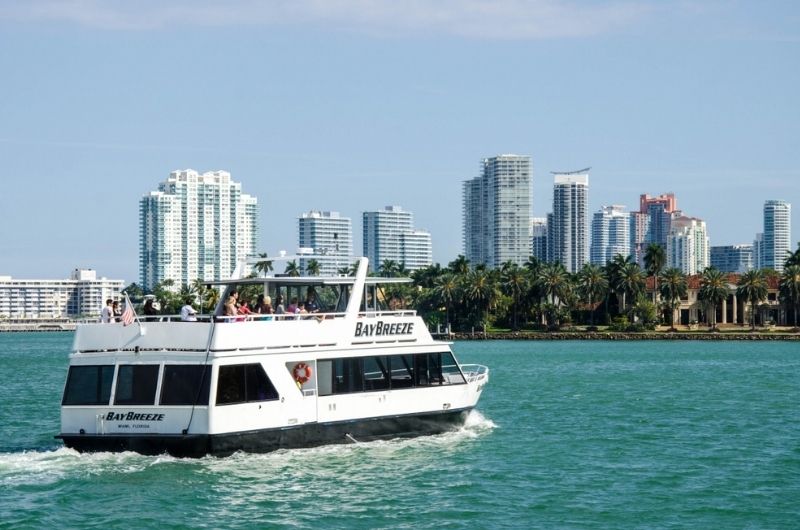 Best For: A Small Group of Friends Wanting Privacy
Description: 
For a less touristy celebrity boat tour, opt for this intimate charter for six. After guests are welcomed on board, a captain will usher passengers to 25 destinations around Star, Palm, and Hibiscus Islands. With fewer people on board, passengers are encouraged to ask the well-informed captain any questions along the way. If luck is on your side, you might even spot some dolphins, manatees, or sea rays, as you take in the celebrity sites!

With a Bluetooth audio system and ice-filled coolers onboard, guests are welcome to BYOB on this one-hour boat tour. This one-hour boat tour is available on Viator.
12. 2-Hour Private BYOB Boat Tour with Aquarius in Miami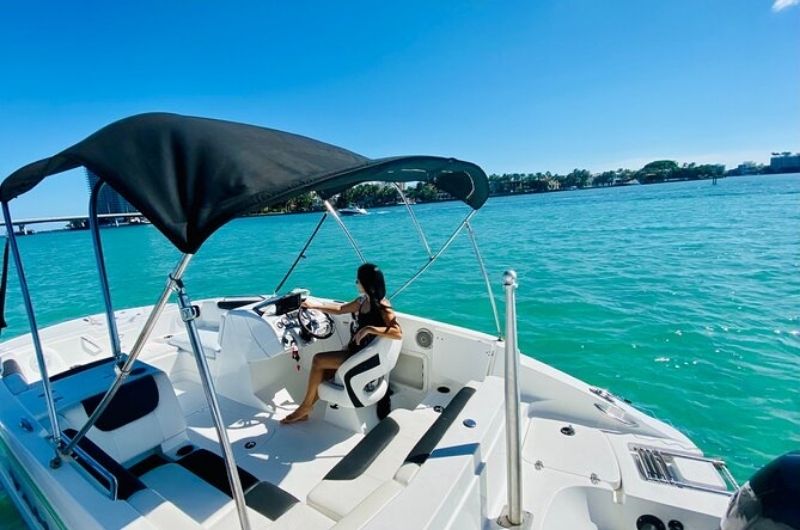 Best For: Bachelorette or Birthday Parties
Description: 
If you are traveling with a small group of friends, it might be worth it to splurge for the private 2-hour celebrity tour with Aquarius. Passengers will sail by Shakira's and Beyonce's homes, learn about the craziest stories told by locals, and enjoy plenty of picturesque views of the Miami skyline.  From Millionaire Row on Collins Avenue to Star, Hibiscus, and Palm Island, this lengthier boat tour will truly allow you to see it all. 
In addition to touring celebrity homes, passengers can request to anchor the boat to take photos, dive into the water, or simply relax and float awhile. While passengers must BYOB, a 12' floating mat, sound system, cooler, and safety equipment are all included in the fee.
Self-Captain
Whether you want ultimate privacy on a romantic excursion, or you simply enjoy being the captain, there are many instances where it's more enjoyable to self-captain your own boat. Here are a few of our favorite options available.
13. Miami Rent Boat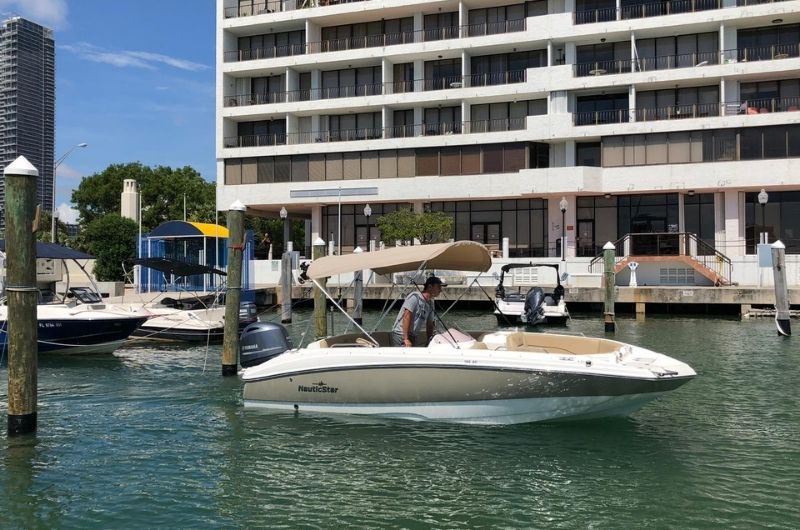 Best For: Snorkeling with Friends, Romantic Evening with Significant Other
Description: 
For all you wannabe captains out there, Miami Rent a Boat is about to make all of your dreams come true. Through this service, Miami tourists and natives are welcome to self-captain their own boat for as little as two hours to as long as a full day of adventuring. All boats provide easy access to the water, making it convenient to swim in the ocean and safely pull yourself back up into the boat after you are done. If you are traveling with friends, definitely add extra snorkeling gear to your rental. Up to eight guests are allowed onboard. 
Celebrating a special occasion with a significant other? Opt for the extra champagne purchase with your rental. If you plan your day right, you can find the perfect spot to watch the sun go down with a glass of bubbly. Ice and water will also be available onboard.
14. Bruschi Boat Rentals
Best For: Double Date
Description: 
If you are looking to self-captain your own boat, you can't go wrong with renting from Brusch Boat Rentals. Various sleek speed boats are available for rental on their site, each one with a different price point and maximum capacity. Opt for an affordable four-person boat for a double date, or spring for the pricier seven-person boat if you are traveling with a larger group. Many of the boats come with a shaded cover, making these vehicles perfect for a full day on the water. 
Whether you wish to visit sandbars, islands, celebrity homes, or Downtown Miami, the ocean is your oyster! Never worry about your trip getting cut short — gas is included in your rental price.
Party Boats
Partying in Miami isn't limited to VIP bottle service and sweaty dance floors. Skip the bars and nightclubs and head out on the water for some fun in the sun.
15. South Beach Party Boats
Best For: Bachelor or Bachelorette Parties
Description: 
Bypass the trappings of a night out in South Beach with a ride on one of South Beach Party Boats! Guests can take their pick of two different South Beach Party Boats available. The Private Island Excursion offers a three-hour adventure for up to 39 passengers. Passengers will enjoy a brief 25-minute sightseeing tour of downtown Miami, before setting up shop at a sandbar. Within close proximity of a tropical island, party-goers can take advantage of a trampoline, floating mat, paddleboards, and more. Complimentary light snacks, drinks, and a sound speaker will be provided, but guests are encouraged to bring their own food and booze. 
While the Sailing Yacht Party in Miami offers a similar fun-filled experience, this party boat can accommodate 49 passengers. Guests can either pay per person or opt to rent the boat out as a private charter. Passengers must be 21+.
16. El Agua Miami Ocean Club & Boat Party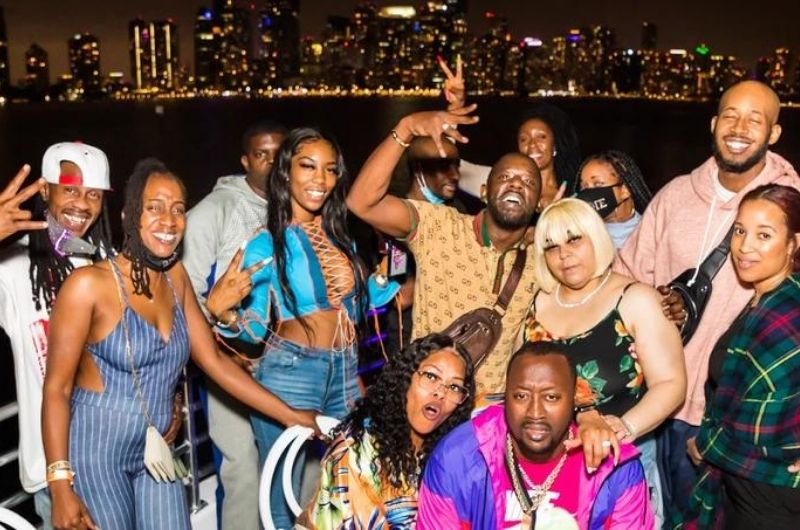 Best For: A Nightclub Experience on a Boat
Description: 

Looking for a complete nightclub experience on the water? Trade the pesky velvet ropes and bouncers for an evening on El Agua Miami's Ocean Club & Party Boat! This top-notch party boat includes three hours of unlimited drinks, complimentary food and snacks, stunning views of the Miami skyline, and a live DJ onboard. Passengers can opt for a three-hour time slot in the afternoon, early evening, or late at night.
Sunset Cruises
Cruises and sunset go together like peanut butter and jelly. If you are looking for a romantic evening on the water, look no further than these sunset cruises.
17. Castaway the Day Sunset Cruise in Miami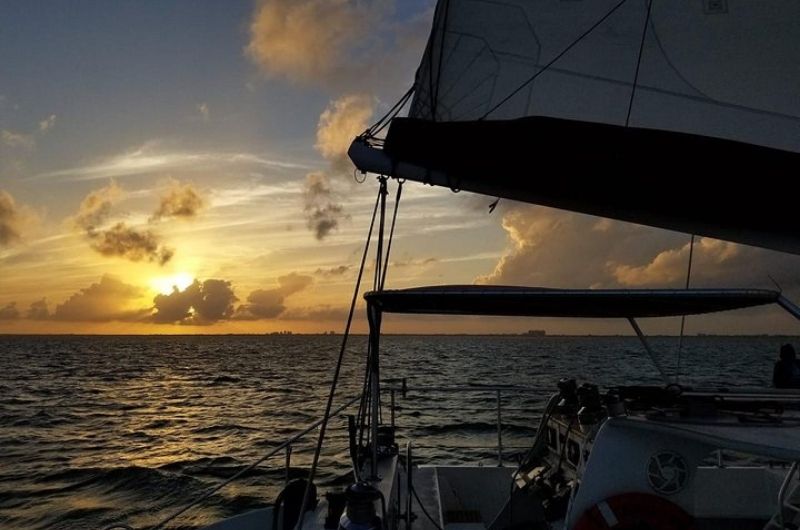 Best For: Special Occasion with Loved One
Description:
Enjoy views of the Miami skyline and sunset along Biscayne Bay on a romantic catamaran. 
Available for booking through Viator, all you need to bring is your sundress, flowered shirt, and sandals for a great time. A complimentary glass of champagne will be provided. 
After departing from Bayside Marketplace and Marina, a captain will take you on a relaxing two-hour cruise. Depending on the weather and sea conditions, this route will usually be into Biscayne Bay and Stiltsville, Key Biscayne, or to the ocean past Port of Miami and South Beach. 
18. Private Romantic Sunset Boat Cruise in Miami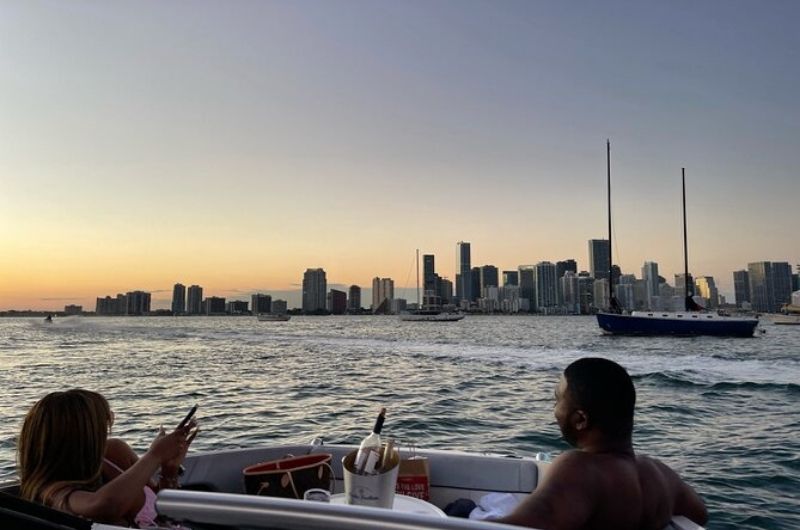 Best For: Romantic Excursion with Partner
Description: 
Sail into the sunset on this private boat tour for two. Available for booking through Viator, passengers can enjoy a complimentary icy cold bottle of Prosecco as they leisurely cruise around Miami during this 90-minute boat tour. 
After departing from Rickenbacker Marina, passengers will cruise around Fisher Island, one of the most exclusive islands in Miami, continue through Miami Beach and view homes of the rich and famous, and sail past Downtown Miami and the financial district. The tour will return passengers to Rickenbacker Bay once the 90 minutes are complete. 
Frequently Asked Questions
What types of boat tours can I expect to find in Miami?
Miami offers a wide variety of boat tours, catering to different interests and preferences. Sightseeing cruises showcase the city's stunning skyline, celebrity mansions, and vibrant waterfront areas, while eco-tours provide an opportunity to explore Miami's diverse ecosystems, such as Biscayne Bay and the Everglades. For a unique experience, consider a high-speed boat adventure, a romantic sunset cruise, or a guided fishing trip. With Miami's beautiful coastal setting and diverse attractions, there's a boat tour for everyone.
Are there family-friendly boat tours available in Miami?
Yes, Miami has numerous family-friendly boat tour options that cater to visitors of all ages. Many sightseeing cruises provide entertaining and informative commentary, while others feature interactive experiences like pirate-themed adventures or hands-on eco-tours. When selecting a tour, consider factors such as the tour duration, activity level, and age-appropriateness to ensure a fun and memorable experience for the whole family.
Can I find private or customizable boat tours in Miami?
Absolutely! Many boat tour operators in Miami offer private or customizable experiences, allowing you to create a unique adventure tailored to your preferences. Private tours often provide a more intimate setting and personalized service, making them an excellent choice for special occasions or exclusive outings. Be sure to inquire about pricing, group size limitations, and any additional services or amenities that may be available when booking a private tour.
What should I wear and bring on a boat tour in Miami?
To ensure a comfortable and enjoyable boat tour experience in Miami, it's essential to dress appropriately and come prepared. Wear comfortable clothing, sunscreen, sunglasses, and a hat for sun protection. It's a good idea to dress in layers, as temperatures can fluctuate on the water, and bring a light jacket or windbreaker in case of cooler conditions. Don't forget to pack a reusable water bottle and snacks, although some tours may offer refreshments on board. Finally, bring your camera to capture the stunning sights and memories of your excursion.
Are there any wildlife-focused boat tours available in Miami?
Miami's rich variety of wildlife and ecosystems create a perfect setting for boat tours centered on nature. A number of companies provide eco-adventures that delve into regions like Biscayne Bay, the Everglades, or surrounding estuaries. These trips typically include expert guides who share captivating information about the area's plant life and animals, as well as chances to see creatures like dolphins, manatees, birds, and alligators. Investigate various tour providers and their offerings to pinpoint the ultimate wildlife excursion while you're exploring Miami. Have a fantastic nature-filled experience!