14 Best Hotels in West Palm Beach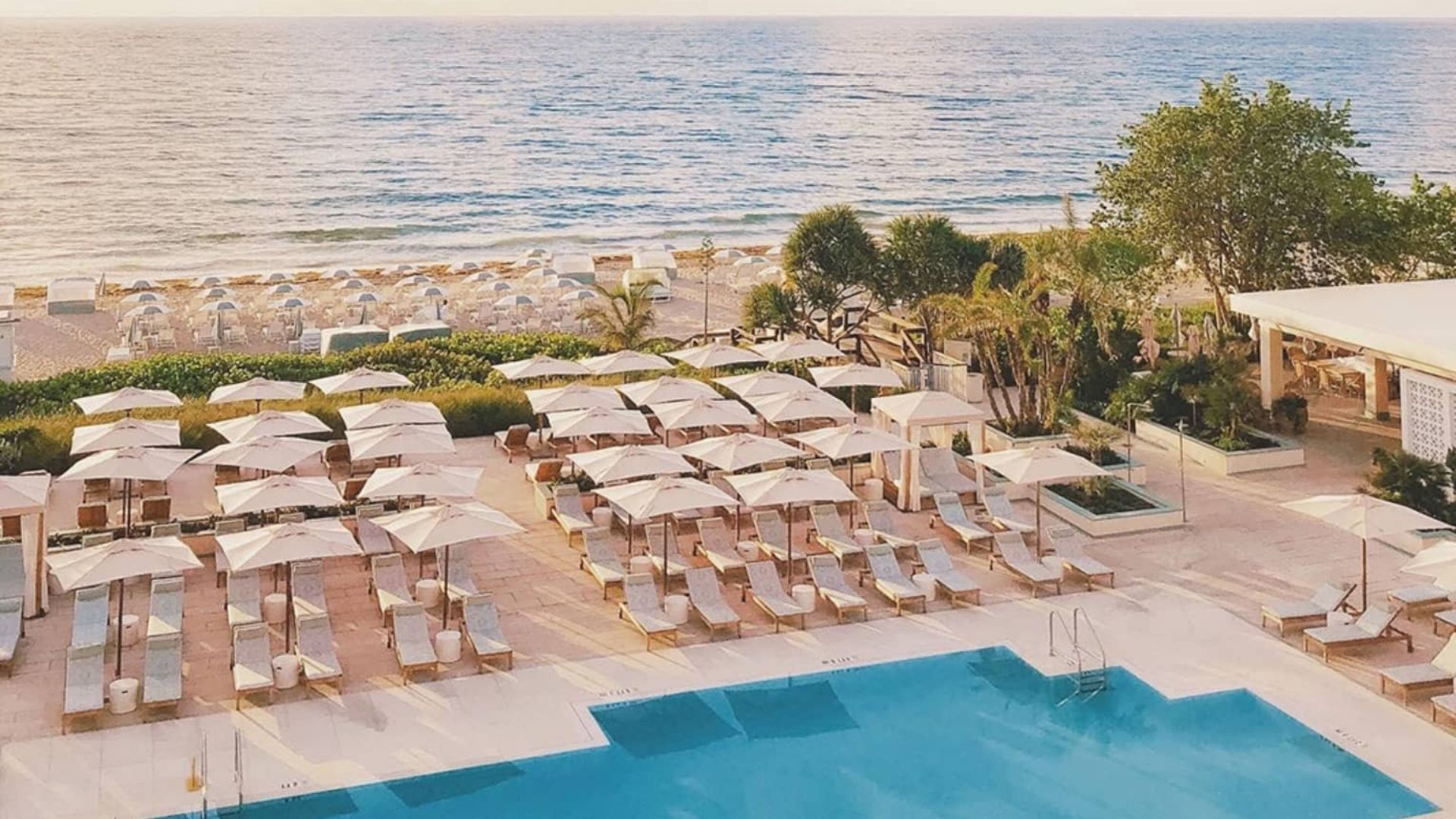 Whether you are craving a high-end shopping experience, golf getaway, or relaxing beach retreat, West Palm Beach is one of the best vacation spots in all of Florida. If you are traveling to this coastal city for some fun in the sun, finding a hotel that suits your style won't be difficult. From chic downtown residences and secluded boutique properties, West Palm Beach has a little bit of everything. Here are the 14 best hotels in West Palm Beach worth checking out.
1. Four Seasons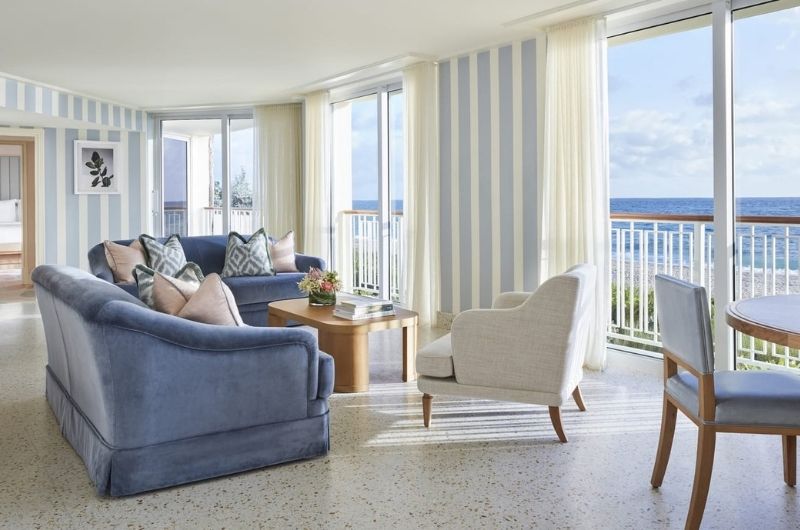 Location: 2800 S Ocean Blvd, Palm Beach, FL 33480 – Lake Worth
Good For: Couples looking for an escape 
Highlights:
Looking to treat yourself on your South Florida vacation? Book a room at the Four Seasons – trust us, you won't be sorry. Just eight miles away from West Palm Beach, each room at this five-star resort is decked out with contemporary furniture and subtle-cream colored decor. Guests can also enjoy down bedding, free Wifi, plasma TVs, and unparalleled ocean views. As with every Four Seasons hotel, guests can expect top-notch customer service at all hours of the day. 
Guests looking to stay active can head over to the tennis courts or fitness center, while those looking to indulge can relax at the hotel spa. Looking to take a dip? Guests can enjoy the nearby beach or the freshwater pool. As you relax poolside, you will enjoy ice water, Evian spritzes, chilled towels, and private cabana rentals. The Four Seasons does include some business-friendly services and some perks for families traveling with young kids. The hotel includes kids' programs, snorkeling, an extensive library, and complimentary meals for children under five years old at the on-site restaurants. That said, this resort is best geared towards couples looking for a romantic getaway. An added bonus? The hotel's on-site restaurant, Florie's, is one of the best restaurants in West Palm Beach. 
Hotel Amenities: 
Free WiFi
Business center
On-site restaurants
Pools
Pet-friendly
Tennis Courts
Fitness Center
Plasma TVs
Hotel spa
Library
2. The Chesterfield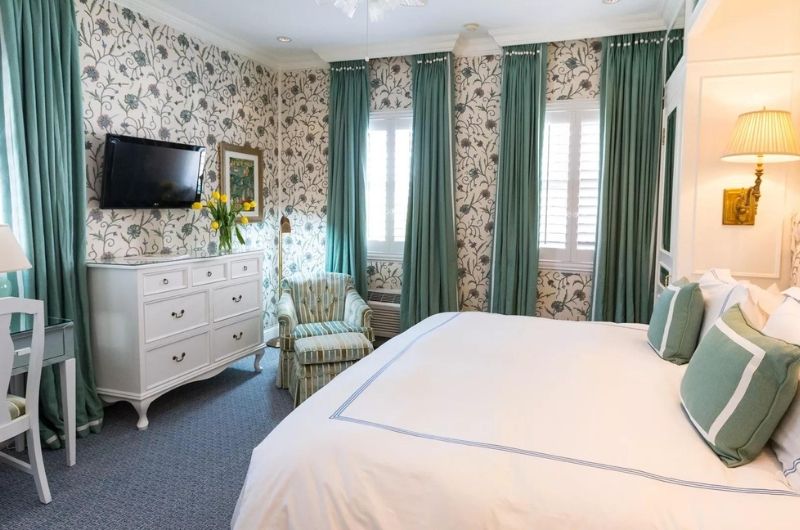 Location: 363 Cocoanut Row, Palm Beach, FL 33480 – Downtown Palm Beach
Good For: Couples traveling with furry friends
Highlights:
Located on the enchanting island of Palm Beach lies The Chesterfield. Operated by the Red Carnation Hotels group, this charming 1920s hotel perfectly combines British designs with southern coastal charm. As soon as you walk through the doors, expect to be welcomed with a glass of sherry, bottled water, and freshly baked cookies. Keep in mind, that if you are looking for a sleek and modern residence, this is not it. The Chesterfield promises traditional hospitality and a vintage atmosphere. 
The Chesterfield is best suited for couples traveling with furry friends. This four-star hotel has everything pet owners could ever want including leashes, treats, grooming services, and even a separate room service menu for pets. Families will also enjoy the available board games, coloring books, and toys that youngsters can enjoy for hours on end, as well as the available babysitting services. Each stylish, one-of-a-kind room includes elegant furnishings, king beds, seating areas, and spacious marble bathrooms. Don't miss the opportunity to dine at the Leopard Lounge & Restaurant, the hotel's on-site restaurant, and a Palm Beach fixture. With a chic atmosphere and live entertainment, this upscale dining spot is perfect for date night. 
Hotel Amenities: 
Very pet-friendly
Toys and games for kids
Babysitting services
On-site restaurant
Pool
Free parking
Free WiFi
3. Palm Beach Marriott Singer Island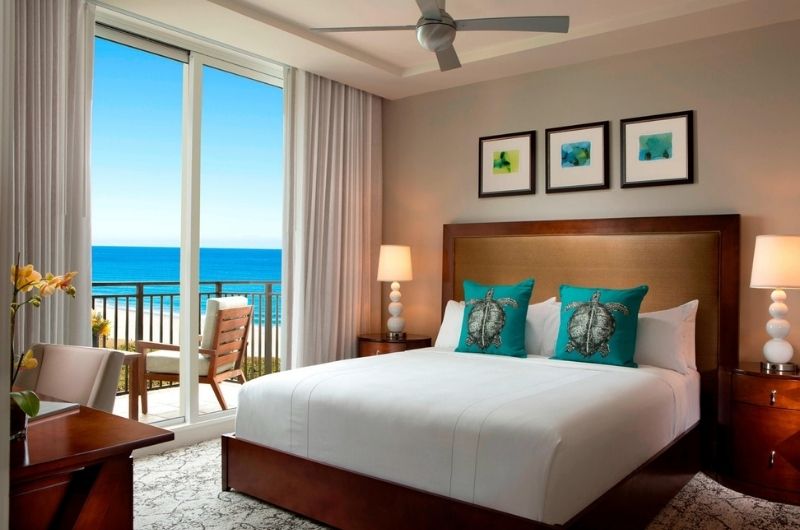 Location: 3800 N Ocean Dr, Riviera Beach, FL 33404 – Ocean Reef Park
Good For: Couples or families who never want to leave the hotel 
Highlights:
If you are looking for the trendiest neighborhood in the area, it's hard to top Palm Beach Marriott Singer Island. While it may be further away from some of the other best things to do in West Palm Beach, the Palm Beach Marriott Singer Island is the perfect residence for a quiet, relaxing getaway. Sometimes all you want is a white sand beach that's mere steps away from the hotel — and this oceanfront paradise will give you just that. On the hunt for other oceanfront properties in South Florida? Check out the best beach hotels in Fort Lauderdale. 
Guests can wander over to the Si Spa for some pampering and satisfy their stomachs at the ocean-view restaurant, 3800 Ocean. With three on-site restaurants, two pools, a hot tub, and a fitness center, guests will never run out of things to do at this Marriott resort. Not to mention, guests can enjoy a wide range of water activities on the beach, including diving, snorkeling, kayaking, and Jet Ski rentals. Each of the large 187 condo-style suites features a soothing color scheme, full kitchens, and marble bathrooms with showers and soaking tubs. 
Hotel Amenities: 
Three on-site restaurants
Two pools
Hot tub
Fitness center
Direct beach access
Spa
Water activities
Full kitchens
Business Center
Ocean Club for kids
4. The Breakers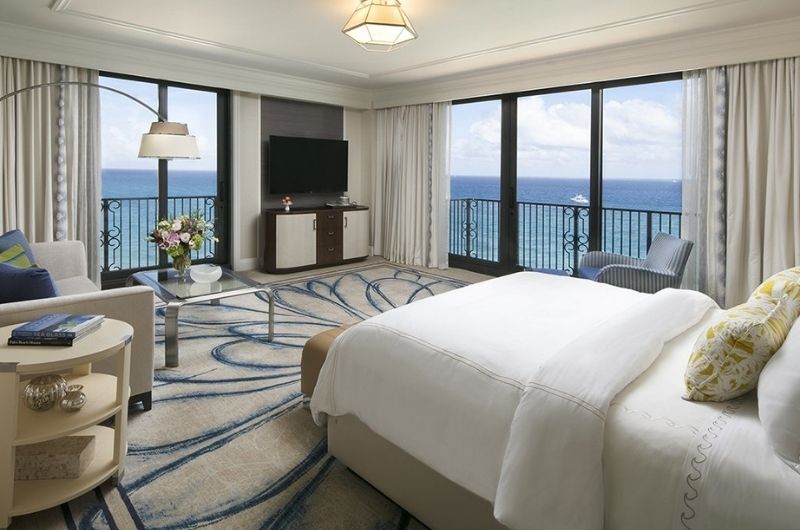 Location: 1 S County Rd, Palm Beach, FL 33480 – Downtown Palm Beach
Good For: A special occasion getaway
Highlights: 
Founded by Henry Flagler in 1896, The Breakers is one of the most well-known institutions in Palm Beach county. Not only is this 5-star hotel one of the oldest beachfront resorts in the state, but it's also one of South Florida's most elegant hotels. That said, there are also top-notch hotels in Fort Lauderdale, West Palm Beach's neighboring city. 
With elegant decor and exquisite ocean views, there are many draws to staying at this world-class hotel. For one, simply walking around the grounds of this massive 140-acre property and admiring the Italian Renaissance architecture is a breathtaking experience. One of the hotel's biggest draws? The 36-hole championship golf course that surrounds the property. Guests can also take part in golf lessons at the on-site academy. Other standout features include the fitness center, spa, nightlife options, ten lighted tennis courts, four heated waterfront pools, several hot tubs, and a half-mile of private beach access. When mealtime rolls around, guests can head over to The Beach Club for a laid-back breakfast or lunch or indulge at The Flagler Steakhouse for an upscale evening meal. Each guest room comes with one-of-a-kind furnishings, plush bedding, spacious closets, large balconies, flat-screen TVs, minibars, and free WiFi.
Hotel Amenities: 
Golf course and lessons
Fitness center
Spa
Lighted tennis courts
Four heated pools
Hot tubs
Private beach access
On-site restaurants
Free WiFi
5. Palm Beach Gardens Marriott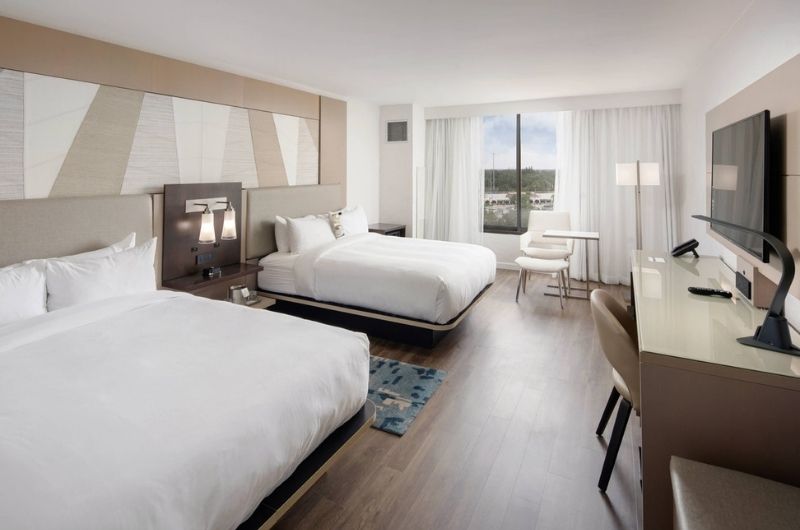 Location: 4000 RCA Blvd, Palm Beach Gardens, FL 33410 – Palm Beach Gardens
Good For: Budget-friendly business or leisure travel
Highlights:
Palm Beach Gardens Marriott offers noteworthy family-friendly amenities for business and leisure travelers alike. The best part? Guests can enjoy all of these services at an affordable price point. Business travelers can take advantage of the business center and meeting rooms, while leisure travelers can make the most of the large outdoor swimming pool, hot tub, fitness center, and on-site restaurant. Guests can also enjoy nice little added perks including free WiFi in public areas, a Starbucks kiosk, free self-parking, and a free shuttle that will take guests to various spots around the neighborhood.
This 4-star retreat is conveniently located close to top tourist attractions, sports facilities, golf courses, and shopping spots, meaning that guests won't have to venture too far to enjoy all of the day excursions Palm Beach has to offer. Each lavish guest room includes deluxe beds, HDTVs, work desks, and fancy furniture. Guests can also choose to upgrade to the concierge level, which grants you access to a private lounge with free drinks and light bites. The cherry on top of the cake? Palm Beach Gardens Marriott has various on-site dining options for all types of occasions including a snack bar and deli, a bar and lounge, and a laid-back cafe. 
Hotel Amenities: 
Business center
Meeting rooms
Fitness center
Hot tub
Outdoor swimming pool
Free WiFi in public areas
Free self-parking
Free shuttle
HDTVs
On-site dining options
6. West Palm Beach Marriott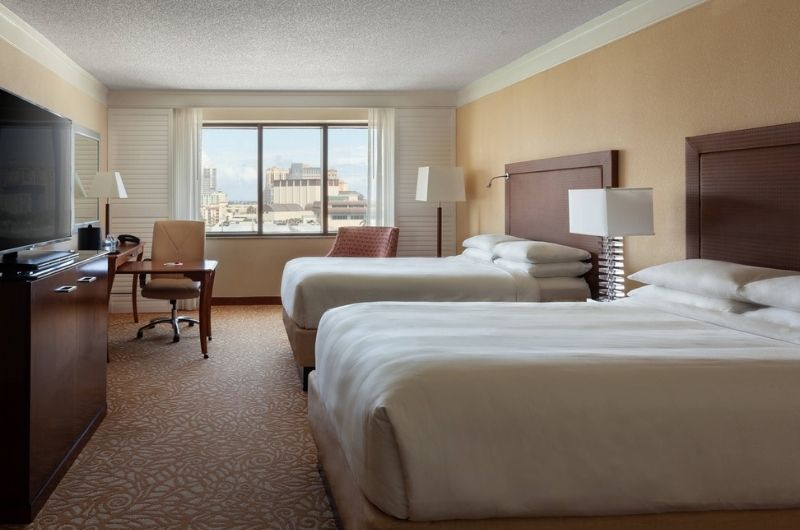 Location: 1001 Okeechobee Blvd, West Palm Beach, FL 33401 – Downtown West Palm Beach
Good For: Budget-friendly business or leisure travel
Highlights:
West Palm Beach Marriott is a great home base for those looking to venture out and explore the city. Not only is this 3-star hotel within walking distance of CityPlace shops, but it also offers a free airport and area shuttle. That said, if you are planning on renting your own car, keep in mind that this resort does charge a parking fee. 
This recently renovated hotel offers vibrant and modern rooms with sleek furniture, king beds, pullout couches in living areas, free WiFi, coffee makers, mini-fridges, and flat-screen TVs. If you choose to book a suite, you will also be blessed with courtyard views, private access to the swimming pool area, excellent concierge service, and access to a lounge with free snacks and drinks. All guests can unwind at the heated outdoor pool or whirlpool and stay active at the fully-equipped fitness center. Some added perks include an on-site Starbucks, convenient store, restaurant, coin-operated laundry machines, and meeting spaces.
Hotel Amenities: 
Free airport and area shuttle
Free WiFi
Coffee makers
Mini fridges
Flat-screen TVs
Heated outdoor pool
Fitness center
On-site dining options
Laundry machines
Meeting spaces
7. The Brazilian Court Hotel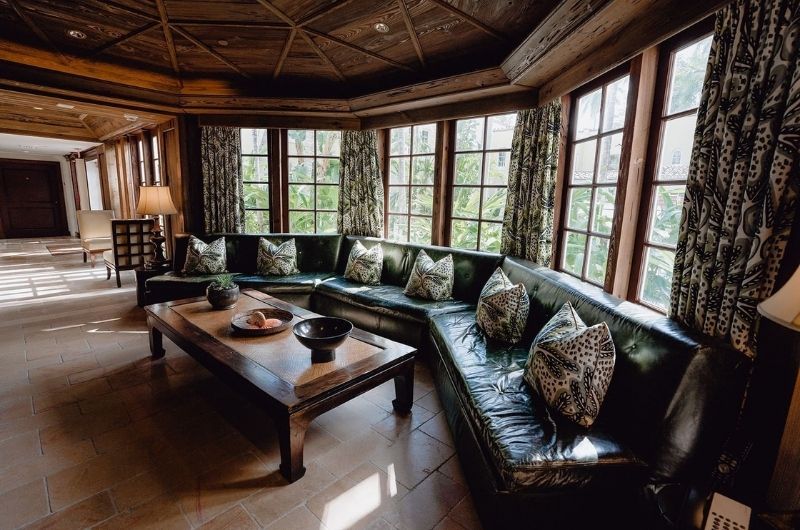 Location: 301 Australian Ave, Palm Beach, FL 33480 – Downtown Palm Beach
Good For: Honeymoons 
Highlights:
With its tropical courtyards, dreamy rooms, and luxurious amenities, everything about The Brazilian Court Hotel has been designed with a wow factor in mind. Boasting a mere 80 rooms, this intimate residence prides itself on being one of Palm Beach's most private and secluded hotels, making it the perfect location for newlyweds or couples looking for a romantic and relaxing getaway. This hotel is a part of The Leading Hotels of the World, granting Leading Clubs members some fringe benefits. 
This gorgeous hotel strikes the perfect balance between comfortable and aesthetic. While the Spanish-styled decor, mahogany furniture in the bedroom, and white lounge chairs around the pool make the perfect backdrop for photos, the jetted bathtub, pillow-top beds, and Brazilian Court Salon, are ideal for unwinding. Looking for the perfect spot to enjoy a romantic meal? Simply book a table at the hotel's on-site restaurant, Cafe Boulud, for a dinner full of innovative French cuisine. An added bonus? If you manage to tear yourself away from this dazzling hotel, you are within walking distance of the beach and Worth Avenue. 
Hotel Amenities: 
On-site spa
Restaurant
Jetted bathtub
Complimentary shoeshine
Business center
Pet friendly
Outdoor pool
Free WiFi
8. Eau Palm Beach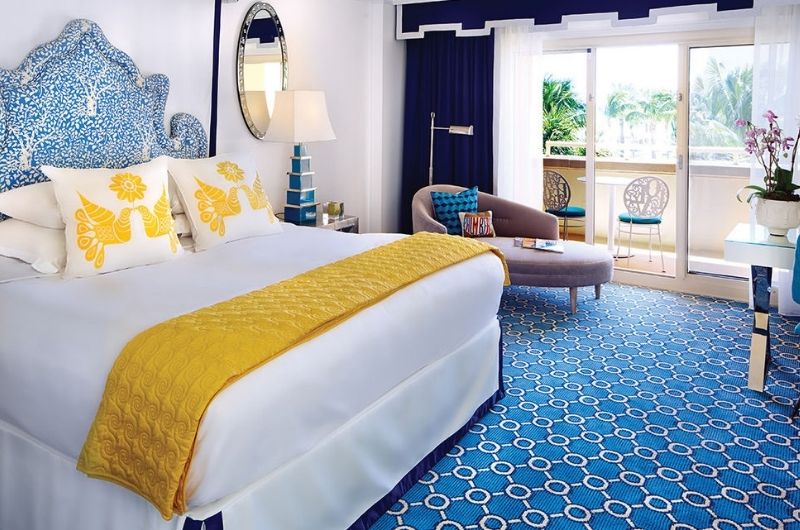 Location: 100 S Ocean Blvd, Manalapan, FL 33462 – South Palm Beach
Good For: Families looking to indulge
Highlights:
Searching for a 5-star hotel with unparalleled oceanfront views? Look no further than Eau Palm Beach. While Eau Palm Beach may be more secluded than other oceanfront properties in Palm Beach, this picture-perfect paradise gives you very little reason to ever leave. The bright and spacious rooms with a vibrant yellow and blue color scheme are equipped with minibars, free WiFi, soaking tubs, and balconies or terraces overlooking the courtyards of the ocean. Each room also includes separate sleeping and living areas, two bathrooms, as well as large balconies, making this destination the perfect place for larger families. Families traveling with kids can take advantage of the AquaNuts kids' program, various water sport rentals, and the Coast Beauty salon, which offers kids hair, nail, and makeup services. 
This upscale resort also has two outdoor pools, four on-site restaurants, and a private beach that looks like it belongs on a postcard. But the award-winning spa is by far the biggest highlight of the resort. Some of the services include mud baths and private massages, as well as a full salon and fitness center. Staying at this upscale resort is particularly beneficial for members of the Prefer Hotel Rewards program, as members can use accrued points to pay for rooms.
Hotel Amenities: 
Free WiFi
Balconies and terraces in each room
Two bathrooms per room
Kids club
Kids beauty salon
Award-winning spa
Two outdoor pools
Four on-site restaurants
Private beach
Tennis courts
Fitness center
9. Tideline Ocean Resort & Spa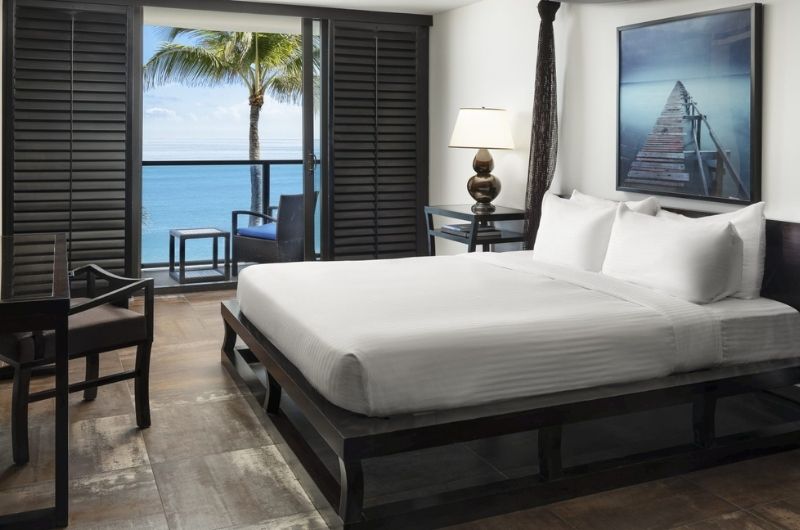 Location: 2842 S Ocean Blvd, Palm Beach, FL 33480 – Lake Worth
Good For: Couples or friends looking to meet new people
Highlights:
Wake up to the sound of the sea at Tideline Ocean Resort & Spa. Boasting sleek and minimalist decor, this oceanfront oasis has 134 rooms, many of which have private verandas. Each room is also equipped with dark wood furnishings, marble countertops, Italian linens, yoga mats, and glass showers. Guests can also take advantage of the flat-screen TVs, complimentary WiFi, and mini-fridges. As the name suggests, this hotel is equipped with a spa, which offers treatments such as facials, massages, haircuts, waxing, and an infinity pool with private cabanas. While this resort is the perfect place for couples looking for a romantic getaway, Tideline also hosts evening wine receptions, which are a great place to chat with other guests.  
Along with complimentary cruiser bikes, Tideline Ocean Resort & Spa also has a private white-sand beach with panoramic Atlantic Ocean views. After working up an appetite, guests can enjoy innovative American fare at Brandon's Palm Beach for breakfast, lunch, or dinner, or dine at Mizu, the in-house sushi restaurant. Staying at Tideline is particularly beneficial for Kimpton Karma Rewards members who can earn or redeem points while staying here. 
Hotel Amenities: 
Yoga mats
Complimentary cruiser bikes
Evening wine receptions
Spa
Two on-site restaurants
Private beach
Pool
Fitness center
Complimentary WiFi
Flat-screen TVs
10. The Colony Palm Beach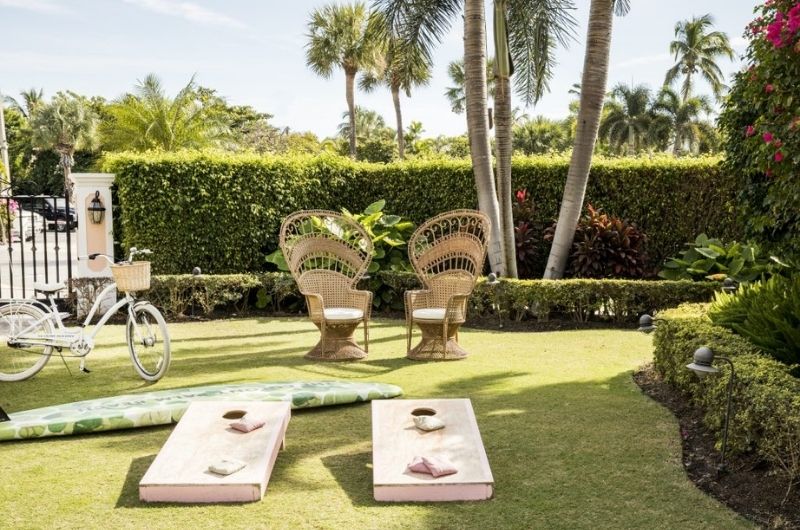 Location: 155 Hammon Ave, Palm Beach, FL 33480 – Downtown Palm Beach
Good For: An anniversary or special occasion
Highlights:
Over the years, everyone from politicians to celebrities to members of the royal family has walked the halls of The Colony Palm Beach. Guests of this world-renowned property can't seem to get enough of the soft bedding, Egyptian linens, and superb customer service. Known as Palm Beach's pinkest hotel since 1947, The Colony features classic British Colonial architecture and timeless decor. One area of the hotel that's certainly worth checking out is the Royal Room Cabaret area. Open to guests of the hotel and the public, this funky jazz bar has made a name for itself through its excellent live entertainment and divine drinks. After a cocktail hour at the Royal Room Cabaret, guests can savor a meal at the hotel's poolside restaurant, Swifty's. 
Located in the heart of downtown Palm Beach, The Colony also happens to be close to the area's best shopping venues, golf courses, and tourist destinations, including Palm Beach Zoo, South Florida Science Museum, and the Henry Flagler Museum. After venturing outside The Colony, guests can take advantage of the two swimming pools, beach chairs, and umbrellas, business center, bike rentals, and free WiFi.
Hotel Amenities: 
Two pools
Egyptian linens
Royal Room Cabaret area
Two on-site restaurants
Business center
Bike rentals 
Free WiFi
11. Hilton West Palm Beach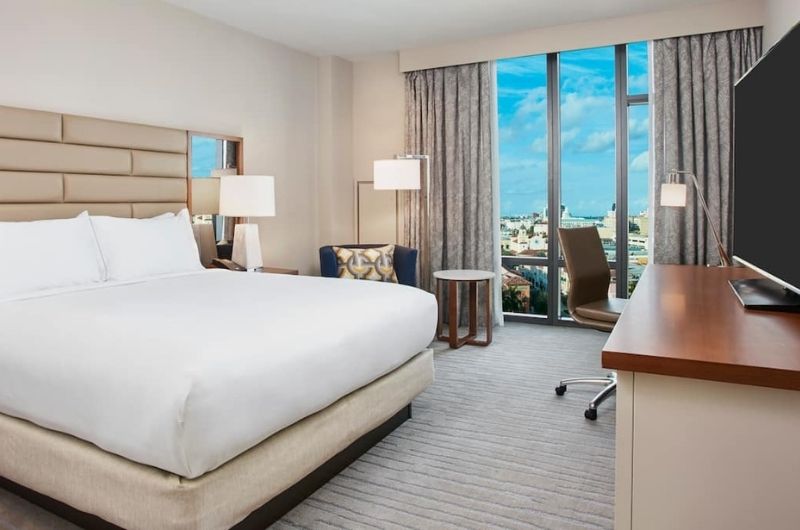 Location: 600 Okeechobee Blvd, West Palm Beach, FL 33401 – Downtown West Palm Beach
Good For: Families traveling on a budget
Highlights:
Joining the ranks of affordable hotel stays in this coastal city is Hilton West Palm Beach. Whether you are traveling for business or pleasure, looking to relax or stay active, Hilton West Palm Beach has got facilities that suit your interests. Guests can enjoy the 24-hour fitness center, gift shop, business center, and tropical outdoor pool area with an expansive sun deck. If you are willing to spend a little extra, guests have the option to rent a poolside cabana, which comes with cushioned sun lounges, TVs, concierge services, and fridges. Not only is this hotel only a short walk away from the ocean, but it's also got the stunning ocean views to boot. If you adore ocean views, make sure to check out the best Miami beach hotels. 
After working up an appetite, guests can grab a bite to eat at The Manor, which has a focus on seasonal, locally sourced ingredients, or enjoy a cocktail at the Galley lobby bar. Traveling with kids? This Hilton hotel has you covered with various children's activities. Each room is equipped with either a king-sized bed or two queens, a flat-screen TV, and a mini-fridge.
Hotel Amenities: 
24-hour fitness center
Two restaurants
24-hour business center
Meeting rooms and conference space
Free airport shuttle
Free WiFi
Outdoor pool
Spa tub
12. PGA National Resort and Spa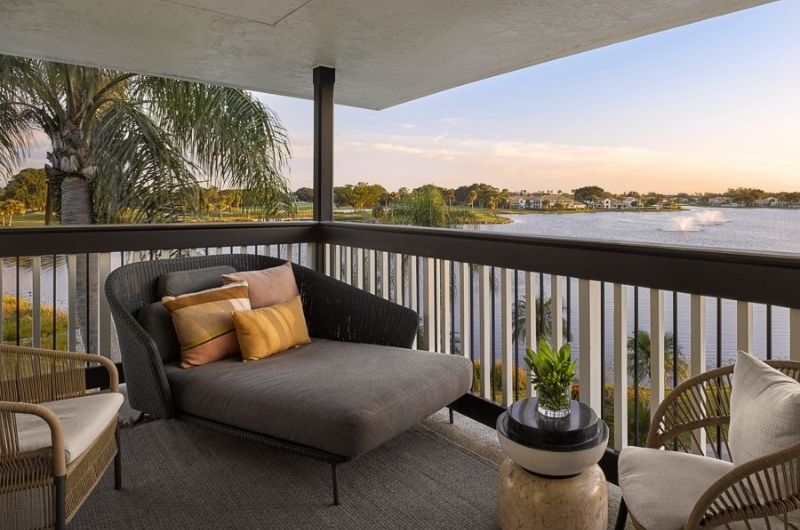 Location: 400 Ave of the Champions, Palm Beach Gardens, FL 33418 – Palm Beach Gardens
Good For: A fancy golf getaway with friends
Highlights:
Golf lovers, rejoice! If you've come to West Palm Springs to spend an afternoon on the links or work on your short game, there's no better place to stay than PGA National Resort and Spa. The hotel includes a whopping five 18-hole courses designed by renowned architects such as Tom and George Fazio and Arnold Palmer. Is your golf game a little rusty? Not a problem! PGA National Resort offers a whole host of other outdoor activities including tennis, racquetball, and croquet, as well as various sports lessons and tournaments. 
Whether you are looking to celebrate a great game or looking to drown your sorrows, the Butcher's Club won't disappoint. Taking a trip to the spa, which offers a comprehensive menu of restorative treatments, is another excellent way to treat yourself. Non-golfing guests can enjoy a day at the hotel pool which is just as dazzling as it is large. If you can, try to time your visit with one of the hotel's seasonal events, which include ice cream festivals and craft beer festivals. Rooms and suites are equipped with modern furniture, flat-screen TVs, and mini-fridges.
Hotel Amenities: 
Five golf courses
Tennis and racquetball courts
Croquet
Sports lessons and tournaments
On-site restaurants
Spa
Outdoor Pool 
Seasonal events
Flat-screen TVs
Mini fridges
Retro Ice Cream shop
13. Amrit Ocean Resort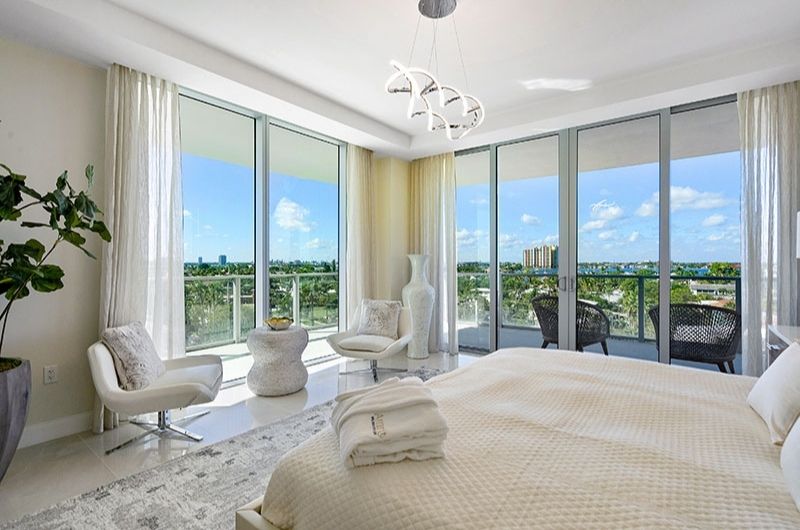 Location: 3100 N Ocean Dr, Riviera Beach, FL 33404 – Palm Beach Shores
Good For: Friends going on a wellness retreat
Highlights:
If you've been trying to plan the perfect wellness retreat with friends, Amrit Ocean Resort is about to make all of your dreams come true. "A unique place where Eastern principles meet Western luxury", Amrit provides all of its guests with a comprehensive wellness experience from the moment they wake up to the second they hit the sheets. Amrit's extraordinary four-floor spa has services that cater to the five pillars of wellness, including mindfulness, nutrition, fitness, relaxation, and sleep. After indulging at the spa for a few hours (or a whole day), guests can walk along the white sand beach or relax poolside. Various wellness lectures, activities, and lessons are also offered at Amrit. 
Hotel goers can sip on kombucha mocktails, cold-pressed juices, or plates of sprouted lentil fritters at one of the five on-site restaurants, which all have a focus on healthy eating, plant-based meals, and nutrition. When it comes time to recharge and rejuvenate, the luxurious guest rooms are the perfect place to do so. Each room is equipped with an ocean-front terrace, circadian rhythm lighting, and aromatherapy baths. 
Hotel Amenities: 
On-site spa
Fitness center
Pool
Private beach
On-site restaurants
Oceanfront terraces
Aromatherapy baths
Circadian rhythm room lighting
Lectures, activities, lectures
14. The Ben, Autograph Collection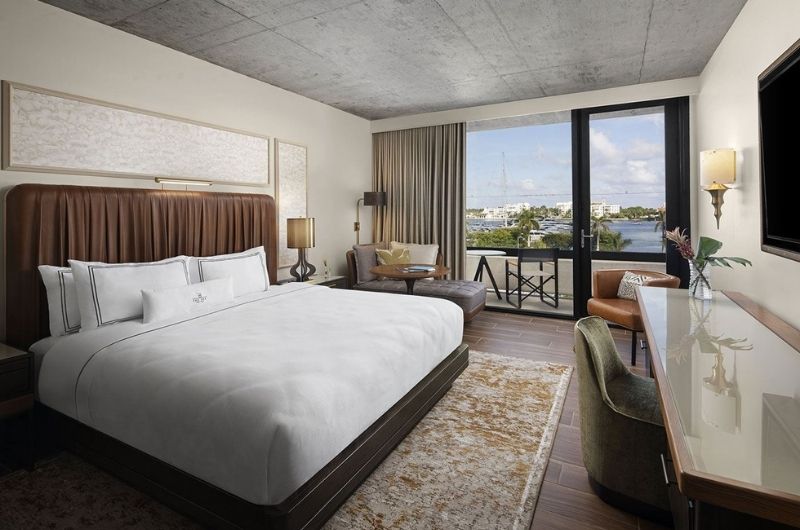 Location: 251 N Narcissus Ave, West Palm Beach, FL 33401 – Jose Marti Park
Good For: One night in West Palm Beach
Highlights:
Beautifully situated right on the West Palm Beach waterfront is The Ben. Part of Marriott's Autograph collection, this 4-star resort includes 208 guest rooms, each with a mini-bar, flat-screen TV, and complimentary WiFi. If you are lacking evening plans on your first night in West Palm Beach, a drink at The Ben's dazzling rooftop lounge is a great place to start. The Ben's rooftop boasts stunning ocean views, a saltwater pool, and a fully-stocked bar. After fueling up for the night, guests can walk to Clematis Street, just one block away, or head towards West Palm's Main Street for some evening entertainment. Before the end of your stay, make sure to check out the fitness center and the beautifully curated library. On your way to The Magic City next? Here are some of the best things to do in Miami. 
Hotel Amenities: 
On-site restaurants
Outdoor pool
Free WiFi
24-hour fitness center
Poolside bar
Valet parking
Library