12 Best Beach Hotels & Resorts in Fort Lauderdale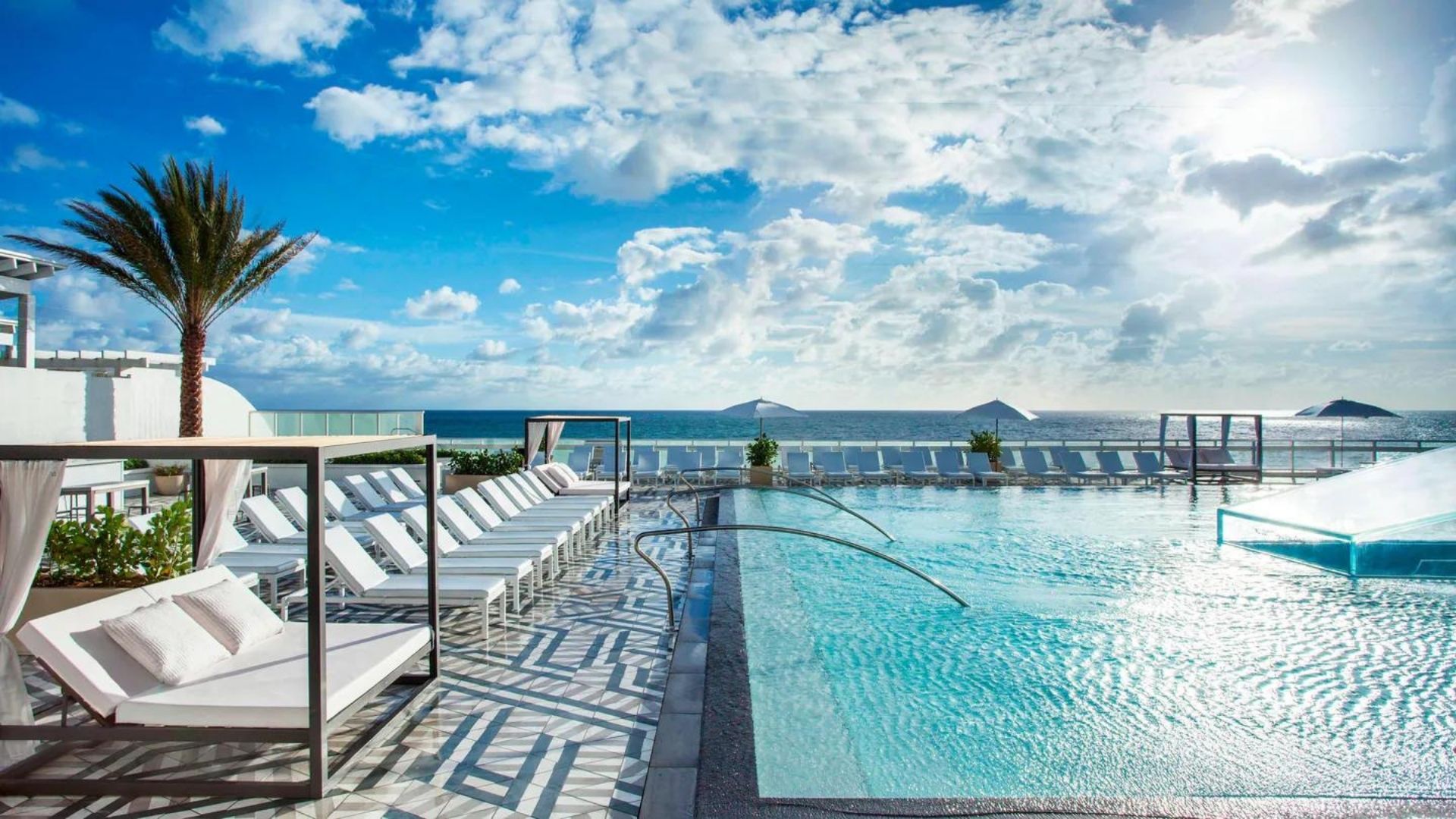 There's so much to do in Fort Lauderdale from dining at the innovative restaurants and shopping up a storm, to exploring the vast city filled with diverse neighborhoods. However, the main attraction is undoubtedly the beach, and thankfully, many of Fort Lauderdale's hotels are perched directly on the white sands of this coastal city. 
For a vacation filled with fun in the sun, we've compiled an inclusive round-up of the top beach hotels in Fort Lauderdale. From romantic getaways to family-oriented hotels to budget-friendly resorts, there's something for every type of traveler on this list. These oceanfront and beachside properties are guaranteed to be the perfect havens for beach lovers and water sport enthusiasts alike.
1. Ritz Carlton, Fort Lauderdale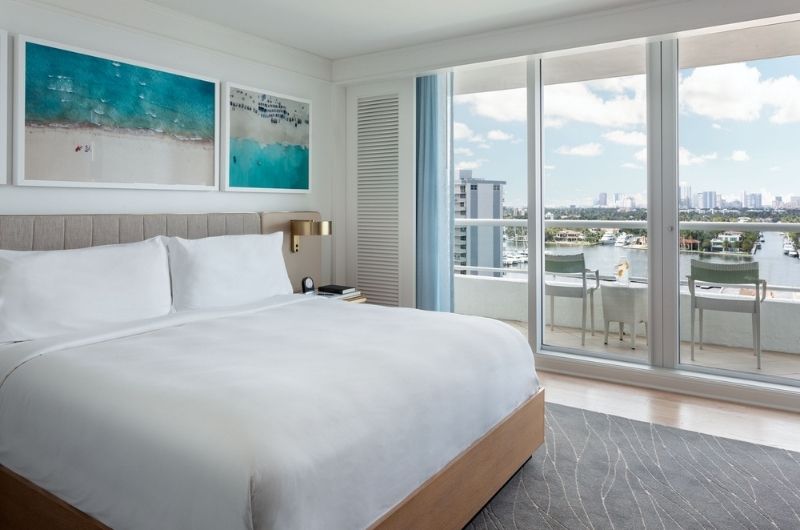 Location: 1 N Fort Lauderdale Beach Blvd, Fort Lauderdale, FL 33304 – Central Beach
Good For: Unparalleled Luxury for Couples or Families (perfect for special occasions)
Highlights:
If you are looking to indulge yourself at a resort where you can truly have it all, book a stay at the Ritz Carlton, Fort Lauderdale. Located right on the Fort Lauderdale coast you will find this 24-story building modeled after an ocean liner. Everything about this 5-star hotel exudes luxury and decadence from the nautically-inspired decor to the large marble lobby. Each guest room features large open spaces, leather furniture, plush robes, and premium bath products. Guests can work up a sweat at the large fitness center with views of the Intracoastal Waterway or pamper themselves at the spa center filled with marbled massage rooms, wooden saunas, and sea salt detox treatments. 
Don't miss the opportunity to savor an experience at the Burlock Coast, a prohibition-inspired restaurant with fresh seafood, locally sourced ingredients, a wide range of whiskeys, and tasty cocktails. As if things couldn't get any better, the outdoor pool features a spacious sundeck with an infinity pool and private cabanas. While there is a $45 daily resort fee, guests are truly getting their bang for their buck. The fee covers beach chairs and umbrellas, Ritz-Carlton water, two signature resort cocktails daily, daily fitness classes, bike rentals, and a daily water taxi pass.
Hotel Amenities: 
Fitness Center and Classes
Amazing Seafood Restaurant
Golf Course Access
Heated Infinity Pool 
Courtesy Beach Chairs and Umbrellas
Bike Rentals and Water Taxi
Spa
Rooms with Private Balconies
Free WiFi
2. Conrad
Location: 551 N Fort Lauderdale Beach Blvd, Fort Lauderdale, FL 33304 – Central Beach
Good For: Perfect for Romantic Getaways, Big Family Travel, or Extended Stays
Highlights:
Wake up to the smell of the sea at Conrad Fort Lauderdale. A towering building on an elevated oceanfront setting, this oceanfront oasis is only 90 meters from Fort Lauderdale beach. Guests can unwind in the hot tub, take a plunge in an outdoor swimming pool that fades into the sea, and seek constant service from the 24-hour front desk. Each room boasts minimalist designs and balconies facing the Atlantic, as well as furnished terraces and galley kitchens, making this resort the perfect place for big family travel or long-term stays. 
Another unique feature of The Conrad is its strong support for local businesses. Baked goods from Zak the Baker can be spotted on the breakfast menu, while products from Isola, a vegan skincare line based in Miami, are used at the spa. If you are looking for the perfect dinner spot, Conrad boasts an on-site restaurant called Takato, a world-class Japanese-Korean fusion restaurant run by the talented executive chef Taek Lee. 
Hotel Amenities:
On-site Spa
Heated Outdoor Pool
Luxury Cabanas
Large Fitness Center
Multiple Hotel Dining Options
Valet Parking
Continental Breakfast 
24-Hour Front Desk
3. W Fort Lauderdale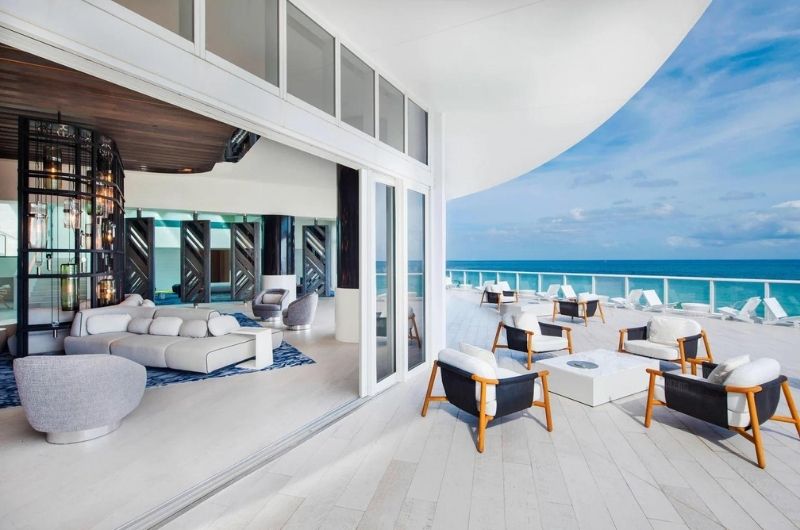 Location: 401 N Fort Lauderdale Beach Blvd, Fort Lauderdale, FL 33304 – Central Beach
Good For: A Lively Vacation for Couples, Young Friends, or Partygoer Individuals
Highlights:
By far the most youthful of all the luxury resorts lining Fort Lauderdale Beach, the W Fort Lauderdale is the perfect place for partygoers. If a trip to Miami wasn't in your budget this year, know that staying at W Fort Lauderdale provides a similar experience to vibing out at South Beach. With every corner you turn, expect to find chic design elements, including a clear staircase that takes you up through the pool. Traveling by yourself? With its panoramic views of Fort Lauderdale and a live DJ, the outdoor pool is a great social place to meet other solo travelers. If you are looking for something quieter, head over to the more secluded pool courtyard to soak in the infinity hot tub and sip on refreshing cocktails. 
One of the best parts about W Fort Lauderdale? For dinner, you don't even need to leave the hotel and have a wide variety of options to choose between. The beach resort has three restaurants that provide exceptional Mexican food, juicy steaks, and tasty sushi. Because of its upbeat vibe, this hotel tends to attract young friends and bachelorette or bachelor parties. While W Fort Lauderdale will certainly provide you with an experience to remember, think twice before booking this place for a quiet and serene getaway. 
Hotel Amenities:
Rooftop Pool and Bar
Rooms with Private Balconies
Various High-End Dining Options
Cocktail Lounge
Well-Equipped Fitness Center
Steak Restaurant
Bliss Spa 
4. Lago Mar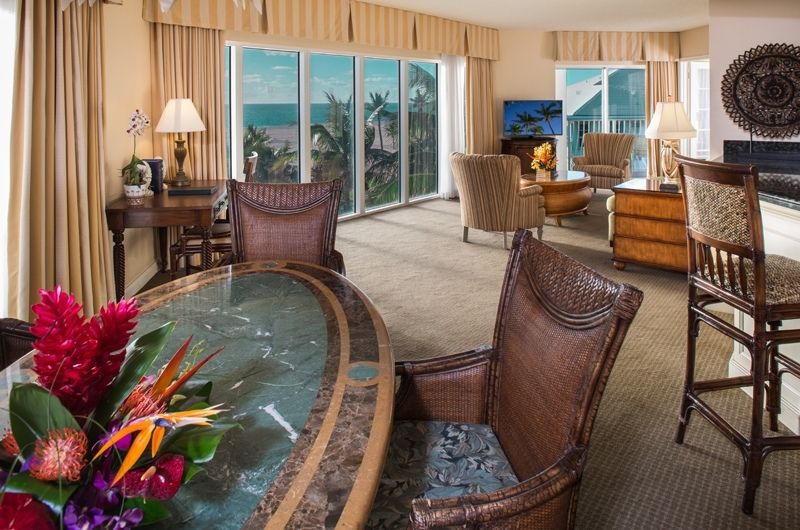 Location: 1700 S Ocean Ln, Fort Lauderdale, FL 33316 – Harbour Isles of Fort Lauderdale
Good For: An Idyllic Beach Vacation for Couples or Families
Highlights:
Owned and operated by the same family since 1959, Lago Mar is truly a family-friendly paradise. The whole resort reflects a tropical ambiance, from the organic lagoon-style pool which is surrounded by green foliage to the rooms which are equipped with wooden furniture and floral quilts. During your stay, families can enjoy an abundance of group activities including beach volleyball, mini-golf, and a game at the oversized chessboard. If you want to leave the hotel grounds, the concierge can organize sightseeing tours, as well as visits to Butterfly World or the Flamingo Gardens. Guests can engage in water activities such as kayaking, jet skiing, and scuba diving at the 500-foot private beach. 
During the day, younger kids can spend an afternoon at the playground, while parents rest under palm trees at the poolside lounge. For dinner, head over to Acquario for American bistro fare, and afterward enjoy ice cream at the old-fashioned soda shop or a glass of wine at the wine cellar lounge. With over 200 rooms, guests have a wide selection when it comes to picking where you want to hit the hay. If you are traveling with a larger family, consider booking one of the one-bedroom or two-bedroom suites. These units come with kitchenettes or full kitchens, adjoining living rooms with pullout couches, and large balconies. 
Hotel Amenities:
Free WiFi
Two outdoor pools
Various restaurants and eateries
24-hour room service
Onsite-Spa
Fitness Center
Private Beach access
Beach Playground
Volleyball and Tennis Courts
Shuffleboard Court
5. B Ocean Resort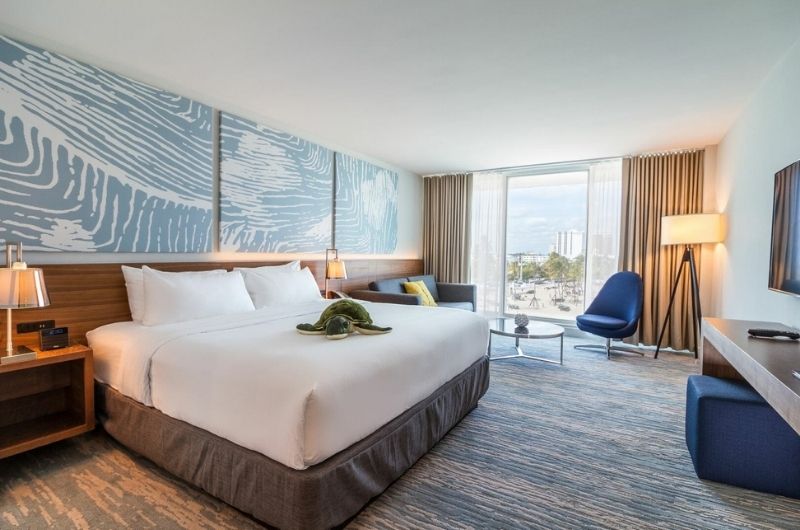 Location: 1140 Seabreeze Blvd, Fort Lauderdale, FL 33316 – Harbour Isles of Fort Lauderdale
Good For: Budget-Friendly Luxury
Highlights:
The B Ocean Resort makes luxury more approachable and affordable for all types of travelers. In the low season, guests can book a room starting at $137, which is a competitive price for an oceanfront hotel with its own private beach. The 1950s-themed resort is chock full of beachy fun and offers a wealth of amenities including two infinity pools, bike rentals, on-site parking, spa suites, four restaurants, and three bars. Guests can savor a seafood dinner at the Naked Crab Seafood Kitchen + Cocktail Bar, and enjoy light bites at Salty Siren, the beachside restaurant. One of the biggest highlights of this resort is the adults-only, underwater mermaid show that occurs at the Wreck Bar every Friday and Saturday. This world-famous performance includes underwater dancing, which can be viewed through portholes that look into a swimming pool theater. 
If working out is part of your travel ritual, head over to the fitness center for a wide variety of training classes that are available to sign up for. After a long day out in the sun, guests can head back to their remodeled rooms. Guest rooms are nautical-themed and spacious, with breathtaking views of the Atlantic Ocean. Every room comes with a flat-screen TV, coffeemaker, and free WiFi. 
Hotel Amenities:
Two Outdoor Pools
Available Artwork
Select Rooms with Private Balconies
Prime Location
24-Hour Fitness Center
On-Site Dining
Live Underwater Entertainment
Easy Access to Water Taxi
Complimentary WiFi
Private Beach
Coffee Makers in Rooms
6. Atlantic Hotel & Spa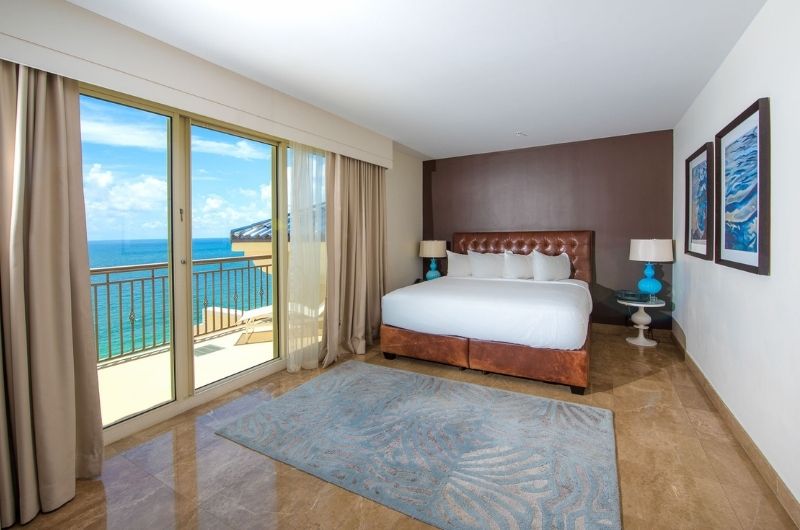 Location: 601 N Fort Lauderdale Beach Blvd, Fort Lauderdale, FL 33304 – Central Beach
Good For: A Couples Retreat with Your Partner
Highlights:
Soak up the breezy Florida sun at Atlantic Hotel & Spa. Even with a pool overlooking the ocean, an indulgent spa, and a modern gym, the biggest highlight of this resort is the spacious rooms that start at 600 square feet. With only 104 rooms, the hotel has a very intimate feel, making it the perfect location for a couples retreat. Each room has a kitchenette, marble bathroom, and private balconies overlooking the water. Rooms are also equipped with a microwave, refrigerator, coffee machine, and minibar, which allows for romantic nights in. Another perk of this hotel is its convenient location. Guests are only a few miles away from Fort Lauderdale city center and Hugh Taylor Birch State Park is only three minutes away by car. 
Most guests choose to spend days at the breathtaking white sandy beach, which is equipped with bright blue umbrellas and loungers for guests to comfortably bask in the sun. In the evening, lodgers can choose to dine al fresco on the large wrap-around porch or grab a more casual bite on the pool deck at SKY Bar.
Hotel Amenities:
Free Wi-Fi
On-site beauty salon
Rooftop pool
Fitness Center
Beach access
Spacious Rooms
Various On-Site Dining Options
7. Fort Lauderdale Marriot Harbor Beach Resort & Spa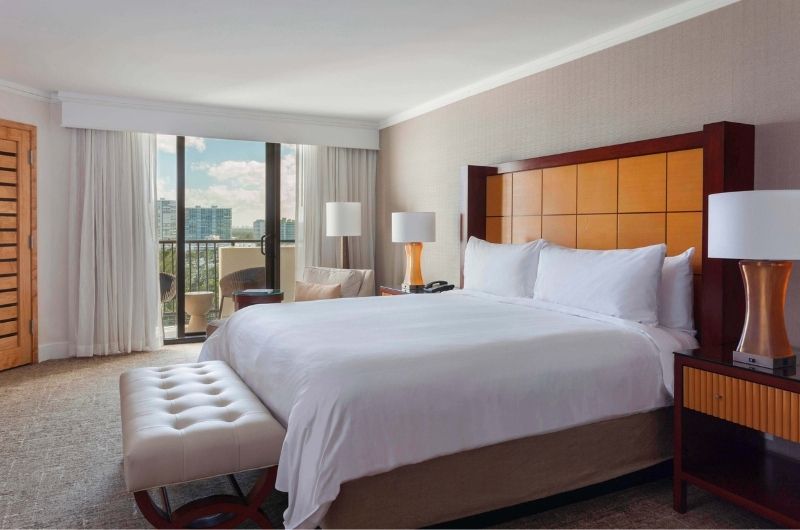 Location: 3030 Holiday Dr, Fort Lauderdale, FL 33316 – Harbor Beach
Good For: Large Corporate Retreat or Big Group Travel
Highlights:
Escape from the humdrum of everyday life at Fort Lauderdale Harbor Beach Resort & Spa. Between the 22,000 square foot spa overlooking the ocean and the four on-site restaurants,  there's so much to do at this oceanfront property that you never even need to leave the resort. The hotel sits on 16 acres of private beachfront property, where guests can either bask in the Florida rays or enjoy water activities such as snorkeling and kayaking. For a little R&R, visit the sauna or steam room and indulge in a body treatment, a facial, or a mani-pedi. 
For meetings and business events, the resort provides 100,000 square feet of indoor and outdoor event space. The ocean-inspired guest rooms are equipped with soft chairs, gauzy white curtains, and uniquely carved headboards. The best part? You can book a room at a pretty sweet price point, making this luxury hotel a more affordable option for many. Other notable features include a fitness center, tennis courts, and a graceful tropical lagoon pool. 
Due to the massive size and wealth of amenities, the hotel is perfectly catered towards larger group travel or corporate retreats. 
Hotel Amenities:
Various Dining Options
Large Spa
Event Space
Business Center
Lagoon Pool
Water Sports
Fitness Center
Gift Shop
8. Pelican Grand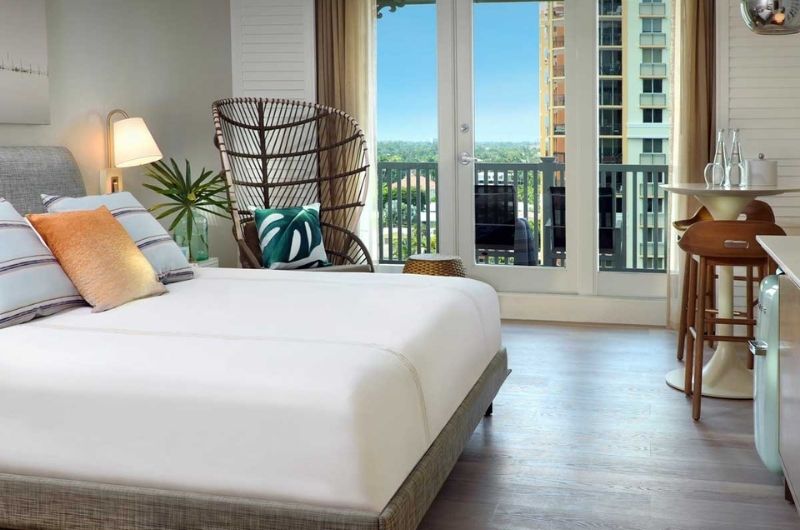 Location: 2000 N Ocean Blvd, Fort Lauderdale, FL 33305 – Dolphin Isles
Good For: Romantic Getaway or Family Vacation
Highlights:
Far from the hustle and bustle of the entertainment district lies the Pelican Grand Beach Resort. Adjacent to the Atlantic Ocean, this Noble House Resort is one of the few Fort Lauderdale hotels that sits directly on the beach. Sweeping and spacious guest suites boast loveseat sofas, minimalist decor, and in-room movies, gaming, and music. In every room, French doors open onto private balconies. For a quiet and romantic night-in, make the most of the 24-hour room service available and enjoy an intimate evening dining out on the terrace. 
One of the hotel's most unique features is a lazy river that gently floats people along on inner tubes past palm trees and lush green spaces. Adults and children alike will love the beachside courtyard, which includes an elegant zero-entry pool overlooking the beach. The on-site fitness center and Pure spa keep guests feeling fit, active, and rejuvenated. When nighttime rolls around, guests can spend the evening at Ocean 2000, an oceanfront restaurant that serves up seafood classics. If you are looking for post-dinner activities, head over to the old-fashioned ice cream parlor for coffee and sweet treats or roast s'mores by the fire pit. 
Hotel Amenities:
Fitness Center
Rooftop Spa
Seafood restaurant
Free Wi-Fi
Outdoor Pool and Lazy River
Old-Fashioned Ice Cream Parlor
9. Sonesta Fort Lauderdale Beach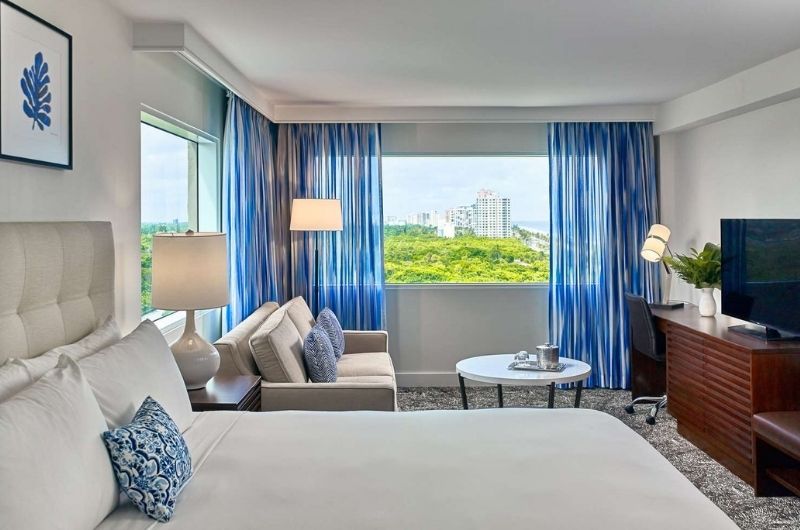 Location: 999 N Fort Lauderdale Beach Blvd, Fort Lauderdale, FL 33304 – Central Beach
Good For: Business Travel or Family Vacations
Highlights:
For a vacation full of fun and sun, enjoy a stay at The Sonesta, which sits right across the street from Fort Lauderdale Beach. Light, airy, and stylish guest rooms include Signature Sonesta bedding, flat-screen TVs, mini-fridges, coffee makers, and functional work desks. One of the unique features of this beachside resort is the eight meeting rooms available, one of which is located in the penthouse and offers floor-to-ceiling views. To make business conferences more exciting, the Sonesta also offers an outdoor terrace for alfresco meeting opportunities. 
That being said, the Sonesta is certainly not all work and no play. While the sparkling ocean views are the standout feature of this hotel, the Sonesta also boasts a heated outdoor pool with an accompanying bar and an on-site restaurant called Steelpan, a delicious Caribbean-American fusion spot. Meander over to the spa for soothing services or work up a sweat at the on-site fitness center. Aside from the W Fort Lauderdale, the Sonesta is also considered to be one of the trendier beach resorts in town with its striking curved design and subtle neon lighting in the lobby. But make no mistake, it's far more common for families with children to stay here.
Hotel Amenities:
Heated Outdoor Pool
On-site Restaurant
24-hour Fitness Center
Business Center
Full-service Spa
Oceanfront
Free WiFi
Pet-Friendly
10. The Westin Fort Lauderdale Beach
Location: 321 N Fort Lauderdale Beach Blvd, Fort Lauderdale, FL 33304 – Central Beach
Good For: A Relaxing Trip with Friends or Family
Highlights: 
Perched right on the sand overlooking the Atlantic Ocean sits The Westin Fort Lauderdale Beach. This distinctive beach resort guarantees a relaxing and restorative experience that will leave you feeling more refreshed than when you arrived. Some of the highlights of the Westin include its 24-hour fitness center, Heavenly spa, and outdoor pool with ocean views. On sunny days outdoors, make sure to snag a lounge chair on the oceanfront deck for a more relaxing poolside experience. For dining, indulge in a hearty breakfast at Tinta, grab a bite by the pool at Waves Bar & Grill, and tuck into delicious Mexican fare at Pablo Salas' Lona Cocina Tequileria. 
In all of the 400 guest units, the rooms strike the perfect balance between beachy and elegant with their light woods, wicker furniture, and pearly bedding. Another standout feature of this hotel is the skywalk connecting the hotel to the beach. This pathway is perfect for families with younger children who are concerned about road safety. If you are traveling with your furry friend, the Westin has a "pets stay free" policy. Lively and upbeat nightlife and fantastic shopping opportunities are located close by. 
Hotel Amenities:
Oceanfront Pool Deck
Spa
On-Site Restaurants
Bar
Free Wi-Fi
Fitness Center
Tennis Courts
Skywalk
11. Hotel Maren Fort Lauderdale Beach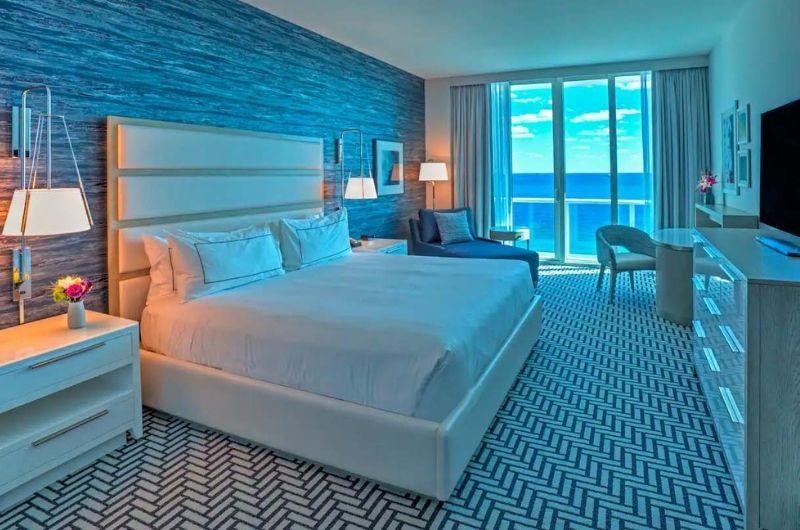 Location: 525 S Fort Lauderdale Beach Blvd, Fort Lauderdale, FL 33316 – Central Beach
Good For: Families and Business Travelers
Highlights:
Located in the heart of the Fort Lauderdale Beach Zone sits the Hotel Maren Fort Lauderdale Beach. As the name suggests, this modern boutique is situated directly across from the sun-kissed sandy beach. Part of the Curio Collection by Hilton, This resort-style hotel is stocked with amenities including a free fitness room and yoga studio, as well as a stunning rooftop pool with lawn chairs and cabanas. Guests should certainly dine at Riviera by Fabio Vivani, a celebrity chef restaurant featuring a menu of coastal specialties, shared plates, and scrumptious pasta. For more casual drinks, sip on a cocktail at the Acqua Pool Bar while taking in gorgeous ocean views. 
The Hotel Maren Fort Lauderdale Beach features bright and contemporary guest rooms with plush bedding, flat-screen TVs, and mini-fridges. If you are traveling for a special occasion, treat yourself to a larger room with oversized oceanfront balconies — you won't regret it when you see the dramatic views. For those traveling on business, guests can catch up on emails or get work done at the 24-hour business center. 
Hotel Amenities:
24-hour Front Desk
24-hour Room Service
On-site restaurant and bar
Fitness Room
Yoga Studio
Pool
Free WiFi
24-hour Business Center
Pet-Friendly
12. Hilton Fort Lauderdale Beach Resort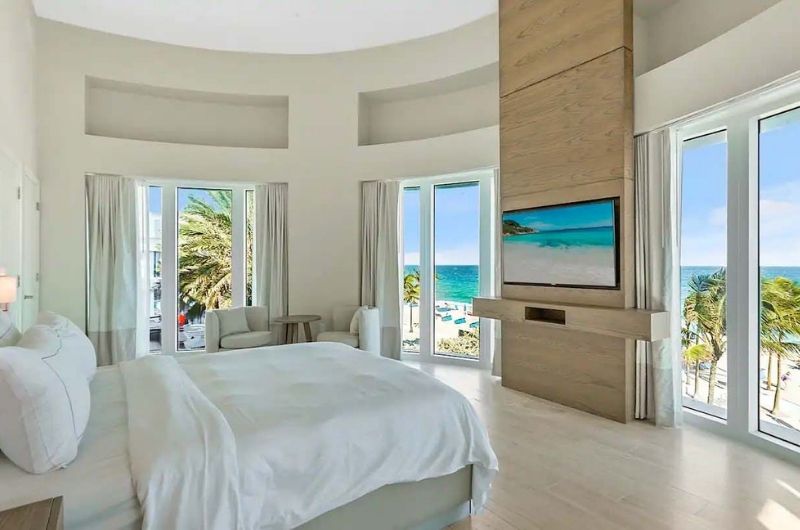 Location: 505 N Fort Lauderdale Beach Blvd, Fort Lauderdale, FL 33304 – Central Beach
Good For: Family Vacation with Kids
Highlights:
Joining the string of beachfront resorts in Fort Lauderdale is the Hilton Fort Lauderdale Beach Resort, although few hotels boast a location as fantastic as this one. During their stay, guests can treat themselves to relaxing spa treatments, unwind at the adults-only lounge, and stay active at the modern fitness center. Take a dip (or many) at the outdoor pool, which is surrounded by luxurious cabanas for snoozing. 
Overlooking the Atlantic Ocean with panoramic views of the sparkling seas, this luxury resort has spacious suites equipped with private balconies. Guests have the luxury of choosing between a range of 1 to 3 bedroom accommodations, making the Hilton Fort Lauderdale Beach Resort a great choice for larger families. This beachside property has three on-site restaurants so guests have the privilege of switching things up every night. For coastal cuisine and live entertainment, enjoy an evening at Sun, Surf, and Sand Restaurant. For a range of pastries, salads, paninis, and pastries, spend an evening at Le Marché Gourmet Market, located on the oceanfront with direct access to the beach. 
Hotel Amenities:
Business Center
Room Service
Fitness Center
Outdoor Pools and Hot Tub
Spa
Beach
On-site restaurant
Frequently Asked Questions
What are the best beach hotels in Fort Lauderdale?
The best beach hotels in Fort Lauderdale offer a mix of comfort, convenience, and stunning ocean views. Look for properties with direct beach access, allowing you to easily enjoy the sun, sand, and surf. Prioritize hotels that boast amenities such as swimming pools, on-site restaurants, and beachside bars for a truly relaxing experience. Don't forget to check guest reviews to ensure the hotel has excellent service and clean, comfortable accommodations. Lastly, consider the hotel's proximity to local attractions, shops, and dining options, to make your Fort Lauderdale beach vacation an unforgettable one.
What amenities are available at beach hotels in Fort Lauderdale?
Fort Lauderdale beach hotels offer a variety of facilities. Most hotels provide direct beach access, an outdoor pool, and a spa. Many hotels also have fitness centers, restaurants, and bars on-site. Additional amenities at some hotels include rooftop pools, fitness classes, and even private beach cabanas.
How much does it cost to stay at a beach hotel in Fort Lauderdale?
The price for a stay at a beach hotel in Fort Lauderdale can fluctuate based on the hotel and the season. Generally, beach hotels in Fort Lauderdale range from $150 to $500 per night. Rates are typically higher during peak seasons and holidays.
Are there any family-friendly beach hotels in Fort Lauderdale?
Absolutely! Fort Lauderdale offers numerous family-friendly beach hotels that cater to the needs of both parents and children. When searching for the perfect spot, keep an eye out for hotels with spacious rooms or suites, accommodating families of various sizes. Look for properties with kid-friendly amenities, such as swimming pools with shallow areas, playgrounds, and supervised children's programs. Additionally, consider hotels that are conveniently located near family attractions, such as water parks, nature reserves, and museums. Don't forget to check for on-site dining options with kids' menus to ensure a stress-free and enjoyable stay for the entire family.
Are there any pet-friendly beach hotels in Fort Lauderdale?
Certainly, numerous pet-welcoming beach hotels in Fort Lauderdale are eager to accommodate your beloved pets. While hunting for the perfect lodging, seek out establishments that clearly state their pet-oriented policies and provide facilities designed for your pet's requirements, like designated zones for pets, walking paths, and potentially pet-sitting options. Remember that certain hotels might impose extra charges or enforce size and breed limitations, making it crucial to review their rules before making a reservation. By doing some investigation, you'll discover a beach hotel that meets the needs of both you and your furry pal, ensuring a delightful vacation.