16 Best Coffee Shops in Miami in 202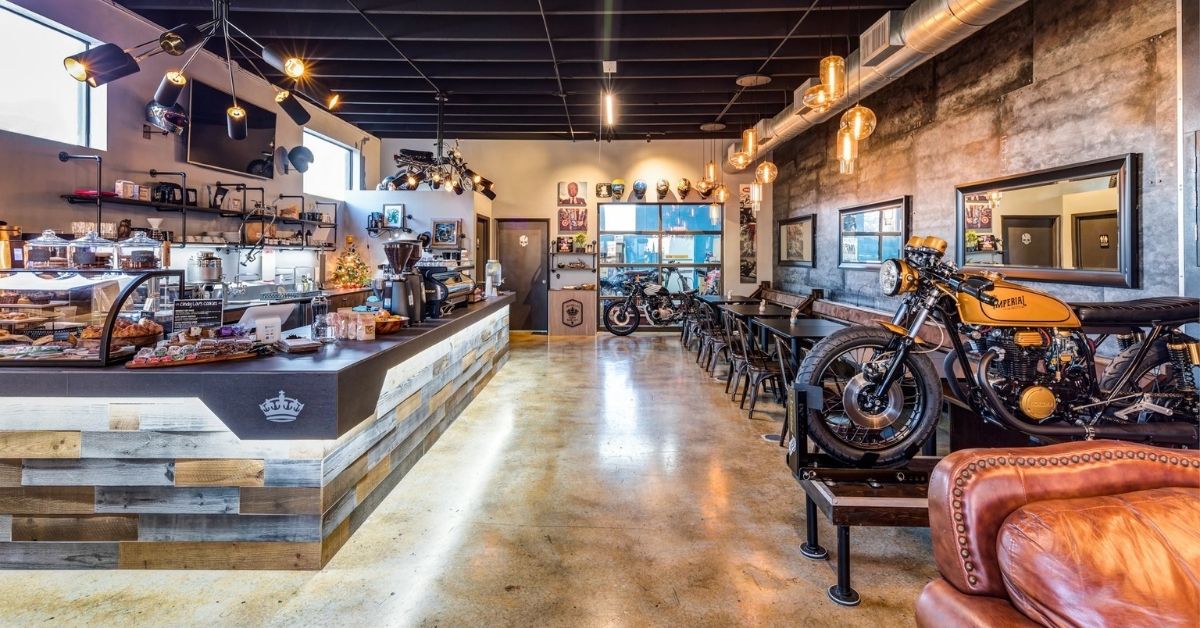 In Miami, there are numerous things that can put a little extra pep in your step. One is the year-round sunshine and temperate weather. The other is a good cup of coffee. There is a wide range of java joints scattered all across the Magic City perfect for a morning wake-up or an afternoon pick-me-up. Here are 16 places where you can enjoy a perfectly crafted cuppa. If you are traveling to Miami's neighboring city for the day, not to worry, you will find top coffee shops in Fort Lauderdale, too.
1. Neverland Coffee Bar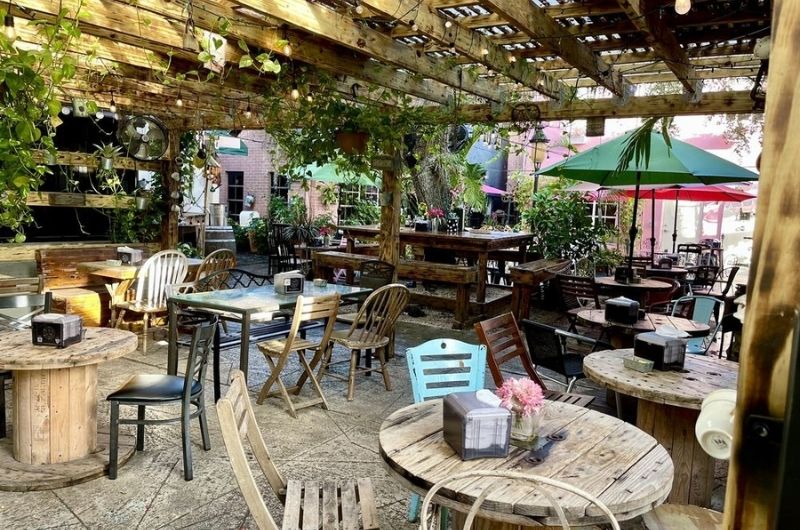 Neighborhood: North Miami Beach
Address: 17830 W Dixie Hwy, North Miami Beach, FL 33160
Best For: Artisanal Coffee with a Storybook Vibe
Description:
Escape to an ambiance of whimsy with a trip to Neverland Coffee Bar. Book lovers will especially appreciate the vibe inside this charming coffee shop, which truly does feel like a storybook that's come to life. While Neverland is a coffee bar at its core, this artisanal coffee shop also has a wide variety of salads, toasts, sandwiches, pizzettas, drinks, and breakfast fare. There are also healthy, vegan, vegetarian, and gluten-free options galore.
Stop by for a healthy brunch and order the truffle croissant, tinker bell waffle, or the golden tater tots. On particularly hot sunny days, you can't go wrong with Neverland's Iced Coffee, which has been named Miami's #1 iced 24-hour cold brew. Their hot golden coffee, an espresso-based drink with almond/coconut milk, turmeric, cinnamon, coconut oil, ghee, brown sugar, & condensed milk is just as heavenly.
2. La Colada Gourmet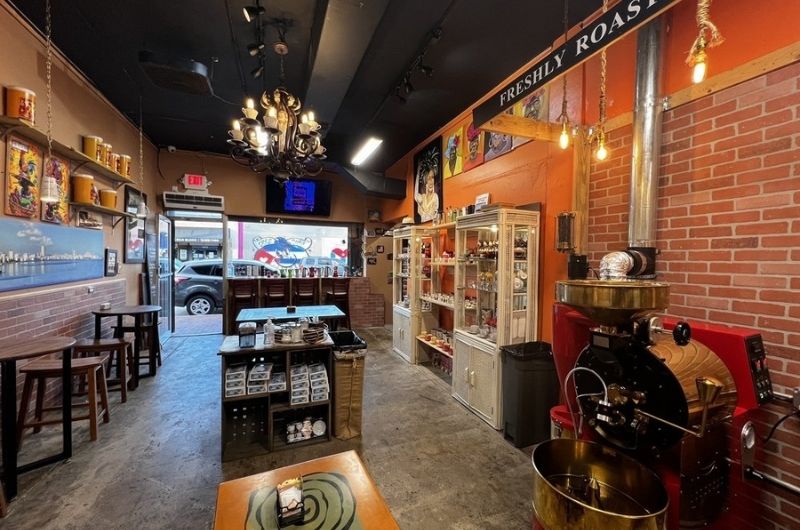 Neighborhood: East Little Havana
Address: 1518 SW 8th St, Miami, FL 33135
Best For: Authentic Cuban Coffee
Description:
A visit to Miami is not complete without a trip to a Cuban coffee house. Situated in East Little Havana, La Colada Gourmet is the perfect place to get your cafecito fix. Known as "House of Cuban Coffee," this hole-in-the-wall joint offers up a diverse array of strong and well-balanced coffee. Don't know what you want to order? The friendly staff is happy to recommend caffeinated beverages for you based on your taste buds. If you are looking for a light snack to pair with your cafecito, La Colada Gourmet also has baked goods on display including cakes, muffins, and donuts.
Gearing up for a night out? Try the Cafe BomBom Borracho, a mix of espresso, condensed milk, and rum.
3. Bebito's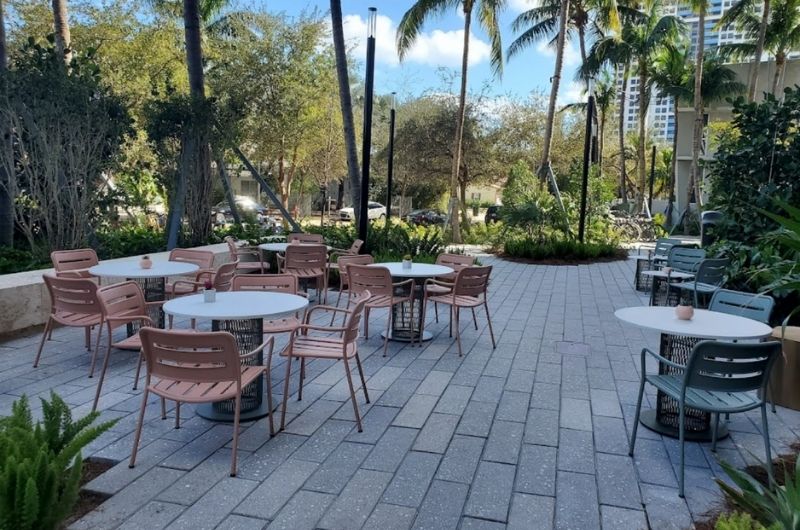 Neighborhood: Miami Beach
Address: 1504 Bay Rd #106, Miami Beach, FL 33139
Best For: A Quiet Cafe in the middle of South Beach, Cuban-American coffee and treats
Description:
Brought to you by restauranteur Jason Odio, Bebito's Cafe brews some of the best beans in town. This bright and breezy Cuban-American cafe has everything from traditional café con Leche to more unique concoctions like the cloud latte topped with "cloud" foam and cacao "rain." At the foundation of most coffee libations is Bebito's Private Label coffee blend, which has been locally roasted in Miami, and uses a mix of Brazilian, Colombian, and Ecuadorian beans.
Pair your brew with chorizo-manchego croquetas or dulce de leche cookies by Dallas Wayne, or opt for something richer like a steak sandwich, guava barbecue chicken, or a chicken vaca frita bowl.
4. Panther Coffee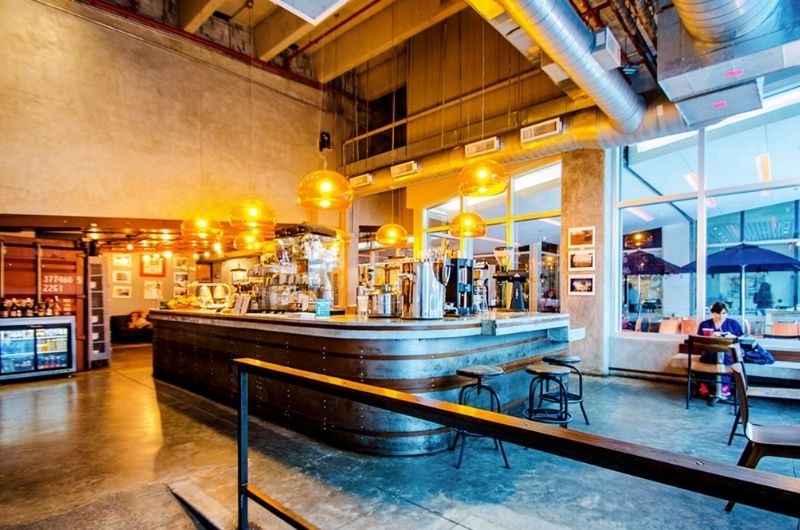 Neighborhood: Wynwood
Address: 2390 NW 2nd Ave, Miami, FL 33127
Best For: Espresso On-the-Go
Description:
For a long time, Miami was seriously lacking some great coffee spots. That was until Panther Coffee entered the scene. This specialty coffee company is one of the most notable establishments in Miami and has locations scattered all across the city. In fact, if you are sipping coffee at one of the best restaurants in Miami, there's a strong chance that its coffee beans were supplied by Panther. The original Panther outpost in Wynwood is both used as a laid-back business spot and haven for local artists.
Panther Coffee specializes in small-batch roasting of single-origin and mixed-origin coffee beans. This popular coffee shop also excels in espresso blends. Opt for the Fazenda Furans with chocolate and hazelnut notes or the West Coast blend with notes of raspberry and concord grapes. Want to sample more than one blend? Splurge for the espresso flight to try a little of everything!
5. House of Per'La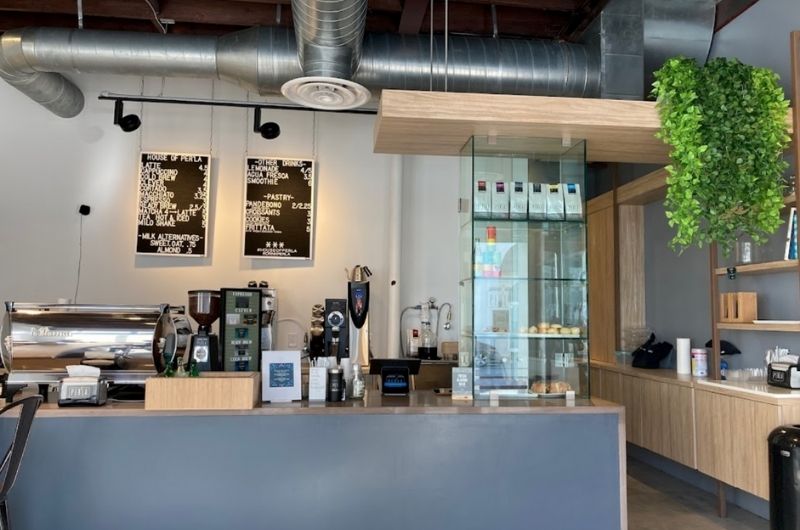 Neighborhood: Coral Gables
Address: 2626 Ponce de Leon Unit #3, Coral Gables, FL 33134
Best For: An afternoon snack after a day in Coral Gables
Description:
There's a good chance that you've tasted the unparalleled Per'La roast at some of the java joints around town. That said, there's nothing like sipping a cuppa inside their light and airy cafe. The former home of Café Curuba, House of Per'La is a collaboration between coffee makers Per'La Specialty Roasters and the team behind Eating House, a former revolutionary pop-up in Coral Gables. Per'La's coffee is sourced ethically through personal relationships with family coffee farms, shipped to Miami, and then locally roasted in the city. The menu is brimming with different blends from around the world and single-origin coffees.
Expect a large assortment of coffee libations at this neighborhood coffee shop, including pour-overs, cortados, and macchiatos. House of Per'La also has an updated menu inspired by Eating House's with items such as daily frittatas, baked goods, egg sandwiches, and more. If you are overwhelmed with all the tasty choices, go for the guava-and-cheese pan de Bono for a sweet-and-savory snack that truly captures Miami in a nutshell.
6. Vice City Bean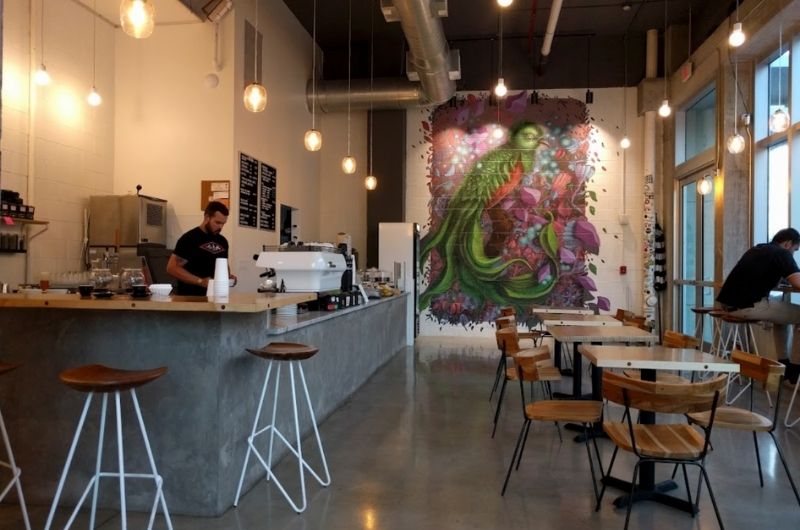 Neighborhood: Town Square
Address: 1657 N Miami Ave unit c, Miami, FL 33136
Best For: A Wide Variety of Classic Concoctions and Unique Beverages
Description:
With three locations across the Magic City, Vice City Bean is the perfect cozy neighborhood spot to enjoy an afternoon pick-me-up. This laid-back coffee house features a multi-roaster service program with different coffees from Madcap Coffee. Patrons can sip on classic concoctions including lattes, cappuccinos, and cold brew, or innovative creations such as lavender-infused coffee and complex effervescent tea. An added bonus? These beautifully decorated drinks are made to be photographed.
Pair your caffeinated beverage with one of Vice City Bean's freshly baked goods such as a dulce de leche cookie or almond croissant. The owners of this local chain also prioritize supporting local businesses and lesser-known artists in the city. Patrons will be able to find artwork, flowers, artisanal goods around the shop.
7. Sips Coffee Roasters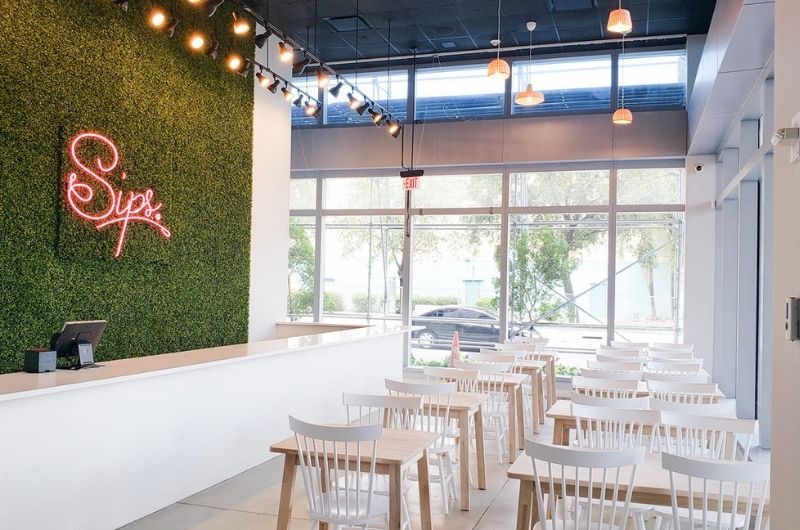 Neighborhood: Wynwood
Address: 1951 NW 7th Ave Suite 190, Miami, FL 33136
Best For: Light Lunch with a Friend
Description:
Located on one of the busiest corners of Allapattah sits Sips Coffee Roasters. Brought to you by Gail Azodo, the cofounder of Lemon City Tea, this bright, airy, and Instagrammable cafe is known for its nutty and chocolate-flavored blends. This black-owned business imports its beans from Latin and Central America but roasts its specialty coffee in-house. Customers can either sip on classic coffee drinks like cappuccinos and lattes in this charming cafe, or purchase bags of beans and half-gallon varieties to bring home.
Hungry? Peruse the extensive menu of all-day breakfast, sandwiches, salads, vegan dishes, and desserts. Enjoy a delicious danish, sticky bun, or apple turnover. If you are in the mood for something heartier, opt for a Biggi Sandwich, CHIX sandwich, or Veggie sandwich.
8. Brewing Buddha Cafe & Arthouse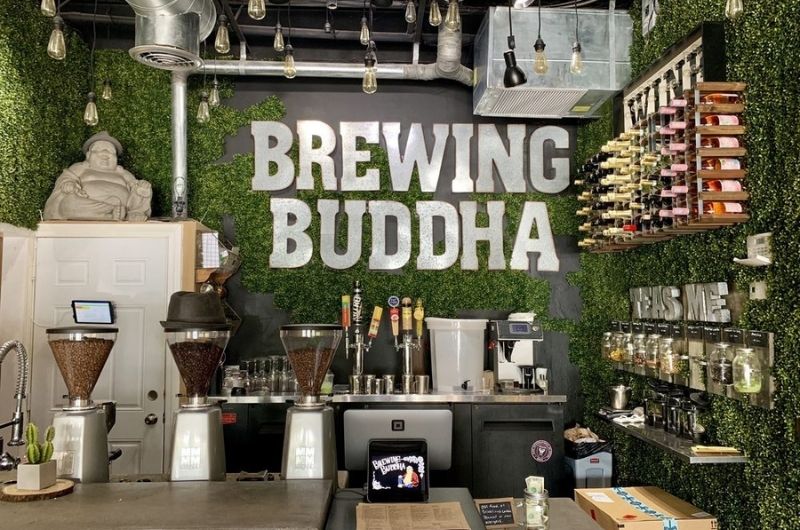 Neighborhood: Pinecrest
Address: 8219 SW 124th St, Miami, FL 33156
Best For: Innovative Caffeinated Beverages
Description:
Looking for the most creative coffee concoctions in town? You'll find them at Brewing Buddha Cafe & Arthouse. This Pinecrest coffee shop serves up beverages such as plantain lattes, maple bacon cappuccinos, lemonade cold brew, Oreo-topped cappuccinos, and on-tap coconut cold brew. Need we say more? Everyone with a sweet tooth won't be able to resist ordering the Campfire S'mores Latte topped with toasted marshmallow. While Brewing Buddha Cafe & Arthouse also has coffee house favorites on the menu, if you were ever going to spice up your regular coffee order, now's the time.
A staple spot for those looking for a caffeine fix, this coffee shop also has a great vibe. As patrons sip on Cookes 'N Cream cold brew and Crème Brúlée Latte's, they will be surrounded by rustic decor and walls entirely covered with tropical greenery. If you are looking for a bite to eat, opt for one of Brewing Buddha's specialty waffles.
9. Alaska Coffee Roasting Co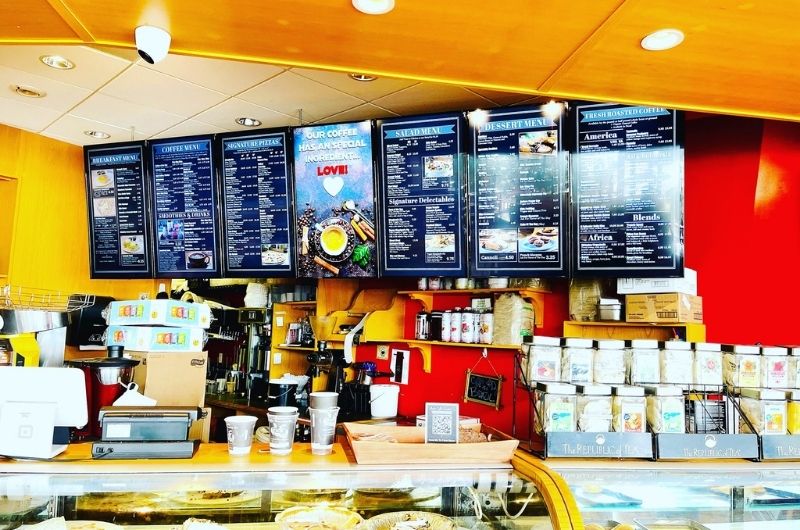 Neighborhood: Aventura
Address: 13130 Biscayne Blvd, North Miami, FL 33181
Best For: Consistently Good Coffee and Wood-Fired Pizza
Description:
As the name suggests, Alaska Coffee Roasting Co. has its roots in Alaska, but it has adapted extremely well to the sunny South Florida scene. Founded by Michael Gesser, this Aventura coffee shop serves up some of the most consistently good coffee in all of Miami. Known for its citrusy and earthy coffee, Alaska Coffee Roasting Co. imports beans from Ethiopia, Sumatra, and Indonesia. Then, this cozy coffee shop roasts all its coffee beans on-site to ensure that each cuppa is brewed to perfection.
Another stand-out feature of this coffee shop is its wood-fire oven, which allows guests to enjoy a fresh pizza with their warm beverage. It may sound like an unusual combination, but trust us, it works. Craving something for breakfast? Opt for a freshly baked cinnamon roll or a breakfast burrito. If you are visiting Miami on the weekend, Alaska Coffee Roasting Co. is also a great place to stop by for a lovely brunch on the patio.
10. Cafe Grumpy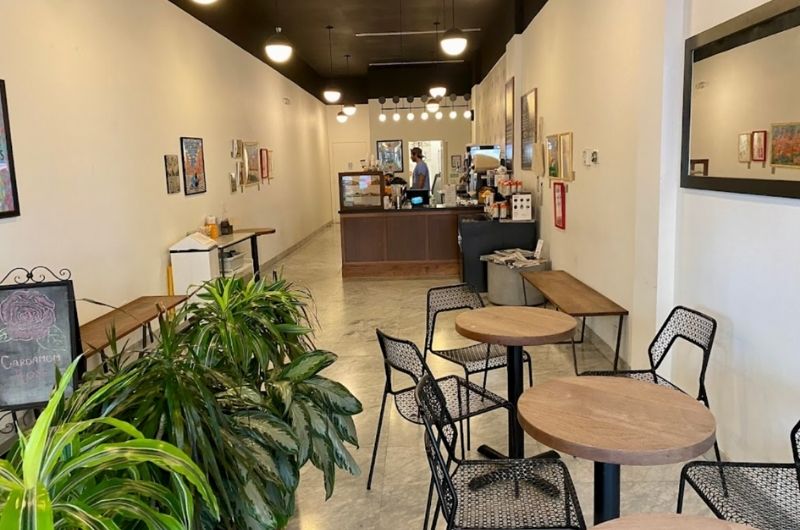 Neighborhood: Coral Gables
Address: 2516 Ponce de Leon, Coral Gables, FL 33134
Best For: Award-Winning Cold Brew
Description:
Cafe Grumpy is another import that made its way down to South Florida. This Brooklyn-based restaurant has set up its first location outside of the Northeast in Coral Gables. This female-owned company sources environmentally and socially responsible beans from Kenya, Honduras, Burundi, Guatemala, and Columbia, and roasts all of its coffee beans in its Brooklyn roastery. First-timers should try Cafe Grumpy's award-winning cold brew, which you can sample in-house and then buy to-go in either "Ready to Drink" or "Ready to Mix" bottles.
This Coral Gables coffee shop also includes an assortment of pastries and small bites from Zak the Baker and Bunnie Cakes, including croissants, cinnamon buns, apricot danishes, and gluten-free and vegan cupcakes. Interested in taking a class to learn more about coffee? Check out the wide variety of lessons offered by Cafe Grumpy!
11. Suite Habana Cafe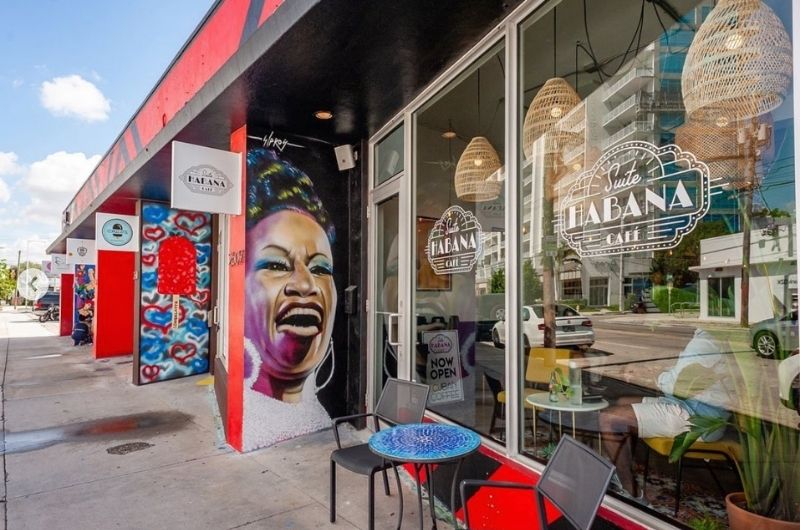 Neighborhood: Wynwood
Address: 2609 N Miami Ave, Miami, FL 33127
Best For: Traditional Cuban Espresso in a Homey Setting
Description:
Named after a popular Cuban documentary, Suite Habana Cafe is modeled after a paladar, a small restaurant that can be found inside someone's private home in Cuba. Equipped with a welcome mat at the entrance, plush furniture, Cuban tiles, and even a mural of Celia Cruz, guests will feel right at home in this intimate Wynwood spot.
Suite Habana Cafe serves up authentic and high-quality Cuban espresso, along with modernized caffeine drinks, such as oat cortado made with Tu Café coffee and oat milk. Their coffee, which is roasted locally, is known for being dark and strong. Patrons should certainly pair their espresso with one of Suite Habana's small bites, which include empanadas, croquetas, and sweet treats from Zak the Baker.
12. Pura Vida
Neighborhood: South of Fifth
Address: 110 Washington Ave #2, Miami Beach, FL 33139
Best For: Mid-Day Coffee Break before Hitting the Beach
Description:
If you plan on hitting the beach, head over to Pura Vida for some much-needed fuel before you do so. Perfect for an afternoon pick-me-up, this health-conscious cafe doles out delicious açaí bowls and tasty coffee. You'll find all your staples at this family-owned business including cappuccinos, double macchiatos, lattes, matcha lattes, and hot tea, which can be paired with your choice of almond, oat, hemp, or organic whole milk.
An ideal pairing is the oat milk latte with a PB Lover bowl: an açaí bowl with banana, peanut butter, strawberries, granola, blueberry pecans, shaved coconut, goji berries, and cacao nibs. Just like this bowl, all of the meals and drinks at Pura Vida strike the perfect balance between healthy and delicious. This natural-food cafe also has a host of wraps, savory bowls, salads, and superfood smoothies on the menu. With its laidback surfer vibes, this cafe doubles as an Instagram spot. Not close to this South of Fifth joint? Pura Vida has several locations all across Miami in the Design District, Edgewater, Coral Gables, and Miami Beach.
13. All Day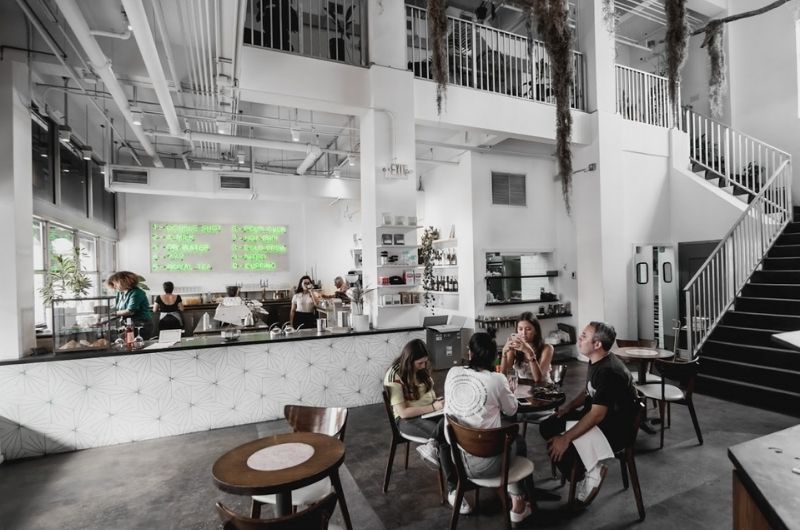 Neighborhood: Overtown
Address: 1035 N Miami Ave, Miami, FL 33136
Best For: Hard-Core Coffee Aficionados
Description:
Conveniently located in downtown Miami, All Day is the coffee shop for true coffee aficionados. And we mean that – All Day takes its coffee very seriously. This independent coffee bar serves up a variety of unusual but exceptional coffee libations including cold brew rosemary limeade, frothy nitro cold brew, and espresso-based drinks based on milk preference. Guests will have the option to add water to their espresso and can choose between different milk foams in various textures.
This Overtown spot doubles as a restaurant with a very egg-centric menu. If you prefer sweet breakfast treats over savory, opt for a blood orange morning bun, Florida sunshine pavlova, or the raw chocolate hazelnut tart.
14. The Salty Donut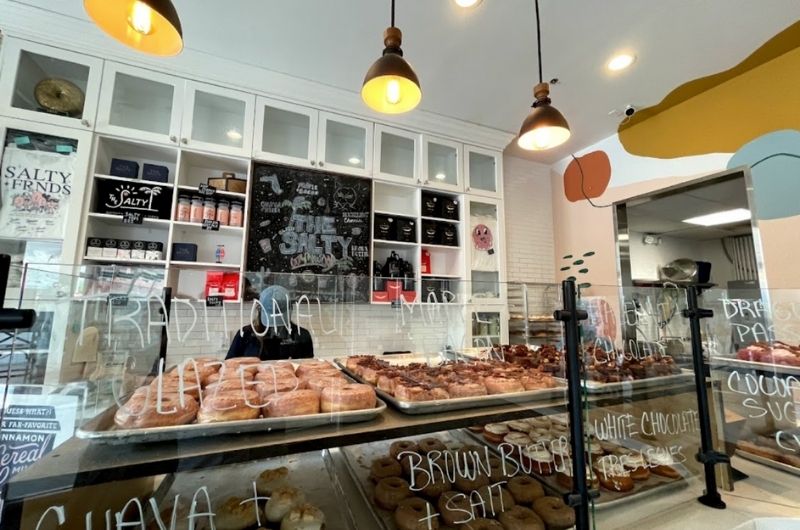 Neighborhood: Wynwood
Address: 50 NW 23rd St #112, Miami, FL 33127
Best For: Donut Lovers
Description:
Coffee and donuts — can you name a better combo? If you are a fan of these circles of sugar and sprinkles, head on over to The Salty Donut for some of the most innovative confections in town. This family-owned cafe focuses on artisanal donuts made in small batches. Buttery and fluffy, soft and moist, each donut is made from the family's 24-hour Brioche recipe. Sometimes fresh fruit even gets folded into the batter! Patrons can opt for the prickly pear margarita or Texas Chocolate sheet cake donut, among others, as well as a host of rotating seasonal flavors.
Meanwhile, the coffee at this Wynwood cafe focuses on seasonality. Patrons can opt for classic beverages such as a cortado or cappuccino, or branch out with a cinnamon cereal milk latte or a vanilla bean latte. The roasts may be slightly unusual, but the flavor profiles perfectly complement their donuts.
15. Imperial Moto Cafe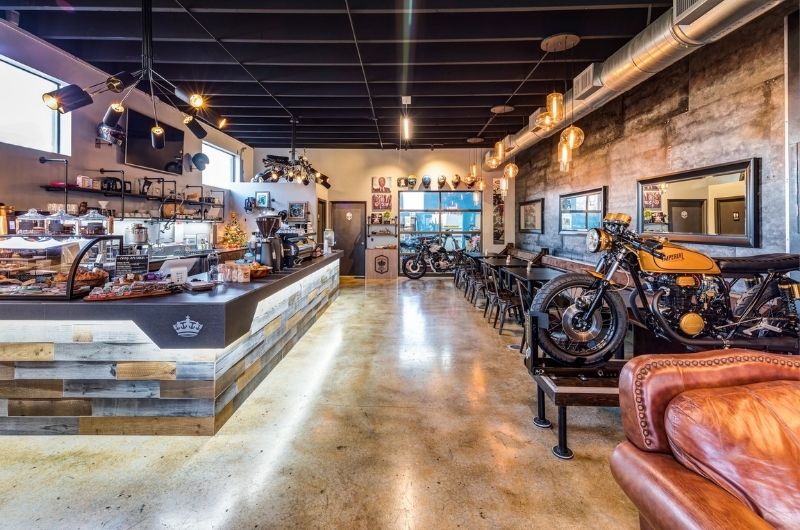 Neighborhood: Little River
Address: 7299 NW 2nd Ave, Miami, FL 33150
Best For: Motorcycle Enthusiasts
Description:
Have you ever heard of a coffee shop for motorcycle enthusiasts? Well, one exists, and it can be found in Little River. Part cafe, part Moto high-end apparel brand, Imperial Moto Cafe happens to serve up some of the best coffee in town. This hip cafe offers trendy coffee creations like nitro CBD cold brew, matcha lattes, and picturesque cappuccinos. Patrons can also choose from a selection of loose-leaf teas and fruit smoothies. If you are looking for a snack to pair with your brew, opt for a Cuban sandwich or avocado toast.
Imperial Moto Cafe is a great place to grab a cup of Joe and watch mechanics work on bikes through the glass, but its secluded location also makes it an ideal spot to escape the hustle and bustle of the city.
16. Cafe Demetrio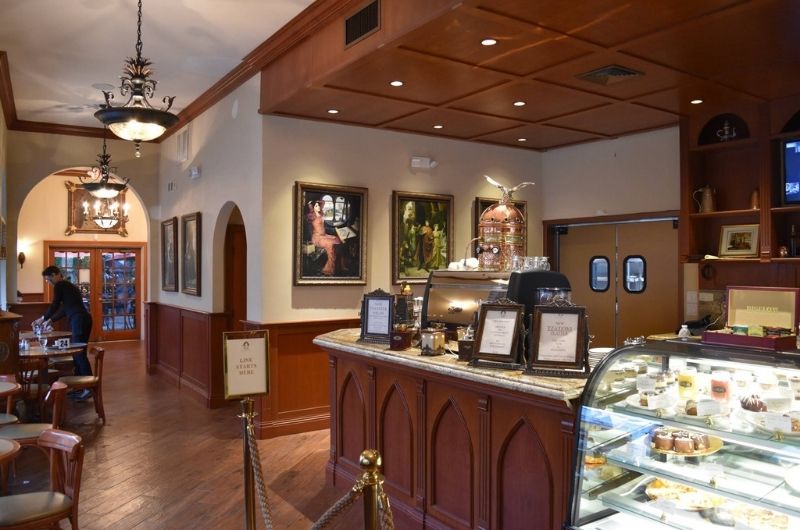 Neighborhood: Coral Gables
Address: 300 Alhambra Cir, Coral Gables, FL 33134
Best For: Sit-Down Weekend Lunch
Description:
Spending the day in Coral Gables? Enjoy a sit-down lunch at Cafe Demetrio, the Gables' first-ever coffee house. While the warm indoor quarters of this cafe exude old-world flair, the outdoor patio offers a leafy courtyard setting. Known for its artisanal coffee and hearty meals, this 18th-century European-style cafe is a great place to talk about poems and the meaning of life or get lost in a good book or a game of chess.
Cafe Demetrio's menu includes an assortment of gyros, gourmet sandwiches, pasta, signature salads, and breakfast fare. To add to their extensive menu is a vast selection of coffee specialties including a malted milk latte, cinnamon toast latte, dark cacao latte, and salted caramel mocha. Want to sample the coffee that started it all? Try the Cafe Demetrio, a cappuccino with cacao powder, milk, a double shot of espresso, and a bit of sugar to sweeten it to perfection.