12 Best Museums in Fort Lauderdale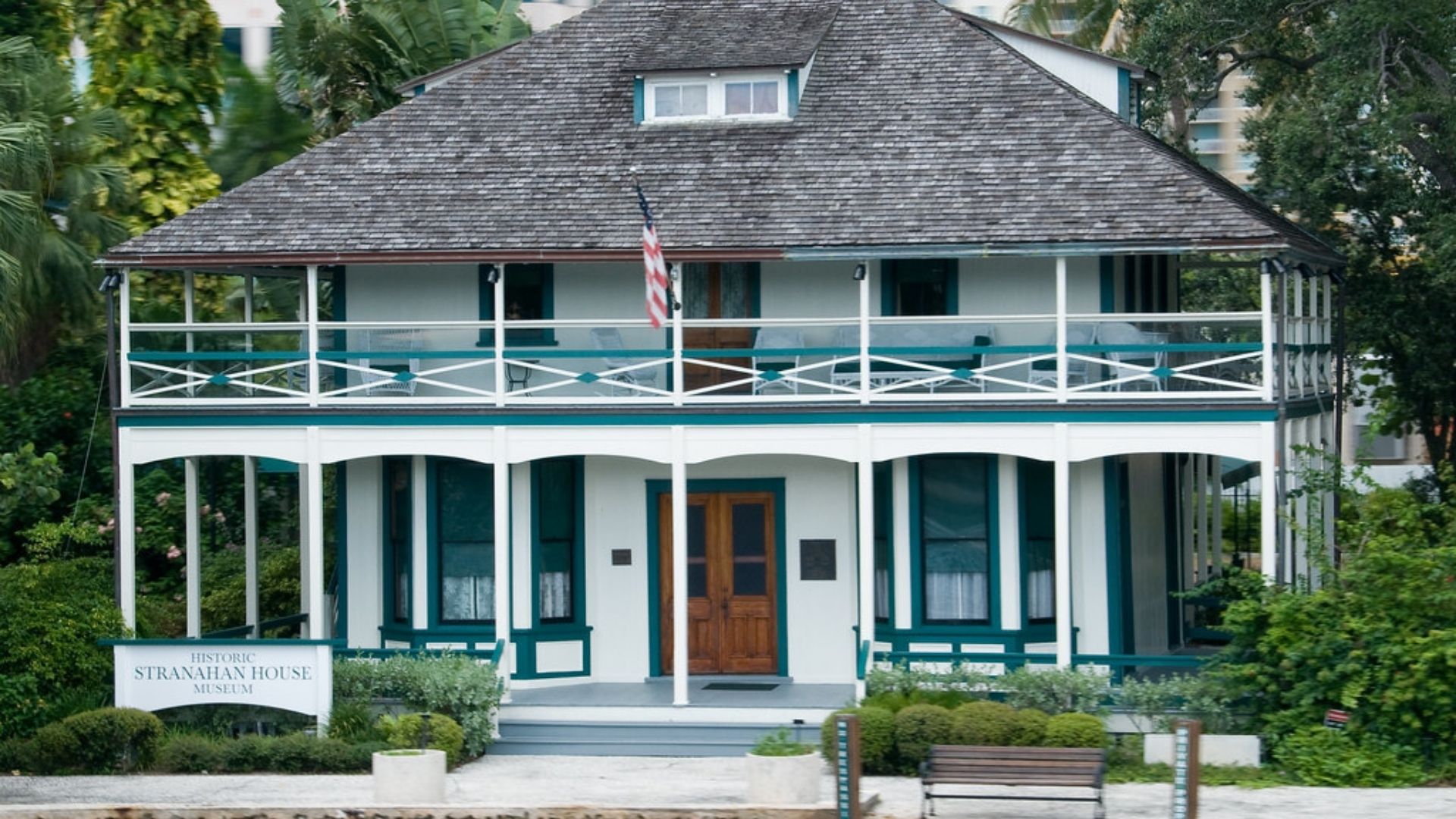 While Fort Lauderdale may be known for its luxurious beach vacations, the bustling city has so much more to offer to travelers and locals alike. Aside from the white sands, sparkling oceans, and mega-yachts, Fort Lauderdale is home to many world-class museums. Both exciting and educational, each museum has its own unique focus and will allow travelers the chance to learn something new or walk down memory lane and discover more about South Florida's distinctive past. 
From art galleries and historic estates to LGBTQ and science museums, these cultural gems are scattered all across Fort Lauderdale. To make things easy for you, we've created a comprehensive round-up of the twelve best museums in Fort Lauderdale. This wide array of museums will appeal to all types of travelers and everyone is guaranteed to find at least one museum that piques their interest on this list. 
1. Bonnet House Museum & Gardens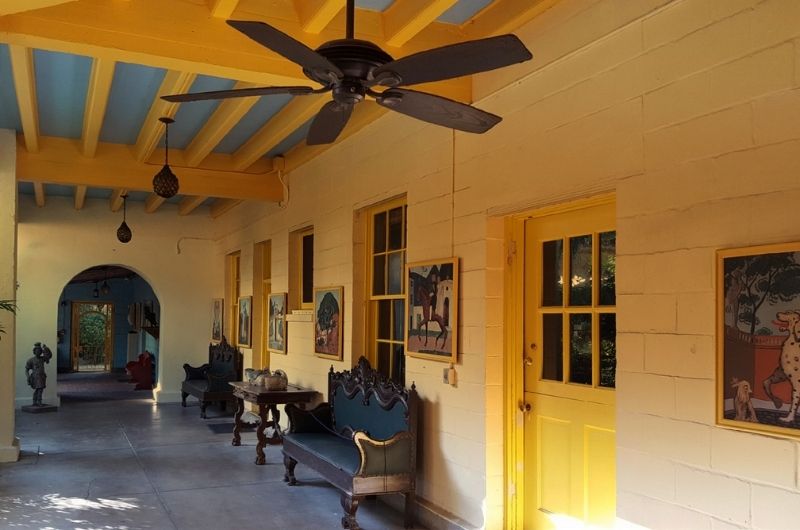 Neighborhood: Central Beach
Museum Focus: Fort Lauderdale History and Art
Google Map: Link
Best For: Visitors with an affinity for art, history, and horticulture 
Description: 
Similar to Stranahan House, the Bonnet House Museum & Gardens has a long storied history in Fort Lauderdale. Tucked between miles of beachfront development, the 35-acre property was given as a wedding gift to Helen and her husband Frederic Bartlett in 1919. The newlyweds soon began construction on the house until Helen unexpectedly passed away several years later. When Bartlett, a Chicago-born artist, remarried, he and his wife Evelyn continued to decorate the house until Frederic's death. 
Perched on Fort Lauderdale Beach, the Bonnet House Museum & Gardens is the perfect day-trip to escape the hustle and bustle of the lively city. Bonnet House has something to appeal to all types of travelers, particularly art lovers, horticulture fanatics, and history buffs. Guided tours will lead visitors through the house and grounds, which depict the Bartlett's lifestyle and how the estate staff worked and lived. The house is also filled with art, both created and collected by the Bartlett's. A stroll around the gorgeous grounds is not to be missed, which includes a Desert Garden, a hibiscus garden, and a courtyard filled with tropical green vegetation. Visitors can also view one of the largest orchid collections in the United States and potentially spot friendly monkeys and swans that frequent the area.
2. Historic Stranahan House Museum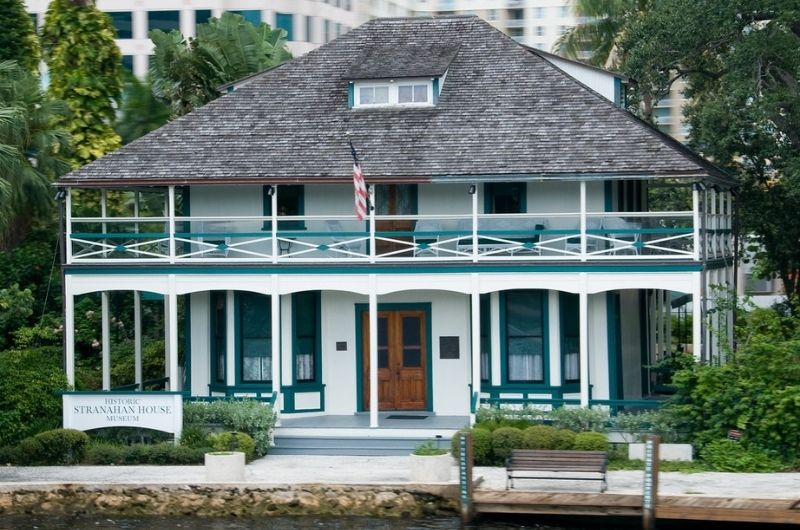 Neighborhood: Beverly Heights
Museum Focus: History of Fort Lauderdale
Google Map: Link
Best For: Visitors looking for a guided tour on a central part of Fort Lauderdale history
Description: 
For history buffs and individuals curious to learn more about Fort Lauderdale, a visit to the Historic Stranahan House is a must. Conveniently located just off of Las Olas Boulevard, this beautifully restored and impeccably maintained house has been a central part of Fort Lauderdale's history for over a century. Frank Stranahan, Fort Lauderdale's founding father, moved to the city in early 1890. In 1901, the Ohio businessman built the Stranahan House to use as a trading post and community hall before transforming the property into a private home for him and his wife, Ivy. After Stranahan tragically passed away in 1921, Ivy, the first schoolteacher in the city, rented the rooms out to travelers and restauranteurs.  
To this day, the Historic Stranahan House Museum is the oldest structure in Broward County. Hour-long tours are offered every day providing tourists a glimpse into the history of Fort Lauderdale and some of the mysteries surrounding the home and its previous owners.
3. Stonewall National Museum & Archives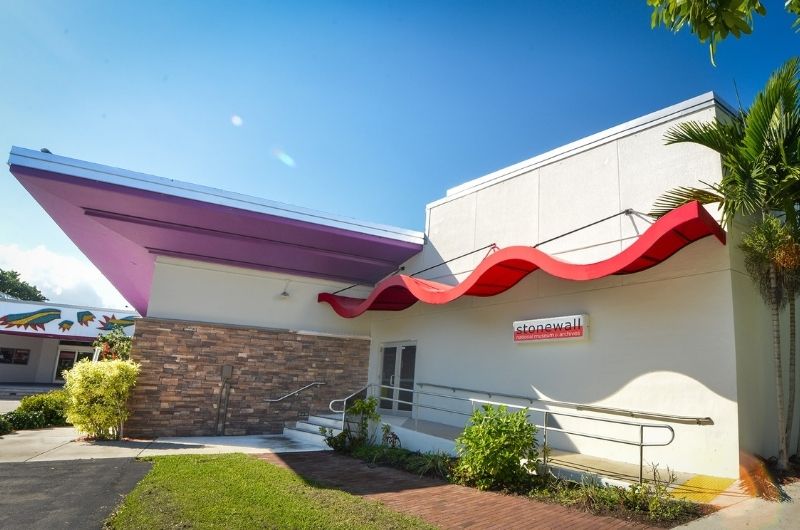 Neighborhood: Holiday Park
Museum Focus: LGBTQ history
Google Map: Link
Best For: Visitors looking to enrich their knowledge of LGBTQ history
Description: 
Stonewall National Museum & Archives is one of the largest gay archives and libraries in the United States. Now 50 years old, this Florida non-profit charitable organization inspires and promotes understanding of the LGBTQ community and the significant role they have played in American history and society. Despite the name of the museum, Stonewall National Museums & Archives has no direct link to the Stonewall Riots in New York in 1969. Rather, this cultural museum explores LGBTQ history at large, with some artifacts dating back more than a century. 
Visitors will find memorabilia from LGBTQ icons throughout the museum, including a signed pair of Ellen Degeneres sneakers, a pink blazer previously worn by Carson Kressley of "Queer Eye for the Straight Guy, and early editions of Oscar Wilde's "House of Pomegranates." The library is currently the largest LGBTQ collection in the nation with over 34,000 LGBTQ books and audio-visual materials, 6 million pages of documents, and 2,000 objects of vital importance to gay history. Make sure to check out the rotating exhibits, talks, and lectures that will be happening during your stay.
4. Museum of Discovery and Science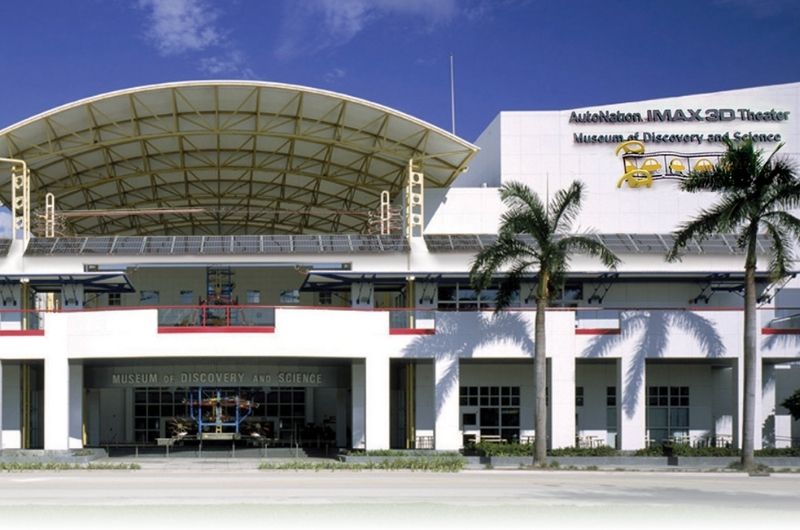 Neighborhood: Esplanade Park
Museum Focus: Interactive Science Exhibits
Google Map: Link
Best For: Visitors traveling with kids or looking for exciting indoor activities
Description: 
Explore, discover, and learn about how the world works at the Museum of Discovery and Science. With more than 200 dynamic interactive exhibits, this educational museum is a great family-friendly activity to enjoy while visiting Fort Lauderdale with kids. Chock full of activities, animals, and exhibits, guests can meet river otters, sail along the Everglades on a simulated airboat ride, and head over to the Storm Center to learn more about Florida weather patterns. 
Other highlights include an out-of-this-world simulation that allows you to travel to Mars or the Moon, an aviation station that allows kids to climb into the cockpit of a World War II fighter plane, and a Dino Boneyard teeming with fossils. If you need to rest your legs, catch a movie at the 300-seat, 5-floor Imax theater, and swing by the gift shop on the way out. Open 363 days a year, a trip to the Museum of Discovery and Science is perfect for hours of fun on a rainy day.
5. History of Fort Lauderdale Museum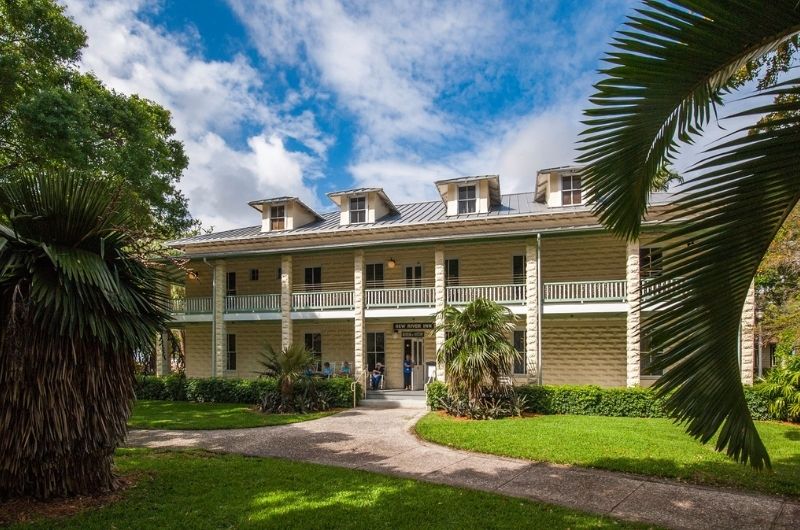 Neighborhood: On the New River near Esplanade Park
Museum Focus: History of Fort Lauderdale
Google Map: Link
Best For: Visitors looking to learn about the diverse history of Fort Lauderdale
Description:
For the chance to experience three museums in one, head over to the History of Fort Lauderdale Museum. Located on the banks of the New River, this one-of-a-kind museum is housed in the 1905 New River Inn, the first working hotel in Fort Lauderdale. For the last five decades, the museum has strived to bring the history of Fort Lauderdale to life by sharing the stories of the city's diverse community. In the History Museum, guests can walk amongst rotating visual art exhibits on the first floor galleries before heading upstairs to explore South Florida history from prehistoric to the present day. Some of the permanent exhibits on the second floor include Seminole Arts & Culture, Archeology of the New River, Henry Flagler & FEC Railroad.
The two other buildings included on the campus are the Pioneer House Museum and the 1899 Schoolhouse Museum. When walking through the doors of the Pioneer House, expect to be met with a setting straight out of 1907 with extensive antique furniture, kitchen, doll, and toy collections. Equipped with period wooden desks and McGuffey readers, the historic schoolhouse perfectly encapsulates an educational setting from over 100 years ago.
6. International Swimming Hall of Fame Museum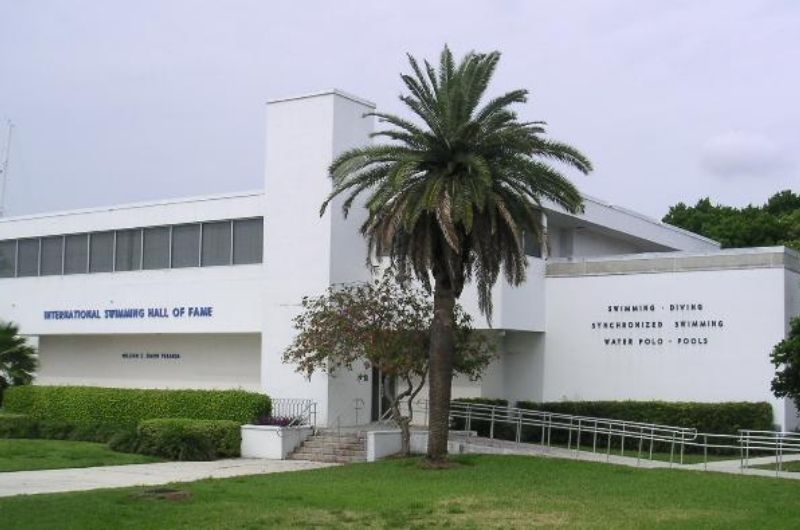 Neighborhood: Las Olas Beach
Museum Focus: Swimming, Aquatic History, and Memorabilia 
Google Map: Link
Best For: Visitors interested in aquatic memorabilia and history
Description:
If you are an avid swimmer, take a break from the beach and check out the International Swimming Hall of Fame Museum (ISHOF). Located close to the Intracoastal Waterway, this underrated cultural gem includes a museum with over 40 exhibits and displays, a hall of fame, a world-class aquatic center, and an impressive tour that exceeds expectations. 
To this day, the aquatic center hosts national and international swimming events, while the Hall of Fame recognizes and showcases the accomplishments of over 600 of the world's greatest aquatic athletes, including competitive swimmers, water polo players, synchronized swimmers, and divers. To top that off, this swimming-centric museum features the world's largest collection of artifacts and memorabilia from the history of aquatic sports which includes rare photos, posters, films, Olympic medals, trophies, and even swimsuits. Other highlights of the museum include the first automatic timing machine to determine the results of close races, as well as tributes to American presidents who were also swimmers.
7. NSU Art Museum Fort Lauderdale
Neighborhood: Huizenga Plaza off Las Olas Boulevard
Museum Focus: Contemporary and 20th Century art
Google Map: Link
Best For: Visitors who are contemporary art enthusiasts
Description:
Located on the western end of Las Olas Boulevard, the city's arts and entertainment district, sits NSU Art Museum Fort Lauderdale. First opening its doors in 1986, this state-of-the-art museum is an 83,00 square foot modernist building designed by world-famous architect Edward Larrabee Barnes. Home to a collection of over 6,000 pieces with an emphasis on the cultures of South Florida and the Caribbean, this dynamic cultural hub features many exhibition areas across several floors, along with a sculpture terrace. 
Other highlights include the largest collection in America of post-World War II Avant-garde Cobra artists of Brussels, Copenhagen, and Amsterdam, 500 paintings and drawings by American realist painter William Glackens, and a sizable collection of Latin American and Cuban Art. Associated with Nova Southeastern University, the museum also offers workshops, programs, and classes for people of all skill levels and age groups. Hankering for a bite to eat? The museum cafe has an assortment of hot and cold sandwiches, salads, and bowls available. The museum is free for all visitors on the first Thursday of every month.
8. Old Dillard Museum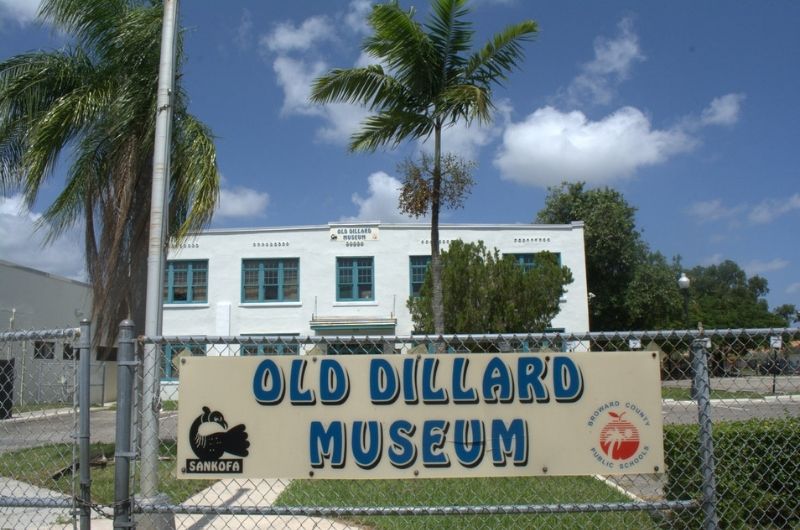 Neighborhood: Dorsey Riverbend
Museum Focus: African-American History in Fort Lauderdale
Google Map: Link
Best For: Learning more about the rich cultural history of African Americans in Broward County
Description:
Since its construction in the early 20th century, Old Dillard Museum has served as the epicenter of education and culture for Fort Lauderdale's African-American community. Built in 1924, Old Dillard began as the region's only school for Black children during segregation. Originally called "The Colored School," today, the museum is named after Dr. James Hardy Dillard, a distinguished leader and educator, to commemorate the heritage of the first African-American landmark in Broward County. 
Operated by Broward County Public Schools, the museum has not only impeccably preserved and maintained the building and its contents, but it also offers a wide array of interactive exhibitions, cultural activities, and educational opportunities related to Black history. Through the exhibits, lectures, and special events hosted at Old Dillard, visitors and locals can learn more about the achievements and accomplishments of Black pioneers in Broward County. To learn more about the current exhibits on display, make sure to check out the Old Dillard official website for more information. Admission is free, but donations are welcome.
9. ArtServe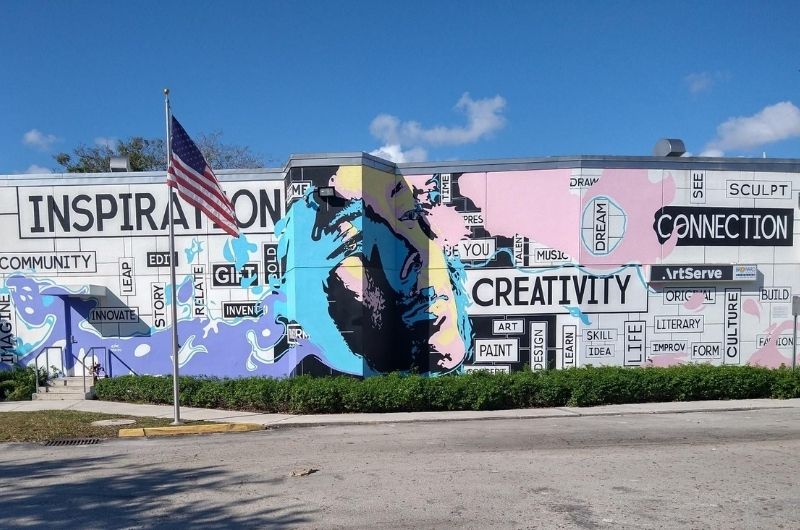 Neighborhood: Holiday Park
Museum Focus: Local Art
Google Map: Link
Best For: Visitors who have an appreciation for art and want to support local artists
Description:
For the opportunity to visit one of six original arts incubators in the United States, head on over to ArtServe. Centrally located near Holiday Park, this multi-purpose facility provides shared office space and a venue for 350 nonprofit cultural organizations and artists in Broward County at a budget-friendly cost. This 20,000 square foot facility also includes a professional art gallery, dance studio, conference rooms, and meeting rooms. 
Serving as a model for other arts support organizations around the country, ArtServe hosts over 1,000 groundbreaking events, programs, and services that help talented artists of all mediums turn their lifelong passion into a business. Winning several awards for innovation in the arts, ArtServe provides a venue for thousands of artists to sell their work to numerous travelers and locals who walk through the doors. 
10. MAC Art Galleries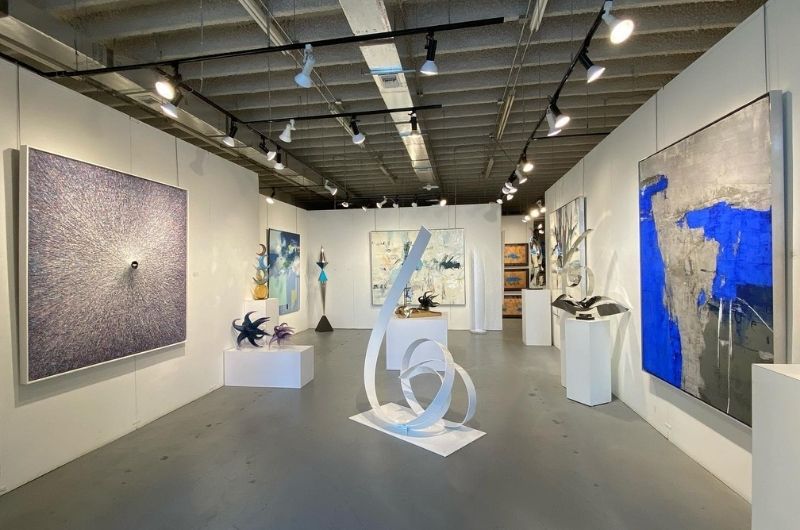 Neighborhood: Flagler Village
Museum Focus: Fine Art Gallery
Google Map: Link
Best For: Visitors interested in pursuing or purchasing fine art
Description: 
Flagler Village is home to dozens of art galleries and studios, including the largest exhibition space in South Florida: MAC Art Galleries. For over twenty years, this world-renowned gallery has been contributing to the growing art scene in South Florida by showcasing work from some of the biggest names in the art world. In this 12,000 square ft. gallery guests can expect to find work by artists such as Joan Miró, Alex Nuñez, David Kessler, and Salvador Dali. 
The ideal spot for private collectors and art professionals alike, MAC Art Galleries also boasts an in-house Multimedia Department with a digital photography studio, a premier Gicleé printing facility, and a computer graphic pre-press department. For those interested in purchasing artwork, this full-service gallery is also equipped with a custom design frame shop and shipping department.
11. ABRA Gallery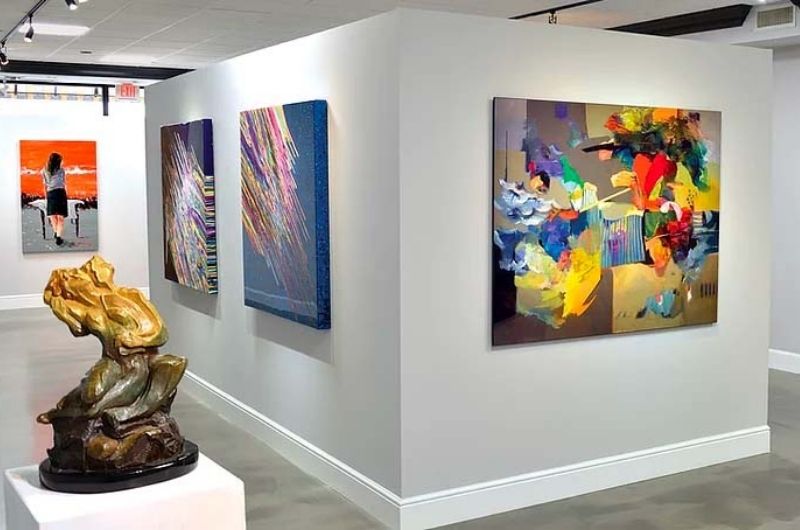 Neighborhood: Las Olas Boulevard
Museum Focus: Contemporary and Fine Art Gallery
Google Map: Link
Best For: Visitors interested in pursuing or purchasing fine art
Description:
Conveniently located off of Las Olas Boulevard, ABRA Gallery is the perfect place to pop into on a day filled with shopping and dining out on the town. First established in Los Angeles in 2002, ABRA (Art By Renowned Artist) relocated to Fort Lauderdale in 2015. It's impossible to put the work featured at ABRA in a box or categorize it in any way, other than that they merely focus on stunning artwork collected from talented artists around the globe. Around the gallery, guests can expect to find an assortment of original acrylic and oil paintings, edition archival print, and contemporary sculptures created by emerging and established artists alike. In addition to the incredible art on display, previous customers have raved about the gallery's fresh bright setting and the warm customer service.
12. Young At Art Museum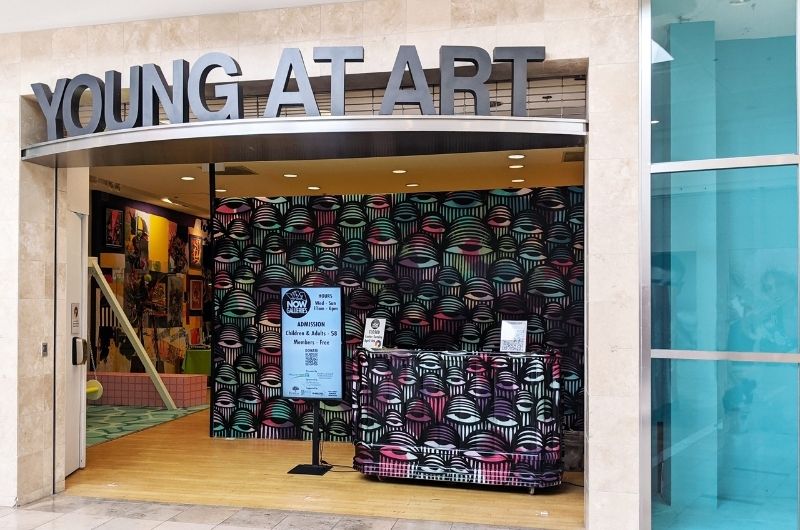 Neighborhood: Plantation
Museum Focus: Crafting with local artists
Google Map: Link
Best For: Adults and children alike looking for hands-on art activities
Description:
Head on over to Young at Art to experience a state-of-the-art museum unlike any other. Just outside of Fort Lauderdale in Plantation, Florida, Young At Art has been activating imaginations since 1989. Featuring innovative exhibitions by local artists, children can engage in activities such as crafting memory collages with Twiggy Boyer, creating handmade books with Shawna Moulton, and producing ink images with Mimi Botscheller. 
This museum is recognized as a pioneer in its field and has been awarded the Best Art Museum for Children in the Nation by Child Magazine. But that's not to say that children are the only ones who can enjoy Young At Art. As the name of the museum suggests, Young At Art is the perfect place for adults to unleash their inner child and get their hands dirty. Make sure to check out their official website to see if any particular crafts or activities suit your fancy. Whether you prefer coloring or crafting, puzzles or painting, Young At Art guarantees an unforgettable experience for the entire family.
Frequently Asked Questions
What are the top must-visit museums in Fort Lauderdale?
Fort Lauderdale is home to several incredible museums that cater to a variety of interests. The Museum of Discovery and Science is a favorite among families, offering interactive exhibits and an IMAX theater. Art enthusiasts should not miss the NSU Art Museum, which houses a diverse collection spanning centuries. For history buffs, the Bonnet House Museum & Gardens and Stranahan House provide a glimpse into the city's past. Finally, car lovers will enjoy the Antique Car Museum, which showcases a stunning collection of Packard automobiles.
Are there any museums in Fort Lauderdale focused on marine life?
Absolutely! The Fort Lauderdale area is known for its beautiful coastline and marine life. The Museum of Discovery and Science features an exhibit called the "EcoDiscovery Center" where you can learn about Florida's unique ecosystems, including marine habitats. For a more in-depth exploration of marine life, consider visiting the nearby Miami Seaquarium or the Frost Museum of Science, which offer fascinating exhibits and live shows featuring ocean creatures.
How much time should I allocate for a museum visit in Fort Lauderdale?
The time you should allocate for a museum visit in Fort Lauderdale depends on your interests and the specific museum. Generally, you can expect to spend anywhere from 1.5 to 3 hours at a museum. The Museum of Discovery and Science, for example, can take up to 3 hours if you want to experience all the exhibits and catch an IMAX movie. For the NSU Art Museum, allot at least 1.5 hours to appreciate the artwork. Remember to factor in any special events or temporary exhibits that might be happening during your visit.
Are there any discounts or special offers available for Fort Lauderdale museums?
Many Fort Lauderdale museums offer various discounts and special offers for different visitor groups. Seniors, military personnel, students, and children often qualify for reduced admission prices. Also, some museums have free admission days or "pay what you wish" periods. We recommend checking each museum's official website or social media channels for the most up-to-date information on discounts and special offers before planning your visit.
What is the best time of year to visit museums in Fort Lauderdale?
Fort Lauderdale museums can be enjoyed year-round, but the best time to visit depends on your preferences. During the winter months, from December to February, the city experiences cooler and more comfortable temperatures, making it an excellent time for indoor activities like visiting museums. However, the summer months (June to August) can be hot and humid, and indoor attractions like museums can provide a welcome respite from the heat. Keep in mind that during peak tourist season, which typically runs from December to April, museums might be more crowded.