17 Best Boat Tours in Fort Lauderdale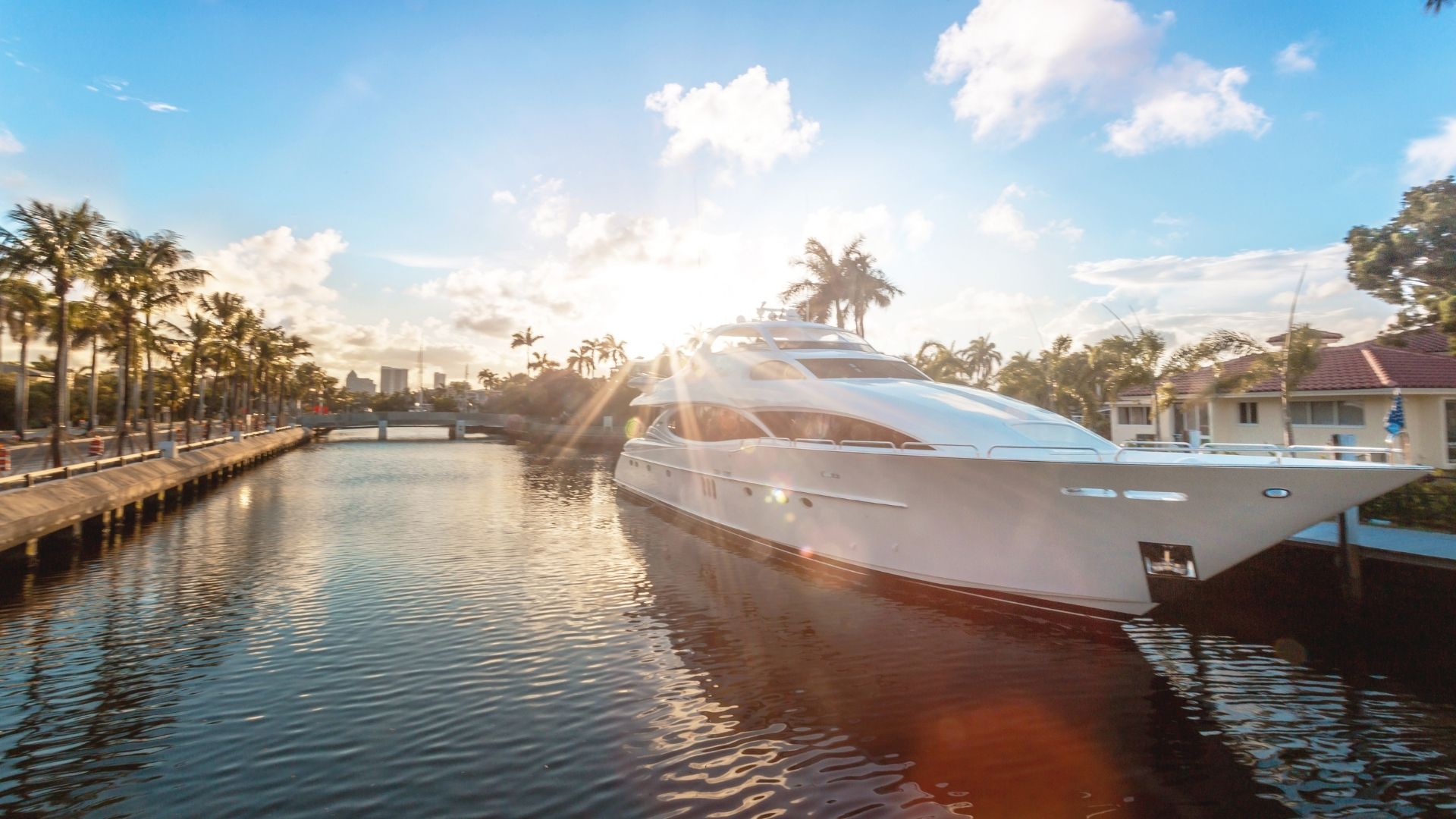 While Fort Lauderdale boasts world-class dining, excelling shopping, and vibrant culture, it is certainly most famous for its sun-kissed sands and sparkling seas. Dubbed the "Venice of America", this coastal city features more than 300 miles of waterways winding through the area and is home to an array of pristine beaches and exciting water activities. 
Unsurprisingly, Fort Lauderdale also offers a wide selection of boat tours, which is without a doubt one of the best ways to see the sights of South Florida. Whether you are looking to self-captain your own boat, travel in style on a mansion boat tour, or live it up on a party cruise, the city has truly got it all. To help you plan your aquatic adventure, here are our recommendations.
Best Private Charter Boats in Fort Lauderdale
1. Fishing and Bahamas Charter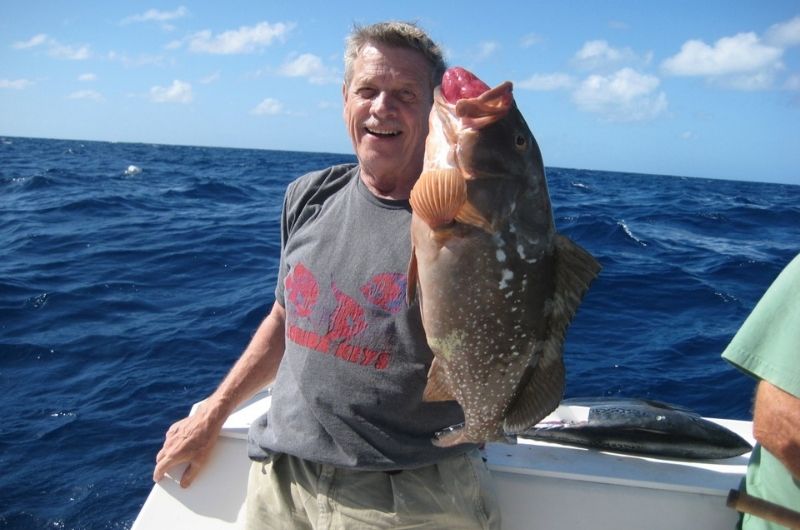 Best For: Couples, Families, or Friends Looking to Travel to the Bahamas
Description:
Believe it or not, you can reach the Bahamas within just a few short hours directly from Fort Lauderdale. Through Rent a Boat Fort Lauderdale, Fort Lauderdale natives or visitors can travel all the way to the Bahamas by boat. Not only is the price right, but your captain will be well-versed in all of the best spots to visit during your journey to Bimini. Eager explorers can play with stingrays and nurse sharks, snorkel and dive around the historic S.S Sapona, and explore numerous islands and beautiful beaches. 
For those interested, Rent a Boat also offers fishing, snorkeling, and spearfish opportunities on request for an additional price. The boat is equipped with a captain and complimentary ice and bottled water.
2. Fort Lauderdale Yacht Rentals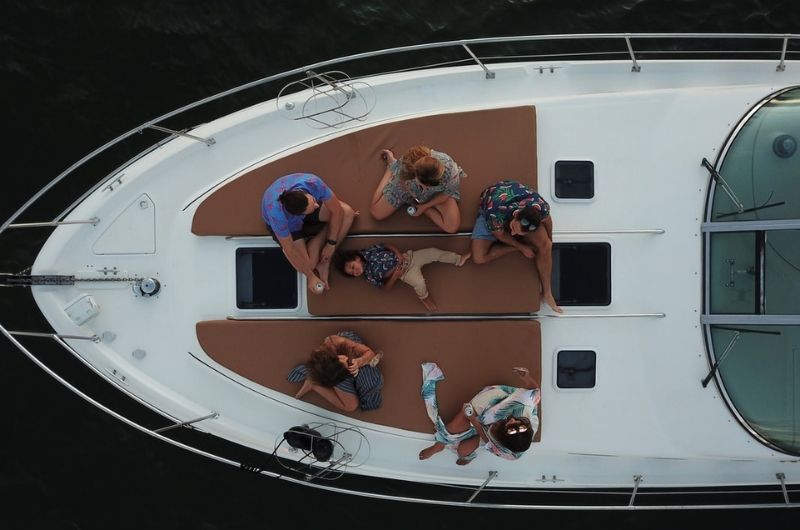 Best For: Luxurious Day-Trip with Friends
Description:
Who says you can't have it all? If you are looking for a luxurious boating experience, Fort Lauderdale Yacht Rentals is the charter company for you. This upscale charter company has an entire fleet of larger-than-life yachts available for rent. Yachts are available for rent for 4, 6, or 8 hours. The smallest yacht can host up to 10 guests, while the largest can host up to 13 guests. 
Kick back and relax while a captain cruises you along the Intracoastal Waterway to a wide variety of waterfront dining destinations. Guests can choose to dine at Serafina, a romantic candlelit trattoria, or spend the evening at Casa Sensei, a Pan-Asian Latin Fusion & Sushi Bar, among other locations. This boat tour may cost you a pretty penny, but it will be worth every memorable minute.
3. Fort Lauderdale Sailing Charter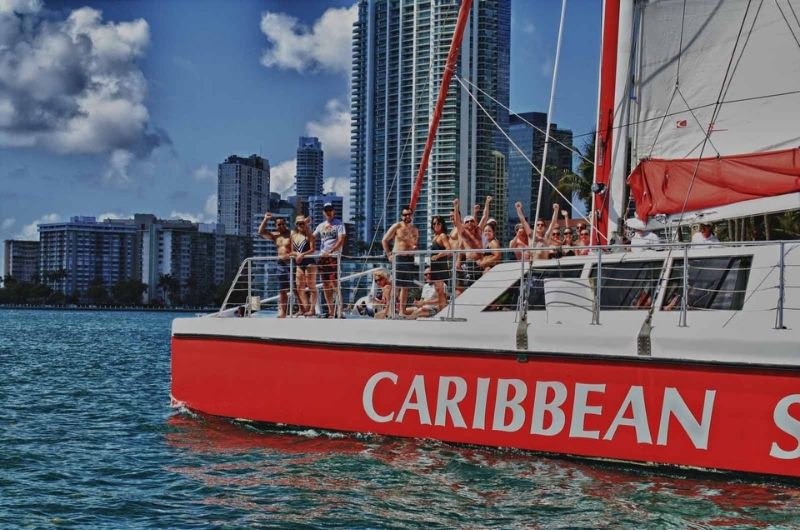 Best For: A Couple Celebrating a Special Occasion 
Description: 
Looking for the perfect sailing boat for two? Available for rent through Viator, this 40-foot sailboat can host up to six guests but is perfect for a couple celebrating a special occasion. This sailing charter is committed to catering this experience directly to the customer. Whether you are interested in exploring the historic New River or venturing out to open seas, the captain can take you everywhere and anywhere in the Fort Lauderdale area. 
Aside from sightseeing, guests are also welcome to engage in a range of water activities including swimming, snorkeling, or fishing. This popular and relatively affordable charter is likely to sell out, so if you are interested, strongly consider making a booking well in advance.
4. 4-Hour Fort Lauderdale Sailing Charter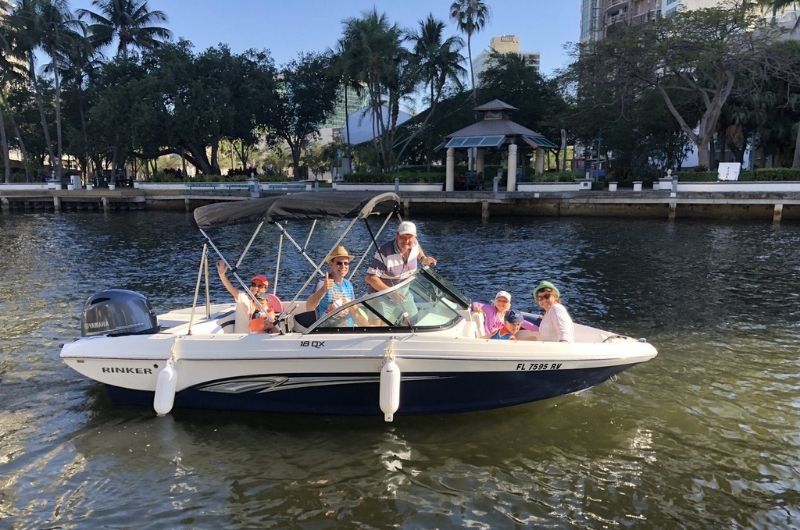 Best For: A Half-Day Boat Tour for Families or Friends
Description: 
If you only want to commit to a half-day on a boat, this Fort Lauderdale sailing charter is a great go-to. Available for rent through Viator, boat-goers can choose to bask in the breezy ocean air or cool down in the water with a swim or a snorkel. This fun sailing charter is equipped with nice additions including a Bluetooth speaker, a freshwater shower, shaded seating areas, as well as snorkeling and water activity equipment. If you want to try your hand in the captain's seat, the captain of the boat can safely supervise while you steer. 
This boat can host up to six guests, making it ideal for families or small groups of friends. If you are lucky, you might just get a glimpse of dolphins, manatees, turtles, porpoises, and other sea creatures during your sail.
5. 60 ft. Luxury Yacht Charter in Fort Lauderdale, Florida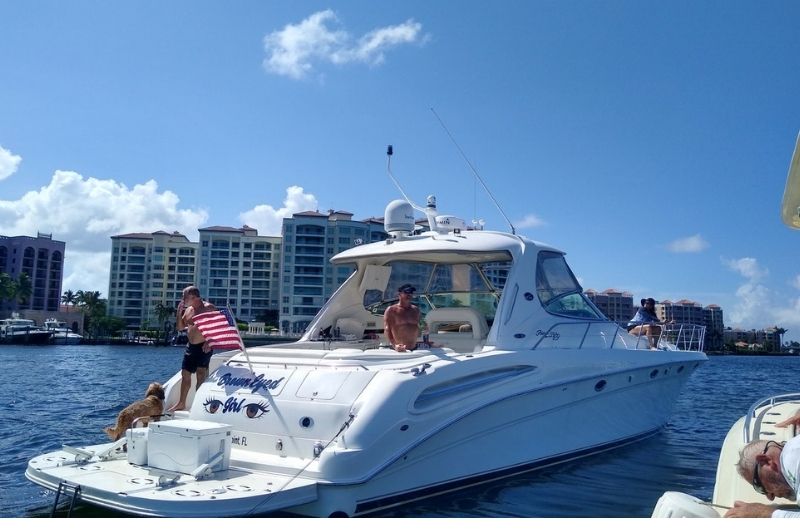 Best For: Fancy Events, Birthday Parties, Bachelorette and Bachelor Parties
Description: 
Looking to sail in style? This 60-foot yacht charter is not your average boat tour. Perfect for fancy events such as birthday parties, anniversaries, bachelor or bachelorette parties, this aquatic adventure is guaranteed to be one for the books. Available for rent through Viator, this boat tour includes a wealth of amenities including fresh towels and bottled water on board, a 100-pound ice maker, a Bluetooth sound system, free WiFi throughout the ship, and air conditioning in the cockpit. 
Once you hop on board, expect to find 2 bedrooms, 2 full bathrooms including large showers, and a full kitchen. Guests can relax and unwind on the 18-foot sun pad on the bow, or on complimentary rafts and floats in the water. The boat can host up to 13 people.
Fort Lauderdale Intracoastal & Mansion Boat Tours
6. Carrie B Venice of America Fort Lauderdale Sightseeing Tours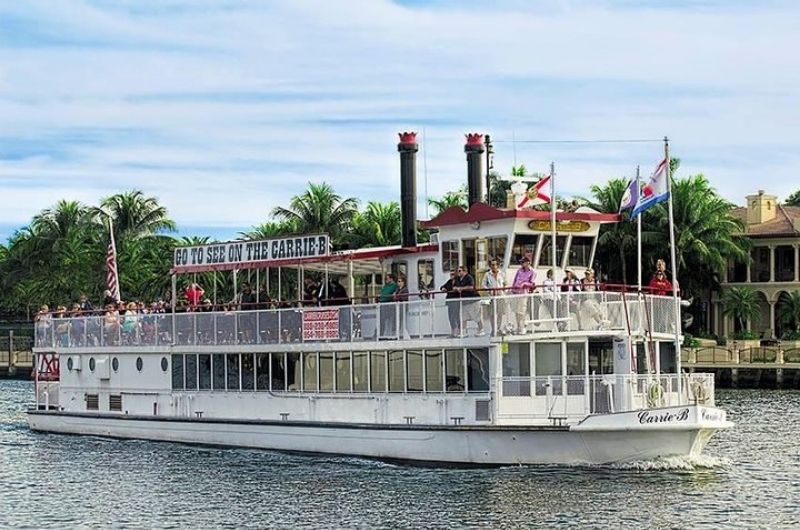 Best For: Families Who Want to Tour Fort Lauderdale by Boat
Description: 
If you don't mind a crowd, a tour of Fort Lauderdale aboard the Carrie B. is sure to suit your fancy. Groups of all sizes and ages can enjoy a trip on this spacious vessel, as this riverboat hosts up to 300 passengers. On this 90-minute tour, an established captain will navigate your New River and Port Everglades coastline route dotted with historic mansions and mega-yachts belonging to the rich and famous. In addition, guests can also enjoy a live entertaining and informative narration while you sail along the waterway. 
Carrie B. offers three daily sightseeing cruises at 11 am, 1 pm, and 3 pm. During the tour, guests are invited to stroll along the Sun Deck, sit outside in shaded areas, or cool off in an air-conditioned oasis on the bottom floor. In need of a beverage or a light bite? Carrie B. offers food and a full bar on board.
7. Fort Lauderdale Water Taxi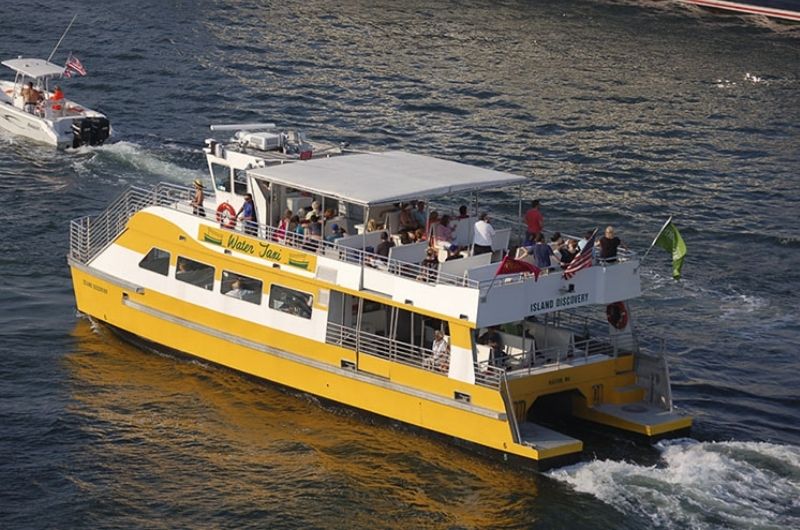 Best For: Families Visiting Tourist Attractions by Boat
Description: 
When it comes to sightseeing cruises available in Fort Lauderdale, the Fort Lauderdale Water Taxi is the best of the best. That being said, taking a ride (or two) on the water taxi is a must-do when visiting this coastal city. The captains and crew on board are experts on the many famous Fort Lauderdale attractions that can be viewed on the water. This narrated boat tour will include both historical information about the city, as well as fun facts about the mega-yachts all across the coastline. 
A single ticket lasts an entire day, which means guests are welcome to ride the taxi from start to finish or hop on and off again as they please. By way of the water taxi, guests will have access to prime tourist attractions including Hugh Taylor Birch State Park, Bonnet House Museum & Garden, NSU Art Museum, and Fort Lauderdale Beach Park. Thirsty? The water taxi has refreshing beverages available onboard.
8. Jungle Queen Riverboat's 90-Minute Boat Tour
Best For: Narrated Sightseeing Tour of the City for Families and Friends
Description: 
Joining the ranks of narrated boat tours in Fort Lauderdale is this 90-minute tour operated by Jungle Queen Riverboat. Perfect for those looking to soak up as many attractions as possible in a short amount of time, Jungle Queen Riverboat has been a sightseeing staple in Fort Lauderdale for years. Visitors will sail along the New River and learn about the city's storied history through informational and humorous commentary. Guests will also get the chance to sail past Millionaire's Row lined with decadent waterfront homes belonging to the wealthy elite, along with their extraordinary mega-yachts. The cherry on top of the cake? Jungle Queen Riverboat boasts an extensive drink menu with cocktails, wine, and beer. 
Over the years, more than 18 million customers have taken advantage of this fun-filled and relaxing boat tour. Many have claimed that this is the only true way to see Fort Lauderdale.
9. Bluefoot Pirates Adventures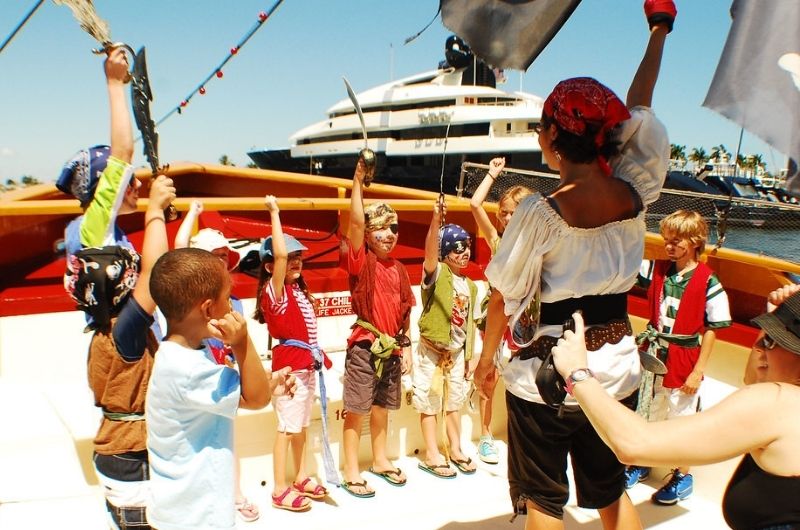 Best For: Families Traveling with Kids, Kid Birthday Parties
Description:
Why settle for a regular boat tour when you can travel the high seas aboard pirate ship Bluefoot? Perfect for birthday parties or families traveling with kids, join Bluefoot Pirates Adventures on a 1-hour rollicking pirate cruise. As adults admire the many mansions and yachts along the beautiful Intracoastal Waterway, kids will stay engaged and entertained with an interactive treasure hunt. Little guests will learn pirate lingo, ward off the villainous Barnacle Bill with onboard water canons, and get into character with face painting and temporary tattoos. After little kids have earned their sea legs, all of the guests will go home with a pirate certificate and a hefty bag of loot.
For those worried about sea safety, don't be. Don't be fooled by the Jolly Rogers flags whipping in the breeze — this US Coast Guard inspected and certified vessel is fully equipped with all necessary safety and life-preserving equipment. While adults are welcome to BYOB, there is also a variety of cold beverages available onboard.
Everglades Boat Tours
10. Everglades Holiday Park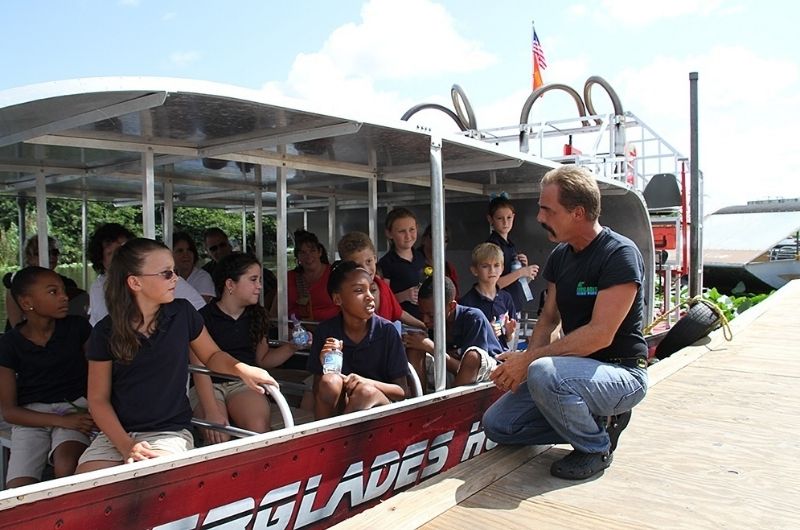 Best For: Families or Friends Looking to Visit Everglades Holiday Park
Description:
If you are looking to visit Everglades Holiday Park, why not travel there in style? On the Everglades Holiday Park tour, guests can glide across the grassy waters of the Everglades by airboat. As you skim across the water at up to 40 mph, guests will learn about the subtropical ecosystem of the Everglades and the importance of conserving and preserving this unique area. Meanwhile, make sure to scan the waters for signs of alligators and wading birds as you take in the beauty of the surrounding flora and fauna. Each tour lasts one hour and each boat departs approximately every 20 minutes. 
For visitors looking to explore Everglades Holiday Park, numerous adventures await. Guests can experience animal encounters, rent motorboats, go fishing, visit the gift shop, or dine at the cafe.
11. Sawgrass Recreation Park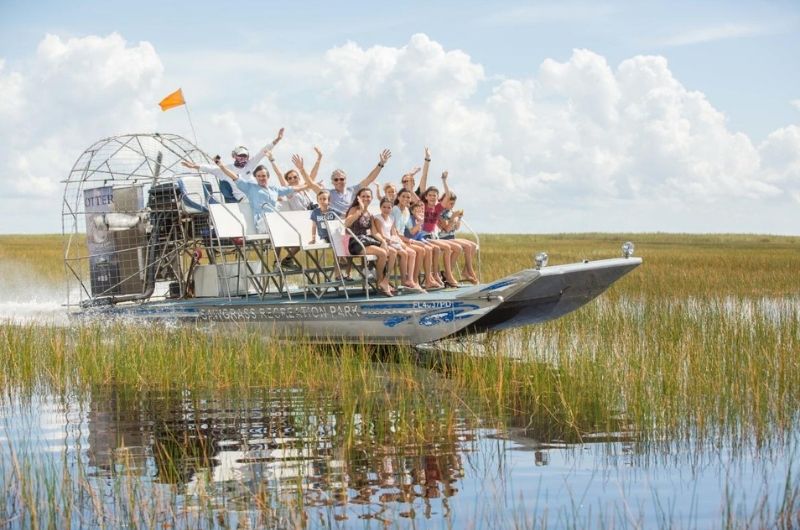 Best For: Families or Friends Looking to Visit Sawgrass Recreation Park
Description:
Hop aboard a state-of-the-art airboat and journey to Sawgrass Recreation Park. On this thrilling airboat ride, guests will speed through grassy waters at up to 40 mph while learning about the subtropical ecosystem of the Everglades. On this 30-minute boat ride guests will also get the chance to search for alligators, fish, turtles, and wading birds lurking beneath the shallow waters. 
This safe and entertaining tour also includes a complimentary entrance to Sawgrass Recreation Park, as well as admission to the on-site animal exhibit. Each airboat can host up to 15 guests.
Self-Captain
12. Rent a Boat Fort Lauderdale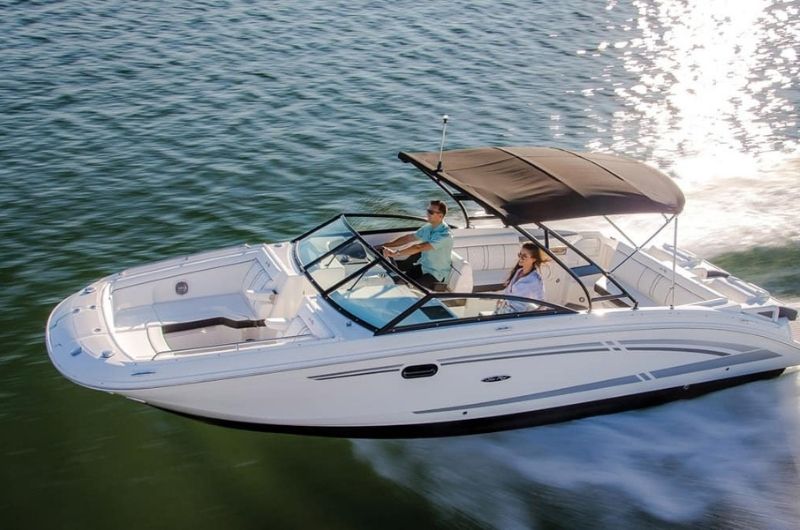 Best For: A Romantic Cruise With Your Significant Other
Description:
For all you wannabe captains out there, Rent a Boat Fort Lauderdale is about to make all of your dreams come true. Through this service, Fort Lauderdale visitors or natives alike are welcome to rent a boat to self-captain for either a half or full day of adventuring. While many of the deck boats available can fit up to six or seven guests, this captain-less cruise would make the an ideal romantic excursion. If you time your trip perfectly, you can find the perfect spot to watch the sun go down with your significant other. 
Each boat includes a cooler with water and ice. Boats are available with or without a captain, but if guests choose to self-captain, they must pay a damage deposit upon rental.
13. 100 Pro Boats
Best For: Easy and Affordable Self-Captain Boat Rentals
Description: 
If you are looking to self-captain a boat, you can't go wrong with renting from 100 Pro Boats. 100 Pro Boat's rental process is as easy as can be, and the company is even committed to delivering a boat to your vacation destination. Guests can rent a boat for a couple of hours, a whole day, or even opt for a long-term rental. To top that off, 100 Pro Boats is one of the cheapest rental options available. With its numerous benefits, this is personally our favorite company to rent from for self-captain boat rentals.
Party Boats
14. Island Time Boat Cruise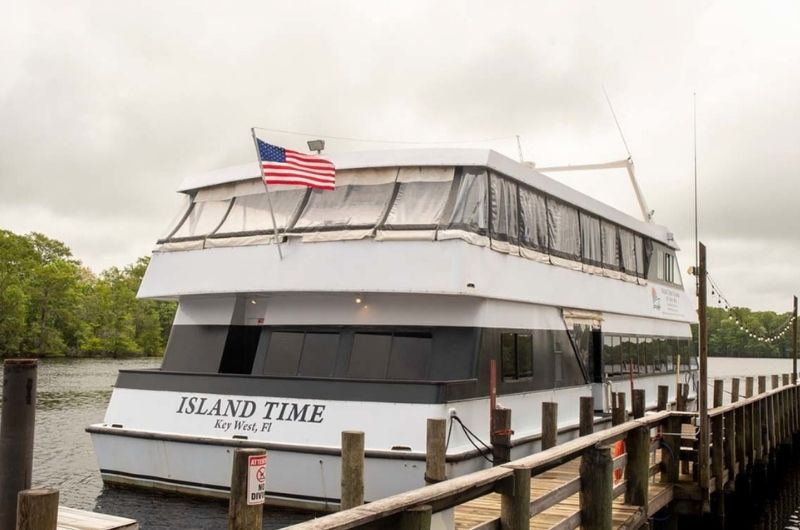 Best For: Laidback Party Boat with Friends
Description: 
Make your way to the marina and enjoy a chill afternoon on Fort Lauderdale's Island Time Boat Cruise! Party-goers will pass by Fort Lauderdale's signature yachts and celebrity-owned mansions that pepper the Intracoastal Waterway, en route to the sandbar to enjoy a refreshing swim. Keep in mind, guests must bring their own drinks, snacks, and bathing suits, but can take advantage of complimentary floats, water toys, and coolers. 
With upbeat music and good vibes, the caption and crew are guaranteed to show you an awesome time.
15. 2-Hour Party Boat Cruise in Fort Lauderdale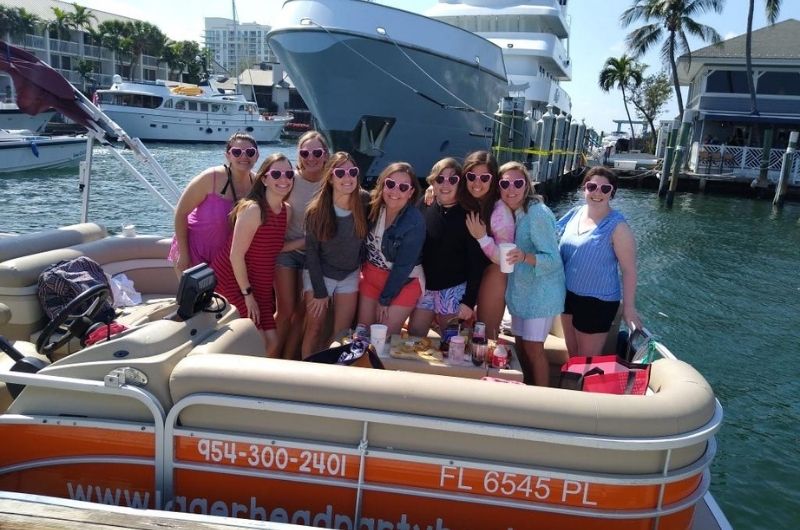 Best For: Fun-filled Party Boat with Friends
Description:
If you are looking for an action-packed party boat experience, this 2-hour cruise makes a wonderful option. A party boat and sightseeing tour rolled into one, your itinerary kicks off with a narrated cruise along the New River. Once you arrive at the sandbar, the complimentary floats and water toys come out and the real party begins. 
After working up an appetite, the captain and crew will take you to the 15th street fisheries to grab a bite to eat. Guests will also get the chance to hand-feed giant tarpon and soak in the sites of some of the largest and most expensive mega yachts in all of Fort Lauderdale. Complimentary bottled water is available onboard.
16. Staying Afloat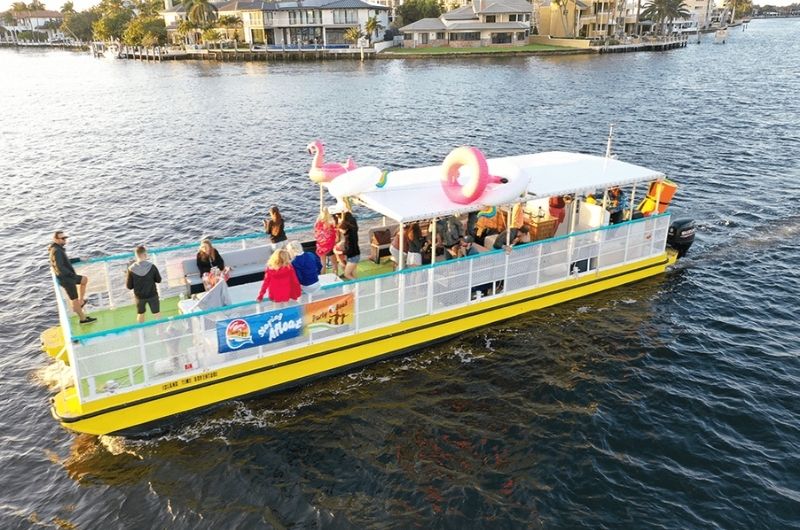 Best For: Bachelor or Bachelorette Parties
Description: 
For a quintessential party boat experience, you can't go wrong with the renowned Staying Afloat party boat extravaganza. Famed for its successful bachelor and bachelorette parties, this party boat charter knows how to show its guests a good time. 
The boat tour begins with a visit to a beautiful State Park. Your party boat will anchor onshore, allowing guests to take a dip, get some pictures, and hit the brewery. Next, Staying Afloat provides guests with a guided tour of Fort Lauderdale's renowned yachts and mansions. Once you arrive at the sand bar, party-goers can hop back in the water and relax on complimentary floats. While customers are welcome to bring whatever they would like to eat and drink, your experienced captain will take you to 1-2 bars and restaurants throughout your 4-8 hour excursion.
Sunset Cruises
17. Champagne Sunset Cruise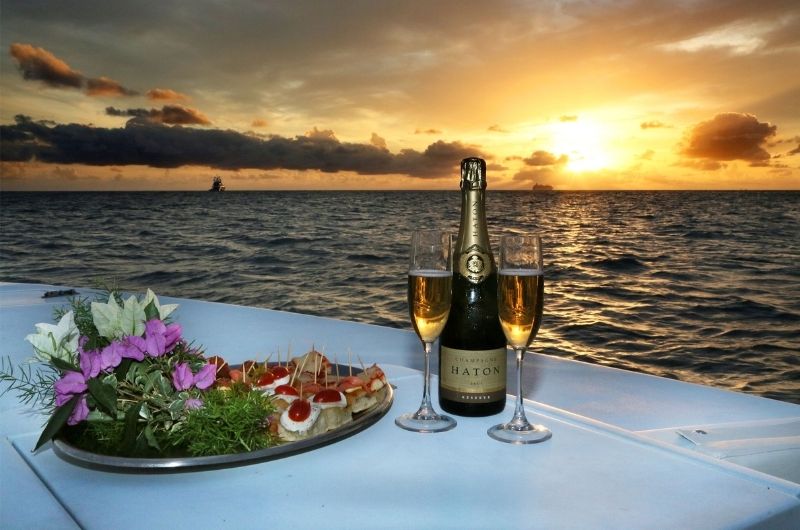 Best For: Romantic Evening with Your Significant Other
Description: 
Let's face it, it doesn't get more romantic than a sunset cruise on the water. Whether you are celebrating a special occasion or looking to treat your partner to a memorable evening, splurge for this champagne sunset cruise. 
On your way out to open water, guests will have the chance to see the sights on Millionaires Row and the Florida Coastline. As the sun lowers in the sky, sip on a glass of complimentary champagne as you take in the unparalleled view of glorious orange hues reflecting on the Atlantic Ocean.
Frequently Asked Questions
What types of boat tours are available in Fort Lauderdale?
Fort Lauderdale offers a diverse range of boat tours to suit various interests and preferences. Popular options include sightseeing cruises that showcase the city's beautiful waterfront homes and yachts, eco-tours that explore the area's natural habitats, and thrilling high-speed boat adventures. Additionally, you can find romantic sunset or dinner cruises, as well as guided fishing excursions for those looking to reel in a big catch. With Fort Lauderdale's intricate waterways and gorgeous coastline, there's a boat tour for everyone.
Can I find boat tours suitable for families with children in Fort Lauderdale?
Absolutely! Fort Lauderdale boasts several family-friendly boat tours that cater to visitors of all ages. Some sightseeing cruises offer entertaining and educational commentary, while others provide interactive experiences like hands-on eco-tours or pirate-themed adventures. When selecting a tour, consider factors such as the duration, activity level, and age-appropriateness to ensure a fun and enjoyable experience for the whole family.
Are there any private or customizable boat tour options in Fort Lauderdale?
Yes, many boat tour operators in Fort Lauderdale offer private or customizable experiences. These tours often provide a more intimate setting and more personalized service, allowing you to tailor the itinerary to your interests and preferences. Whether you're celebrating a special occasion or simply seeking a unique adventure, private boat tours can be an excellent choice. Be sure to inquire about pricing, group size limitations, and any additional services or amenities that may be available.
How should I prepare for a boat tour in Fort Lauderdale, and what should I bring?
To ensure an enjoyable boat tour experience in Fort Lauderdale, it's essential to come prepared. Dress comfortably and in layers, as temperatures can vary on the water. Wear sunscreen, sunglasses, and a hat for sun protection, and consider bringing a light jacket or windbreaker for cooler conditions. It's also a good idea to pack a reusable water bottle and snacks, although some tours may offer refreshments on board. Finally, don't forget your camera to capture the beautiful sights and memories of your excursion.
Are there any boat tours in Fort Lauderdale that focus on wildlife spotting or eco-adventures?
Fort Lauderdale and its neighboring regions boast a variety of ecosystems and thriving wildlife, making these areas perfect for eco-excursions and observing animals. Numerous boat trips focus on discovering the region's distinct habitats, such as the Everglades, Intracoastal Waterway, or adjacent estuaries. These expeditions frequently feature well-informed guides who share intriguing details about the native plants and creatures, while also offering chances to witness animals like dolphins, manatees, birds, and alligators. To plan your wildlife journey, connect with tour companies to learn about their unique packages and timetables. Enjoy your eco-adventure!