10 Best Thrift and Consignment Stores in Miami in 2023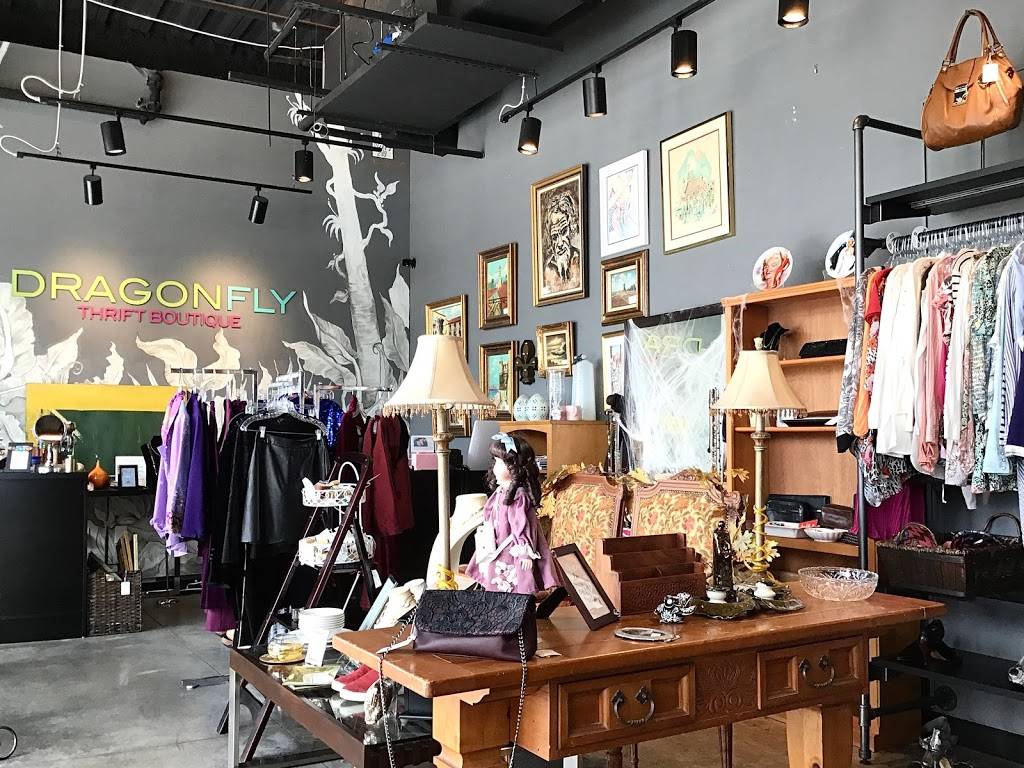 From Lincoln Road Mall to Miracle Mile, there are so many top-notch shopping spots in Miami. If you're looking to shop on a budget, you're in luck. With a handful of thrift and consignment shops scattered all across the county, each one with a different specialty, thrifting is one of the best things to do in Miami. Savvy savers and bargain-hunters alike can browse racks of discounted designer clothes, handbags, and shoes, and even find great deals on furniture and home accessories. An added bonus? Many of Miami's thrift stores donate their proceeds to a good cause. Here are ten of the best places to shop on a budget in the Magic City.
1. Dragonfly Thrift Boutique
Neighborhood: West Flagler
Address: 3141 SW Eighth St., Miami, FL 33135
Phone Number: (833) 757-5327
Best For: Anything and Everything, Practically New Second-Hand Furniture
Dragonfly Thrift Boutique is an essential stop in Miami for any serious thrifter. Tucked away in West Flagler, bargain hunters can find practically anything and everything at this eclectic store including designer clothing, jewelry, hats, scarves, books, furniture, sports equipment, and musical instruments. Dragonfly Thrift is particularly revered for its incredible furniture selection — many of the pieces are so gently used they look practically new. 
All of Dragonfly Thrift's proceeds are donated to Ladies Empowerment and Action Program (LEAP), a non-profit that provides education, housing, and employment to women who have recently been released from prison. These women, alongside volunteers, sift through and carefully curate Dragonfly's impressive collection of new and gently used merchandise.
2. Fly Boutique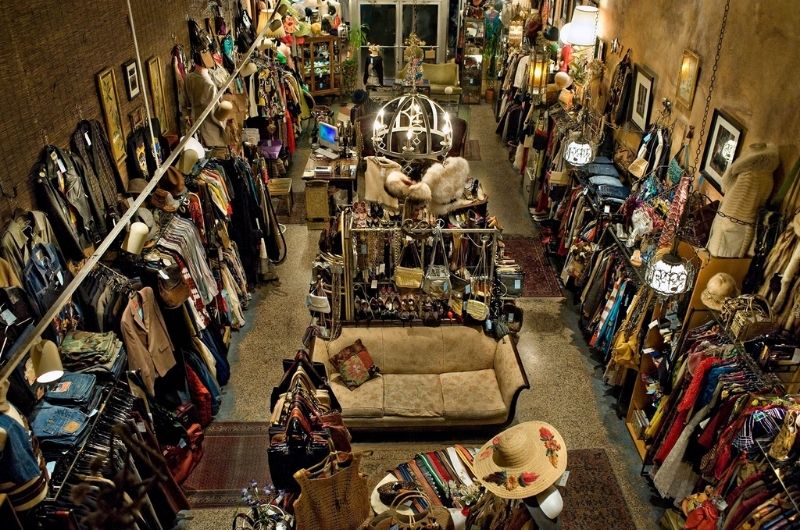 Neighborhood: Little River
Address: 7235 Biscayne Blvd, Miami, FL 33138
Phone Number: (786) 332-4156
Best For: Designer Clothing and Jewelry for a Fraction of the Original Cost
For the past three decades, Fly Boutique has been providing Miami tourists and natives alike with the trendiest vintage threads. Carefully curated and moderately priced, Fly Boutique has an impressive treasure trove of dresses, pants, handbags, and tops from designer brands such as Louis Vitton, Chanel, and Gucci. Customers can snag incredible deals on these items, which are worth a fraction of the original cost. If you are down for a little bargaining, the owner is very haggle-friendly. 
Other standout items include beaded clutches from the 30s, rare concert t-shirts, air force bomber jackets, and a huge shelf of moderately priced jeans. In need of some fashion inspiration? Flip through some old Vogue and Bazaar issues, which are stacked throughout the store. Whether you get your hands on an elegant designer suit, a stylish pair of jeans, a pair of lightly worn heels, or a statement necklace, it's highly unlikely that you will be leaving this store empty-handed.
3. Consignment Bar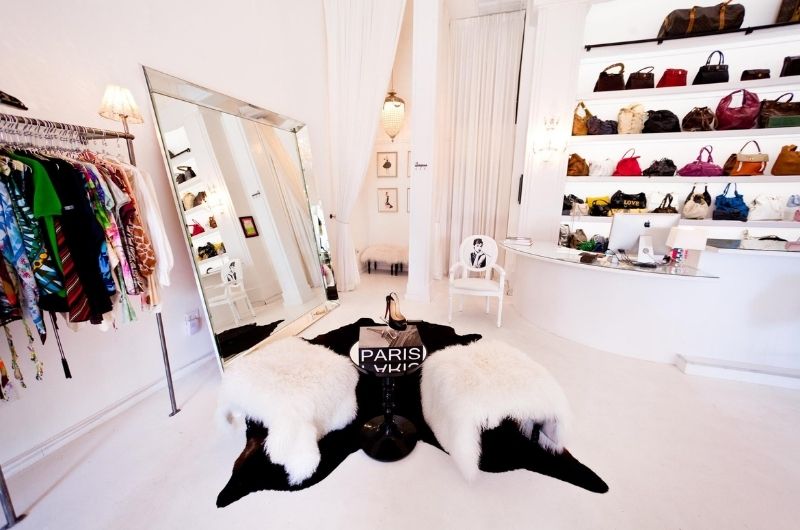 Neighborhood: Little River
Address: 5580 NE 4th Ct #4a, Miami, FL 33137
Phone Number: (305) 751-9996
Best For: Affordable Designer Clothing
When you first walk through the doors of this sleek consignment shop, it will seem hard to believe that the Consignment Bar is a second-hand store. However, one look at the wildly affordable price tags will help you snap back to reality. Located in the up-and-coming district of Little River, Consignment Bar is a little slice of consignment heaven for the designer-obsessed. With items sourced from the most fabulous closets in South Florida, Consignment Bar only sells seriously upscale clothing. 

Known for having a wide selection of pre-owned bags, shoes, and accessories in multiple tastes and styles, customers can get their hands on gently-worn designer items from Hermes, Celine, Balenciaga, Chanel, Gucci, Lanvin, Stella McCartney, Valentino, Christian Louboutin, and Giuseppe Zanotti. While the prices are already relatively affordable, customers can usually negotiate for an even better deal, within reason. More of an online shopper? Customers can also purchase items on the Consignment Bar website. Extra online services are also available, including order tracking, wish lists, and a VIP list.
4. Consign of the Times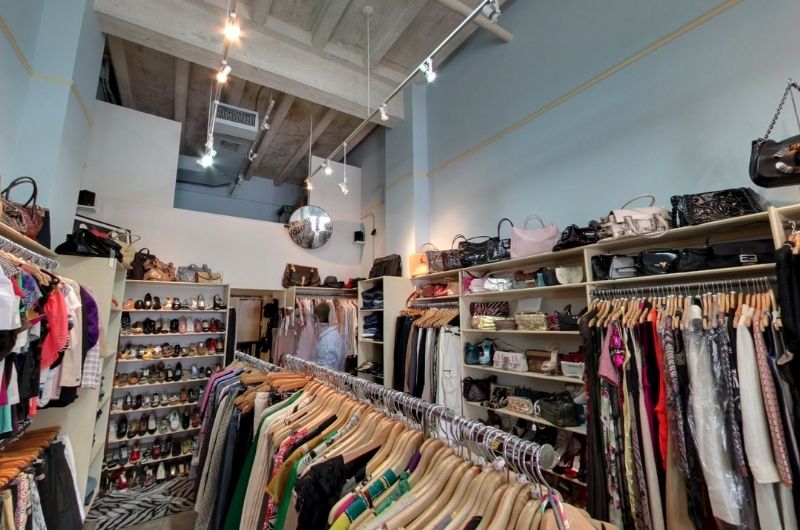 Neighborhood: Miami Beach
Address: 1935 West Ave Suite 105, Miami Beach, FL 33139
Phone Number: (305) 535-0811
Best For: Authentic Designer Merchandise from Luxury Brands
Founded in 2001, Consign of the Times is widely known as Miami's first-ever luxury and designer resale boutique. With two decades of experience under its belt, this Miami Beach boutique is one of the best places to find luxury pre-owned handbags, premium shoes, and high-end accessories. While this consignment store carries items from contemporary designers such as Isabel Marant and Margiela, customers can also certainly locate items from familiar brands such as Chanel, Givenchy, Christian Louboutin Manolo Blahnik, and Yves Saint Laurent. 
All designer items come with an authority guarantee. 
To get a feel for some of the specific items you can find at the store, check out the Consign of the Times Instagram, which is updated daily. Customers can also use the store's Instagram to reserve and purchase popular finds.
5. Maru Consign
Neighborhood: West Avenue 
Address: 1200 West Ave, Miami Beach, FL 33139
Phone Number: (813) 770-7348
Best For: Designer Handbags
Joining the ranks of luxury consignment stores is Maru Consign. Situated on West Avenue, Maru Consign is famed for its designer handbags from brands such as Hermes, Chanel, Vuitton, Gucci, Dior & Celine. This luxury consignment also sells watches, jewelry, accessories, and decor from brands such as Burberry, Alexander Wang, Saint Laurent, Fendi, and Marc Jacobs. Each item is certified for authenticity. 
On the other hand, Maru Consign is also a great place to consign your own designer items. Founded in 2013, this decade-old institution has established a broad online exposure, which allows your luxury items to be widely showcased. Maru Consignment also offers an incredible price-to-value return and a 90% commission rate on super-premium and limited edition pieces.
6. The Fashionista Consignment Boutique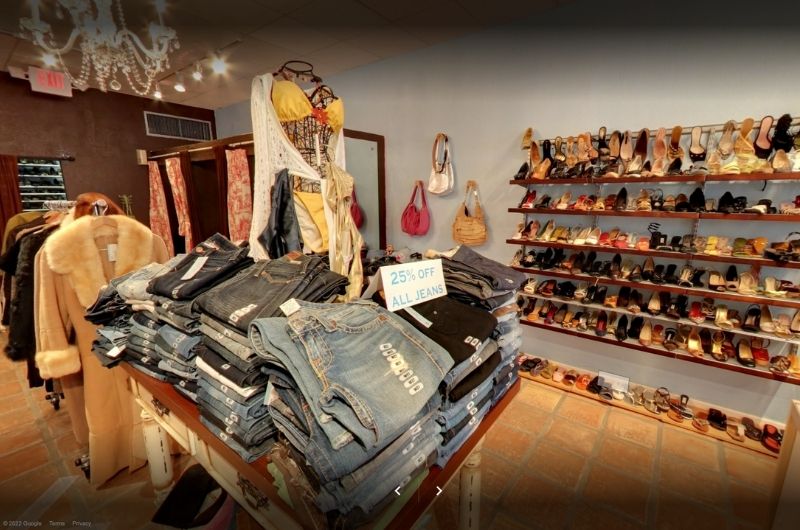 Neighborhood: Coconut Grove
Address: 3135 Commodore Plaza, Miami, FL 33133
Phone Number: (305) 443-4331
Best For: Women's Clothing and Accessories from High-End European Designers
Located in the center of Coconut Grove, The Fashionista Consignment Boutique is another place you can score significant markdowns on designer brands. This swank and sleek mother and daughter-owned business has been around for twenty years and is another established Miami institution. The experienced merchandisers hand-pick stylish clothing from a wide variety of brands including Bottega Veneta, Balenciaga, J Brand, and Jimmy Choo. Keep in mind, this highly curated store only offers the best of the best. While you can certainly find a designer dress that's hundreds of dollars cheaper than the original price or a half-off designer bag, don't come searching for $5 jeans or $3 tees. 
Upon arriving at the store, this mother-daughter team will personally assist you in finding items tailored to your style. Some of their other standout services include home pick-ups of second-hand goodies you wish to consign, and even teaming up with you to edit your home closet.
7. This & That Shop
Neighborhood: Coconut Grove
Address: 3155 Commodore Plaza, Miami, FL 33133
Phone Number: (305) 448-2114
Best For: Scavenging for True Bargains
After enjoying a delicious lunch at one of the best restaurants in Miami (many of which are located in Coconut Grove), pop into This & That Shop on your way home. While many of the thrift and consignment shops in Miami feature upscale and luxury designer clothing, This & That Shop stands out from the crowd by offering truly great bargains. 
Run by the women of Plymouth Congregational Church, This & That has been a Coconut Grove mainstay for 65 years. As the name suggests, serious scavengers can find a little bit of everything here, as the inventory is solely based on what is donated to the store. Customers can shop for everyday clothing, business casual attire, suits, dresses, and gowns for special occasions, along with jewelry, watches, and other accessories. Shoppers can also find good books, fine china, pottery, and artwork, as well as furniture, everyday dishes, and other household items. 
The best part? Not only will you score a great deal by shopping at This & That, but you are also giving back to the community. All of the proceeds from This & That are donated to charities, primarily in Miami. 
8. Lotus House Thrift Chic Boutique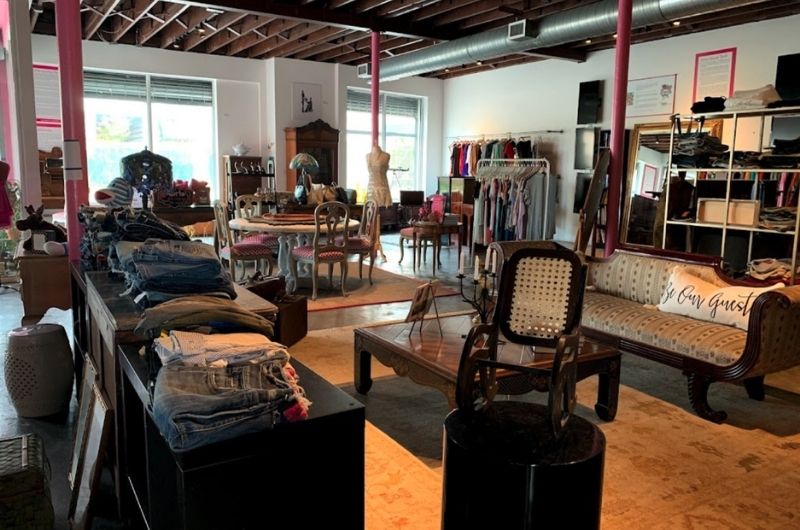 Neighborhood: Allapattah 
Address: 2040 NW 7th Ave, Miami, FL 33127
Phone Number: (305) 576-4112
Best For: Chic Women's Clothing and Accessories
If you are looking for a place to shop but also give back to the community, thrifting at Lotus House Thrift Chic Boutique is another place where you can both give and receive. The store is run by the women from the Lotus House Women and Children's Shelter, many of whom are transitioning out of homelessness as a result of domestic abuse, disability, and medical or mental illness. All of the proceeds are also donated to the shelter and its services, which include health care, job training, counseling, education, and meals. 
Divided into a thrift and vintage area, this cozy Allapattah thrift store has both gently used and new pieces, some of which with a designer label. Most of the items to the store are donated, so customers will also find furniture and other home goods. Whether you are on the hunt for a gently used chair or a funky necklace, Lotus House Thrift will help you find something new to treasure. If you need to fuel up before a big thrift, Lotus House Thrift also has a cute cafe where shoppers can grab a cup of coffee.
9. Bargain Box Thrift Store
Neighborhood: Little Havana 
Address: 1350 W Flagler St, Miami, FL 33135
Phone Number: (305) 643-2945
Best For: Eclectic Treasures on a Budget
Bargain Box Thrift Store is the perfect place to shop spontaneously. While you might have to do some digging, you are guaranteed to end up with a fabulous find. Word of caution: if you see something you like, buy it, or forever wish you did. There's a strong chance it won't be there the next time you come back. 
Located in Little Havana, Bargain Box Thrift Store is owned and operated by The Women's Cancer Association of the University of Miami. All the proceeds from sales go towards cancer research, patient care, and education at Sylvester Comprehensive Cancer Center and UM Miller School of Medicine. Inventory is based on donated items including clothing, shoes, handbags, hats, household goods, small appliances, collectibles, art, furniture, and more. If you want to get a feel for what's on offer, check out the "WCAbargainbox" store on Etsy.
10. Beatnix Miami Beach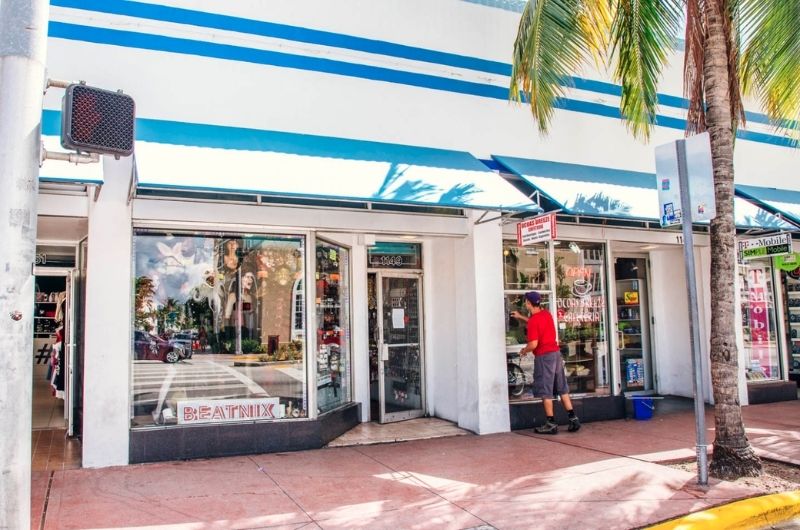 Neighborhood: South Beach
Address: 1149 Washington Ave, Miami Beach, FL 33139
Phone Number: (305) 532-8733
Best For: Full-Packaged Costumes and Wacky Accessories
Located in Miami Beach, Beatnix is a wonderfully unique costume shop packed from floor to ceiling with a wide range of goodies. Customers can find everything from top hats and tutus to gold booty shorts and rubber gas masks. While most packaged costumes range between $50 and $60, accessories are sold separately at an affordable price point. 
If you are shopping for a last-minute party costume or an accessory for an upcoming festival, Beatnix is open until midnight from Thursday through Sunday. This makes this eclectic store the perfect spot to grab a costume-completing accessory. Looking for a very specific item? The friendly staff is extremely helpful in assisting with your search.